September 21st, 2019
Cumbres Pass mm 2222.1 to Lagunitas Campground mm 2245.2
Distance in miles: 23.1
0940-1800
We hit the coffee shop first thing in the morning, where we meet a lady that asks about our thru-hiking. After coffee, she gives us a ride up to the pass. Her name is Chadi and she's from Santa Fe. This happens to be our next stop off the the trail, so we hope we can meet up with her again.
I'm excited about hiking today because I finally get to return to the trail in New Mexico. We reach the CO/NM border and take some pictures. It's not hard to say goodby to Colorado because I know I'll be back. Hello New Mexico! I can't wait to go down in elevation some where it will hopefully warm up a bit. But first we will be hiking through hills that are still over 10,000′.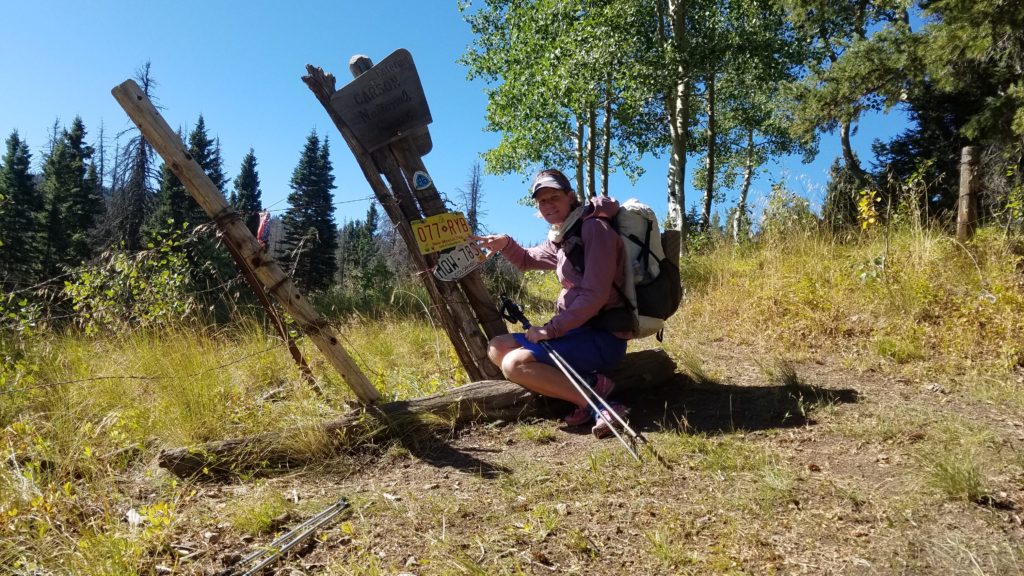 We shortly catch up to a hiker that yells out my name as we approach. It's Luckyman, who I met just outside of Silver City, after attending trail days. He's section hiking the CDT and tells us about breaking his foot over the summer. He's just returning to hiking and has to take it really slow on account of his foot. I worry the most about getting a stress fracture because it can happen at anytime, to anyone and it takes weeks to recover. Great that you got back on the trail Luckyman!
We continue to the top of a ridge and follow it for most of the day. There's some easy dirt road walking as well as singletrack, both through forests and meadows. The sky is clear, the sun is warm but the cold wind still blows. It feels just like fall weather.
Looking ahead on the map, we see that we'll reach a series of campgrounds with lakes by the end of the day. Perfect. We hike along, carefree and relaxed. At the upper campground, with drive-in sites, there are trucks and campers. But the lower section, with walk-in sites, is empty. We squeeze into 2 tiny flat spots and settle in under the trees…live trees! For a Saturday night, it's dead quiet… just the hunters and us.