September 3rd, 2019
Cottonwood Pass mm 1894.1 to Abandoned Cabin mm 1923.8
Distance in miles: 29.7
0620-1840
We did a big day yesterday, meeting our mileage goal. I sleep very well as a result, even though we're camped at 12,000′ with little cover and next to a road. The weather couldn't be better and I'm shocked at how comfortable it is at this elevation. I've been so much warmer than I was on the Colorado Trail, even though it's a month and half later in the season. This is the best time of the year to be hiking in Colorado.
We start up the trail and are immediately hiking along the divide as the sun rises. For those wishing to avoid the climb above timberline, this is a great access point. It's instantly scenic and above the trees for the next 16 miles. I adore this stretch because of the views and quality of the trail. It was only completed in 2013 and represents the best in modern trail design. The trail dips in and out of the high valleys, traversing monumental rock slopes along the way. Trail builders have made pathways through miles of rock slides, creating perfectly flat tread by fitting each and every rock just so. Try walking through an unaltered talus slide sometime and you will appreciate having a trail such as this. It's probably the most impressive trail I've ever seen in terms of the manpower it must have taken to build it. It also leads through the most stunning of vistas.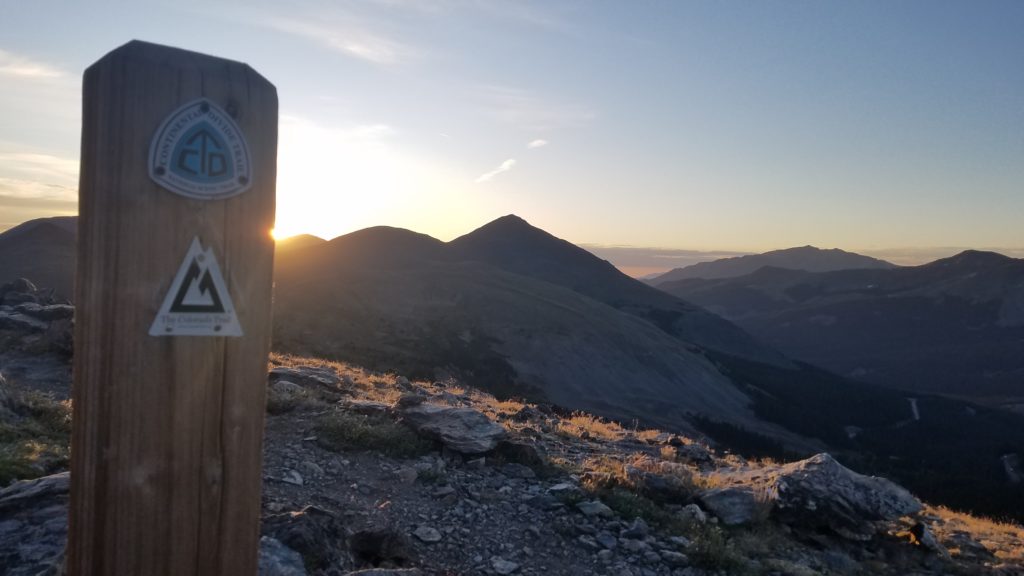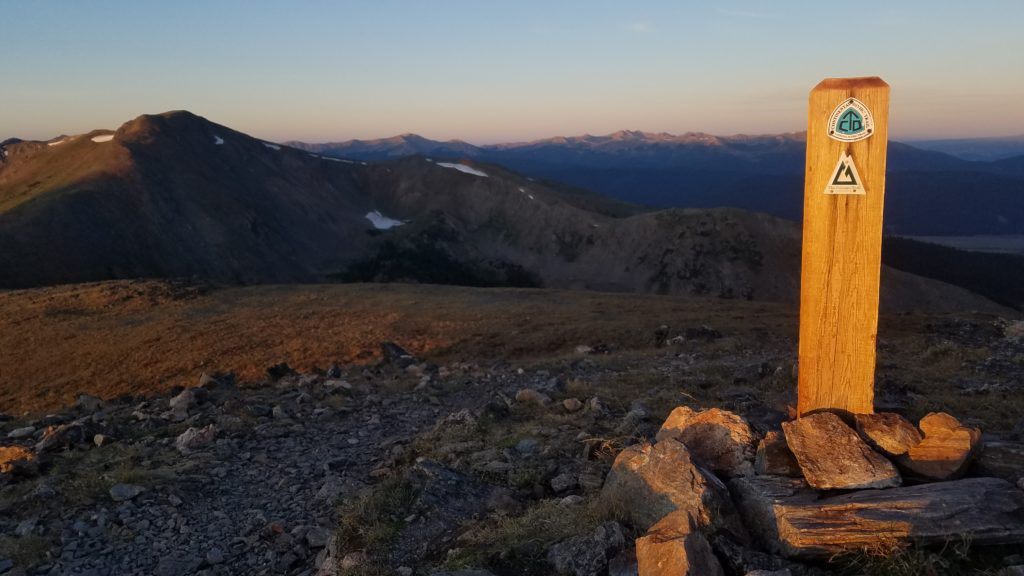 Last time I was through this section, I was listening to one of my favorite albums: Melancholy & the Infinite Sadness by The Smashing Pumpkins. Despite the title, it's not really that sad. The songs are very nostalgic and I enjoy listening to them once again. I decide that I will alter the album title for the title of this blog. Today I'm in Walking Bliss for most of the day and everything seems just so perfect. There's a whole lot of climbing but I don't mind.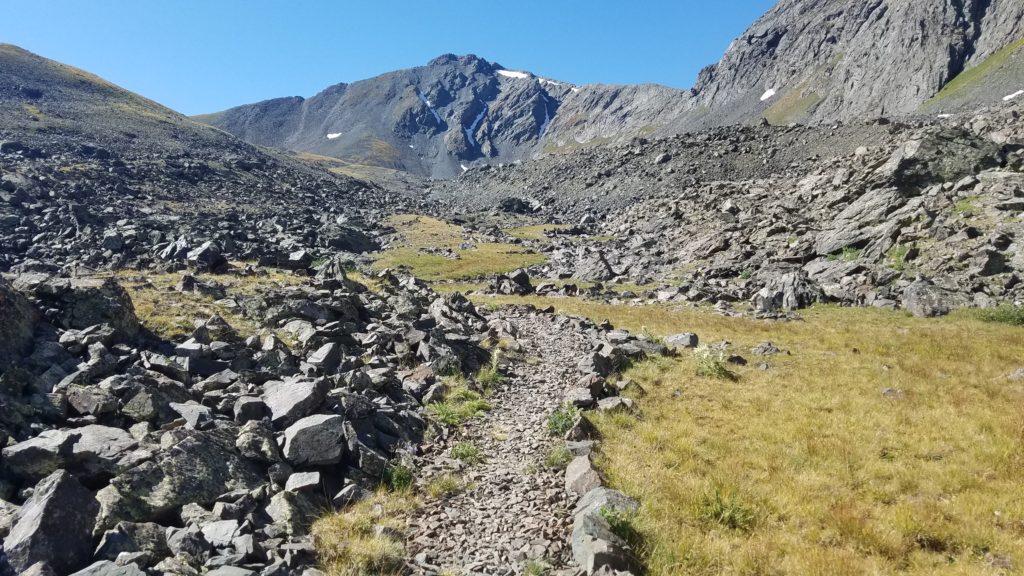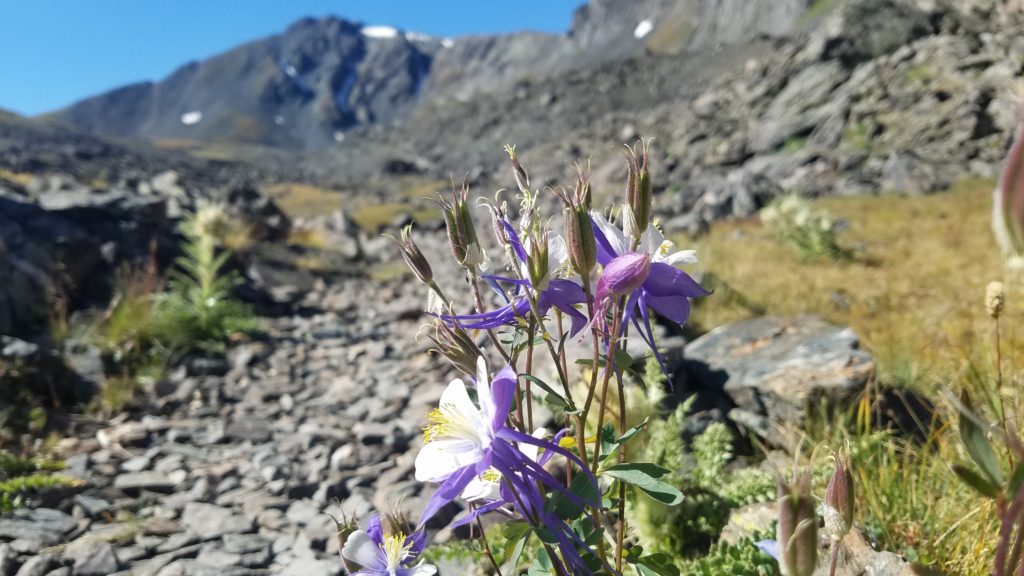 We meet several CT NOBOs along the way and then a lady trail runner who we could see just ahead of us most of the morning. She has a cool dog and lives in Colorado Springs. There are lots of ATV's at Tincup Pass and then some fishermen at Hancock Lakes. We cover so much ground that it feels like several day's worth of hiking. In fact, I do hike about the same distance in one day that I hiked in 2 days last time. We are pushing to get to Boss Lake for the evening but by the last pass, I'm ready to pull up short. For the first time in weeks, thunderclouds have begun to gather in the afternoon and I wonder if it may rain. Wouldn't that be novel!
Just as we start to hear thunder, we come to an unexpected abandoned cabin. Some might say it's a little rustic inside but there are stable bunks and we decide to give it a try. I lay out my groundsheet on a bunk and make myself a cozy nest for the night. Again, Serendipity calls, as it ends up storming just as we go to sleep. Normally thunder and lightning would keep me awake in my tent but inside the cabin, I could care less. It rains several times overnight but I sleep in a warm, dry bliss.