September 4th, 2019
Abandoned Cabin mm 1923.8 to Monarch Pass mm 1935.8
Distance in miles: 12 plus about 3 on a road-walk detour
0715-1400
I wonder all night if it's going to be possible to hike on the divide in this weather. We can walk out to the highway on a jeep trail if it's too bad, saving a 12 mile stretch for when we come back. We get a late start, lingering in the protection of the cabin. But there are blue skies when we step out, so it makes sense to walk all the way to Monarch Pass this morning.
Except that we miss the turn from the jeep road up to Boss Lake and walk most of the way downhill to the highway anyways. Well, what to do? We come up with a new plan that will be even easier. We walk the rest of the way to the highway and go to the nearby lodge. They are very hiker friendly and agree to let us store a pack there. We take some day supplies and set out to hitch up to Monarch Pass. We will slack pack down the trail from there.
We get a ride pretty quickly, from 3 guys that hiked the PCT no less. One hiked the CDT as well. They are reuniting after 10 years to do some activities in Colorado, including mountain biking. How funny that all us thru-hikers meet up together.
At the pass, we get breakfast sandwiches and then start on our way. There's some climbing but the net elevation change is negative in this direction. By missing the turn-off, we get to slack pack, walk mostly downhill, and get some store food. It's almost like we planned it.
We first walk through the ski area, where operations are underway to remove much of the beetle-kill. I grew up staring at these forests while riding the ski lifts and I can't even recognize them anymore. About 2/3rds of the trees are dead or gone. It's so sad but I guess skiing between the trees will be easier now.
We stop at a compass that shows all the peaks in a 360 view. I point out San Luis Peak (first mountain we will come to in the San Juans) and the route through the Cochetopa Hills that we will be walking in the next stretch. There's nearly 100 miles of trail visible from this lookout.
We walk along the ridgeline for miles. There's an archaeological site where Native Americans built stone walls to herd and trap elk. An informational sign explains the process. Then we wrap around Mount Baldy and begin the descent down the other side. The lakes below are so beautiful.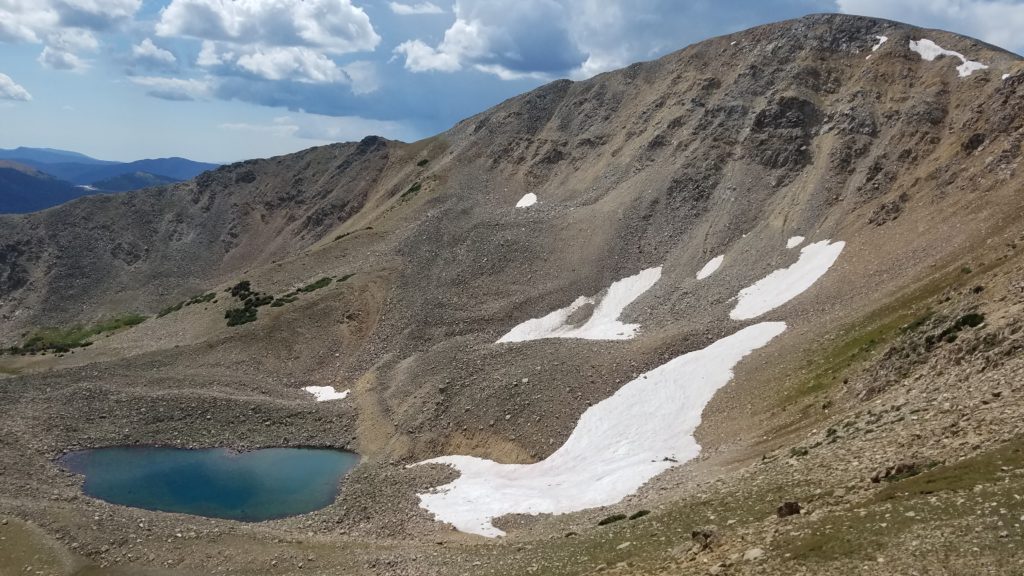 We try to go for a swim in one of the lakes. It's too cold for me so I just sit in the water up to my waist. Relentless stubs his toe on a rock and maybe breaks it…not a good swim. We continue down below timberline, when I see a little animal scurrying up ahead. It's a pine martin, of the weasel family. It goes up a small tree and we get a good look at it. I don't think I've ever seen one in the wild. It's so cute. The local birds don't like him though…I imagine they are good nest raiders.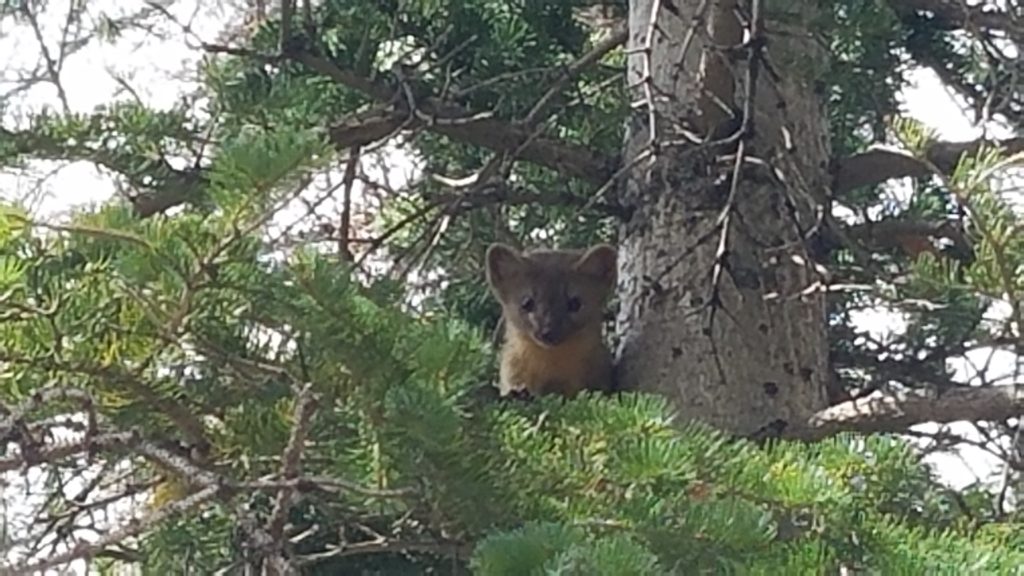 At Boss Lake, we look hungrily at all the trout in the water. It's catch and release only but what if I were able to catch one with my hands? We reach the junction with the jeep road and re-walk the 1.5 miles down to the highway. Our backwards slack-pack is complete and we easily hitch a ride into Salida.
The nice young man drops us off at McDonald's, where my parents are waiting to meet us. They have driven up from Florence, where will will go for a few days of rest. There's nothing like being able to take zeros at home.