August 21st, 2019
Mm 1579.1 to mm 1607.7
Distance in miles: 28.6
0630-1850
The morning is dry and warm, just as I predicted. But I wake with anxiety about the upcoming day. In studying the map the night before, I saw that we are in for a lot of steep climbing. The trail jumps from one ridgeline to another, with many 1,000 foot climbs and descents. Total for the day: 7300′ up, 9300′ down.
I feel really low energy starting out. I wake with a stiff and sore back and have to take a pain killer. Shortly I snap out of it and just start enjoying the views. Most of the day, the trail goes like this: on top a ridge, see another ridge to the south or east, descend steeply from current ridge, go up about 1000′ to next ridge, walk that for a bit until seeing next impossibly high and steep ridge, repeat. It's fun and scenic but tiring.
The deadfall on the trail plays another big factor. With all the beetle-killed trees these days, there are so many more dead trees falling onto the trails. It's creating an insurmountable task for the trail crews to tackle each year…they just can't keep up. There were also record avalanches over the winter and we come to a spot that is absolute chaos. A wall of jumbled trees block the creek wash and we have to carefully pick our way down and up the steep sides.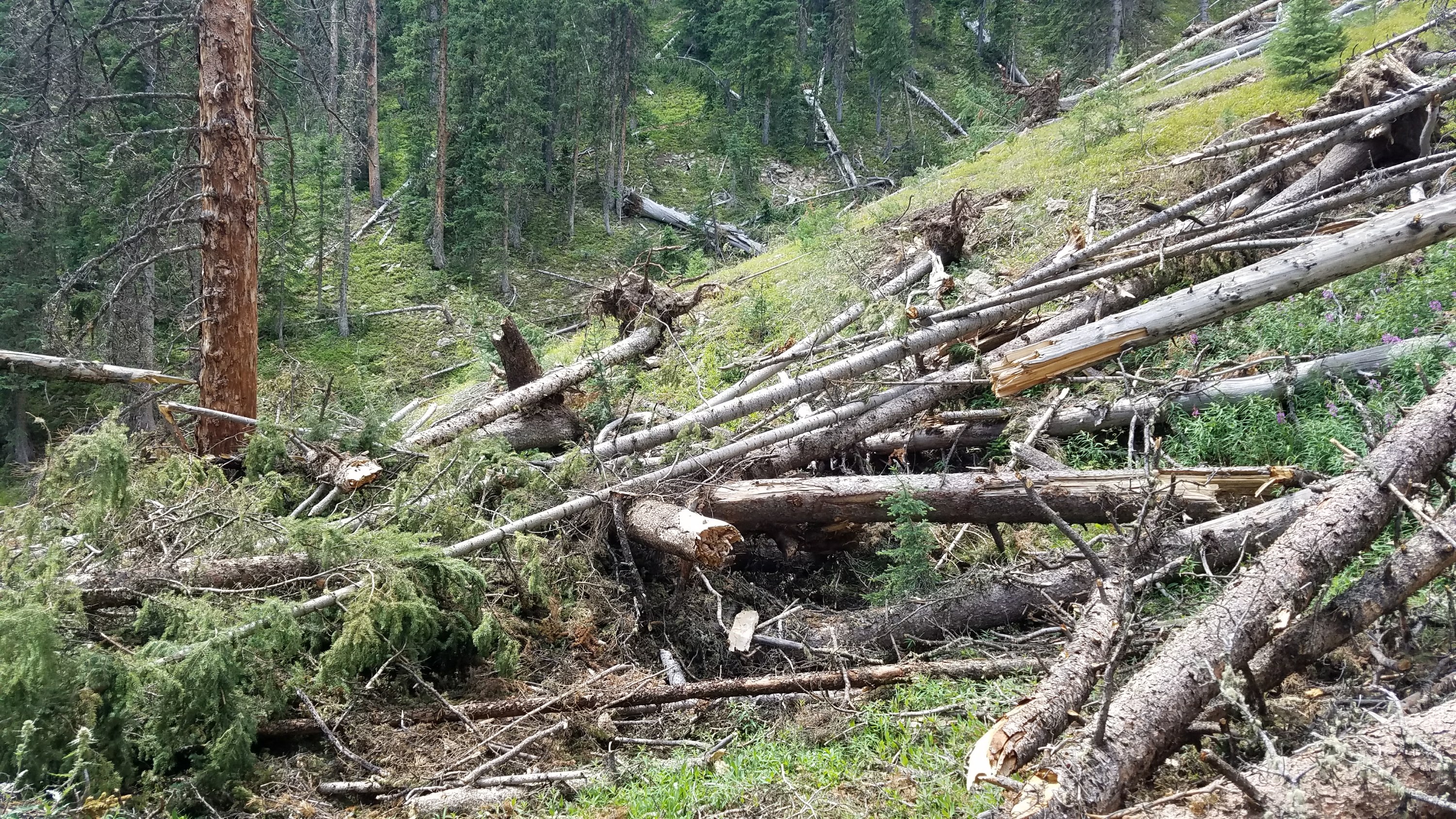 Crossing deadfall is one of the more dangerous acts we do all day. Often I'm off-balance or elevated, trying to either hurdle or walk the length of a log and there's a lot of potential for falling. Then I might land on a broken branch and skewer myself. These areas are also littered with sticks that are constantly trying to skewer my legs if I step on them wrong. Lastly, it's just plain tiring to employ so many acrobatic feats with a backpack on. Crawling on my knees or doing lunges with all the weight on my back is difficult and painful.
The last big climb of the day is up Parkview Mountain at 12,300′. It's another one of those 1,000′ gains in less than a mile. Ouch. We've caught up to a SOBO guy named Two Forks that we've run into multiple times since Helena. We all tackle the climb together and take a well-deserved break at the top. There's a stone structure that blocks the wind and it's actually quite pleasant with the sun shining. Thunderstorms are building all around but thankfully not over the top of us.
We have great views of Rocky Mountain National Park, our destination for the next day. We watch Longs Peak get swallowed by a thunderhead in the distance. It's quite mystical how it keeps emerging from the clouds, like it's fighting some titanic battle.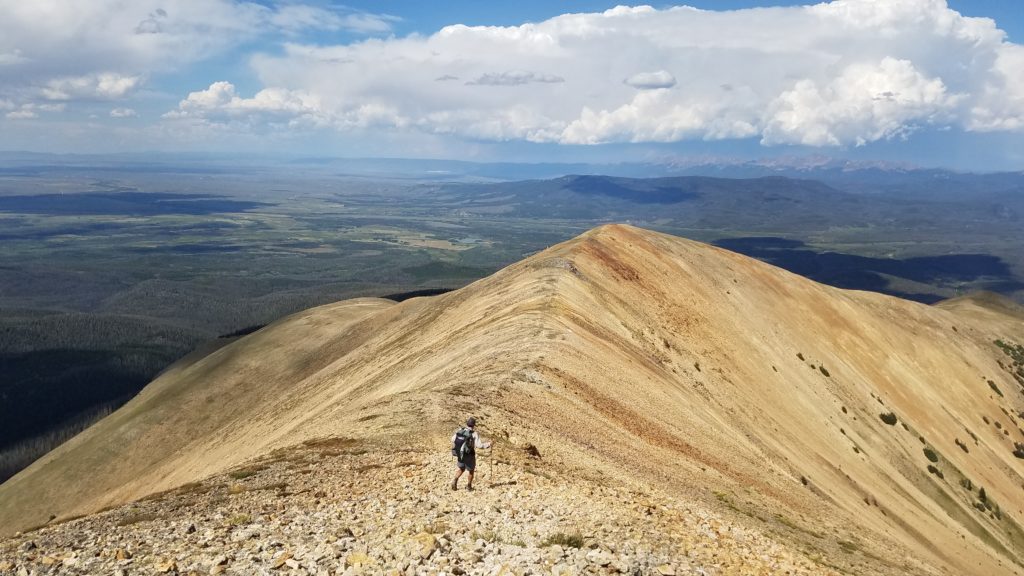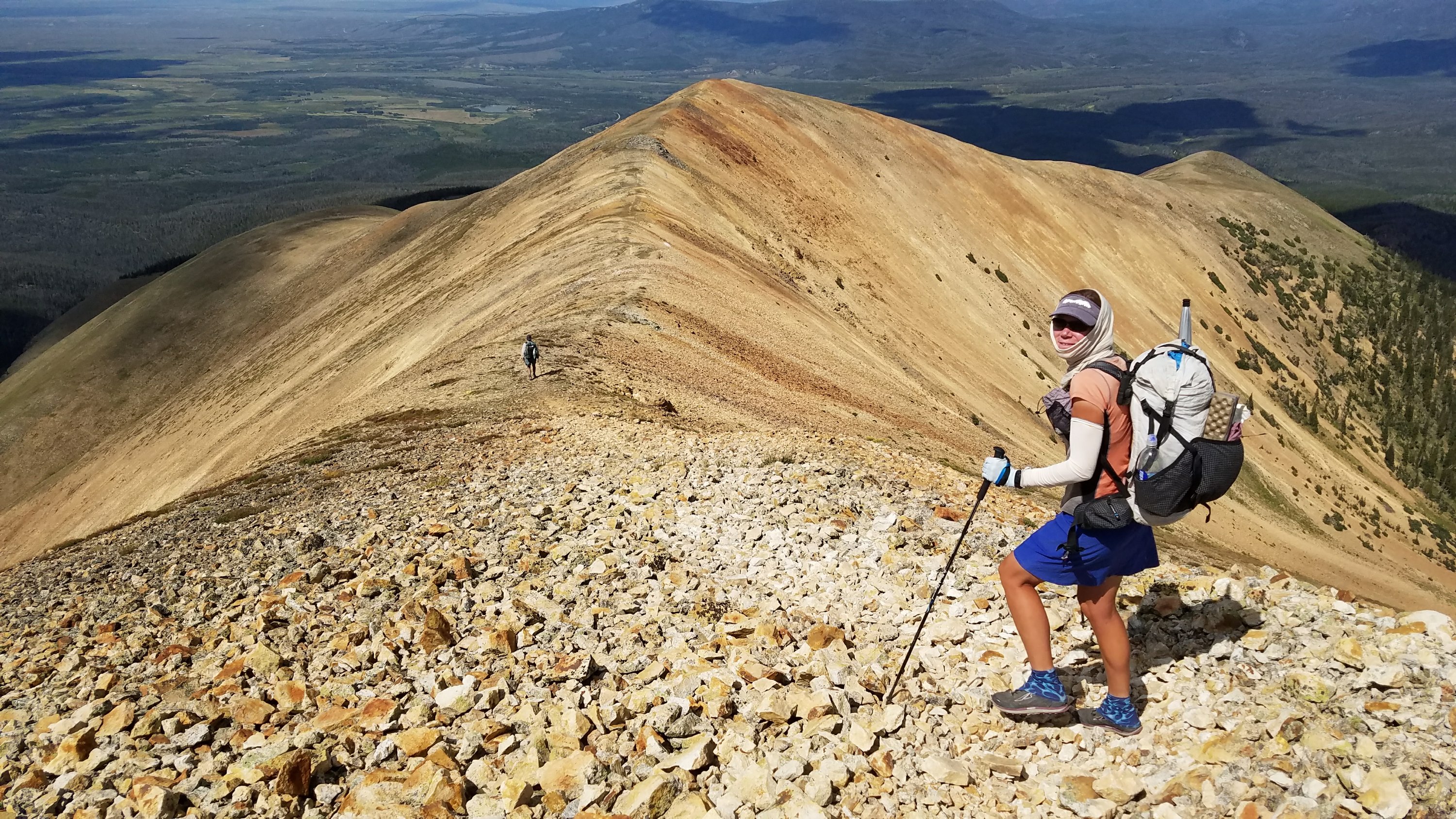 We head down on a very exposed scree ridge, which is beautiful and benign given the nice weather. I'd hate to be on it in bad weather. Water has been scarce all day and we failed to secure enough for the hot journey over this peak, so we're scurrying down to get to a source that's still 6 miles away. We wind down through the trees and along some rocky spines that protrude like a dragon's back.
At last we reach many streams in the valley and find a nice one to settle down next to. It's going to be a wet and cold morning again but it's good to have water.