August 17th, 2019
Mm 1503 to 1533.6
Distance in miles: 30.6
0610-1840
It's so cold in the morning, I have to leave my puffy on while I hike. That's 4 layers: my t-shirt (which is worn paper-thin by now), R1, puffy, and rain jacket. My legs are bare under my skirt…they can take the cold. It's all about keeping your torso warm.
The sky is partially overcast in the morning and rain seems like a strong possibility. We hike down the valley towards the Zirkel wilderness and Park Range. There's some toilet magic and a parking lot where we take a break. From here, we have to climb from 8200′ to around 11,900′, our highest point yet. Let's go!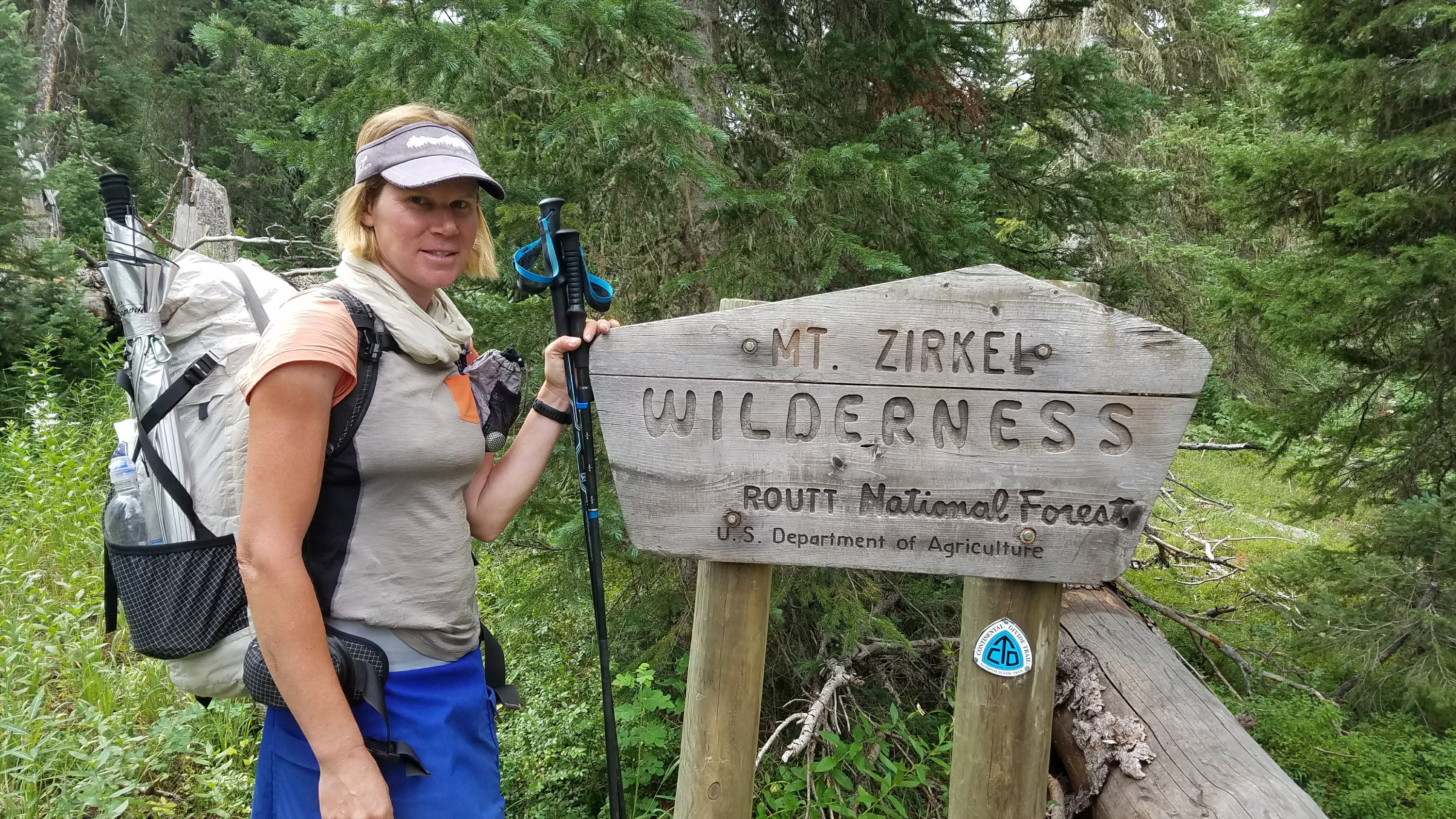 The climb's not too bad and I'm distracted by ripe huckleberries everywhere. I never even knew they grew in CO. There are also thimble berries but they're not ripe yet. My PCT experience in WA taught me many of the edible berries to look for. Some fresh fruit on trail is always appreciated so I stop to harvest some huckleberries.
The higher we go, the colder and windier it becomes. We stop to get water and I have to put on all my layers. I would make tea if my fuel wasn't almost gone. We huddle in the lee of a tree and stuff food in our faces. Relentless thinks he feels a little altitude sickness but I think it's just the cold. We've been over 10,000′ previously in the Winds. My solution for most ailments is to eat food, which we have a lot of, so we do. Drinking water is also key but it makes me cold.
Up we go, into the alpine, where the snow patches begin and the wind howls. It sprinkles and it feels like it could be sleeting soon. I'm hit with a twig but the dead trees are at least 100 feet away, that's how strong the wind is. This is mid August? But I do remember many days like this on the Colorado Trail. It's often cold and raw up on the divide, no matter the month. At least it's not down-pouring and I hear no thunder.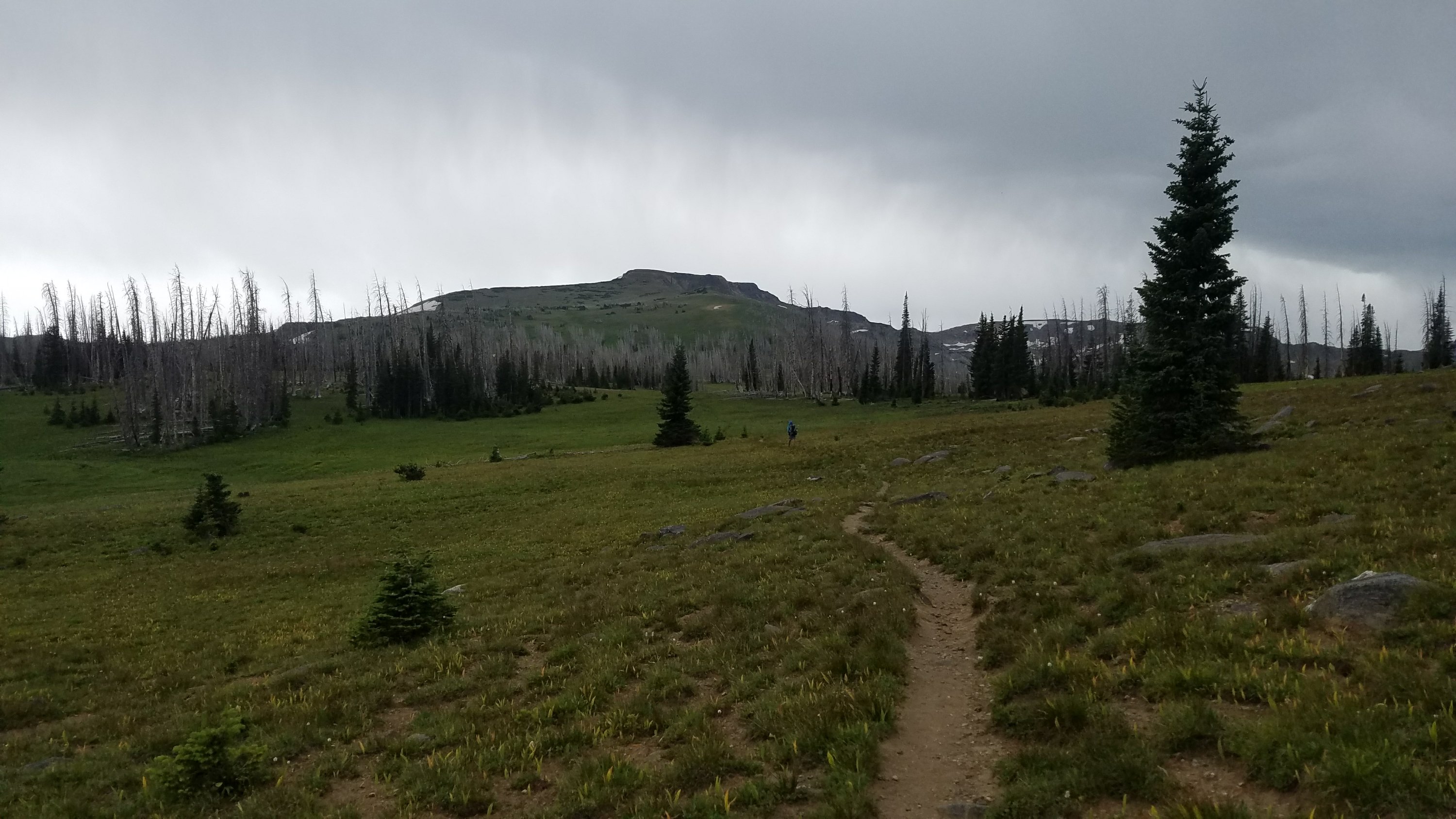 We turn towards Lost Ranger Peak and see the trail winding straight up the side, into the rock and snow. I'm fearful of the brutal wind up at the top. But just as we start the climb, it appears as if the weather is moving out. Then quite suddenly the sun is shining. It makes the top of the mountain look so much more inviting yet the wind is still howling. At times it's in our faces and it's hard to make progress upwards.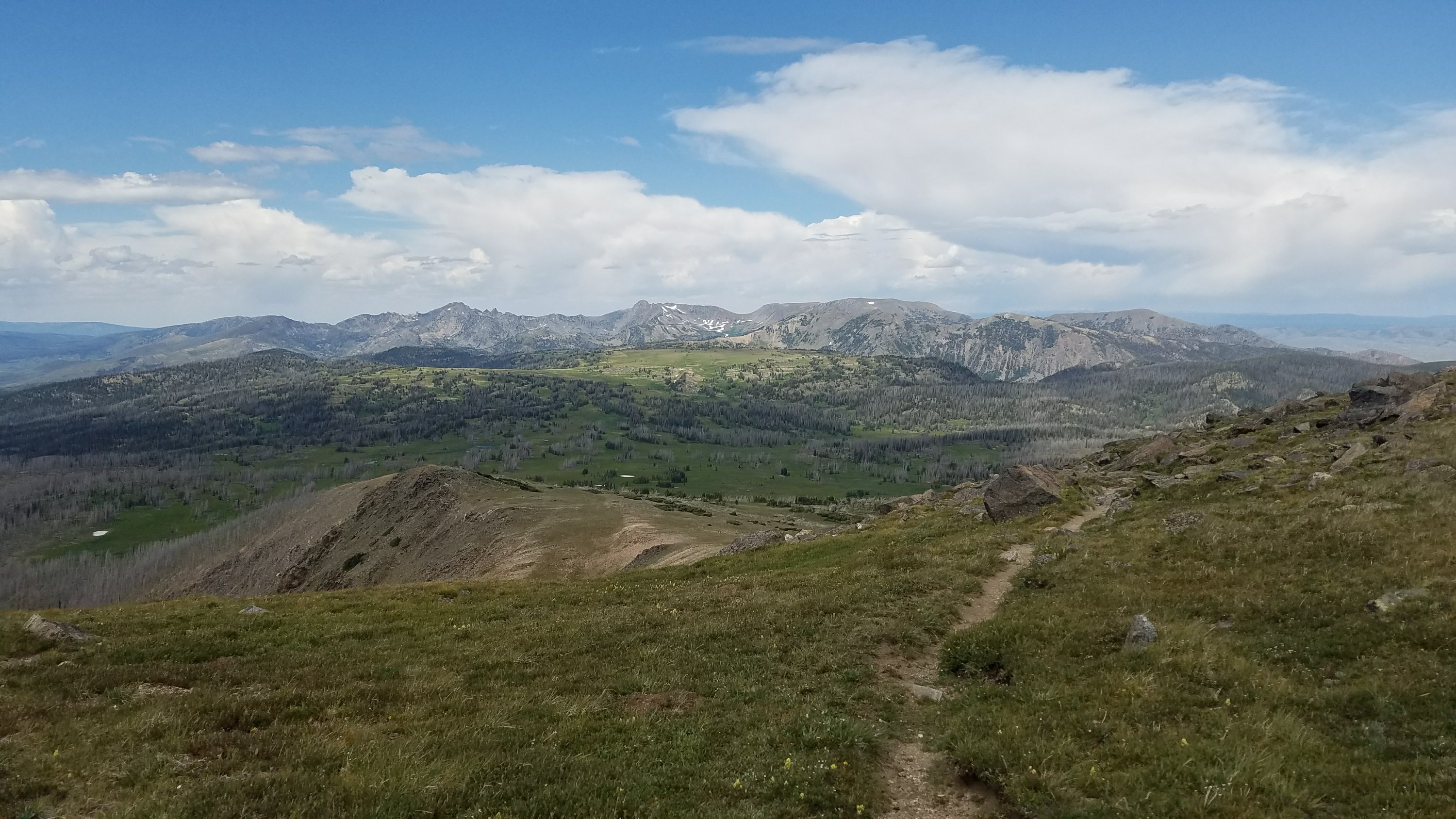 At the top we play with our phones for a bit since I finally have 4G and cell service, the first time since Idaho, about 3 weeks ago. But it's too cold to linger long, plus new storms appear to be on the way. The trail descends from the peak but stays high along the divide. It's all gorgeous alpine meadow with some gentle snow patches that we traverse. The snow is hard-packed and slightly slushy, easy to walk over. We fight our way along the ridges, working hard to counteract the crosswinds.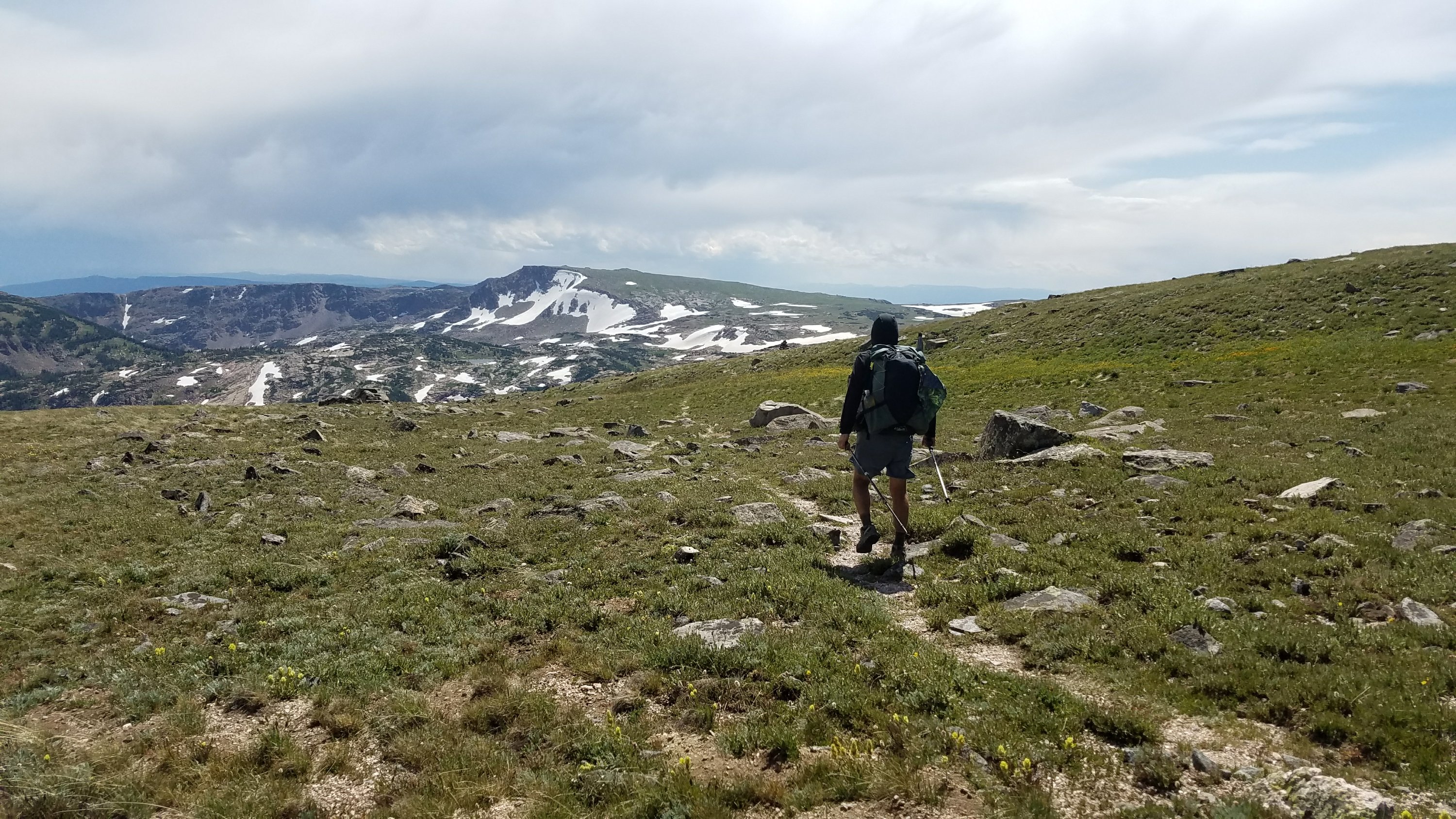 We encounter some backpackers heading north and note that they are all bundled up in rain jackets and pants. Despite the chill wind, I have stripped down to just my R1 and skirt. Thru-hikers usually appear as the least-dressed for the conditions, due to our lightweight preferences. But I'm comfortable and loving the views.
We descend enough to be back in the trees but still on the ridges in the late afternoon. Some more storms roll through but it's light rain and just a little distant thunder. We were aiming for a lake but stop short when I find a beautiful site surrounded by trees and near to a stream. The trees are just right for protecting us from the wind and we're not in a sink that should collect cold, wet air overnight. I'm so happy to warm up and go to sleep in my tent and quilt. It's been a tough first full day in Colorado but I'm ready for more.