Sat Sept 26th, 2020, 0545-1730
Waterman Brook to Taft Lodge, SOBO LT mile 66
11.2 miles, plus about 2 miles walking around town
5900 gain, 4500 loss
I'm ready to go early but don't feel as well as the day before. I call it a 'Hiking Hangover,' most often experienced after a previous big day. Of course, the rugged terrain from day 2 is back. Whoa Nelly! is the climb to Whiteface Mountain steep! I'm scrambling over slimy rock faces while grabbing onto roots and limbs…a lot of that in the light of my headlamp. I get to the top for a nice view of the sunrise through the valley haze. It's very humid but there's probably also smoke from the fires out west. It reminds me of the sunrises I saw in Oregon and northern California on the PCT. Boo smoke but it does make the sun fiery red and pretty to behold.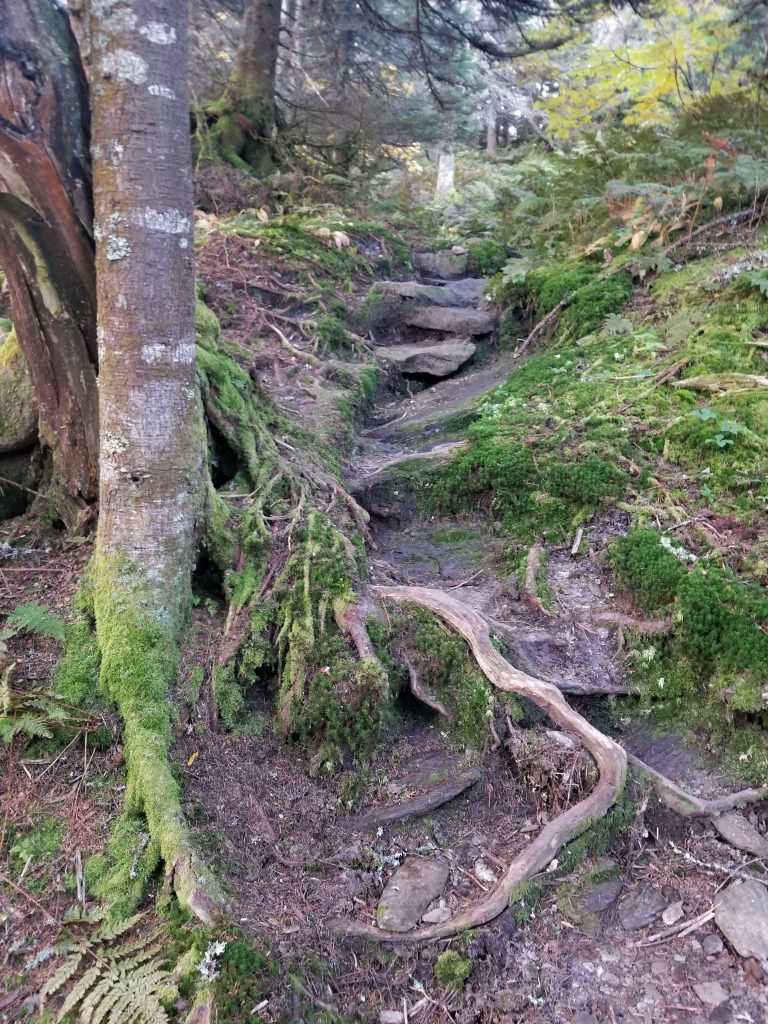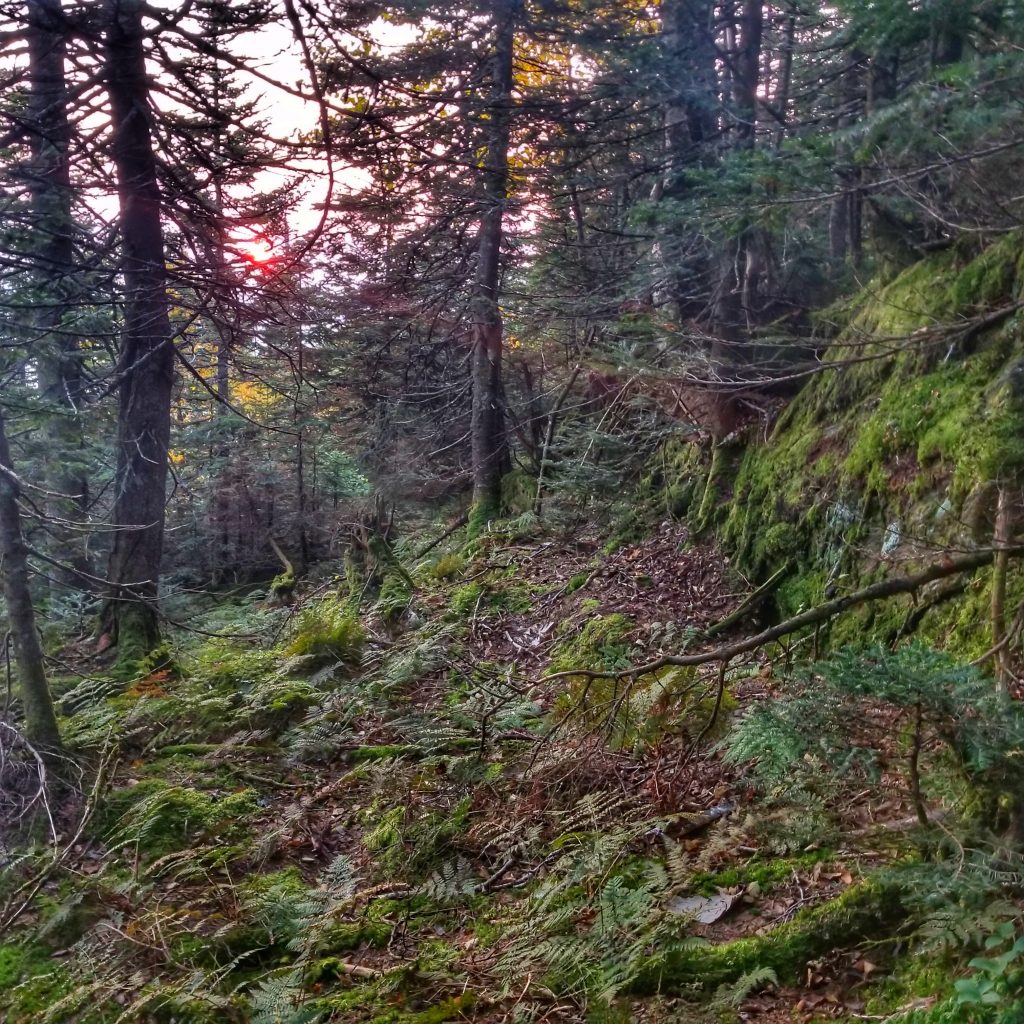 I can see Mt Mansfield (highpoint of VT) looming to the south, our planned destination for the day. A rough ridge to Madonna Peak and a steep descent to Smugglers Notch stand in the way. I'm back to my 1.5 mph pace today, despite going downhill from Whiteface.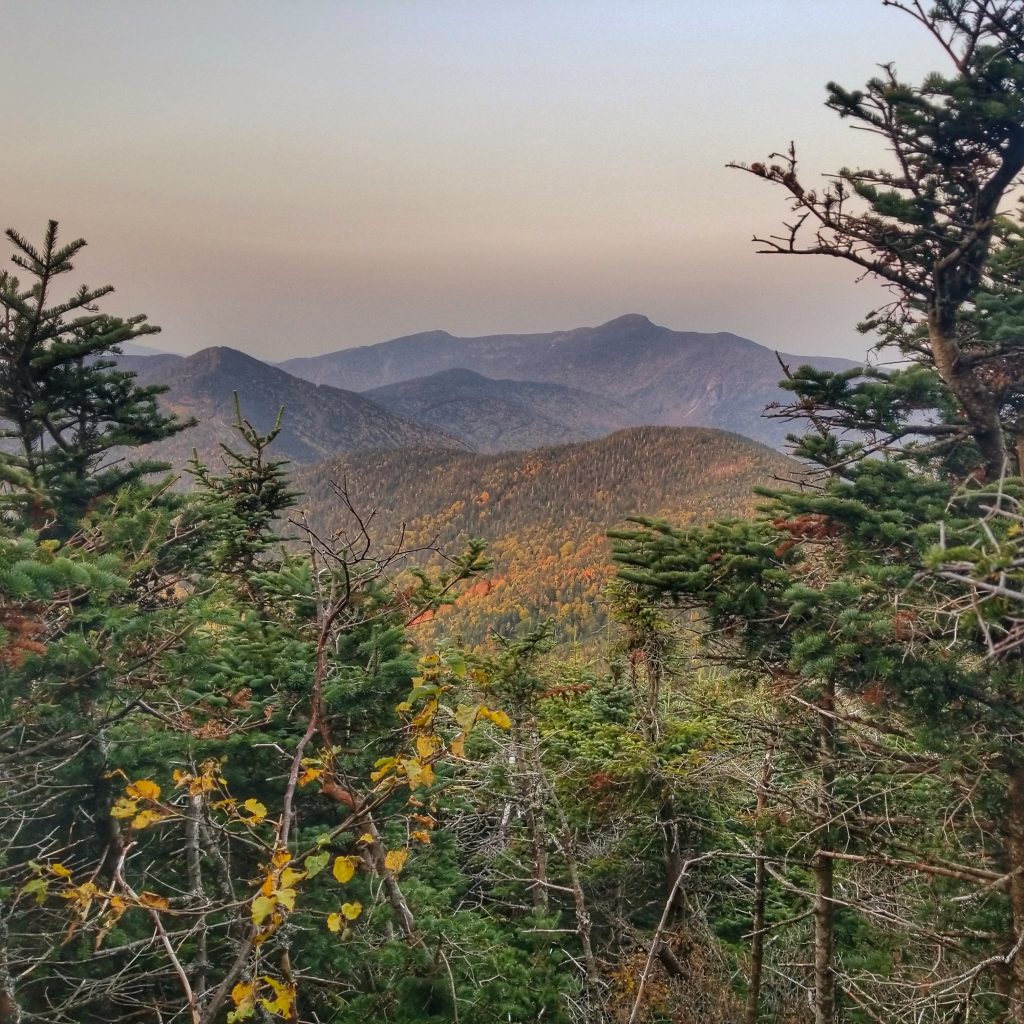 All 9 miles to the road into town are tough. The mountain tops and ridges are composed of scraggly pines, rocks, roots, and bogs. It's such different terrain from out west. I marvel at how much would be considered class 2 or 3 scrambling. Stellar laughs when he sees me negotiate a slick rock face by foot-skiing down it. It's more of a controlled fall. There's a lot of potential for an ankle or knee injury but I manage to skid past it all. We get a break from the forests for a bit when we walk a steep ski slope to the top of Madonna Peak. Now I feel like I'm back in Montana walking jeep trails on the divide.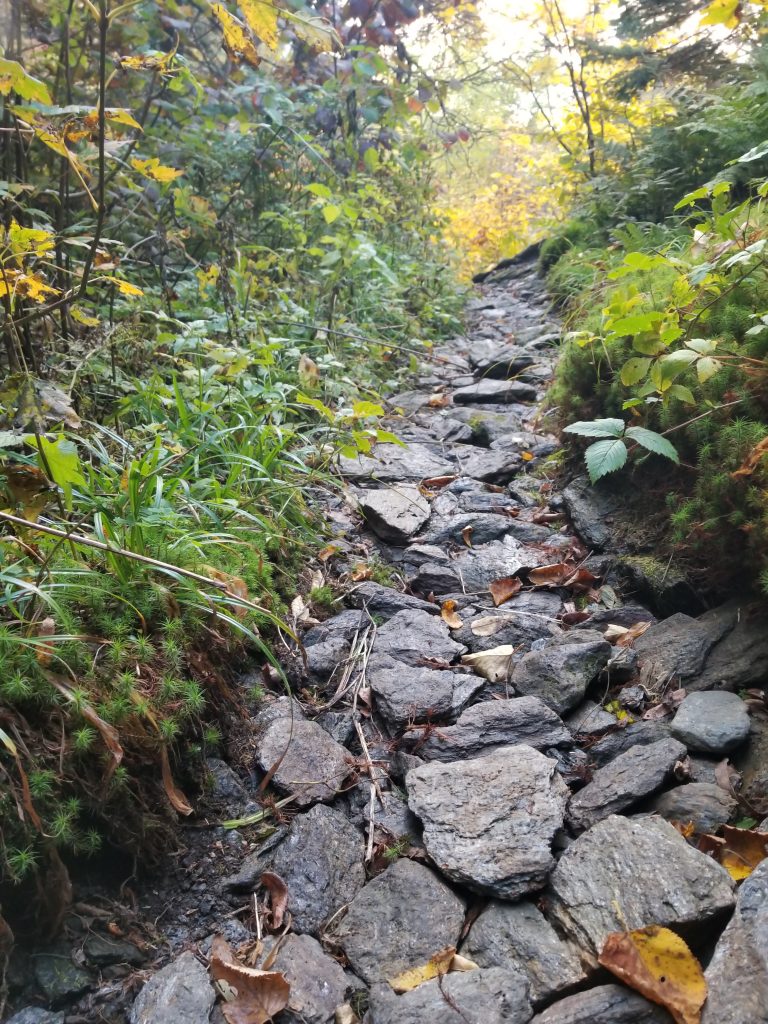 A wide variety of trail conditions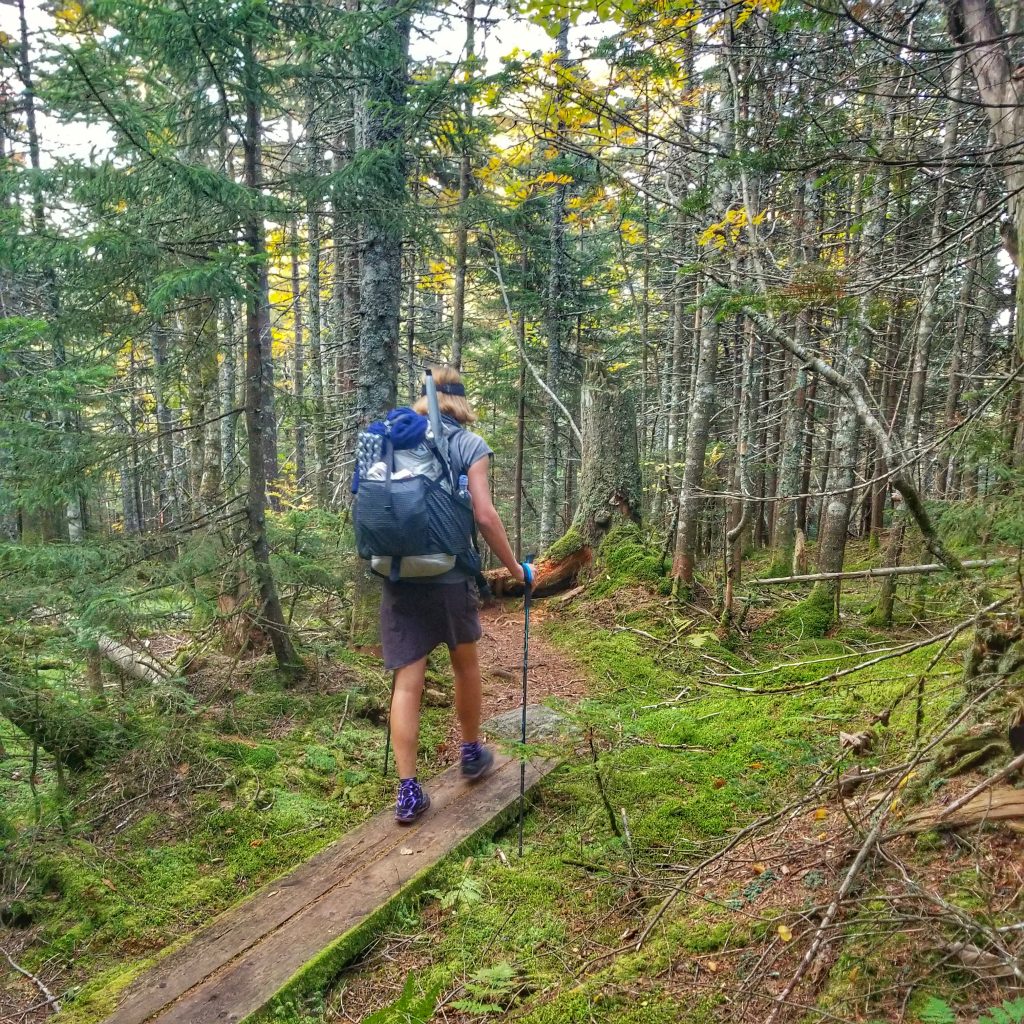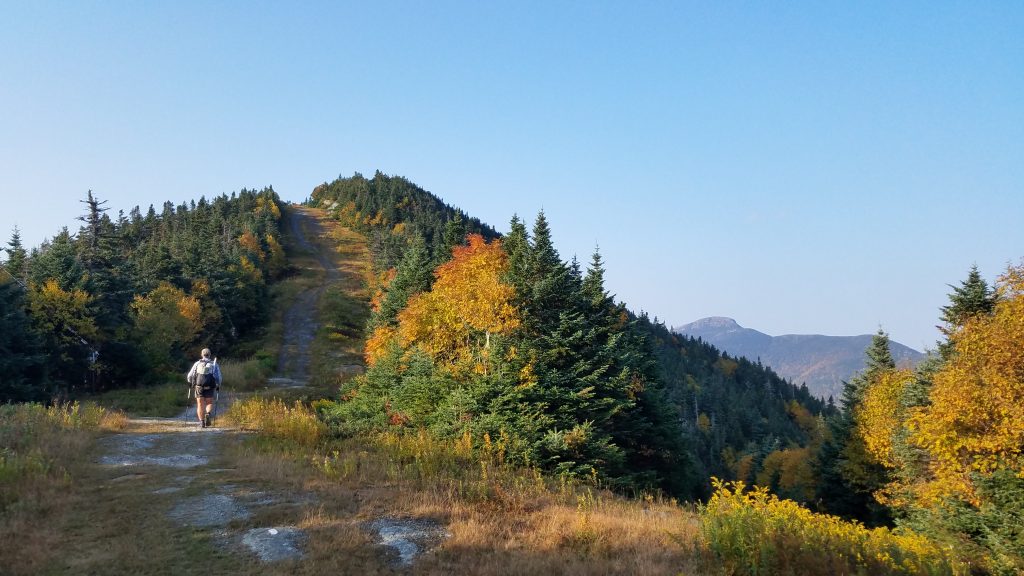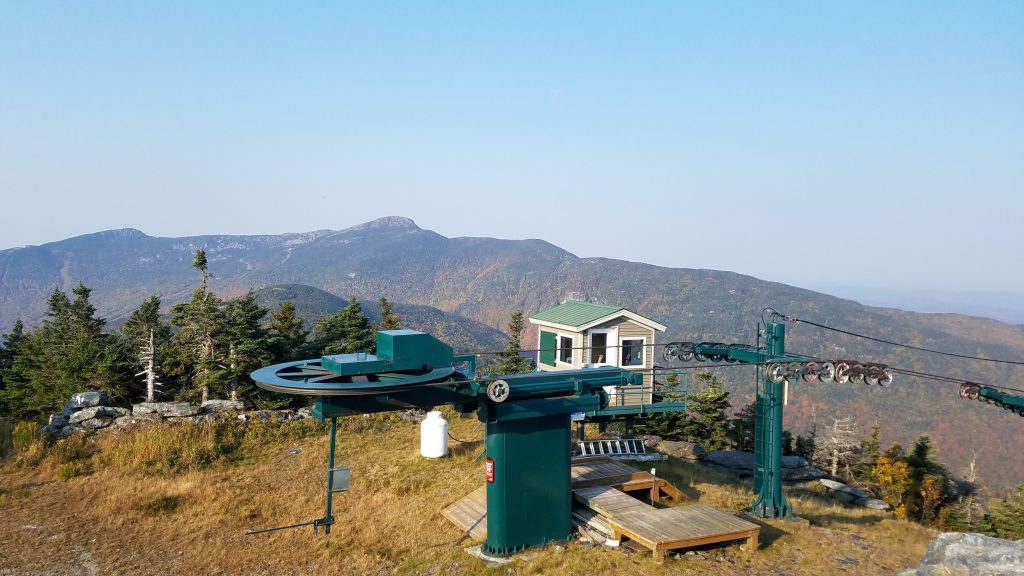 Mt Mansfield taunts us to the south. It looks like a whole lot of work to get there from where we stand. It would be so much easier to take this ski lift down and another back up the other side. Actually, there's a road leading most of the way up Mansfield.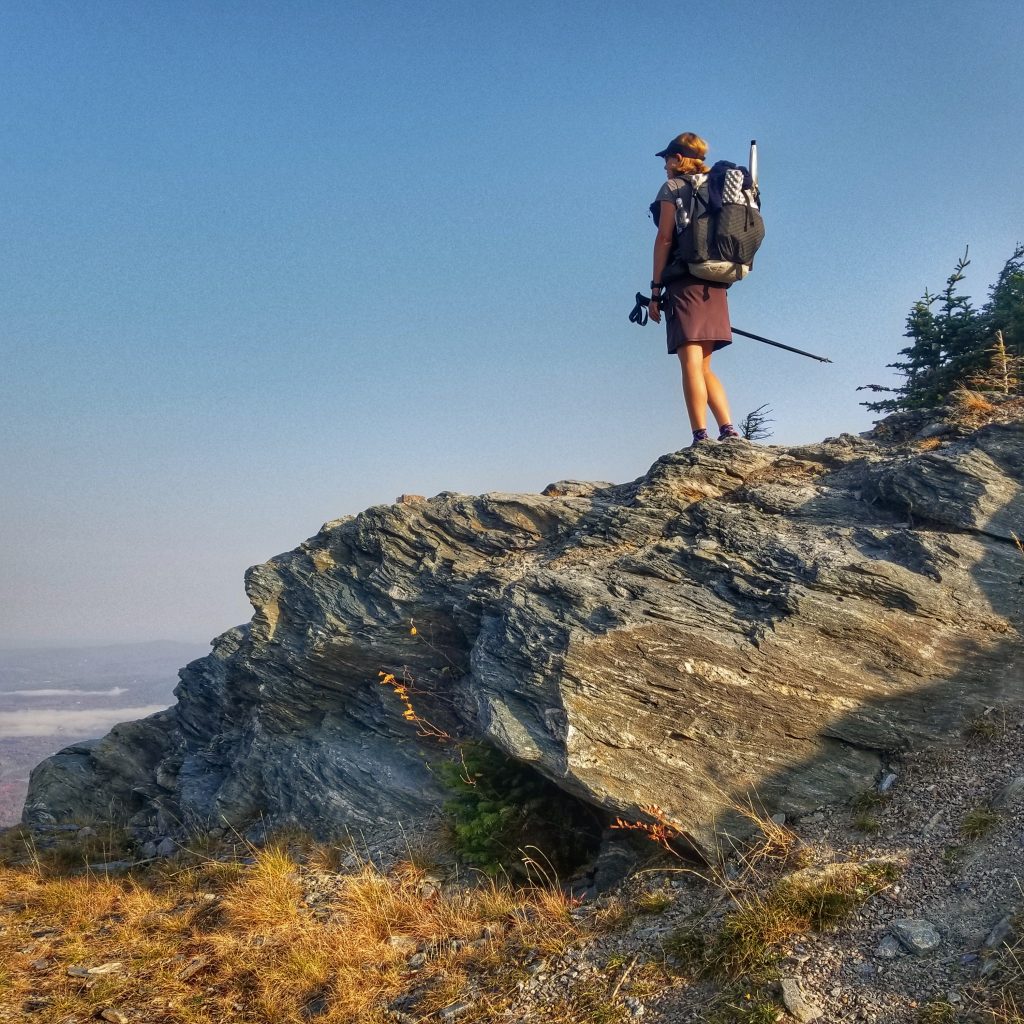 Here I can see all the way down to Burlington and Lake Champlain
I ponder how a lady ultra runner did this whole trail, 273 miles, in just over 5 days. I don't know how you run up and down such steep slopes, with so much slick rock and roots. I feel like I'm going slower on the downhills than the climbs many times.
We continue past Sterling Pond, which is like an alpine lake, only surrounded by dense forest instead of rock. It's a beautiful fall Saturday, so tons of day hikers and weekend backpackers are out and about. I don't even try to count people encountered today because it's close to 100 or more. Many have flowed in from an array of side trails and maybe even a few have taken a lift or gondola up. We continue on the Long Trail all the way down into Smugglers Notch. Stellar has arranged for his cousin to meet us there, swapping out his shoes. He had less than 100 miles on the pair before starting this trail and already they are starting to blow out. This trail is hard on hikers and on shoes. Mine are looking rough too, but I've already been wearing them most of the summer.
By the time I get to the parking lot, Stellar has already changed his shoes and had time to freshen up. Eric graciously gives us a ride to Stowe, which is a small resort town with an attached ski area. We head straight to a laundromat, which is about the only place in town where us vagabonds can hang out and charge devices. The town is packed… a traffic jam lines main street. The restaurants are all full and/or require reservations. The grocery stores want people to buy stuff and then get out. We don't even look into lodging. It's a weekend at peak leaf-peeping season in the most touristy town in Vermont. Even if there were a room left, we imagine it would be quite expensive.  We end up getting greasy pizza at a gas station for lunch and are just anxious to get out of town, away from the business and structure of society. It's all made even more bewildering by the COVID situation.
Having succeeded in our main goal of getting resupplies for a few more days, we walk the road for several miles, trying to escape the town traffic.  We need a hitch back to the trail but don't figure it will come easy. Pretty soon a truck gives us a ride in the back a few more miles out of town. At least from this location, most of the traffic is going our way. Then we get another quick ride to the trailhead from a mountain biker. We wear our masks inside his car and even still, it's very generous of him during these weird times.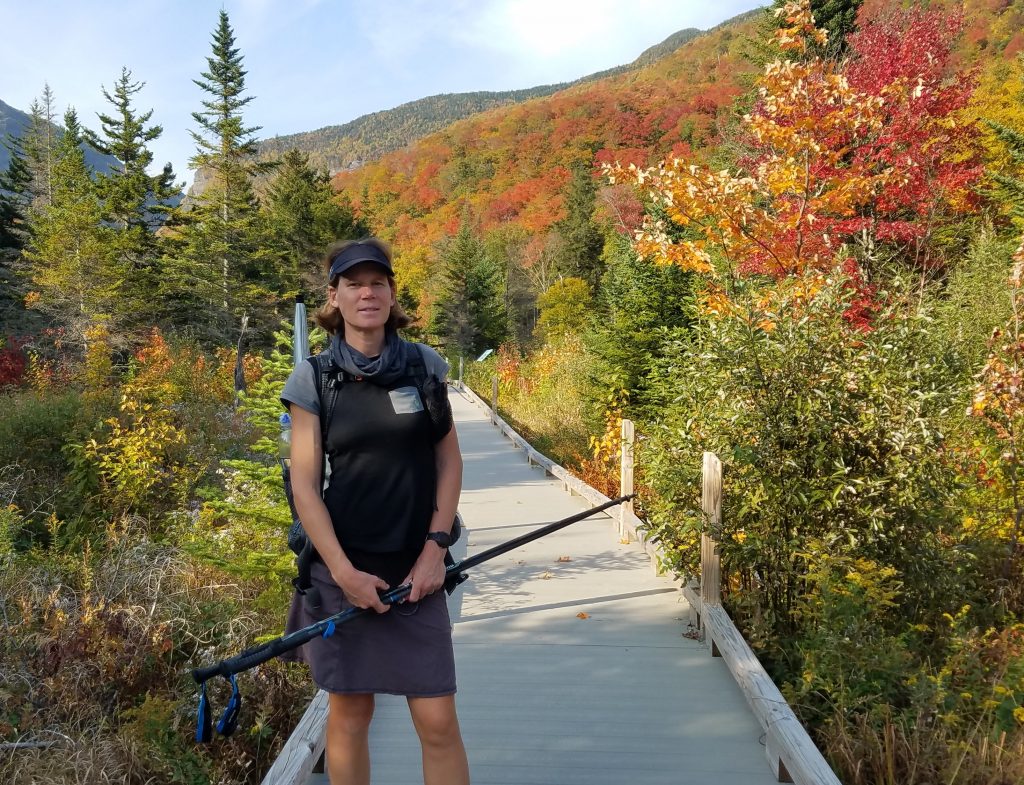 A gorgeous flat boardwalk stretch in Smugglers Notch, perfect for a casual stroll amongst the fall foliage. And all too soon again, the trail turns into this…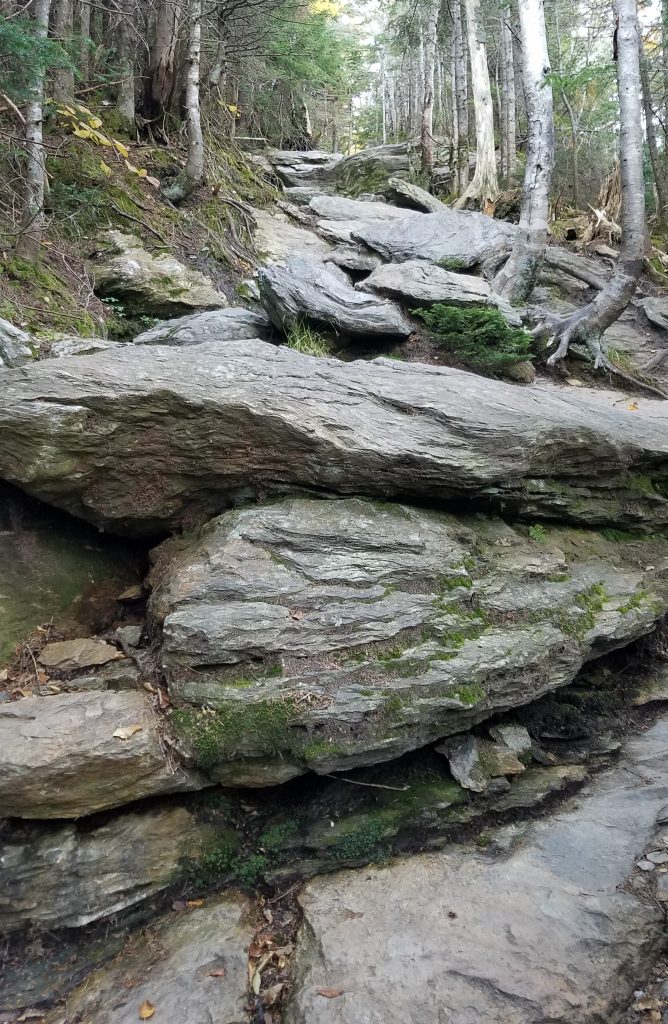 We're back on trail by 4 pm, with a short 2 miles to a shelter…all uphill and a couple thousand feet. The trail is pretty good but very steep. It's also so unseasonably hot! I stop at a creek to soak my shirt and buff in the refreshing water. The cooling effect gives me the boost I need to make it the rest of the way.
We expect the shelter to be packed but are pleasantly surprised to initially find only 2 other hikers, one of which is Adam, a SOBO that we caught up to yesterday. We're glad to have some time to get to know him a little better. He's a recent Standford graduate and a really interesting guy. Stellar finds that they share a friend in common: another thru-hiker that Stellar met on the PCT and that Adam went to school with…was even roommates with! We all cook our dinners outside on the porch, enjoying the beautiful weather and views.
This shelter's actually a proper lodge, fully enclosed with windows and a door that gives everyone a hard time. I can't figure out how to operate the ancient latch, despite there being instructions posted. Taft Lodge was originally built in 1920 and is the largest and oldest structure along the LT. It's got a pretty interesting history that can be read
here.
I am a little leery about staying inside, but as there are no nearby tenting sites and it's not very full, we make due by opening all the windows to let the fresh air in. A few more people show up after dark but everyone is pretty quiet and respectful. We plan to get a very early start the next morning to try to catch a mountaintop sunrise. Fingers crossed!