March 9th
Lake Hayes (km2691) – Queenstown (km2711)
Mileage: 12.4mi/20km
I was on my way to Queenstown, the "adventure capitol of the world", but had no desire to stay there. I had few chores to do and the place was likely fully booked, anyhow. There are a million activities and tours one can book in and around Queenstown but I just wanted to get in and out as fast as I could. My goal was to resupply, then get a ride to Glenorchy, on the way to the start of the next TA section.
The TA once again provides a logistical challenge as it ends at Lake Wakatipu in Queenstown and picks up on the other side at the Greenstone track carpark, some 100 kms away. One could try to swim (not feasible unless you're an ultra-swimmer), get an expensive water taxi or shuttle, or just hitch. Which do you think I went with?
But first, I had another 20 some kms to hike to Queenstown. Reconnecting to the trail in the early morning was pretty easy, despite a few bluffs I had to navigate down and around. Then I followed a series of multi-use paths past the Frankton suburbs, along the Kawarau River (which drains Lake Wakatipu) and into the huge Frankton shopping center, where I was easily able to get my food resupply.
Everywhere there was new development. I even had to stop for a construction crew to load some gravel onto a truck. They were very nice and eventually stopped to let me pass. The driver wanted to chat but I wasn't much in the mood for talking. All the development made me kind of sick and I just wanted to get away from it.
I passed the airport, then walked the final stretch along Frankton Arm lake. It was a very scenic path but still depressing. There was one resort after another, huge complexes built along the lake and more going up as far as the eye could see. I rounded the corner through the botanical gardens, which was the only recognizable part of Queenstown from my previous visit. I distinctly remember walking through the gardens…funny that my most vivid memories are of natural settings. I guess that just shows how I am wired.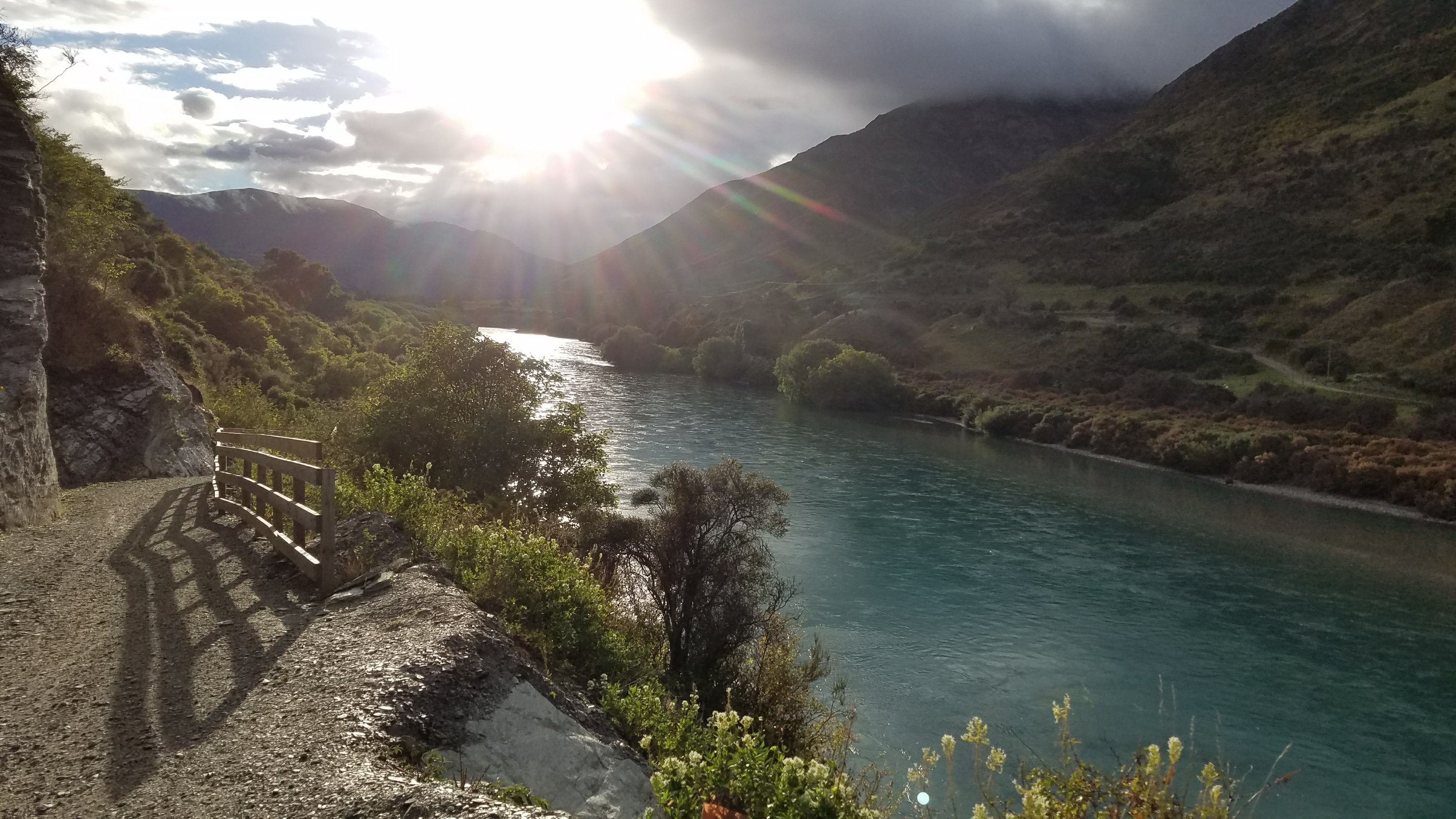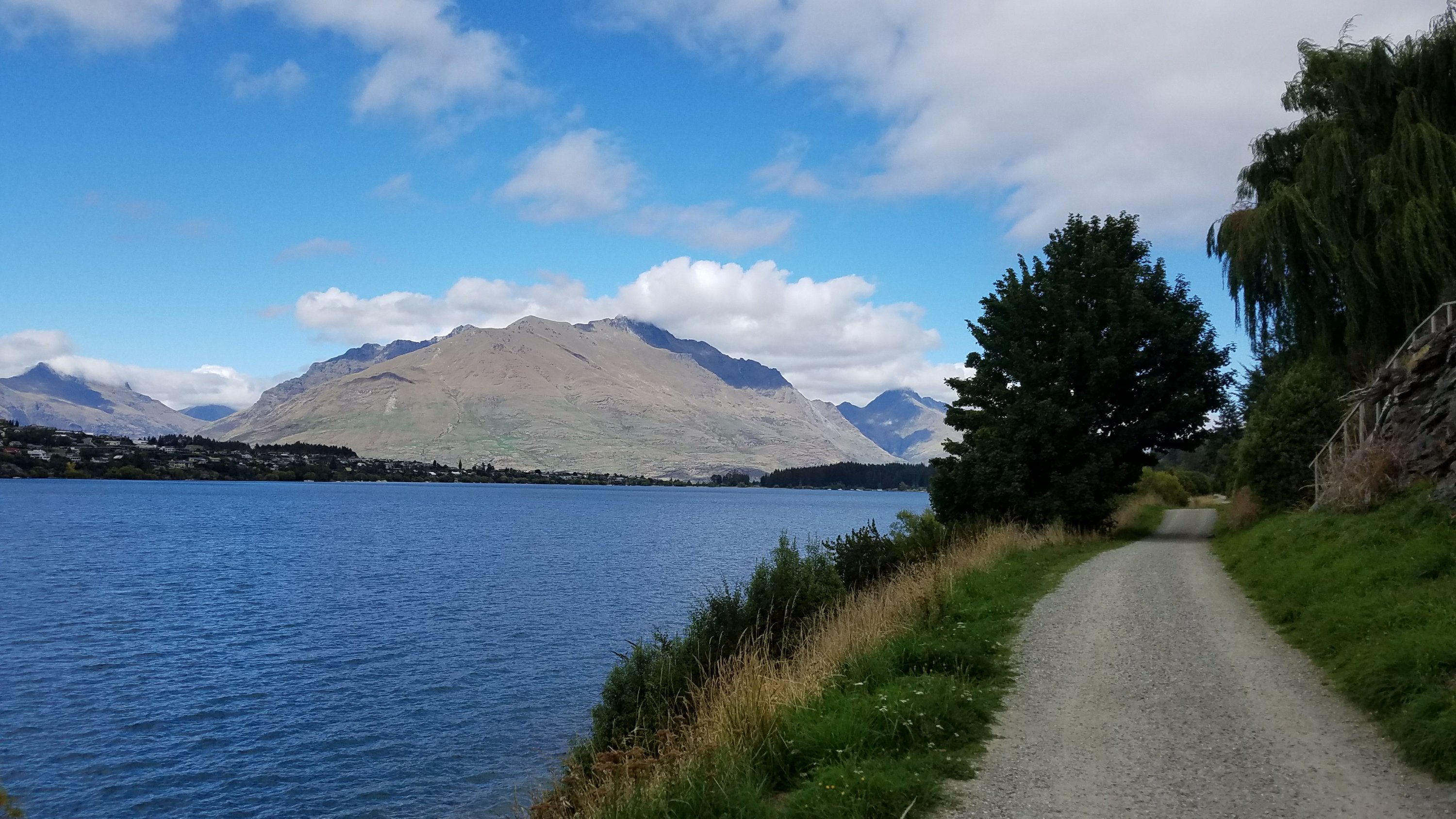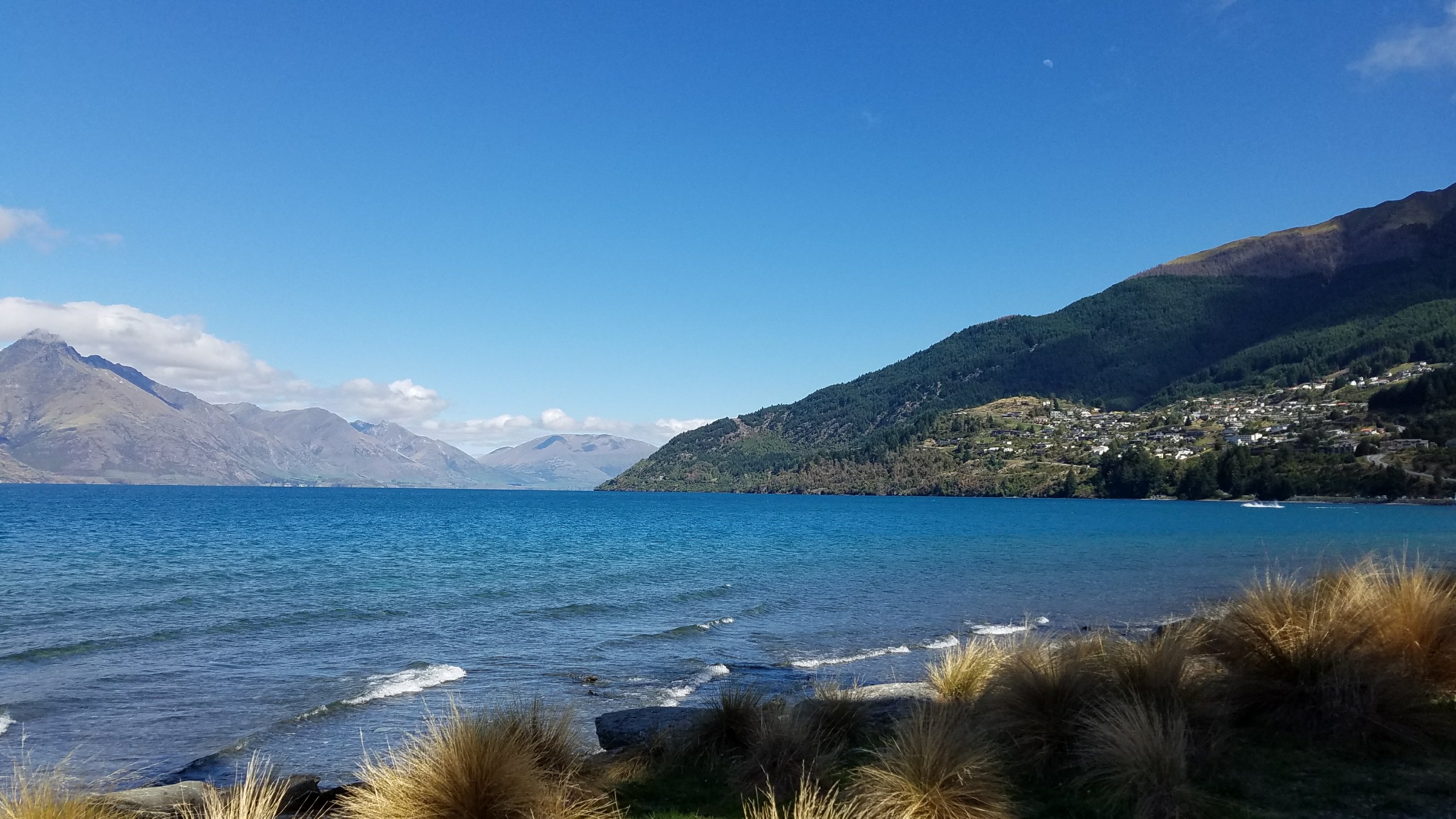 Once in the city center, I was dumbfounded. A collection of high-end stores claimed the waterfront, along with stately private hotels and posh restaurants. It was like stepping into South Beach. So much has changed and now this place is just another hotspot for the rich and famous. I felt so out of place. I sat in the square in a daze, waiting to meet up with Ruslan. He departed the day before to hitch from Arrowtown. He had a friend to stay with in Qtown, lucky him.
I did do one thing in town…I got a kiwi burger at McDonalds. I first checked out Fergburger, which for some reason is an immensely popular burger joint and had a huge line. American fast food won out over standing in a line with my pack…anything to get out of town quicker was really what I was after.
We walked to the edge of town and I gladly stuck out my thumb. Nearly the very first car pulled over and was going all the way to Kinloch. Garret was Austrian and drove like we were on the Autobahn but at least we got away from town fast! It was a beautiful day and we stopped once to take pictures of the phenomenal lake and mountains. I have many scenic pictures of Lake Wakatipu from my earlier visits to NZ. The lake just never ceases to amaze.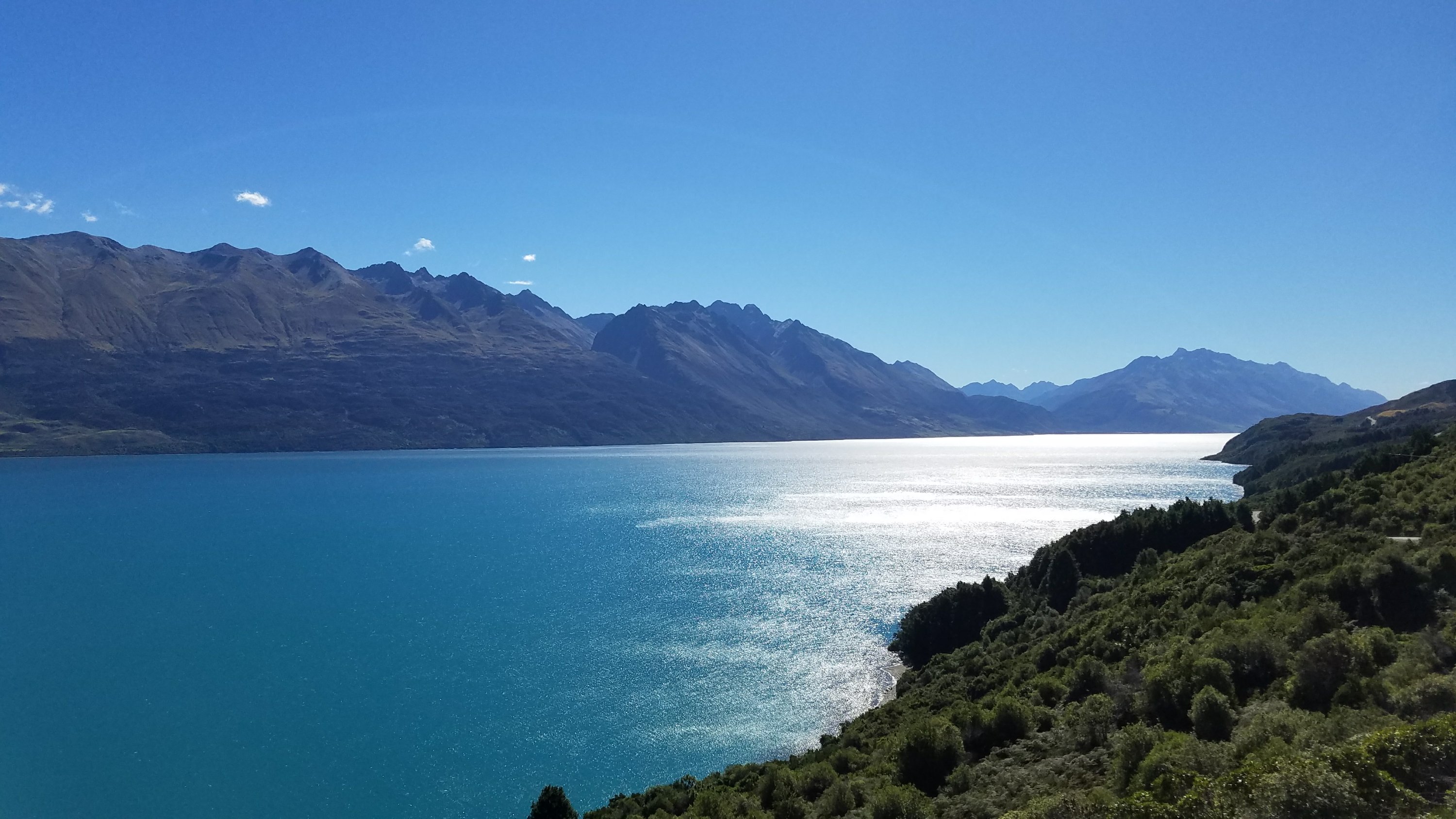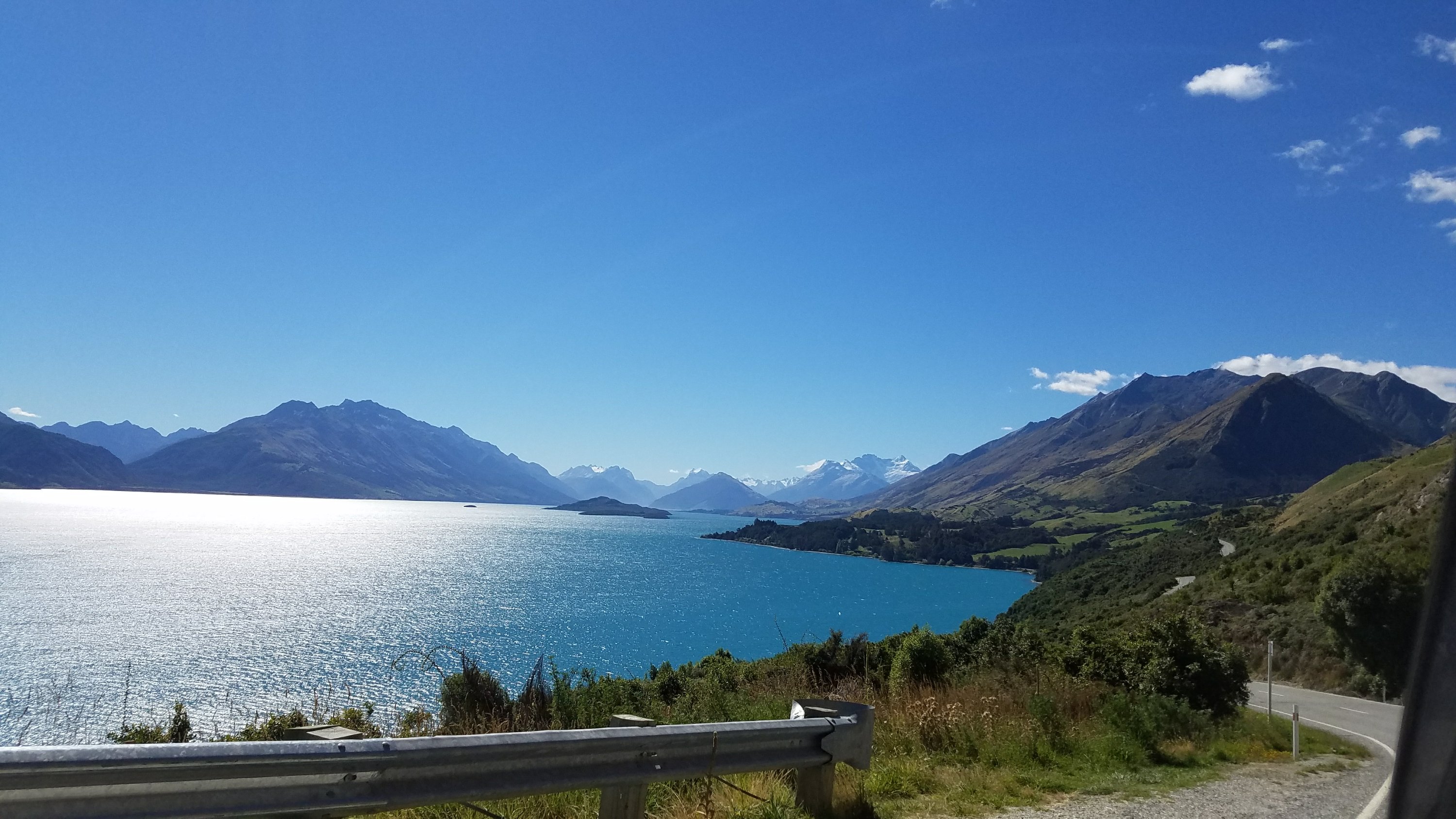 We could have gotten most of the way to the trailhead with this one ride but unfortunately I had to stop in Glenorchy to pick up my bounce box. I also wanted a shower and felt I should stay at the Glenorchy Hotel and Backpackers, where they had been kind enough to hold my box. So I spent a nice, relaxing night in the tiny town. I visited the dock and lake, then was delighted to find that it was pizza night at the local pub. It was good to see that Glenorchy hasn't outgrown its britches yet, unlike Queenstown. It's still basically a one-street town where you can show up on a Friday night and find a bed, or at least a place to pitch your tent. And the views of the mountains are even better.