March 1st
Lake Ohau (km2510) – Avon Burn Stream (km2538)
Mileage: 17.4mi/28km plus 3 km walking to TH from lodge
Today had a little bit of everything: a great sunrise, small road walk, forests, a saddle crossing, rain, big river crossing, and last but not least, awesome trail magic.
The day dawned quite elegantly, with a nice orange glow over the lake. It was again one of the best night's sleep. A little stream drowned out all other noise and it was dry under the pine tree. I walked out to the lake to soak up the serenity. To think, all those people up at the lodge were paying top dollar for lake views, but we had the ideal location…at least by my standards.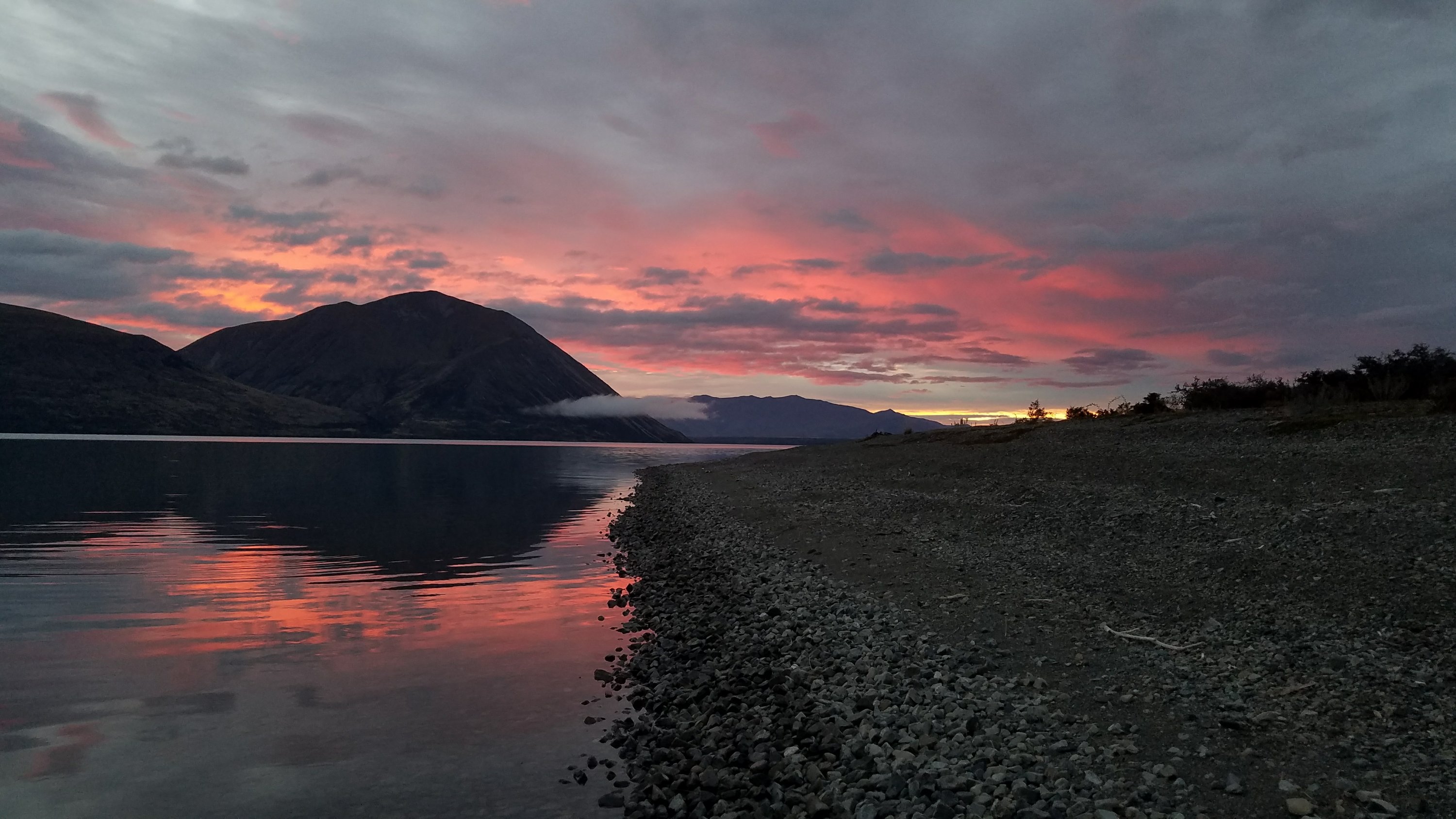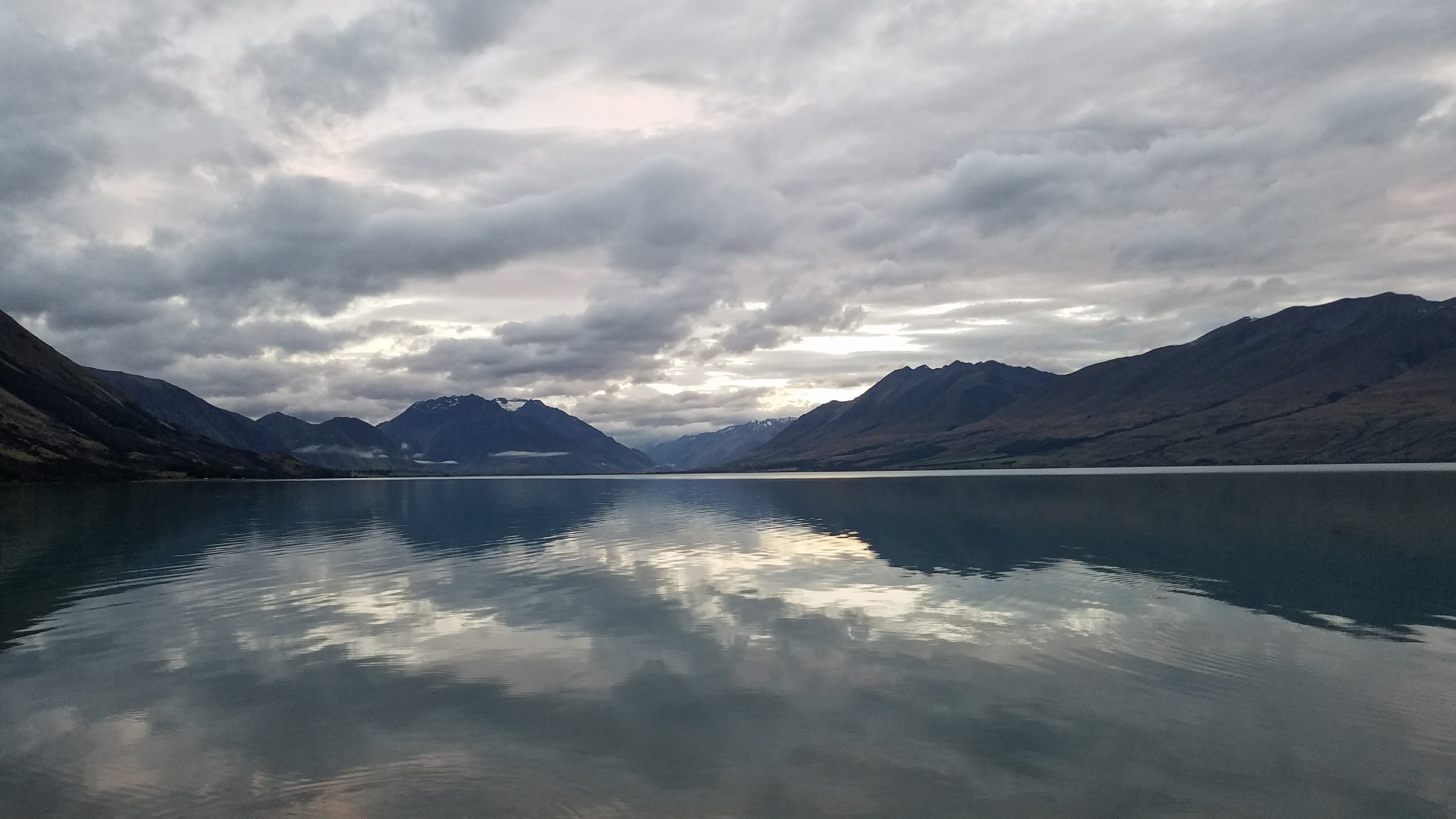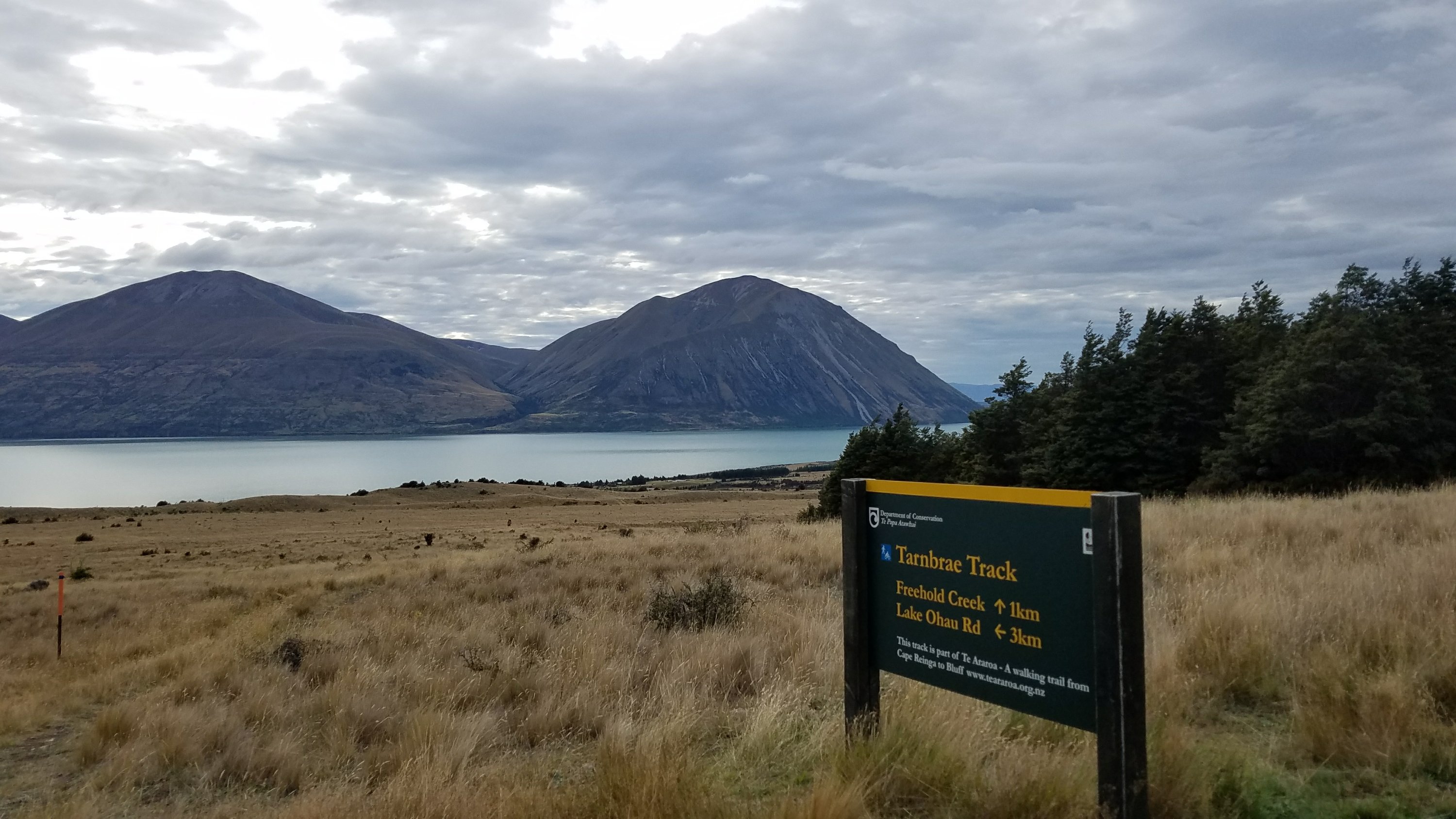 We had to walk the road about 3 kms back the way we had come the day before, since the lodge was past the trailhead. Call it a tax for getting to ride the bikes all that way. Then it was a climb through prairie, then forest, then tussock to an unnamed saddle. Although the forest was brief, it was nice to walk under some trees for a change.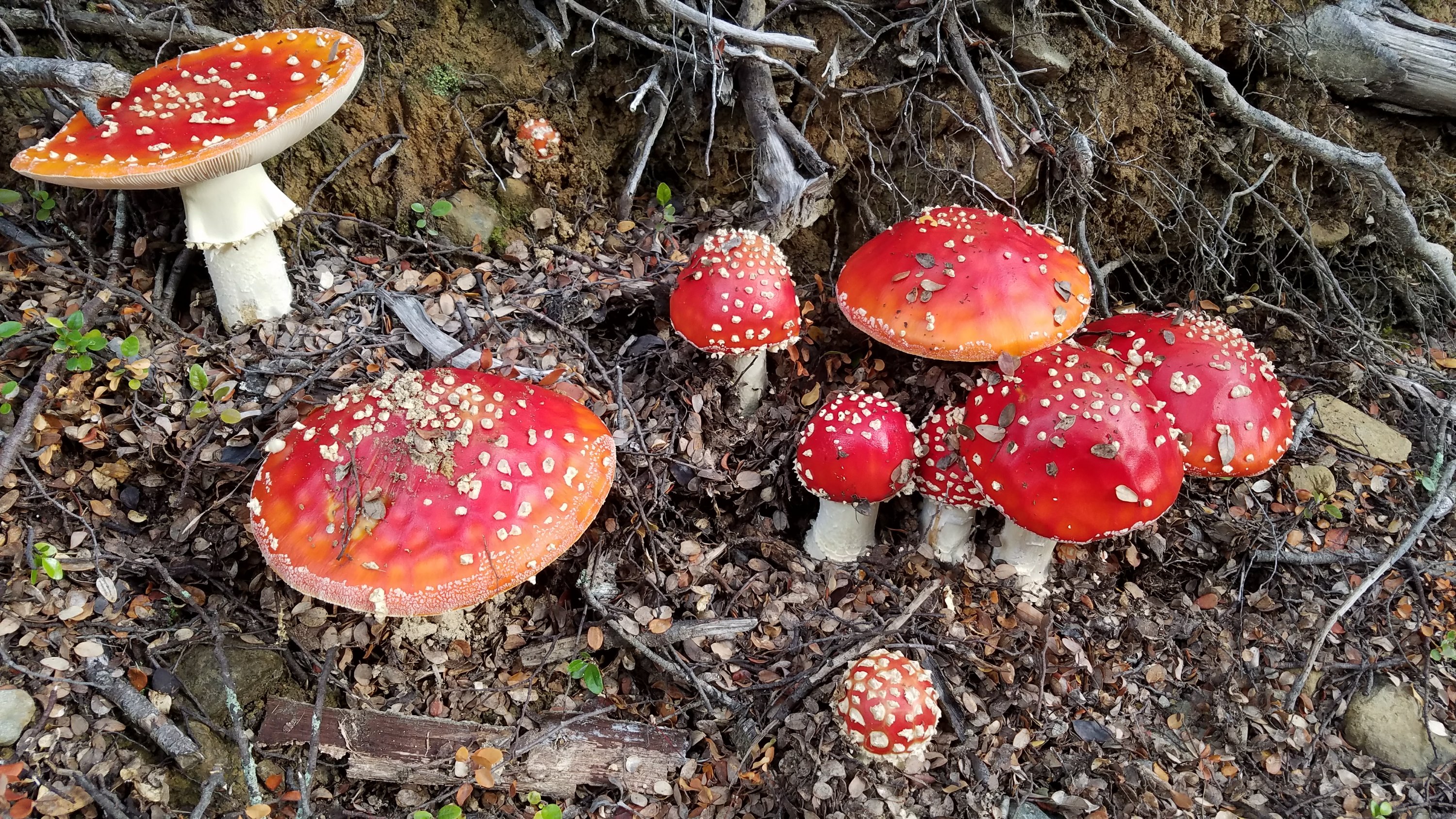 There have been tons of these Mario mushrooms. Mmm, they look tasty and deadly!
I took it slow this day because I wanted to cross the Ahuriri river together with Klaus and Ruslan. Along the way, we also caught up to Bertram. We would have a sizeable group, if it was needed.
Travel down the valley was similar to many of the others in Canterbury: some shale sidling, river bed rocks, and tussock bashing. The speargrass seemed especially sharp in this section. In the afternoon, it started to rain, light at first then a bit heavier. My feet had long since gotten wet but the umbrella once again saved the day, keeping my core dry.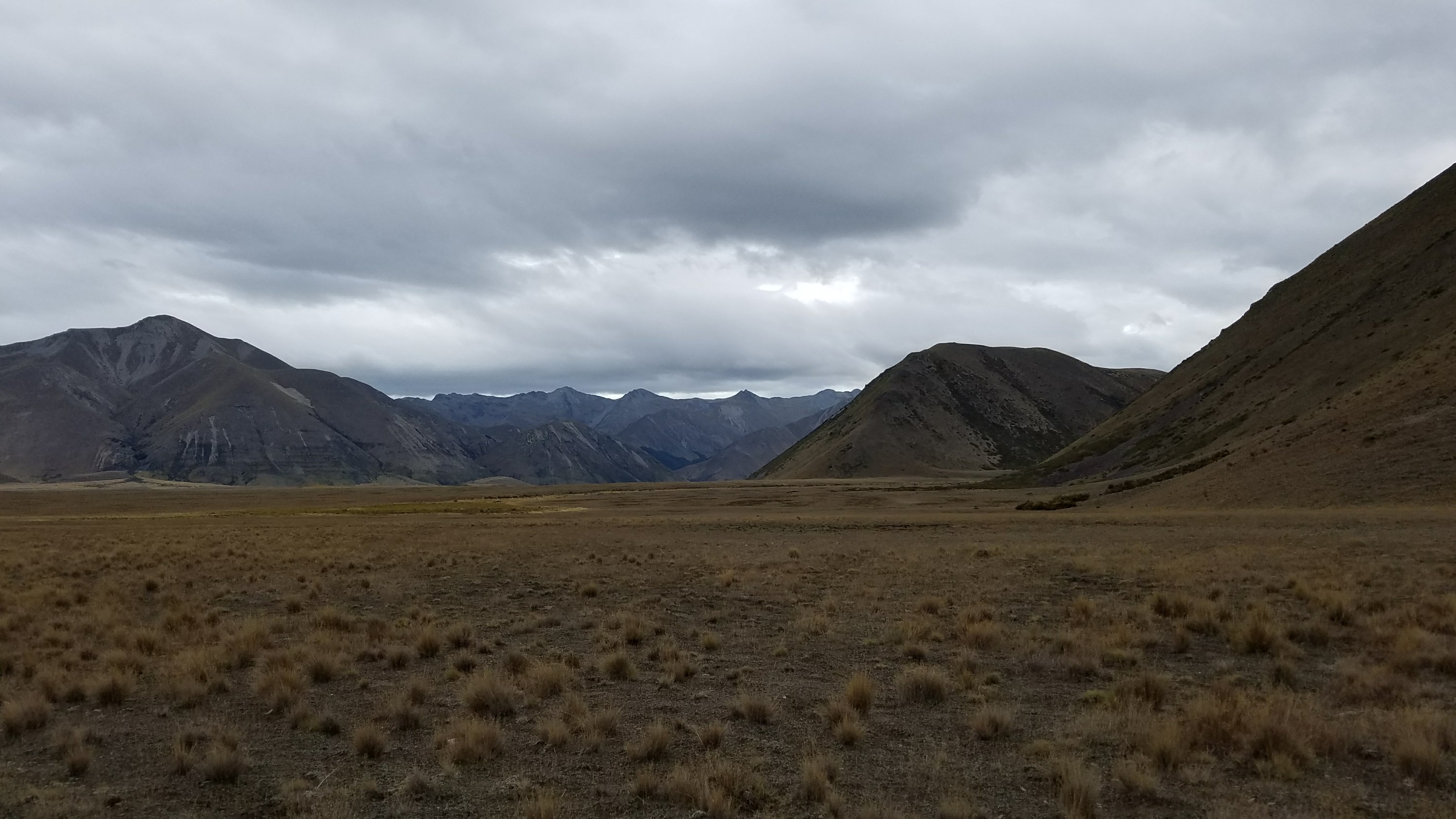 The rain let up as we got down into the main valley and approached the Ahuriri river. This one is much smaller than the Rakaia and Rangitata and has the option of walking 5 kms downriver to a bridge. We ran into some NOBOs that had just crossed it and gave us some pointers. I was feeling very confident.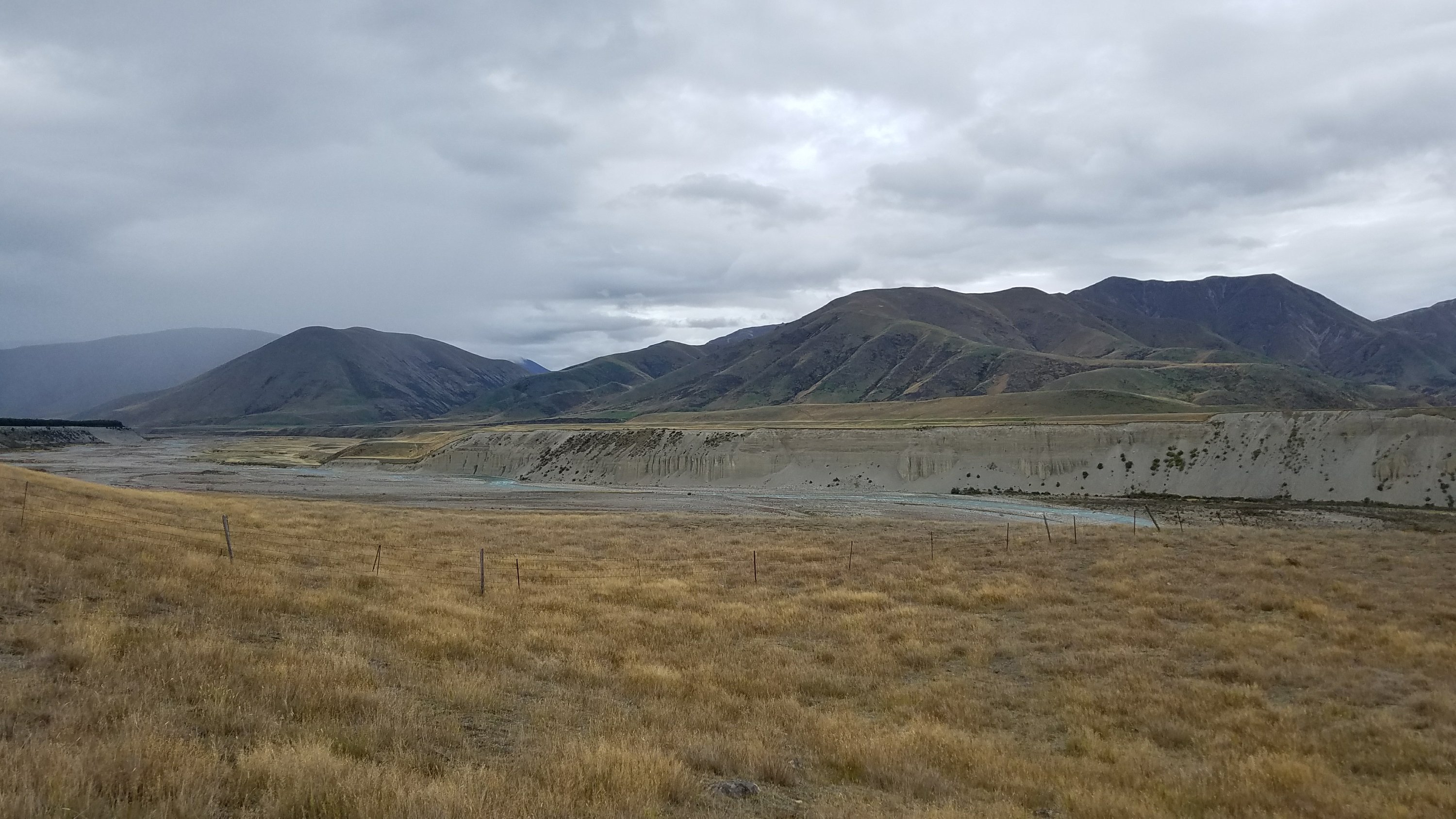 Then as the river came in sight, we saw a lone walker crossing. She had picked a spot where the river split and seemed to have no trouble. It would be as easy as following in her footsteps. I was the first from our group to take the plunge, feeling very emboldened. The water was mostly clear, so that made a huge difference. The first channel was a bit swift but only came up to my thighs. I definitely had to concentrate but it still felt easy compared to our trials with Bush Stream a few days ago. The second channel was even easier.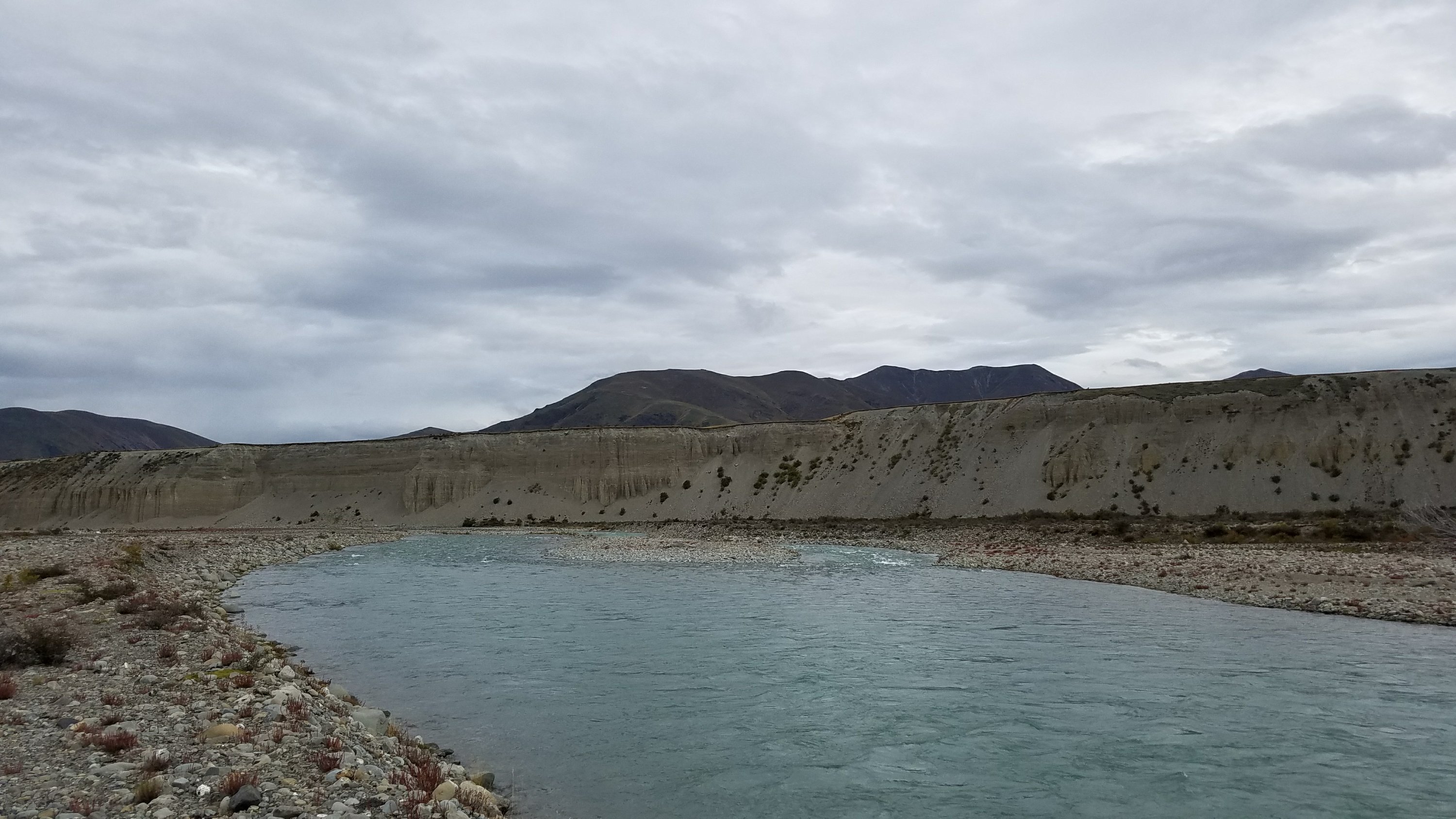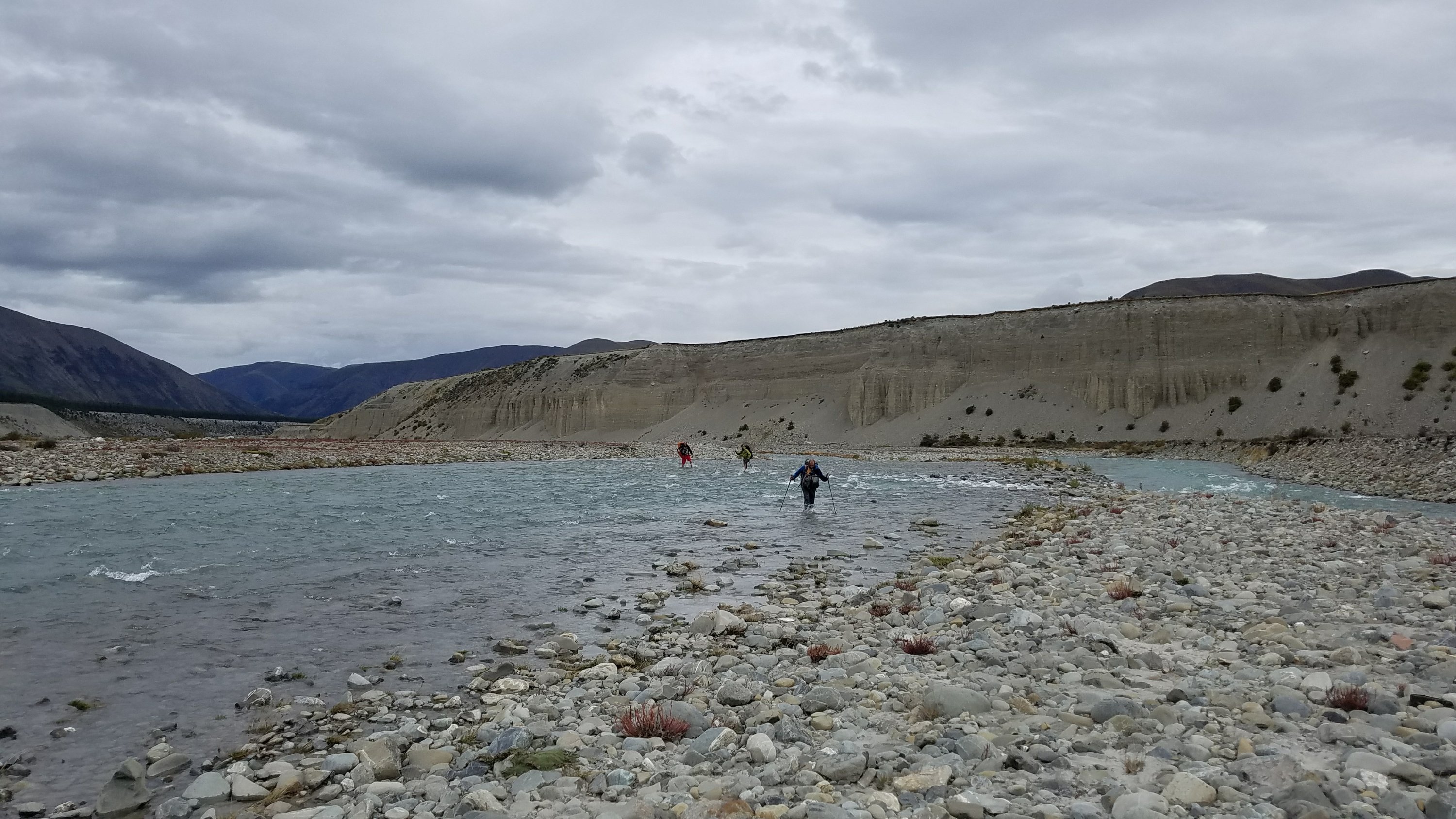 Once across, I got to meet the lone walker, German Sara. She made the crossing look so easy because she is nearly 6 feet tall! Maybe I wouldn't have felt so bold had I known this. Ha! We all breathed a sigh of relief that 'the last big one' was crossed but as I learned with Bush Stream, any water course can rise up to slap you in the face, given the right conditions. I doubt this will be the last challenge. Still, I am feeling much more experienced and prepared these days.
We had decided to try to make it to a hut about 9 kms away before sunset. We climbed the ridiculously steep river embankment on the south side, then headed out into more prairie.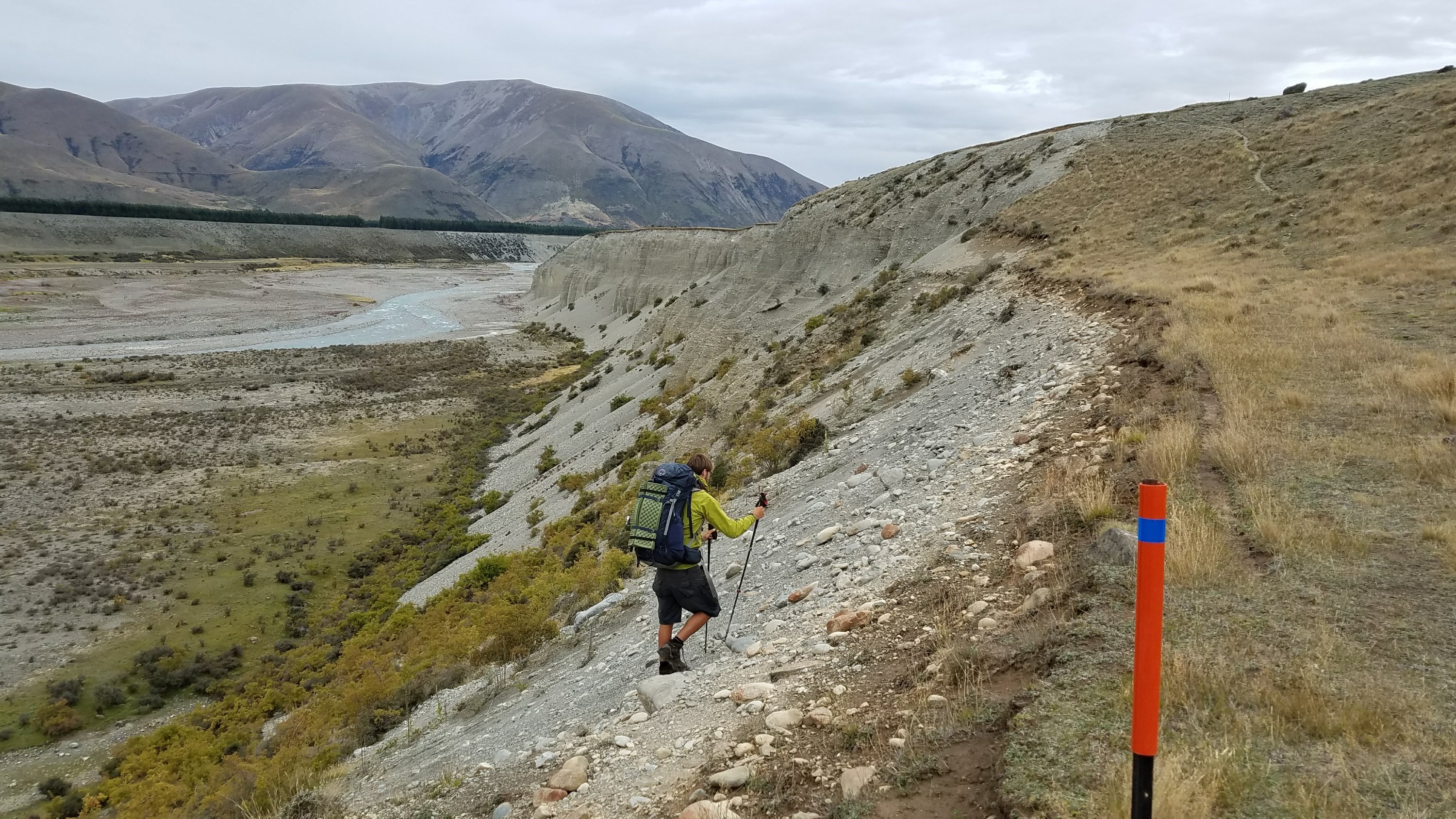 As we neared a gravel road, we saw a lone SUV parked, with a cooler and chair set up next to it. It looked all the world like trail magic, such that would be found at many trailheads along the AT or PCT. But the remoteness of this place and lack of such occurrences on the TA struck me as not-a-chance. Low and behold, it was full-blown, premeditated trail magic!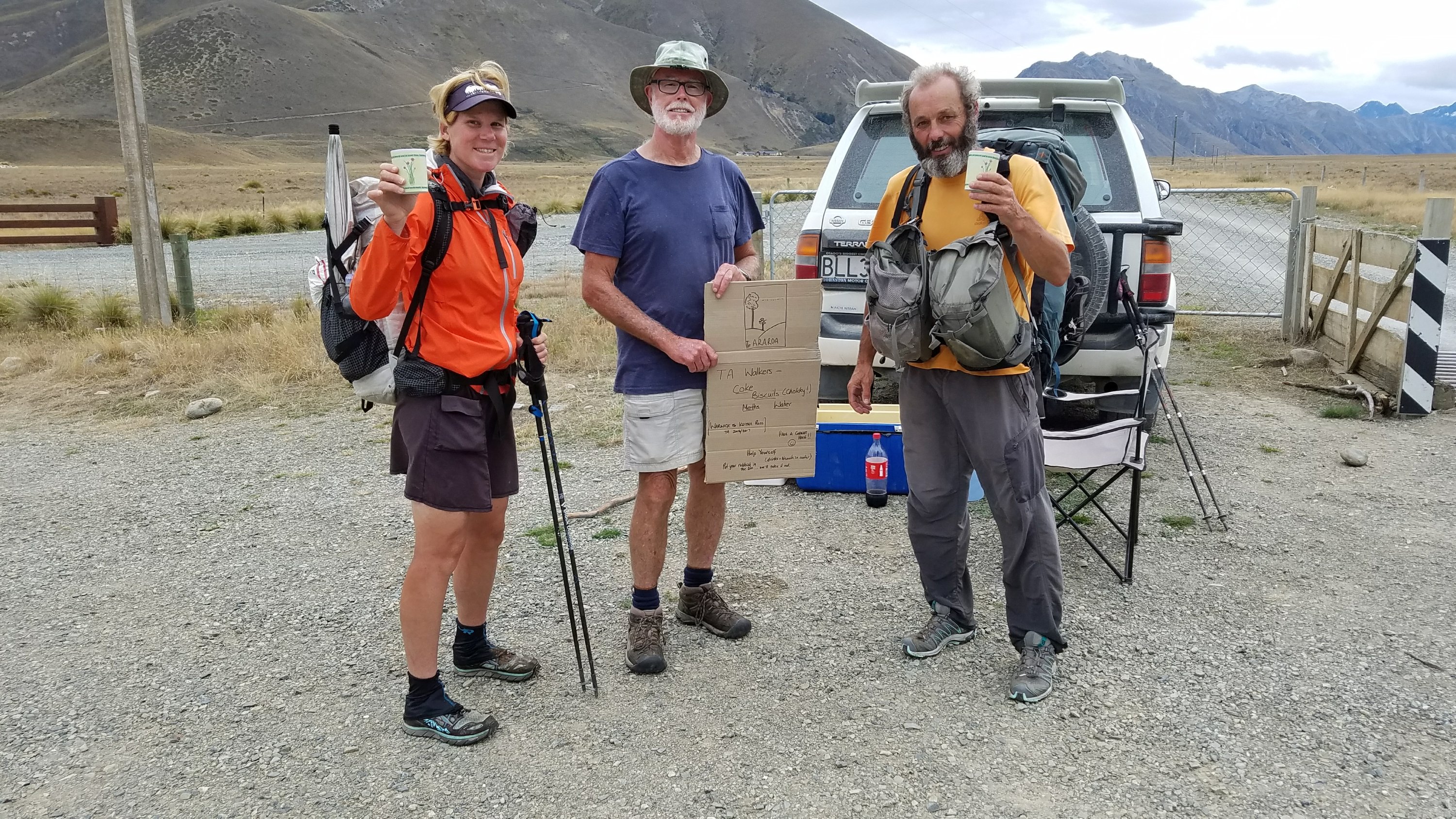 Warwick, the trail angel, was just coming back from a stroll and seemed genuinely excited to have some customers. He walked the TA last year, so understands the gravity of his deeds. He immediately filled up our cups with coke, shoved cookies at us, and sat us down in his chairs. He also had pears and apples from his trees. He even took all our trash, not that we had much, this being day 1 of the section.
This was the first trail magic stand of this degree that I have encountered on the TA. Sure, there have been countless examples of TM previously, but most of it all due to Kiwis just being nice and hospitable. This was planned and calculated trail magic, as only someone who has also been a thru-hiker can do so well.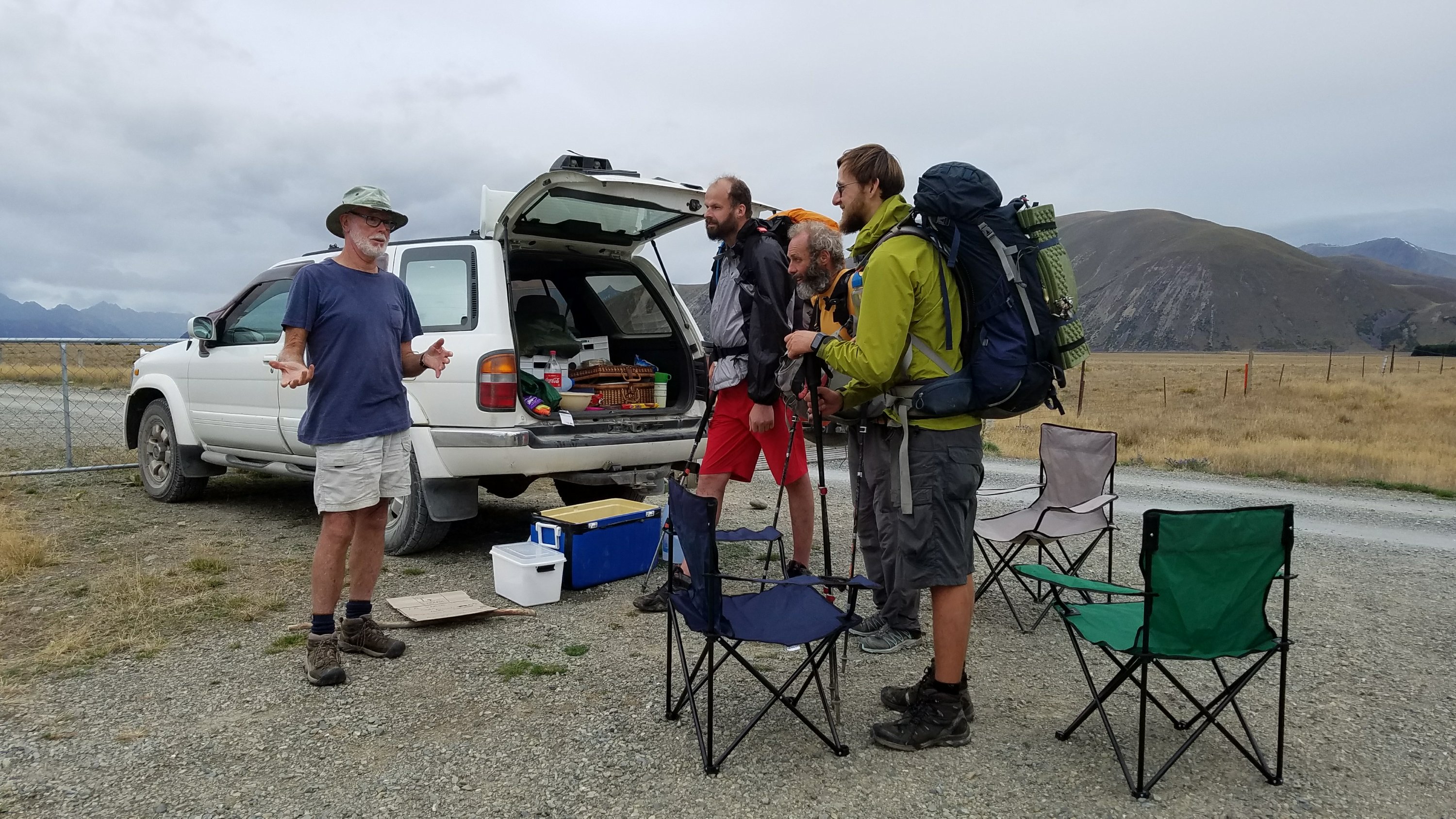 Warwick, also explaining the history of the area. What a great guy!
Even though it was late in the day and we had a long way to go yet still, we sat down and enjoyed our good fortunes. I was high off cookies and coke by the end. We thanked Warwick profusely, then continued on. Our hut destination had to be scrapped, as it was already 7 pm. Luckily, a beautiful grassy spot near a stream presented at the right time and we seized it. Perfect timing, as it just started to rain as I was setting up my tent. This was the first night that I had to cook dinner under my vestibule the whole trip. I'm well practiced at it, after all the rainy days on the Colorado Trail. But I was so full from earlier that I could barely finish my meal. The perfect drizzly kind of rain with a stream flowing in the background ensured another good night's rest.