February 28th
Lake Tekapo (km2424) – Lake Ohau (km2510)
Mileage: 53.5mi/86km plus much more, but all done on a bicycle.
The mechanical advantage was back today! 3 days of walking done in one, thanks to the aid of 2 wheels. Three of us (Klaus, Ruslan, and I) cheated by renting bikes for this, the longest stretch of roadwalk on the SI. The route follows the Alps 2 Ocean cycle-way for nearly 90 kms, and there are several operators that rent bikes in the area. Options include Tekapo to Twizel or all the way to Lake Ohau lodge, which is what we did. They even do pack delivery to your destination. We rented from Cycle Journeys, which has a TA special. The cost was $90 but so worth it.
The mountain bikes were really good quality and in good condition. They had front shocks and the hubs with the gears inside, which makes shifting really smooth. They came with helmets, locks, and a saddle bag pannier with enough room to fit necessary day items. I'd highly recommend this option to any future TA walkers.
We met to exchange bikes and packs at 07:15 am, which meant I had to wake up by 6 am to start packing. I slept well at the holiday park, despite how busy it was. I was only woken when a hedgehog wondered by next to my tent. There's always something.
I got a double-cat-petting to start off the morning. These were some funny looking cats. The poor thing kept making gurgling noises, finding it hard to breathe with his nose all scrunched up into his face… overbreeding?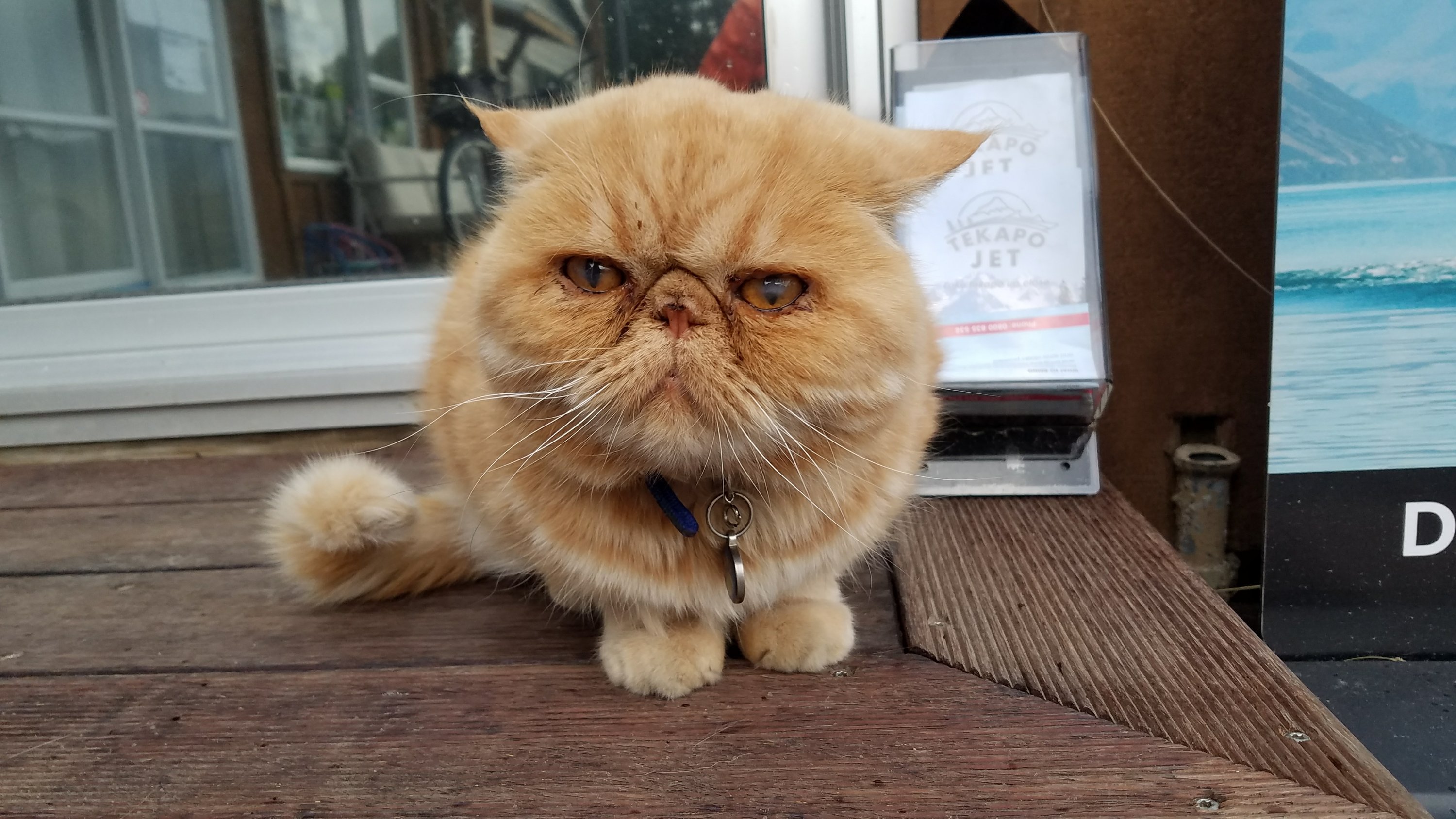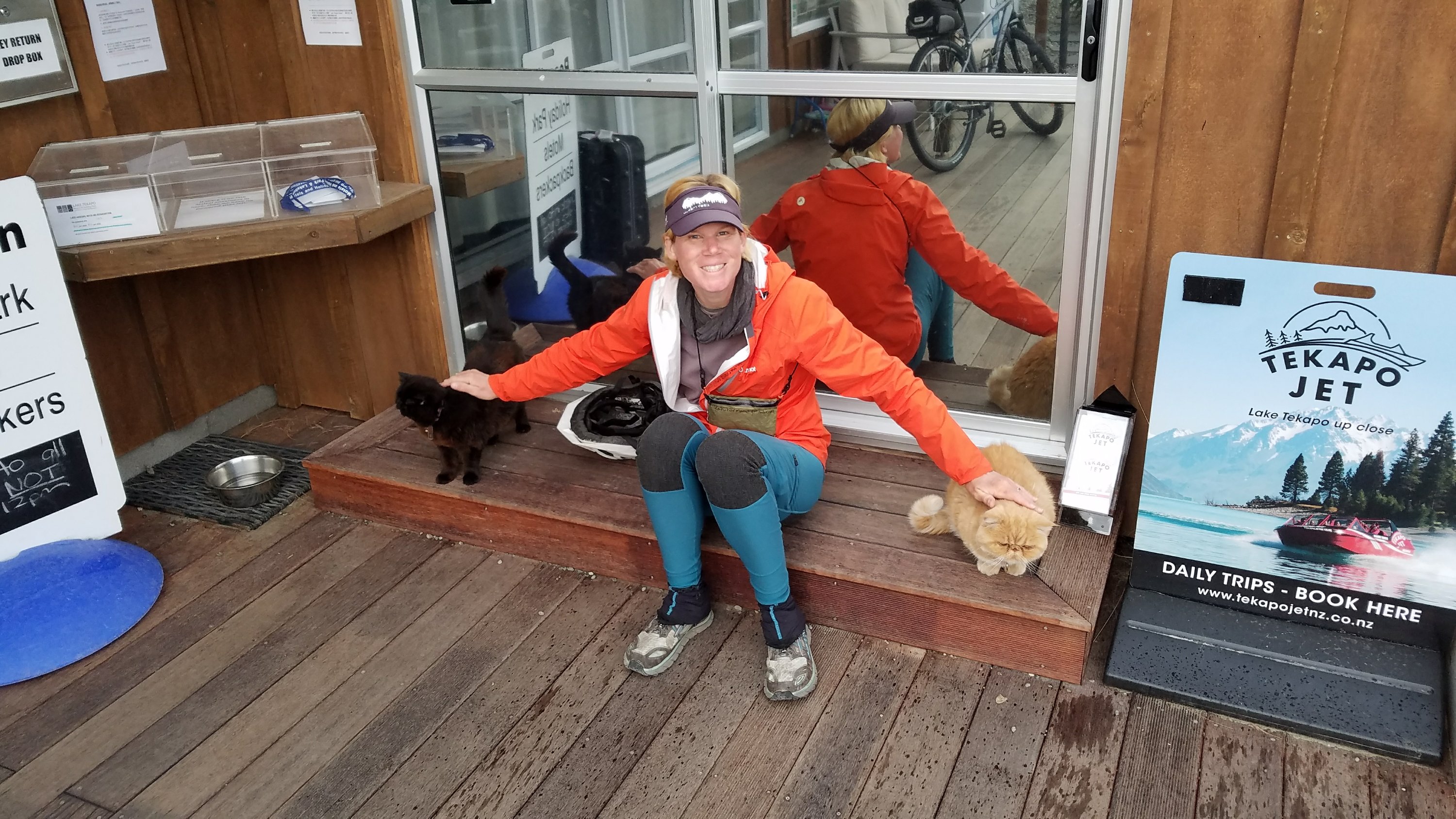 We hung around town for awhile, visiting the stone church and a memorial to collie dogs (only in NZ). These attractions were too busy the day before, as there were a lot of Asian tour groups in town. We also cashed in coupons for free hot drinks from the 4-square. It was just before 9 am that we finally rolled out of town.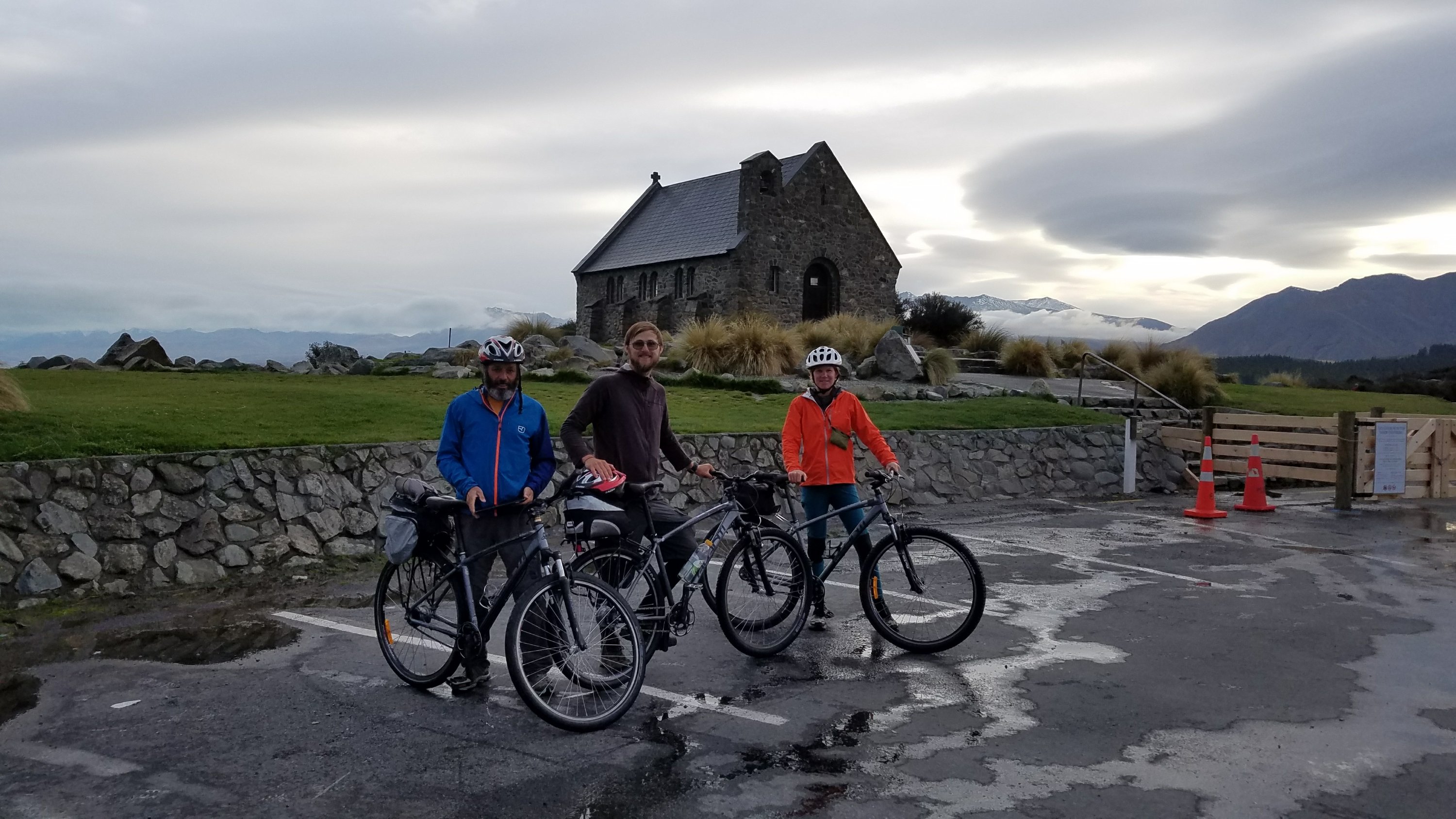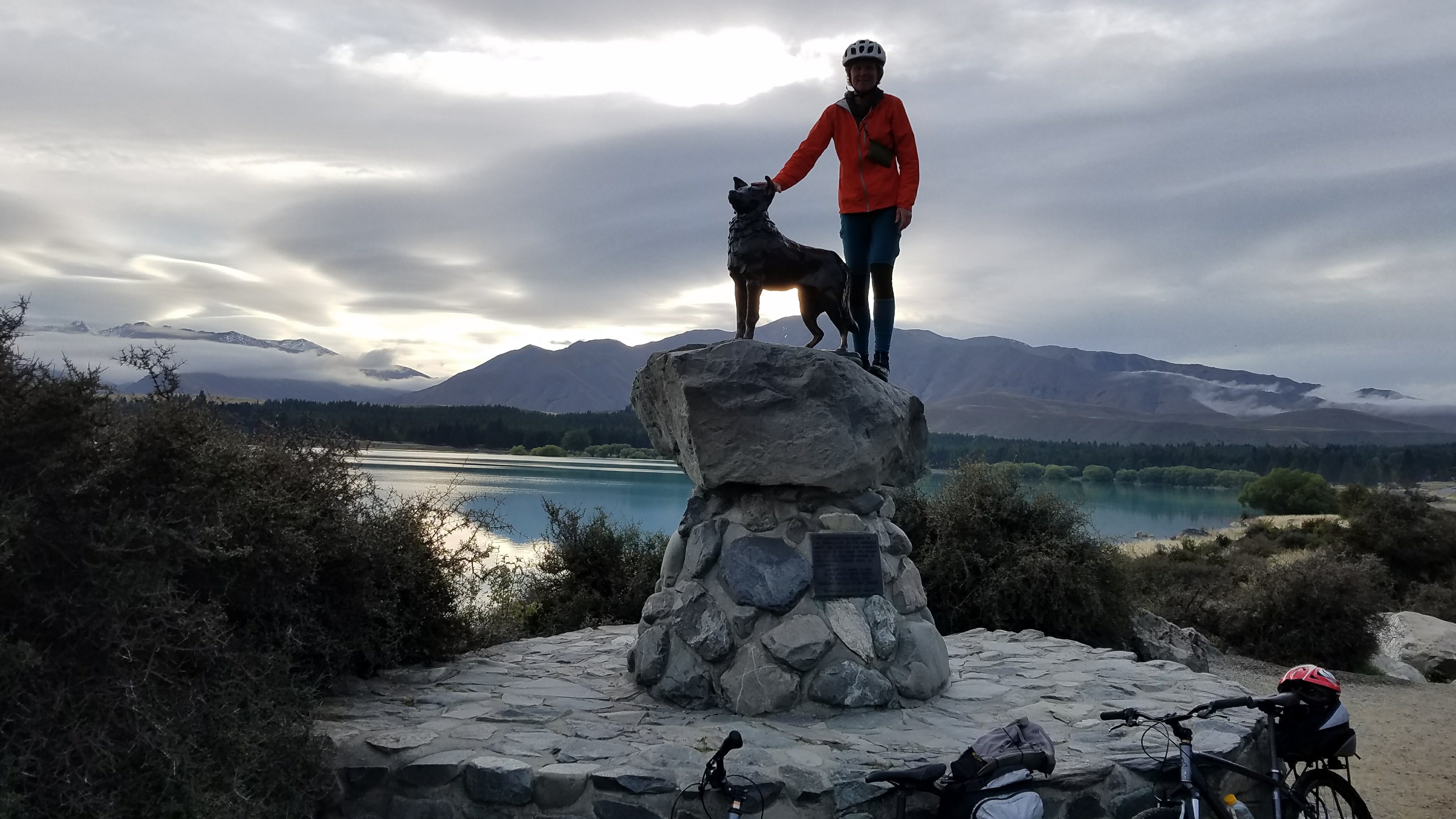 We followed canals for the first half of the way to Twizel. This whole area is dedicated to hydroelectric power generation. There are several huge dammed lakes and the canals direct the water through a series of turbines, so that it is all utilized multiple times. Oddly, the canals and lakes are also used for salmon farming. We passed several huge ones.
We quickly overtook Anna and Tuomas, then J and Hart, all walking. Naturally, we taunted them.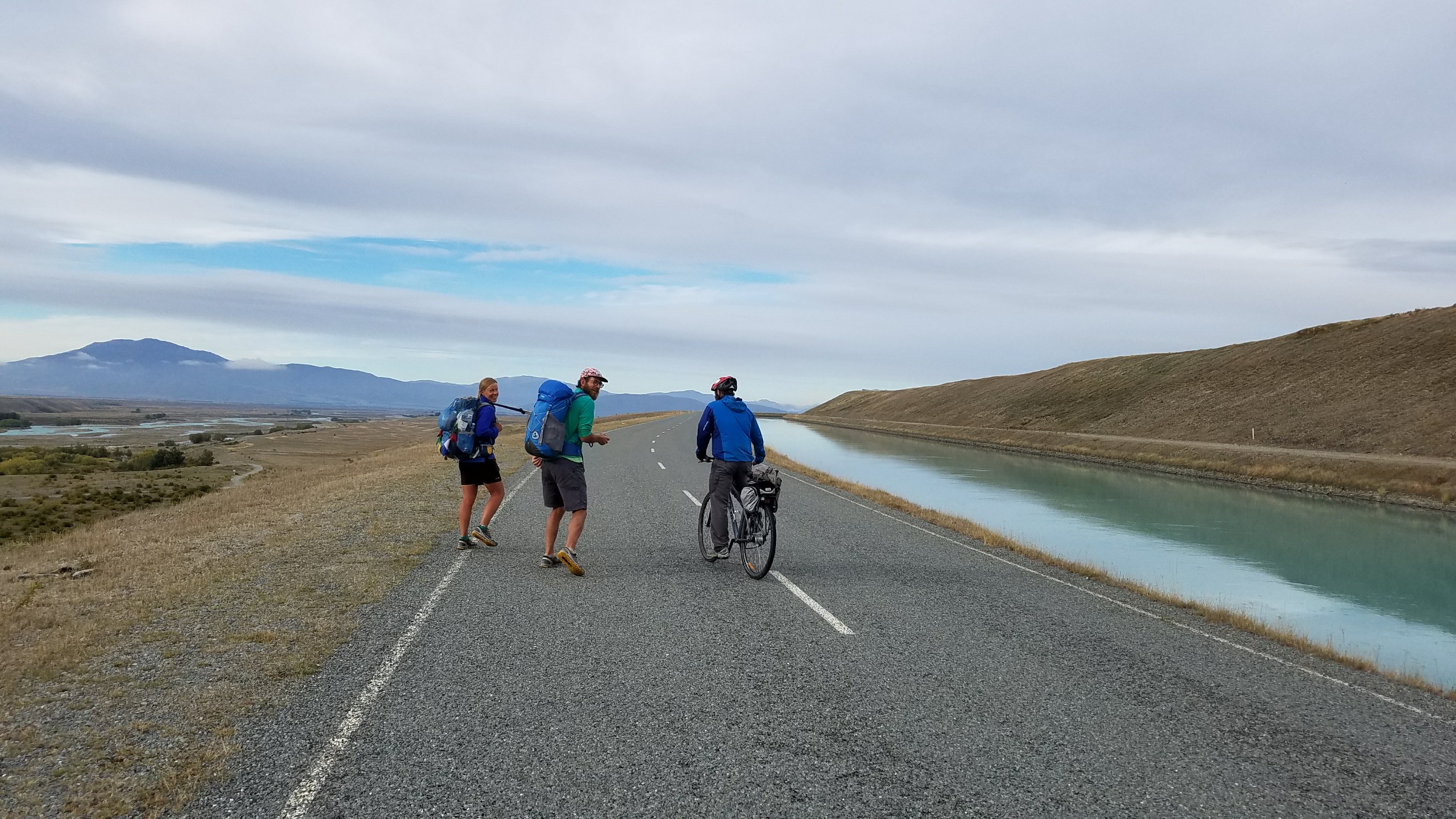 It was so easy riding the bikes, enjoying the open views and fresh air. There was a mix of gravel road, paved road, and gravel path, all a real joy on 2 wheels. It was supposed to be rainy today but was only cloudy and a bit cold. Up ahead, we saw blue skies. Unfortunately, we didn't get any views of Mt Cook across Lake Pukaki. But we did help to get a campervan unstuck from the sand near the lake. Hopefully the good dead comes back in the form of a ride when we need one later on.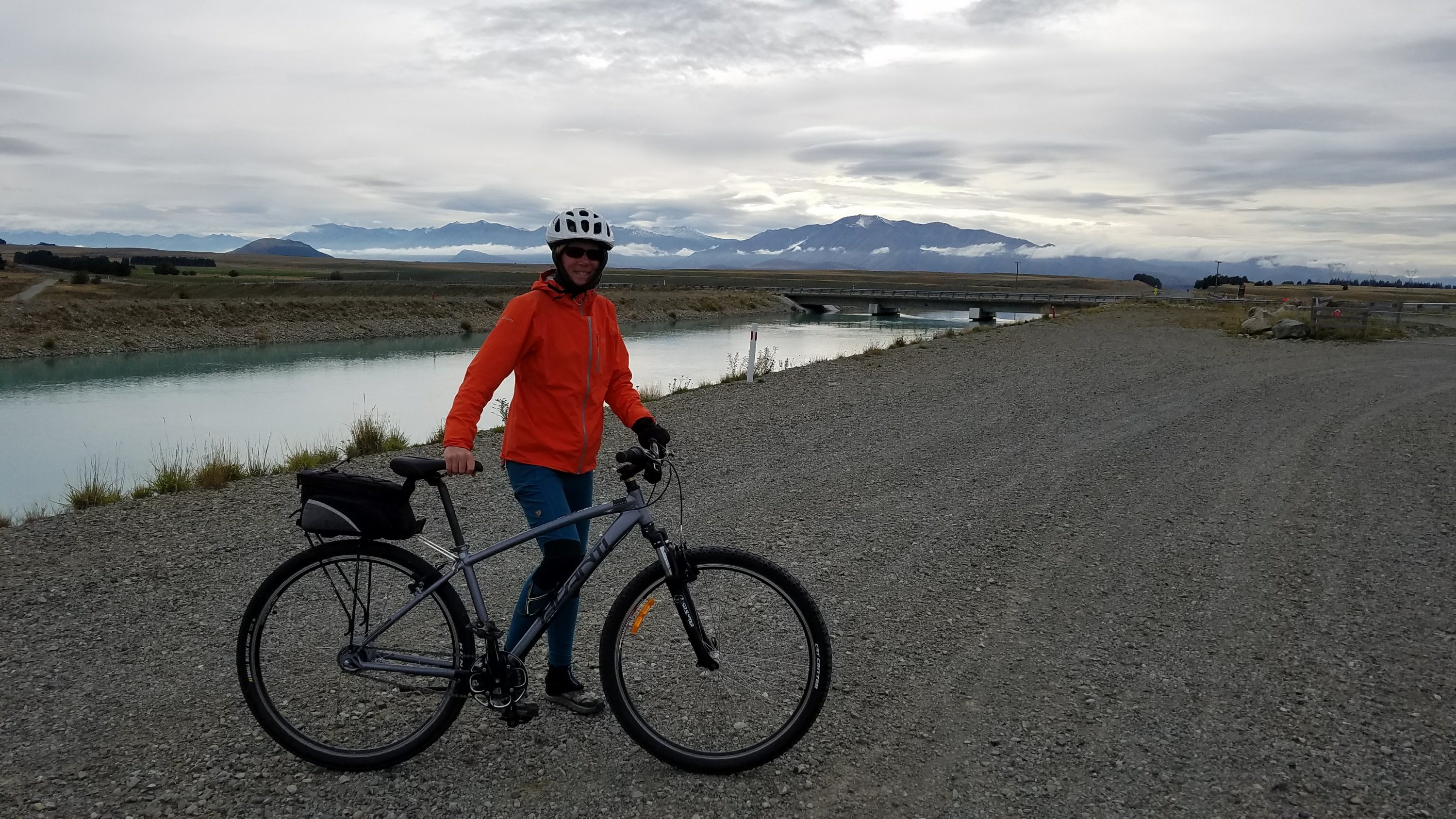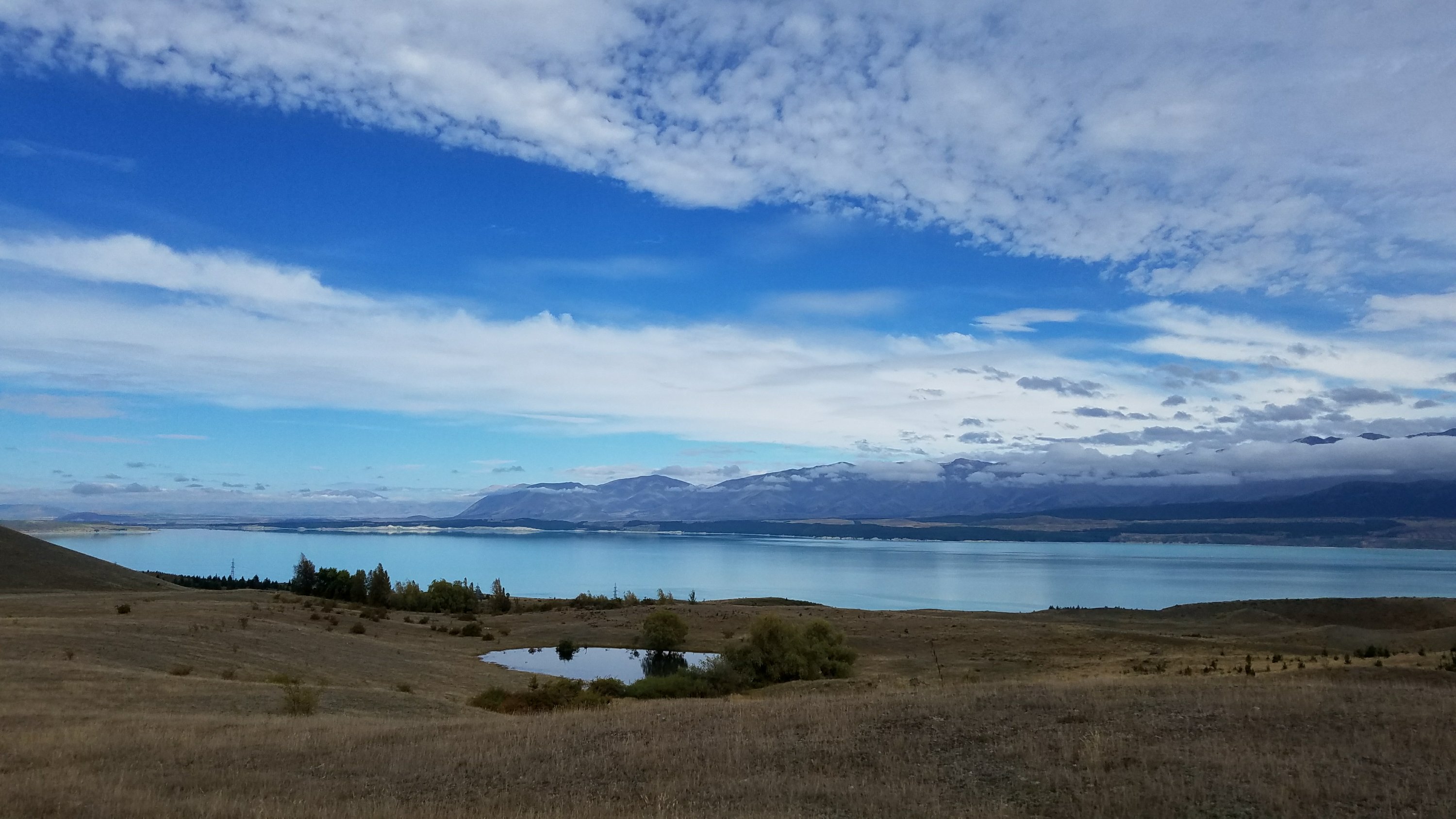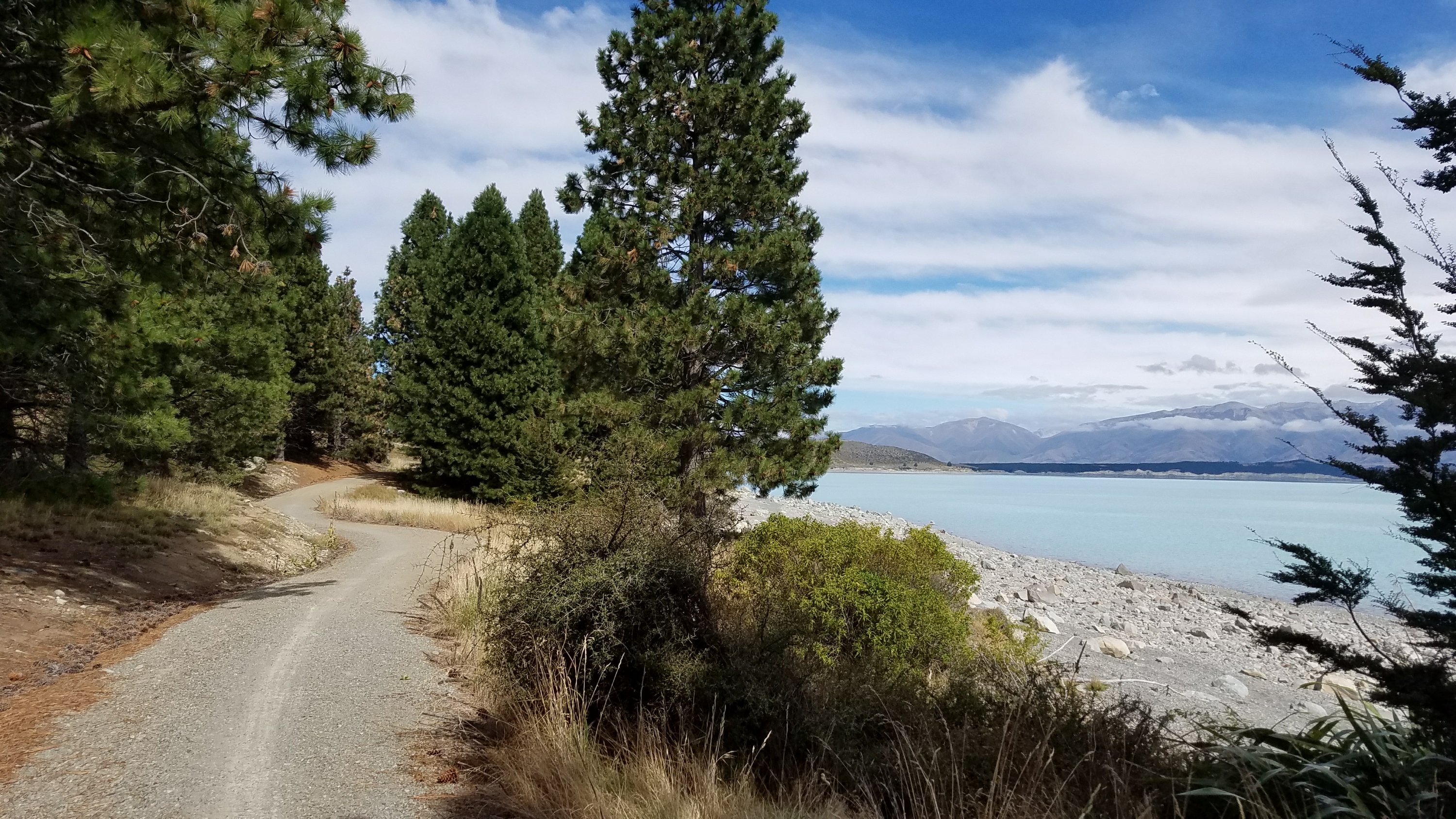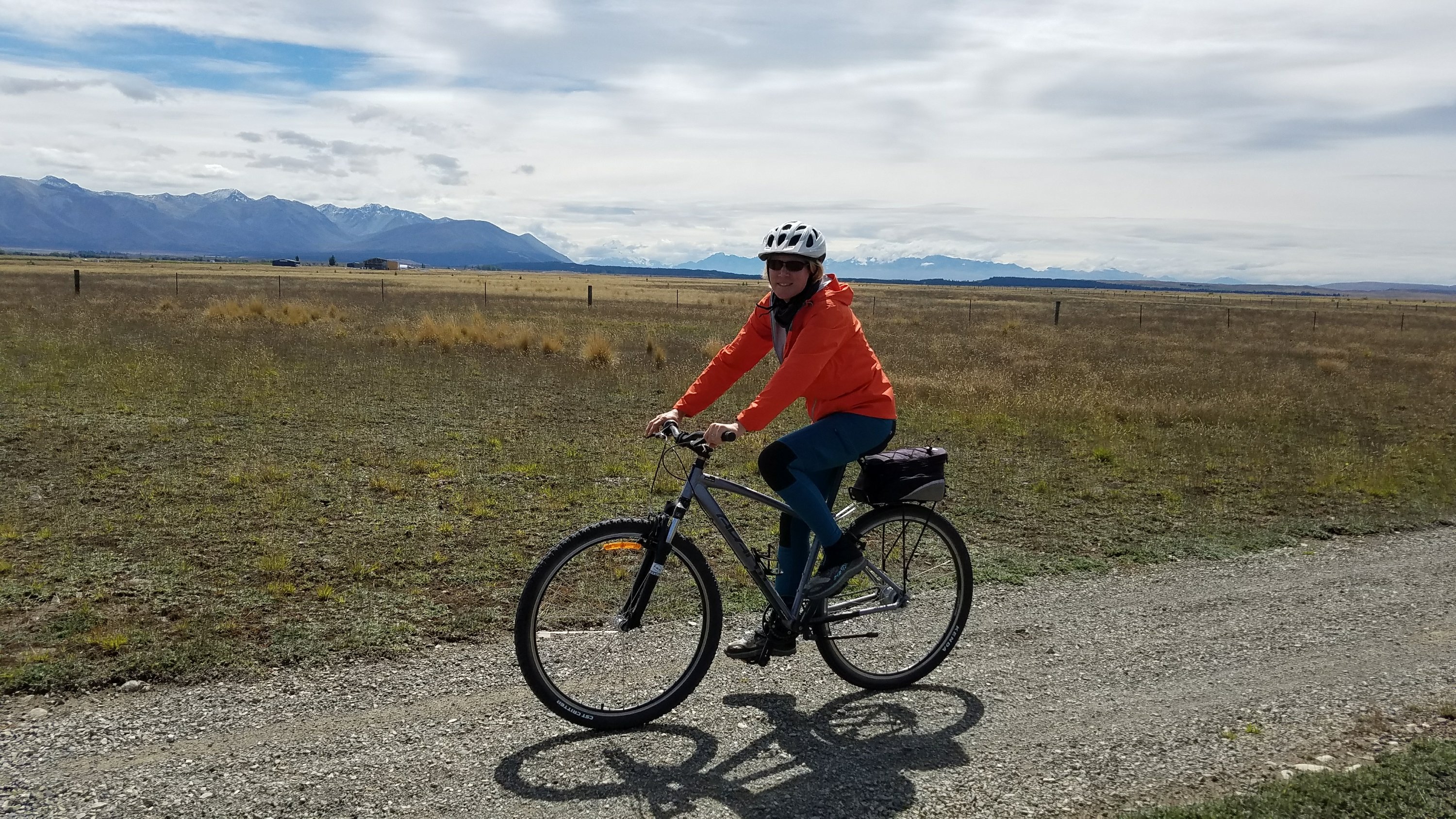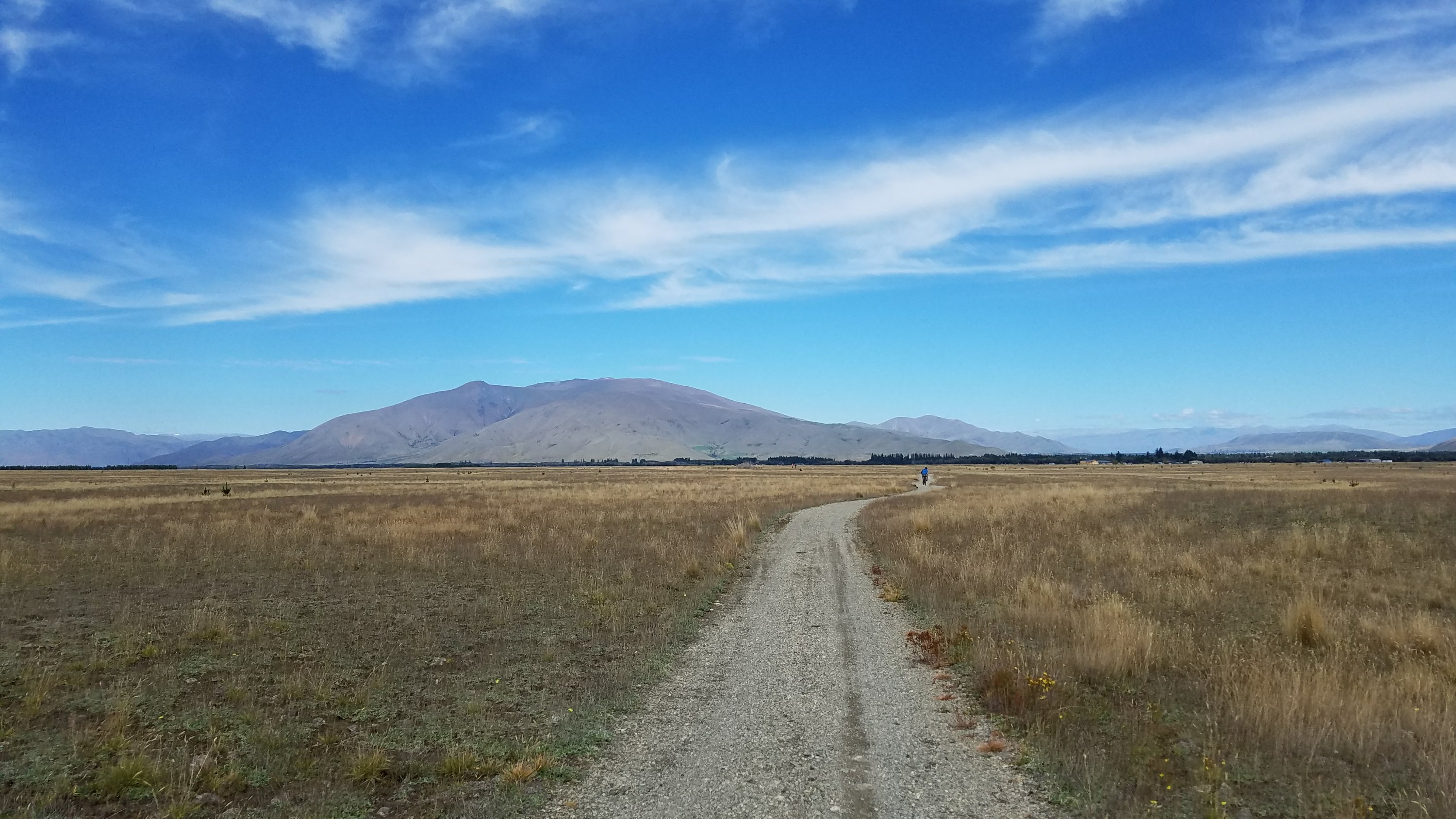 We rolled into Twizel around 2 pm and had lunch there. Most of the businesses in the small town were laid out around a large square, so it was nice to hang out. I got my favorite: a big serving of pad thai. I ate it all, plus some ice cream, then realized that it was going to be uncomfortable crouched over my full stomach for 30 some remaining kms.
The route continued along Lake Ruataniwha, the Ohau river and then Lake Ohau, still all part of the hydroelectric scheme. The 14 km gravel road along the Ohau river was very rough with lots of rocks. Now my full stomach was in a paint-can shaker and it was most unpleasant. Plus there were a bunch of hills that we couldn't even ride all the way up with having to push the bikes. Later, we realized that the Alps 2 Ocean route follows the other side of the river and we were still on the official TA route. We should have stuck with the A2O. We were very tired from the rough road, the sun, and hills. Suddenly this biking thing was a lot of work.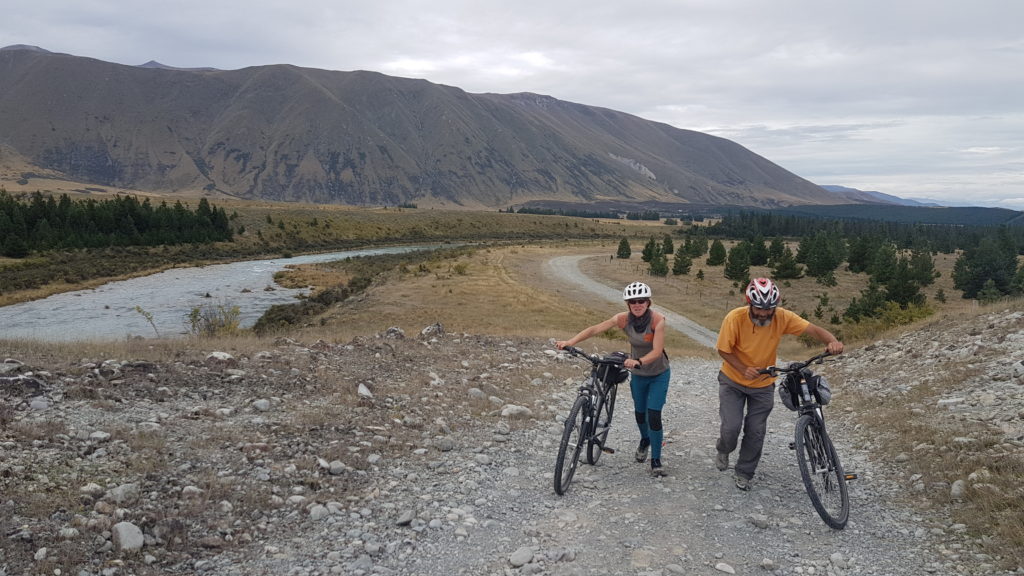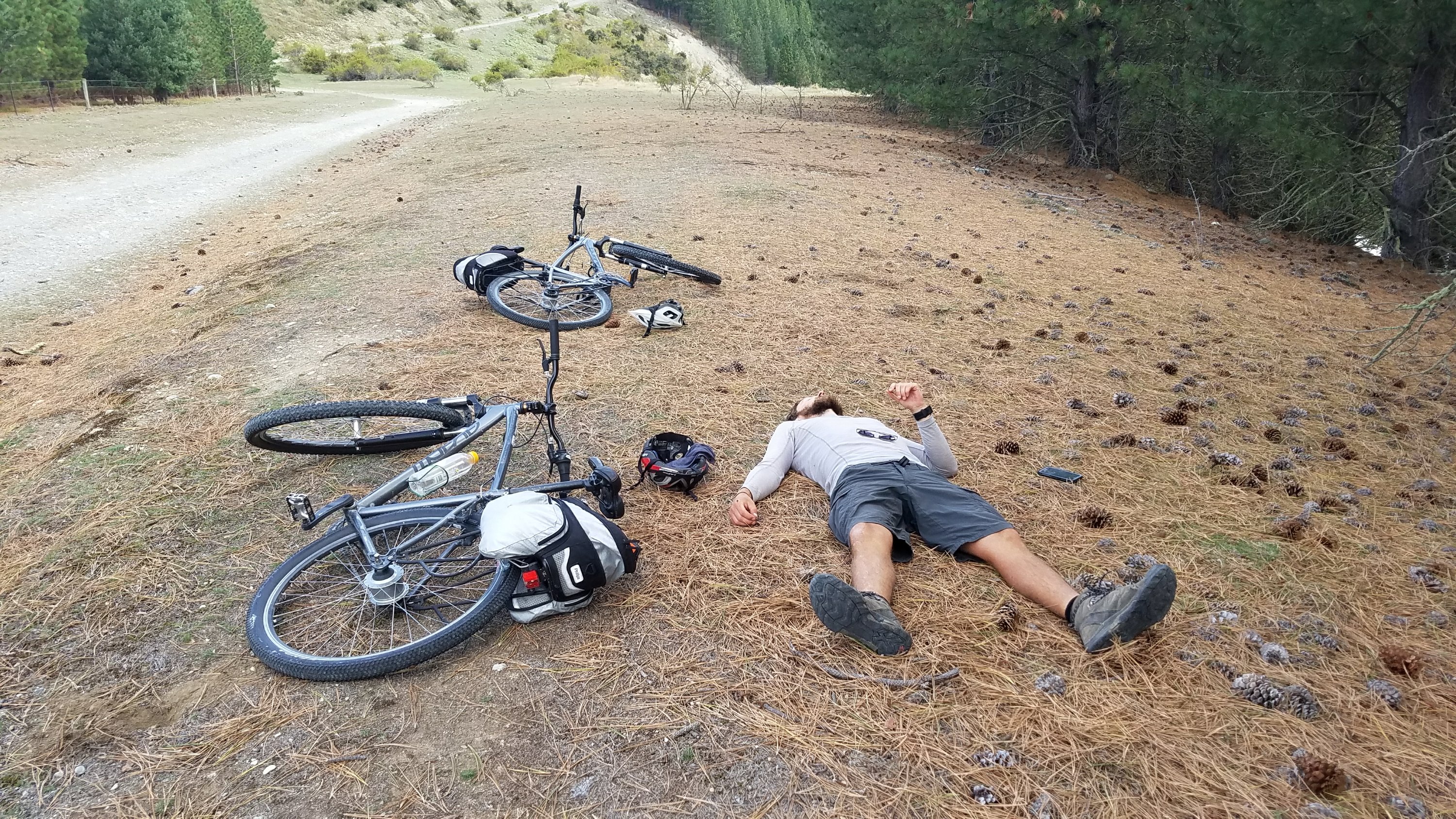 Who says biking is easier than walking?
We were so relieved when we finally got to Lake Ohau and there was a smooth, flat singletrack pathway along the lake. The remaining 17 kms passed quickly and then we were at our destination, Lake Ohau lodge. I was once again happy to trade the bike for my pack. We also ran into Bertram at the lodge. Yes, he did find the right trail and made it out ok many days back. He had taken a bus to Twizel, so as not to have to deal with all the logistics of the last section. Smart.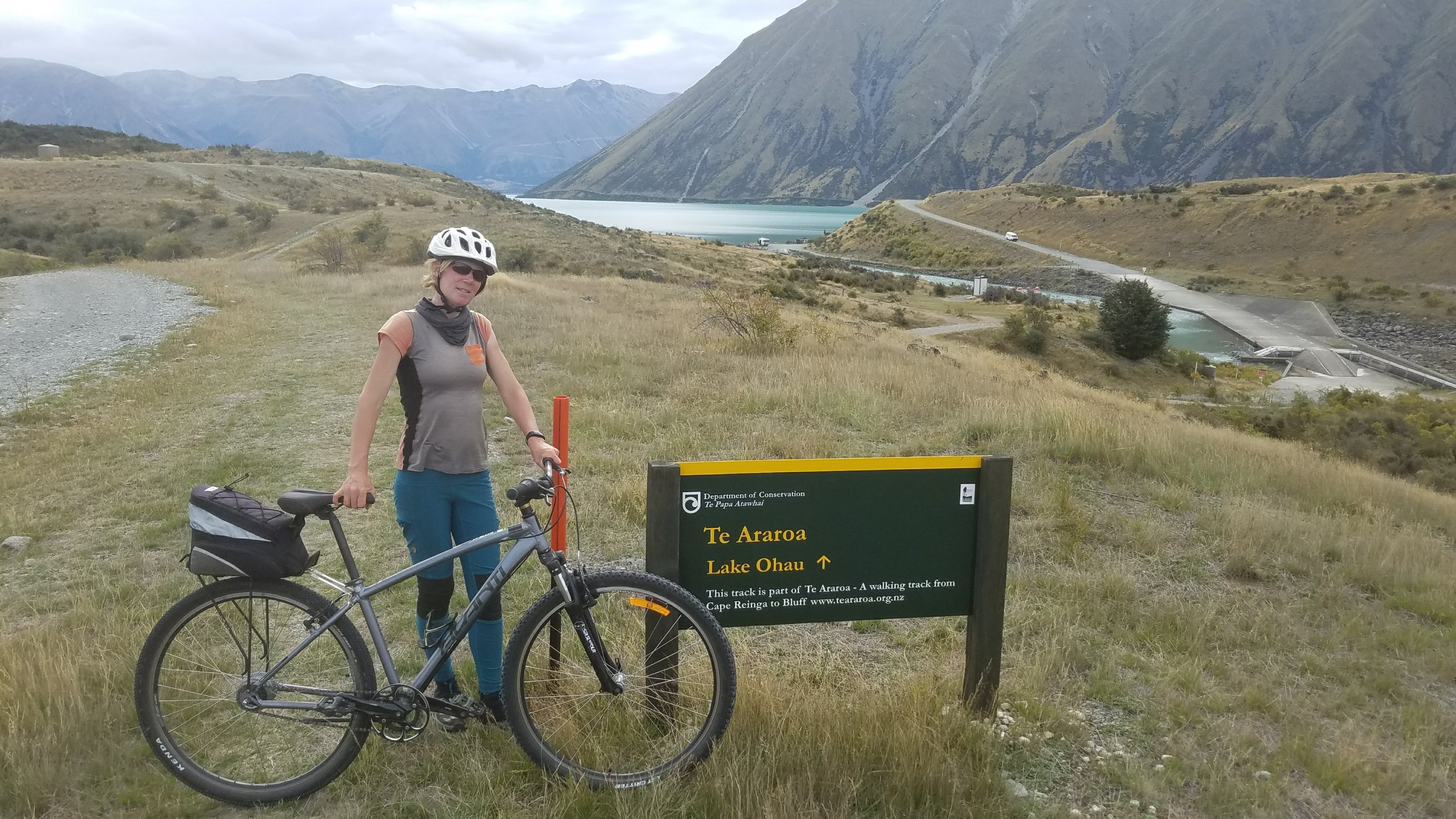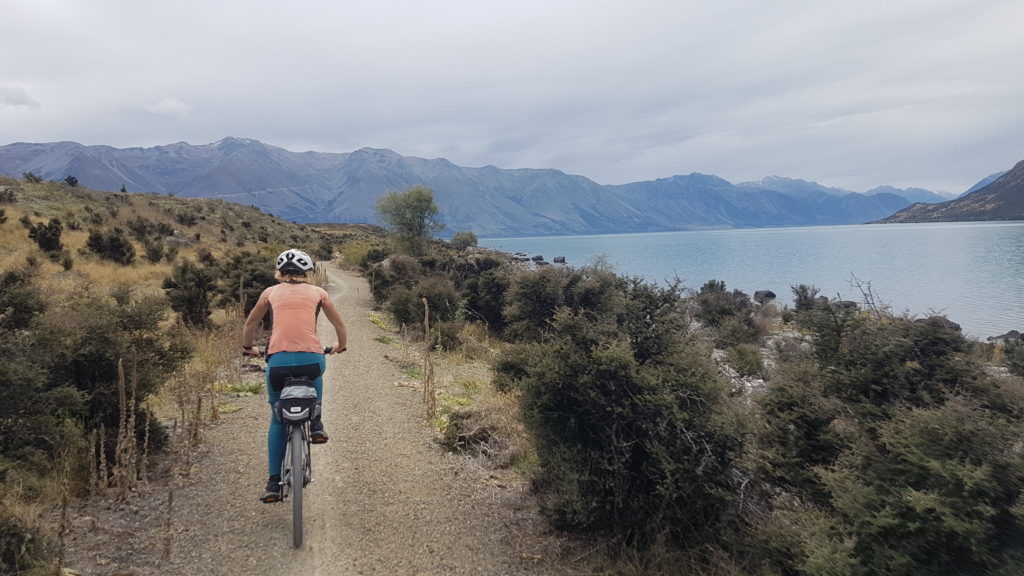 We walked down the lodge driveway, across the road, and plopped down right under a gorgeous pine tree next to the lake. It was the perfect camping spot and we were quickly asleep, exhausted from doing about 90 kms on the bikes.