March 2nd
Avon Burn Stream (km2538) – Stodys Hut (km2573)
Mileage: 21.8mi/35km
It rained lightly almost all night. Great to sleep to but I had to pack a very wet tent. I left around 07:30 am, same time as everyone else but Ruslan. He didn't sleep very well and wanted to take it easy. He and Bertram have very small, coffin-like tents. Both being such tall guys, I don't know how they do it. Klaus has a 2 person tent and enjoys all the room in the world. Kind of funny how that works.
I should say a little more about my companions. Ruslan is 27 and an electrical engineer. He has been living, working and going to school in NZ for about 5 years. He wants to become a citizen here. He has already done a lot of tramping in NZ, hence his experience with river crossings. He is the first of Russian background that I have ever had the chance to talk at length with, giving some interesting perspectives on a country I know so little about. In case you're wondering, he knows nothing of and could care less about US-Russia conspiracies. His focus is on NZ, which is a great way to live. I've been inspired by his generosity and positive attitude. He's a great hiking companion.
Klaus is 57, from South Tirol, Italy, where he owns and operates an apple orchard. That region speaks mostly German, so that is his preferred language. He and his wife Gisela practice as masseuse as a hobby. She was hiking the TA with him until she fell and broke her arm after Goat pass, Arthur's Pass National Park. She hiked 10 kms out with the broken arm, then they hitched to Christchurch and the hospital. Klaus is just as strong as his wife. He killed it on the bike and is a very strong hiker, especially considering his sizeable pack weight. He carries a full-sized tablet to take pictures and do other stuff, as well as a go-pro.
Bertram, who has been popping up since Nelson Lakes, is from east Germany. His whole family are either dentists or dental technicians. He looks like a giant on the trail. He is 6'8″ and his pack is as big as me. He is slow but steady. He has skipped many sections but has often done just as much distance in a day as I have. He has been plagued with injuries since starting on the south island, unfortunately.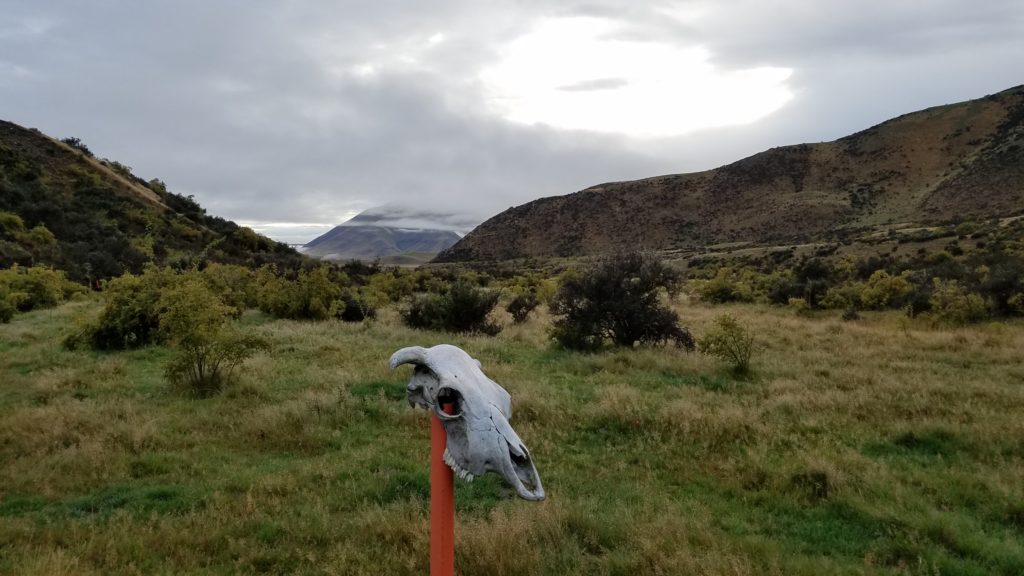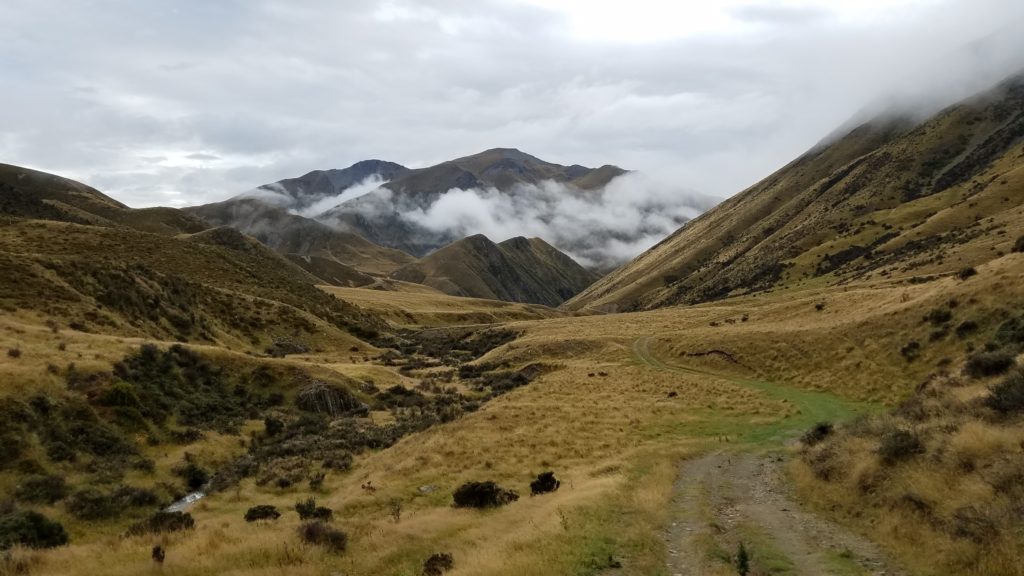 Starting out, we crossed the stream several times, then gained a 4WD track all the way up the 3000′ climb to Martha's saddle. This whole area used to be a livestock station, hence the farm tracks. There is still grazing taking place, hence all the poop everywhere. Now we hikers get to benefit from the nicely graded tracks, complete with switchbacks. It was mostly cloudy at the saddle but clearing and I still got some nice views. The farm track continued all the way down to Top Timaru Hut, where I had a long lunch.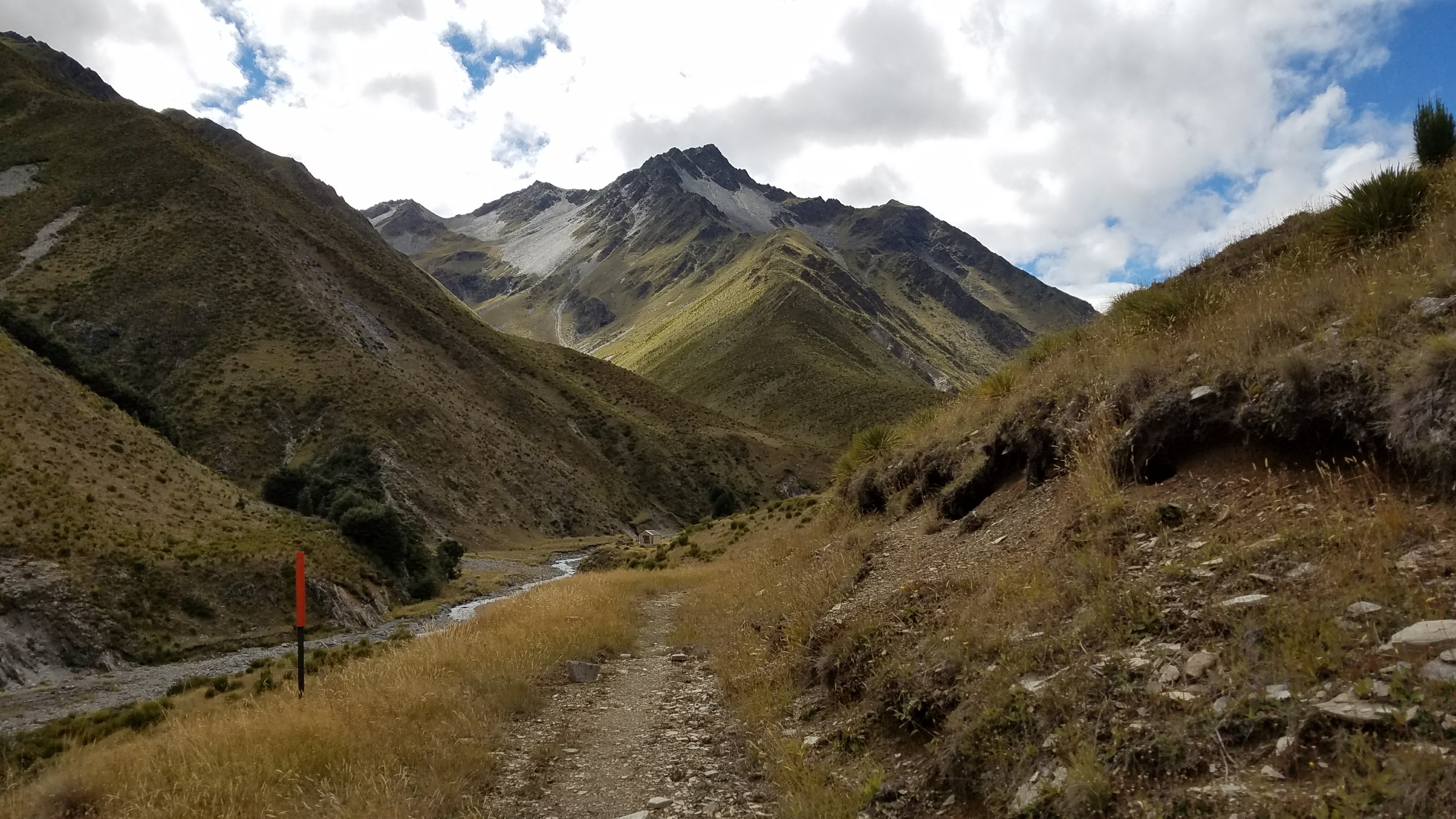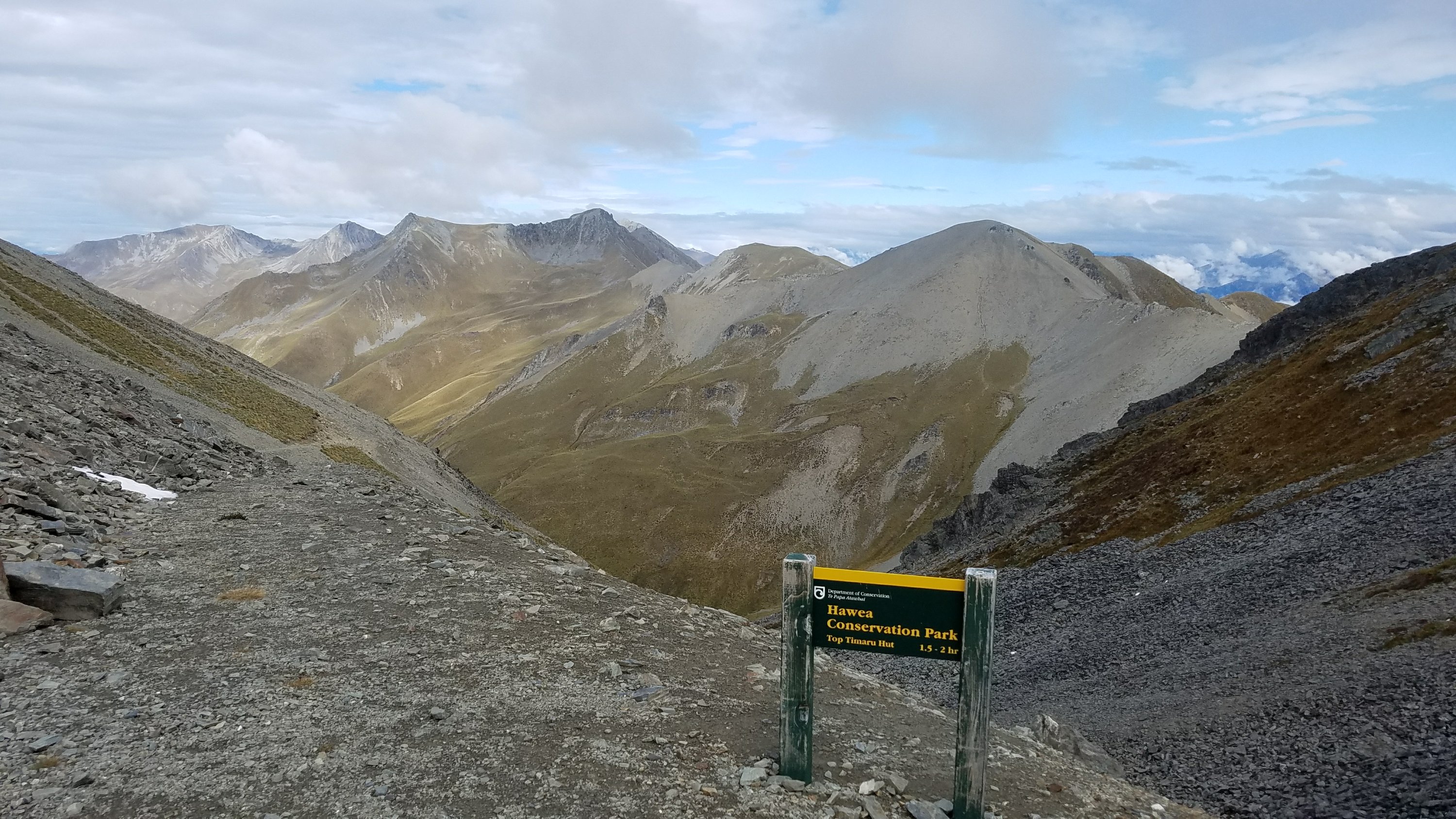 The track after the hut was pretty brutal. The signs said it would take 7-9 hours to get to Stodys Hut, so I had an idea that I was in for a fun one. It took me more like 5 hrs, just to go 13.5 kms. The track sidled at a sharp angle (ankles always slanted) along the narrow canyon, going up and down constantly. Then it started raining, so add slippery-as-hell to the list. I was having a hard time staying upright. Also add 10 or more crossings of the Timaru river to the list. It was one of the more challenging tracks I've done on the TA.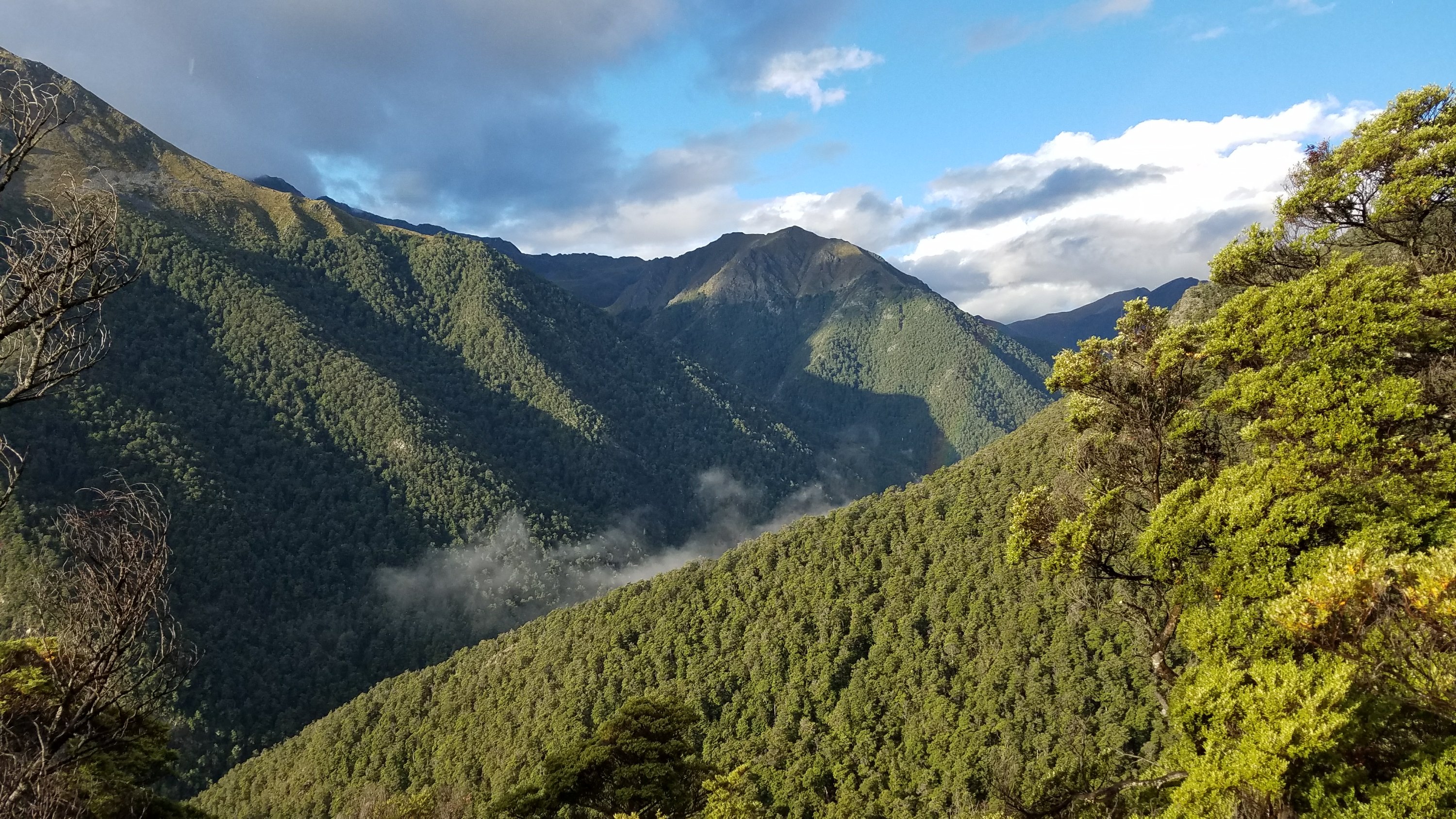 I finally got to the turn for Stodys Hut. It was 2 kms with an estimate of 1.5 to 2 hours. That can only mean it goes straight up. And it did. I was clawing my way up, literally having to use my hands and fingernails to get enough points of contact to keep from sliding back down. It was raining but also sunny. It was actually quite beautiful but I was tired and just wanted to get to the hut. Everyone else was only going as far as Top Timaru hut and I should have just taken it easy and stopped there.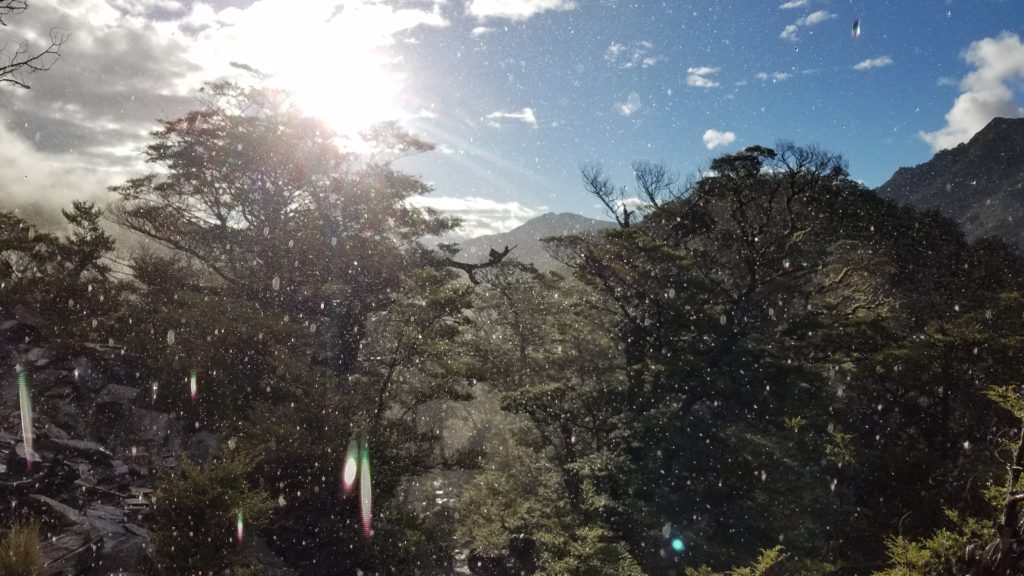 Stodys hut was a huge disappointment. It's old with a dirt floor but has been somewhat refurbished. A big rat immediately ran from a corner, blatantly staring at me. There was a family of them, so even though I was the only person at the hut, I was not alone. There were also possums outside. It was already 8 pm, it was raining, and I was too tired to pitch my tent. So I slept with the rats. I have a high tolerance for squalid conditions, having lived aboard rustic fishing boats as an observer. At least there weren't cockroaches crawling on me.