July 12th, 2018
High Bridge Mm 2572 to Swamp Creek mm 2564
Distance: 8 miles
The town vortex exerted its pull but I was able to escape it in the end. I woke plenty early because I still had lots of chores to do. First I wanted to hand wash some clothes and give them time to dry. I camped right near the bathroom, which had a nice sink. The campsites require a permit but are free for up to a week (I think). This is surprising, given such nice facilities and in a resort town, to boot. The scenery around the lake reminded me of the lakes in NZ. I would say it's definitely worth a visit and if there was ever a town to hang out in, this is a pretty good one.
It is a funky little place. There are no roads in from Chelan, instead visitors have to take a 2 hr ferry across the lake. There is also no cell service and very limited wifi.  I walked over to the one pay phone in town, which doesn't actually require payment to make calls. You just dial a number and are connected. I made a short call to my parents to let them know I was ok.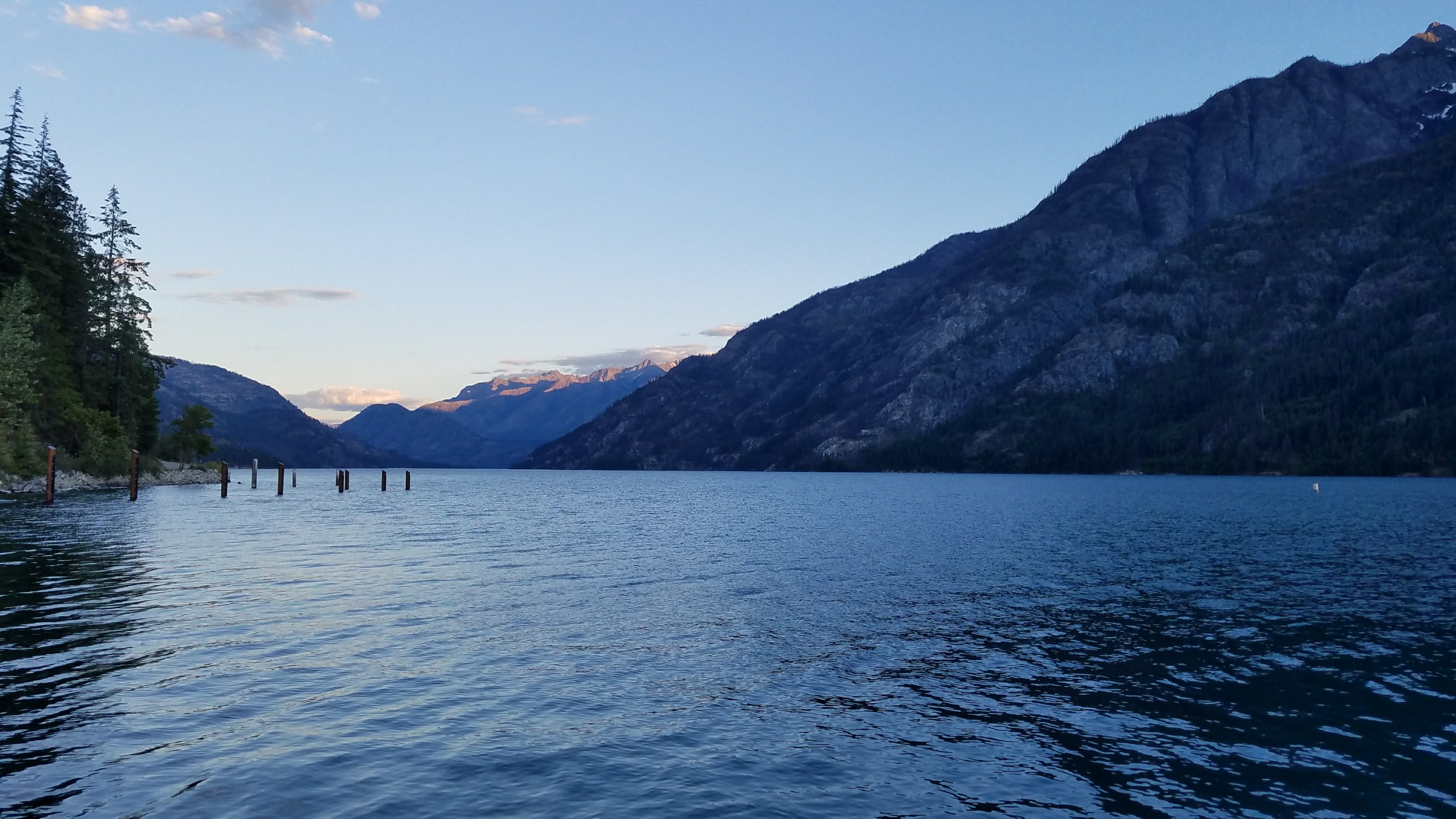 I got my resupply box when the post office opened at 10 am. This wasn't your stock PO but more of a personalized shrine to jazz and blues musicians. The one and only clerk seemed to have a penchant for that style.
The hiker box (a bear-proof container outside) was stuffed with so many discards, several hikers could have done their resupplies out of it. I watched one guy throw out 5 days worth of food that he had just shipped to himself, since he had planned for 10 days for the next section. I had planned for 5.5 days and had a little extra food, but thought I might need it if the snow was bad.
It's 107 miles to Stevens Pass, through a very rough and isolated wilderness. Hikers fret over the 100 mile wilderness on the Appalachian Trail in Maine but this is as much of a challenge, and at the very beginning of my hike. Of course, I hadn't given it much thought until now.
While sorting my food and drying my clothes, a local dog-walker struck up a conversation. He commented that I had a lot of stuff compared to most thru-hikers he had seen. I had all my stuff spread out, so it looked like a lot. But the comment raised my hackles. Me….too much stuff? Just what did this guy know, anyways? LOL.
The other hikers in my group had decided to wait until the 2 pm bus back to the trailhead, so I decided to do the same. I needed the time to catch up on things, with the limited wifi there was. I did get a lot done and was surprised when the time to depart rolled around.
We made a pit stop at the famous bakery, where I got the odd choice of potato salad, which was really good but not a baked product, yeah, so what. Zeek, Jose, Taylor, and Julia decided to stay at the bakery until the 5 pm bus, but I was antsy to start walking.
I got back on the trail around 3 pm, after soaking my buff in the river. It was so hot but thankfully the trail was mostly in the forest. A magnificent forest of huge cedars and spruce/fir. And also tons of ripe blueberries…YUM! So lovely.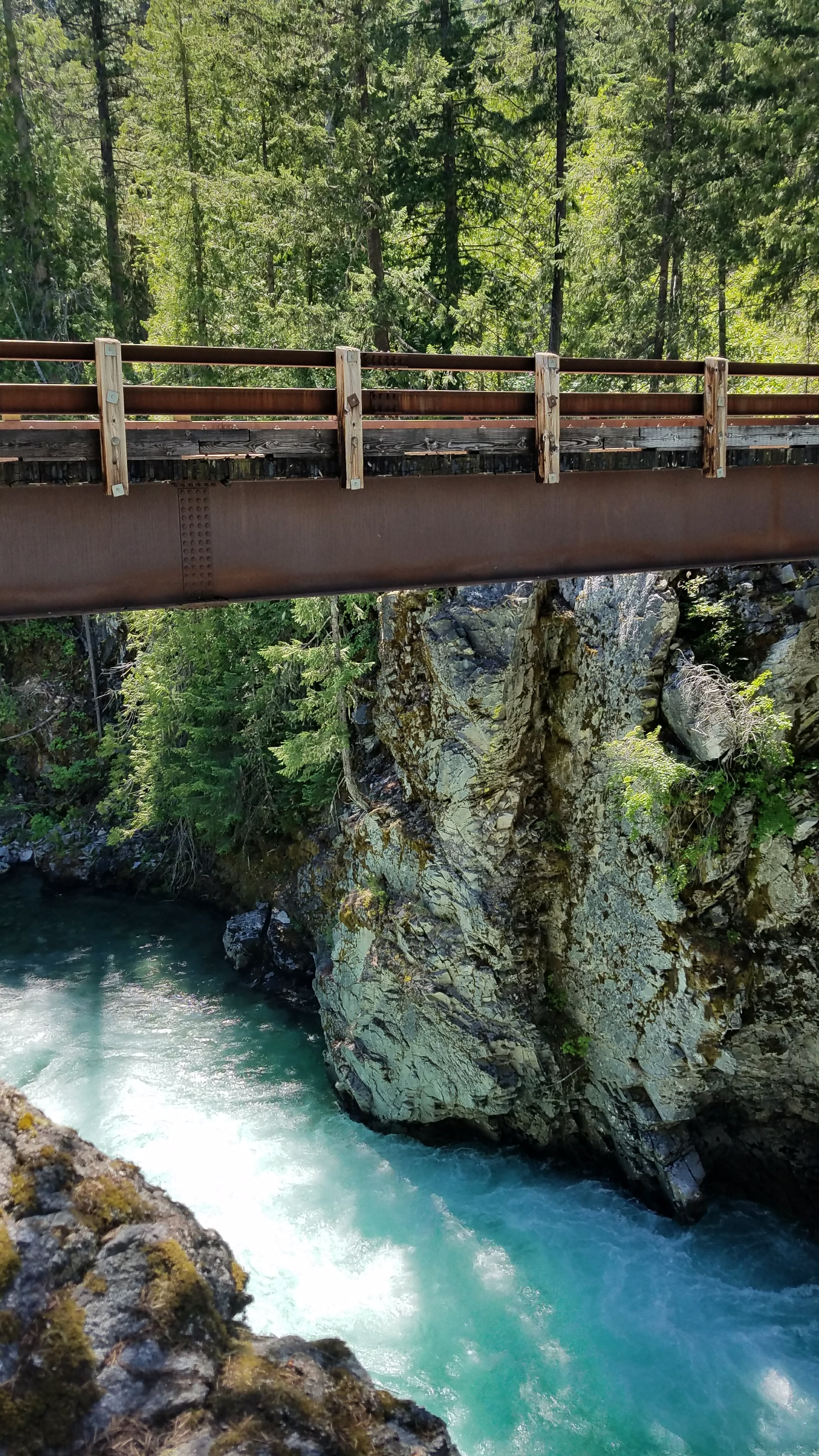 High Bridge, over the roaring Stehekin River, aptly named.
Lucas, a Swiss thru-hiker, had set out with me but shortly dropped behind. He didn't say much because I don't think he was too confident in his English but I liked his stoic demeanor.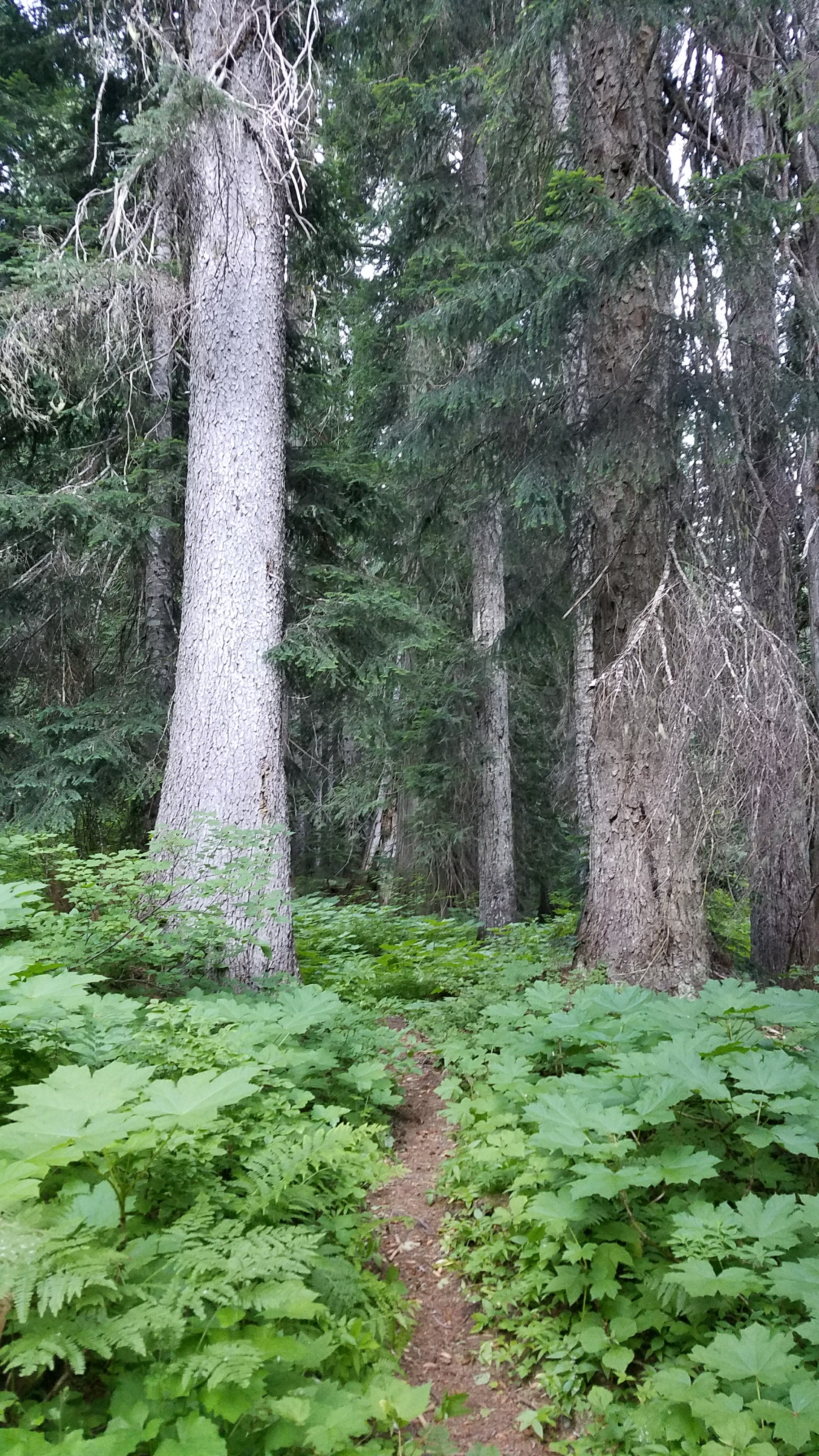 We were aiming for a campsite 5 miles in but when I got there, I felt more in the tank and went for the next. The mosquitoes started running me down and biting the backs of my arms late in the day. With a name like Swamp Creek, I thought the campsite might be miserable but it was actually quite nice.
There were 2 guys from Seattle there, out for a few days. Aaron immediately piped up that he had lots of rum and Derek proudly showed off his lawn chair that he had hauled up. Yep, decidedly not thru-hikers but great company nonetheless. I had to laugh at their bear-bag hang, which was about 3 feet off the ground…luckily there were no marauding bears that night. And no, I didn't partake of the rum. Instead I went to bed early and did not hear a thing all night thanks to the roaring stream that I had purposely pitched as near to as possible.