August 29th, 2018
Mm 1521 to mm 1496.5
Distance: 24.5 miles
0620-2100
Today was another weird mix of trail and town. The town stops really throw off my normal schedule but make for interesting events. Plus, the extra food is a good thing.
The morning was beautiful and put me in a very good mood. I could just see Mt Shasta as the sun rose, then awesome vistas of the Castle Crags rock formations. The trail wound down and underneath them. It was fairly clear as I started out but then a smoke bank rolled in and the crags suddenly became mystically obscured. The air smelled very strongly of smoke, much of which appears to be coming from the nearby Hirz fire.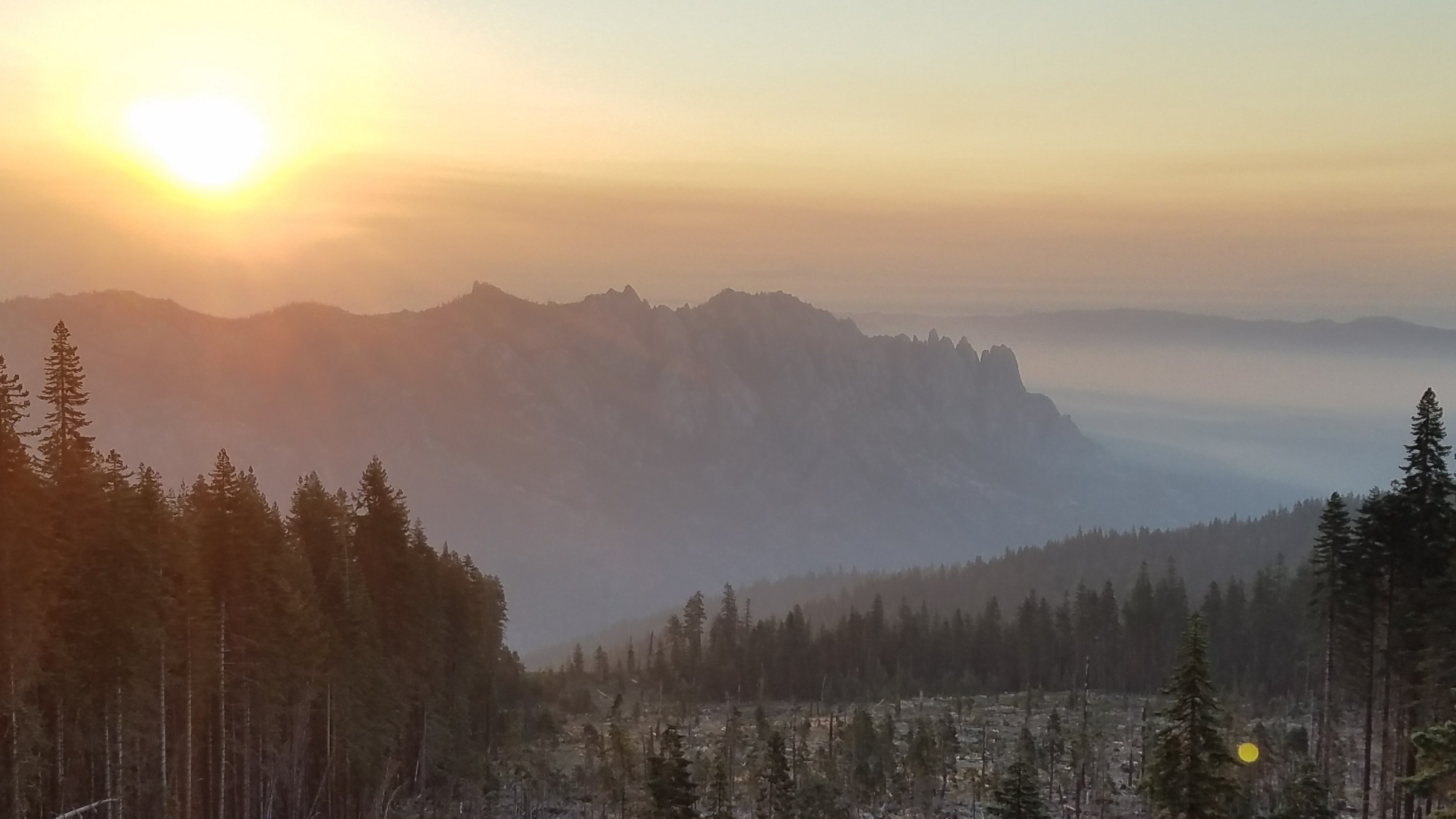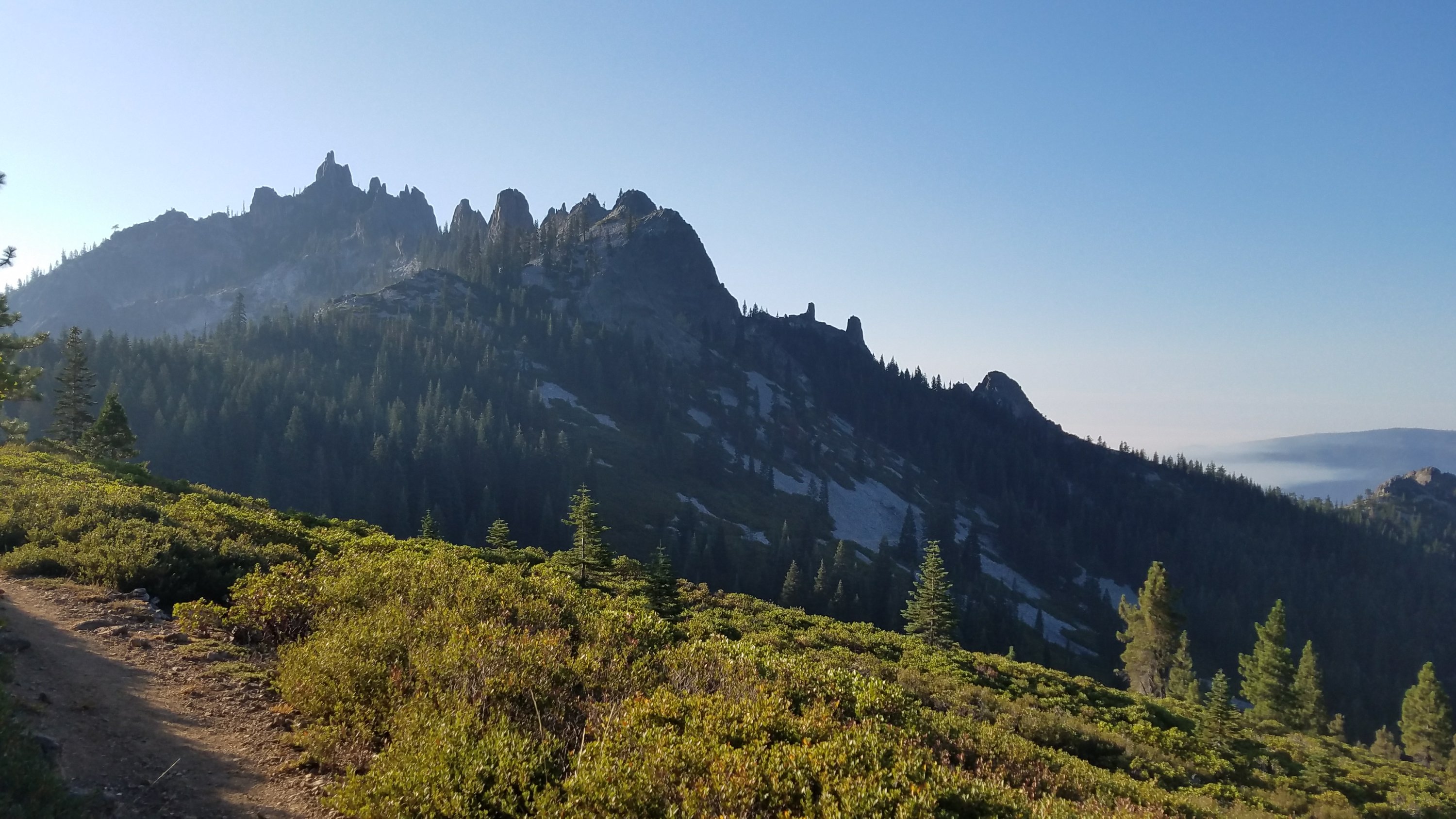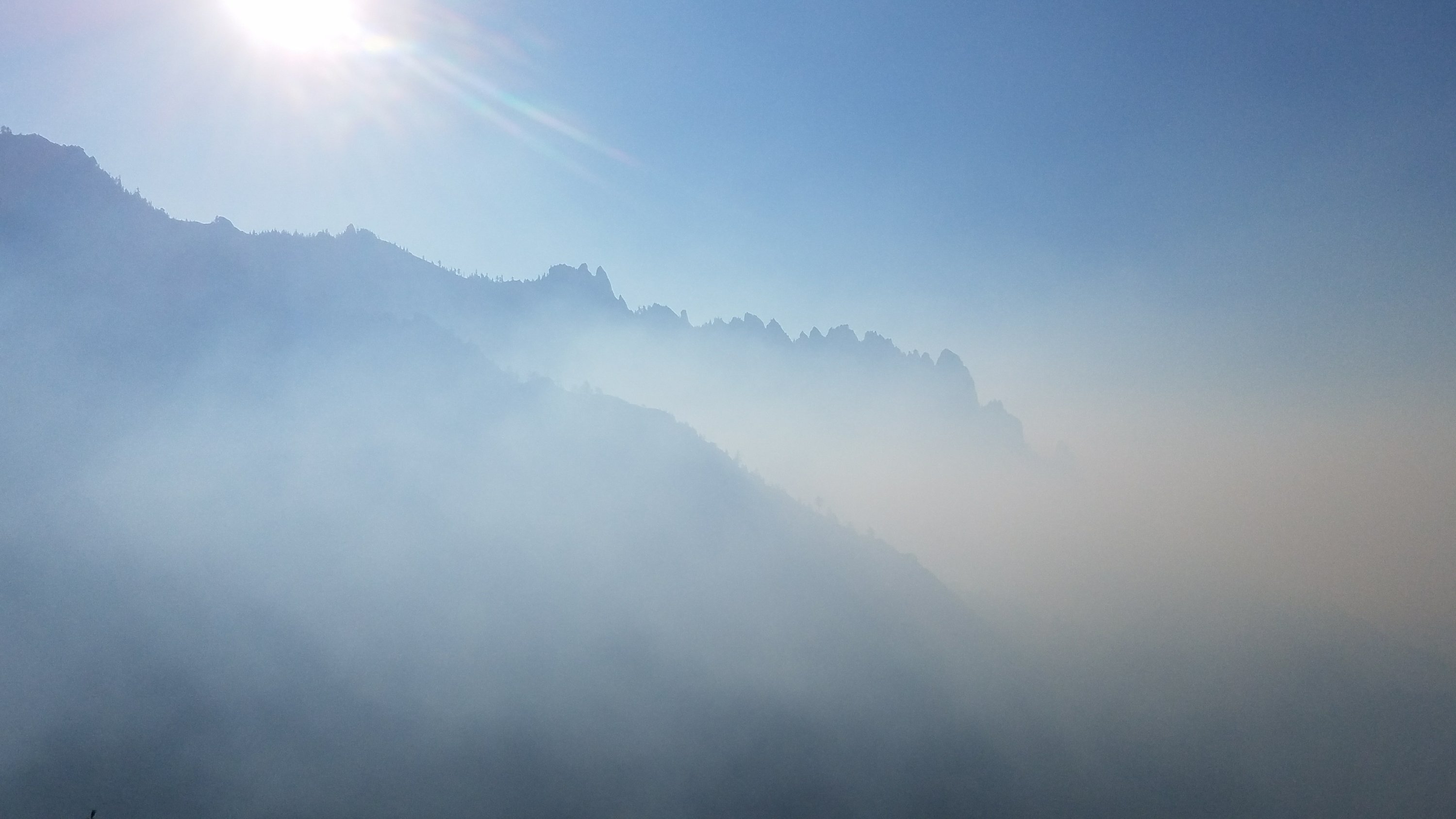 While still a few miles out from the resupply town of Castella, I got a text from Plants that they had found a ride around the fire closure. I hurried to get into town and ended up taking a side trail down, which cut off about 2 miles of the PCT. If I had to skip 30 miles for a fire closure, what was another 2?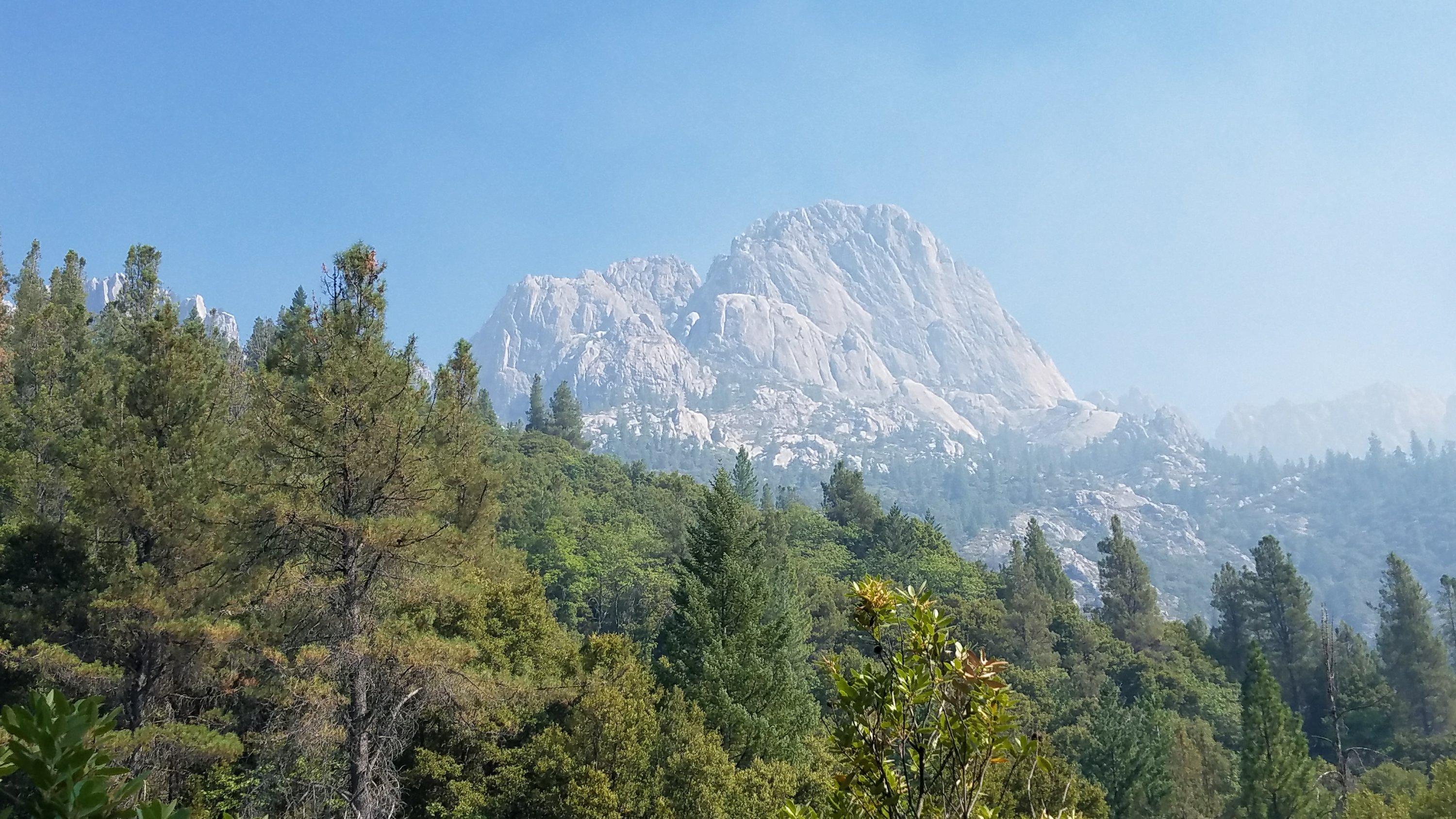 I got to the gas station and found a bunch of SOBOs hanging out. There was Plants, Flowers, Lucas, Chance, Kid and 2 more guys I hadn't met before, Whip and No Pants. In the off chance that there was room in the vehicle for one more, I hurried to grab some extra food from the store. It was basically a convenience store and didn't have a lot of what I wanted. It was also more expensive than if I would have gone into the town of Dunsmuir, which has a proper grocery. But I was in a hurry and made it work.
While doing so, the ride came and went and I didn't even get a chance to talk to the guy to see what future arrangements might be made. Apparently the truck was full with all the other hikers. At least Plants texted me the guy's number. But it would seem that I would be waiting another day or so before we could get a load of hikers to make it worth his time.
Kid was the only one left when I came out of the store. I doused my troubled thoughts about the ride by consuming a burrito, coke, and ice cream cone. Then I saw a CalFire official updating the fire bulletin board and decided to go have a chat. He was very friendly and happy to answer questions. When I asked if he thought the trail might reopen soon, he said it wasn't even officially closed. The PCTA was preemptively putting the word out but the forest service, the regulatory authority, had not yet closed the trail. He said it was likely they would in a day or so.
Well, that changed my whole outlook. Why not just hike on? At my pace, I could be through the problem area by the next day, no waiting around for a ride and no missing a big section of the trail. According to the map of the fire, it was still at least 7 miles south of the PCT.
The store clerk also pointed me to a sign about trail magic being offered at the nearby campground. I was surprised that none of the other hikers had mentioned this. I decided to go investigate but also shared the intel with Kid. We walked over together. The campground was deserted, save for the host and 1 truck. Sure enough, right next to the site reserved for PCT hikers were Support Droid and Alta.
Alta had hiked the trail in 2016 and Droid had followed her all the way up in his tricked-out camping truck to offer support. Now they are doing the same for other hikers. This was our first tail magic in CA, and a surprise since SOBOs don't get much love after the NOBO herd has passed. We were very appreciative of their timing and location. Kid especially, since he doesn't have a lot of money to waste in towns and needs all the food he can get. He's still growing!
Plus, there was some good stuff left in the bear-proof container/hiker box at the campground. I found pop tarts, ramen, tuna packets, and soap. I gave everything to Kid except for the tuna, since the store was out and I needed some. I took a shower and handwashed my clothes. It was so hot out, it felt good to put them back on wet.
By then, it was time for dinner. Our trail angels had made a vegetarian stew, which was delicious. We had it over rice with a side of steamed broccoli. So healthy! It was followed by brownies for dessert. With just the 4 of us, it felt like a family dinner…even though it was essentially with strangers. Alta and Droid have 2 sons in their 20's, so we were kind of like their surrogate children…Kid played the role much better but my maturity level can waiver as needed.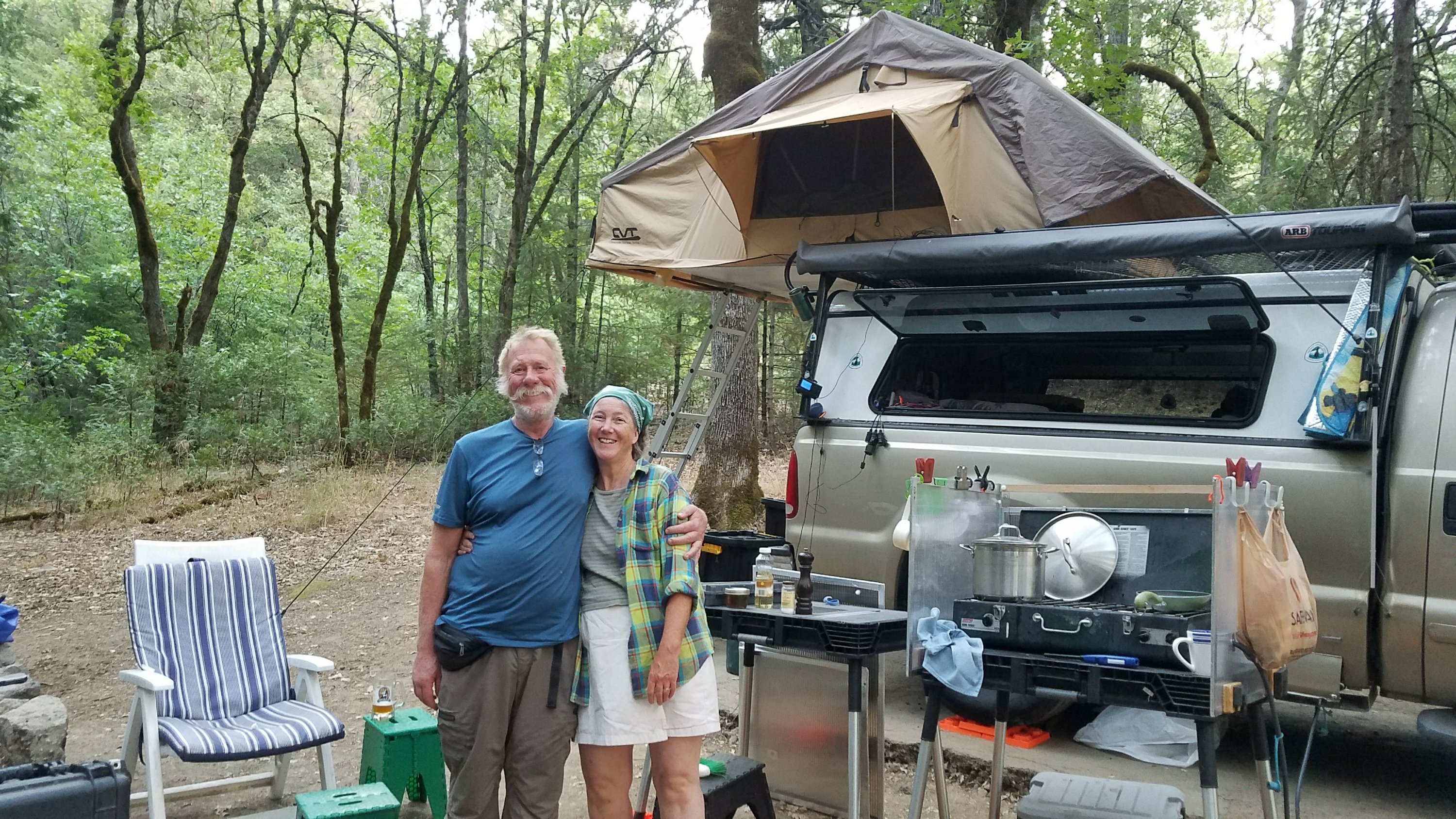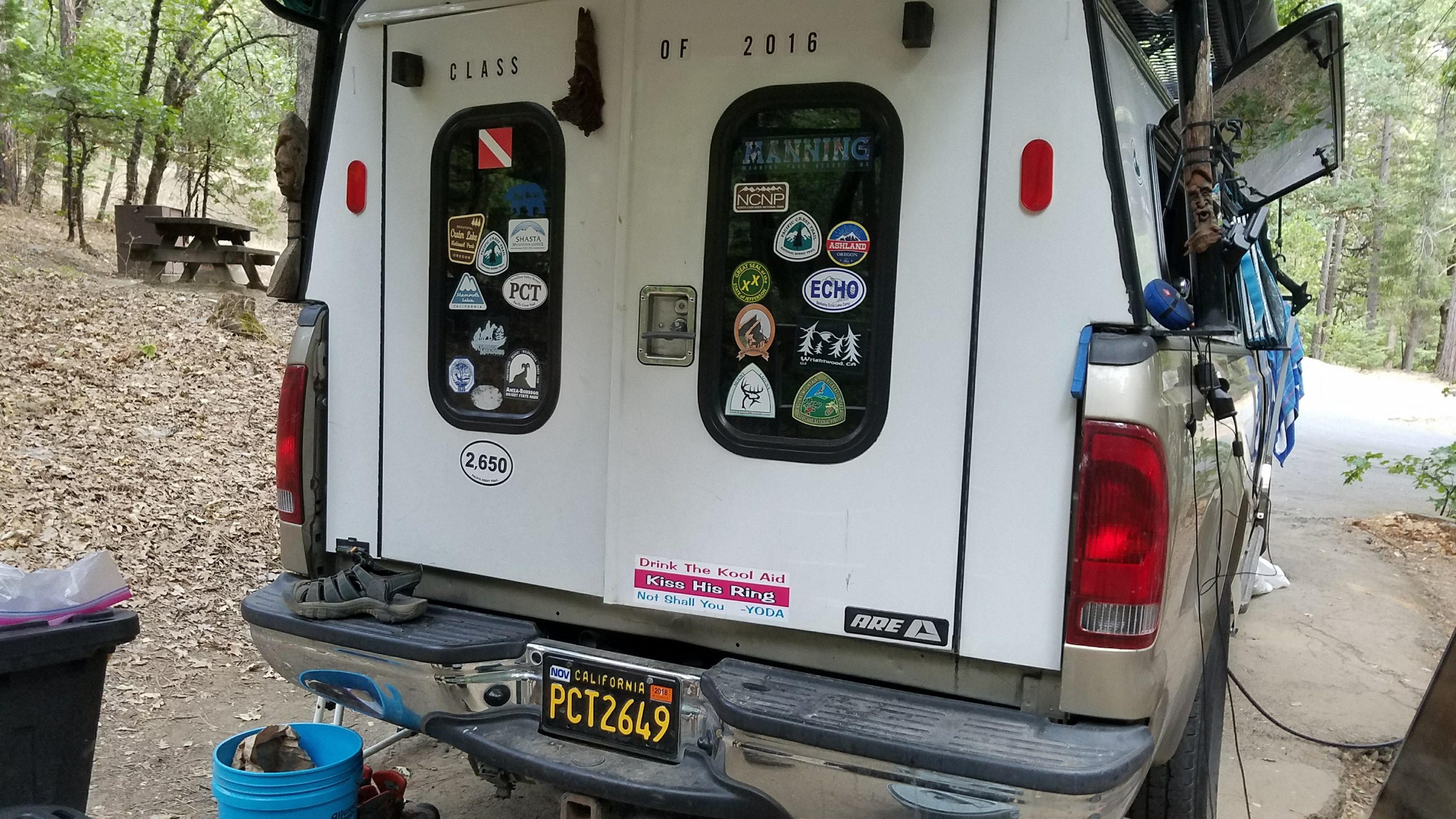 Notice that even the license plate is about the PCT. These folks are dedicated to the cause!
After, I had a tough decision to make. Stay at the campground and see what developed with the fire the next day or go for it while the trail was still open. Those that know me well enough could already guess. I went for it!
I left around 7 pm and was resigned to walk in the dark for awhile. On the 2 mile road to the trailhead, about 10 fire fighter vehicles passed me. Not a one stopped to ask what I was doing or to warn me of impending doom so I charged on. I did at least call my parents to appraise them of the situation. My mom was of course freaking out.
I walked until about 9 pm, which I found easy with my headlamp. The trail is so well groomed, night hiking is a breeze. It was also easy to locate a campsite and setup. I could see no signs of the fire, other than smelling smoke, and that has been a factor for weeks. I went to sleep quickly, in spite of the threat of being burned alive.