August 28th, 2018
Mm 1552 to mm 1521
Distance: 31 miles
0620-1830
The trail stayed relatively level today, which meant that it had to meander along all the contours of the mountains. It has been doing a huge dogleg to the north, which kind of unsettled me. I hiked fast all morning just to get past the part that was going the wrong way. At least there were some really nice views on the long traverses. The wind had shifted and the smoke was mostly being blown to the SE.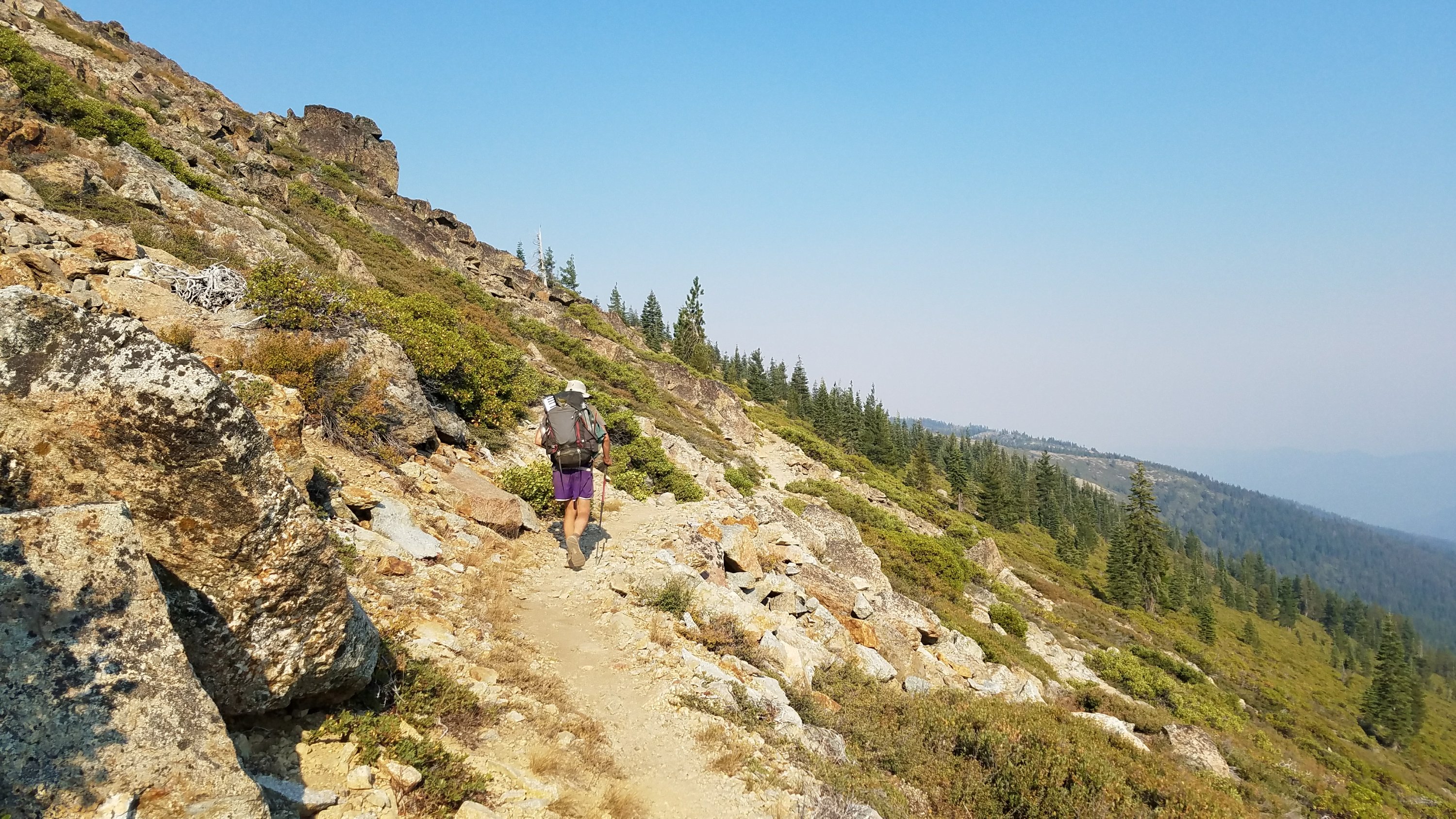 I came to a paved road around 11 am and got cell reception. Plants had texted me to warn of a new fire closure of the trail right after our next resupply point. I passed the word to Kid, who had just caught up to me. We both ruminated on the bad news the rest of the day.
We walked another hour to get to Deadfall lake. Just before the lake, I stopped to collect water at a spring and dropped my newish Evernew water bladder on the ground. It promptly sprung a leak. So over lunch, I applied some tenacious tape on the hole and prayed it would hold.
At least the lunch location was top notch. It was a beautiful deep water alpine lake with awesome campsites. I could have benefited from a swim but a chill wind was blowing. Even Kid decided it was too cold.
I passed the only hiker going northbound towards the end of the day. There were also a few day hikers near some of the roads. Otherwise Kid was the only person I saw all day.
We had decided to do a 30 mile day but thought we might have to do 35 if we couldn't get water at a nearby spring. We had to go 1/3 mile off trail to find it but the water was flowing just enough. While taking my shoes and socks off to wash my feet, I discovered that a mouse must have chewed a hole in my sock overnight. Luckily it was in the ankle part and not the foot. I hadn't even noticed when I put them on in the morning. Not a good day for socks and water bladders.
The campsite, just a mile later, was in the pines and very nice. I felt really good at the end of the day, considering the many miles. It was good ending to a nice day, despite some setbacks with gear.