July 10th, 2018
Harts Pass mm 2622 to mm 2595
Distance: 27 miles
Today was a good day for a marathon. I had taken it easy the day before, I got an early start, and it was cold and cloudy all day, prompting me to keep moving just to stay warm.
It was drizzling when I began packing at 5 am and didn't let up until about 8 am. It was also foggy. I was on the trail by 6 am, despite the rain. With the umbrella, I don't mind as much having to set out in the rain.
A gradual climb warmed me up, but still I left my rain jacket and skirt on well into the afternoon. Actually, I never took my jacket off all day and wished I had more layers, it was that cold and cloudy. Much of the morning was spent looking at the inside of a ping pong ball. It was especially disorienting crossing some large snow fields in the fog.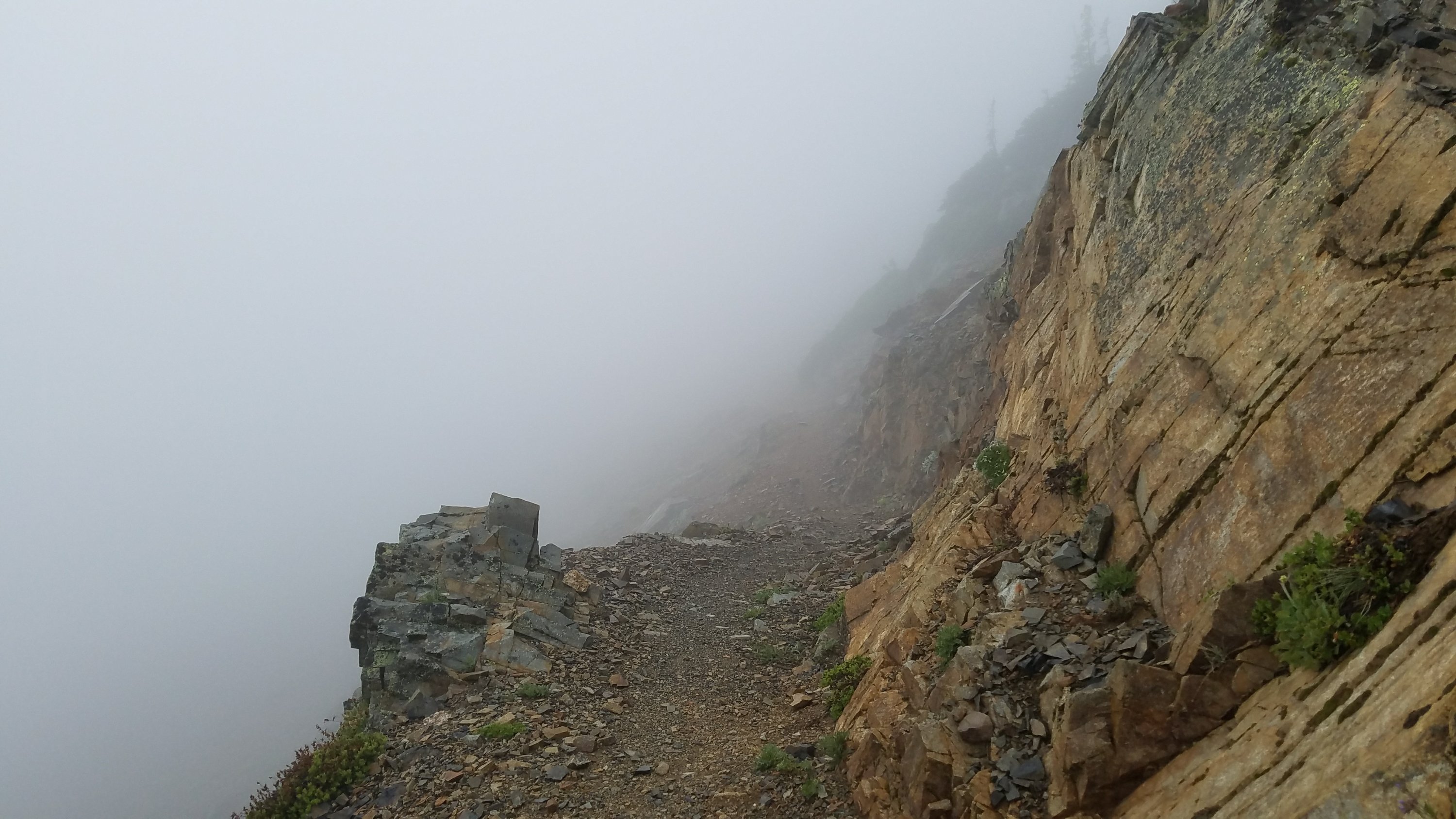 There was a long descent into a valley and then miles through overgrown bush. All the vegetation was saturated with rain water and shortly, so were my shoes. Well, I made about 3 days with dry feet, at least.
I had passed one guy mid-morning and then a couple around noon. Otherwise, the trail was desolate. There was no longer the double traffic of SOBOs heading up and back from the border. I took a short lunch break at 1 pm and was overtaken by the guy, Zeek, that I had caught earlier. This was a good thing since I was able to follow his footprints in the snow later in the day.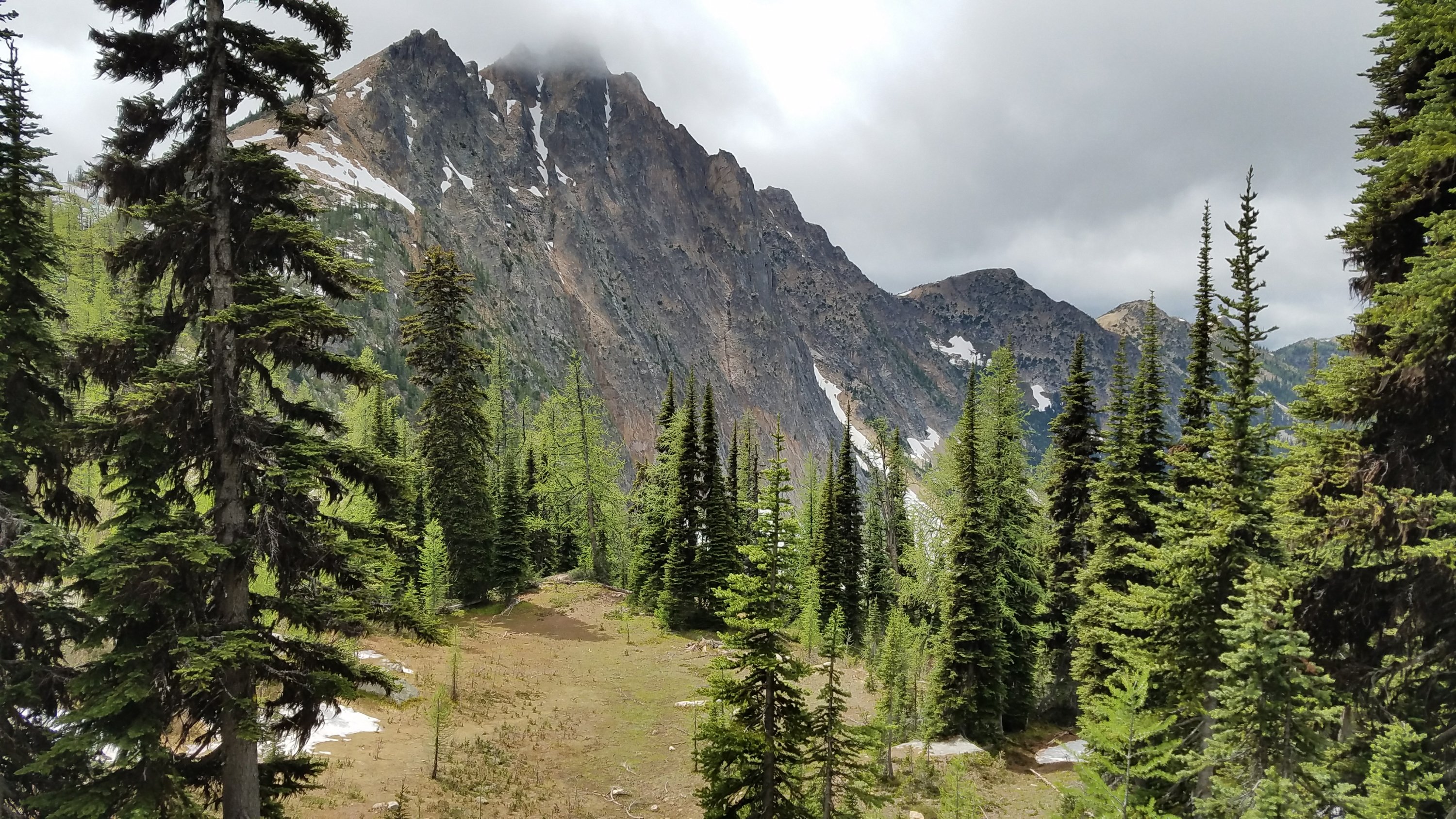 There was more climbing to depart the valley and gain Methow pass, then a long traverse that had very steep, washed-out sides. This trail wouldn't be fun if one were afraid of heights and narrow ledges but I really enjoyed the section. It was awesome to see the trail stretching out into the distance and to have such great views the entire way. The Northern Cascades have just blown me away so far!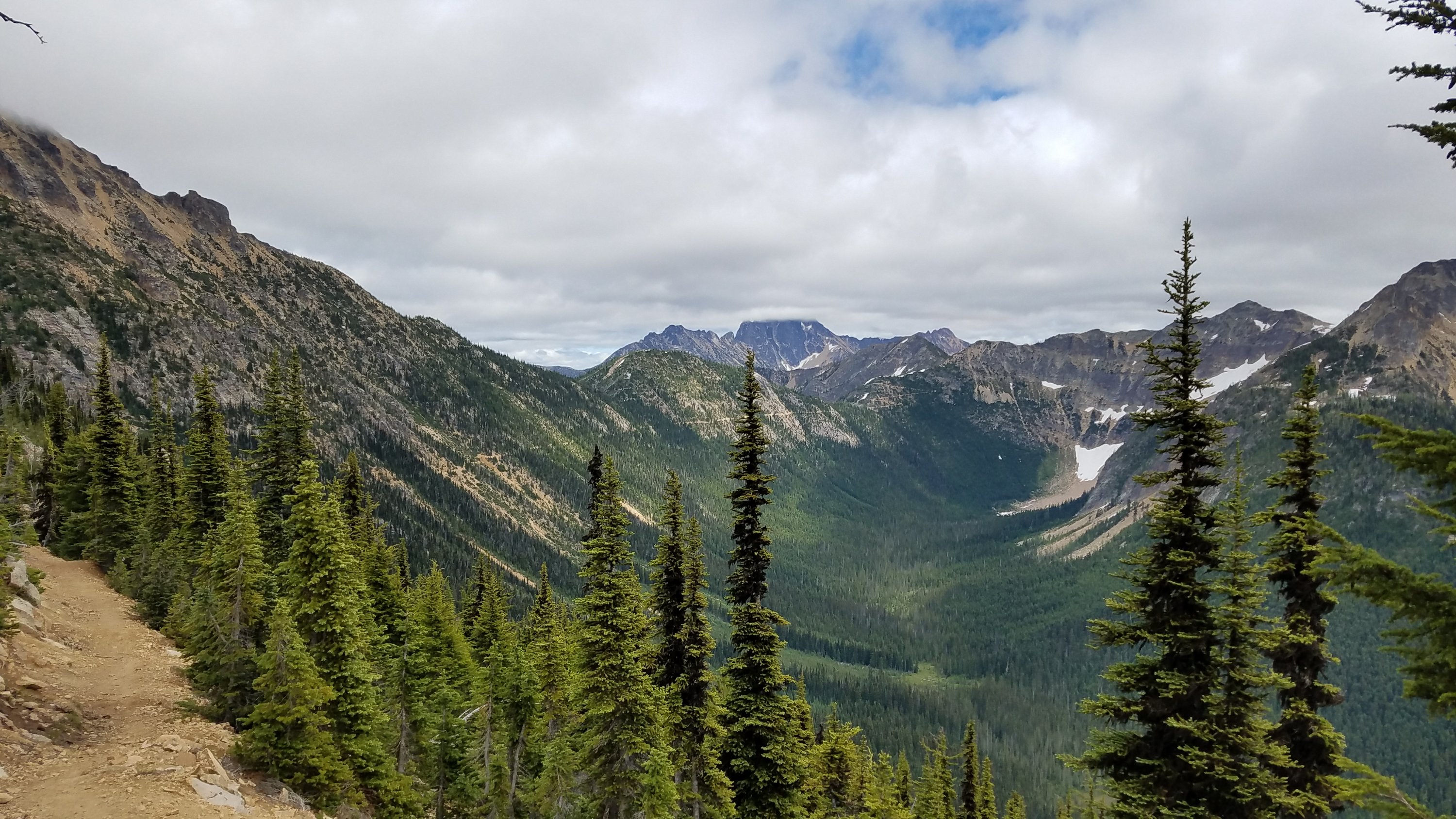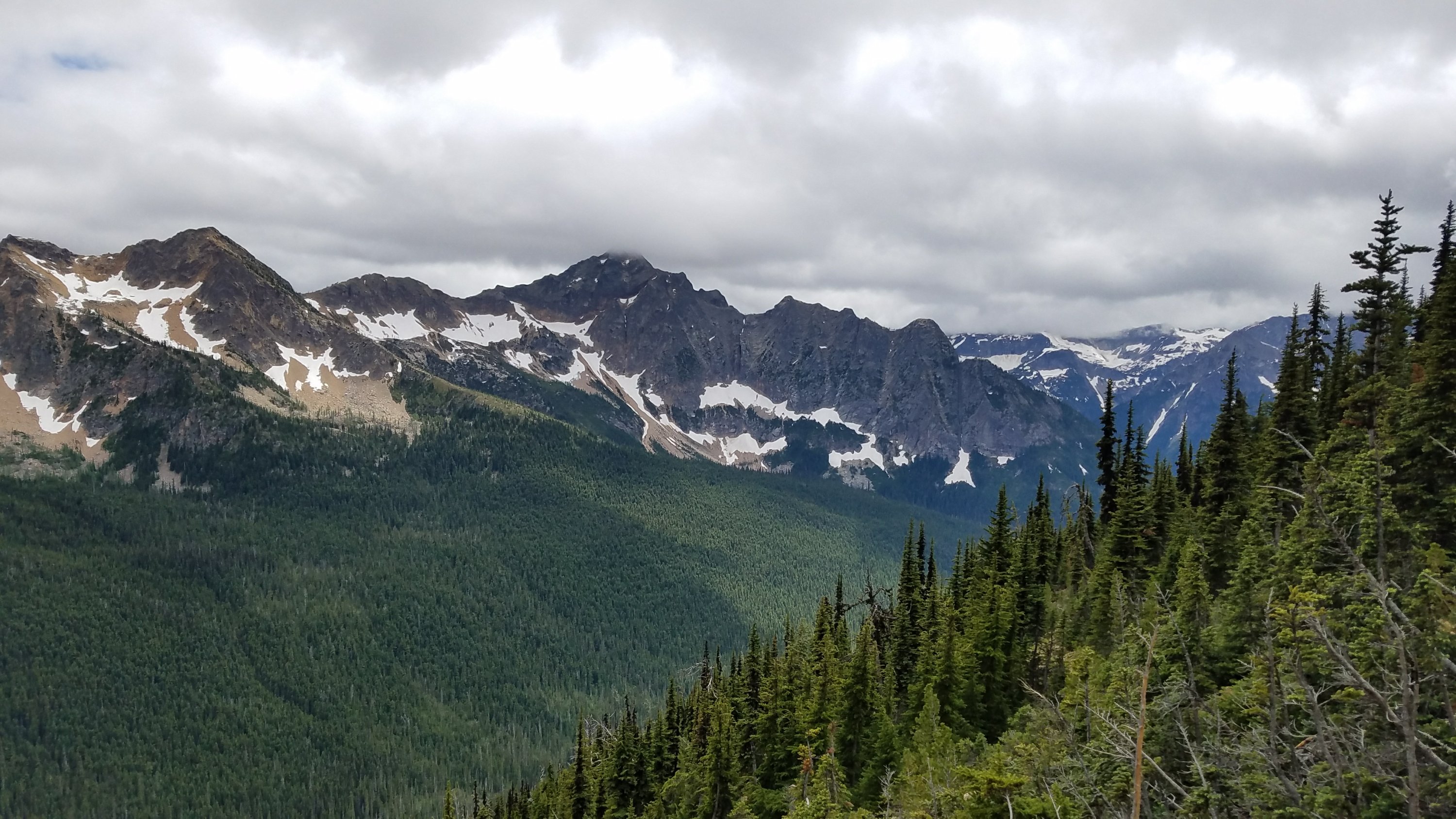 I was already over 20 miles for the day at this point and my feet were really hurting. No blisters, just soreness from all the rocks on the trail and overuse. I slogged up a bunch of switchbacks to Granite pass, having to scramble over some big snow mounds. Then I rounded the corner to see a long traverse to Cutthroat Pass, covered by some wide snow fields. This was another part I had been warned about by Ratchet, where he had been turned around in the previous week. I was hoping the snow would have all melted by now but instead it looked sketchy-as.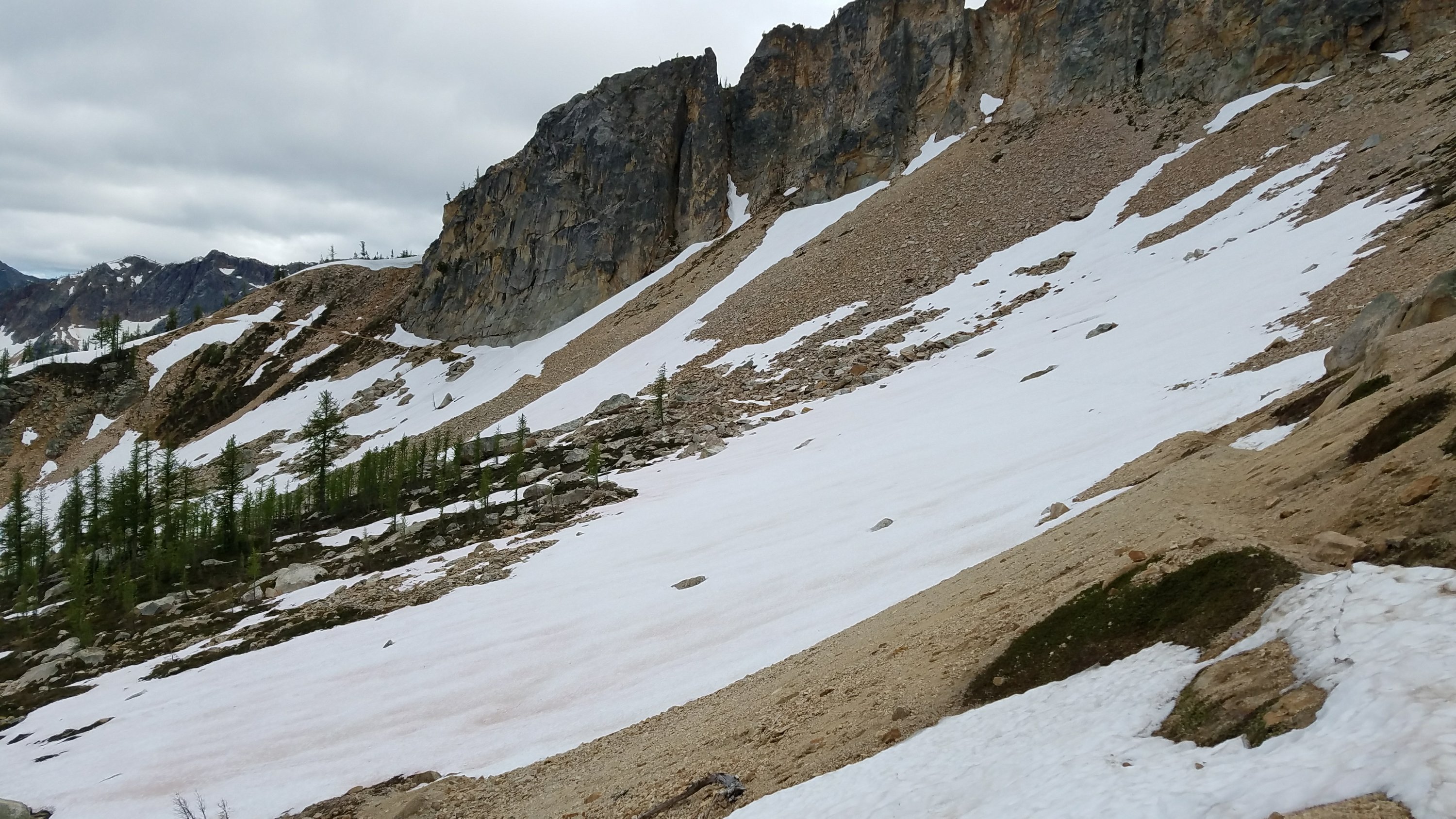 I told myself to just focus on one section at a time, one foot at a time. All the sections were fine except for the last. It was the steepest slope yet, with a path leading high up against a cliff wall. I followed the etched steps but at the cliff wall, the whole snow field was starting to calve away, leaving a big gap. I was fearful it would all start sliding, taking me with it. I could see several tracks from where people had slid down the slope, probably unintentionally. I just kept moving and soon it was over.  I was shaking a bit by the end. I don't have much experience walking in snow but I have a lot of experience skiing, which I think has helped in making me feel more balanced when on the edge of a slope. With trekking poles in my hands, I feel confident in my balance and traction.
I started descending and was looking forward to the first campsite after the pass. I was even more pleased to find Taylor there. It's always nice to have just one other familiar face to share camp with. Later, another guy named Jose arrived. He had also been with me the night before at Broken Toe's camp and had managed the same marathon. I had been so cold most of the day that I didn't waste time getting settled into my quilt. And so ended my longest day yet. Not bad for day 5.