July 9th, 2018
Jim Pass mm 2630 to Harts Pass mm 2622
Distance: 8 m
I slept in, by my standards. I had woken just as it was getting light then fell back asleep until 6 am. I was on the trail by 7:15, just in time to hike with Arrow. Taylor caught up to us shortly after.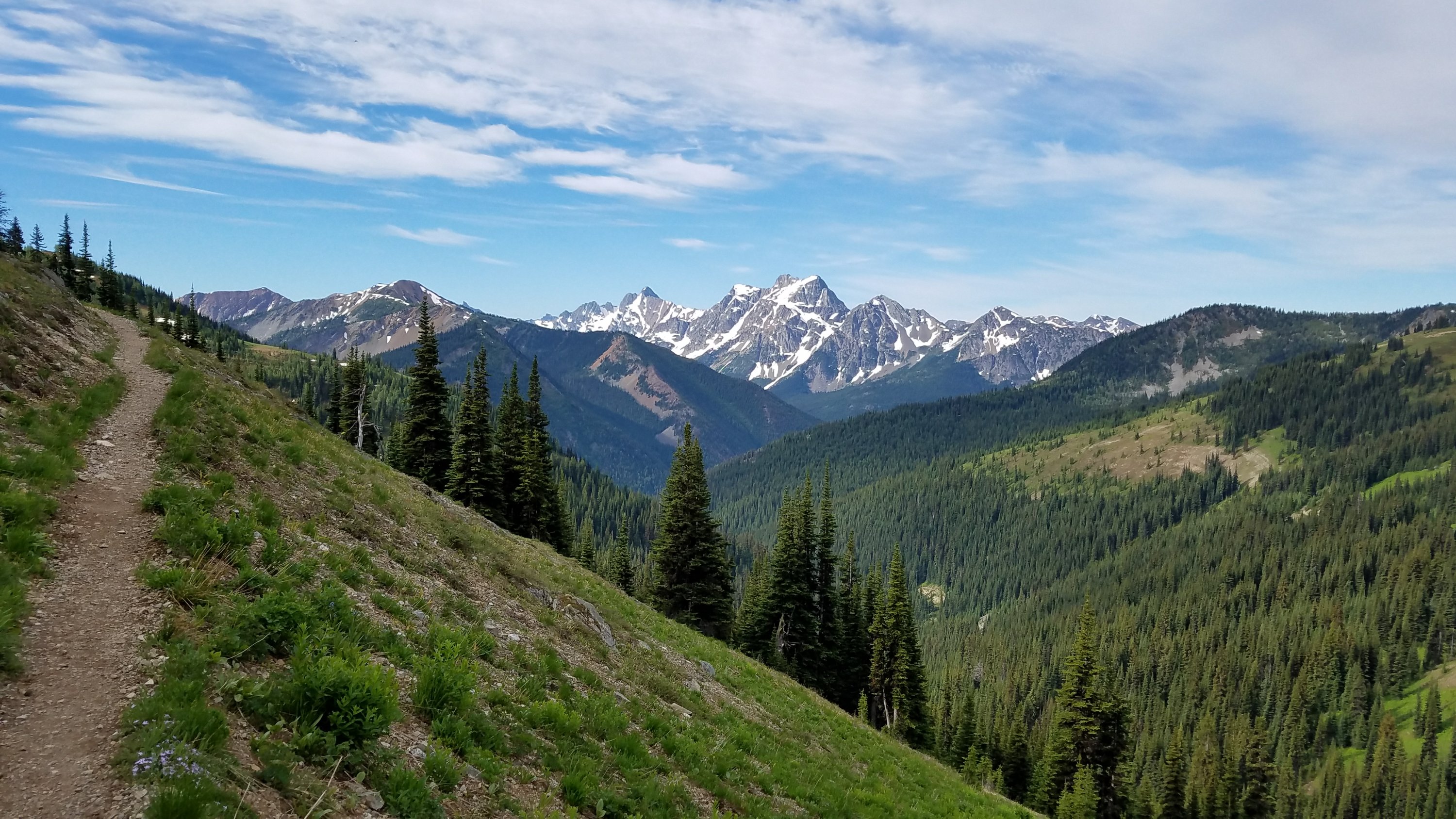 The rest of the trail was a scenic traverse back to Hart's Pass. We got there around 10:30 am and settled into the vortex that is Broken Toe's trail magic encampment. He immediately started offering tea and crepes and eggs…all so tempting but I also needed to hitch a ride into Mazama to buy a new water filter. I settled on some tea and an egg sandwich, both of which were so good.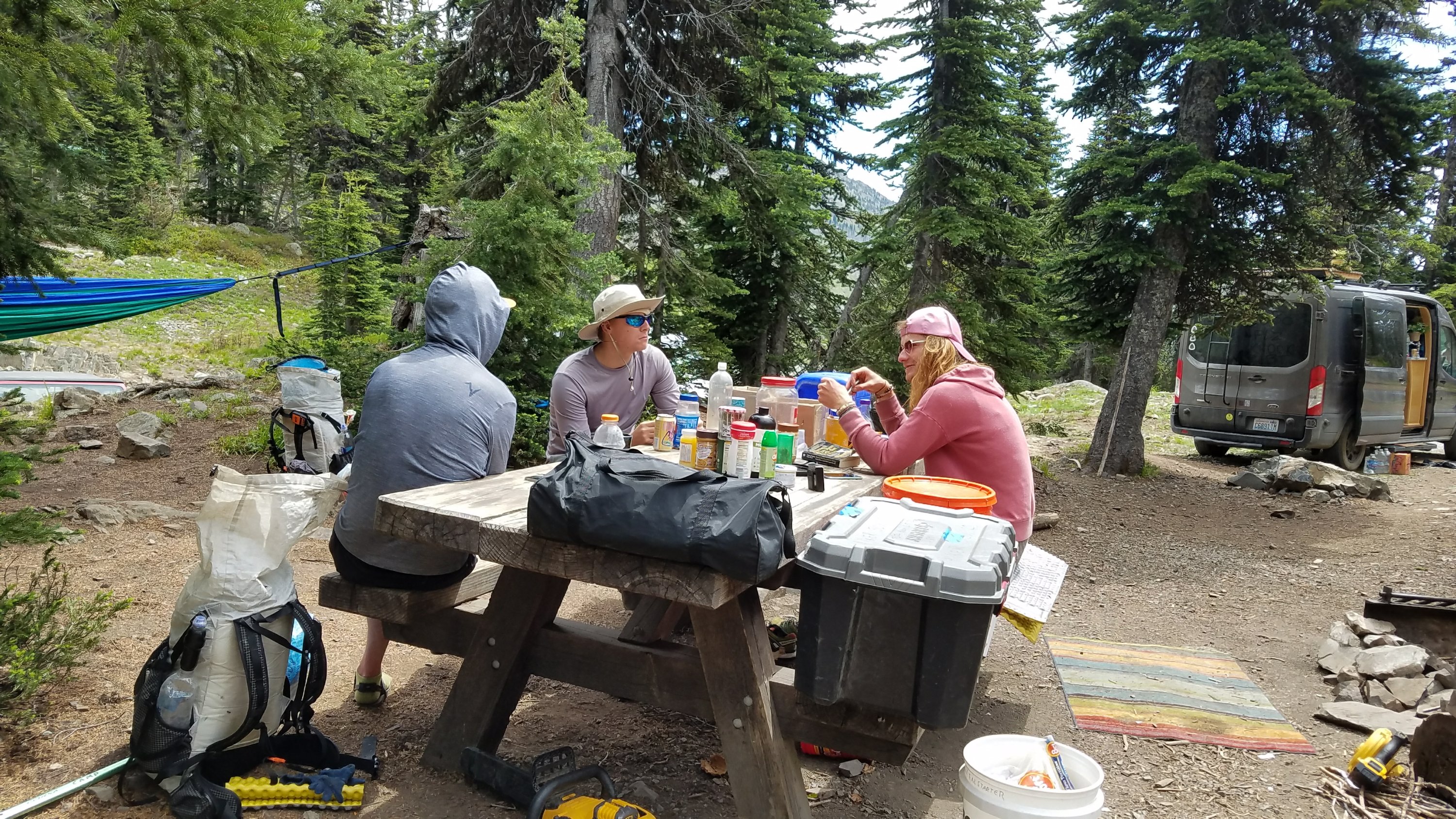 From left to right, Taylor (who doesn't subscribe to social media and/or public photos, hence his back–bless him), Brian and Broken Toe.
Just as I finished this impromptu breakfast, a couple was driving down the pass and stopped to give me a ride. I'd forgotten just how far it was to Mazama, as we didn't get in until after noon. I quickly bought the filter and did some grocery shopping at the general store. I picked up a few supplies at the request of Broken Toe and got a discounted breakfast bagel for $3 for my lunch. It was one of the best things I've had so my hiker hunger must be kicking in.
Now I needed a hitch back up to the pass, which could be tricky. Most of the cars were locals just going around the small village. After only a few minutes, a lady offered to drive me up to where the pavement ends and I figured, why not? Whatever gets me closer. On the way, we saw a juvenile black bear crossing the road. My first bear of the trip!
At the pavement end, I settled in for what might be a long wait. I took out my knife to cut holes in the edges of the water bags that came with the Sawyer filter, so I could hang them to gravity filter. About the time I finished with that project, a guy came along that was going up the pass. Actually, a few cars had come along and every one of them stopped to talk to me, they just weren't going that far. Everyone has been so friendly and kind. It's been just as easy if not easier to hitch rides here compared to New Zealand, which I always considered to be hitching paradise.
The guy's name was Kevin and he lives in the area. He was taking his dog out for a few days to a nearby lake. Funny story about the dog…I kind of stole his front seat, but he still insisted on having a view. I scooted over to let him share the seat but he kept inching his butt onto my lap. He was a smallish dog of cattle dog stock but still too big to be a lapdog. Worse yet, he was wet and sandy from just swimming in the river. At least he had a bath the day before and didn't smell. I ended up cuddling him most of the way up and was covered in hair and sand by the end. Hitchers have to put up with some discomforts at times but cuddling a wet dog isn't the worst thing that can happen
We also saw mountain goats on the side of the road, which made the dog go crazy! Kevin stopped so I could take pictures. Last, Kevin told me about how he was attacked by a mother grouse that he came upon suddenly while trail running. She flew up and hit him square in the chest! Hmm, maybe I should be more fearful of those grouse after all.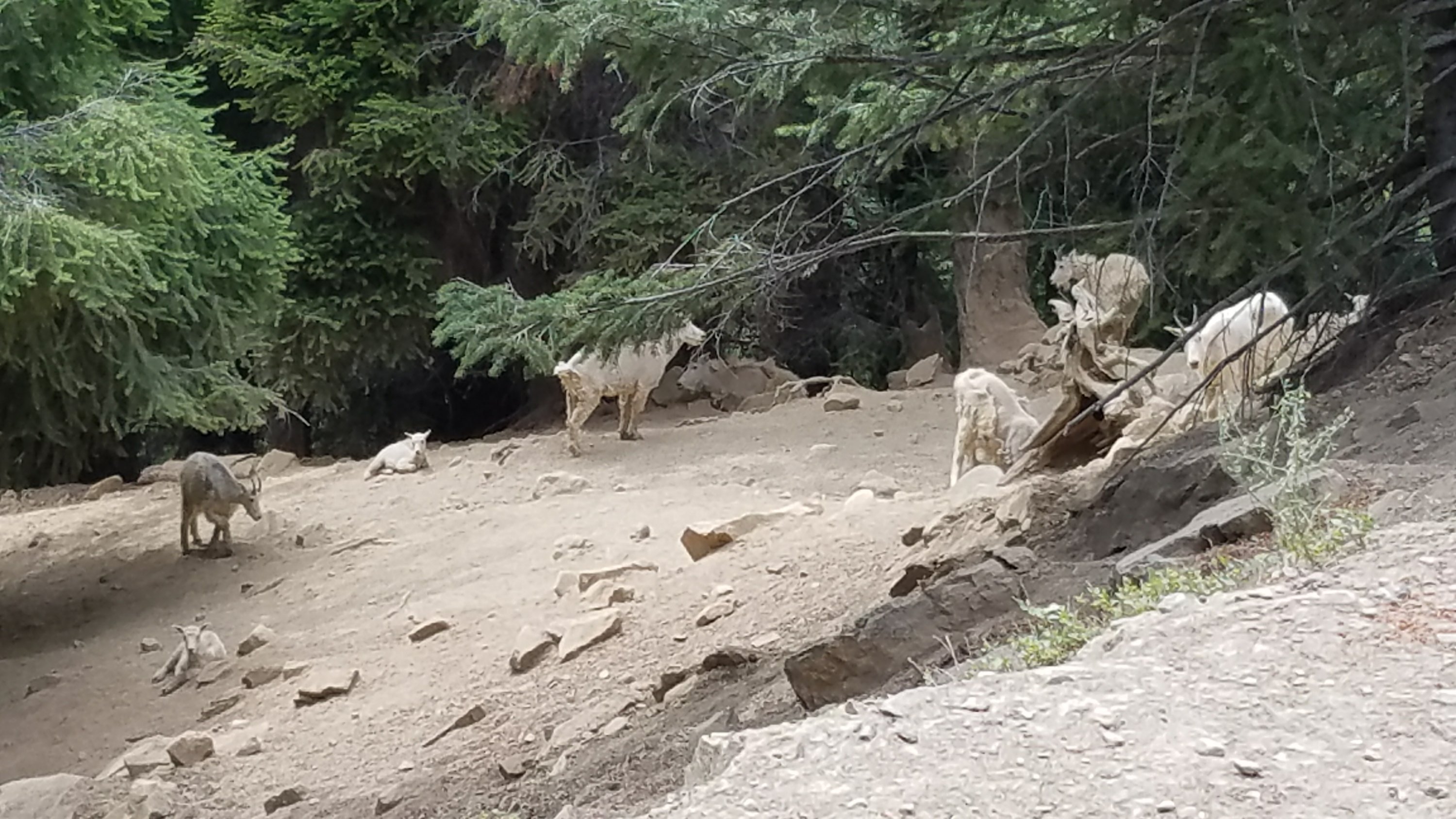 I got back to the pass around 3 pm, and I'm told that I made record time in hitching a round trip to town. Though there was plenty of time to hike further, I kind of gave into the social scene and decided just to camp there.
It was a fun night, between Broken Toe giving us a tour of his personally modified van, some other RVers sharing their dinner, and a campfire. There were about 10 SOBOs all hanging out, including Arrow.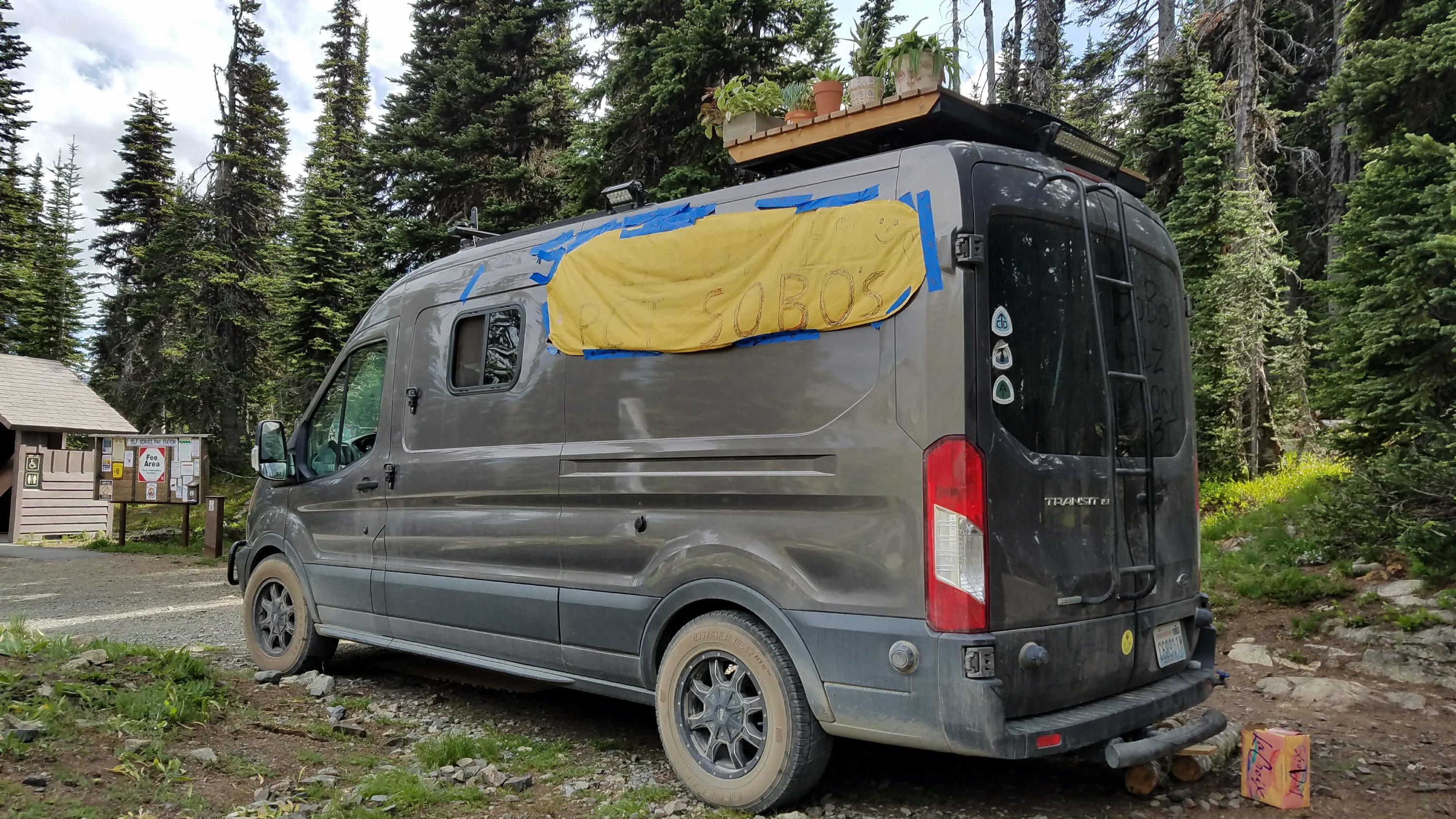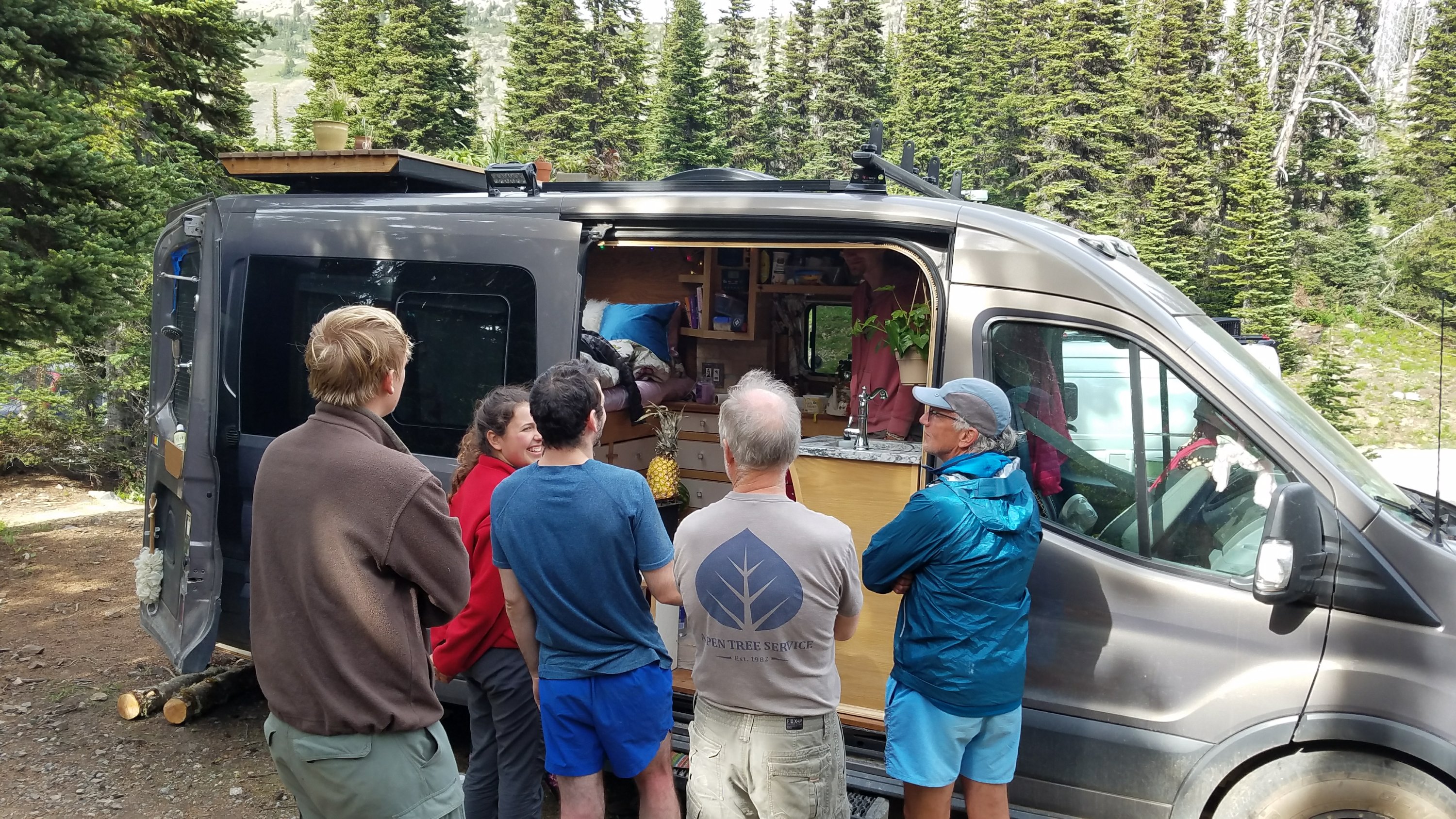 Van living, what a dream! Arrow is the color-coordinated guy on the far right.
Broken Toe made a shared vegetarian dinner of broccoli, mushrooms, and sweet potatoes cooked over the fire and it was delicious. I also supplied some salsa that I bought at the store. Broken Toe is a triple crowner (hiked the 3 long trails in the US) and has done the PCT twice. He is spending this summer living in his van and doing trail magic up and down the trail. He says that he is retired, for now. What a guy and he is only 26!
I finally called it a night a little late at 10 pm and just as it started to sprinkle. A good sign to go to bed.