January 18th
Flying Fox campsite, Koriniti (km1344)-Whanganui River (km1390)
Mileage: 28.6mi/46km
We expected rain all night but it was surprisingly dry when we woke up. The wind was blowing pretty strong but it meant a tail wind for us, so we liked it. We were on the river by 8:30 am but not before packing some takeaway avocados from the overloaded tree. They need some time to ripen.
We didn't make it far before stopping at Down's hut. This is a historic homestead from the 1920's, built by Mr. Down of course. I wanted to check it out because I heard the hut book goes back to 2001 and is a record of all the former TA hikers. Sure enough, I found my favorite bloggers Brian Buck30, Nancy Huber WhyNot, and Joe Valesco, founder of Zpacks. We signed our names and I felt like I was finally a member of the club.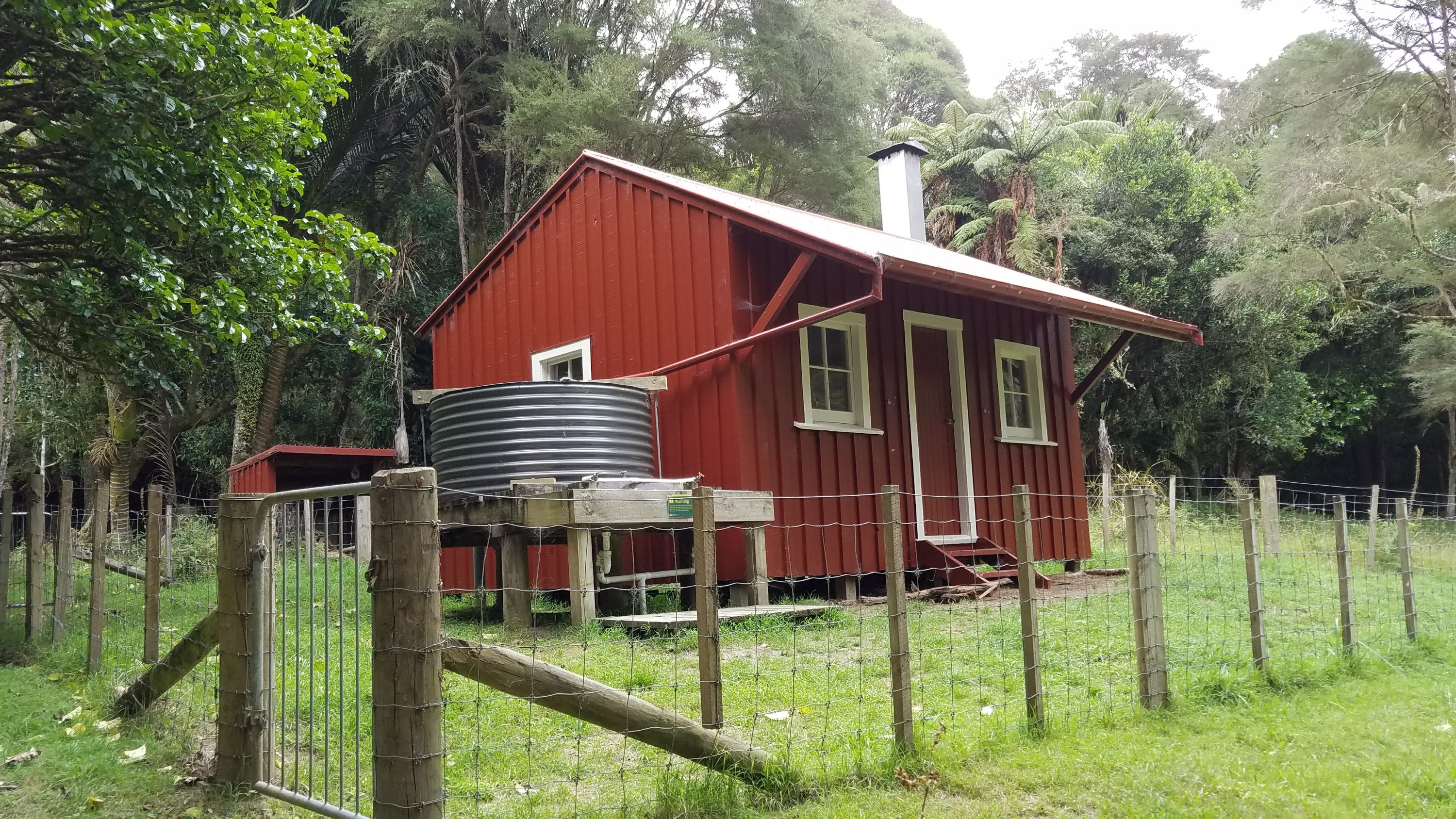 There was also a small magazine called Backcountry and I couldn't help but notice an article about the TA on the front page. I flipped to it and it was about Fiona and Anthony, the two people that are bringing bikes to us in Wanganui. They live in Palmerston North and we are going to ride their bikes back to them to avoid a 3 day road walk. I had contacted them a few months ago about hiring bikes and they have gone out of their way to help. They even rode the route themselves, just to see if it was feasible. They hiked the south island a few years ago and are now trail angels, while continuing to section hike. It was great to read more about them in the magazine article.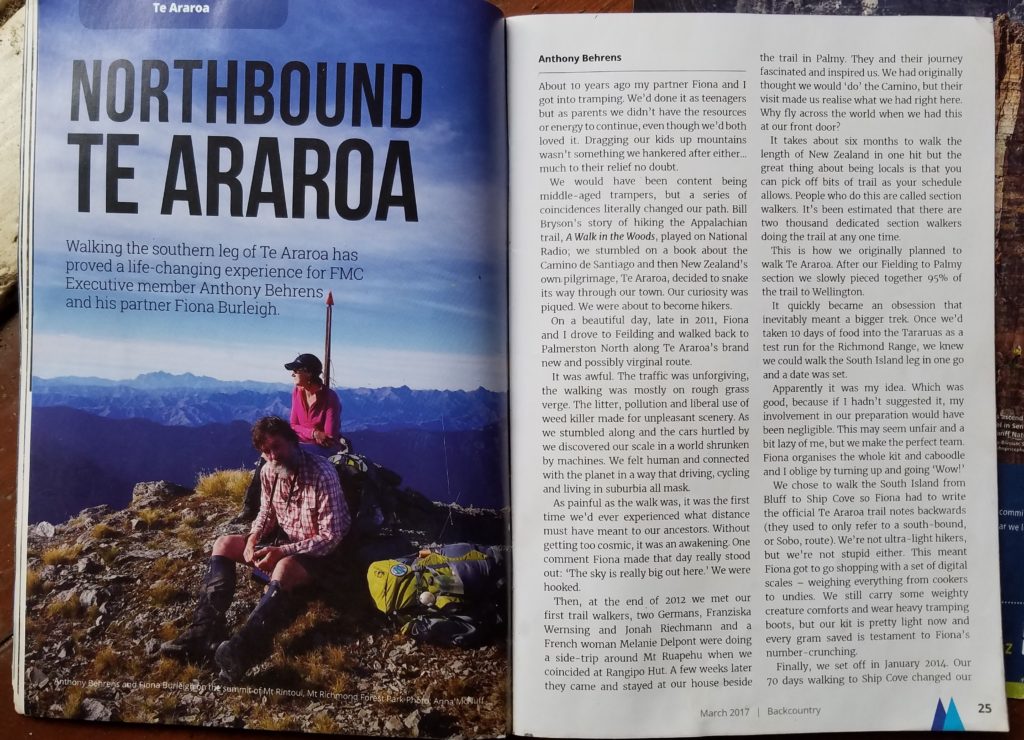 There were a few more rapid sections but we could tell that the river was definitely slowing down. It also started raining pretty steady. We were so happy to be in kayaks instead of canoes. We have been able to cover a lot of distance…and to stay mostly dry while it rained. I was even able to rig up my umbrella on my life jacket.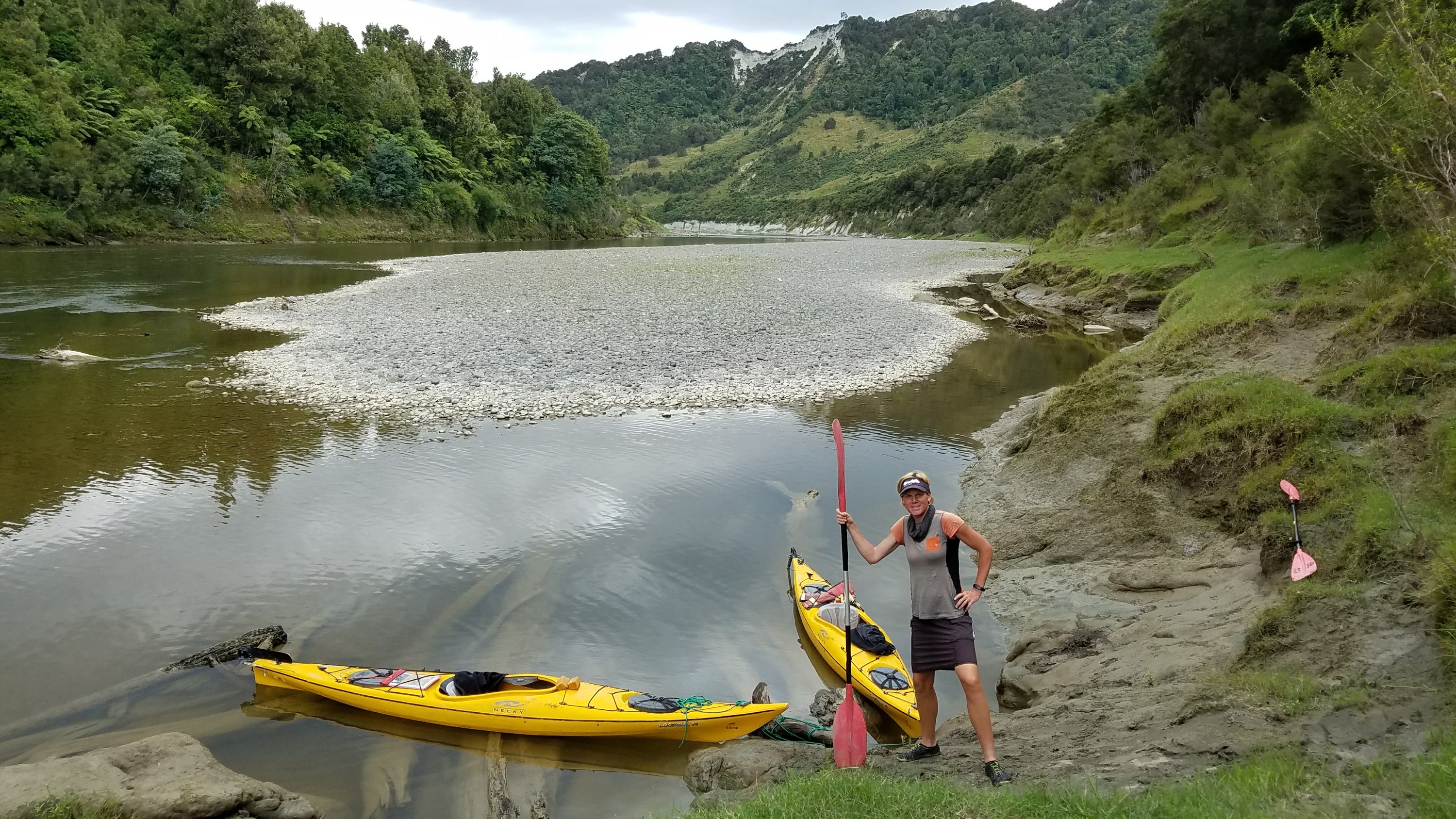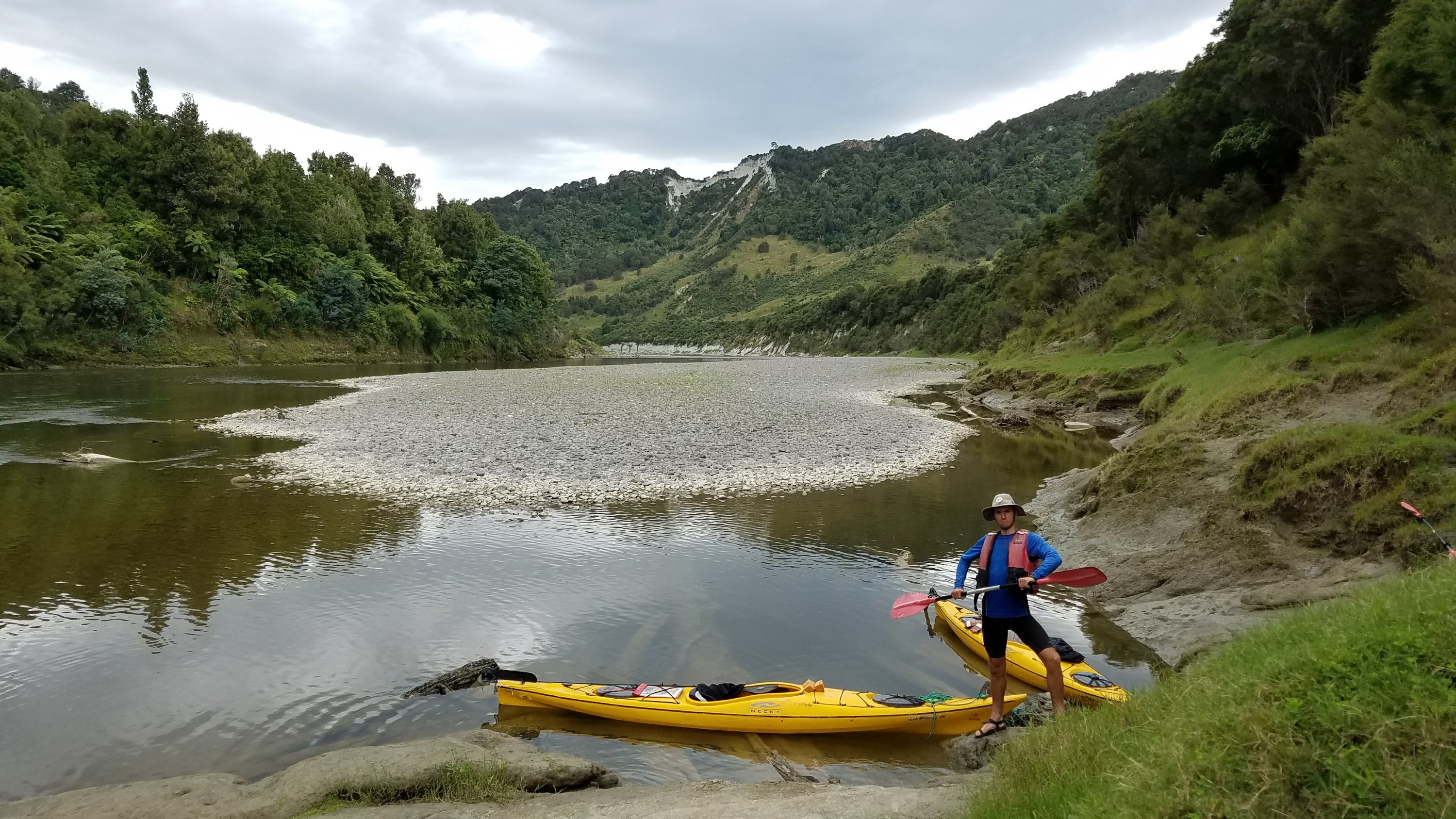 We were reluctant to finish the trip today, even though we thought we could do the distance. We didn't want to spend the money staying 2 nights in town so we were looking for a stealth camp close to town. But there were many houses and farms along the river now. I had stupidly neglected to fill my water bottles, so I also didn't have water for a stealth camp. The river water was too silty to even try to filter. Connor offered to share what little he had.
We were not short on things to eat. Since Pipiriki, we had seen hundreds of wild goats, geese, and ducks. If your diet consisted of these things, then you would be all set on this river. The goats just stand next to the bank and would be easy pickings. But they are really cute, too. Especially the kids. We enjoyed harassing the geese but the ones here don't seem to be so aggro and just scurried away. I like a goose that puts up a fight. Look up a few YouTube videos of what a goose can do to a kayaker sometime.
Around 5 pm, I saw a stretch of redwoods along the shore that looked promising. But first we had to get out of our kayaks and scramble up the very steep bank. The mud was unbelievable. We sank to our knees and I almost lost my shoes. The trees did provide nice flat, open spaces so we opted to stay there. I had to pass all the drybags from the lower bank up to Connor on the upper bank. Worse yet, we couldn't rinse all the mud off our feet and legs because it was between us and the river, and we didn't have any fresh water to spare. So I just used grass and a wet-wipe.
It was a rough campsite but we made it work. It was cool to be beneath the huge trees. Some had trunks more than 6′ in diameter. They appeared to be hundreds of years old but could not be too old, since they would've had to have been planted by English settlers. Trees grow really fast here, so who knows. I slept really well, save for the peacocks that were crowing throughout the night and morning.