January 17th
Ramanui campsite (km1292)-Flying Fox campsite, Koriniti (km1344)
Mileage: 32.3mi/52km
I woke in the morning to the sound of something grazing near my tent…it was two deer. I watched them for awhile, so close. Possums had woken me in the night, making their horrible little noises. I could see their eyes reflecting in the trees. There is so much life here, always something different.
Thankfully, the deer woke me just in time to see the beautiful cotton candy clouds from the sunrise. I went back to the Captain's Chair, where I found Black Cat still sitting! He went straight onto my lap and I enjoyed the sunrise while he served as a lap-warmer. So great!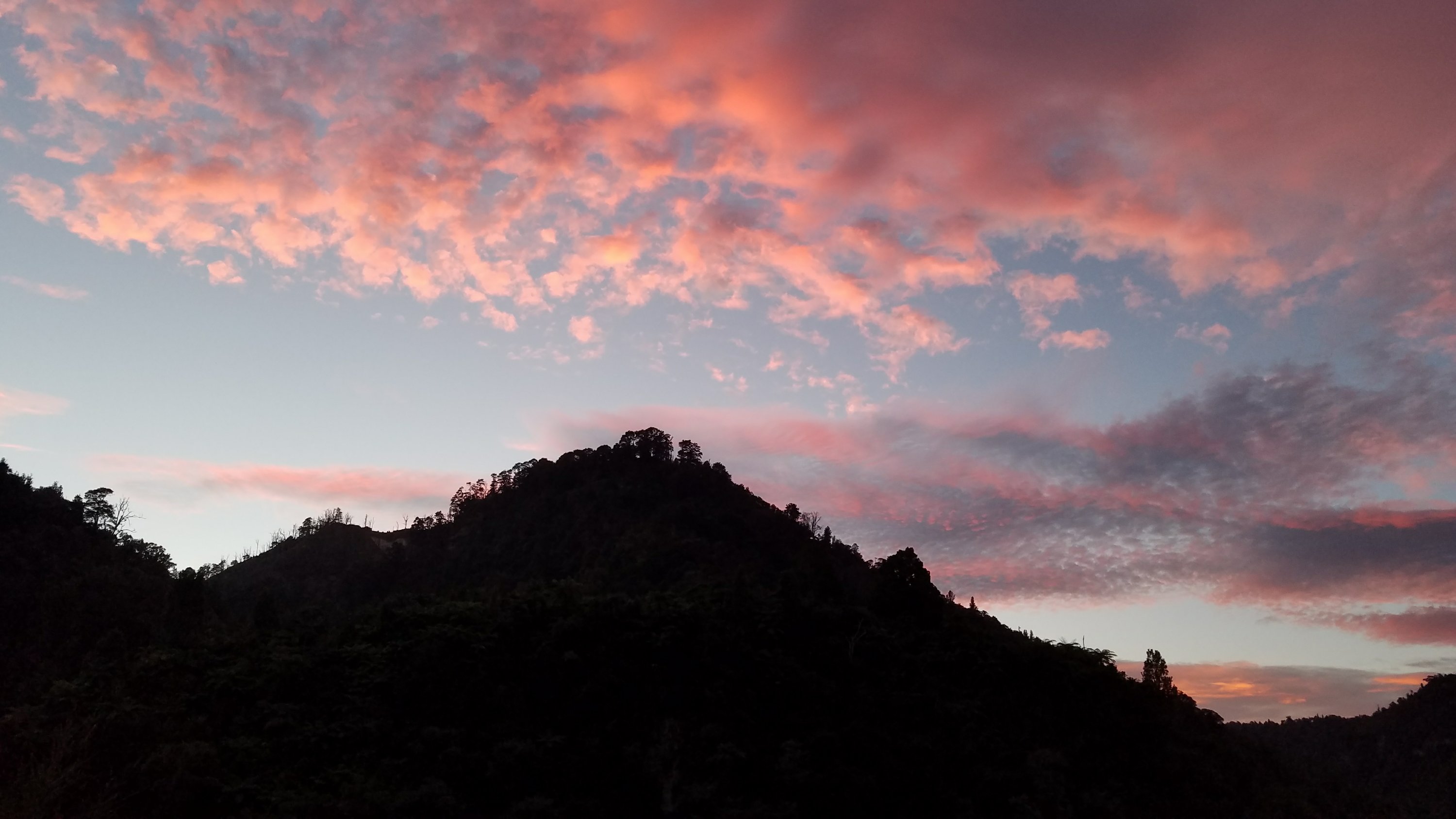 Everyone else was up early too. Graham thought I'd sat there all night with the cat, since that was the last position he'd seen me in when he went to bed. We had a lovely breakfast and then hit the river. No, I did not sneak kitty into my kayak. He has a good thing going at the camp and I don't want the extra weight. But I was sad to say goodbye.
Up for today were 3 bigger rapids. Graham and Troy seemed a bit nervous, as they have already capsized numerous times. They set off early to face the music. We followed shortly behind.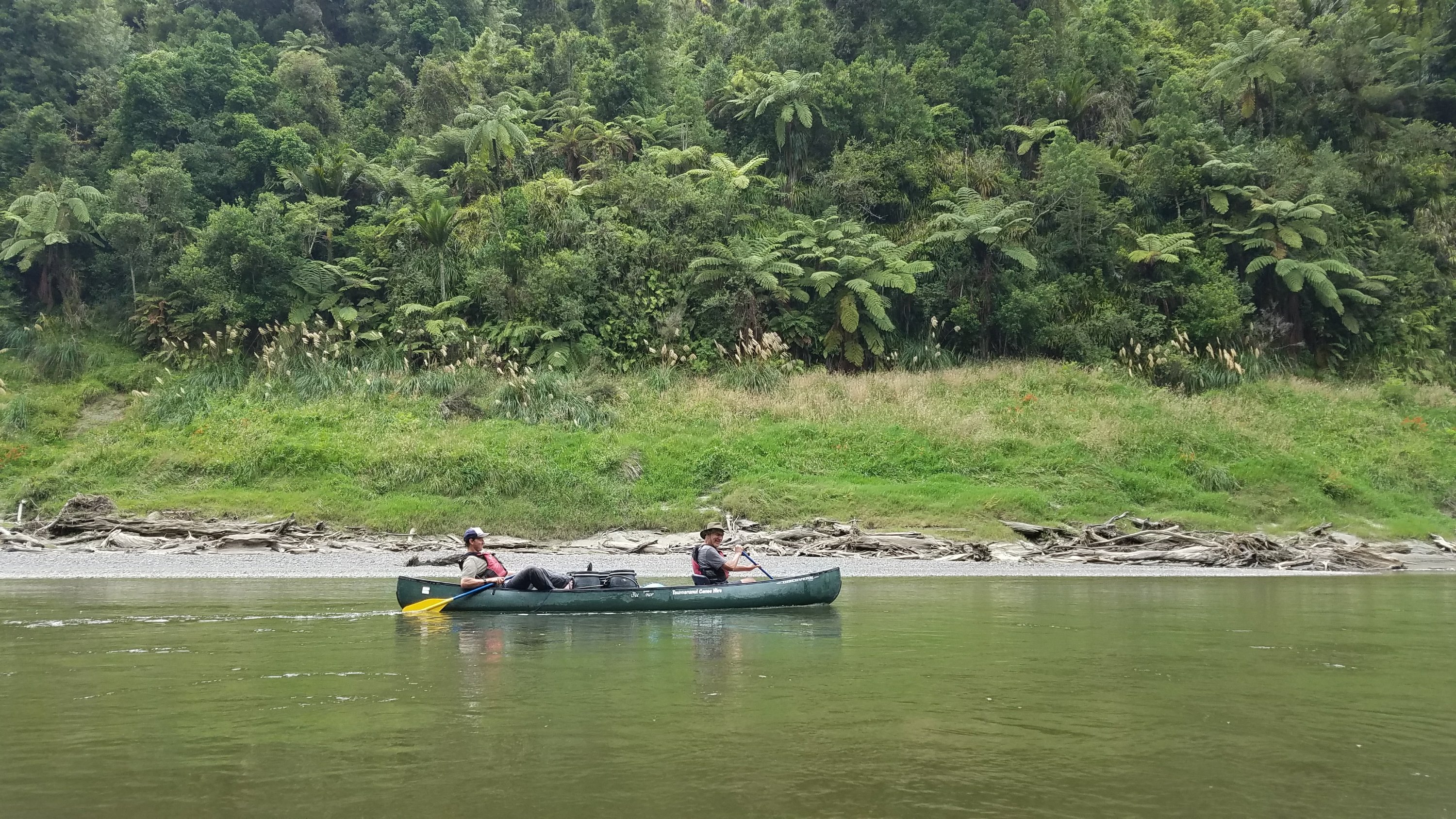 Troy and Graham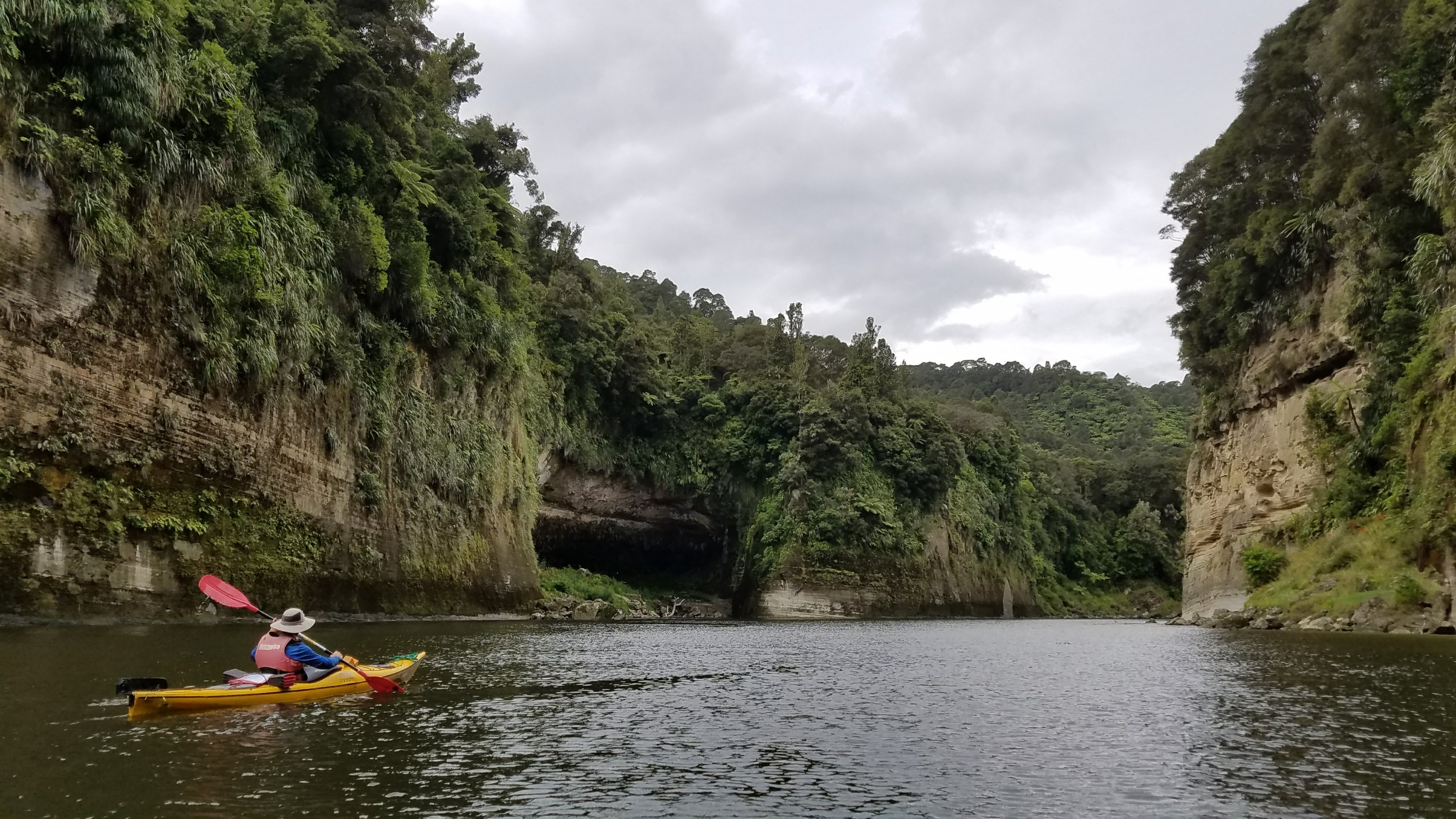 My favorite shot from the whole river
I was surprised when we came to a rapid where a bunch of people were standing around. We ran it, easily dodged a few bigger holes, and then realized that it was the dreaded Ngaporo rapid. You gotta figure that if they send complete novices out in canoes, the rapids can't be all that bad. I would guess that these might be rated class 1, though. Most of the canoe people were on the sandbar bailing water afterwards. A few with small children even decided to portage their canoes past the rapids. Graham and Troy made it through just fine. To me, it was just a fun ride with some good washes over the deck.
After, we went on another cave expedition. This one had a cool waterfall coming out of it.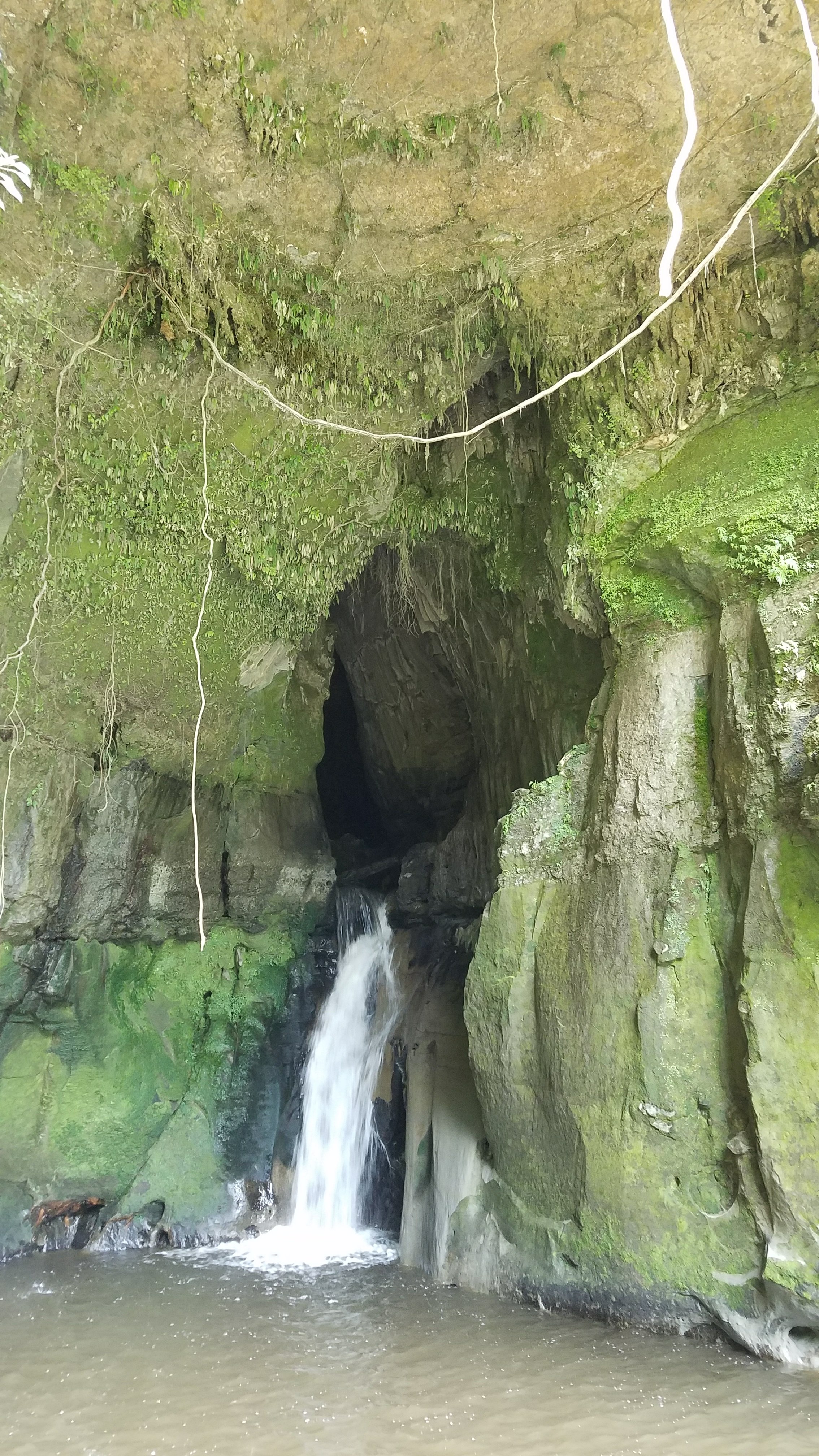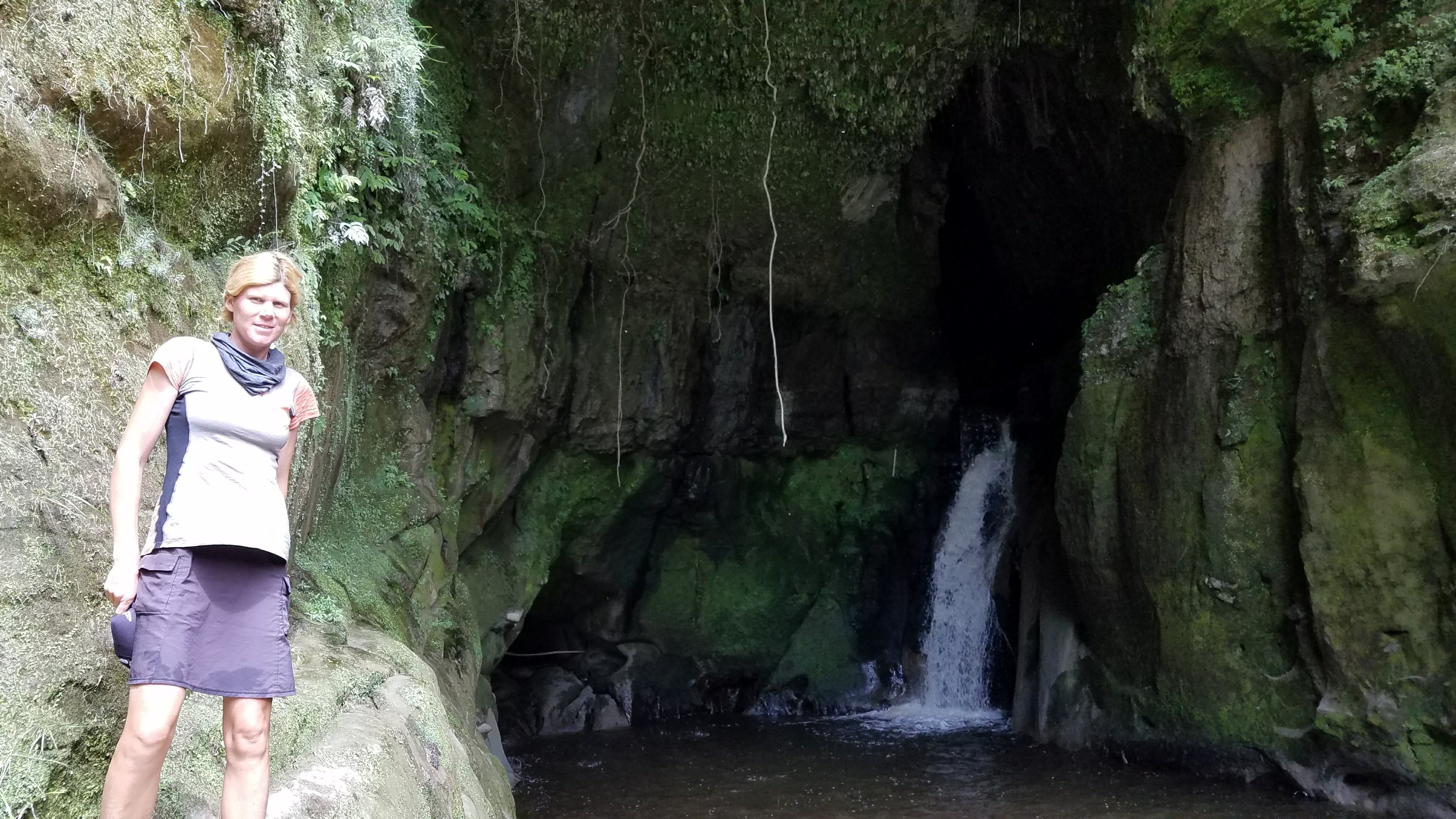 Just past the cave was a tricky spot with a big rock in the middle of the river. If you went right, the current banged you up against the wall. Trying to go left and avoid it all meant that you might just get high-sided on the rock, as some poor canoe had found out the day before. The crumpled canoe was still pinned against the rock. I went left anyways and found it very easy to dodge the rock. Currents in a river can still be very tricky but I have the confidence in my kayaking skills to envision where I want to go and make the boat do as I wish. Connor has had no trouble either. Sea kayaks are also pretty fast and maneuverable craft. The last piece of the puzzle is just being good at reading the river from upstream.
The second big rapid proved to be the downfall of most. It was mostly just big pressure waves but a longer stretch of them and I think the canoes were all getting swamped by the end. We entered a somewhat chaotic scene. Graham was on one side of the river bailing water from the sunken canoe while Troy was waiting patiently on the other side. A mother that was stranded on some rocks was getting picked up by a jetboat, to be delivered to her son and canoe caught up in the eddy on the left side. I paddled over them to see if I could assist and a good thing too. The lady had a previous fracture on her knuckle and had just re-injured it. Her son was trying to trying bail a full canoe to no avail, so I helped him drag it up the steep bank so that it could drain. Then I helped them get in and finally retrieved their water bottles that were circling around in the eddy. It felt good to put my kayak skills to good use, not in paddling the rapids upright but in helping those in distress. I still used the eddy to go back and run the last part of the rapid a few times. So much fun!
The last 'big' rapid was nothing and after all that, it was only time for lunch. Those doing the Whanganui Great Walk Journey end at a spot called Pipiriki. There, the trail notes give TA hikers three options for getting to Wanganui: paddling, biking, or walking the road. The outfitters try to steer people away from paddling, simply because it becomes laborious to paddle the slow river near the end. It dumps into the ocean at the town of Wanganui, so there can also be tidal effects. But I knew we'd have no trouble in the kayaks.
We said goodbye to Graham and Troy and set off around 1:30 pm for our next destination of Jerusalem. The small town has a convent and also a place that sells snacks and hot food. We thought we might camp there, as our other option meant paddling 28 kms after lunch. Technically, there is free camping along any side of the river past Pipiriki, as it is no longer a Great Walk. This excludes private property that comes up to the river and sometimes it's hard to tell what is what.
We were happy to discover quite a few more little rapids and fast current, so we arrived Jerusalem by 3 pm.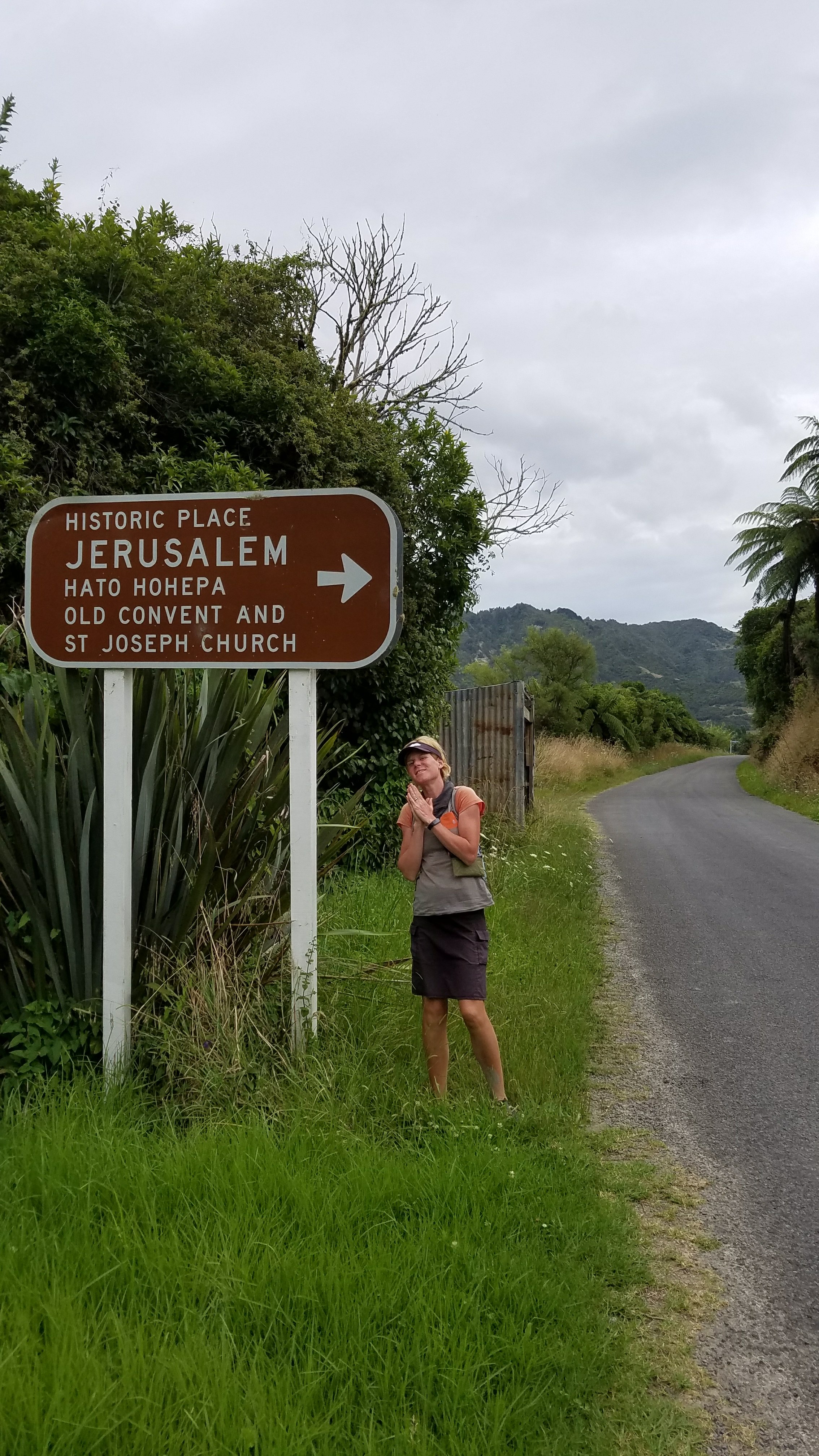 We met Ruth at her quaint shop. It is literally a little room in her house where she sells things out the window. So funny. I ordered an ice cream bar and a package deal of 1 hot dog, six nuggets, chips (fries) and a coke for $10. Connor got the big package of 4 dogs, 16 nuggets, and large fries for $20. Plus some ice cream. The poor kid has been starving because he hasn't been bringing enough food to compensate for his newly-found hiker hunger. Imagine a still growing boy trying to get enough to eat out here.
In the picture you can just see Ruth at her window while Connor makes his attempt at the big meal. So funny.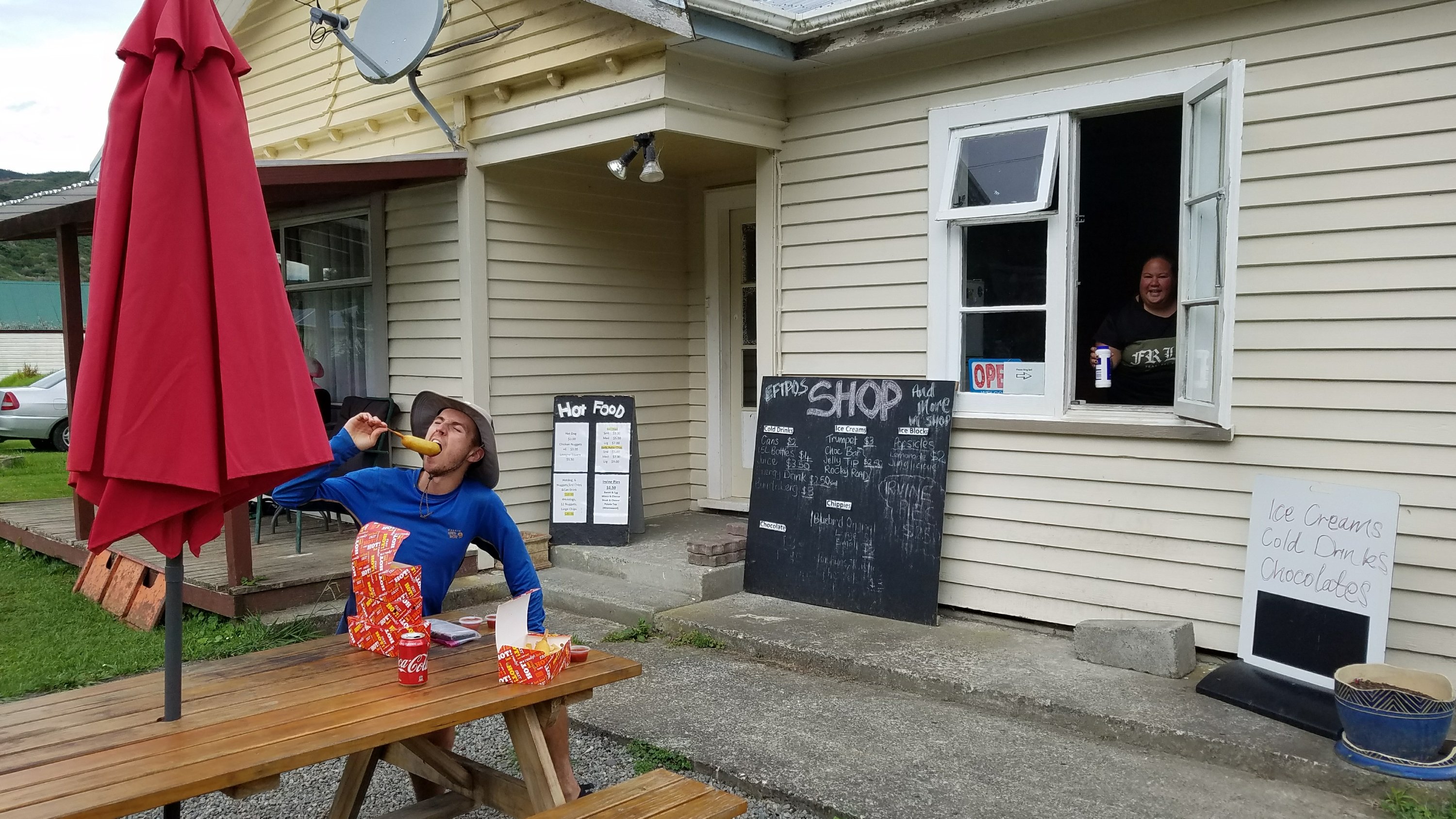 The food arrived and we were surprised to find corn dogs instead of hot dogs but no bother, we inhaled them just the same. It was entertaining seeing Connor try to down his meal. He would have eaten it all but decided to save a dog and some fries for later. Ruth said there has been one other thru-hiker who ate the big meal. Ugh, so much fried food.
Despite being somewhat full, we decided to keep paddling some more. We thought we might be able to make it to a place called the Flying Fox but it meant another 18 kms. Well, the distance passed by so quickly and we were there by 6:30 pm. We found a beautiful oasis of fruit trees and fairy-tale cottages. David, a temp caretaker that is also hiking the TA, came out to give us the intro. There was a hot shower set up outside in the bush, plus toilets and a nice kitchen facility and covered picnic table. Thank goodness, since it rained for awhile just after we got our shelters pitched. The bush shower was also very refreshing…I love outside showers. I wished we had more time at this place since there were lots of fun outside games, hammocks, and even a yurt. It was a little bit of Eden. The best thing is that the property is only accessible by a cable car from across the river, which I guess explains the name Flying Fox. Unfortunately I didn't get to ride in it. I'm hoping to come back to visit someday.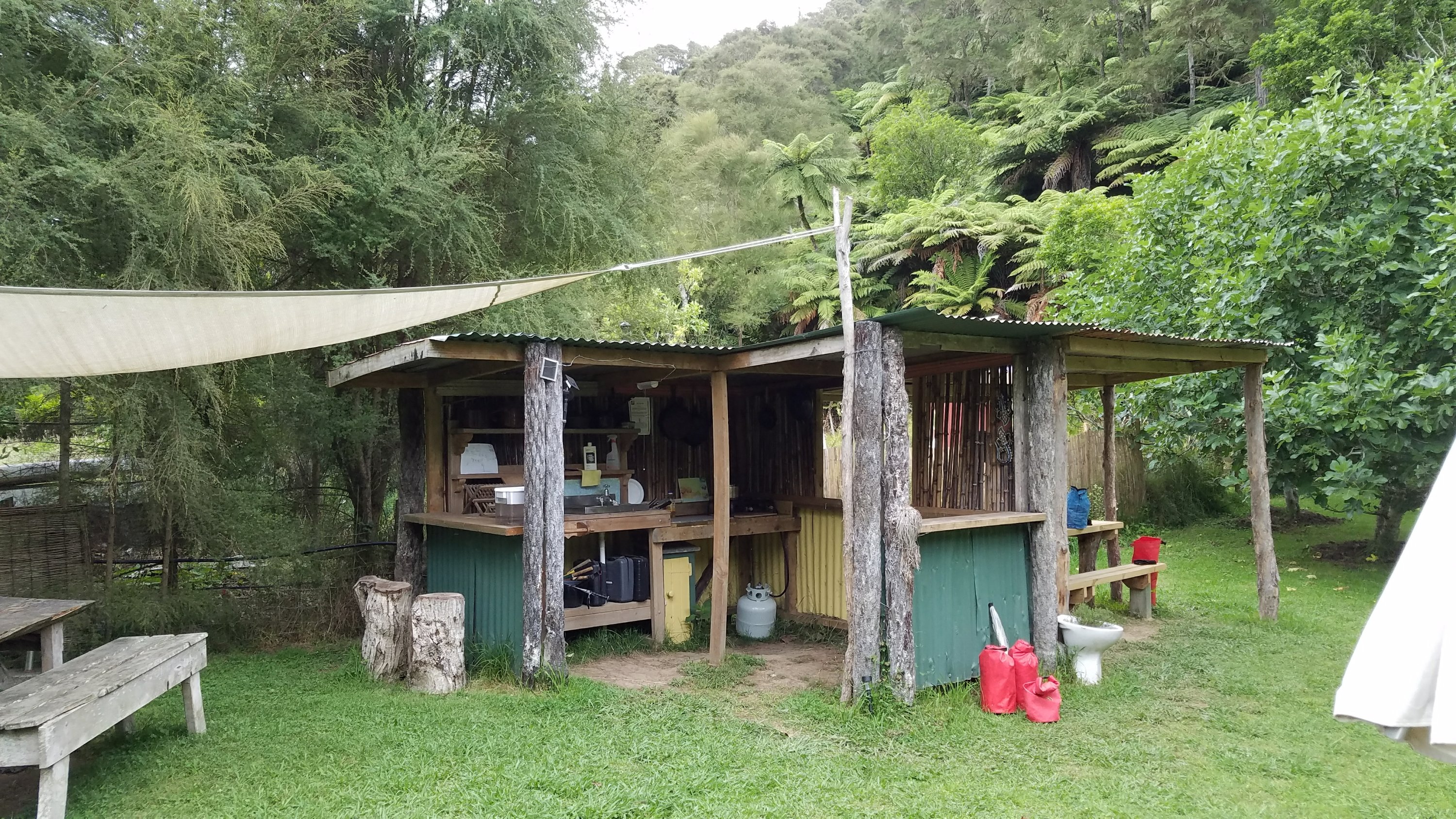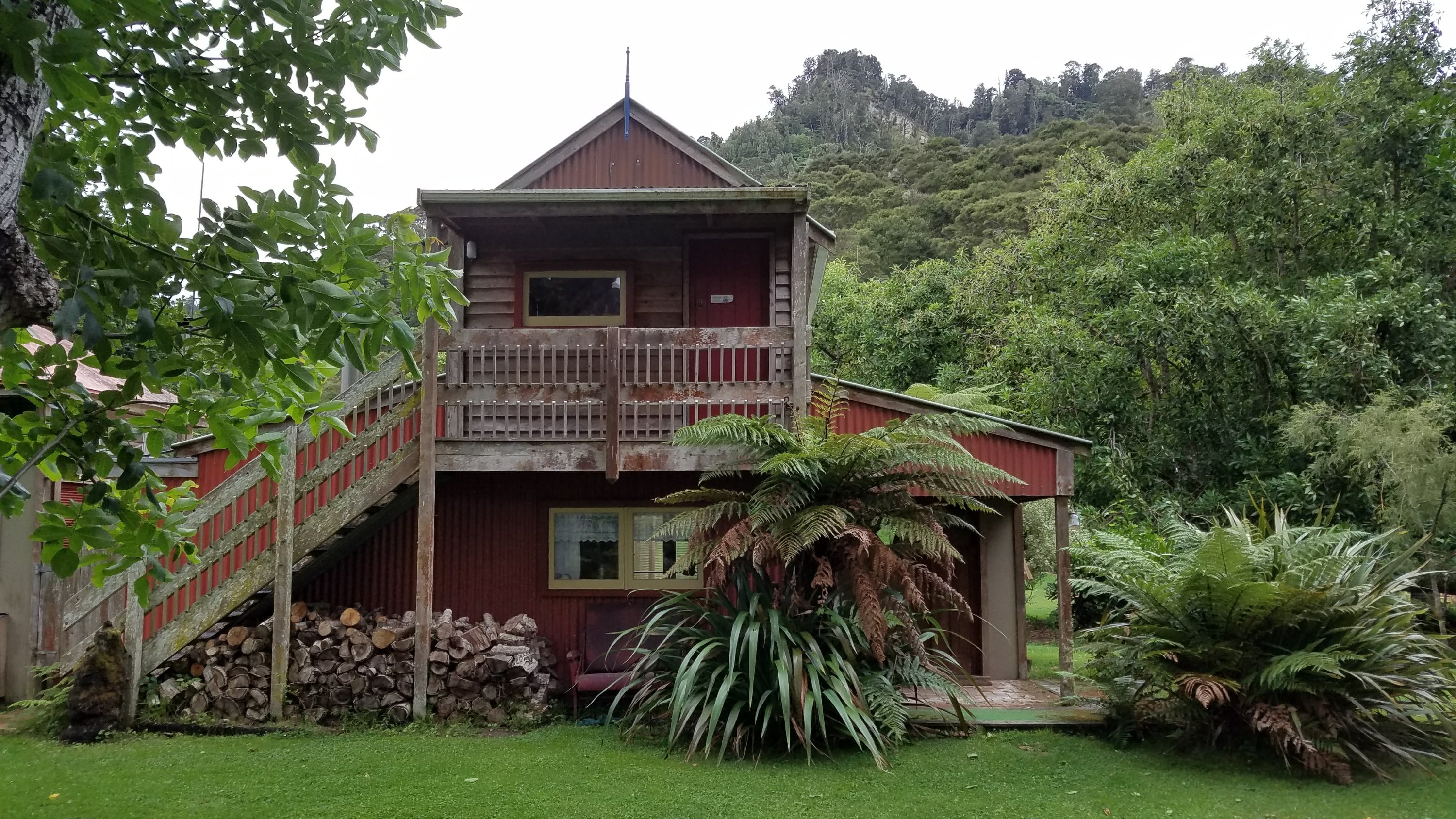 Once again, it was just the 2 of us. We stayed up pretty late just getting dinner made and then had a peaceful sleep. We were exhausted from an action-packed day!