August 19th, 2018
Zero in Ashland
Distance: about 5 miles walking around town
Ashland turned out to be SOBO central. I have not seen such a large collection since Harts Pass. Overnight, I camped with a Japanese thru-hiker named Watermelon. Then early in the morning, a circle formed around my tent. First, the Kid and Bunky (formerly Brian) rolled in…the latter I hadn't seen since Harts Pass. It was fitting that he was with the Kid, since he is only 20 himself. Another guy named Roadrunner was there too. We told stories while I made breakfast and coffee. They were waiting until the bottomless pancake breakfast opened at the restaurant. Potter, Salty, Blue Bear and Columbus also came by and quickly got a ride into town.
I packed up and went out to scavenge a ride myself. There was hardly any traffic but I got one within 15 minutes. Jay had a son who had hiked the trail and both his sons worked at Callahans in the restaurant. He dropped me off at the hostel in town, after also giving me a bit of a tour. People are so nice.
I noted a 'no vacancy' sign at the hostel and the front door was locked. I began wondering around the main street. Nothing was open yet so I was going to get some coffee when a guy started chatting with me on the street. Chanty immediately mentioned that he is a trail angel and does trail magic. He also mentioned that he hosts hikers occasionally and that if I came up short with finding a place to stay, to give him a call.
I had reached out to another trail angel but they were out of town. Plus, it looked like the 2 hostels were full. But for the time being, I was more intent on visiting the outdoor store. My socks already had a hole, so I exchanged them for a thinner pair. I also bought expensive insoles for my shoes. I almost bought a new pair of Altra Lone Peaks but decided to wait until the pair I have now wear out.
At the store, I met Dahn and Zappy, 2 more SOBOs. In the small world of thru-hiking, Dahn finished the TA just 3 days ahead of me but I never met him. Isha had told me about him the day before and now I had already bumped into him. The 3 of us decided to head for the Indian restaurant since they had a lunch buffet. It was so good, they had to almost chase us out. They must hate it when hikers show up.
I made more stops at the post office and library, where I saw more thru-hikers. At 2pm, I went to an appointment with a reflexologist. I had decided to treat myself to an early birthday present and what better gift than a feet treat? It felt so good and was hopefully restorative.
I went back to the library and got a lot done. I also contacted Chanty, since I hadn't found a place to stay, other than an expensive hotel. He picked me up and drove to his house in south Ashland. I could have easily walked there but the ride was nice. I walked to a grocery store near his house to get dinner and food for the next segment. The place was very eclectic. Besides the standard stuff, they also sold crystals, tie-dye clothing, and yerbe matte gourds. Nearly half the people in the store had dreadlocks.
I returned to Chanty's house and enjoyed a nice evening getting to know him better and telling stories of the trail. I also got lots of pettings with his cat Ana. It is so much nicer getting to meet locals this way as opposed to staying in a stuffy hotel room. I am so grateful for his hospitality and the chance to meet him. I was also grateful for a bed and slept well.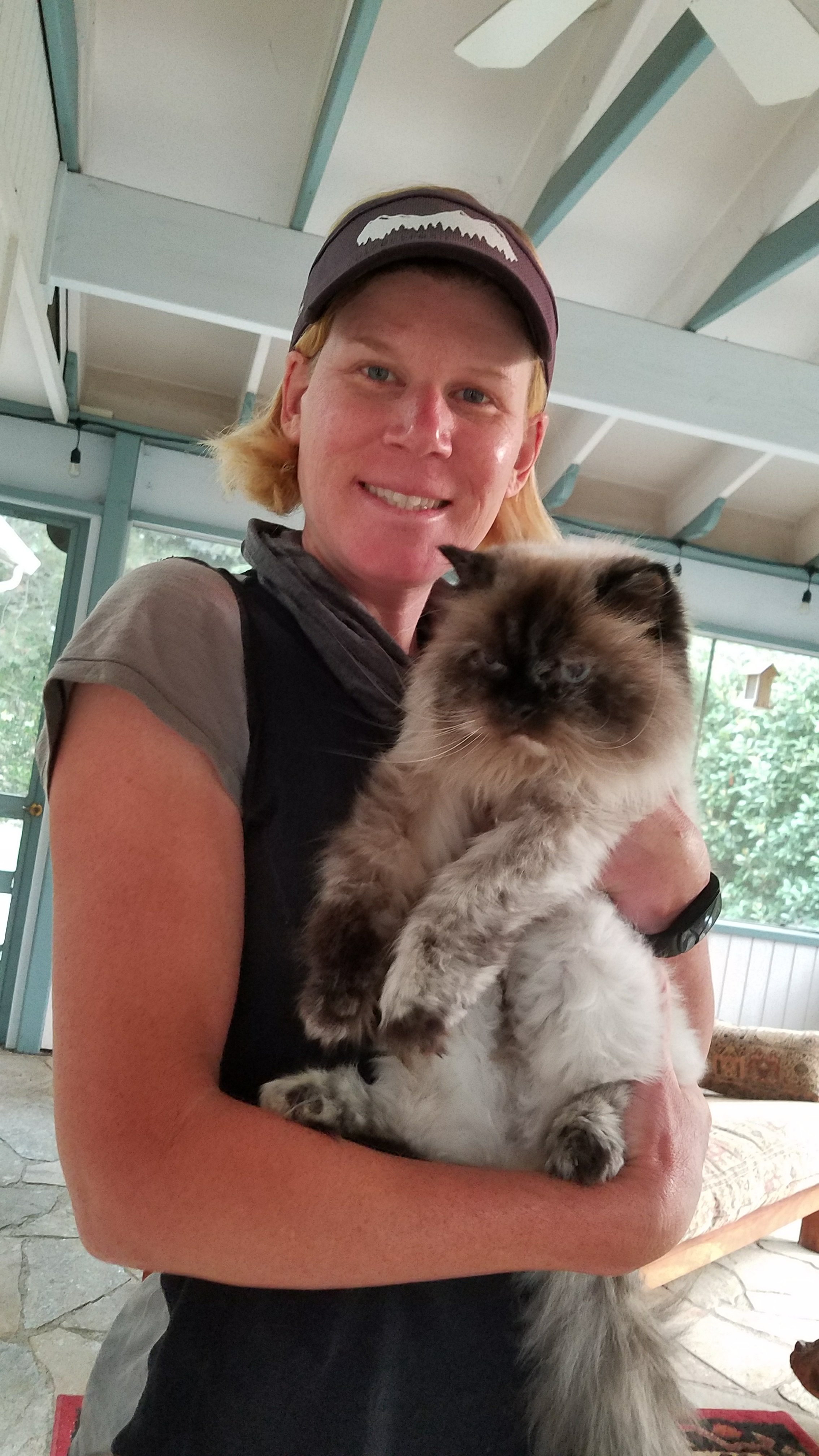 Ana, the beautiful cat.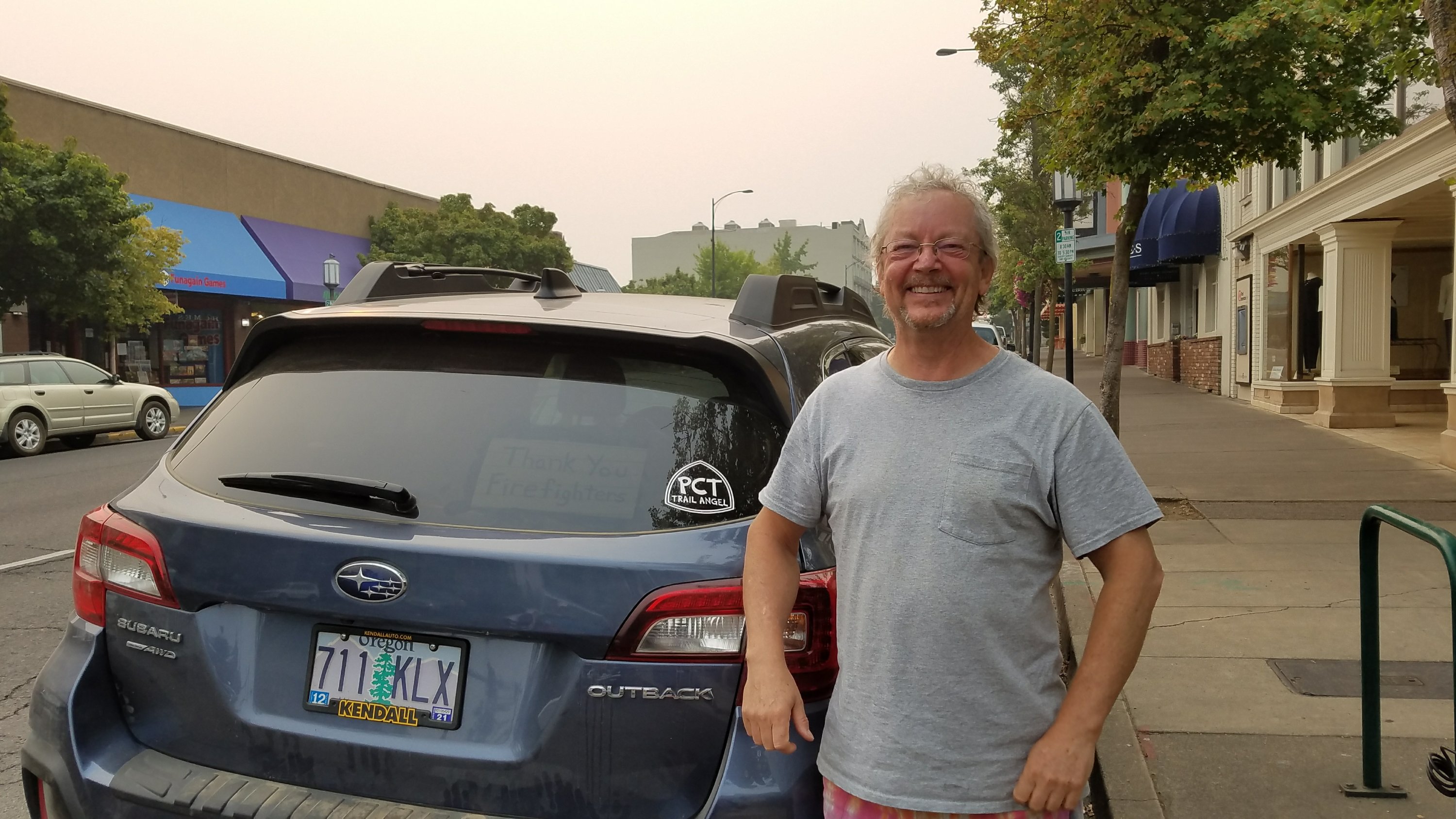 Chanty and his trail angel sticker.