August 19th, 2018
Mm 1748.5 to mm 1718.5 (Ashland)
Distance: 30 miles
0620-1730
I heard great horned owls in the morning, otherwise it was dead silent all night. I can't believe how quiet these woods are…not even a cricket. The GH owls have such a refined and haunting call. I much prefer their hoots over the raucous barred owls that I hear most commonly. I'm an owlist, I admit it.
The trail made quite a transition today. From the dense coniferous forests of OR and WA, I started to see a lot of scrub oak and deciduous trees mixed in. There were also many meadows of high grass interspersed. Despite the trail going up and down all the rolling hills, it was very pleasant walking.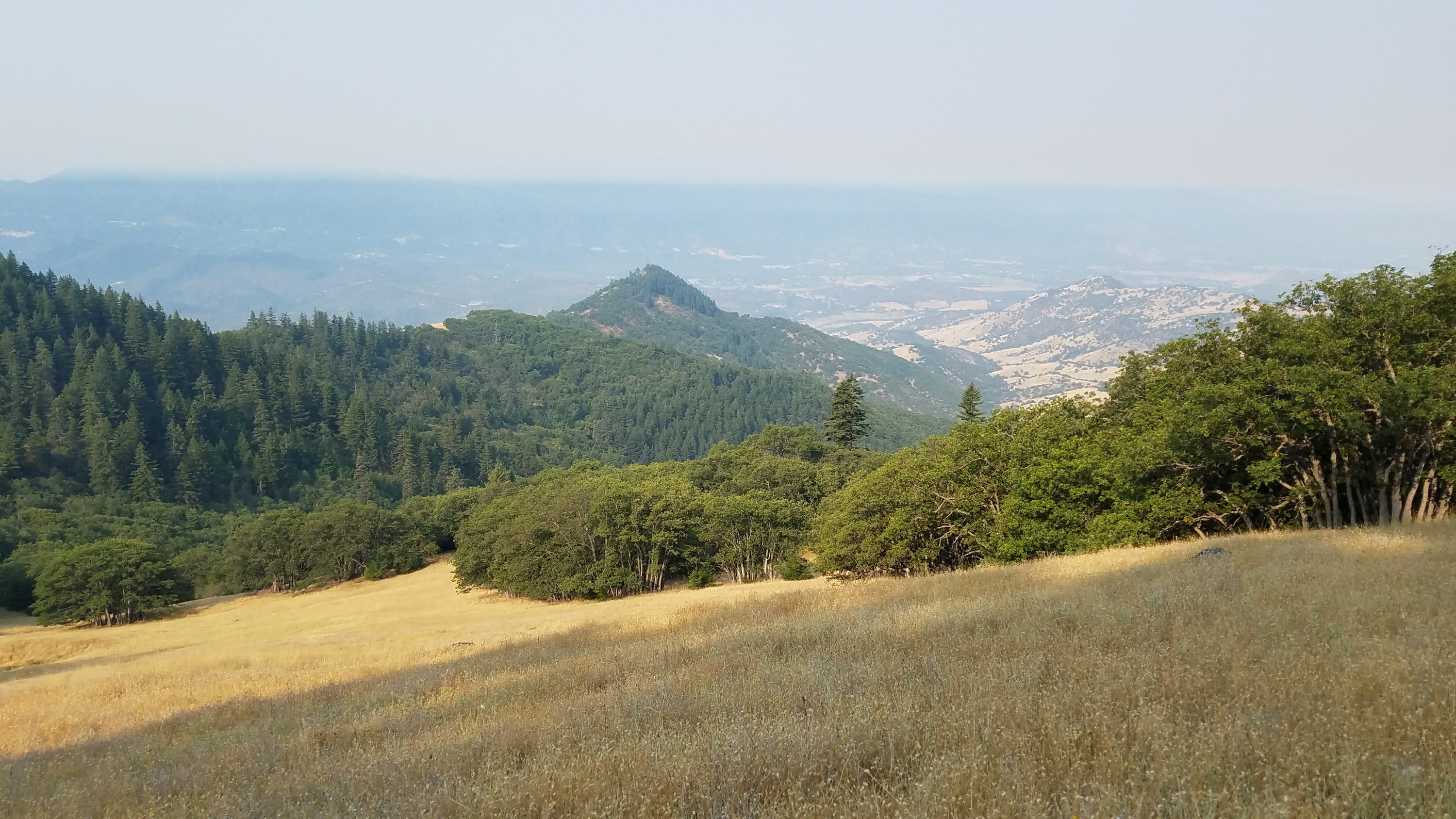 It was also a bit frustrating that the trail made a huge semi-circle around Ashland. In the morning, I could see the town and Interstate 5 clearly from a ridge. As the crow flies, it was all very close. But the natural lay of the mountains forms an arc around the valley, meaning in order to stay high and clear of private property, hikers must do the same. So I spent most of the day walking half a circle around Ashland.
I had gone 21 of the 30 miles by noon. Yes, I was motivated to get into town. But I know that I always slow down in the afternoon. I took lunch at a very small spring that was flowing at just a trickle. Everything else I had passed in the last 15 miles was dry or scummy-looking. I met a NOBO from Stuart, Fl there. It's so funny to be meeting thru-hikers from FL. I noticed that someone had signed Ft Lauderdale in a trail magic logbook the other day, too. The guy from Stuart thought he might hike the Florida Trail this winter.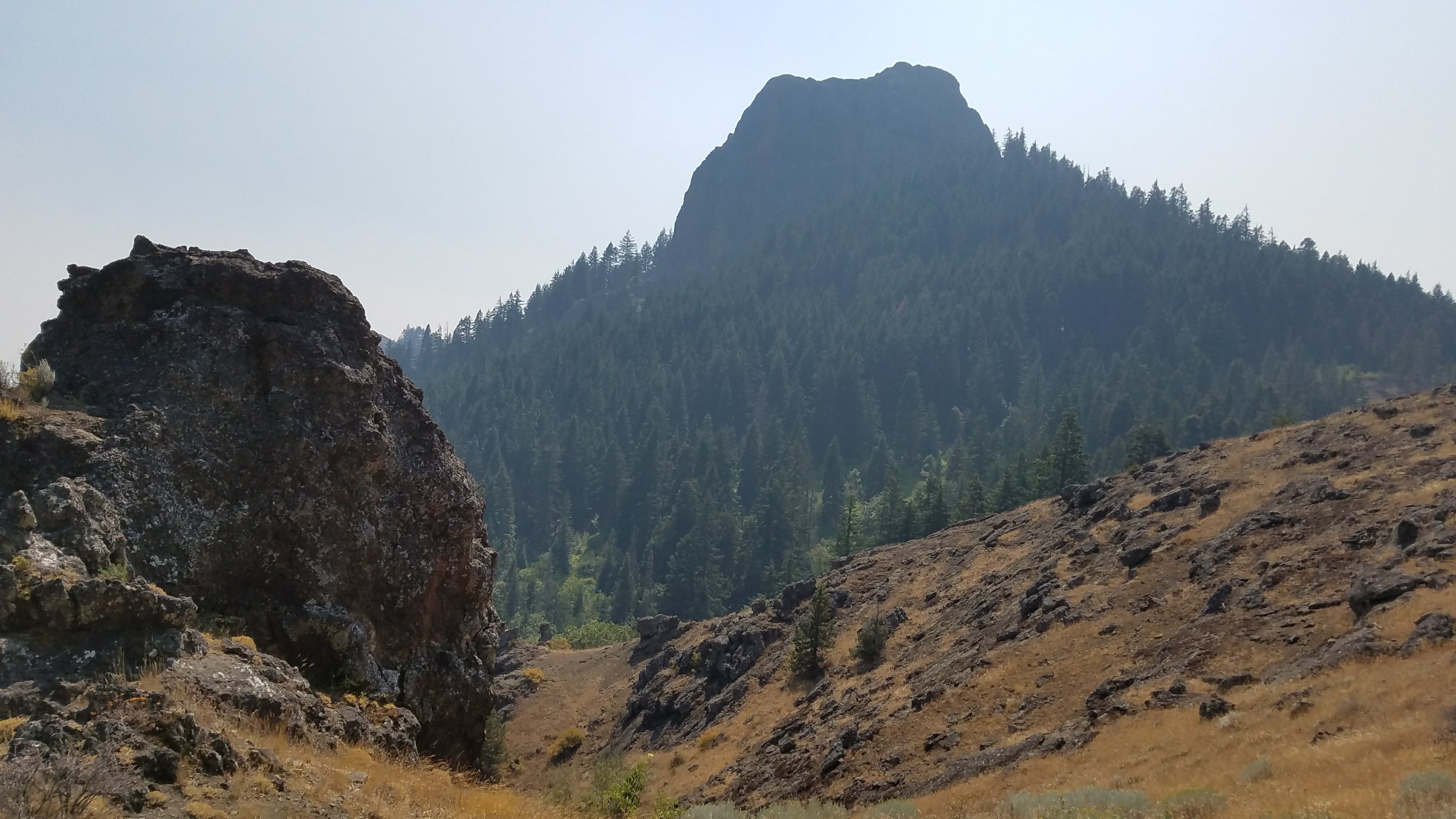 I trudged on, having only 9 miles to go to get to I-5. Pilot Rock provided an interesting distraction and then in the distance, I thought I could just make out Mt Shasta. It is in California and signifies a major accomplishment. I'm almost done with 2 states now! My pace picked up when I started hearing the highway traffic and it looked like I might make it there by 4 pm. Then around a bend came a NOBO with a familiar face. I couldn't quite place her at first but she immediately remembered me. We had met on the TA just a few months ago!
I had met Isha from Belgium at Hanmer Springs. Then again in Twizel. She now goes by the trail name Roadwalker, which is funny because she abhorred the road walks on the TA. We of course had to reminisce about the TA and discuss who else is hiking the PCT. We talked for awhile, my hot date with town be damned. It was really great and I wish we had more time to chat. Again, it's such a small world out here on the trail!
Finally getting back to the hiking business, I noted that it was almost 5 pm. Well, it was still early, considering. I had decided to stay at Callahans Lodge for the night. It is located near the trail at the on-ramp to I-5. They let hikers camp on the lawn and include laundry, showers and even a robe in the deal. At $32, it was a bit pricey but I got a lot of chores done. I also got a lot of play out of the robe…I even wore it to dinner (with my clothes on underneath). I also washed my pack and shoes in the shower. So much dirt came off. Lastly, I washed my down puffy jacket…since I couldn't remember washing it after New Zealand. Yes, it was time.
Later, 4 SOBOs showed up and I had dinner with them. Blue Bear, Columbus, Salty, and Potter provided great company for the night. We all enjoyed free beers for being hikers and I partook of the bottomless spaghetti dinner for $16. Sadly, I could only eat one plate. What a waste of AYCE.
Long after hiker midnight, I went to go to sleep and realized that my tent was pitched under a street lamp. It was beaming straight down through my semi-transparent tent. No bother, I pulled my buff over my eyes and fell right to sleep. That's the advantage to hiking 30 miles in a day…no problems sleeping!