January 8th
#10 campsite (km1032)- near Taumarunui (km1069)
Mileage: 23mi/37km
After the long day yesterday, I got a slower-than-usual start at 8:30 am. The day was brilliant and I was in a fantastic mood. I quickly came to yet another awe-inspiring swingbridge.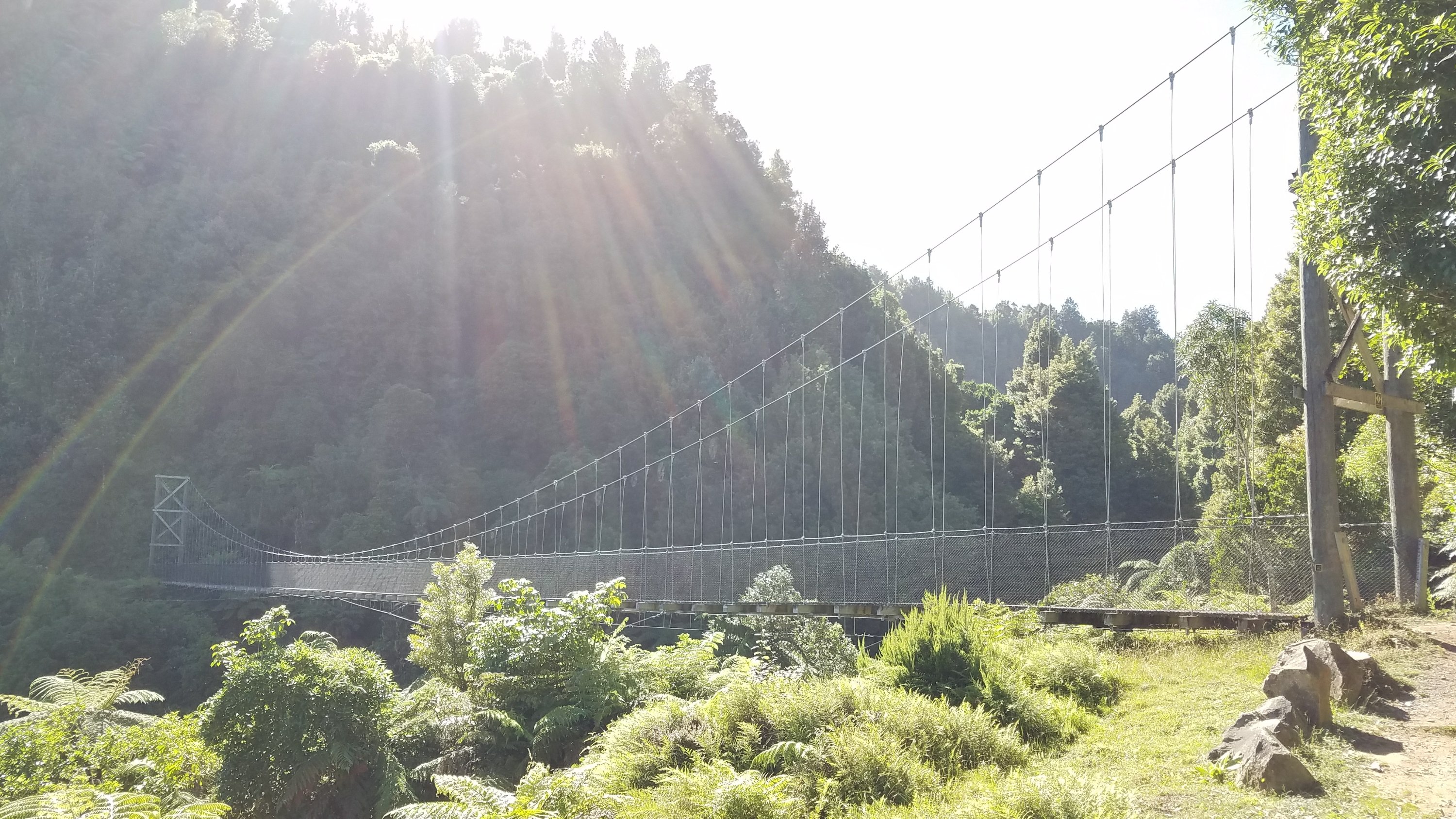 Then there was the Ongarue spiral. It sounds complicated but the signage explained it well.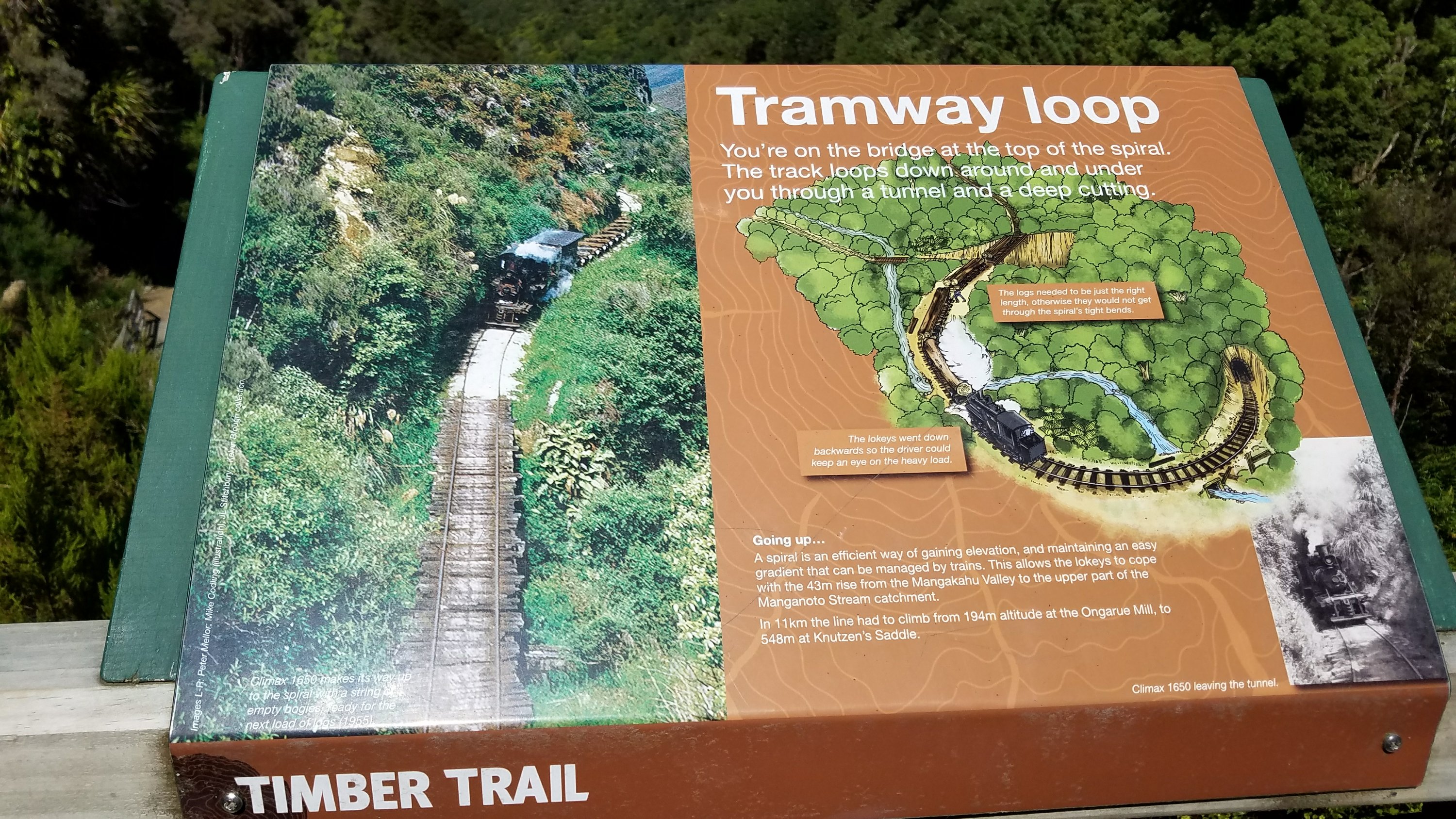 It's just a big loop built to ease the gradient of the train track where there was a cliff. The tunnel and bridge were restored so that pedestrians can now enjoy passing through. It's a pretty neat historical relic, made even better by the informational displays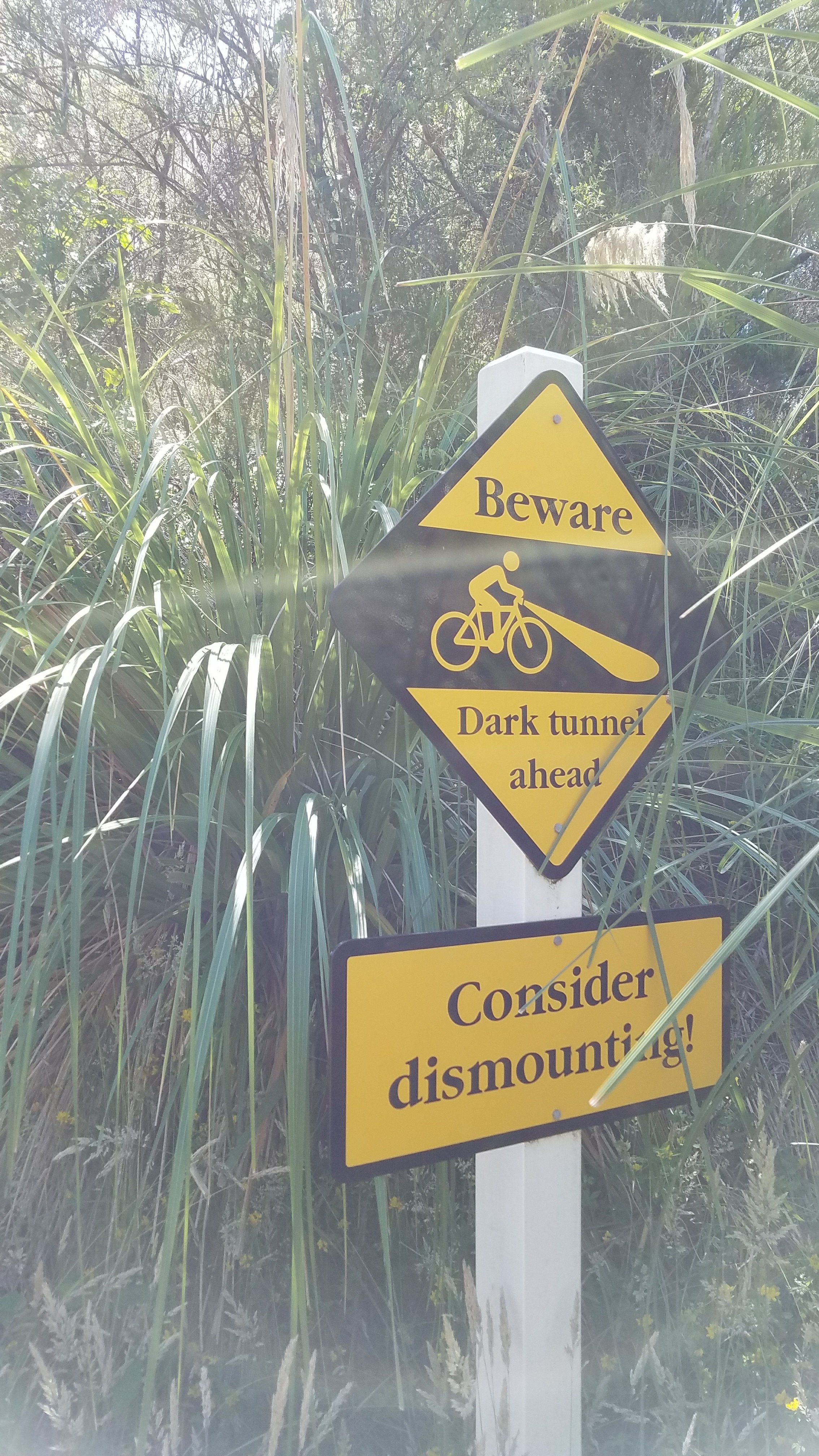 In the tunnel, I met the first person of the day, a guy doing the Cape to Cape bicycle tour. We both remarked how funny it was to meet up there in the dark, of all places. Good thing he was stopped taking pictures. Since he was the first cyclist I'd had a chance to talk to, I asked him about the right-of-way issue as it applies here. He looked puzzled for a second and then supposed that both parties should stop to say hi and have a chat, just as we were doing. I love that solution. There's a right way, a wrong way and then there's the Kiwi way.
Just after the spiral was this warning: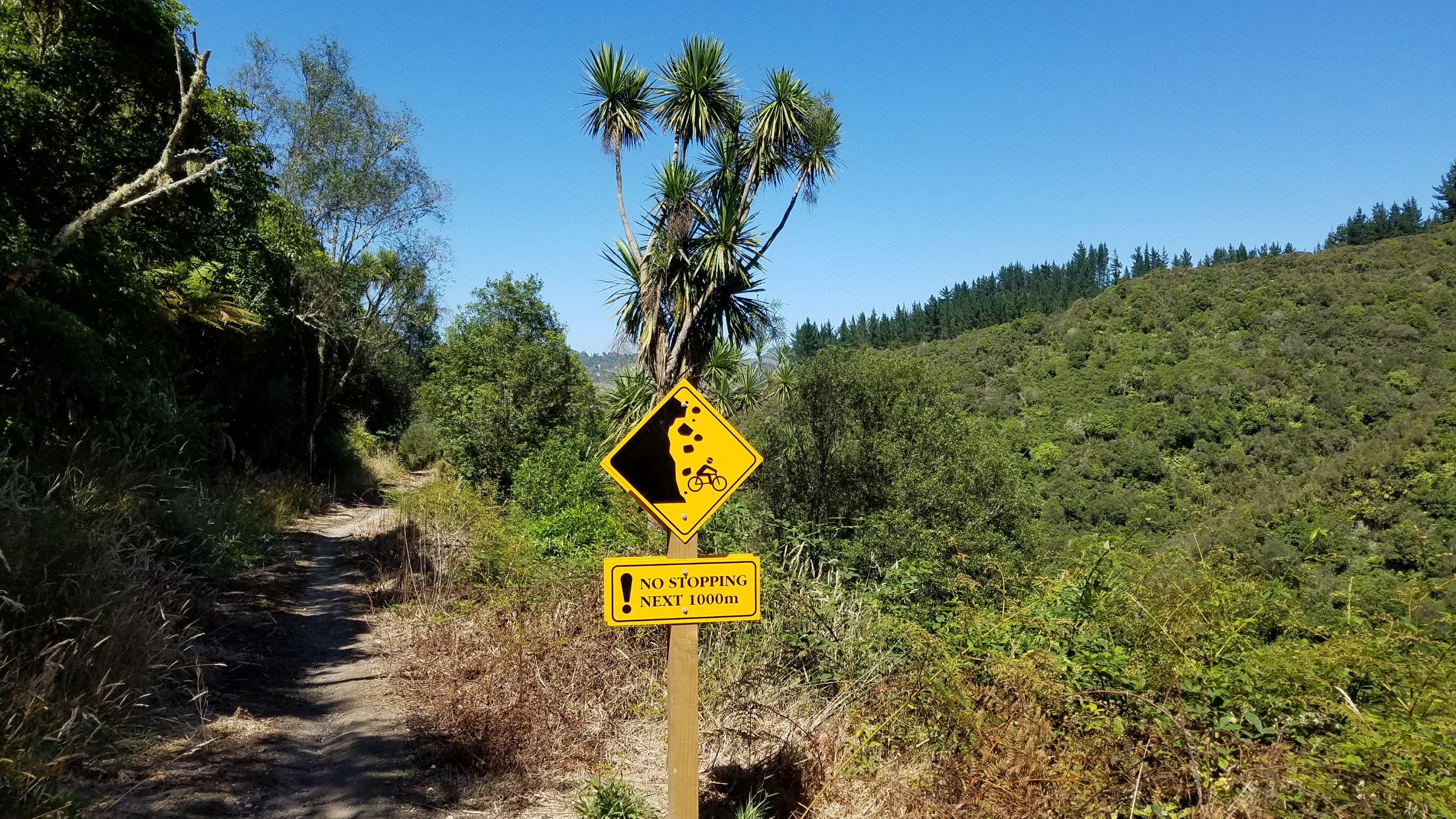 No stopping next 1000 meters, and yet they had placed an informational sign right at the base of the rock cliffs, a mere 100 m from the warning. I guess they mean no prolonged stopping. The sign explained how the rock had to be blasted and a ledge formed from the rubble to build the tramway. All this was done by hand. It was worth risking my life to read the display…no, seriously, I found all this background really interesting! It's such a great distraction from just walking all day.
As I came to the end of the trail, I met a few DOC workers doing trail maintenance! I gave them some feedback on trail conditions and thanked them for all their hard work. I commend the New Zealand government for the investment they've made in preserving the cultural, historical and ecological value of this area. The effort they've gone to in making all this accessible and educational for the public is pretty phenomenal and well appreciated. Hopefully the success of this section can serve as a case study in support of less-developed sections of the TA. The TT certainly seems to be a boost for the local economy, judging by all the adverts I later saw around town and at the holiday park. Now let's just hope that future TA hikers continue to show their respect for the amenities and appreciation for the Easy Street part of the TA.
Fittingly, the last 5 km of the Timber Trail were closed due to timber removal operations. The detour only took me 400 m out of my way but meant that I was walking 5 km of a parallel road, which started out as gravel and turned into pavement for the last 2 km. At least I found a nice plum tree along the side which gave me a few refreshing treats. I could have had a feast had a eaten all the ones off the ground but that's gross. Ok, maybe I snuck a few off the ground.
I came to the trailhead of the TT and took a lunch stop at the brand new Bennet road campground and shelter. This was made specially for TA walkers, since it's another 26 km to Taumarunui, a whole day's walk for most. It's free, with a toilet, water, basic fully enclosed shelter (no bunks but some just sleep on the floor) and even a few lounge chairs for relaxing down by the river.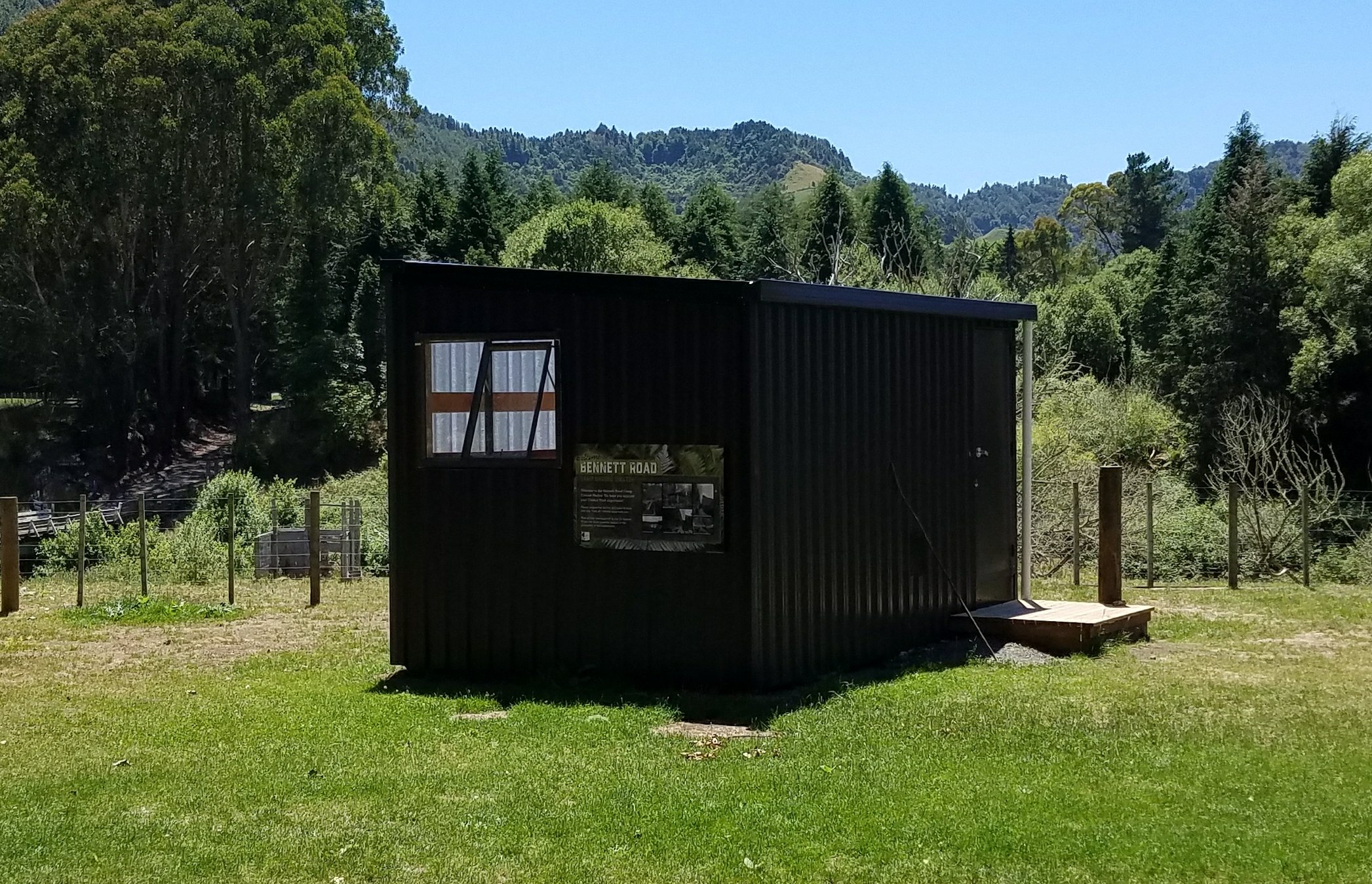 It was a beautiful spot and I really wanted to stay and just relax. BUT, I had no mobile signal and sadly I really was anxious to try to catch up with other walkers in order to align the river trip. Canoe companies can't rent to solo hikers so I needed to link up with another party. The river section is still more than a week away but Taumarunui is where several of the companies operate out of. Hikers often make all their arrangements before leaving town, subsequently doing their food resupply and leaving it with the company to deliver at the start of the trip. It would be nice to work out all these logistics, and the sooner I got I to town, the sooner I could do so.
I began the long walk into town, even though it was already past 2 pm. I would walk as far as I could and either ask for permission to camp along the way or get a ride into town. It was really hot and sunny, so out came the umbrella. I noticed that horses seem to go bonkers at seeing the umbrella. It really freaks them out. But who wasn't freaked out was one exuberant pet pig. He started squealing and grunting when he saw me coming and came running up to fence. My first pig petting. There was also a friendly cow and as usual, a stand-offish lamb. All that was missing was a spider named Charlotte.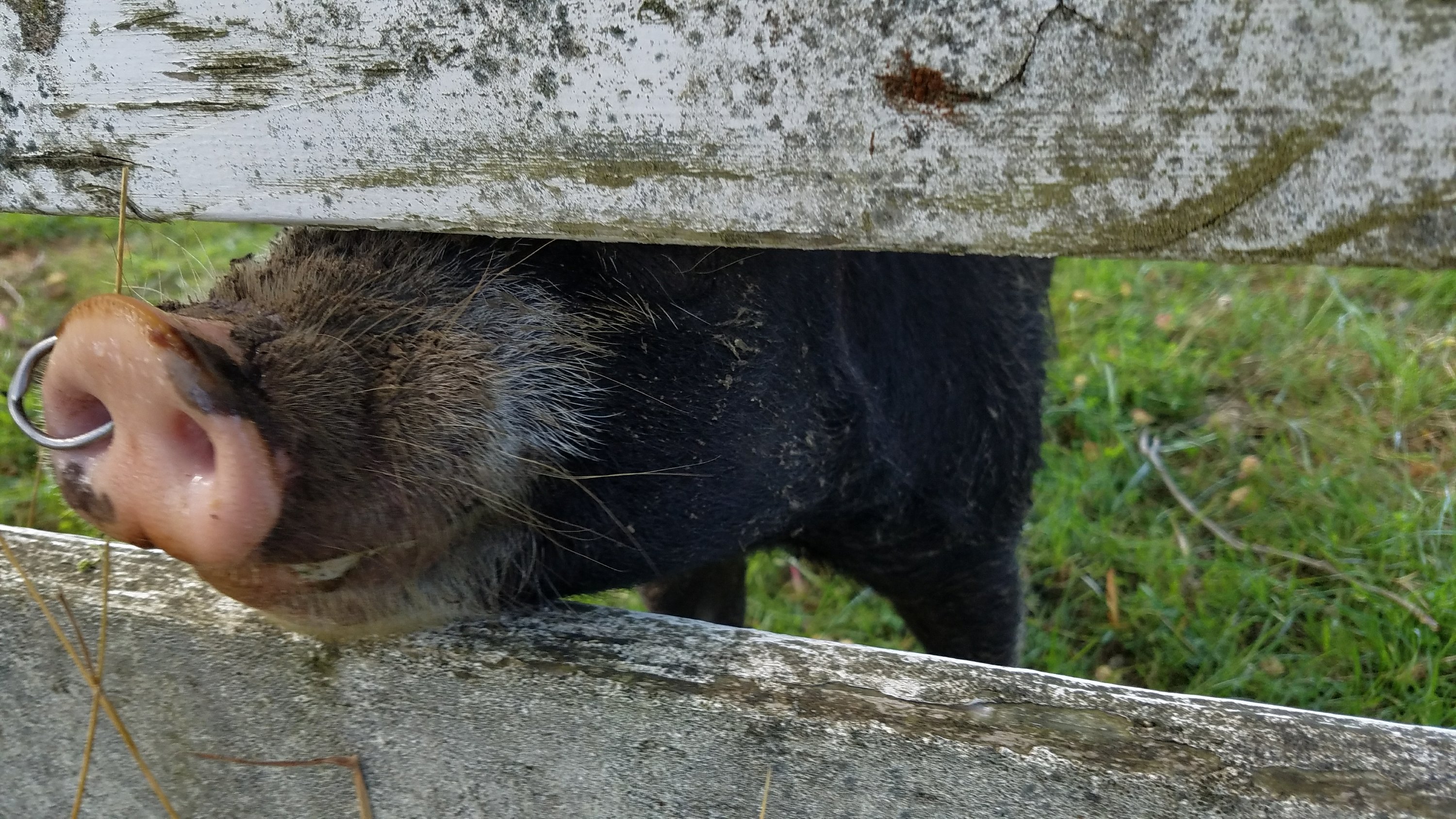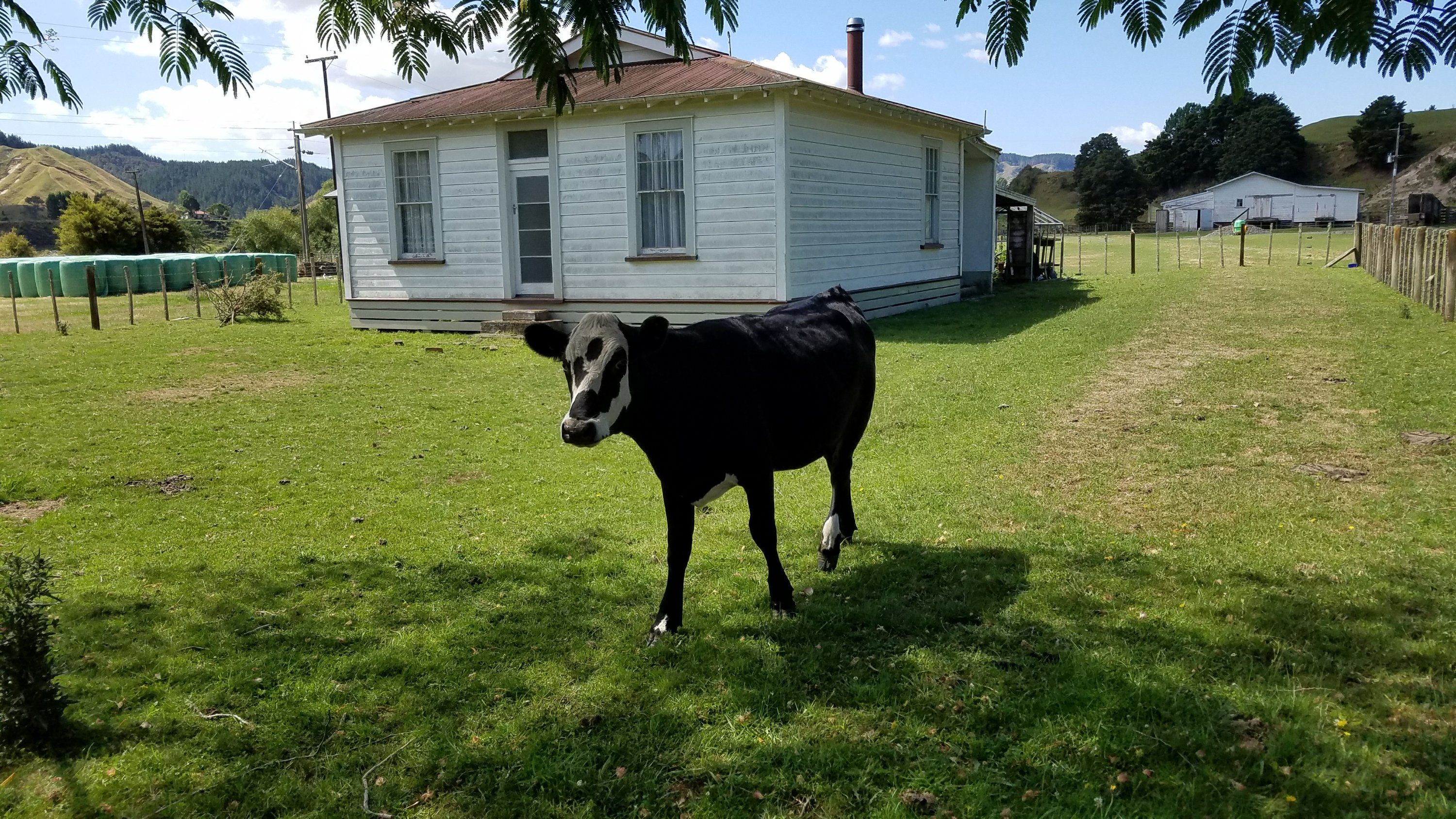 Then I passed some big boys that I didn't try petting.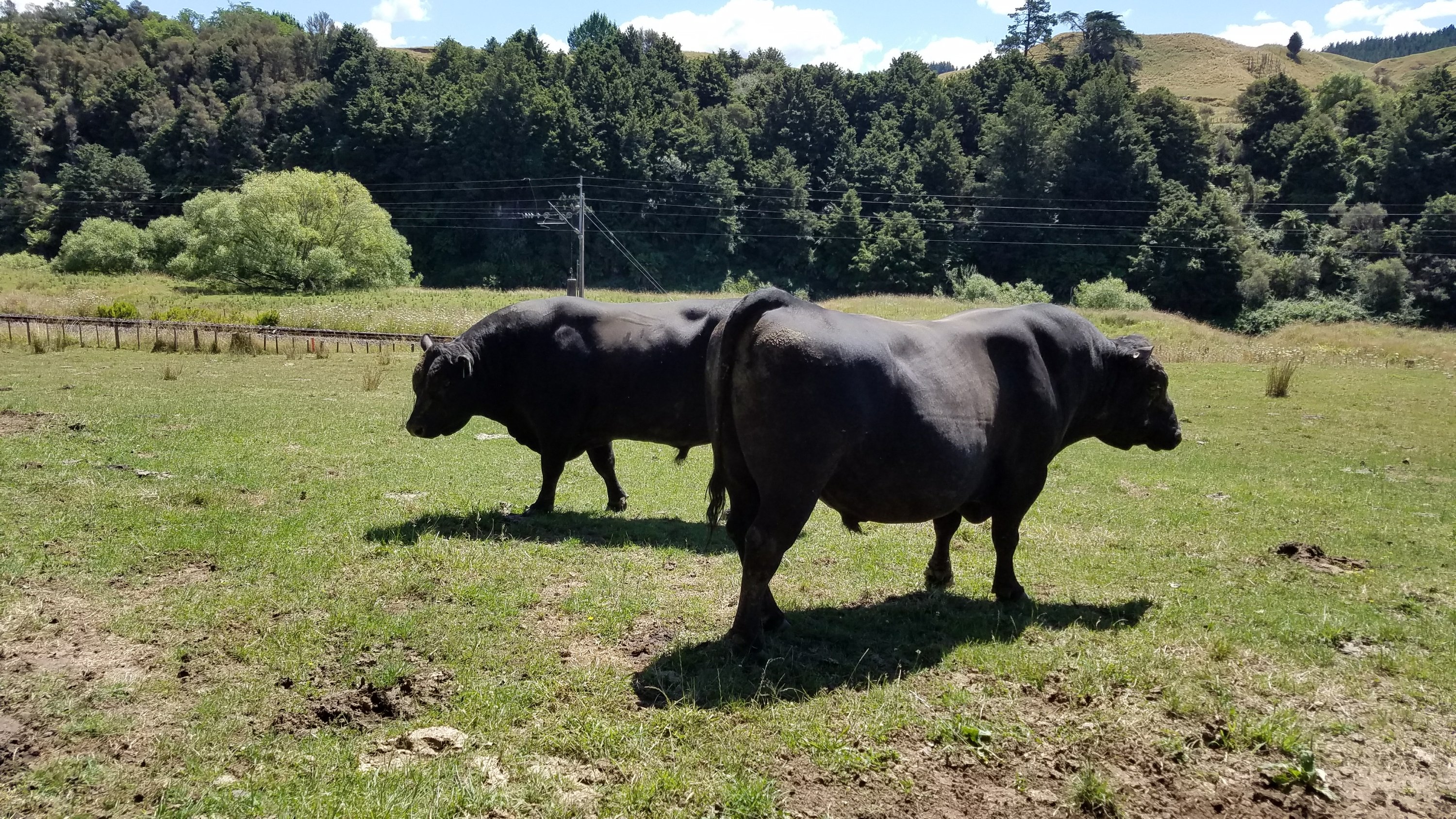 At a tiny settlement called Ongarue, I saw the best makeshift mailbox yet: an old microwave.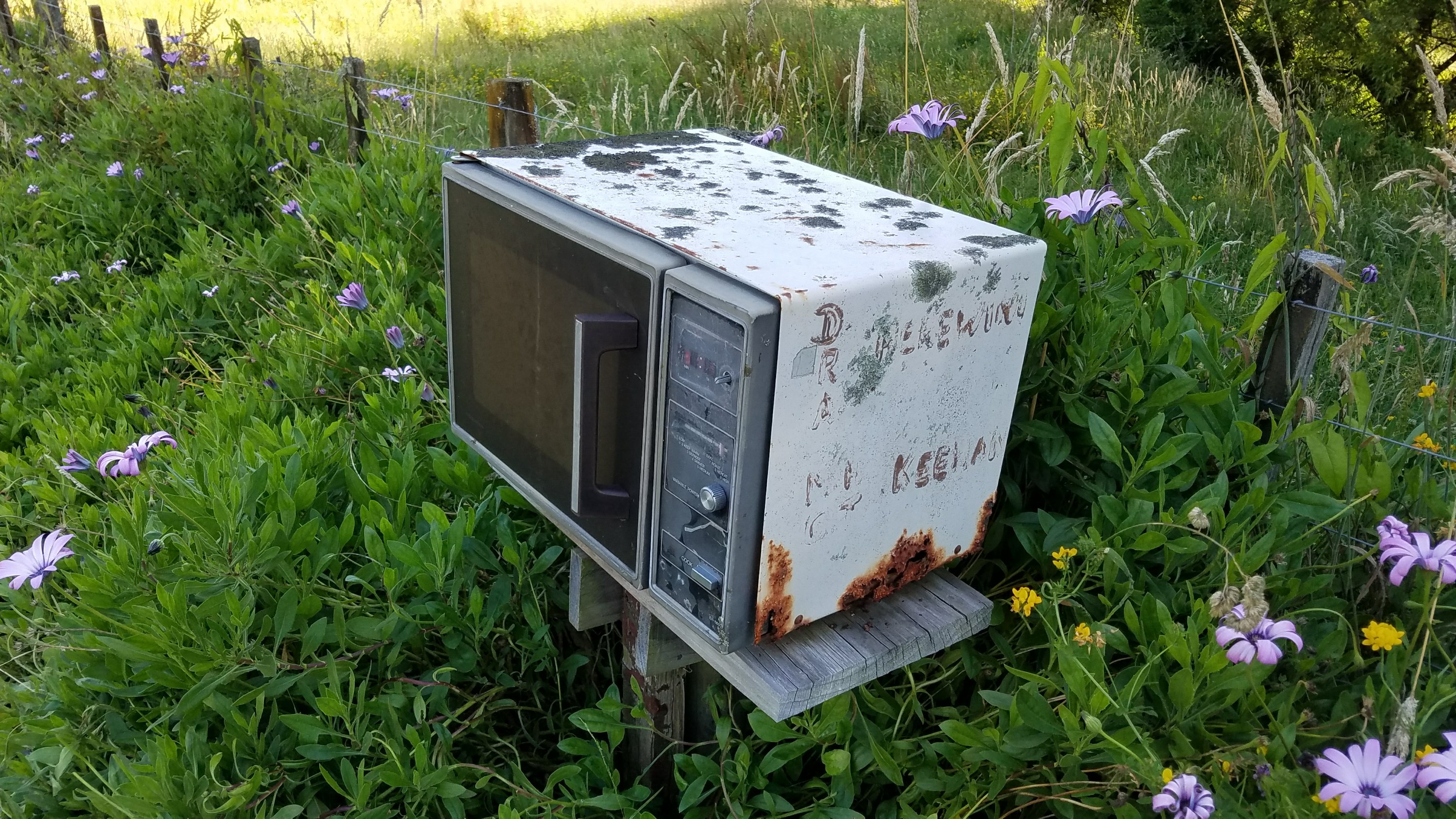 See how much fun road walking can be? I see some of the best stuff. I also stopped to chat with a kiwi woman that was waiting in the car for her husband to finish cycling the timber trail. Sarah was really sweet, so we talked for a good 30 minutes. It was getting pretty late by then, but I kept going. I didn't have enough water for a stealth camp so I went up to ask some guys that were bailing hay. They had no water but were just finishing up and offered me a ride into town. I had only 5 kms left but it's a good thing I just rode the rest of the way, since the holiday park was another 4 km outside of town. They went out of their way to take me there.
I got my bounce box, pitched my tent, showered and cooked dinner. There was so much to do the next day, I was going to have to take a zero. And unfortunately there were no other TA hikers at the holiday park to link up with. Boo.