January 9th
Taumarunui (km1075)
Mileage: just walking the town
I was up very early to take a stab at my long list of chores. First were some blog posts, laundry, locating and patching the hole on my pillow, and general gear clean-up. I even washed my pack. I was also trying to figure out my time-line in order to book the kayak trip down the Whanganui River. There are so many details and different permutations. I read a lot of blogs and came up with a schedule. Two days to get to the start of the Tongariro crossing, 1 day for that, then another 2 to get to the starting point for the river section, paddling by Monday. Whew.
I called a couple operators and the first I talked to seemed to be the most flexible. He could send me with a group leaving Monday but I would be on my own for 2 days in order to paddle all the way to the town of Wanganui. Solo paddling is frowned upon, even if you're an experienced paddler like myself.
Next, I needed to go into town to get 10 days of food (5 for the walking section and 5 for the river, to leave with the operator). I mailed my bounce box to Wellington and went to the i-site to try to book camping along the river. Since the Whanganui river cruise is one of NZ's Great Walks (I know, it's not even a walk), the huts and campsites have to be booked ahead of time and cost extra over the hut pass. I explained my plans to the very nice customer service guy Blake and he expressed concern over my choice of operators. They steer people towards 2 other operators (probably because they get a commission) and are reluctant to make bookings for you if you're not with one of those. I was hangry as it was after 2 pm and I hadn't had any lunch, so I wasn't much in the mood for arguing. The 2 french guys, Pierre and Quintin, had just arrived, so it might be possible to form a group with them. Trouble is, they would probably hitch much of the next section to the river and I would be off-schedule in trying to walk the whole thing. Plus, as their English is somewhat limited, I didn't feel like struggling to work out all these details.
I was frustrated and I had to get some food, now! I found a Thai place and went for my standard pad thai with chicken. It came out so fast, almost as fast as I was able to down it. It was a good, normal portion but I needed more. I'm ashamed to say that I walked from one restaurant to another, just to eat a second round. This time it was the Golden Arches' turn. Another kiwi burger with large fries and a coke float. I never supersized before. I inhaled this, kind of embarrassed I could be so hungry. At least I should be nice and full before food shopping, which I did next.
After struggling all day with the logistics of the upcoming sections, things magically started to fall into place. I was outside the supermarket, sorting and repackaging my items, when a guy with a cart full of food and a backpack rolled up and asked if I was hiking the TA. It was like looking at a mirror image of myself, in terms of hikertrash-ness. Connor, a Californian going to college at CSU in Colorado, could be the poster child for thru-hiking. A skinny but athletic-build, clad in runner's shorts and a tech-t, looking just a little bit scruffy and with funny tan lines. I didn't notice any odors, probably because I don't notice myself much anymore. We seemed to instantly get along and just like that, I'd found someone to do the kayak/canoe section with. He is the first American TA hiker I've met since my first week. And he is even walking the road sections, doing over 40 kms most days. Perfect…or maybe, I worried, I wouldn't be able to keep up with him. He had already caught up to me. He also only started walking from Auckland since he is limited on time before he has to start school in Christchurch. He is doing a semester abroad. So his feet are pretty fresh still and he has youth on his side at only 20 yrs old. Yes, I'm old enough to be his mother. Sigh.
I dropped off my food, a new fuel canister, and spare pair of shoes at the liquor store across the street, as per instructions from the canoe operator. I am trying to squeeze a few more miles out of my first pair of shoes (especially since much of the route will be on the river). They have been through so much, I want to treat them to one last highlight on the Tongariro crossing.
In talking to Connor about food indulgences, the topic of McDonald's came up. At home, he shuns fast food as I do, but talk of my recent addiction and the idea of a burger had crept into his mind. So back we went, where I at least refrained from buying anything more than a frozen coke for $1. What a deal! And I got rid of a coin. There we suddenly ran into 4 more TA walkers: Kiwi Kanuka, North Carolinian Foxy, and a Finnish couple–Anna and Tuomas. Note to future TA walkers, if you want to meet other walkers, hang out in either the McDonald's, grocery store, or at the i-site. I'd amassed 7 in just a few hours! This group was starting the river cruise the next day. It was temping to just jump on board with them, as they seemed really fun.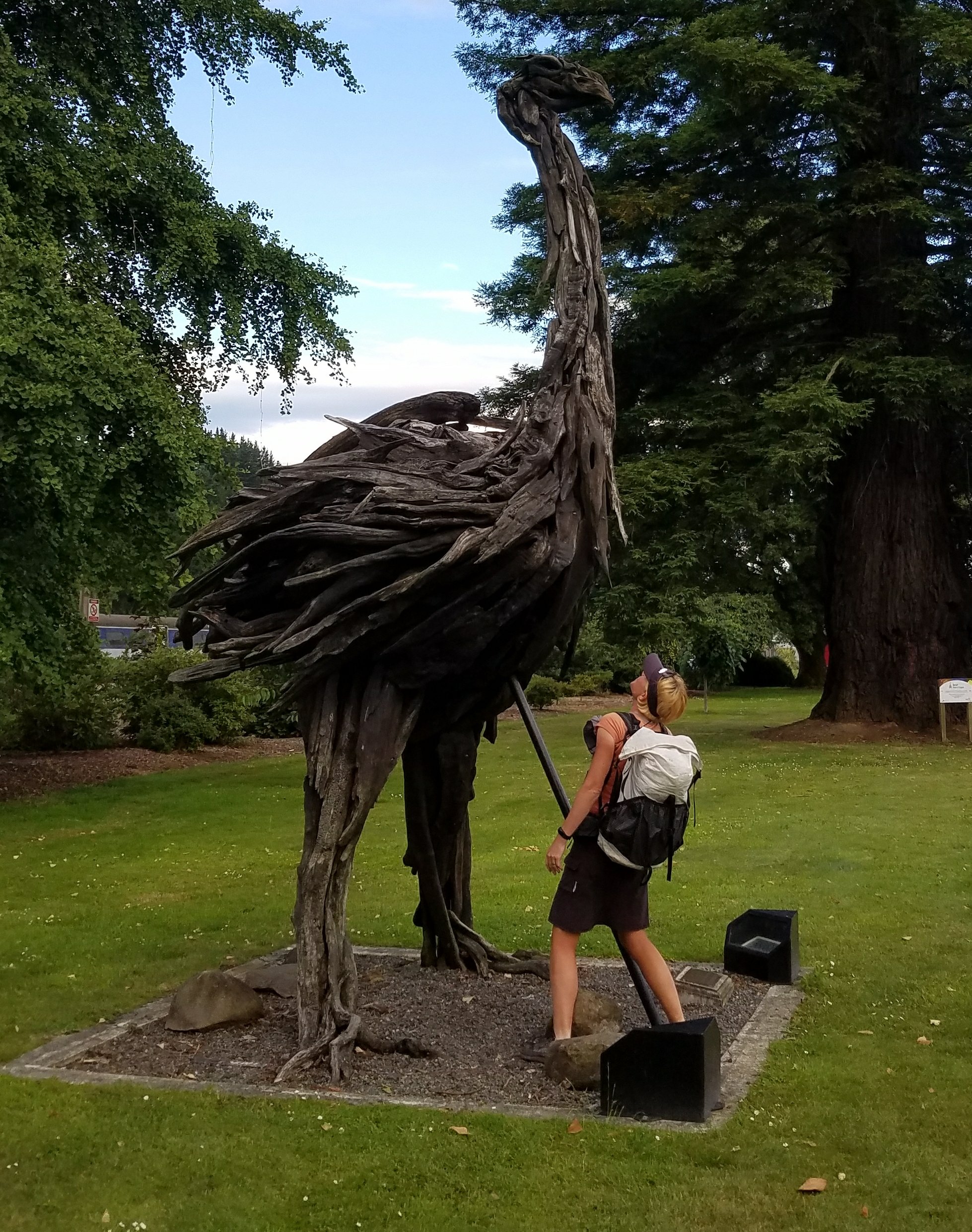 The only picture I took in town, since I was so busy all day. A giant Moa, now extinct. I would sure be afraid to meet a live one out in the woods, even as much as I love birds.

Connor and I went back to the holiday park to get ready for an early start the next morning. Then I got a call from a 3rd operator, Blazing Paddles, who hadn't answered when I called earlier. He offered a cheaper price and since I hadn't been able to get ahold of the first guy all day since talking to him in the morning, we decided to go with this last minute offer. This was one of the operators that the i-site was recommending as well. We would meet at 0730 am tomorrow to finalize details. I just hoped my food would go to the right place. More importantly, I need my new pair of shoes!