January 2nd
Orongo rd. (km880.5)–Te Kuiti (km913)
Mileage: 20.5mi/33km
Today felt like a much tougher day than the distance would suggest. Probably because it was almost all bush and farm track, with only about 4 kms of road walking. My watch also said I did 23 miles, so I wonder if the published distances are off.
First, it was tough just to make a decision as to how to proceed. There was a stream crossing that the notes warned should not be done in heavy rain. It rained pretty constantly overnight and was pouring when I woke up. I looked at the map and decided I should do a long road walk, like 20 kms, just to be on the safe side and avoid the stream. But then the rain stopped just before I left the woolshed and I changed my mind again. I'd give it a go. Worst case, I'd have to turn back.
The other issue I then encountered was difficulty in navigating. The fog was so thick that I could only see for about 100m.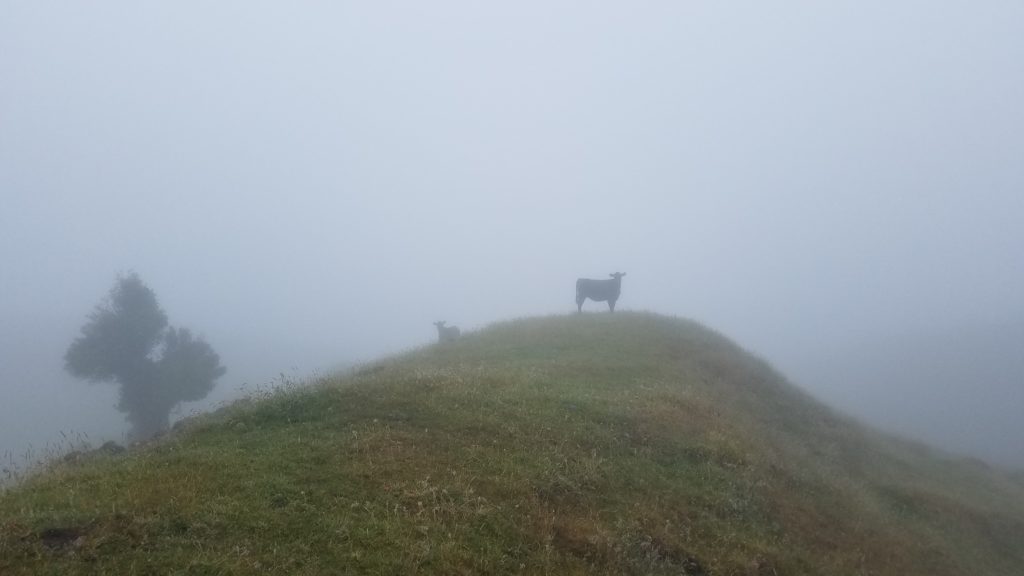 Cows in the mist.
Walking through farm tracks is particularly hard because the markers are so widely spaced. Sometimes the next marker is on the opposite end of the paddock, a quarter of a mile away. I was relying on the notes and my GPS a lot in the fog. I got off track for a bit but pretty quickly realized my mistake. It was going to be a long day already, so I couldn't afford many mistakes.
Then I came to a really overgrown section of manuka, gorse, and ferns. After just a few meters, I was soaked to the bone from all the rain-laden vegetation. I had read about this in blogs, so I knew I could cut over to a farm road that ran parallel on the other side of the fence. Just as I made this decision, a branch raked my face and scratched my left eye. It stung a little but more importantly, my vision in that eye was blurred for the rest of the day. I had to really squint to see long distances and my depth perception was off. So now my navigation was compromised more. Not good.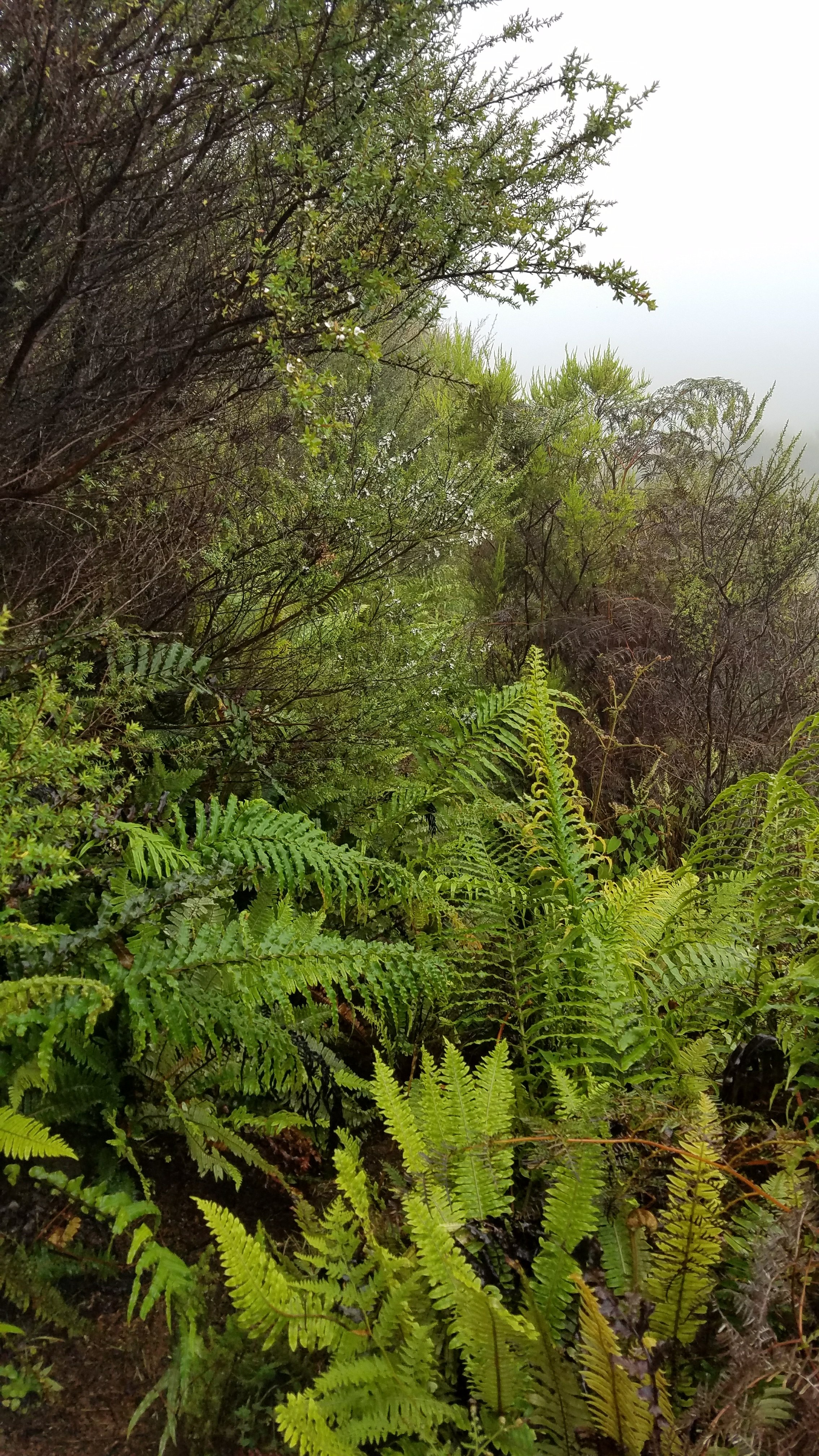 The trail is in here somewhere.
Then I was going down a steep hill of clay, which felt like walking on butter. The tread on my shoes is almost gone and the rain had really greased the skids. As I feared, both my feet went out from under me and I landed on my butt and back, sliding a further couple feet for good measure. My trekking poles were wedged in the banks with my wrists hanging awkwardly from the straps. I was like a bound turtle on its back. It looked hilarious, I'm sure, and it didn't hurt, but it put me in a bad mood. It was my first fall on the trail, ruining my perfect record after the Raetea and Pirongia forests. I got up quickly and just kept walking. Luckily I went down on mostly forest litter and not straight mud. I was also wearing my cuben fiber rain skirt, so it was easy to clean this and my pack in a nearby stream.
After the stream, I had to run another gauntlet of gorse and slippery clay. Hoof prints indicated it was a popular trail with horse riders but I couldn't imagine how they beat through the bush, being so high up. I was nearly on all fours trying to go through the little hobbit tunnels.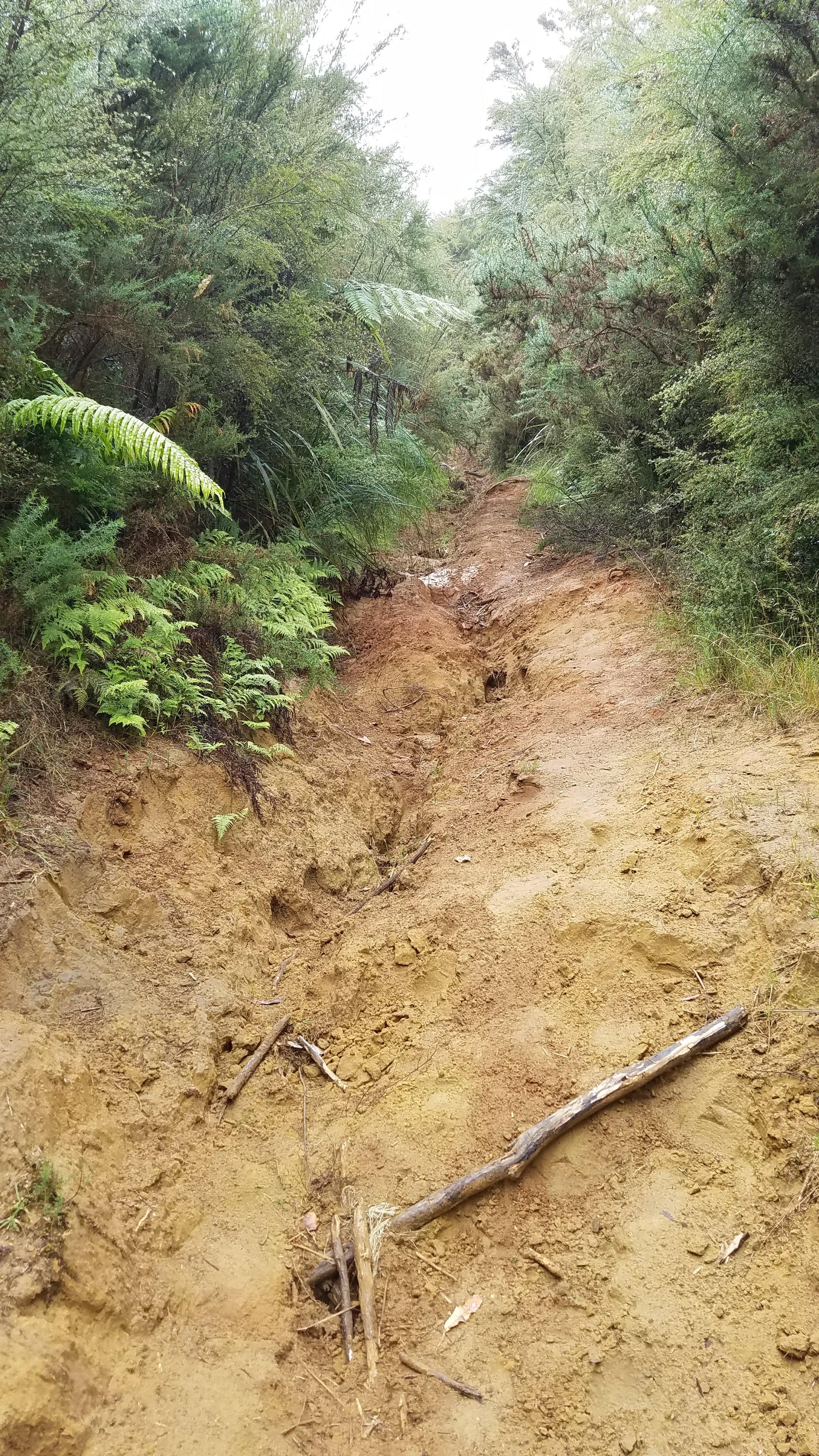 Soapbox time: I understand that it costs money and takes a lot of effort to build boardwalk over muddy trails. It's similarly difficult to build a good benched trail. But a few volunteers with loppers and maybe even a brush cutter can easily clear overgrowth. I can make these kind of judgements because I have done a lot of trail maintenance and know what's involved. It's sad that there seems to be no plan in place for maintaining these trails. It's basically a reliance on people and animals tramping through that even keeps them somewhat open. This trail, or route, could greatly benefit from chapters of volunteers that are responsible for doing trail maintenance in their sections, just like it's done in the states. Relying on an underfunded government agency, DOC, to maintain all the trails is not cutting it…pun intended. Ok, rant over.
Despite all this, I enjoyed the adventure and was glad I did the track after all. I counted my luck that it didn't rain all morning. By noon, it was even starting to clear. Oh yeah, that stream crossing I was worried about…it was a piece of cake.
On the short road walk to Waitomo, I met my first NOBO's (northbounders). They had actually just started from Waitomo that day, picking up where they left off last year. I made it to Waitomo for lunch and rewarded myself with a delicious sandwich, plus a slice of chocolate cake and strawberries. While sitting at the cafe, I noticed that many flies were buzzing around and landing on me…just me, no one else. They like things that smell like a barnyard. Yep, I really needed a shower and to do laundry. I bypassed the glowworm caves, since I did the tour way back when I first visited. Waitomo is much bigger now but still mostly a collection of tourist traps, not really a town. I needed a place where I could clean up and resupply food.
From Waitomo, the trail notes said it was 17.5 km to Te Kuiti, the next sizable town. The map showed more like 13 km, so I figured I had enough time left in the day. I called a backpacker accommodation to let them know I was coming. Don, the owner, seemed to think I would get in late. The notes said 6 hrs, I was hoping for 4. It was already 1:45 p.m.
The remainder of the day was a lot of ups and downs (what's new) over mostly farm track. The views were great. I passed through a field of bulls, who all followed me, hoping I was going to let them into the next paddock. Thanks to Mike, I at least have a better understanding of cow behavior and didn't freak out over being followed by bulls. When I crossed into the next paddock and didn't do what was expected of me, they all started mooing in protest. I would later hear reports of a crazy bull that terrorized other hikers in the same area. Maybe he was still peeved over me not letting him into the other paddock.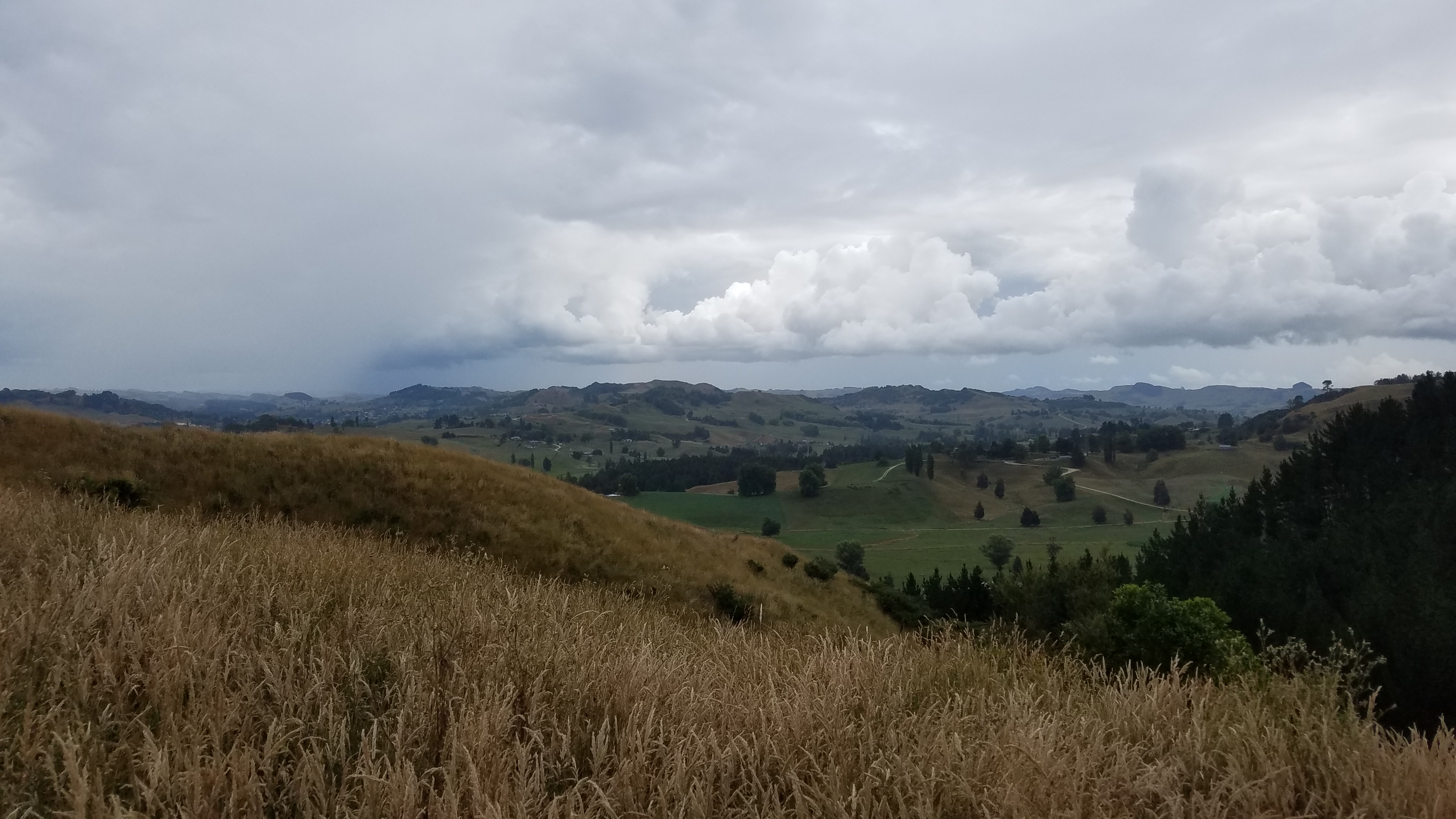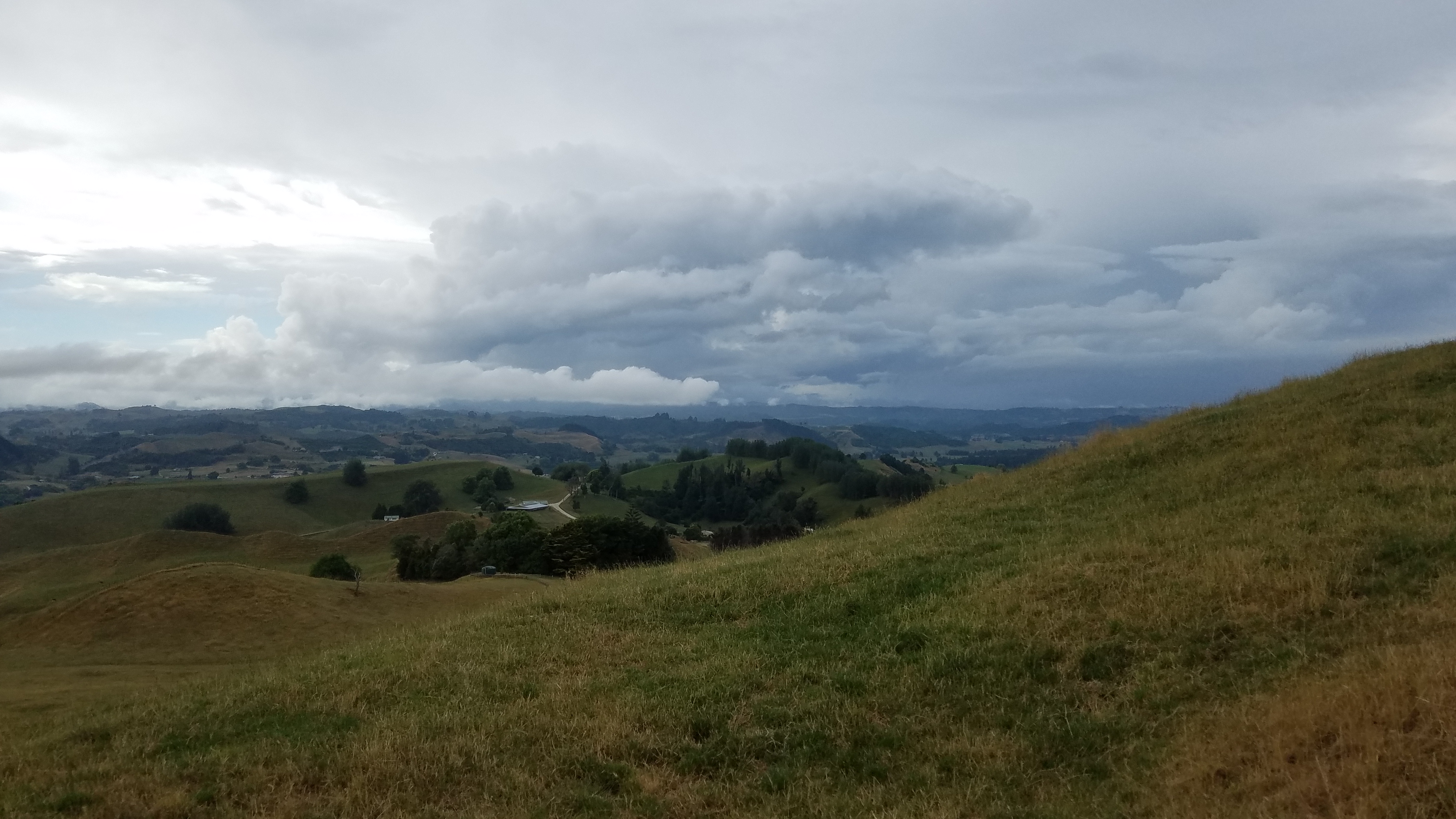 I made good time, moving at a fast pace because a thunderstorm was on my tail. I'm a bit traumatized by thunderstorms after the Colorado Trail last summer. Thankfully they are not too common or severe in NZ. Then, just a few kms from the end and thinking I could breeze into town, I completely lost the trail. I had come down a steep hill in a paddock and could not find the exit stile. I knew I had to cross the dirt road, so I jumped the fence. I've had to do a lot of this when I've gotten off track. I couldn't see any markers but my GPS said I was right on track. I jumped a few more fences, roughly following the line on my map. Scanning the horizon (with my one good eye), I finally spotted a marker way off to the left. I wondered if someone was playing a trick and had moved the markers, but they seemed well-established. The GPS track, downloaded from the TA website, was just way off. Another bug I guess…no ground-truthing of the actual track here.
Finally I got into town around 5:30 p.m. and did some grocery shopping. Don kindly picked me up, since Casara Mesa Backpackers is a few miles outside of town. It's a peaceful place recommended by several other bloggers (Walking with Wired and NancyHikes). I decided to pitch my tent, since it was not raining. Only $15 a night with a great hot shower, laundry, and wifi. I heated a frozen pizza and had a ton of snacks and soda. I was really on the fence about the next few days, given a sub-tropical low that's supposed to hit Thursday/ Friday. I would think it over while I slept. Ahhh sleep in clean clothes. I needed it after today.