January 3rd
Te Kuiti (km913)-Mangaokewa rd. (Km943)
Mileage: 18.6mi/30km
Nancy Hikes' blog gave me the idea of staying an extra night at the backpacker and slack-packing the Mangaokewa river gorge section. This is the term for when a backpacker ditches their full pack to do a section with just a day pack. In my case, I still hiked with my pack, just not the rest of my gear. I left my tent pitched, which meant I only had use of one trekking pole. Without any weight in my pack, one pole was sufficient…even for the billy-goat trail I was about to do. I also carried water/filter, day food, PLB, rain gear, and my umbrella. Don dropped me off at the supermarket and I walked the rest of the way through town. I just had to see the infamous giant statue of a sheep shearer. I was in the sheep shearing capitol of the world, after all.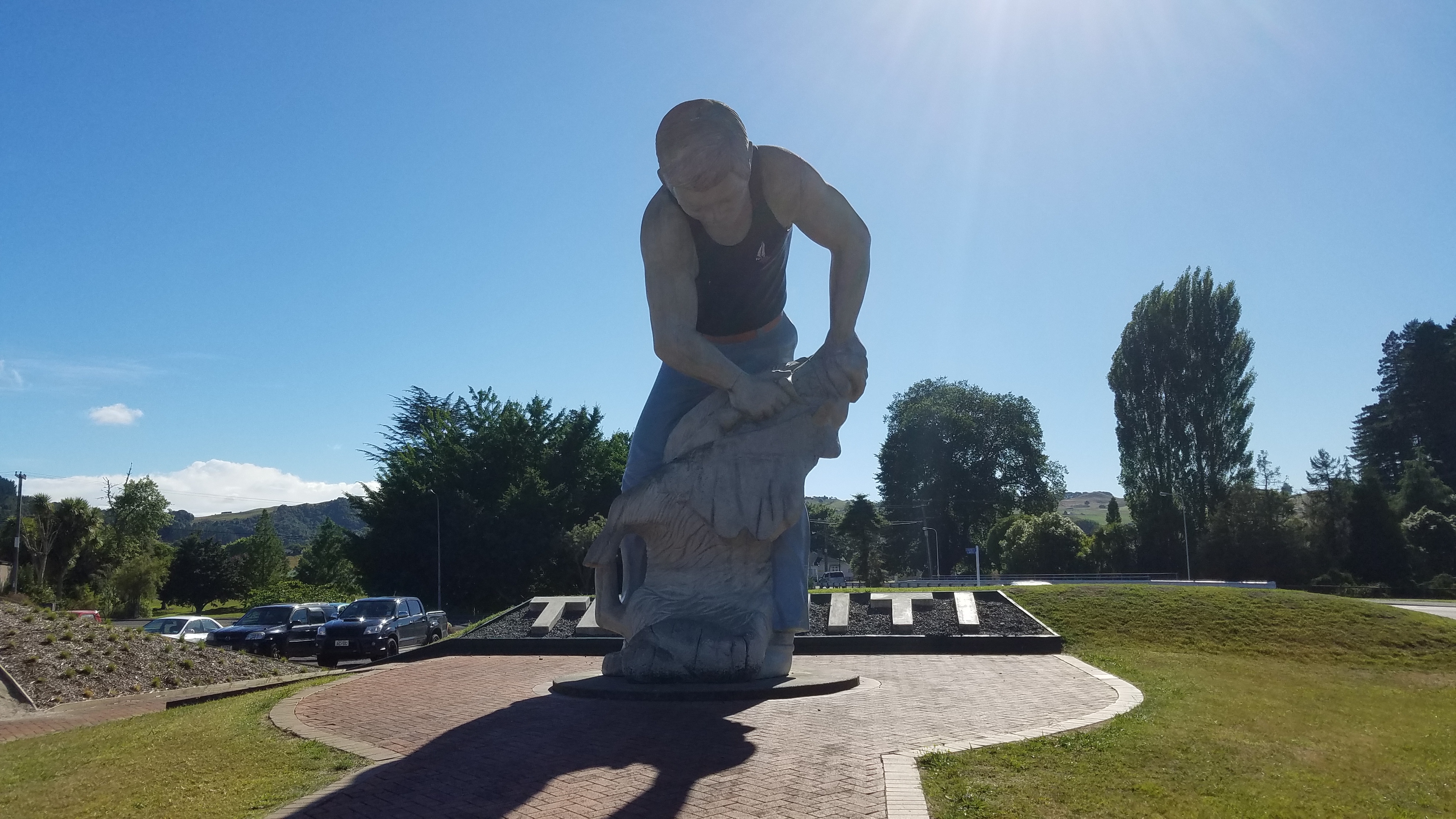 The river trail started out really nice, with many views of the interesting rock formations. This is one of several karst (limestone) regions, hence all the caves (tomos) in the area.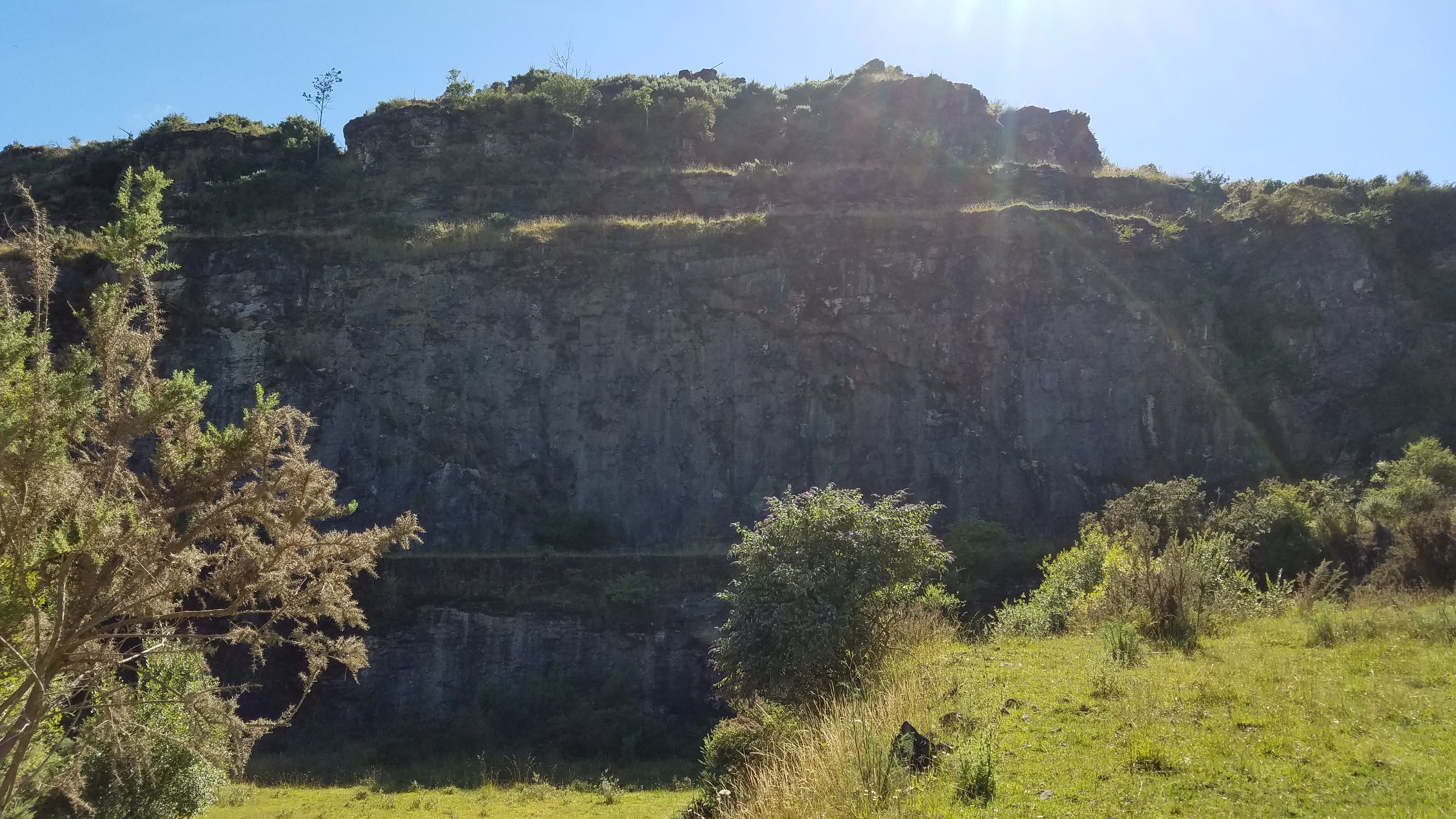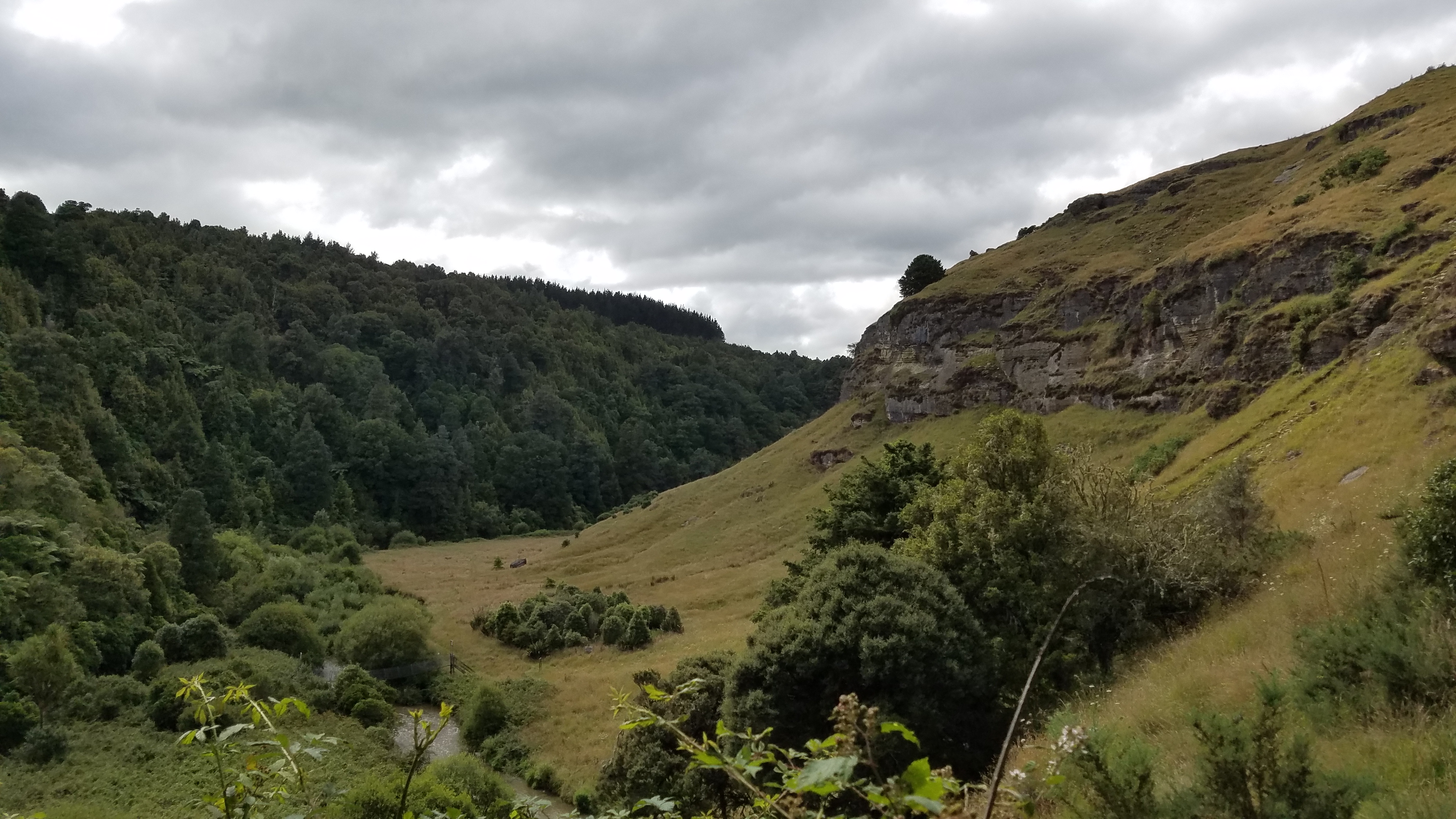 The weather was also cooperating, even though the forecast called for rain and afternoon thunderstorms. I love walking along rivers in New Zealand, but it's often hard going. These kinds of trails have to sidle the steep banks, often going up and down to avoid cliffs and slips adjacent to the river. The trails are rarely benched, meaning they slant with the hillside. This particular trail was nothing more than a few foot divots, heel to toe, in many sections. Imagine having to do a sobriety test, on a slant with sharp drop-offs below, while also ducking thorny plants reaching out from the uphill side…and doing this for miles. With a day pack, it was a blast.
A Danish guy with a 50 lb pack that I met partway along wasn't having a blast, though. Yens told me of his love for reading and photography, both of which resulted in a lot of weight. He said he was carrying 3 books! I felt for him, especially when only a km later I had to climb under and over a huge tree. What took me a mere pause in my pace could have taken him tens of minutes to negotiate with all that weight and bulk. At the downed tree, I also found a whole bag of almonds and cashews that had been ejected from some poor hiker's pack. Score for me, sucks for them (yes, I of course ate this unsealed food from an unknown source=hikertrash!). Speaking of food, there isn't another resupply option until after the timber trail, meaning those doing this section straight through would need to carry at least 5-7 days worth of food. All that weight on this hairy trail, no thanks!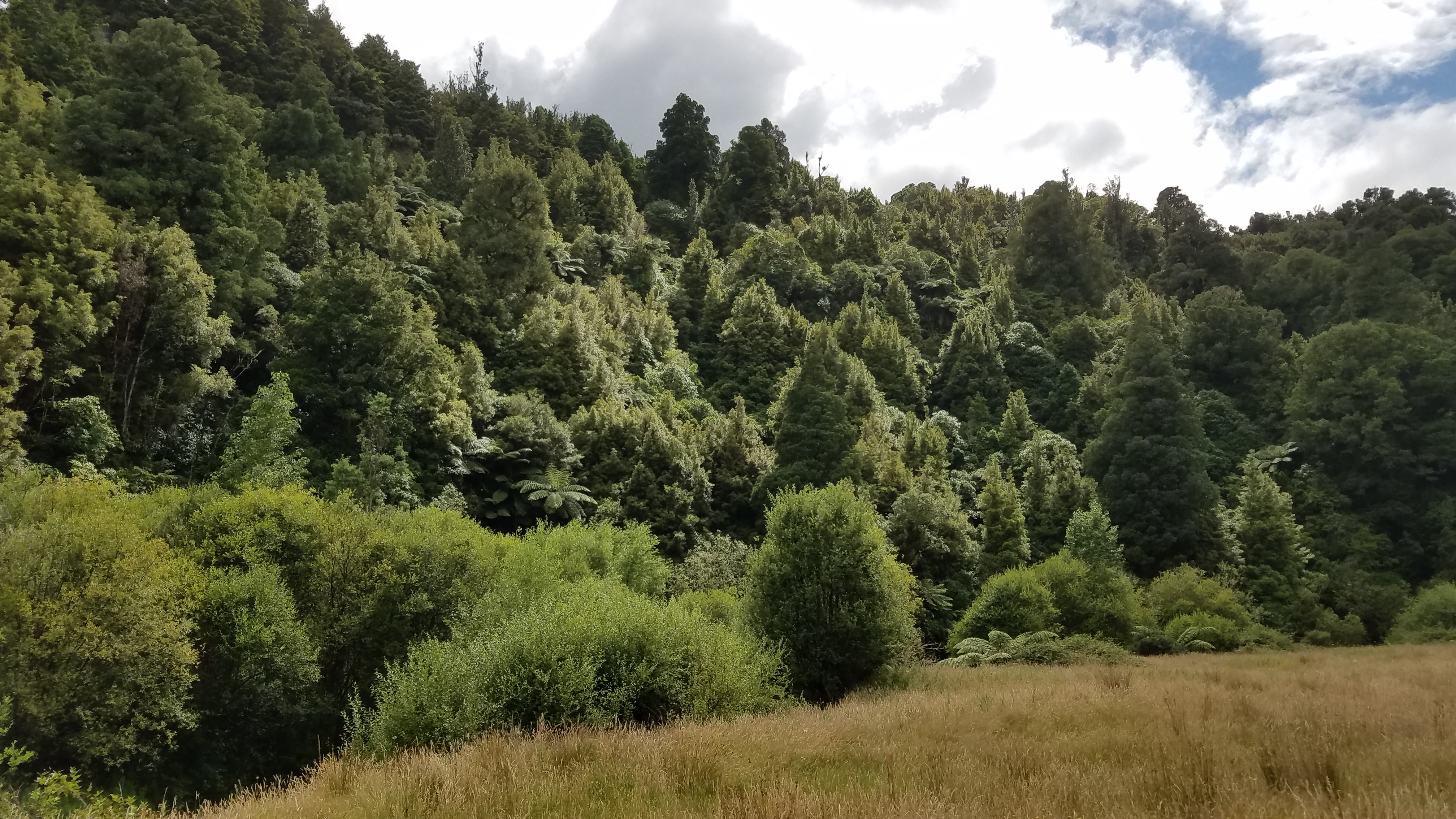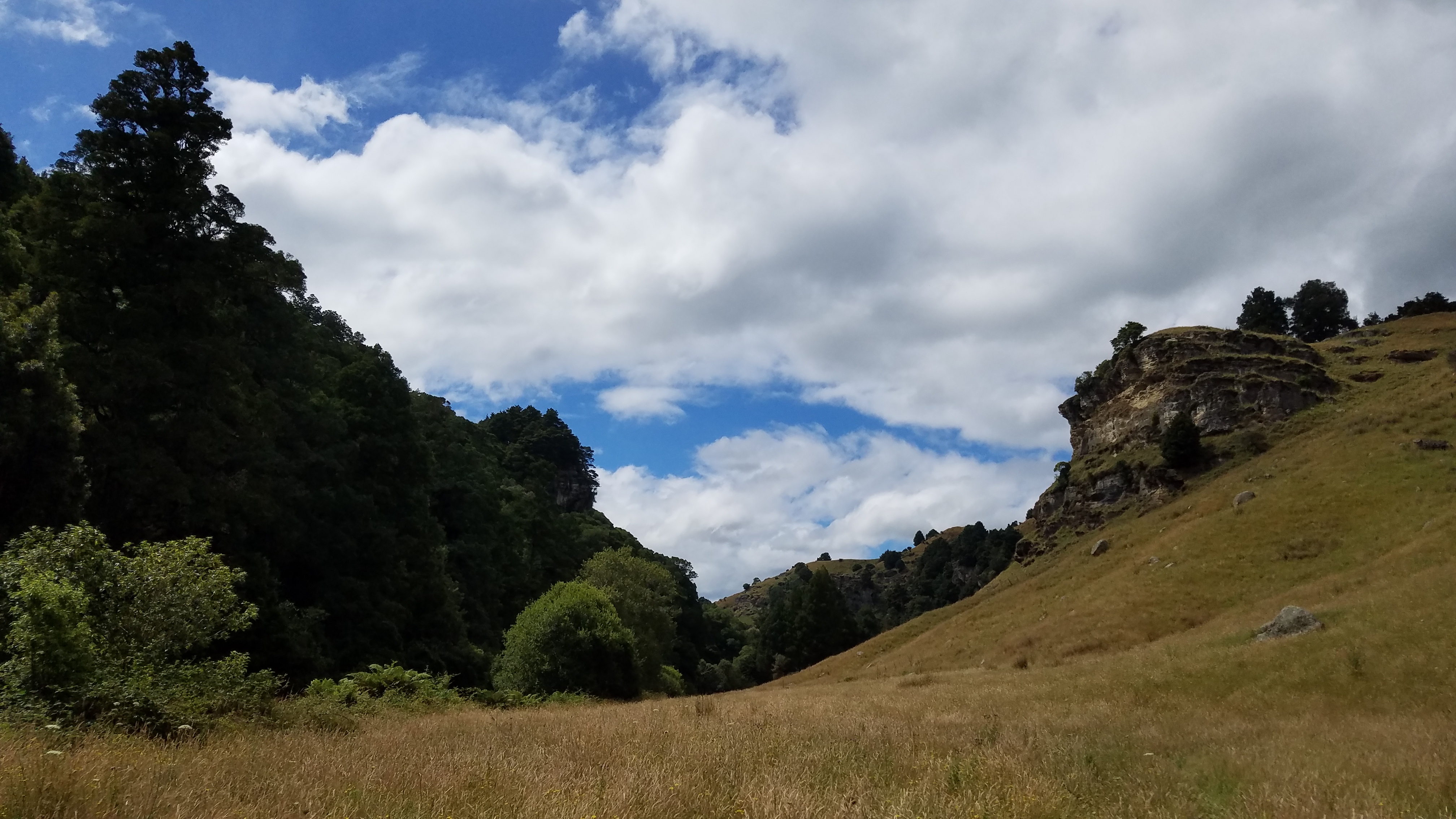 When the trail was nice, it was really nice. When it was bad, it could hardly be distinguished from the myriad of goat trails. In fact, it was very easy to get off track, following goat paths that look just the same. The presence of so many wild goats should tell you something about the ruggedness of the terrain, as well. Again, this trail could greatly benefit from some maintenance…just simple things like the cutting back of gorse, thistle, and blackberry (there are a lot of invasive thorny plants, unfortunately). Benching most of the trail would just make it awesome, but I know that's a big ask. It does have a distinct character in it's difficulty. It's New Zealand and the TA after all..suck it up and embrace the ruggedness.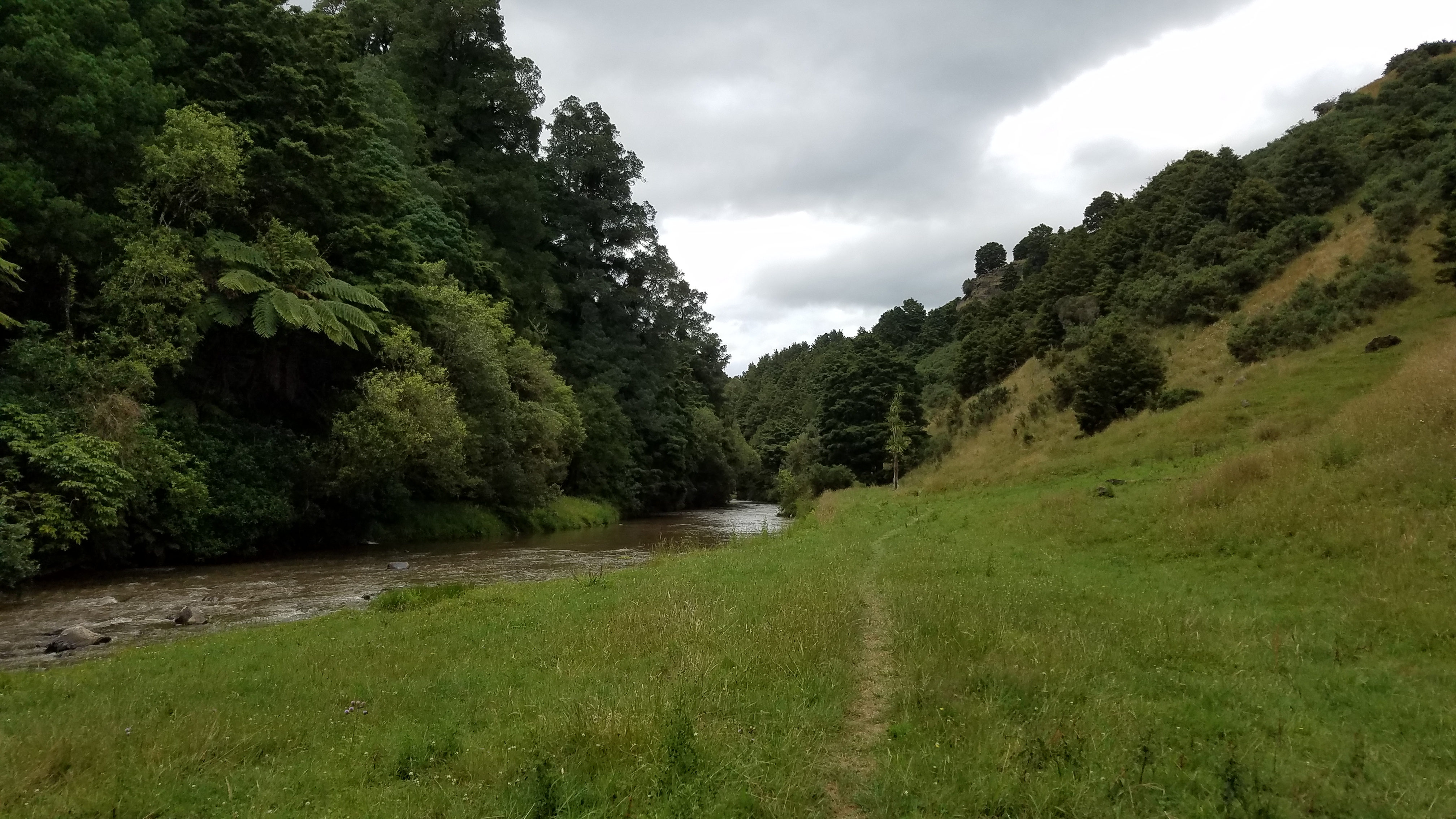 Beautiful trail on a flat shoreline area…at its best.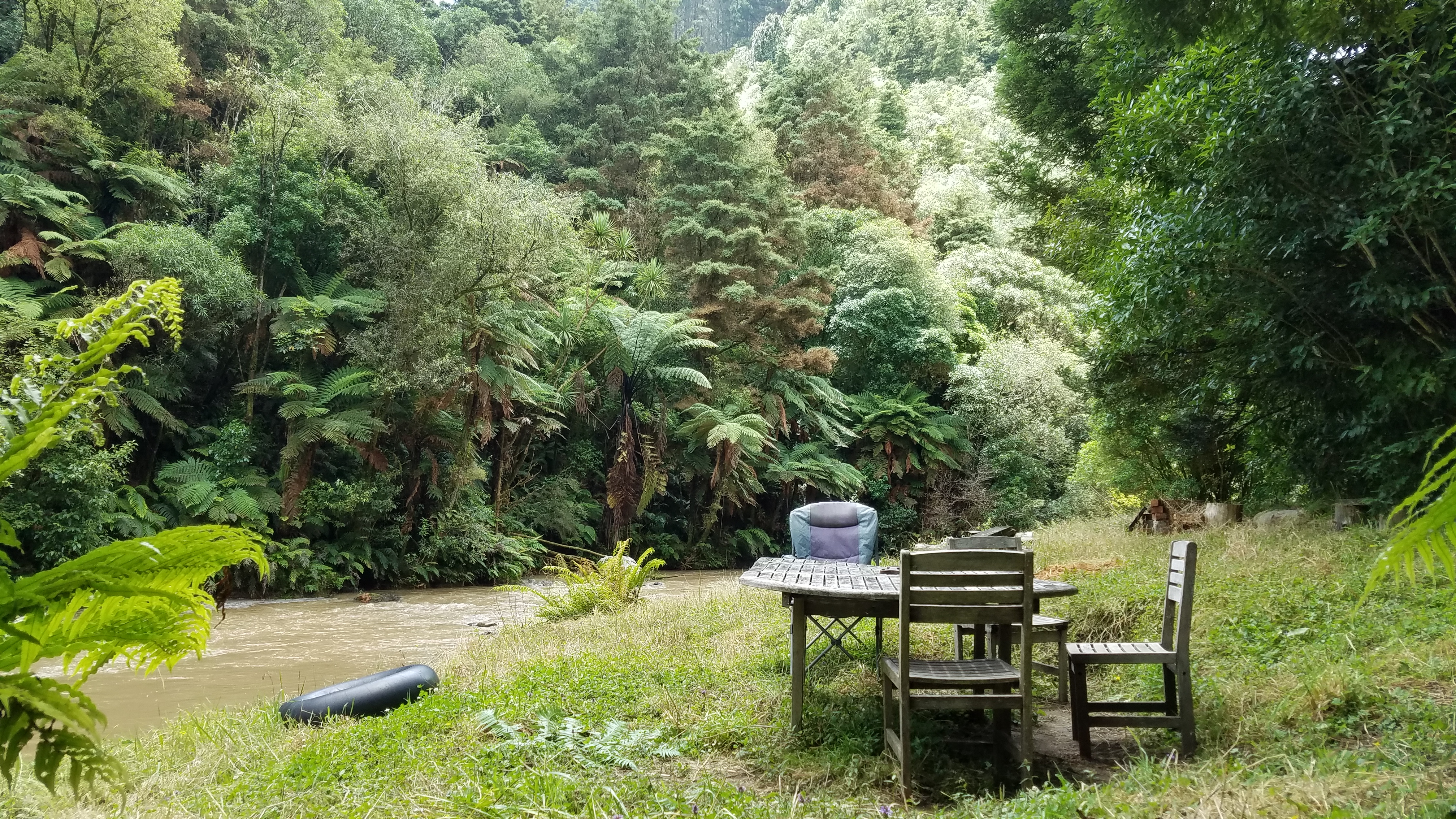 A perfect campsite set up by some locals…even an innertube for rafting.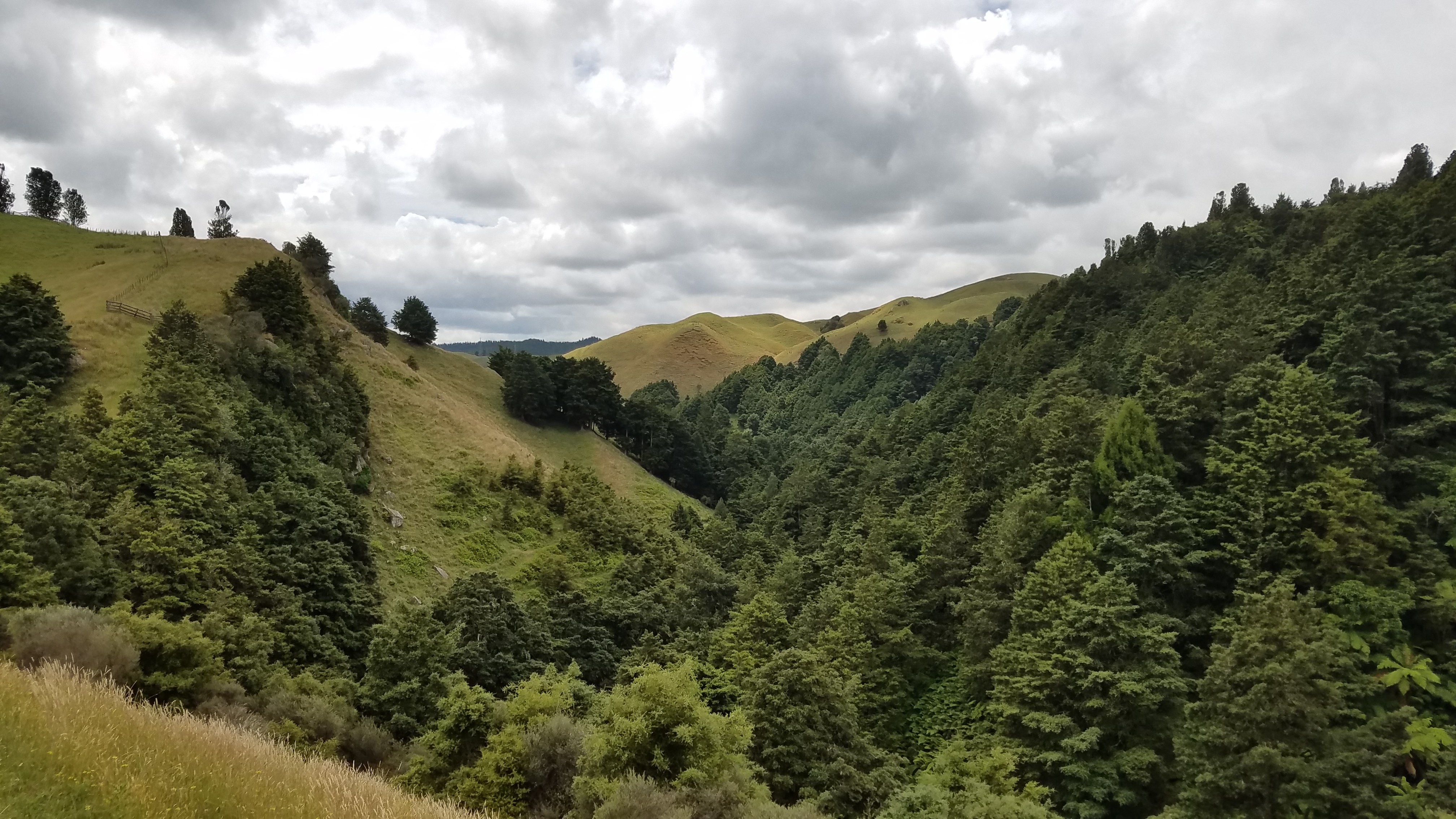 I had gotten a later start and wasn't rushing, so the 15 kms of river track took me most of the day. Towards the end, the route swung straight up a grassy hill. I was looking up for the next marker and spied a huge orange backpack instead. Figuring the person was on the route, I began cutting up the hill straight towards them. I had to keep stopping to catch my breath and looking for the backpack, catching glimpses of it and adjusting my course to follow. At the top of the hill, I saw the backpack heading even further up another hill. Smartly, I glanced to my left and saw an orange marker all the way down at the bottom of the hill near the river. Always question if someone else knows what they're doing and not just blindly follow them.
It's still a mystery to me if this person was hiking the TA and had gotten lost right at the point that I caught up to them or was just a local out doing his or her own hike. Maybe they'd had enough of the river track and were bailing. My map didn't show an obvious exit point so I hope they ended up ok. The mysterious orange backpack …maybe I just imagined it. Are cuts from blackberry, thistle and gorse hallucinogenic? If so, I'd gotten a good dose.
At last, the trail became a farm track and then easy gravel road for a few kms. Local land owners have constructed a shelter and campsite just for TA walkers at this end. They ask for a $5 donation. It was so nice, I wished I could stay. I may have helped myself to a warm beer that I found in a bucket. I would have left a dollar or 2 but didn't have any change. Thank you for your generosity and supporting the TA!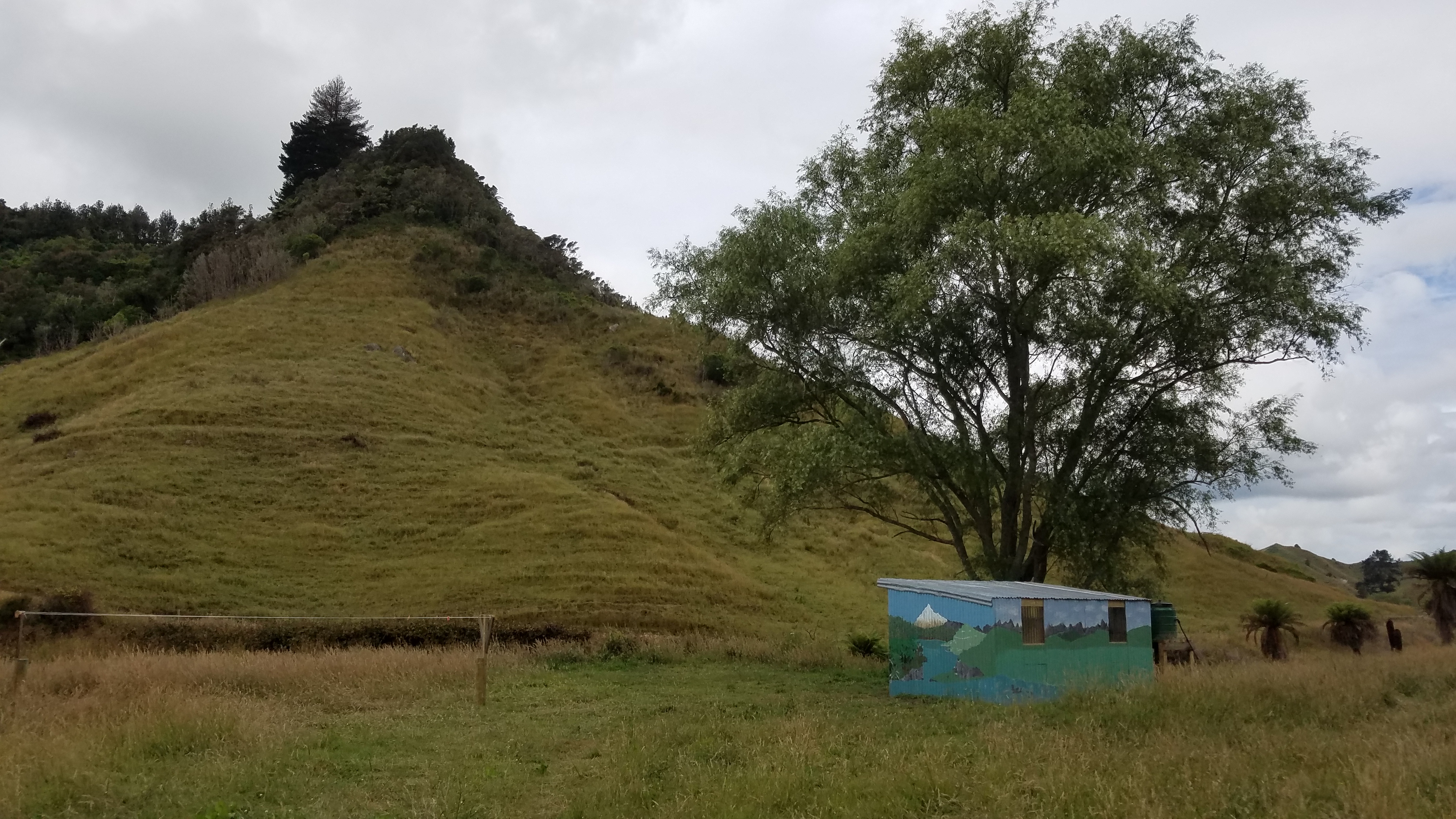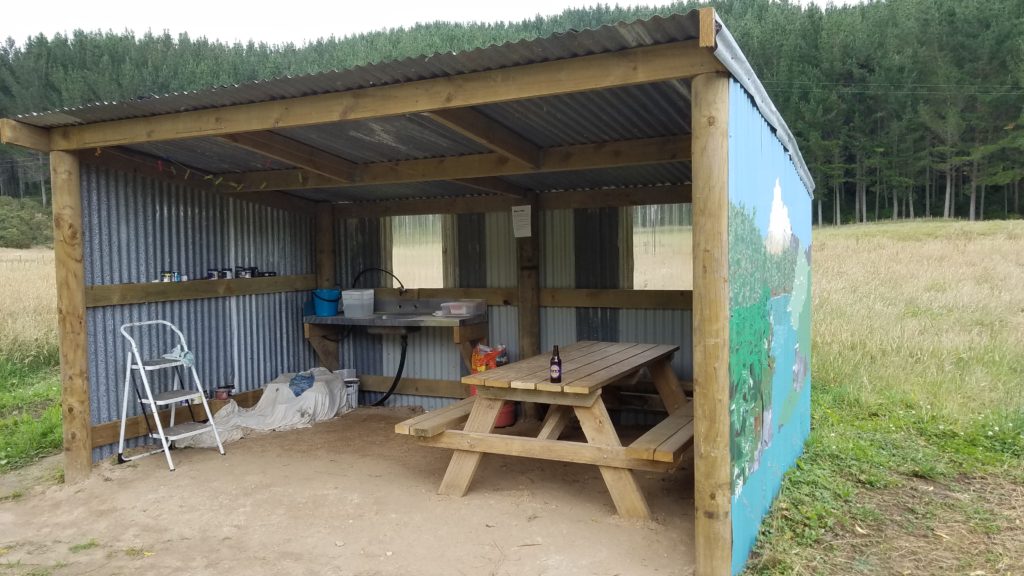 I got to the intersection with Mangaokewa rd and had to make a decision. I had wanted to knock out some of the 30 km road walk but it was already late and there were NO cars on this road. So I turned right instead and walked 4 km to the highway. There I walked a few kms more (when you actually want there to be cars on a road, there are none) before Karen pulled over to offer a ride. Ironically, she does spraying for weed control and boy could the TA use her services! She was nice enough to drive me all the way into Te Kuiti, even though her turnoff was before the town. Kiwi generosity once again. Don picked me up, again, and I was happy to see Steffen, Manu, and Paula at the backpacker. I was amused by Manu putting down 3 giant hamburgers. Apparently they hadn't carried much food the last section and had been starving. I've made that mistake before and now carry too much.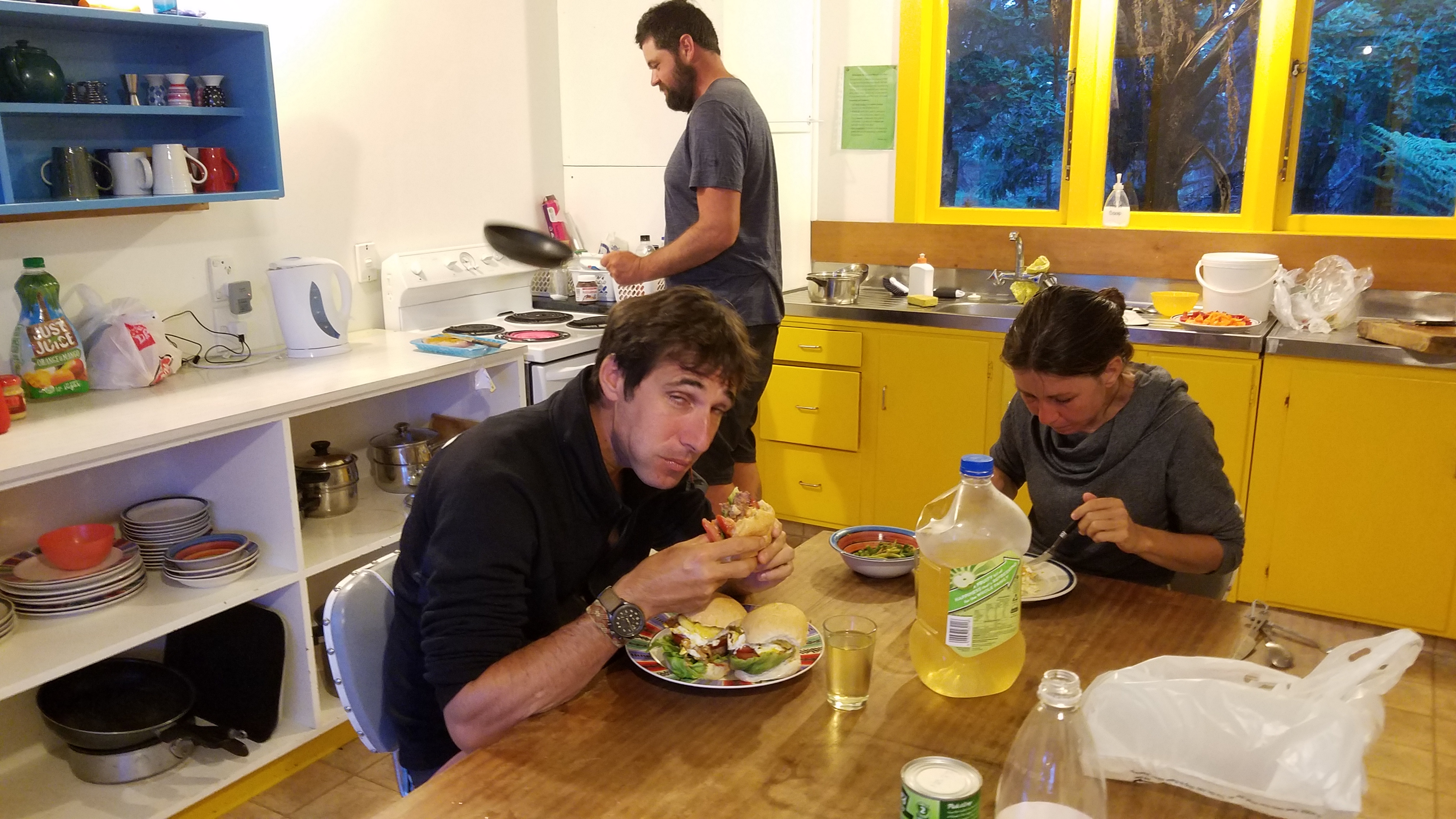 Impressive. I had a good night eating, showering, and sewing a hole in my gaiter. A root had torn it, coming down from Pirongia. I decided that I better put a stop to it before it got worse. Gear maintenance on the trail is important. Take care of it and it will take care of you. It is life-support equipment, after all. I was still undecided about what to do the next few days but it was looking like a zero was in store, due to severe weather forecasted.