December 24th
Auckland (km602)-Puhinui Stream (km634)
Mileage: 20mi/32km
I had breakfast and one last shower, then bid farewell to my Auckland trail angels. Nina was driving James to Clevedon to start the trail from there, but I still had a section through the city to do, plus sections around the west side and airport. I was a bit concerned about camping options around where I would end the day. James described the area as a "hood", hence his reasoning for skipping it. But I ignored this probably sound advice and did the whole section anyway. I walked a few kms from James's house to pick up the trail at km 602. This was where I previously left off my first day in Auckland, back on December 2nd. The trail skirts around One Tree Hill but doesn't officially go up it. But of course I had to go up on such a beautiful day. This is yet another prominent volcanic cone and the most recognizable in all of Auckland, given the tall spire monument on top. There is no tree anymore. It was vandalized and killed in a protest many years ago. I've been up here before, when my friend Alex and I drove up. Most of these cones used to be defended Maori strongholds, known as Pa. Today, I was amused by all the sheep and cattle roaming the place, mowing the lawn for free. Right in the middle of the largest city in NZ and you have livestock grazing. I love it.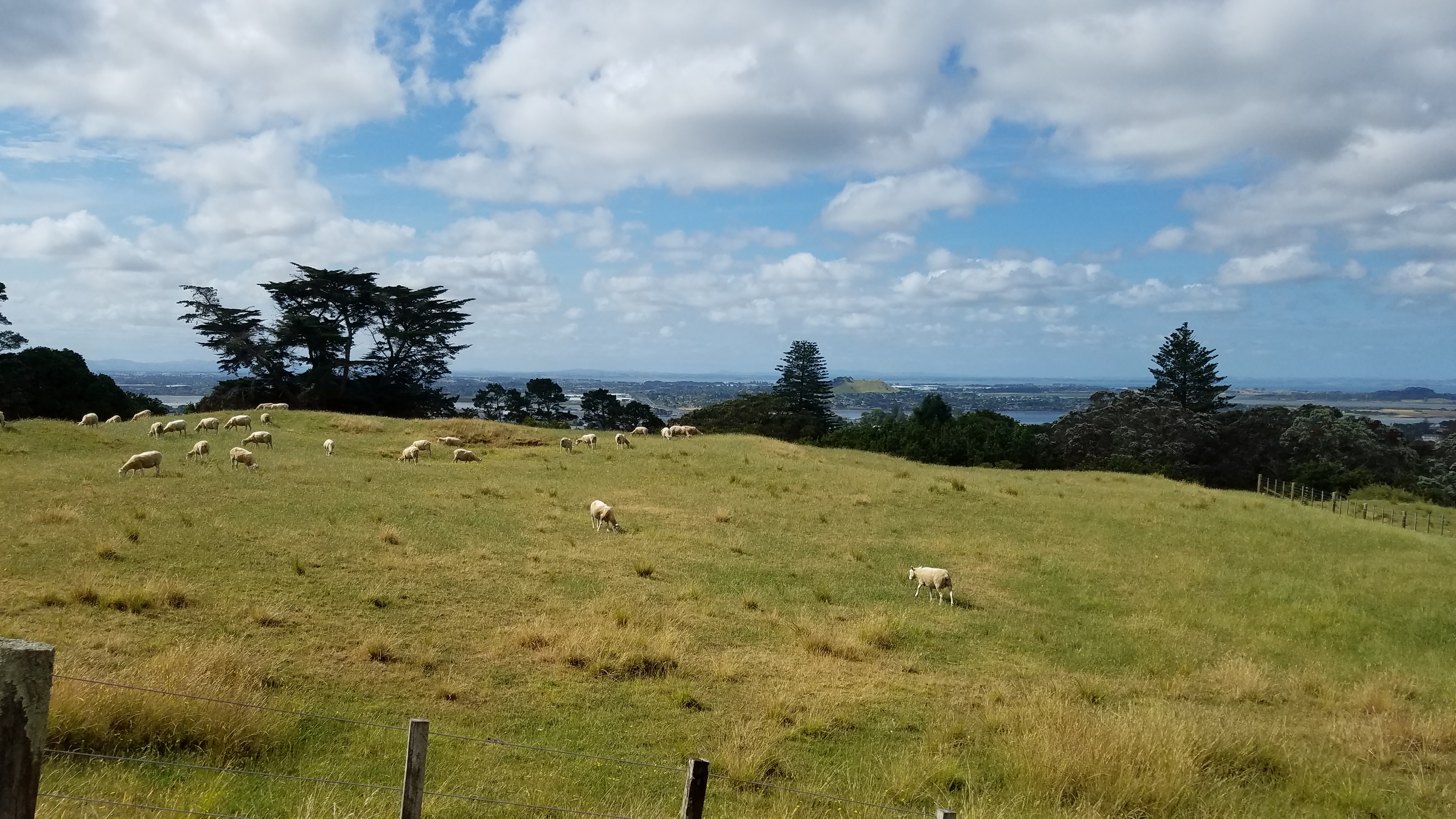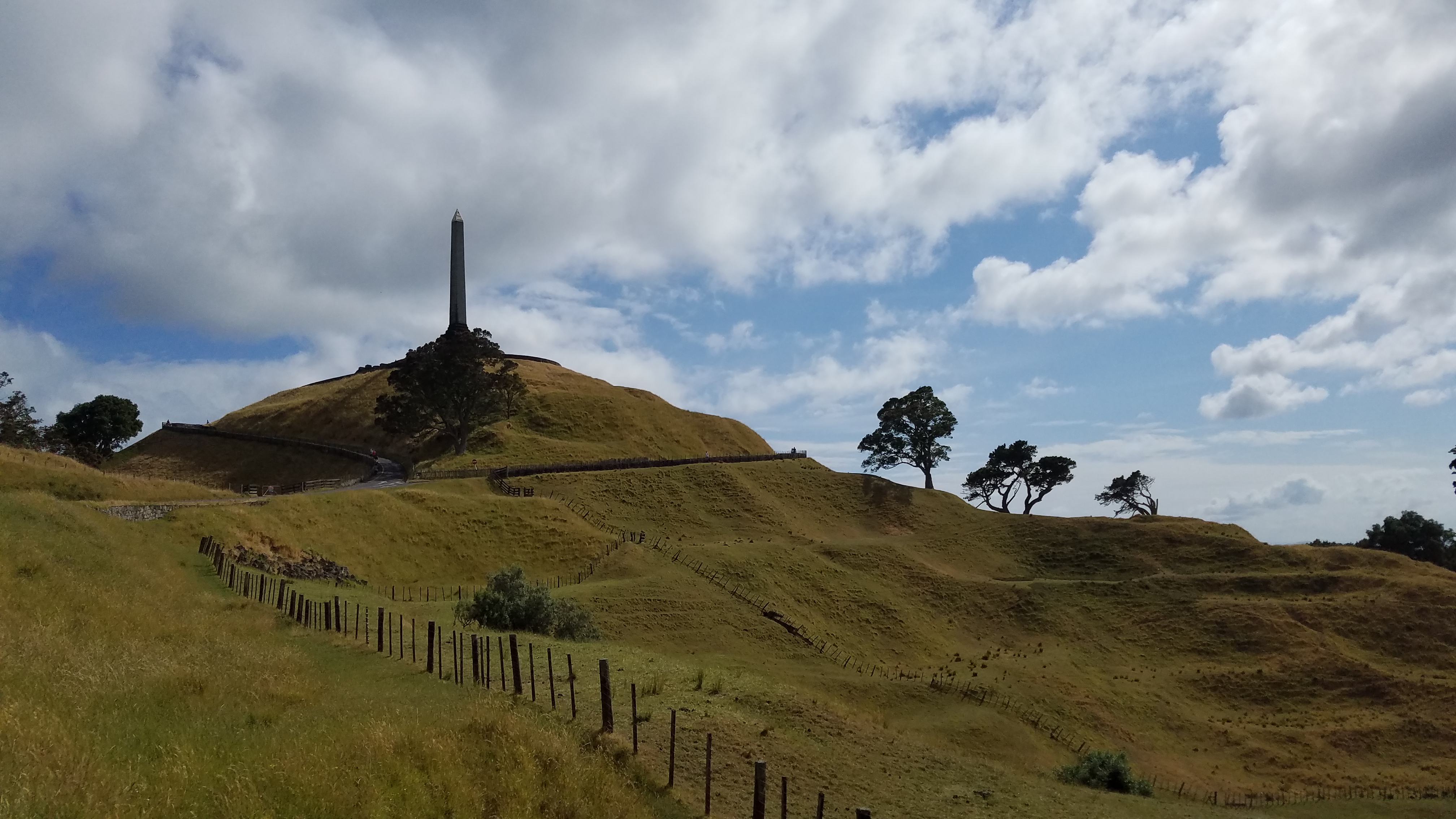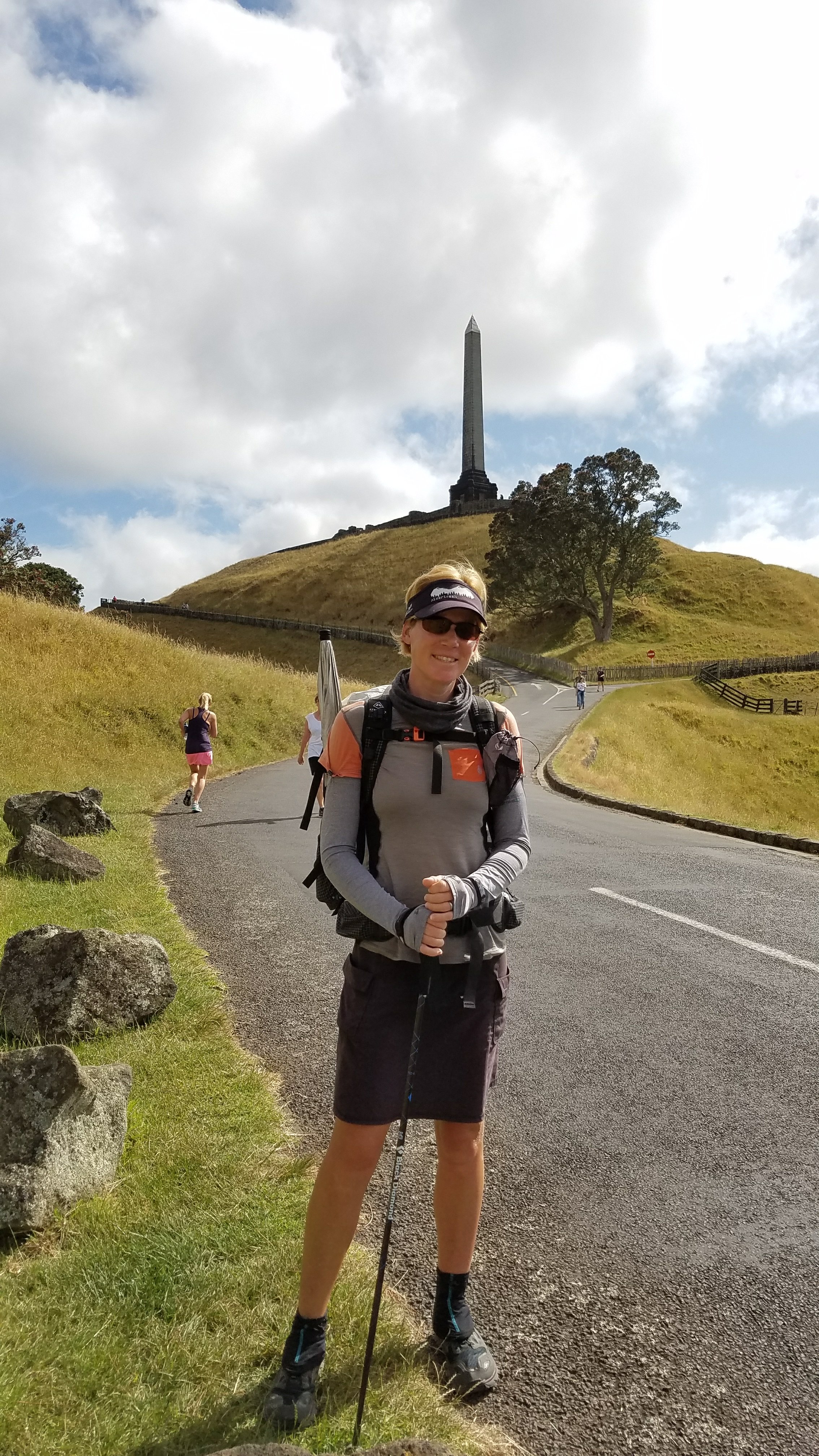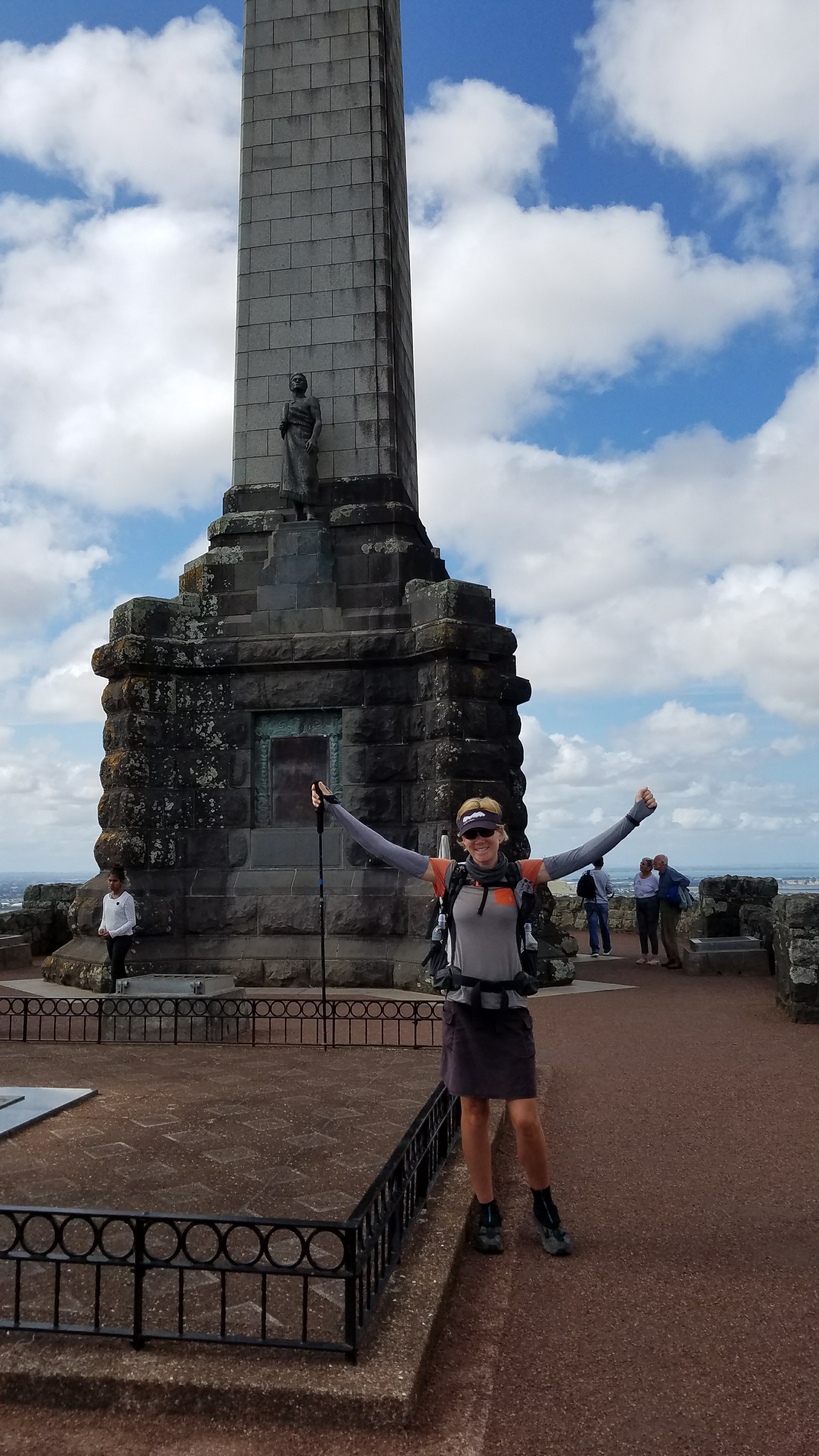 Also, in case you're wondering, the TV series One Tree Hill is not based on New Zealand or on the site. I always assumed it was, just because I was familiar with this location before the series. On the way up, I asked a girl to take a picture of me and we began chatting. It turns out that she did the TA on the South Island and her boyfriend Matt did the whole thing to produce a photo book called Lost Zealand. There was actually a premier/gallery exhibition of this book just recently. I remember reading about it on the TA Facebook page. Again, it amazes me what a small world it is here that I should run into her. Actually, I had already met another man earlier in the morning that had section hiked the TA. Abby and I walked all the way up and down sharing stories. I have her contact information for later when I make it back to Auckland again. I would very much like to see the book and maybe buy a copy.
Following this, I came across another exciting thing in a park… a flying fox! Upon seeing two small children doing it, I thought surely I could handle it too. Their father said that he had seen other parents do it before, so that was all the more convincing I needed. His daughter even brought the car to me, looking very bemused that I was going to play on it. As they cheered me on, I took the plunge. Whhheee!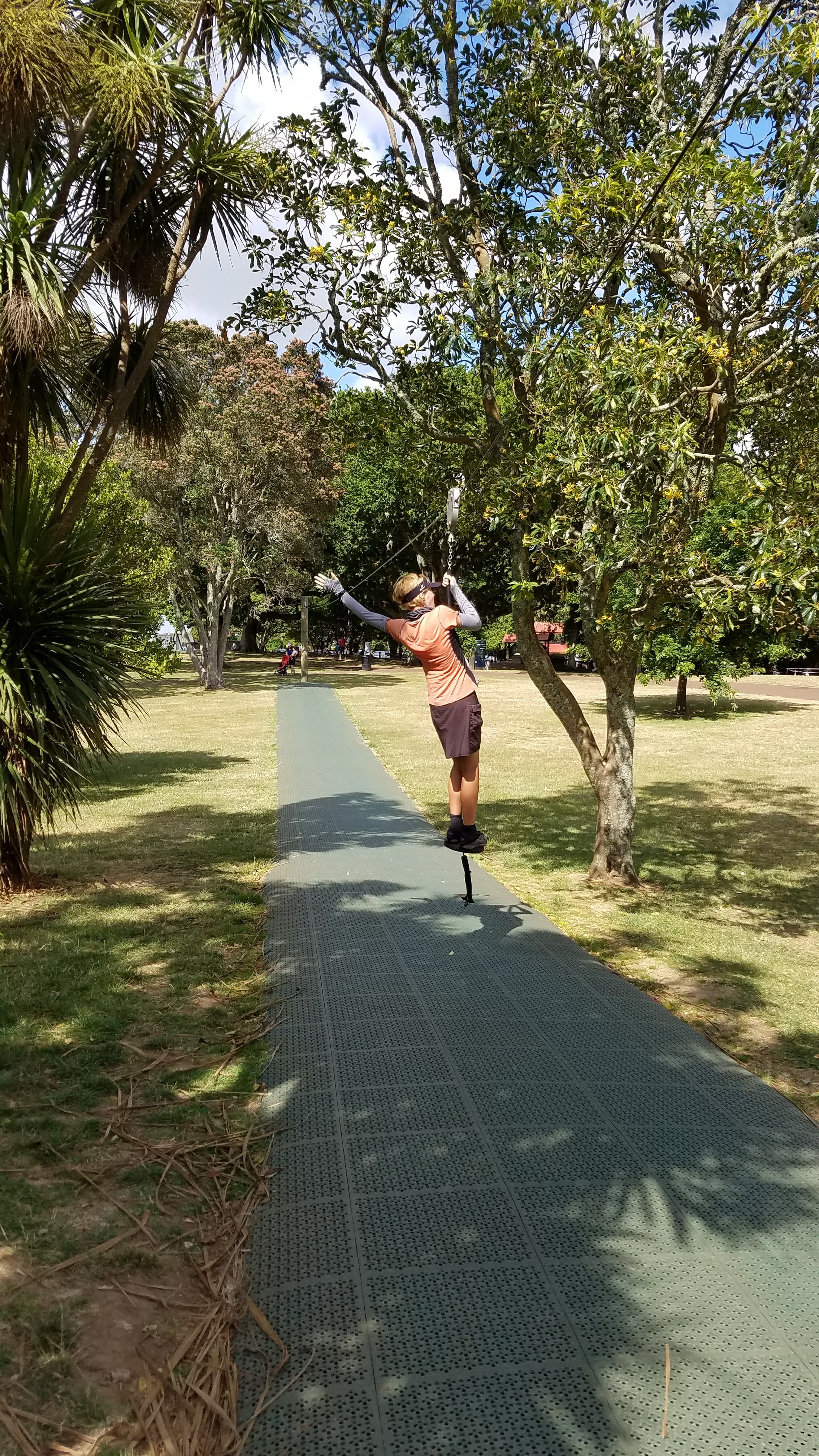 The travel down the line wasn't that scary but the sudden stop at the end really jolts. Oh but it was fun. I had a huge smile on my face for an hour afterwards. The walk proceeded across the bay and around a couple points. I was surprised at how rural and remote it felt, being so close to the city. The trail passed through Ambury park where there is camping and a little petting zoo. Two Clydesdales were being walked right along the TA path in front of me…you never know who you're going to meet on the TA!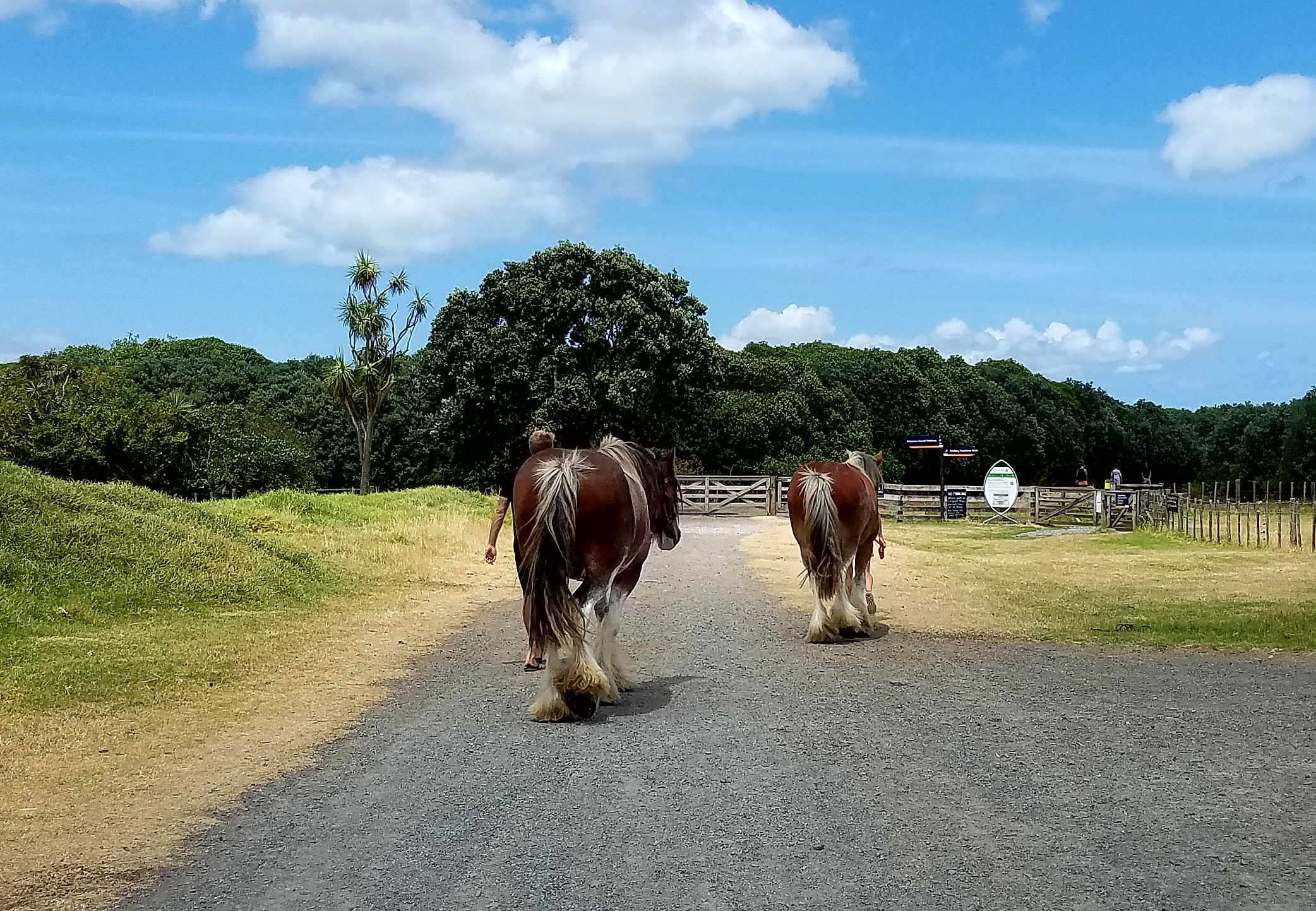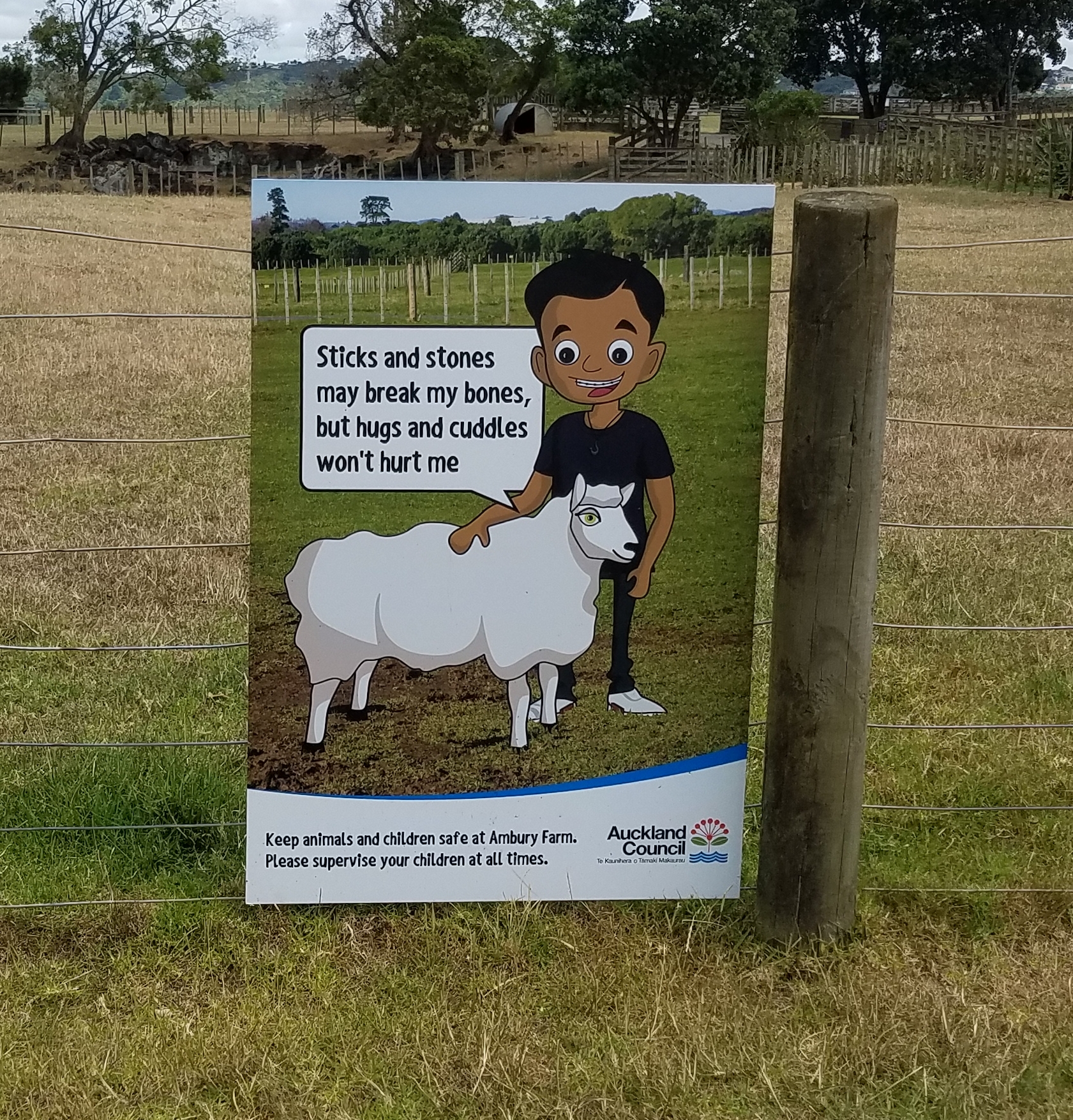 For what I thought would be a mostly urban hike, I really enjoyed the peace and solitude. I hardly saw any people all day. My favorite section was the bit around the Otuataua stonefields, an area where Maori and later Pakeha (white men) piled volcanic stones to make fences and windbreaks.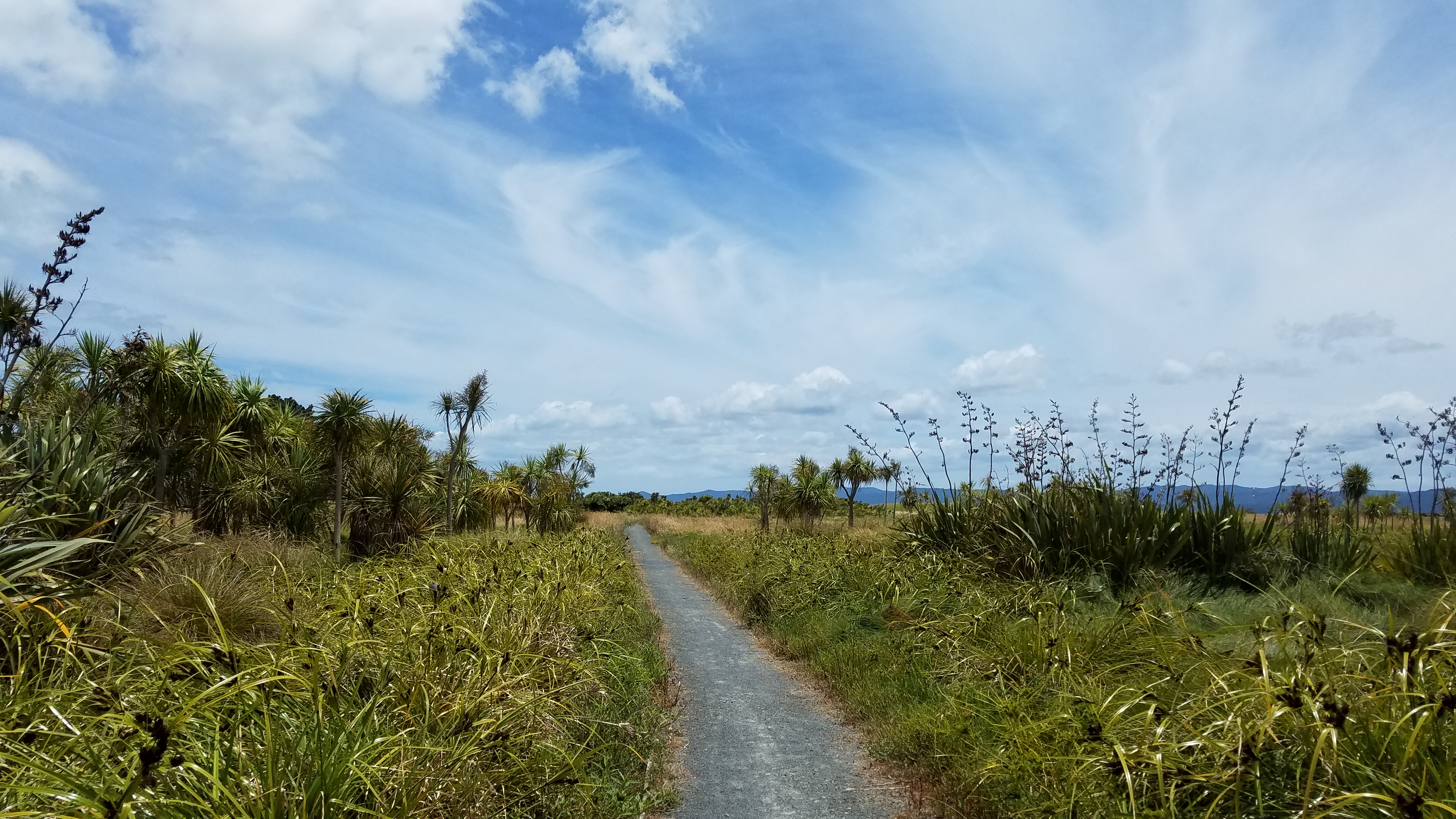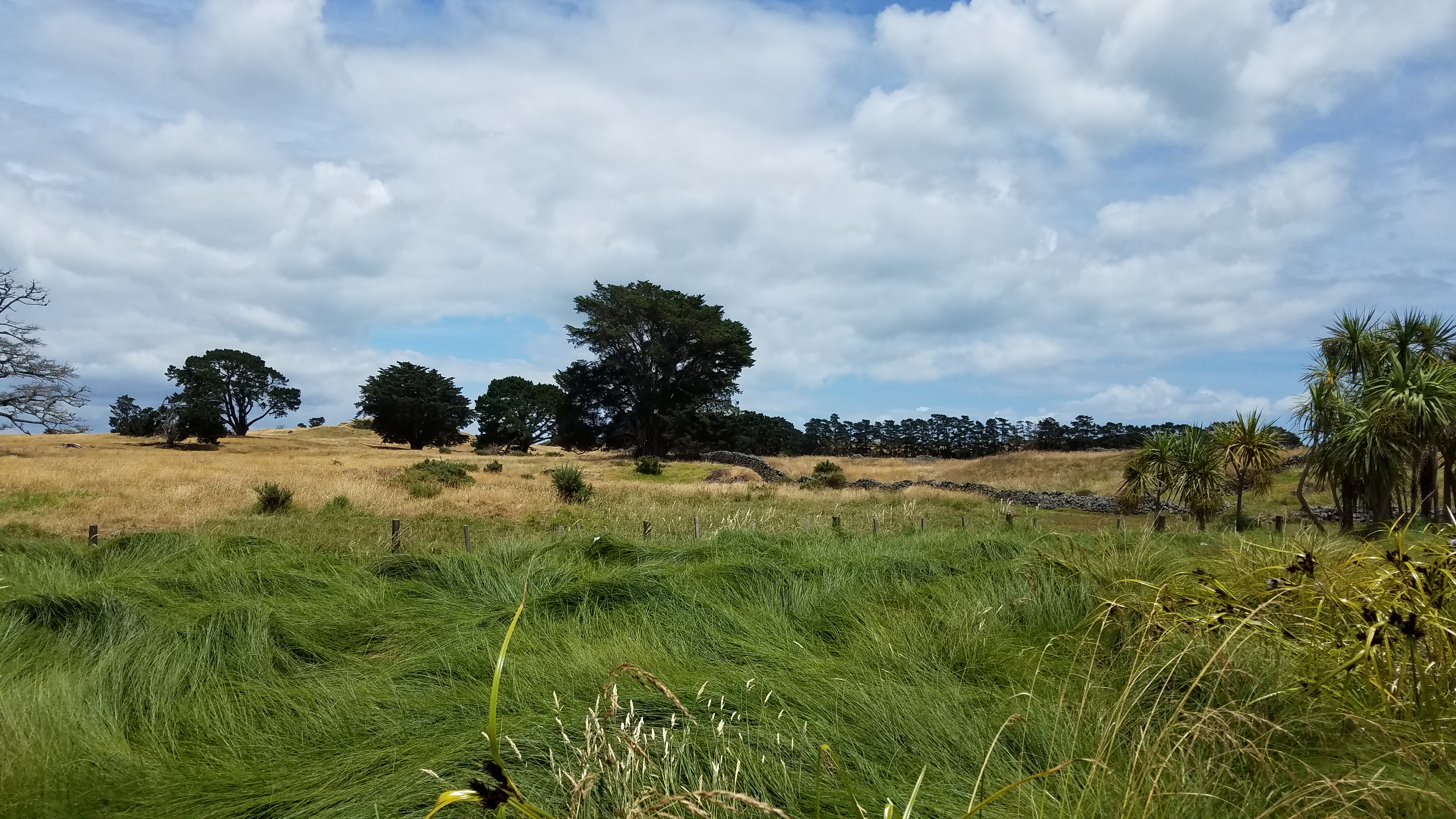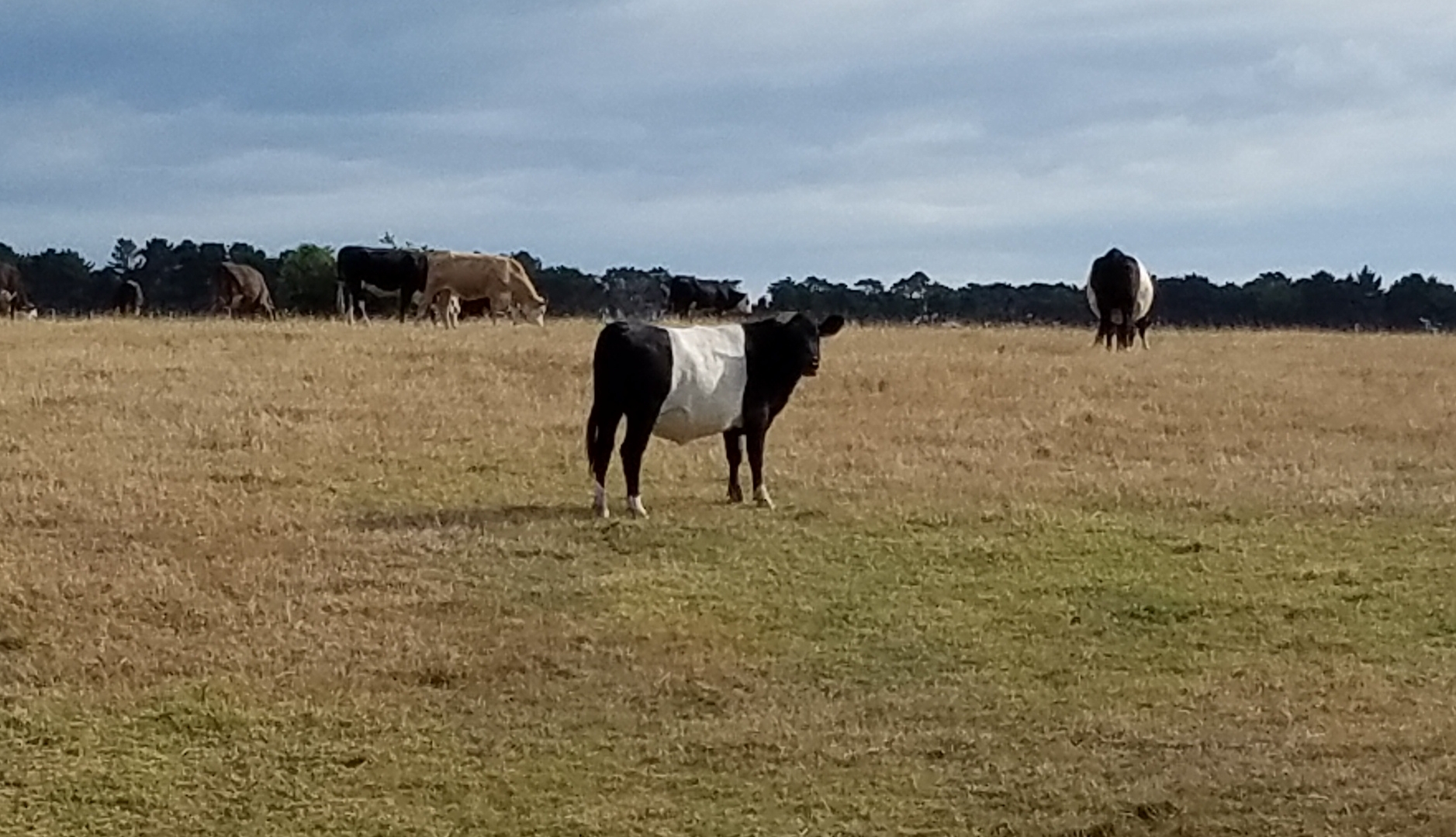 Oreo cow.
After this, I entered the airport/ industrial section. I stopped at a large shopping center to resupply and have lunch. I got way too much food but that's okay. I don't mind carrying a lot of food anymore. It was getting late in the day by the time I walked out of there, so I started searching in vain for possible campsites. There was a section that passed through a field and then down along a creek. I accidentally went through the wrong gate leading to the creek and found the perfect spot. Since it was not on the official TA route, it was quiet and secluded… not that anyone else seems to be hiking anywhere near me. Despite being under the flight path of the airport, it was actually a very peaceful and natural spot. I felt very safe and enjoyed the night.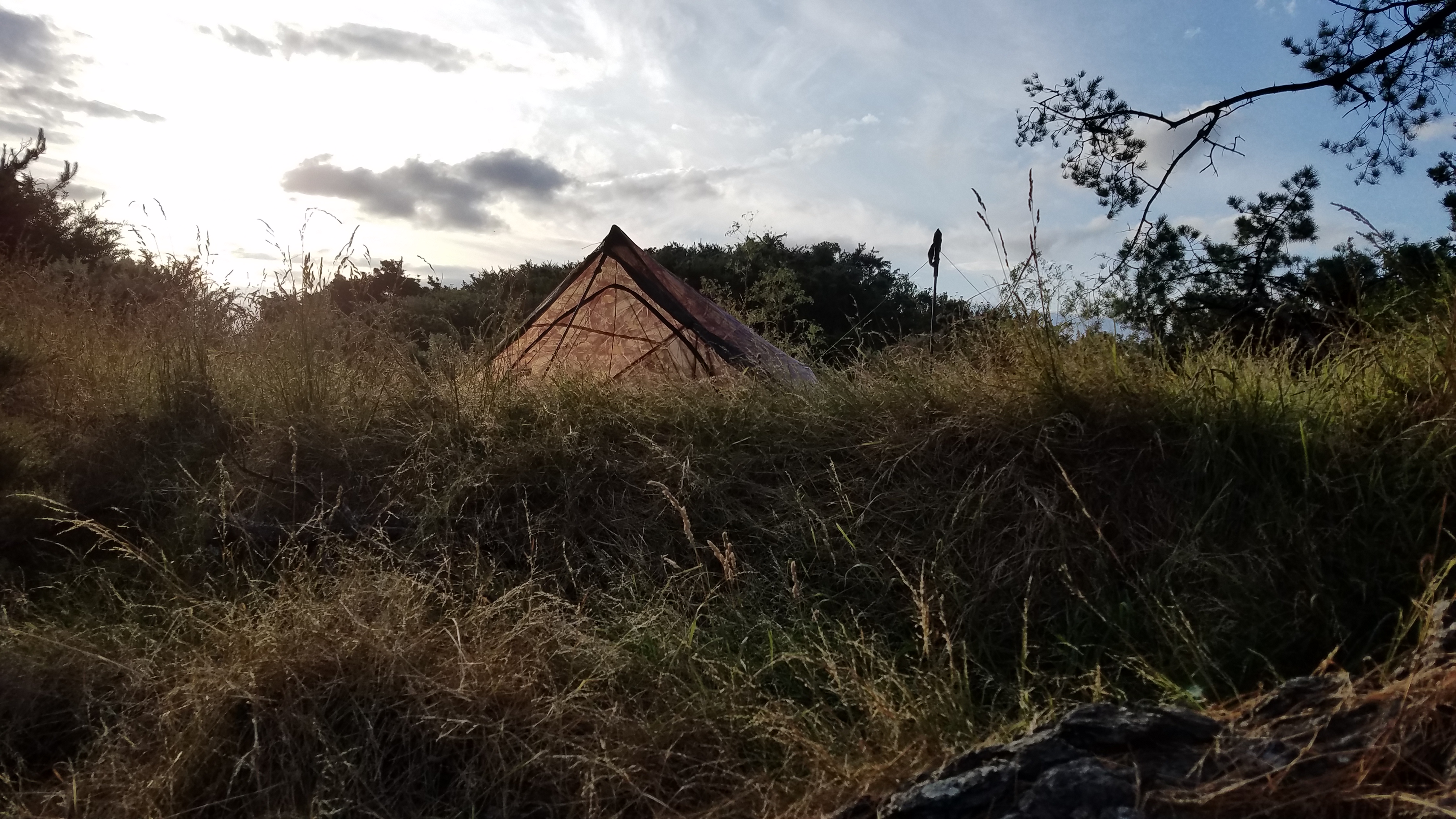 Speaking of campsites, I wanted to give an update about Lost Kiwi Mike. A few nights ago, he was camped in a field and the wind was really strong. He was not directly under a tree but somehow the wind blew a large branch off and flung it many feet horizontally and down onto his tent, completely crushing it! He was ok, just bruised, but he had to take a day off and buy a new tent. So unlucky! I even took a picture of him in his tent when I first met him. Poor Mike. I hope the TA is nicer to him the rest of the way.