December 25th
Puhinui Stream (km634)- McNicol Rd, Clevedon (km664)
Mileage: 18.6mi/30km
This was one Christmas I will surely never forget. It started out just fine, packing up my tent in a beautiful meadow near the stream and then following the stream on a nice gravel path for a few kms, before breaking out into an industrial area. I found a gas station just in time for a bathroom break. I haven't had need of my trowel for a long time now.
Walking through the industrial areas in South Auckland on Christmas morning was kind of surreal. Everything was closed and there were no cars on the road. It felt like the zombie apocalypse. Oddly, there was one guy on a motor scooter picking up trash along the roadside. He must have been making some mad over-time.
Then I entered a neighborhood that had some tell-tale signs of urban blight. There was lots of graffiti, shopping carts pushed into the stream, trash about, etc. Mind you, it didn't look all that bad, not like the really bad areas in other countries. But remember that advice from James about skipping South Auckland? I should have listened to him.
It was around 8 a.m. when I began walking down a pretty large thoroughfare, Great South Rd. Traffic was minimal and I had just come to a ramp leading to a pedestrian underpass, back down to the stream I'd been following intermittently all morning. Just then, I heard a "phft, phft, phft" noise and simultaneously something ricocheting off the fence next to me. I looked up to see a car driving past with a guy looking intently back over his shoulder at me. I knew immediately that some sort of projectile had been lobbed at me and instinctively reacted by throwing up my arms in a 'WTF' gesture. In hindsight, it's really stupid to question or confront a stranger that's taking aim at you.
Since I was already started down the path leading away from the road, I picked up my pace and just kept going. I only wanted to get away from there as quick as possible. My mind was having a hard time making sense of this sudden event. I hadn't been hit and I wasn't even sure what had been fired at me. It definitely wasn't a real gun or firecrackers (not loud enough) but something solid had hit the fence. It was probably a pellet gun and they were just stupid kids having fun. They didn't mean any harm. I wanted to just dismiss it as trivial, but I couldn't keep my mind from dwelling on it. Whatever I heard bouncing off the fence was pretty hard, fast, and probably would have hurt. Why today and why here? New Zealand of all places, a country I thought of (still do) as being the most friendly and safe place in the world. How could those guys see my value as no more than that of a squirrel or beer can used for target practice? I can only imagine how victims of real shootings feel. Living in the U.S., capitol of mass shootings, has made us sort of hardened to violence and guns, unfortunately.
I shortly entered the Auckland botanical gardens, where everything was tranquil once again. People were out jogging and walking their dogs. I exited into what was clearly a very nice neighborhood. I found a patch of grass and decided I should at least post a warning on the TA Facebook page. After doing so, a number of people immediately wrote back saying I should report the incident to the police. Such acts are taken pretty seriously here. While people do get shot and murdered, it's orders of magnitude less than in the states. I don't know about the gun laws here but it's probably similar to Australia in that they are pretty restrictive. I googled the phone number for the nearest police station and called it in. The poor woman taking the report must have been so confused. I hadn't seen the tag number and couldn't even recall the color of the car. She asked for my address and I said I had none. Then she asked if they could follow-up with me. I said sure, all the while thinking good luck getting hold of me. Yep, pretty useless.
A 6 km road walk on a very busy highway with no shoulder followed. I had to walk in the ditch most of the way. Then a rough and steep connector trail brought me up and over the top of some hills and down into Clevedon. I had run out of water well before the town and was dying of thirst in the heat. On top of all this, I was missing my family. It's safe to say, I was having a bad day.
Nothing was open in town except the gas station, where they graciously filled up my water bottles several times. I bought a small Coke and chocolate cupcake, which went a long way in cheering me up. Man was that a good cupcake..I almost went back for another one, should have gone back for another one.
I also didn't take many pictures today. I took a few of the industrial area, not worth posting, and the roads didn't have too much unusual. I passed a business with 2 cow statues out front…with all the cows in the country, I thought it was funny to bother with fake ones.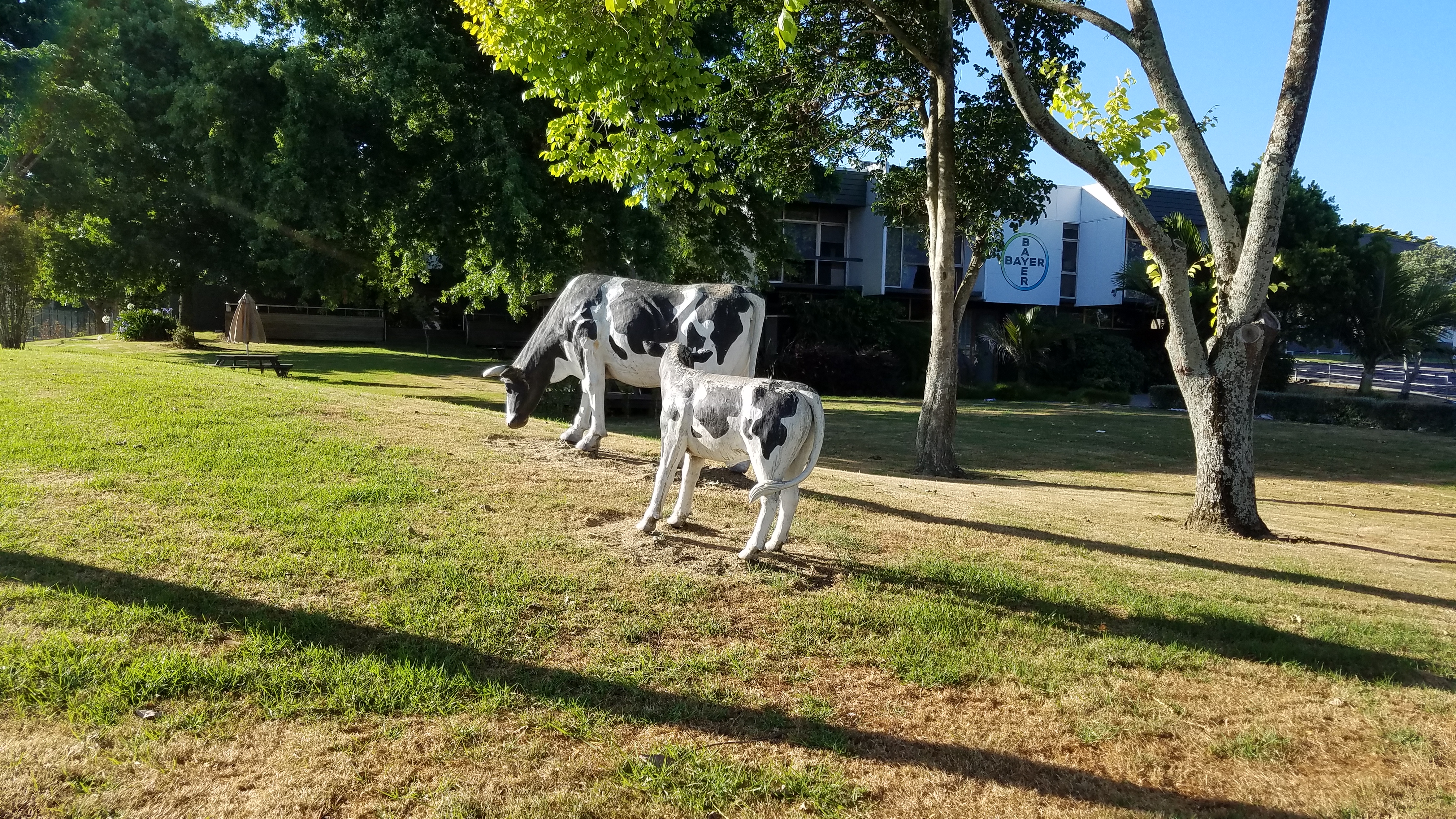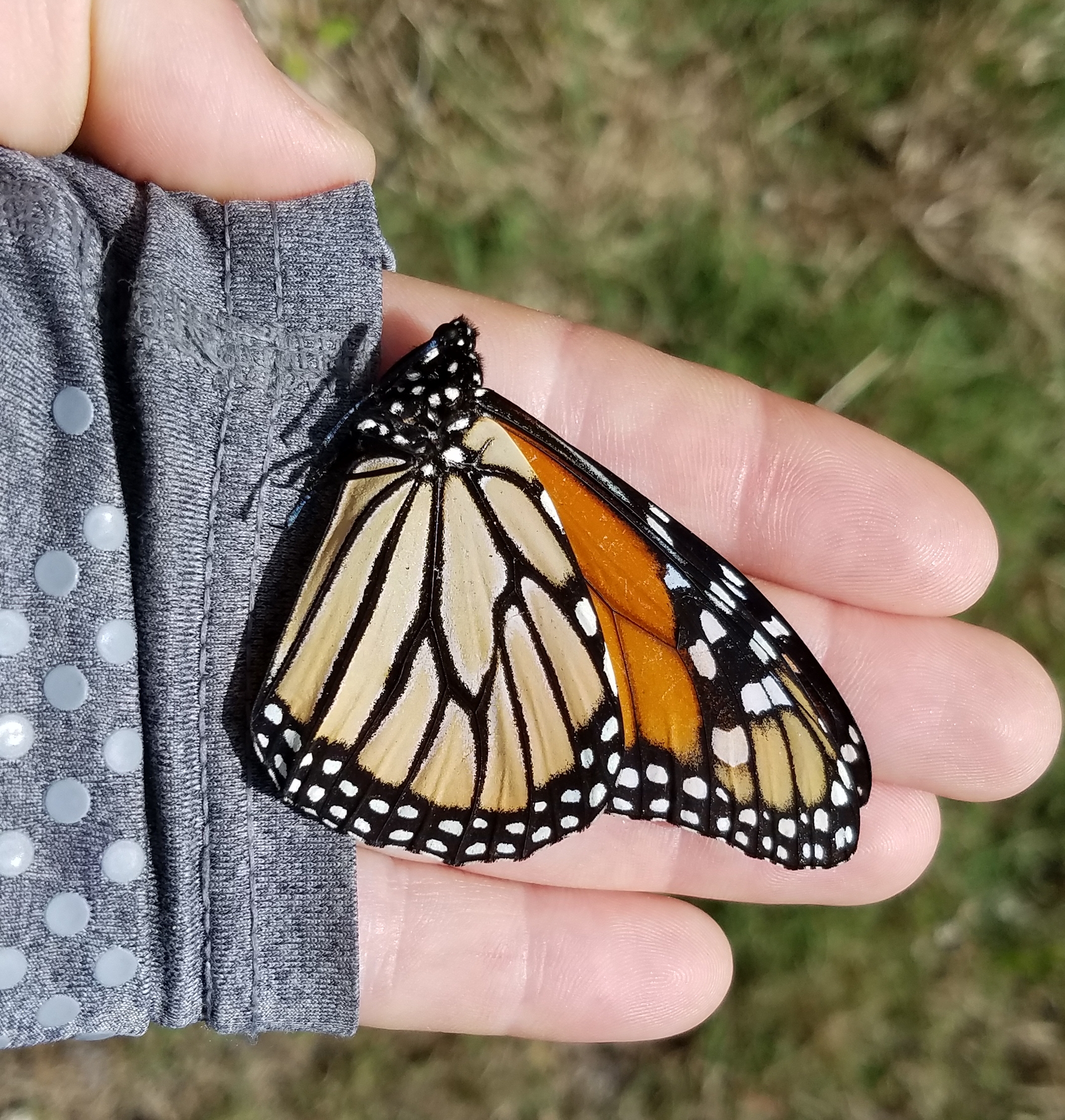 A poor dead monarch butterfly on the side of the road. Still beautiful.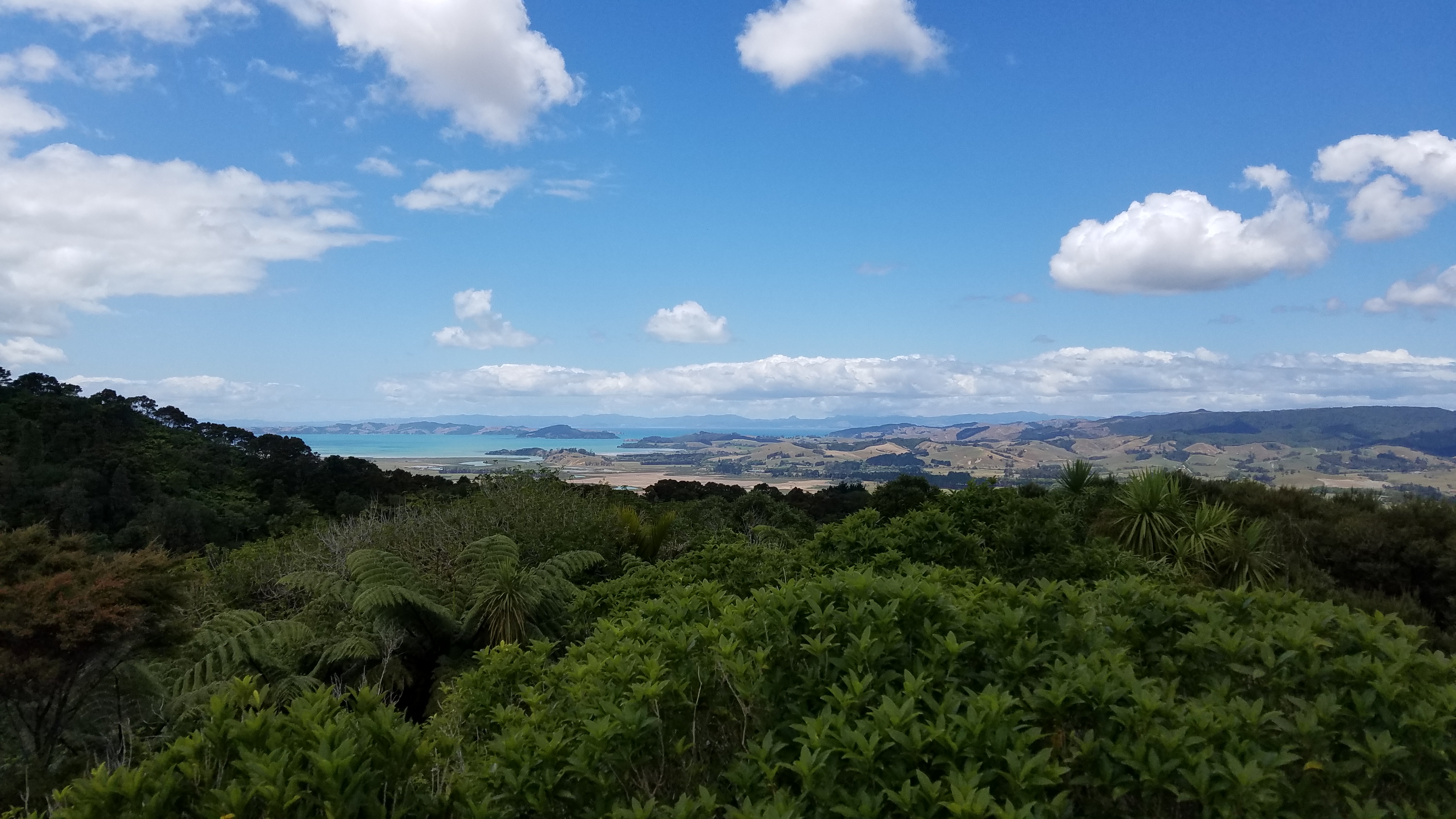 Views out to the Hauraki gulf and Coromandle peninsula.
My plan at that point was to hike through the afternoon, camping somewhere around the Hunua falls. I just wanted to be surrounded by the comfort of nature. Walking down the road towards the start of the track, a guy came out to his fence-line with a glass of water. He had passed me earlier in his truck and wanted to offer something. I had water but my brain was screaming "Stop!" He saw my hesitation but still invited me in to take a load off. I was in such a funk that I kind of just wanted to be alone. On the other hand, being alone on this day was kind of my problem.
So I accepted his kind offer and everything followed from there. I was introduced to the family: grandma Betty, dad Neil (also my father's name), mom Meagan, and 3 adorable young boys Jackson, Johnny, and Will. They are like a walking advertisement for the perfect kiwi family. So beautiful, kind, happy, and healthy. Shortly, Neil's brother Graeme arrived with his wife Tracy and two kids, Jessica and Hunter (another post-card family :). They had come from Palmerston North. Even the family dog Chima was adorable, though because she kept jumping in the pond, she smelled bad and was relegated outside. Dogs sure know how to put on that sad, dejected face. Maybe I looked similar as I was walking by. I kind of smelled bad too.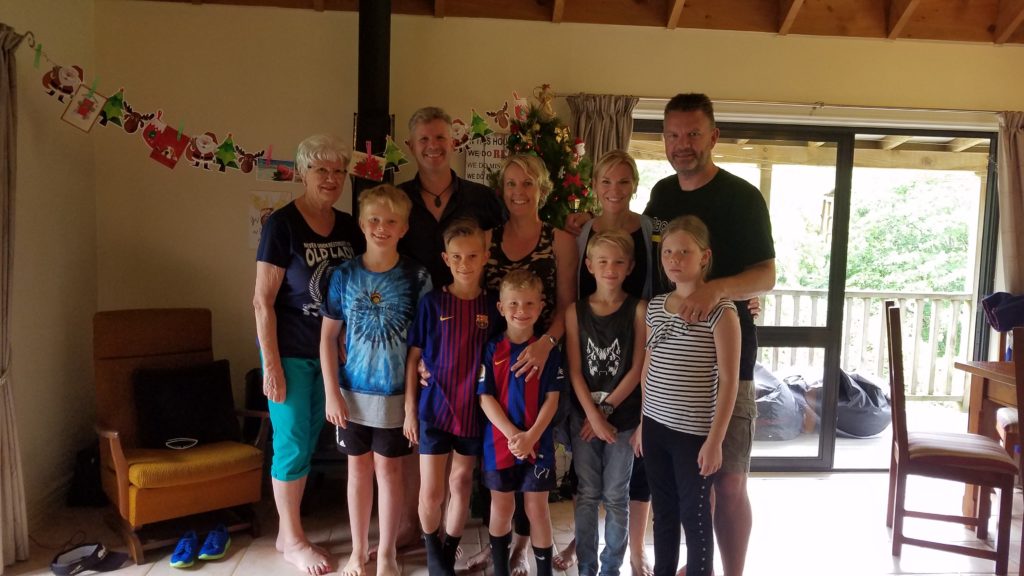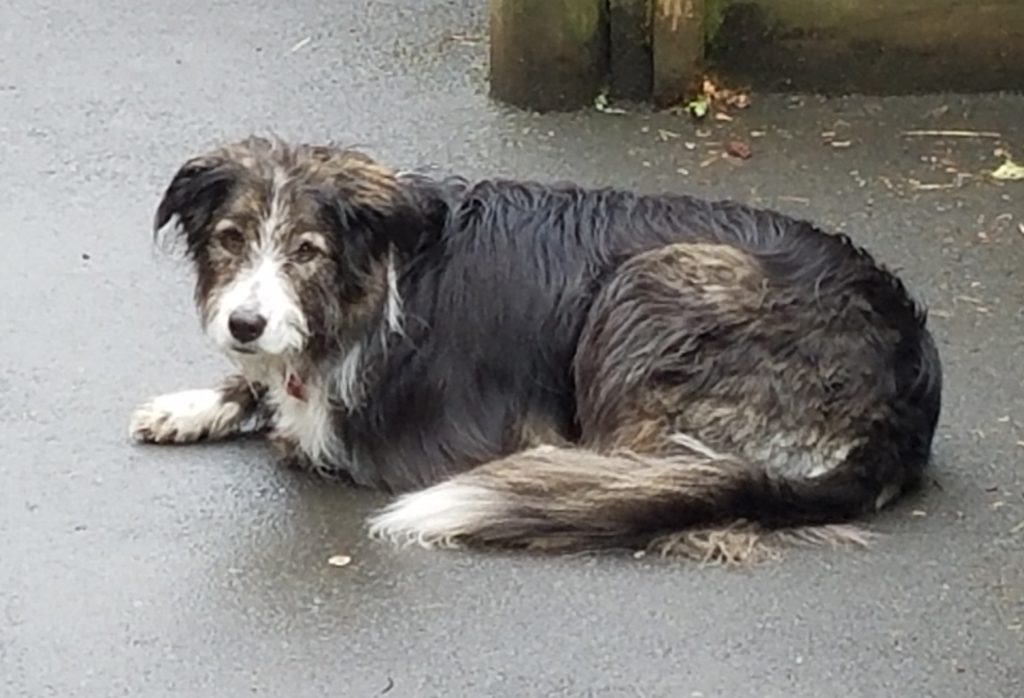 It's always a little weird for a complete stranger to be in the midst of such close relatives but they were so very welcoming. What started as a water stop turned into Christmas dinner and pitching my tent on their lawn, next to a lovely pond. They have hosted other TA walkers, so they are used to this. They are not listed as trail angels in the notes just because they have so many time commitments between the kids and work, but do it as they have time and see the need arise. There are so many wonderful people like this all throughout NZ, as I've already mentioned extensively, but the timing of being hosted by this family was really special to me.
I've been listening to a podcast called Sounds of the Trail, which is all about thru-hiking. It's a great podcast that covers just about everything you ever wanted to know about thru-hiking. A common theme that comes up when hikers are asked 'how has the trail changed you?' is that thru-hiking has restored their faith in humanity. I'm not kidding or being sappy here, this is said over and over again in interviews. I was reflecting on this a lot over the past few day and then this morning happened. But it's like that one very isolated and unusual negative event needed to happen, just to make me more appreciative of all the goodness. As my husband loves to say, there is crap everywhere but likewise, there is kindness in abundance to fill in the voids. Here with this family on Christmas night, there was an overabundance. I am so grateful for them.