July 27th, 2018
Ginnette Lake mm 2293 to mm 2271
Distance: 22 miles
This was another stunning day with a ton of pictures to sort through. This section of trail is one of the highlights of the whole PCT.
Overnight I was woken by a Barred Owl, which I thought at first was a coyote howling. Then I was woken by the sounds of someone packing up at 0430. Wow, my friends wake up early! Since I was awake, I packed up and hit the trail by 0530, my earliest start yet.
I covered a lot ground by 9 am and was shortly back in the high country. Once again, green meadows and snow fields dominated the landscape. I stopped at a fresh-melt stream to collect water and talk to a group of 6 guys from Portland, out for the weekend. They kindly offered me some food but I had enough at the time. People always want to feed me:)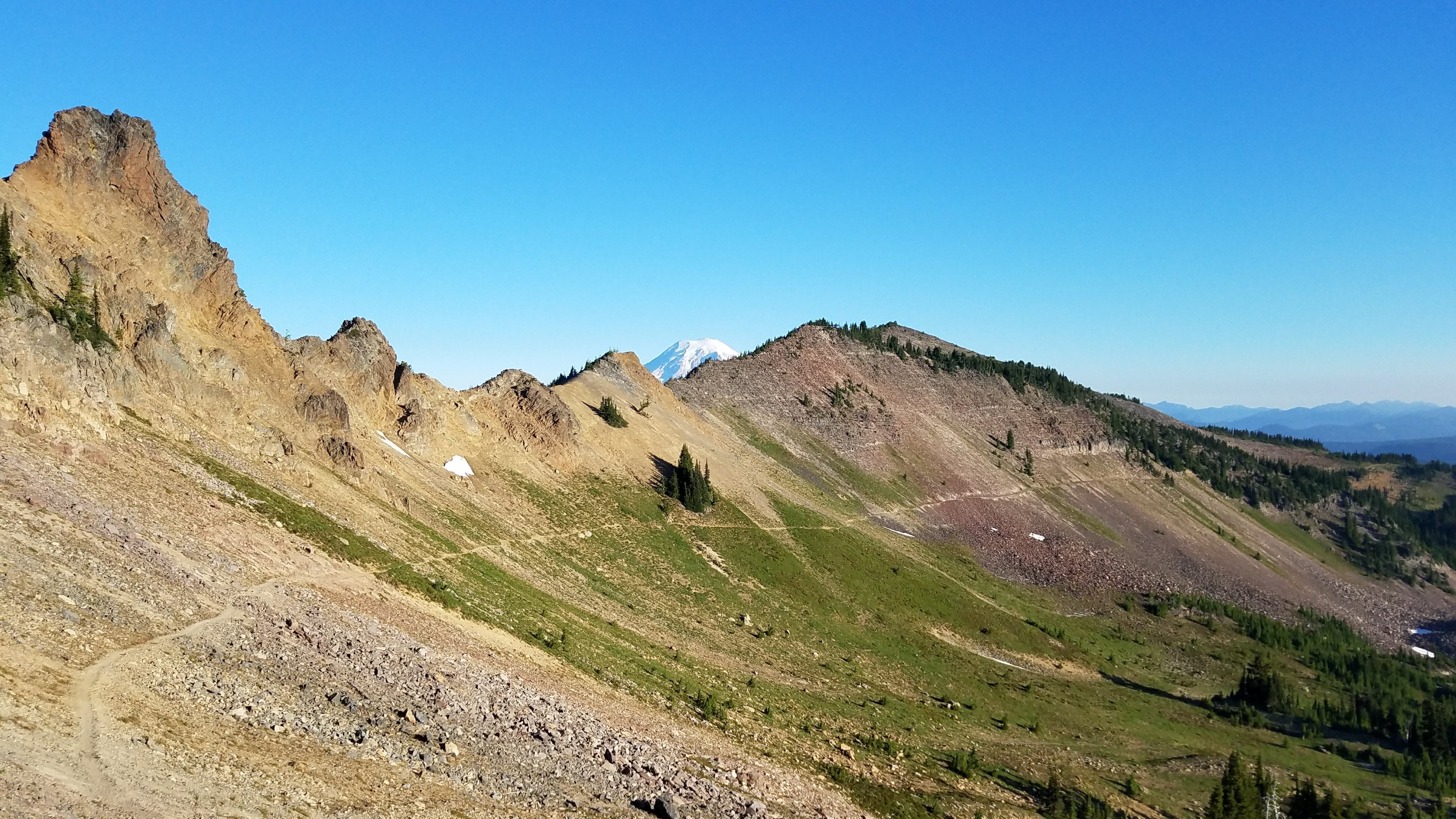 I continued on just behind Skybird and Spatz, climbing steeply for awhile and then rounding a corner to see the trail stretching on for miles. There was a lot of that today. Whoever built this trail had some great imagination and a fondness for views.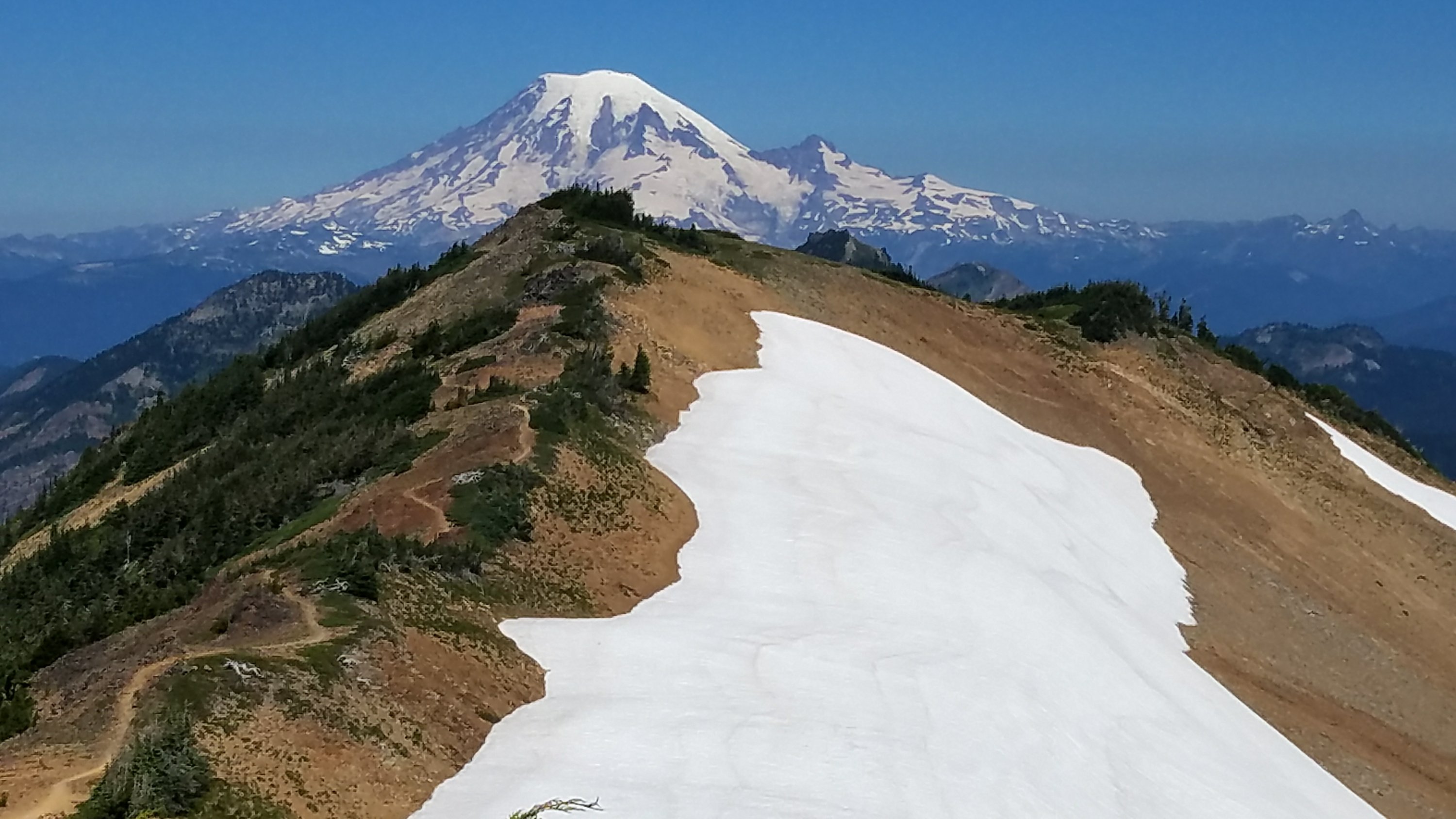 The 3 volcanoes (Rainier, Adams, and St Helens) dominated the background all day but the foreground demanded a lot of attention. The trail was wide but with many rocks and steep sides! The heights didn't bother me but I can see how the trail might be terrifying in bad weather. My main problem was that I couldn't stop taking pictures and video.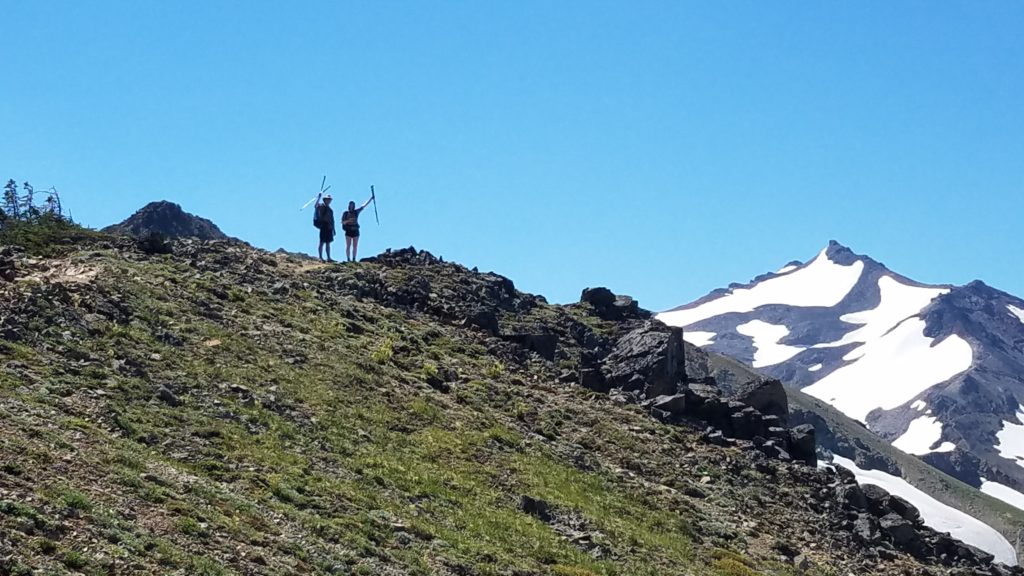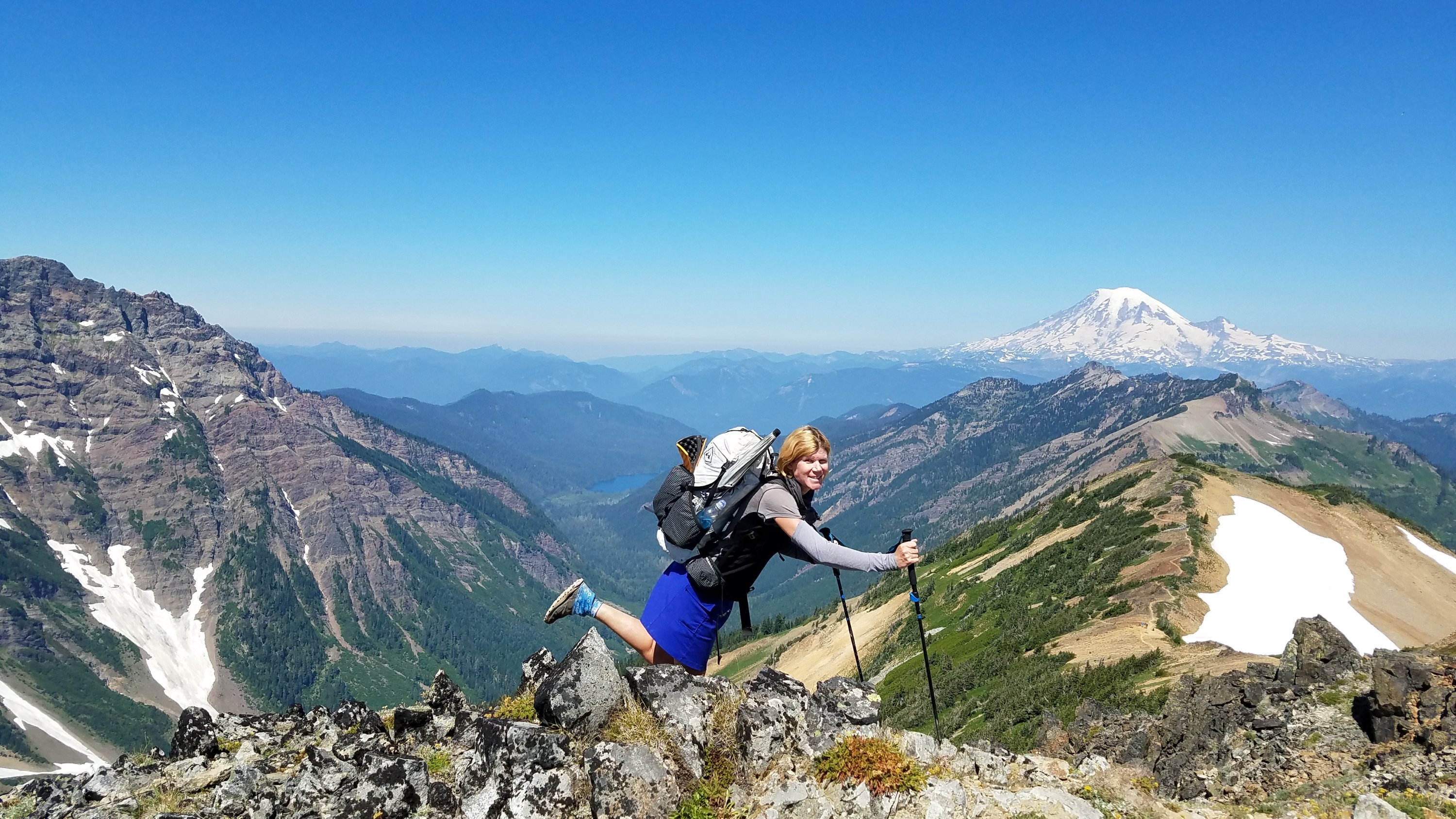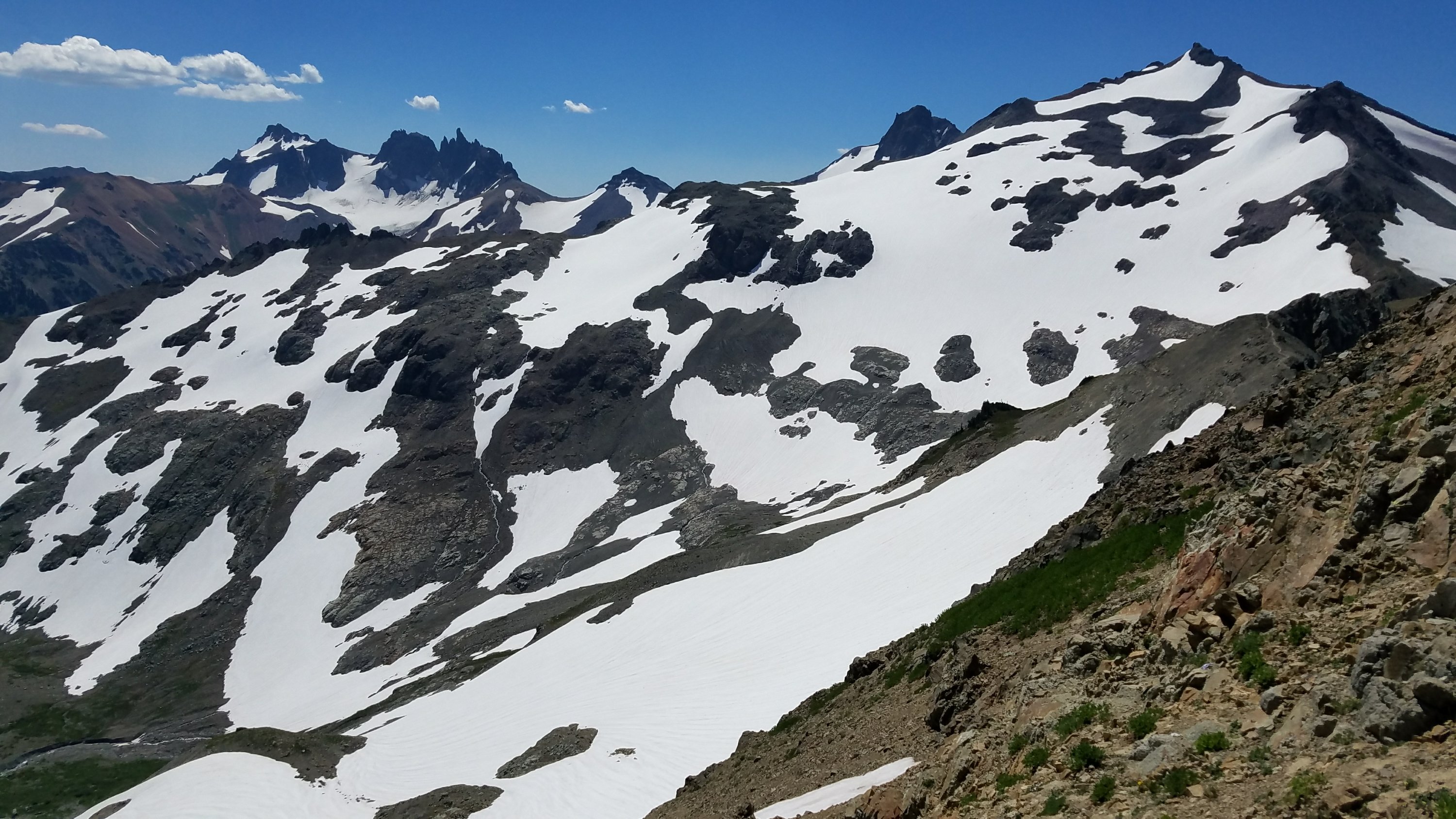 We sat down to have a lunch break. Given the early start, there was plenty of time to hang out. We talked to a girl that was coming down from the top of Old Snowy Mountain, around 8000′. The alternate trail also went over the part that's nicknamed the 'knife-edge.' We were going to skip the alternate but after talking to the girl, I had to do it. The weather was perfect (for like the 3rd week in a row) and it was early still. The others decided to continue on the main route.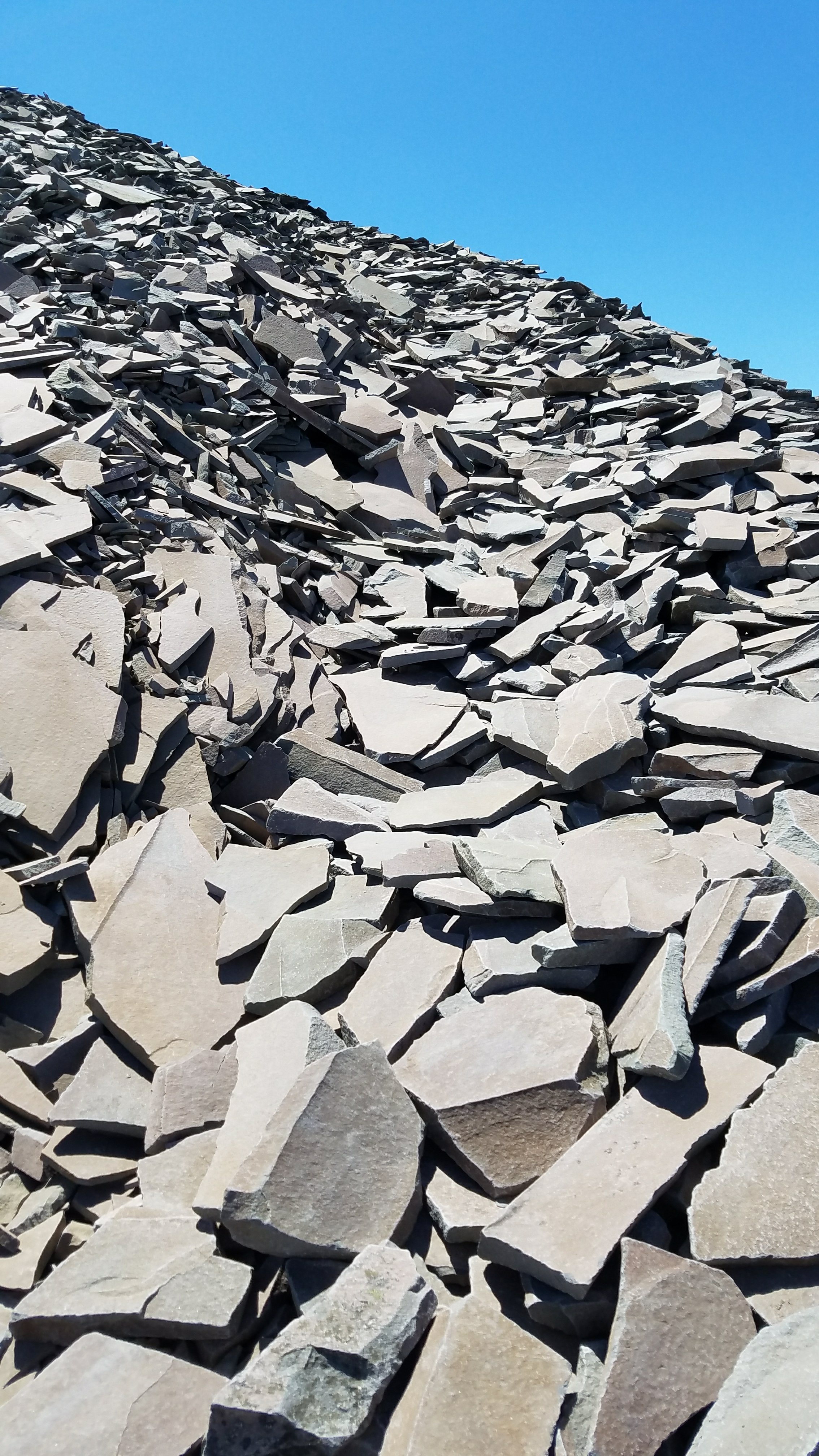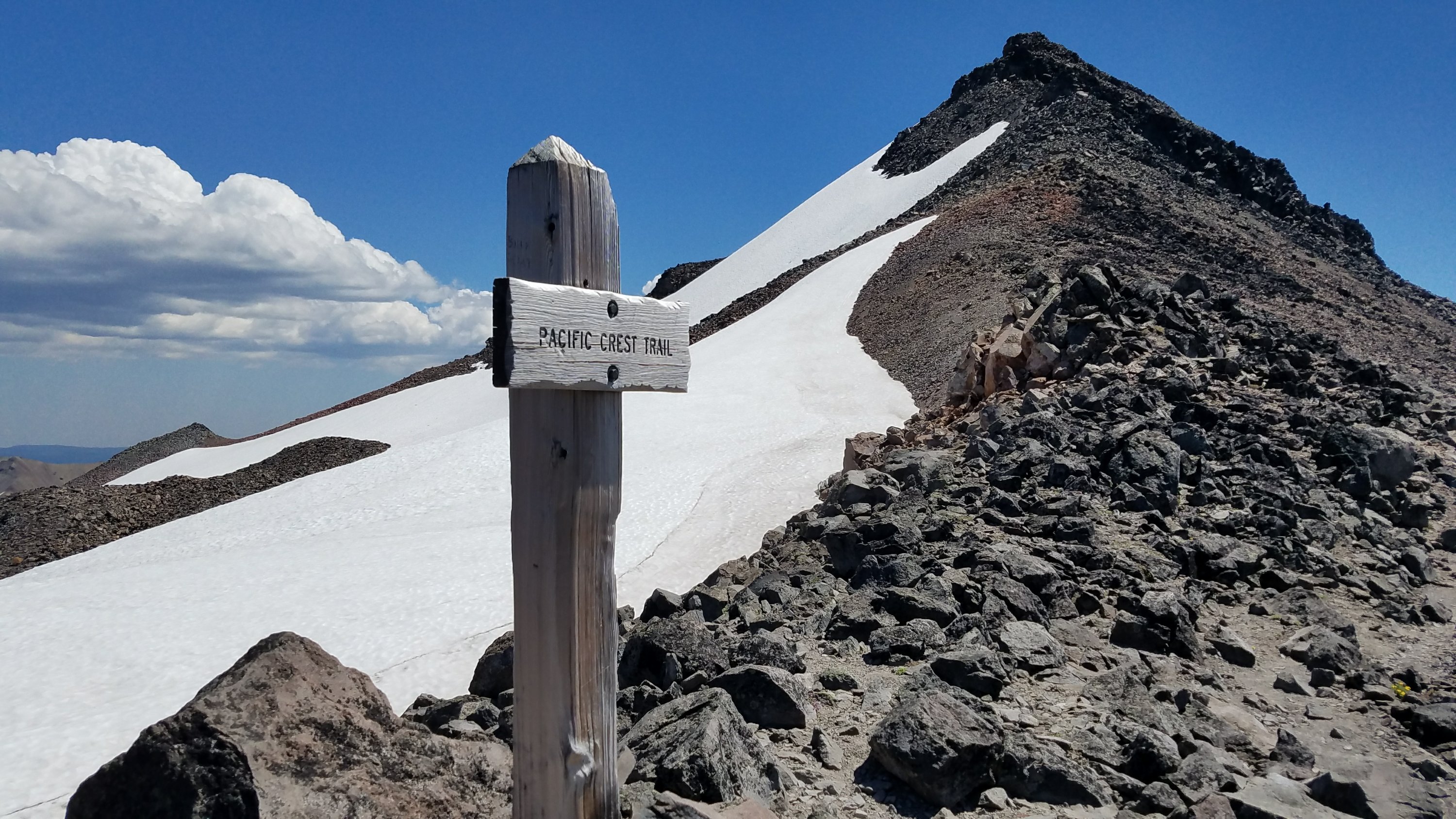 I huffed and puffed my way up, stepping over shale that sounded like glass clinking and also a lot of volcanic rocks. It's clear that this area is of volcanic origin, as well. I passed a NOBO on the knife-edge and he was kind enough to point out all the mountain goats on the snow below. They stood out just barely and there were about 20. Goats in Goat Rocks, just perfect!
I dropped my pack at the saddle so that I'd have an easier time of peak-bagging Old Snowy. A bit of rock scrambling brought me to the top and highest point yet in WA state. The views were stupendous and the clouds made it look like Adams was venting. Other clouds were forming near me and looked like they might produce some rain later. Imagine that! In Colorado, I would have been quite nervous about thunderstorms but here it was a very distant thought.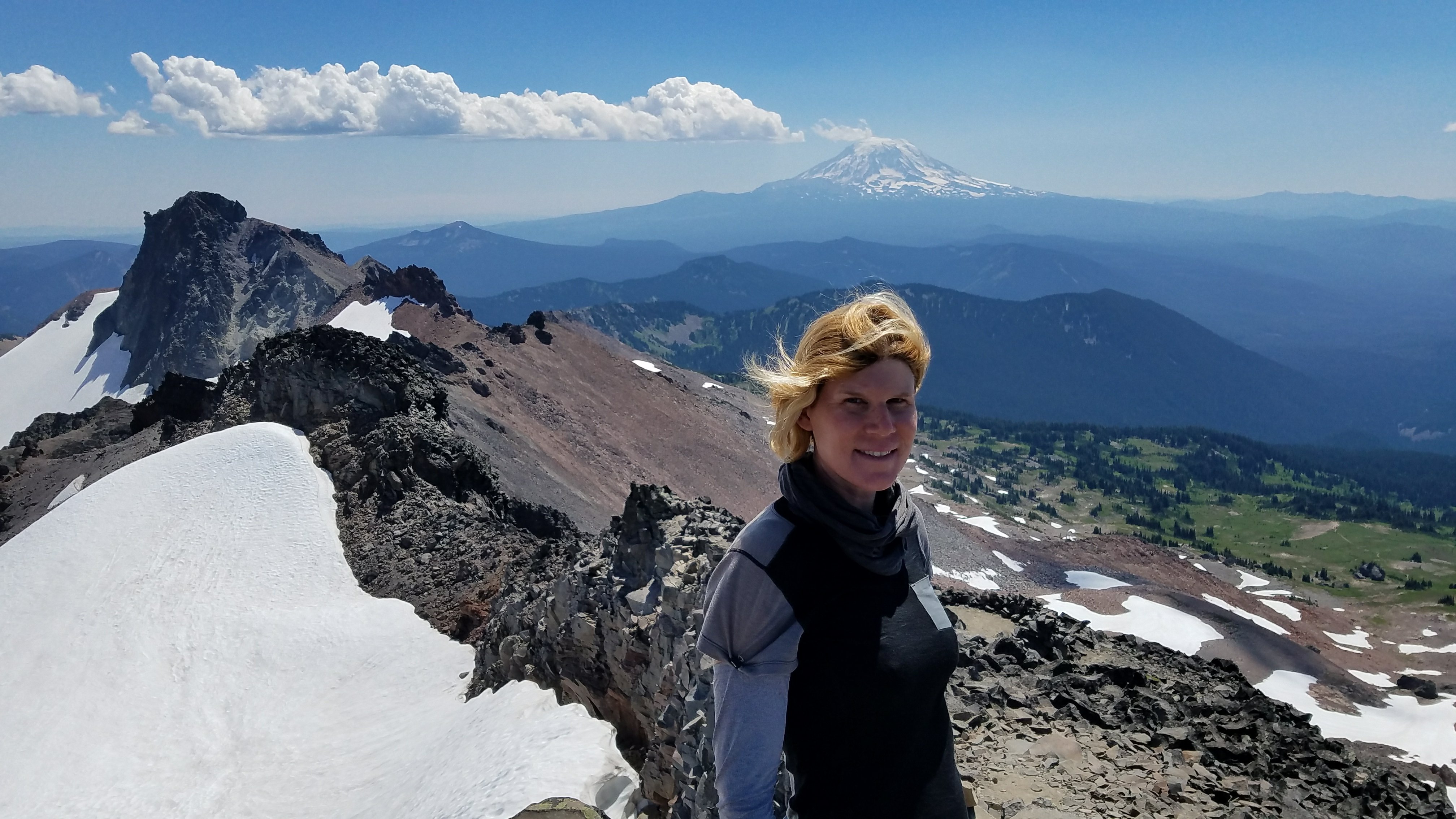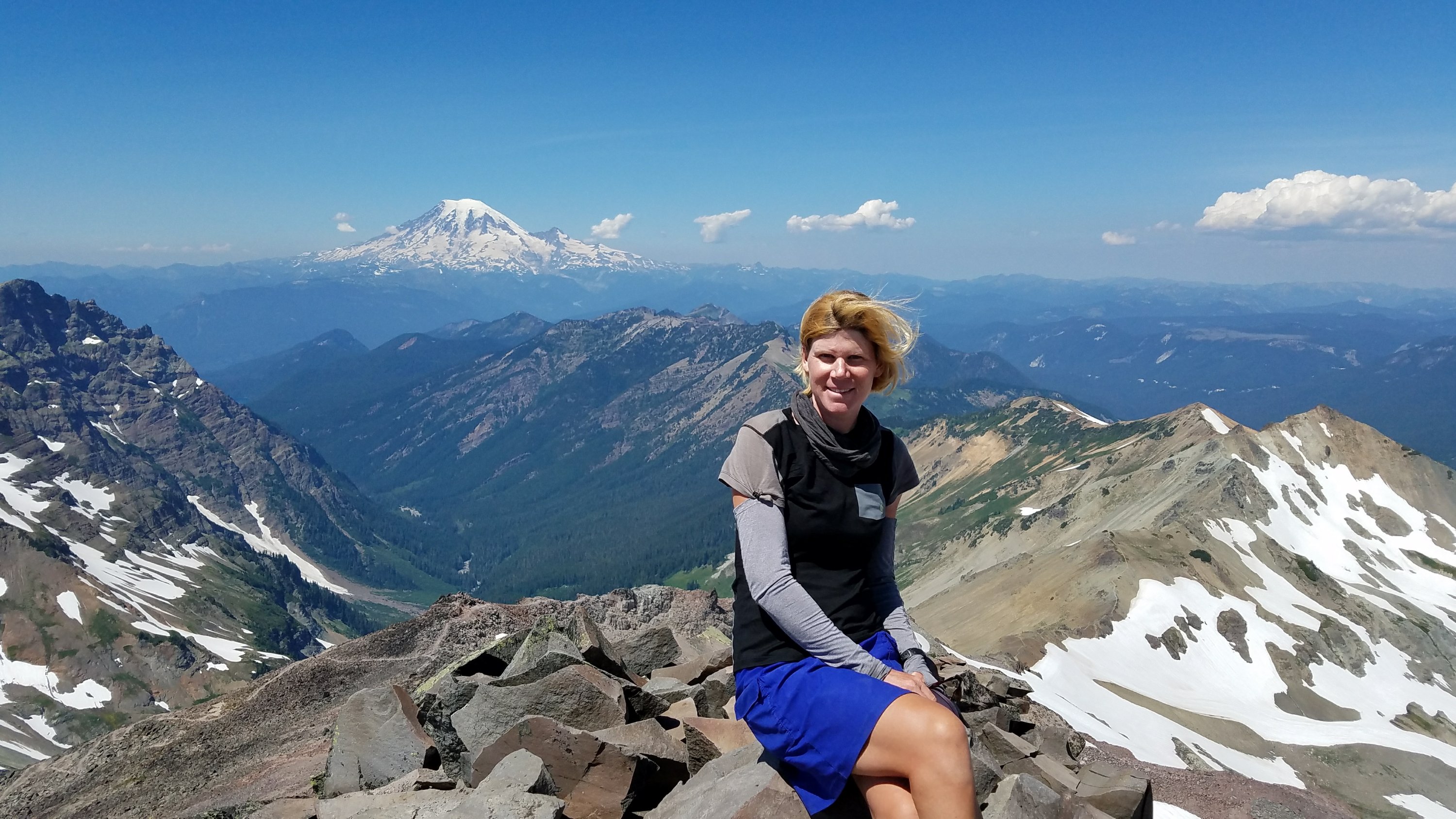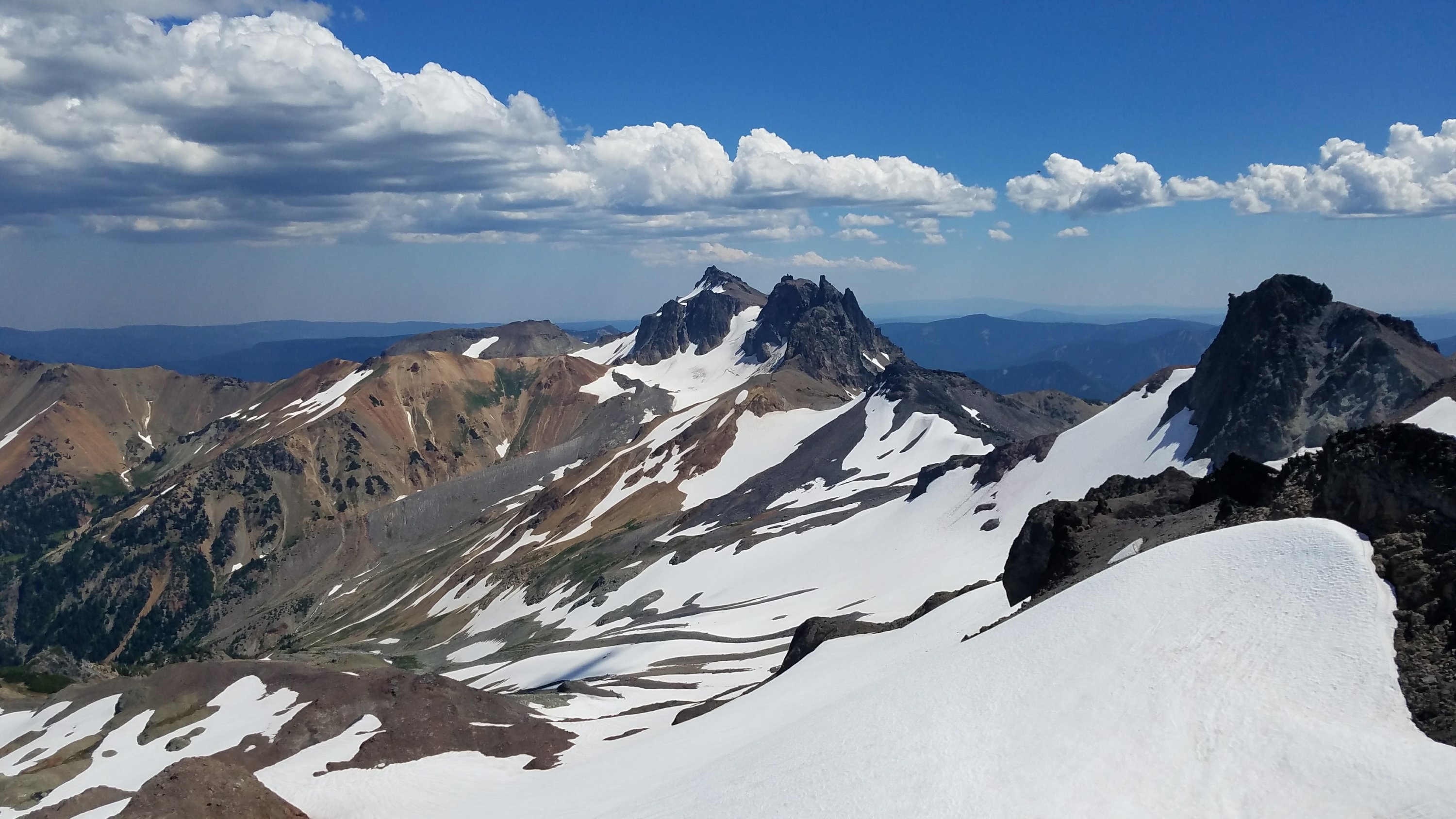 I had the peak all to myself for about 10 minutes. Then I was joined by a father and son and also a SOBO named Barefoot Kid (thank goodness he wasn't barefoot at the time, given all the sharp volcanic rocks). It was good to have others to take pictures.
The Kid and I started back down and I learned that he is only 17! Yes, he's doing the whole trail by himself. I did the boring adult thing and asked him what his parents think and of course they worry for him but also support his efforts. They make him carry a Spot GPS…sound familiar? Some things don't change no matter how old you are.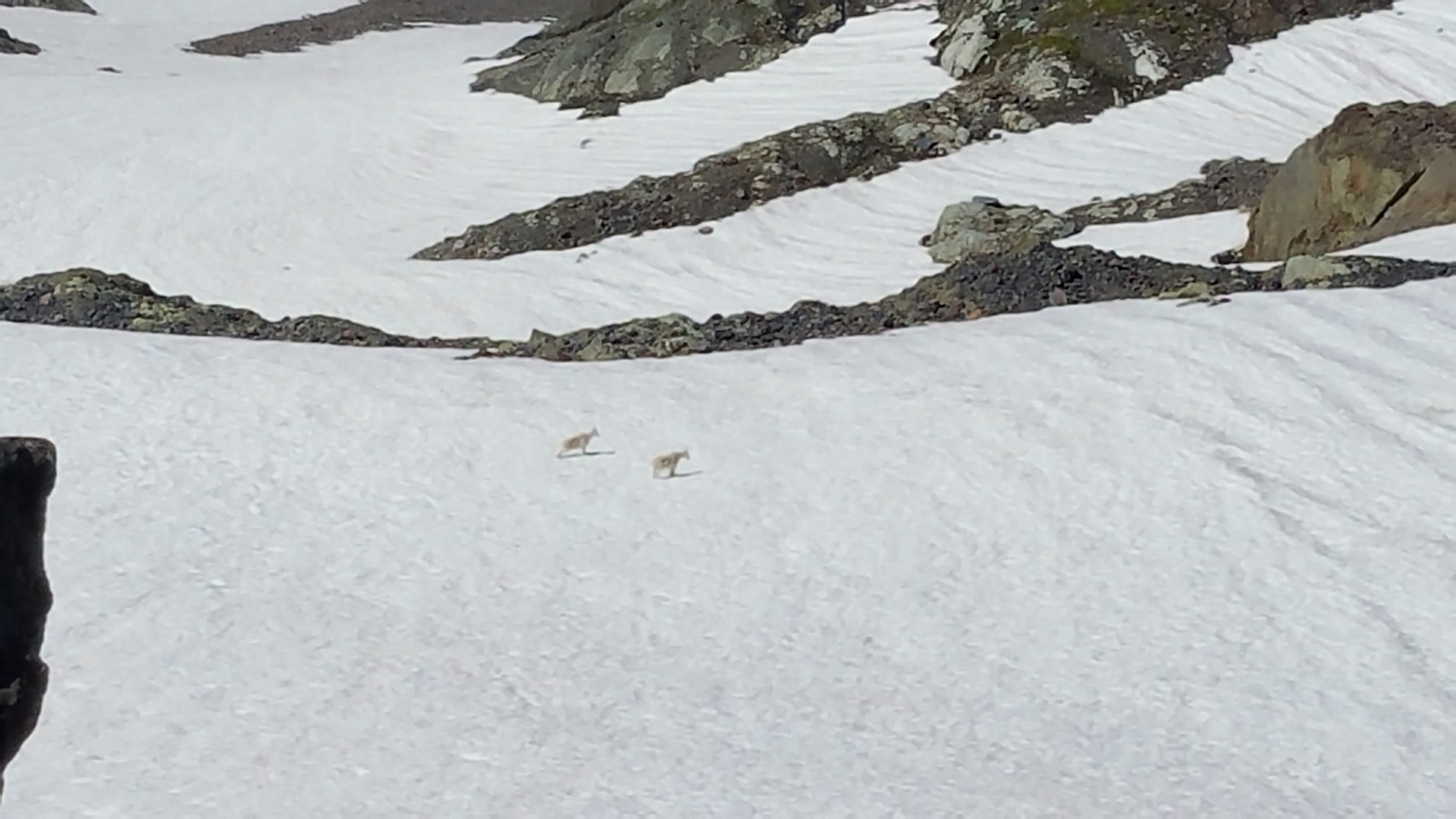 We got back on the main PCT and were further mesmerized by some goats walking around on the snow. A large crowd had formed…suddenly there were people everywhere and I realized it was a Friday. Flocks were coming up to enjoy the good weather…and feed the mossies.
I walked another few miles looking for the campsite that my group had planned on. I tanked up my water supplies at the Cispus River, anticipating the campsite to be coming up soon. But I never saw them. I walked over Cispus Pass and then to another ridge.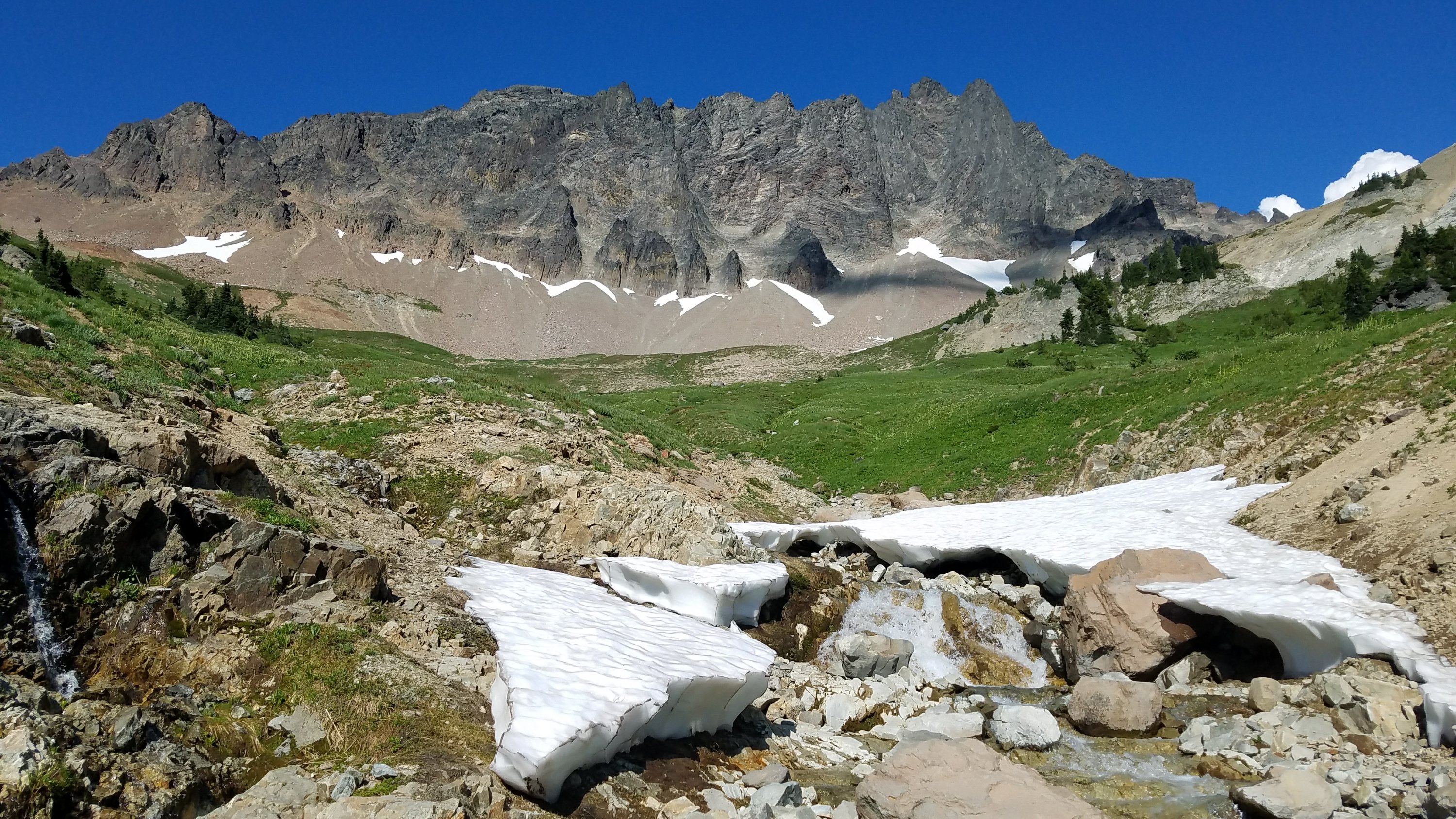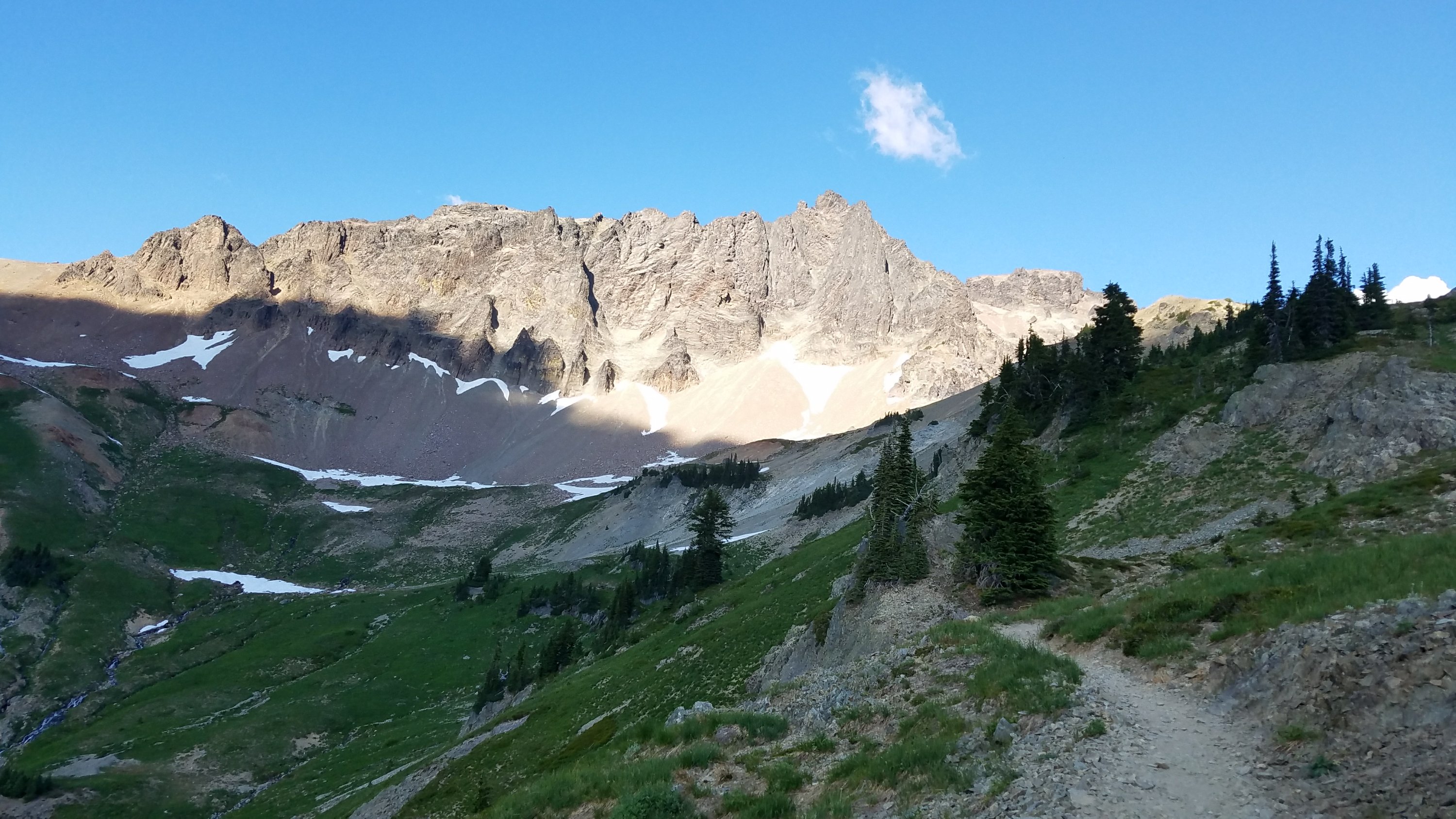 The trail was going down, back into the forest from there and I didn't want to keep walking into the bugs. So I found a great spot on the ridge and settled in. Another night solo…it seems to be what I keep defaulting to, but that's ok. I'm very self-sufficient…I got a lot of practice as an only child.
There were unfortunately some bugs on the ridge, so I still had to hang out in my tent. But at least I was able to stretch and enjoy the evening colors for a bit outside. It was another amazing day.