July 28th, 2018
Mm 2271 to Killen Creek mm 2244.5
Distance: 26.5 miles
Today was decidedly not the exciting day that the previous day was. I took only 4 pictures and walked the long distance by 4 pm. There was lots of buggy forest and even a flat section that reminded me of the Florida Trail through Ocala. But the day ended well at a waterfall with friends, so it was still a good day.
It was a beautiful morning. I woke several times in the night due to the full moon shining on my tent. I kept thinking that it was dawn. It was also so very quiet. The only sound I could hear was a distant stream coming off the face of the mountain opposite the valley. A warm breeze blew all night, so it was quite comfortable up high.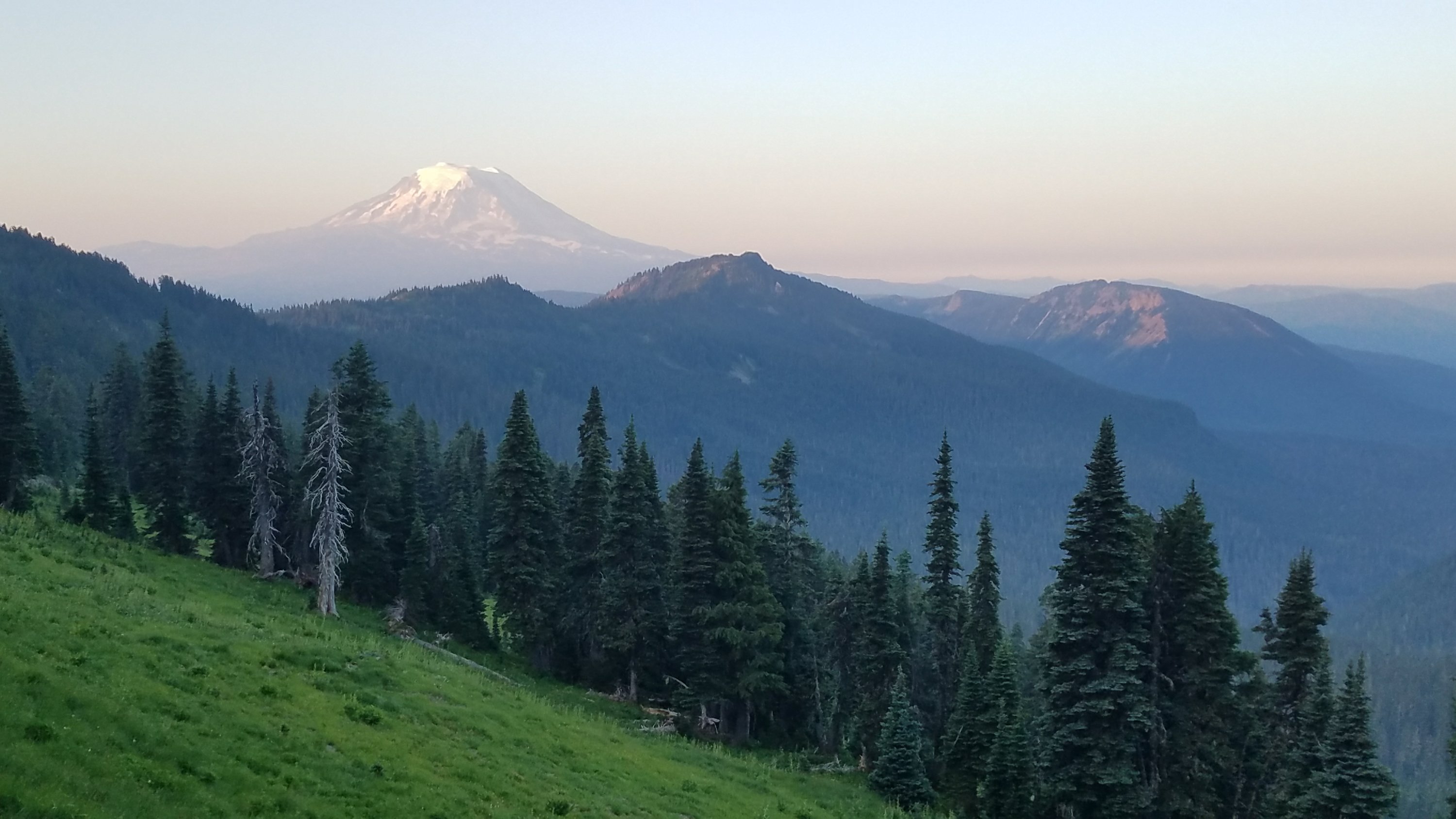 There were good views of Mt Adams and the moonset as I descended down from my ridge. I was on the trail by 6 am and met a NOBO a few minutes in, who informed me that there were 2 ahead of me. I figured they must be Skybird and Spatz and sure enough, I came across the latter at a stream not much later.
They had camped at the planned location the night before but because they didn't set up their tents until later, I had walked right past them. It all worked out fine, as I was really happy with my camp spot.
Later, I caught up to Skybird and the miles passed quickly while we chatted. All the NOBOs warned us of the horrible mosquitoes coming up and yes they were bad, but the stretch wasn't as long as the one before White Pass. I put on my rain jacket and head net for awhile. For lunch, I used my rain skirt to cover my legs.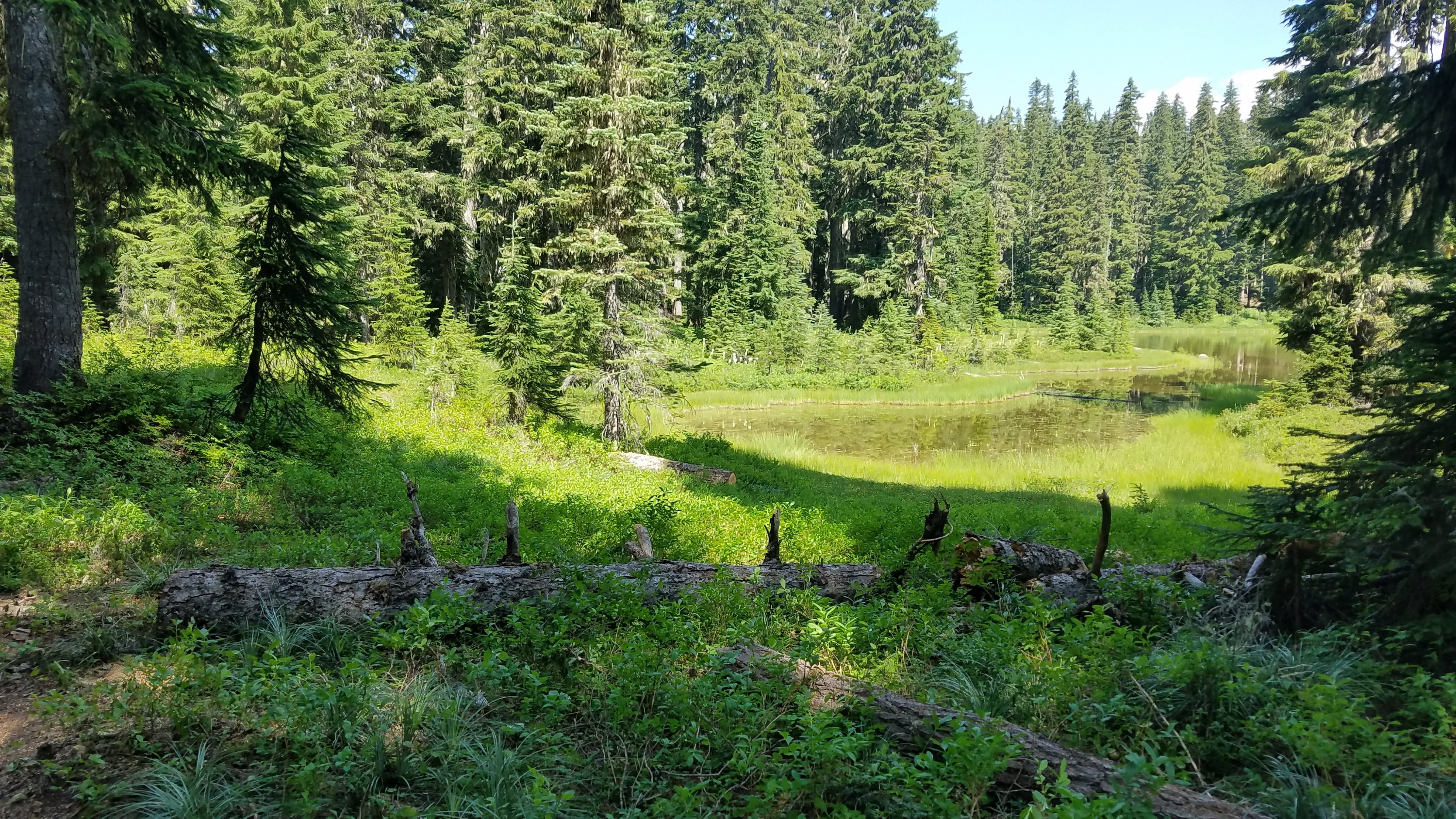 At one point, we passed a guy that looked familiar. Later I learned from Spatz that it was 'Darwin on the Trail', a gear reviewer and thru-hiker that is semi-famous for his YouTube videos. Spatz watched most of his videos in deciding what gear to buy for the PCT, so he was quite excited to meet him in person. I've even watched some of his videos. He is one of those well-known thru-hikers we call Trailebrities.
In the afternoon, we entered a drier section that was hot, flat, sandy and straight. Suddenly, I felt like I was back in Ocala hiking the Florida Trail in September. Actually, it was nowhere near as hot as FL. I ran into the Strawbridge family again and we all agreed that at least it was not Florida-hot. But the bugs were definitely as bad in some spots.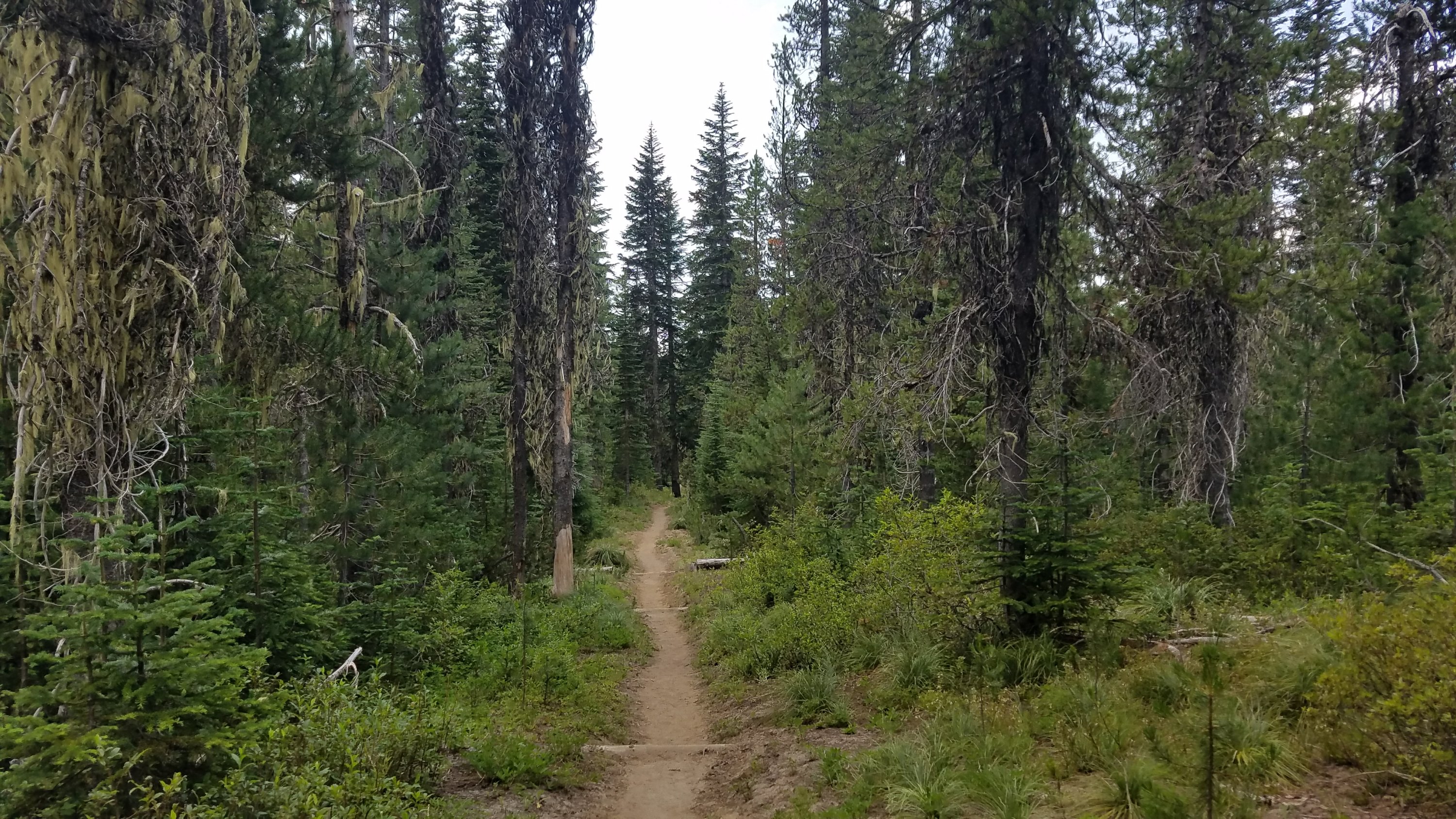 I stopped to collect water at a place named lava creek and sure enough, there was a large lava field for about a mile and a cold spring coming right out of it. We don't have that in Florida! The trail skirts the western side of Adams, so we were finally getting close.
After the creek was a 5 mile slog uphill. The trail wasn't steep but the deep sand made it hard. It was so dry and dusty, with lots of horse poop to add to the displeasure. And did I mention the flies? The mossies were replaced by what appeared to be regular house flies but they occasionally bit, too. They were swarming around me like crazy, to the point that I felt like Pig Pen, the Peanuts character.
We stopped for the day at a creek with a beautiful meadow and view of Adams. The peak looked so close. Thunderstorms had been forming on its flanks all day but never reached us. At least we got a little shade from the clouds.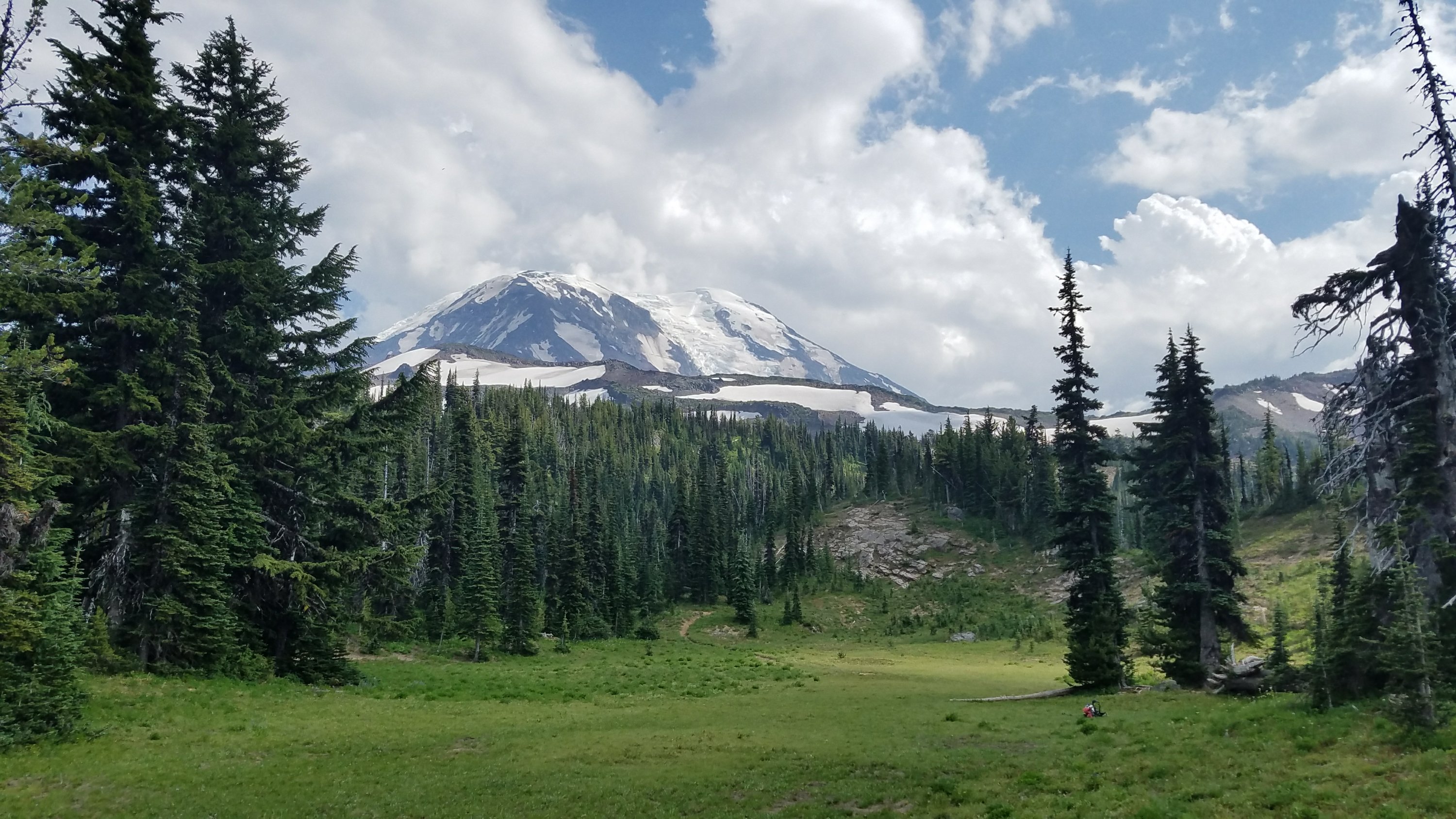 The campsite had a gorgeous little waterfall, which we all washed off under. The water was so cold but felt great after the heat and dust of the day. We were happy to get this stretch over. Taylor, Spatz, Skybird and I were all reunited again at this campsite and spent a wonderful evening sharing stories.
Here's another picture from the day before, just because there were so many.