October 20th, 2018
Mm 253 to Whitewater Preserve mm 218.5
Distance: 34.5 miles plus .5 mile to preserve.
0630 – 1800
I set a new record for distance hiked in one day, but only by half a mile. I have done several 34 and 34.5 mile days but today I finally got to 35. I pushed hard to make it to a conservation preserve and it was totally worth it…more about that later.
It was cold, as usual, in the morning. I could feel that the ground was frozen in places. Mt Gorgonio caught the morning sun and showed off its snow cap beautifully. I got nice views looking back at the Angeles forest / mountains and forward to the desert valleys I would be descending into all day.
There were a few short climbs but it was mostly downhill through Mission Creek Canyon, then over to Whitewater creek canyon. I went from 8700′ in elevation all the way down to 2300′ and let me tell you what a difference that makes, namely in temperature. I went from wearing all my layers to sweating in my t-shirt. But I'm not complaining about the heat. It was a welcomed change. This last section of the trail is all about extremes.
I met a few friendly hunters early on, offering me water and a cliff bar. I was good though (where were all these people when I was running out of food in the Sierra?). Around lunchtime, I caught up to a SOBO couple from Montreal, Captain Fantastic and Scamper. They had started the trail June 26th. I chatted briefly and pressed on, dreaming of the Oasis that awaited at the end of the day.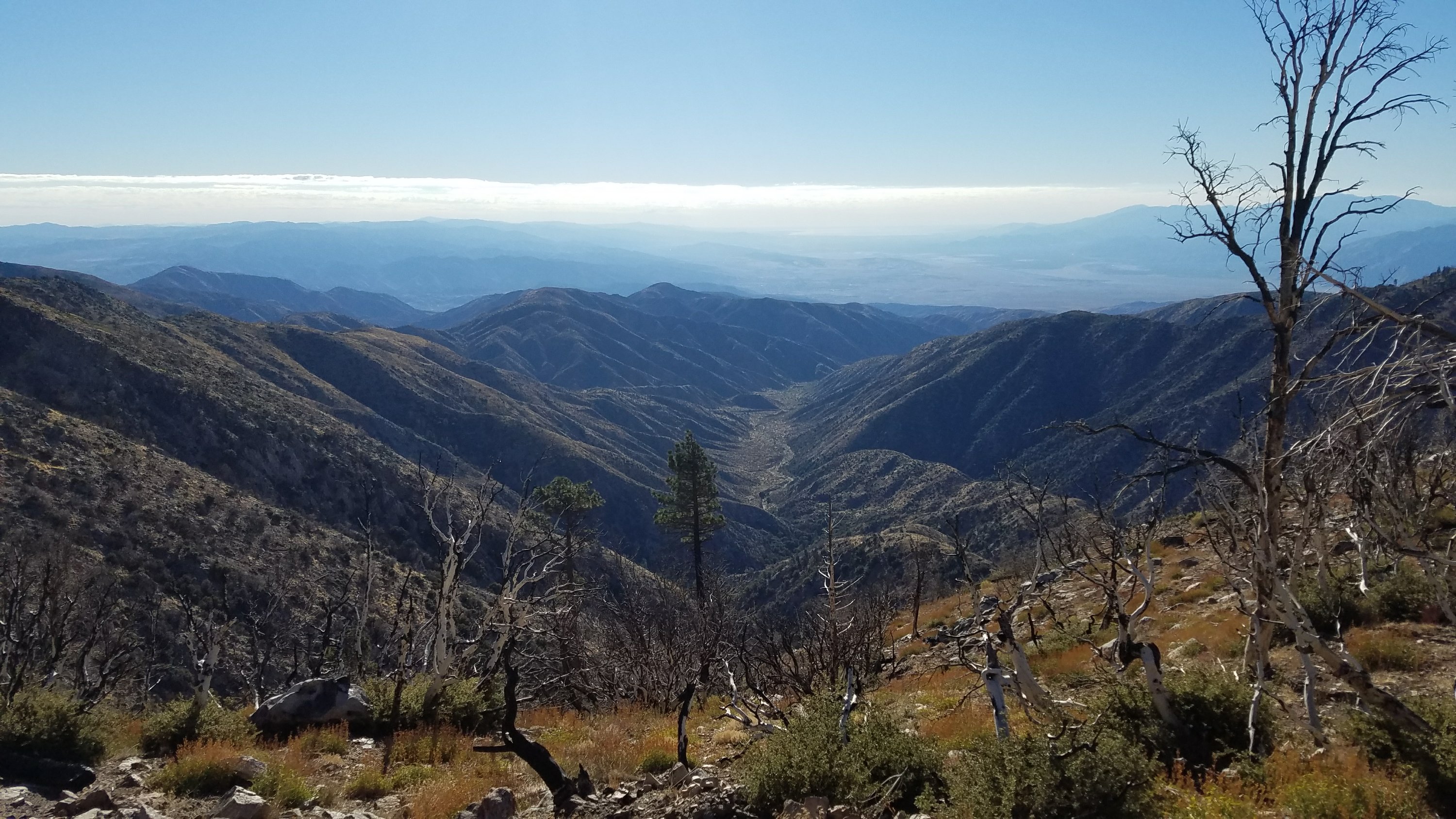 Looking down at Mission Creek Canyon
Travel down the creek and canyon was pleasant, except for when the trail was hard to find where it crossed the creek multiple times. There was sometimes a lot of vegetation to push through or the trail was washed away. When I came to where the trail climbed out of the canyon over to the next, I was disturbed to hear a lot of gunshots. About half a mile further, some guys were apparently target practicing. I wasn't sure in which direction they were firing so I yelled and blew my whistle, hoping they would hear and see me. I have also been strapping my orange rain jacket to the top of my pack when I'm not wearing it, so as to be very visible. They went on firing despite my efforts so I just kept walking to get away from the area.
I haven't encountered any rattlesnakes yet but I did find this little beauty: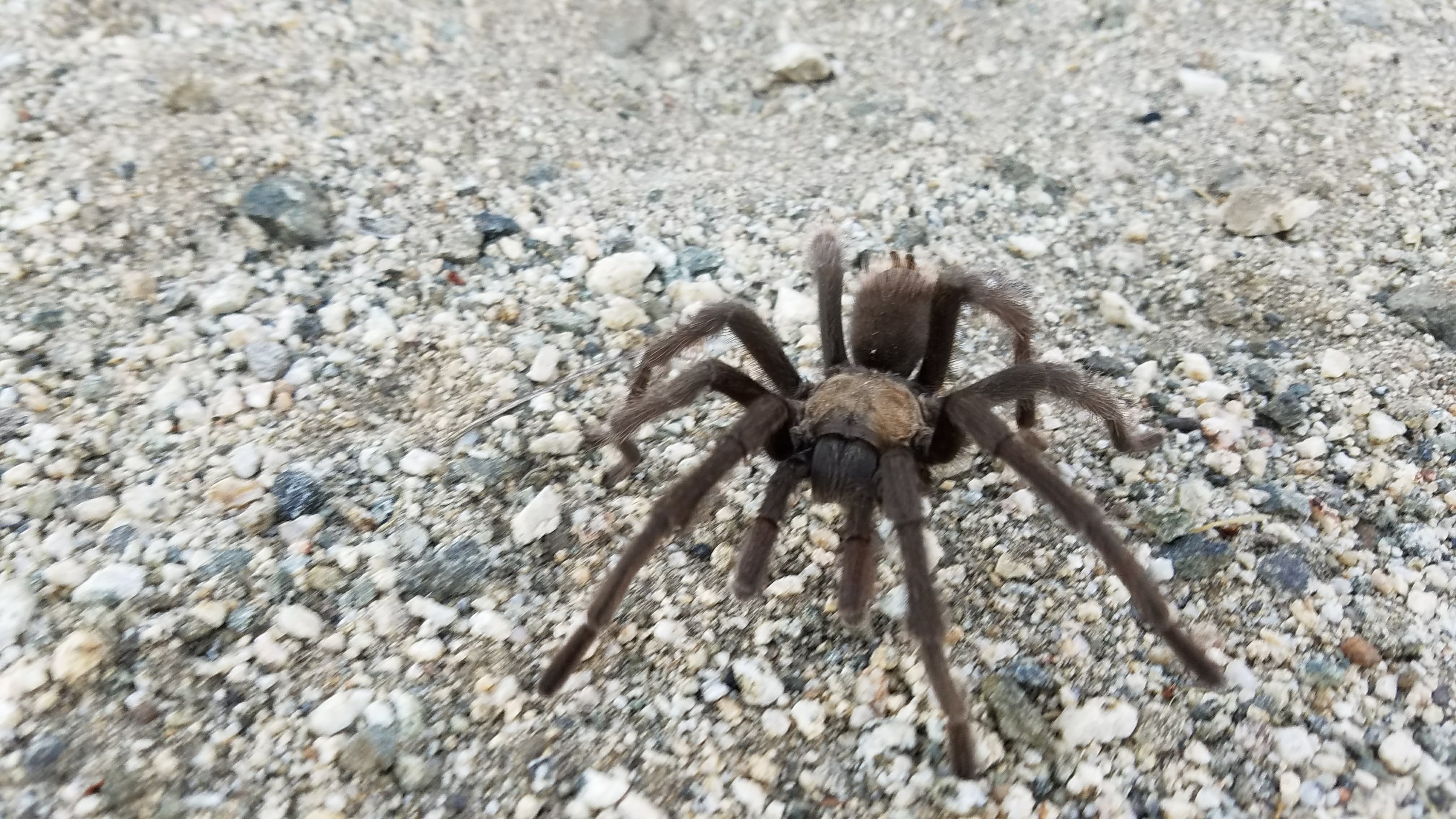 Tarantulas are very cool but I didn't try to catch it. I also saw lots of hawks and a few rabbits.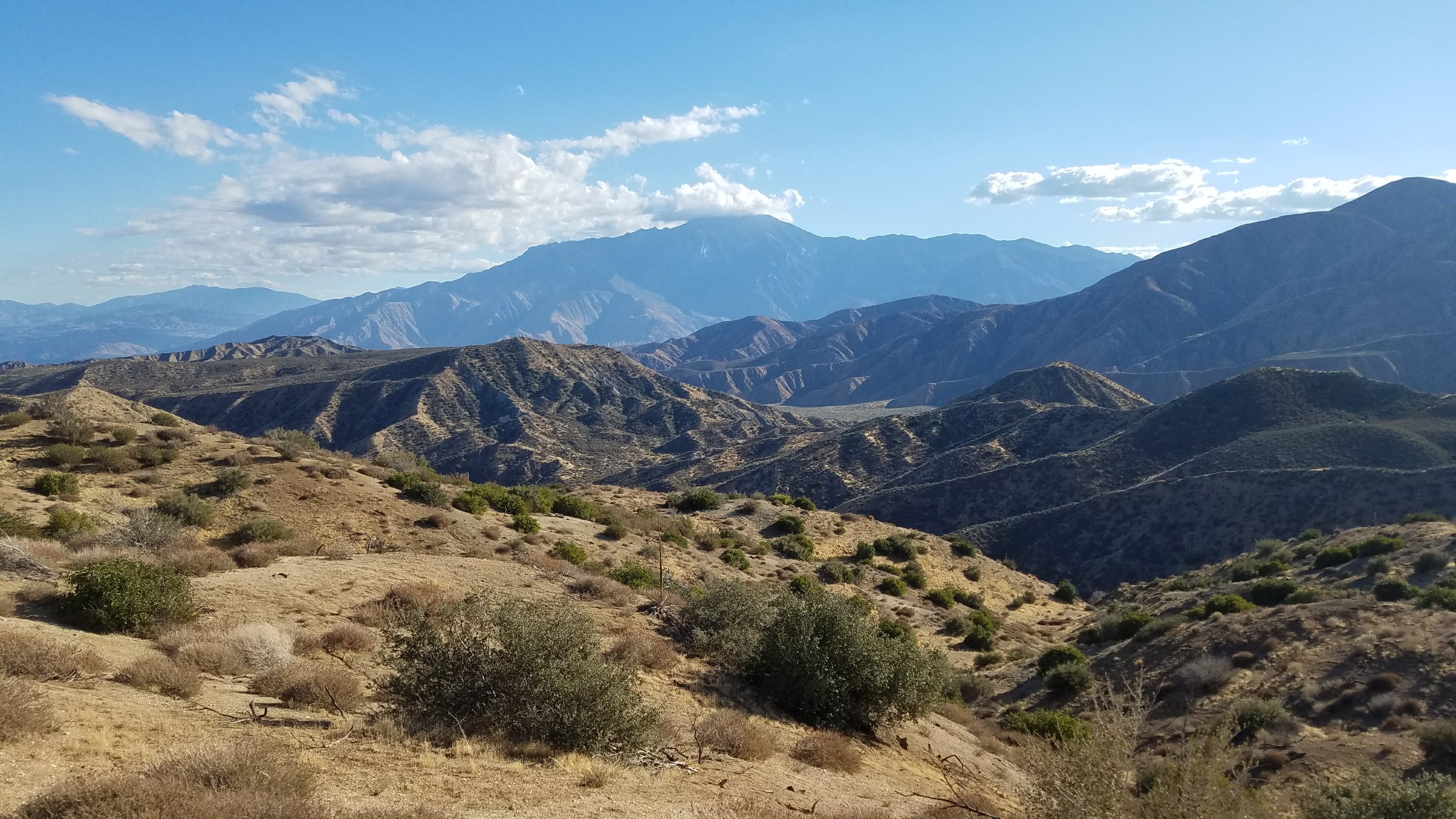 Looking ahead to Mt Jacinto and the ridge I would have to climb the next day.
I was happy to drop down into whitewater canyon and see the cottonwoods of the the preserve in the distance. I got there just at dusk and was greeted by one of the rangers, Lucas. He was so welcoming and told me all about the place. The facilities were originally a fish hatchery but the Wildlands Conservancy bought the property and surrounding parcels of land to turn it into a preserve.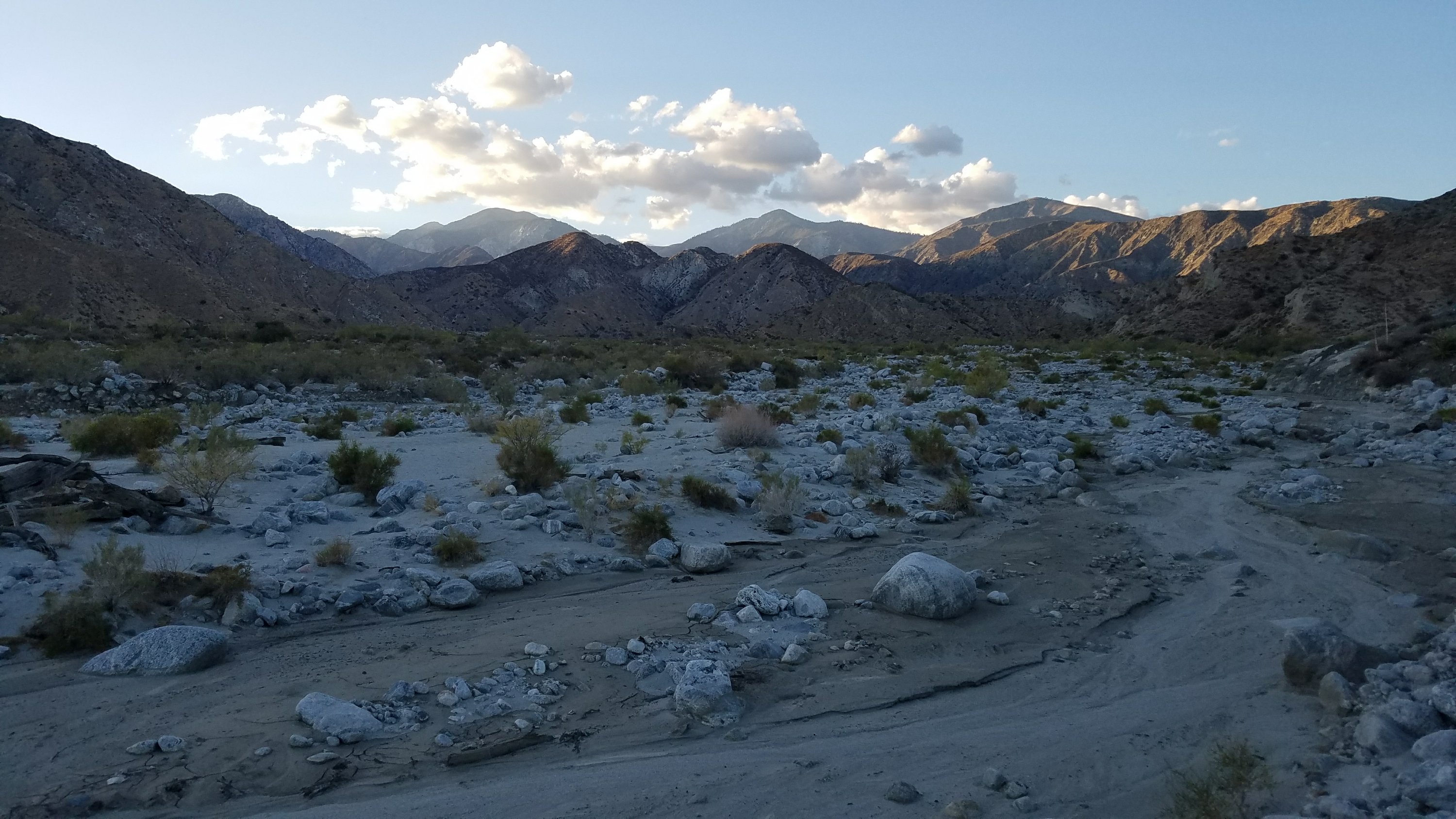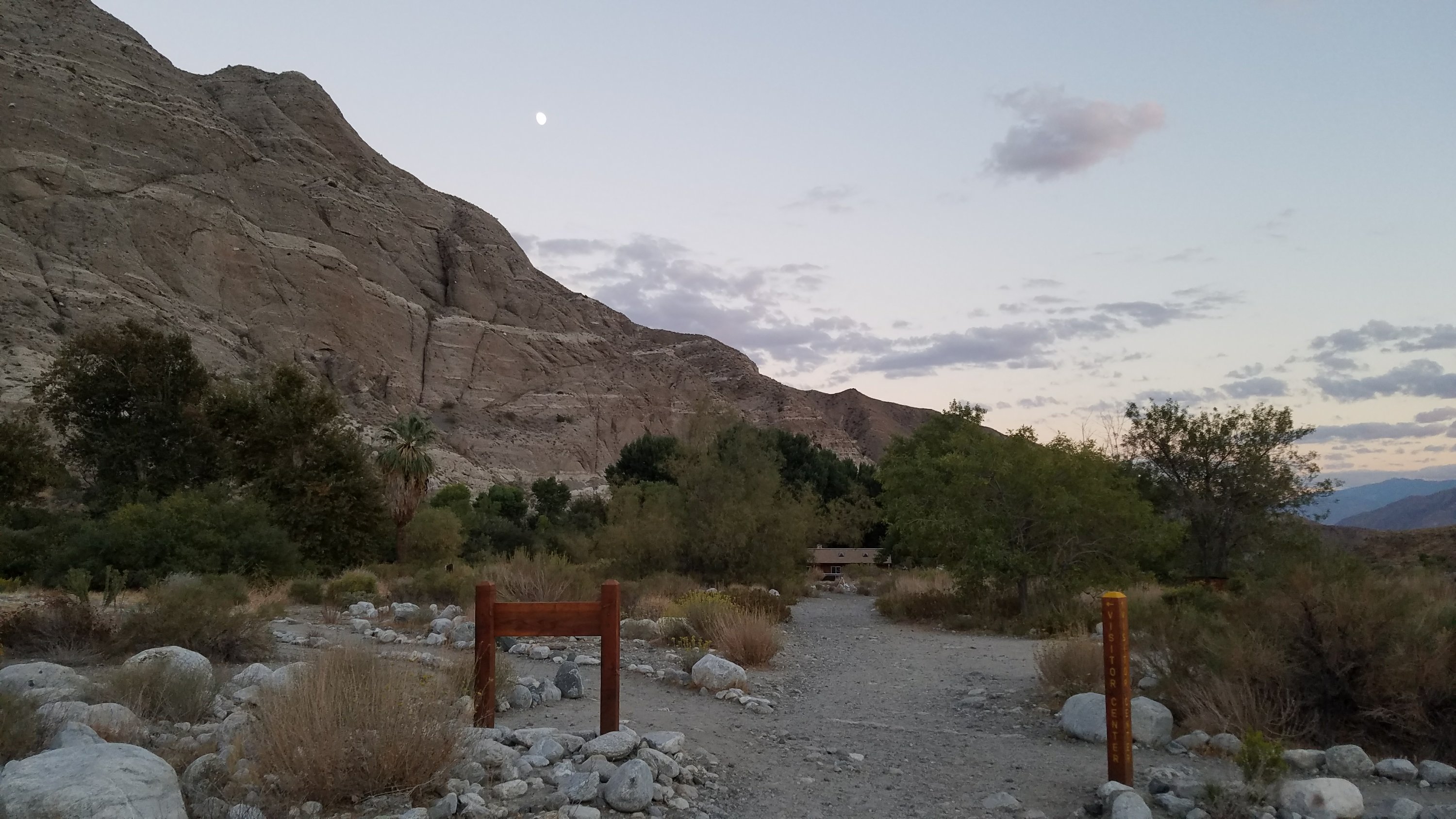 I was immensely impressed with their efforts. The place was like an oasis, with one of the fish pools turned into a natural-looking pond. They invite guests to splash around in it, so of course I took the opportunity to wash off. Too bad I didn't arrive earlier in the day or I would have gone for a full swim. They had very professional signage and interpretive displays. There was a giant 3D model of the area and it showed all of the trail that I had hiked that day.
There were also electrical outlets, water spigots, flush toilets, tables and chairs inside the visitor center, picnic tables, and a huge field of REAL grass on which to pitch a tent. Everything a tired hiker could want for. On top of all that, it was Saturday Stargazing night, where amateur astronomers set up their telescopes for the public to come share. So the place was alive with friendly visitors. Best of all, the night was warm and comfortable.
I got set up then did half a wash in the wading pool (just from the waist down). Then I ate my dinner inside the visitor center and did some stargazing. I went to sleep way after my bedtime but it was wonderfully relaxing just hanging out. I definitely want to come back to spend more time at this place. I was so inspired, I could even see myself being a ranger or volunteer. What a special and incredible highlight. I highly recommend a visit if in the area. Here is there website: https://www.wildlandsconservancy.org/preserve_whitewater.html