October 21st, 2018
Whitewater Preserve mm 218.5 to Fuller Ridge mm 189
Distance: 29.5 miles plus .5 mile from preserve.
0630 – 1820
First, if my memory serves me right, I wanted to point out that I finished the Te Araroa in 108 days and today was my 108th day on the PCT. It would have been cool if I finished both trails in the same time but I will be done within a week. Not bad for a trail that was nearly 800 miles longer.
Secondly, today was like clearing a huge hurdle, perhaps the last big challenge. I was a bit intimidated by the massive climb and lack of water to end the day, but it wasn't so bad. The trail climbed into the San Jacinto mtns for over 20 continuous and water-less miles, starting from 1200′ in elevation up to 9000′. It's probably the biggest one-time elevation change on the whole PCT. Most blogs speak of how relentless and tiring the downhill is. Well, reverse that to go uphill without any water for 20 some miles. But we SOBOs were strong and could handle anything.
I was climbing in the early morning too, right after leaving the preserve. The trail wound out of the canyon and over to another canyon that dumped out at San Gorgonio Pass and I-10. It was already starting to get hot by 10 am. I found a bag of trail magic in the interstate tunnel, so I slammed a Mt Dew and ate a pastry.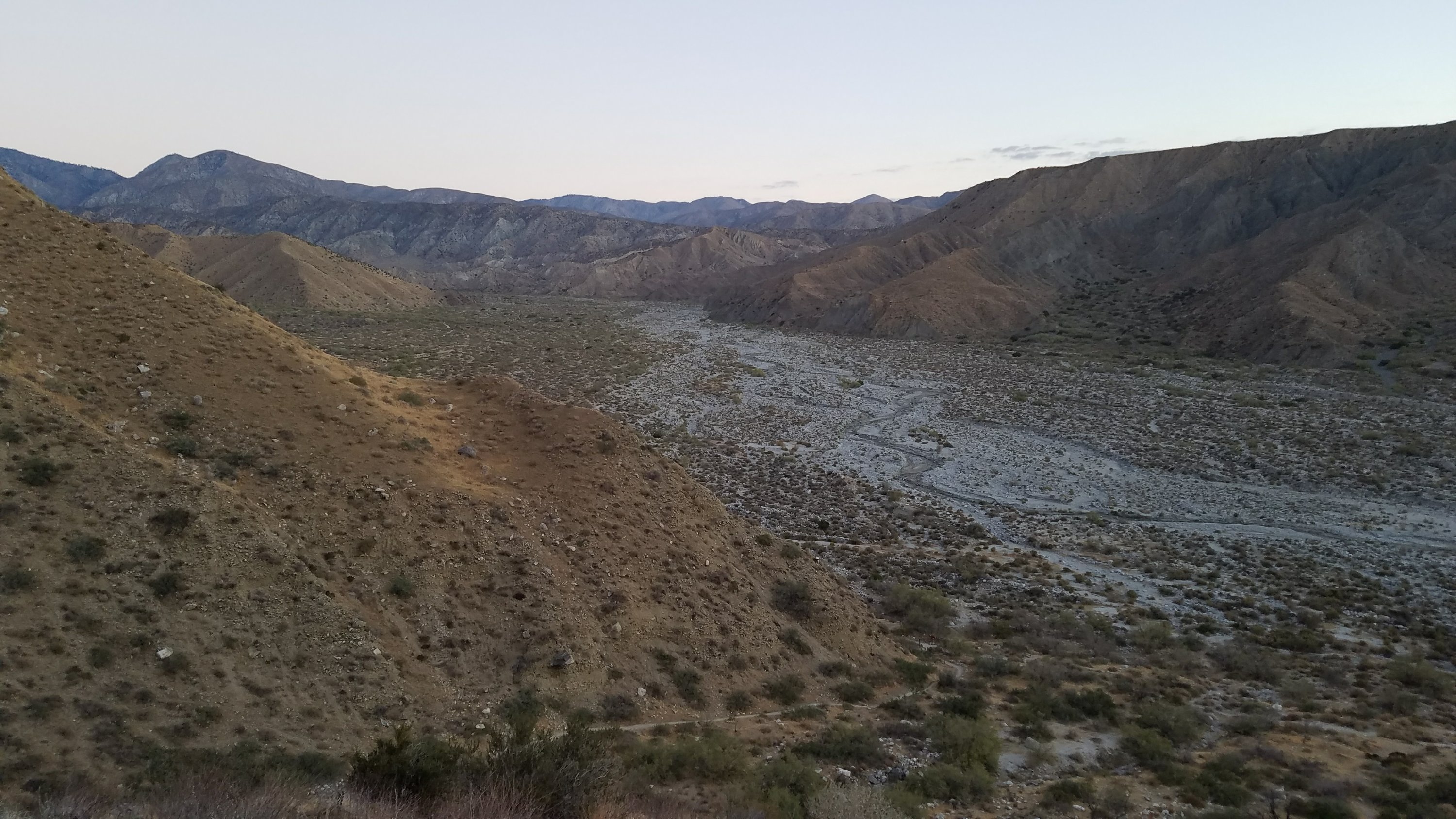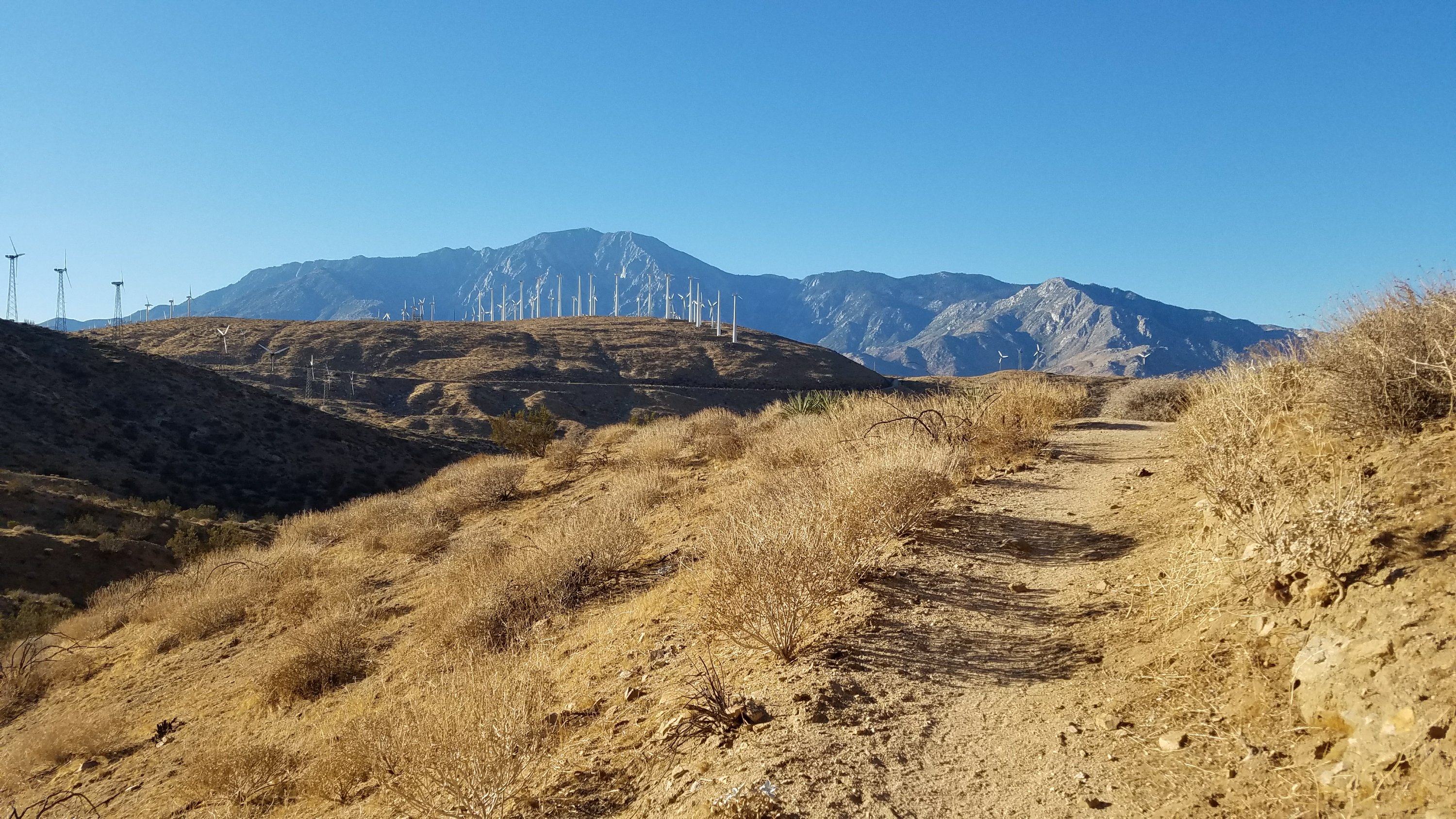 I continued across the desert floor, all the while staring at the very intimidating mountains I had to climb. The trail joined a small paved road up to a water tank. There was a spigot where it broke from the road and I stopped to cram water in the shade of a rock. This was the last water for 20 miles, maybe more. Three road bikers came by and one gave me 2 GU gels to help get me up the hill. They told me I was an inspiration while I drooled over their bikes, wishing I had some wheels instead of just my two feet. They reported a temperature of 92 degrees F from their cycle computers. That did not bode well for this hellacious climb.
After dousing my clothes with water and filling my bottles, I set off. It sucked having to tote about 6 lbs in water weight up the mountain, but I was already cutting it short in carrying only 3 liters. I hoped that the couple liters I had just drank would carry me through and they did. I only drank about 750 ml on the climb, leaving plenty for dinner and the next morning.
Shortly I met two day hikers that had completed the PCT in 2016. They were so enthusiastic, cheering me on over this last big hurdle. It put me in such a good mood. I rocked out to my favorite Smashing Pumpkins albums and got into a good groove. The trail was well graded and maintained. Then I passed the 200 mile mark.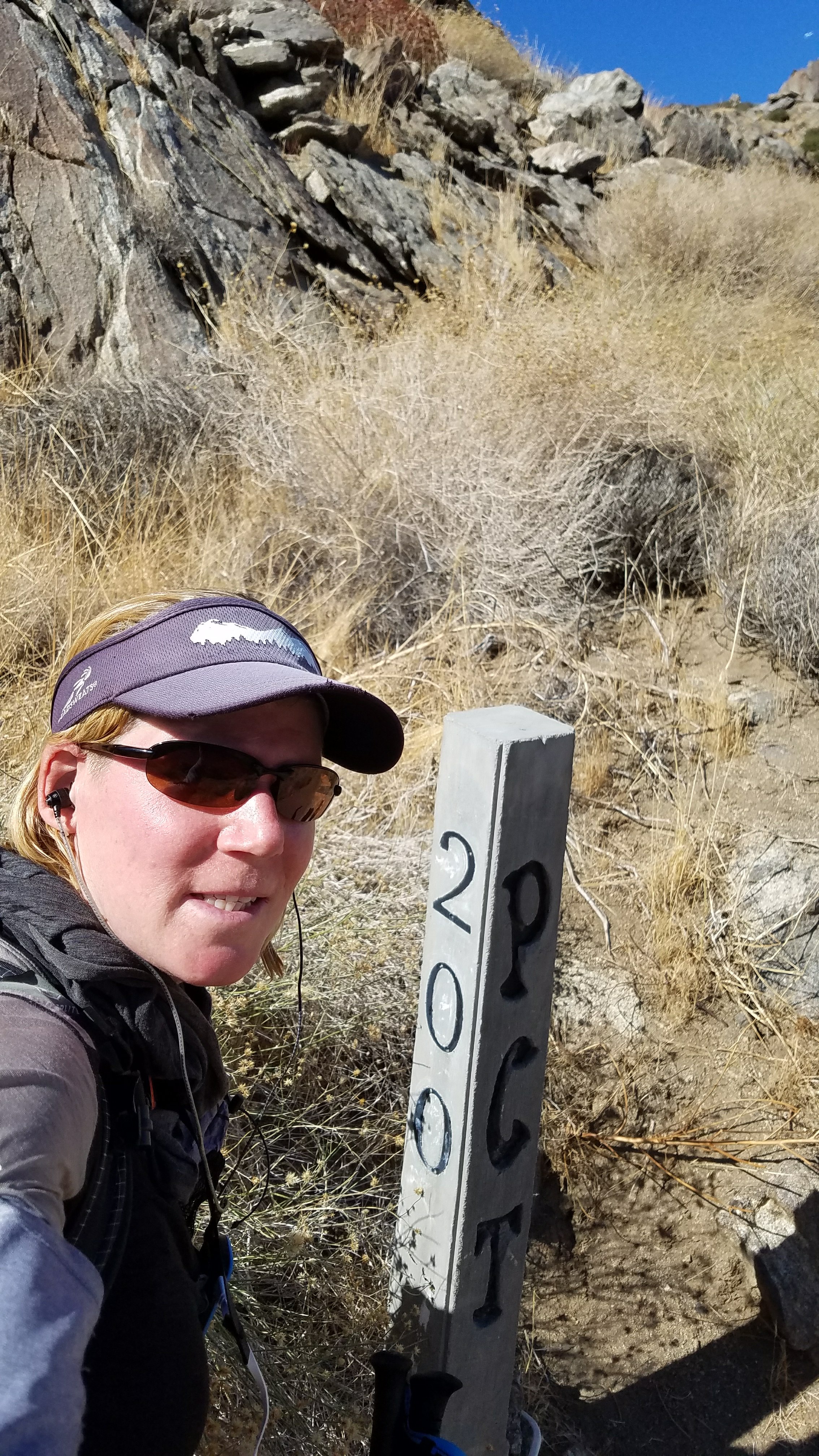 I was able to maintain a 3 mph pace going uphill for 6 hours, but I was getting pretty tired towards the end. I would have to save the remaining 3 miles and 1000′ in elevation for the next day, but I had knocked out 17 miles and made it to 8000′. I was so relieved to find a passable campsite and crawl into my tent. Hopefully this was the last hard day. Only 1 week left!