October 18th, 2018
Deep Creek bridge mm 310 to mm 278.5
Distance: 31.5 miles
0630 – 1830
Today was all about going uphill…but gradually. I gained more than 7000′ over 29 miles, going from about 3000′ in elevation up to just shy of 8000′. Consequently, I didn't do as many miles as hoped for but that's ok. I think this was the longest continuous stretch going uphill so far.
I continued up the canyon and shortly came to some hot springs. I found Kuba packing up there. I tried some of the pools but they were way too tepid for my taste. I need my hot springs to be "mother of dragons" hot. Perhaps in the middle of the day they were fine but it was cool in the morning. My hands turned to cold bricks after just dipping them in the water.
We came to the 300 mile marker. It's funny to me that there have been markers for each 100 miles here at the southern end. There were no such markers at the northern end. For the NOBOs, these are significant points of encouragement. For us, it's a countdown to THE END.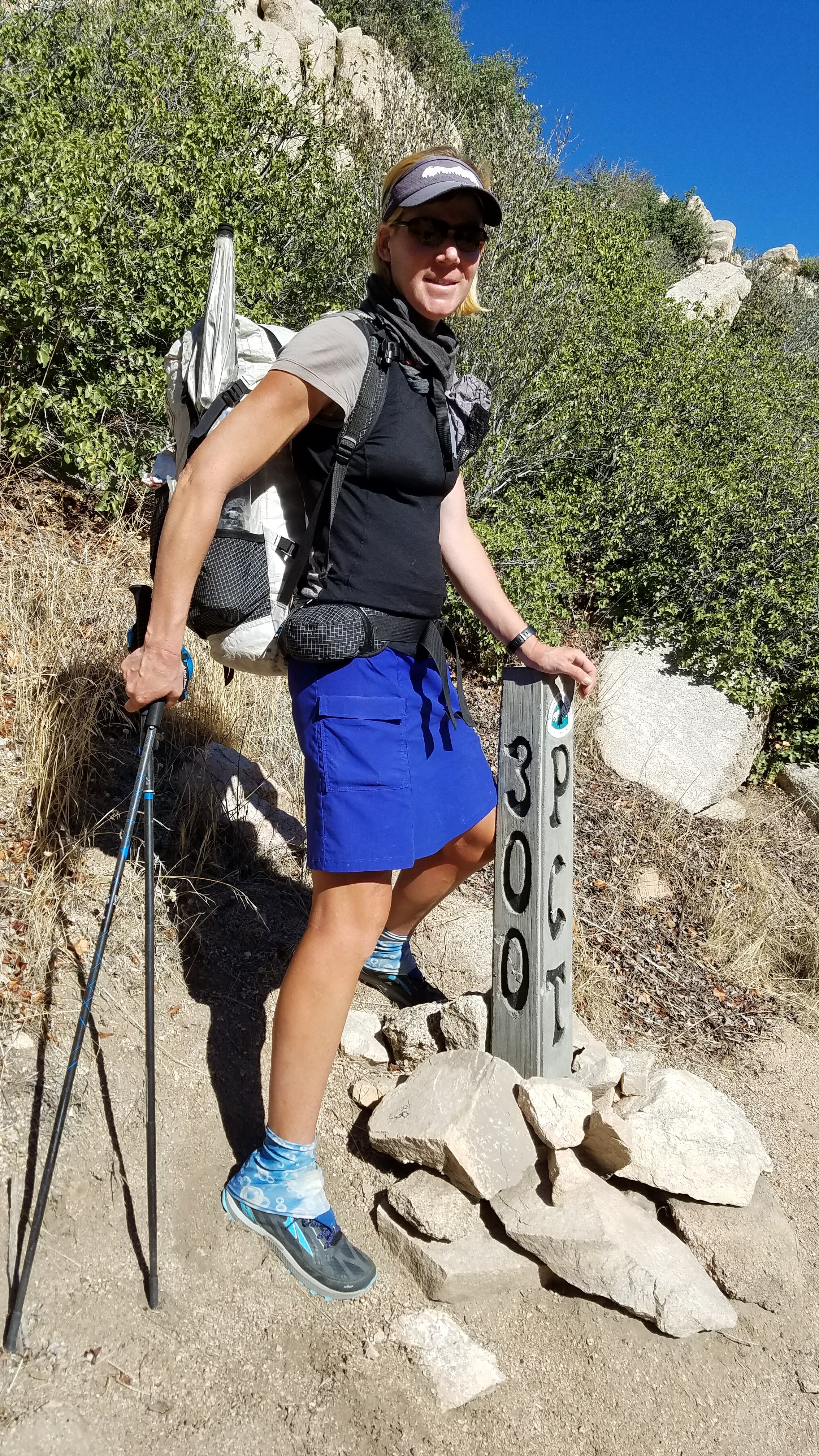 We left the canyon after another bridge and picnic area. The trail ascended across some scrub and over to another drainage. The forest shifted from oak to pines. We got water at the last creek for the day and resumed climbing. I had wanted to make it to a road where there was a water cache but it was still 15 miles away by 3 pm…no way. Fortunately, there was a report of another cache 12 miles distant.
I fell into a sustainable uphill pace and went into auto pilot. Meanwhile, it got colder and colder. Not surprising since we were nearing the Big Bear area and the forecast was for lows in the 30's. Finally at the top of the all-day ascent, Big Bear lake came into view. The sun was just setting and casting beautiful rays on the hills. All the deciduous trees were gold and red and there was snow on the higher mountains above Big Bear valley and ski resort. We were once again surrounded by mountain scenery…not desert. There are so many stark contrasts in Southern California. I LOVE IT.
We made it to the cache just as it was getting dark and were happy to find a few gallons left. I only needed about a liter, since I still had 1.5 liters left. I found a good spot under the pines and was sitting in my tent cooking dinner when 3 mountain bikes came cruising down the trail, LED lights blazing. Again, the PCT is off limits to them but I guess they feel it's ok at night? It's a good thing I wasn't still hiking in the dark or I might have gotten run over.