October 17th, 2018
Cajon Pass Interstate 15 mm 342 to Deep Creek bridge mm 310
Distance: 32 miles
0800 – 1830
Overnight, I bought a one-way ticket from Phoenix to Miami for the 31st… now I had a deadline. If I averaged 30 miles a day, I would make it to the border by the 28th…just 12 more days, including this one. It probably wasn't realistic to do this, since I also had to factor in town stops. I was feeling very optimistic, I guess.
The hotel had a good continental breakfast, so I was able to stuff myself before resuming the trail. I was glad to get away from all the hub-bub of that busy interstate. The noise quickly disappeared as the trail entered a dry canyon. There was a bit of climbing but not bad relative to other town departures. I was once again carrying way too much food.
The trail passed by Silverwood lake and would end the day next to a creek, so for once, there was plenty water today. Although, I wouldn't have wanted to drink the lake water. There was a marina in the lake and I saw some trash along the shore. I had lunch at a picnic area with spigots and tables. It even had an outlet that worked. I could have just ended the day early and camped there, but now I had my schedule to uphold.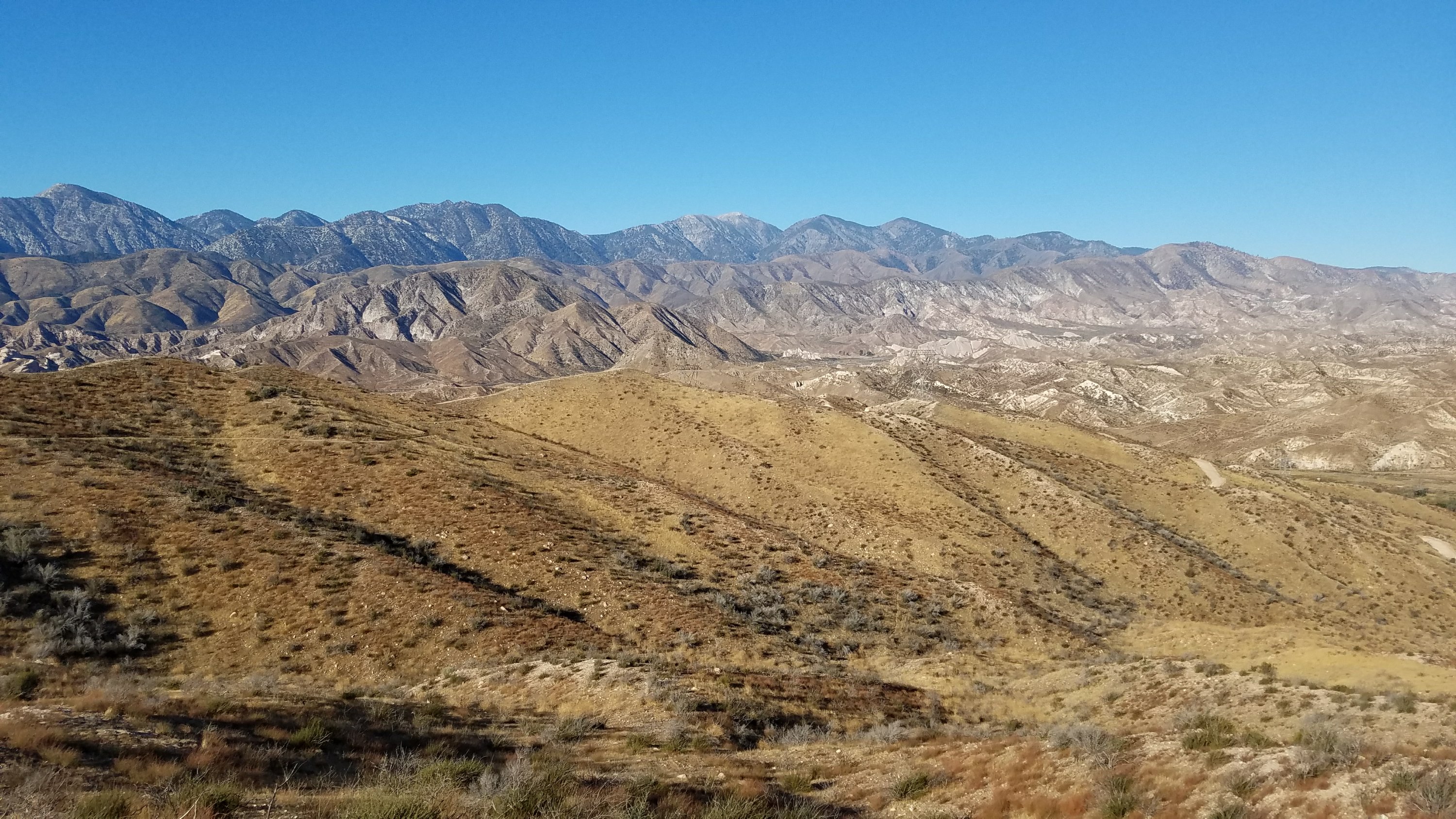 Looking back at the dry hills and chain of mountains I came down in the days preceding.
The trail wound in and out around the lake and then along some hills paralleling the Mojave River and a valley of farms. I came to Deep creek (which had plenty of water/was flowing) and began following it up a canyon. It reminded me of hiking in the many canyons where I grew up in Colorado. The trail clung to the sides and there were places where it had been washed out and re-fortified. I imagined that it might have been a railroad at one time.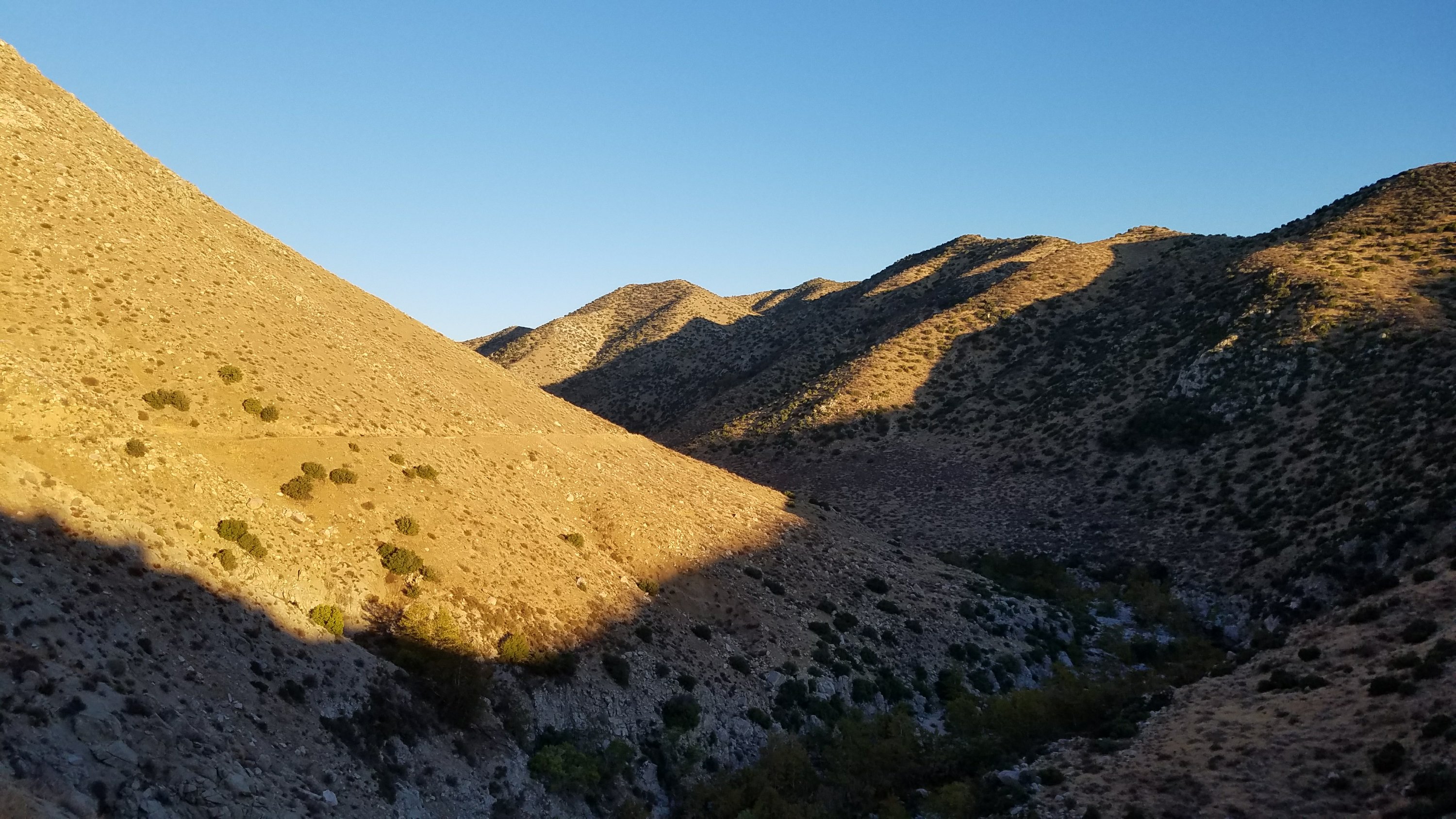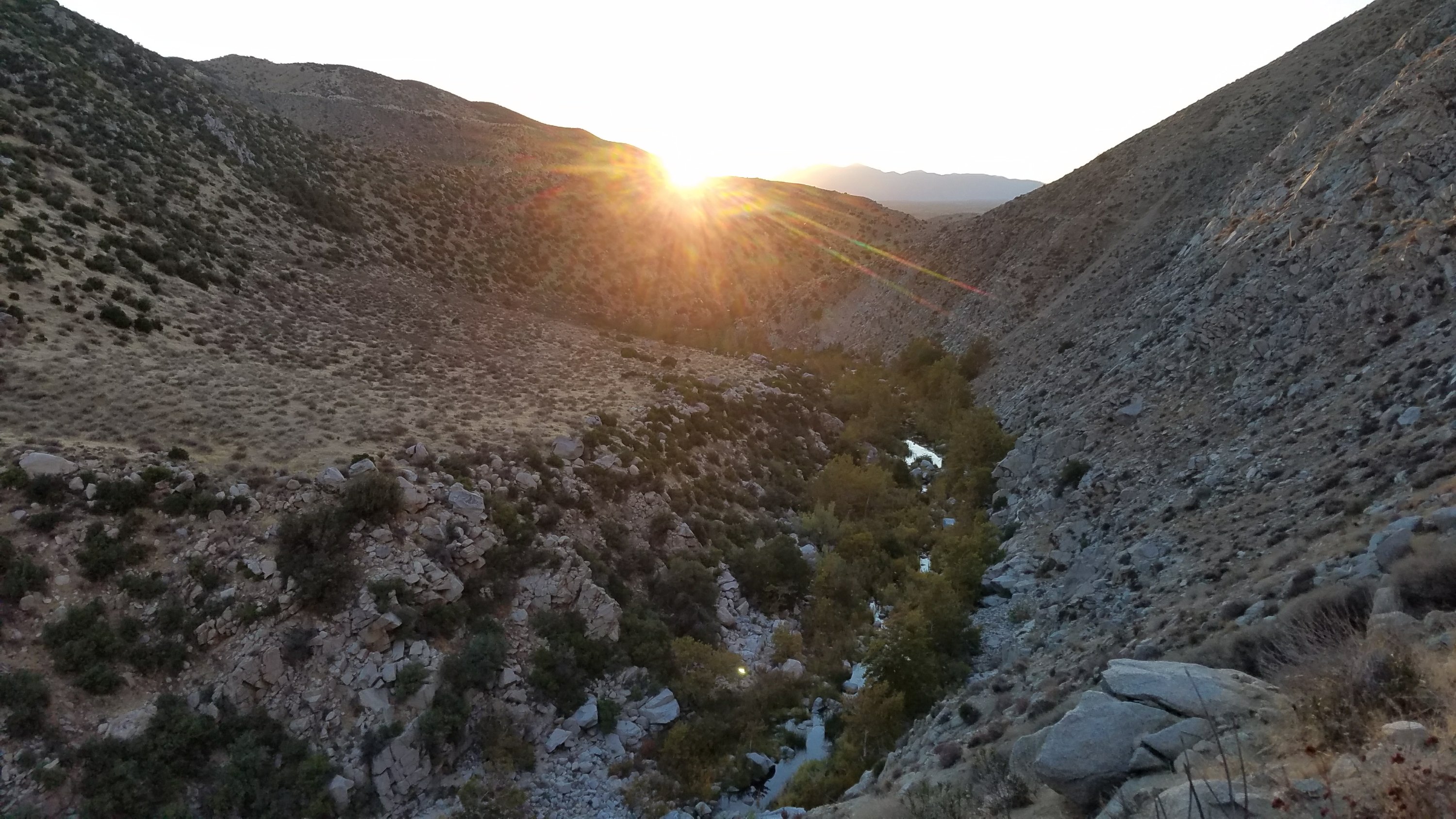 Sadly, there was a lot of graffiti and trash in this area. Besides that, I have been seeing tons of Mylar balloons. The consequences of being so close to such a huge urban area (Los Angeles) . I came to a bridge just as it was getting dark and found some really nice tent sites in the sand. It was still fairly warm and a nice change from the cold nights of previous campsites. A half moon shone on the canyon walls as I made dinner. It was stark and hauntingly beautiful.
I continued to be amazed and gracious for all the beauty and diversity of the Southern California desert. I confess, I was not looking forward to this section. I thought it would be a bit anti-climatic after the grandness of the Sierra. I expected to have trail burnout and a feeling of just wanting to get it over. Now of course, I was incredibly sad that it was about to end. The desert had been one of my favorite sections, a close tie with the northern Cascades and Sierra. I felt so strong throughout, being able to do ridiculous miles back to back. Here I had felt like my abilities were limitless. Walk 30 miles before it gets dark at 6 pm, easy. Walk for more hours in the dark, sounds like fun. Go for 20 miles without water, no problem. The landscapes were open to infinity, where anything was possible, and I was cherishing these moments.