October 9th, 2019
Mm 60.1 to North Rim Grand Canyon mm 76.2
Distance in miles: 16.1 plus about 4 miles walking around, being a tourist
0610-1130
I had a hard time warming my sleeping bag but once I did, I slept pretty well. I woke around 2:30 am feeling pretty hungry, so I ate the rest of my dinner, followed by a chocolate bar. I went back to sleep until my usual waking time. I don't know what was wrong with me the night before but I seemed to be back to normal.
I had a pleasant morning, beginning with meeting a few SOBOs. They were just packing and I stopped to chat. (This was where I first met 9Lives, who I would met several more times over the years in Colorado and Florida). I then came to a fire tower reaching way up into the sky. I counted 11 flights of stairs to the top. The wind was blowing hard and I could feel the structure swaying. I went all the way up anyway and admired the views. I couldn't quite make out the canyon but all the golden aspen scattered about the landscape were worth the climb. This was this is the highpoint of the AZT at almost 9200′.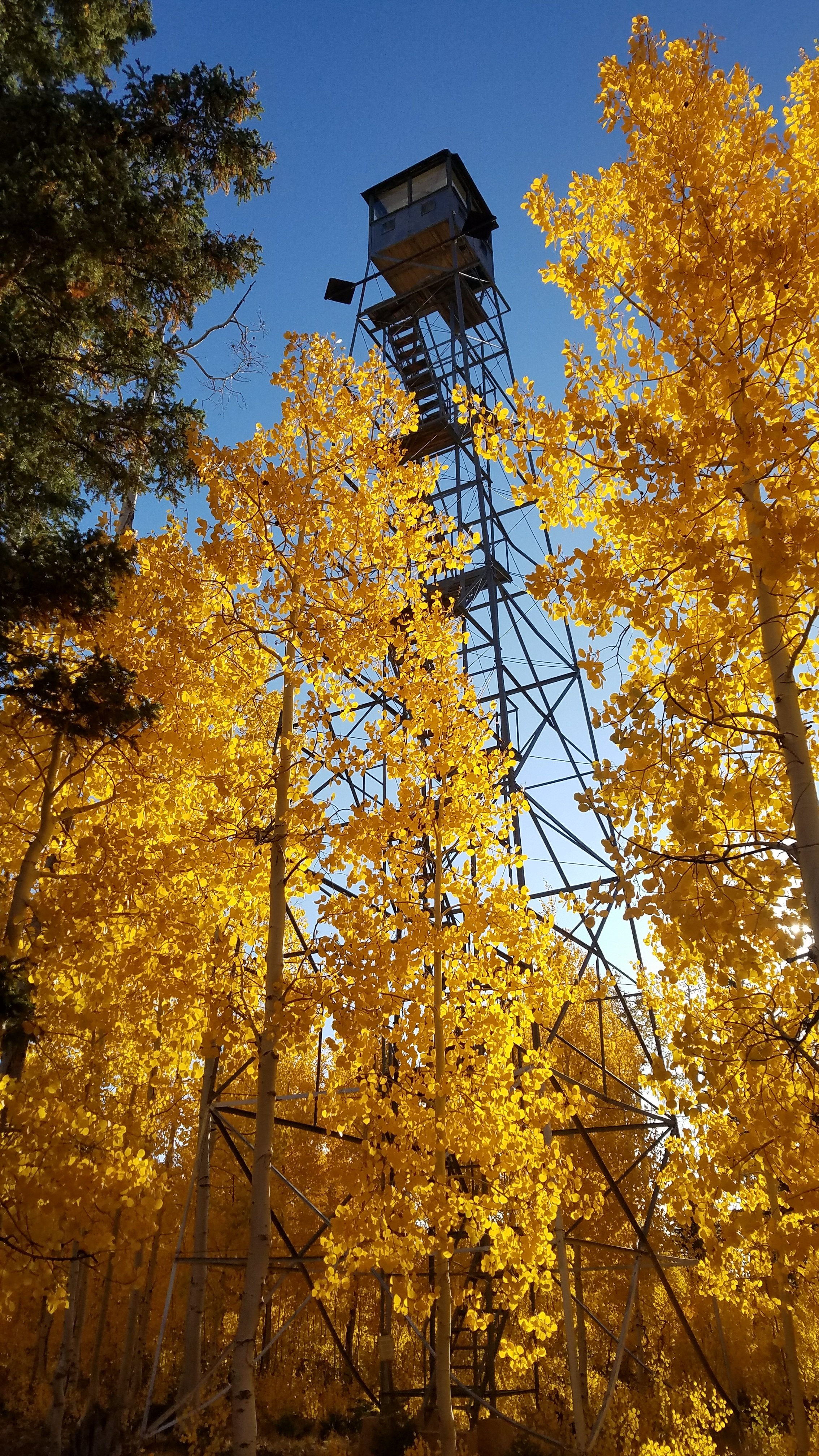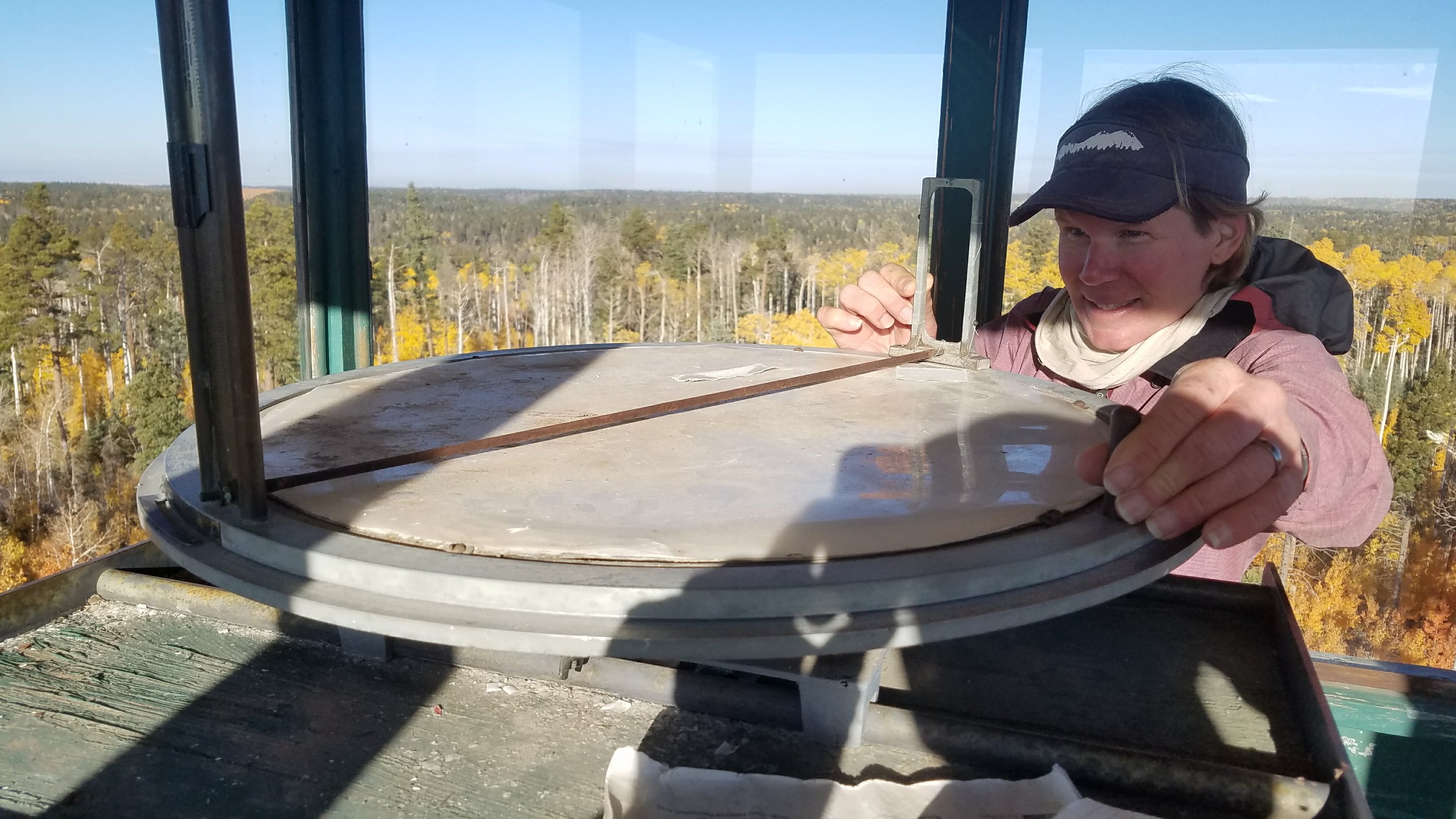 I walked some more cruiser trail, making my way down towards the North Rim. I hoped to be able to score permits to camp at the bottom of the canyon this night…it was admittedly a long shot since campsites sell out months in advance. But I'd heard rumors that the NPS sometimes accommodates AZT thru-hikers with sites around the stock camp.
When I got to the ranger station, I promptly learned that I was SOL. I'd have to camp on the rim this night and just walk the whole canyon in one day the next. I felt a little dejected until I got to the lodge and found that there was a lunch buffet…bring it on! The night before I could barely eat and this day I mowed through 3 plates, 2 bowls of chili, and several cookies. My food baby (what I call my grossly distended belly when I binge eat) came back and I spent the afternoon waddling around, checking out the sights. It's so fun being a tourist while thru-hiking.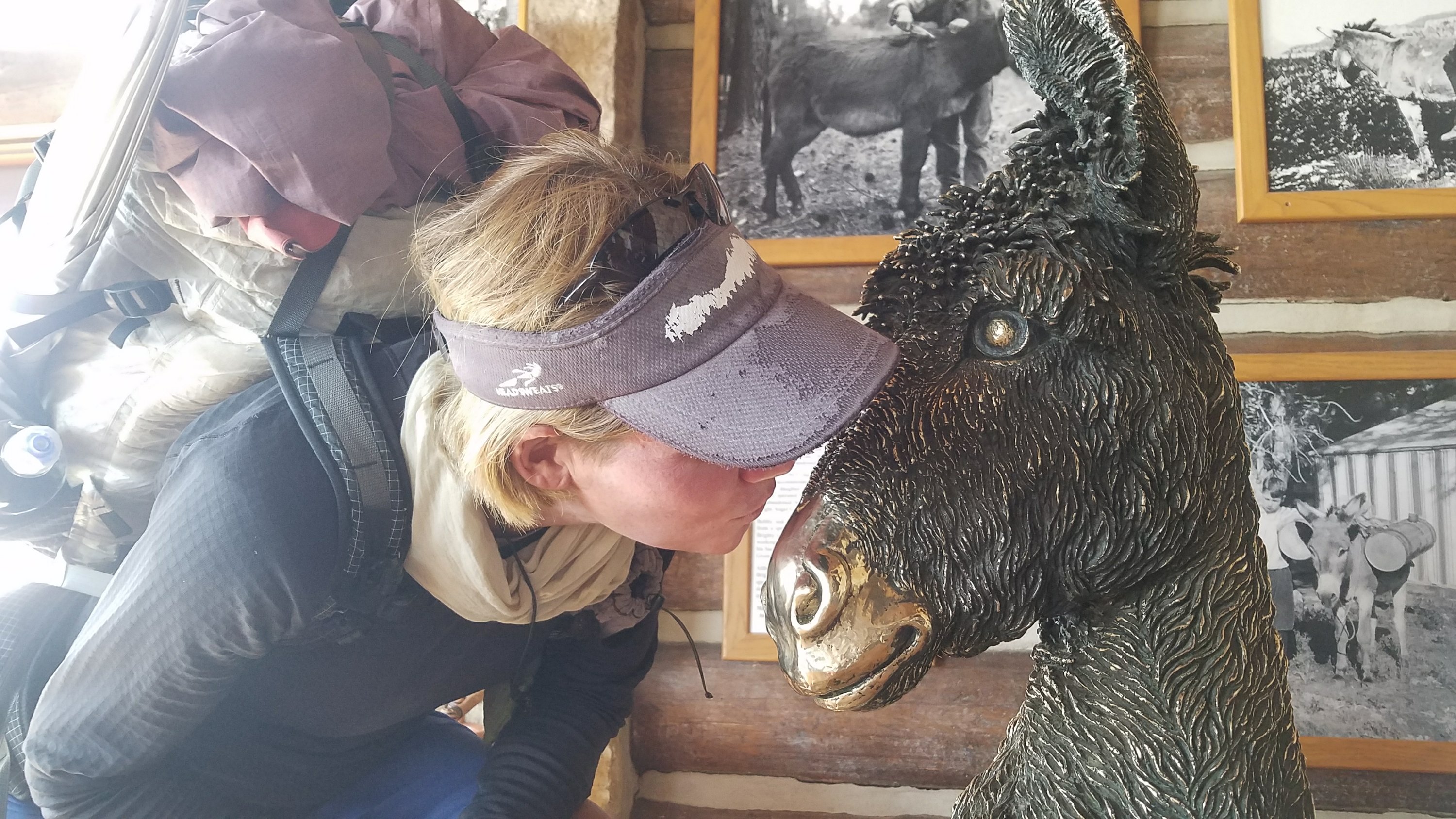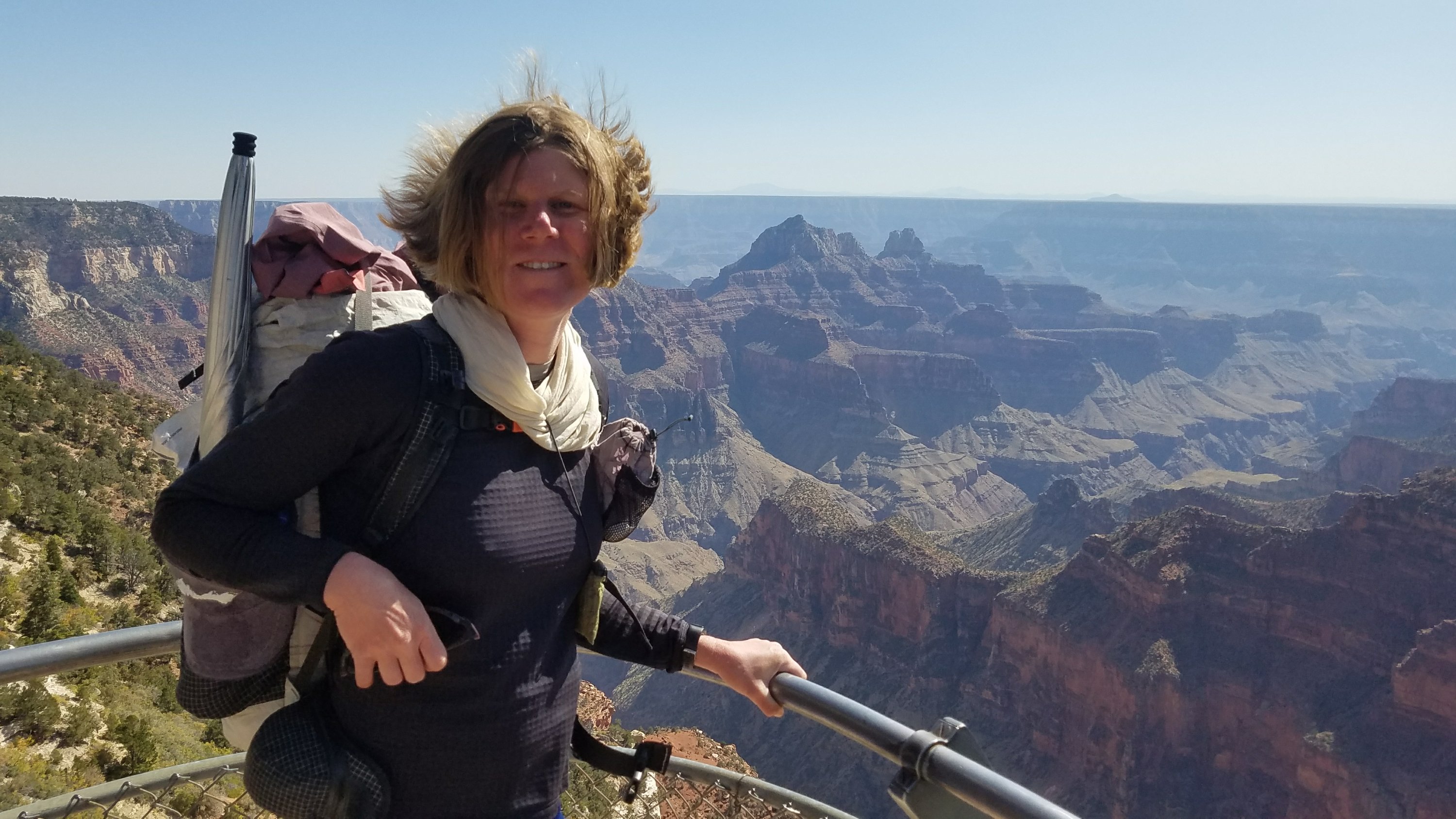 My sightseeing paid off, too. I met a nice couple, Chris and Steve, who invited me to camp at their site. This was a huge relief, since I'd heard the campground was full. There was in fact an area reserved for walk/bike-ins, but it's close to the rim and was probably getting blasted by the cold wind. The site that Chris and Steve were at was more protected.
I went to the visitors center to get some beta on the trail. I also took note of the weather forecast…lows were going down into the 20's the next few nights. Ouch, that was going to hurt. This night was only supposed to be 32…only. Almost out of spite, I got an ice cream cone at the deli. This made my food baby even more restless and I struggled through the walk to the campground.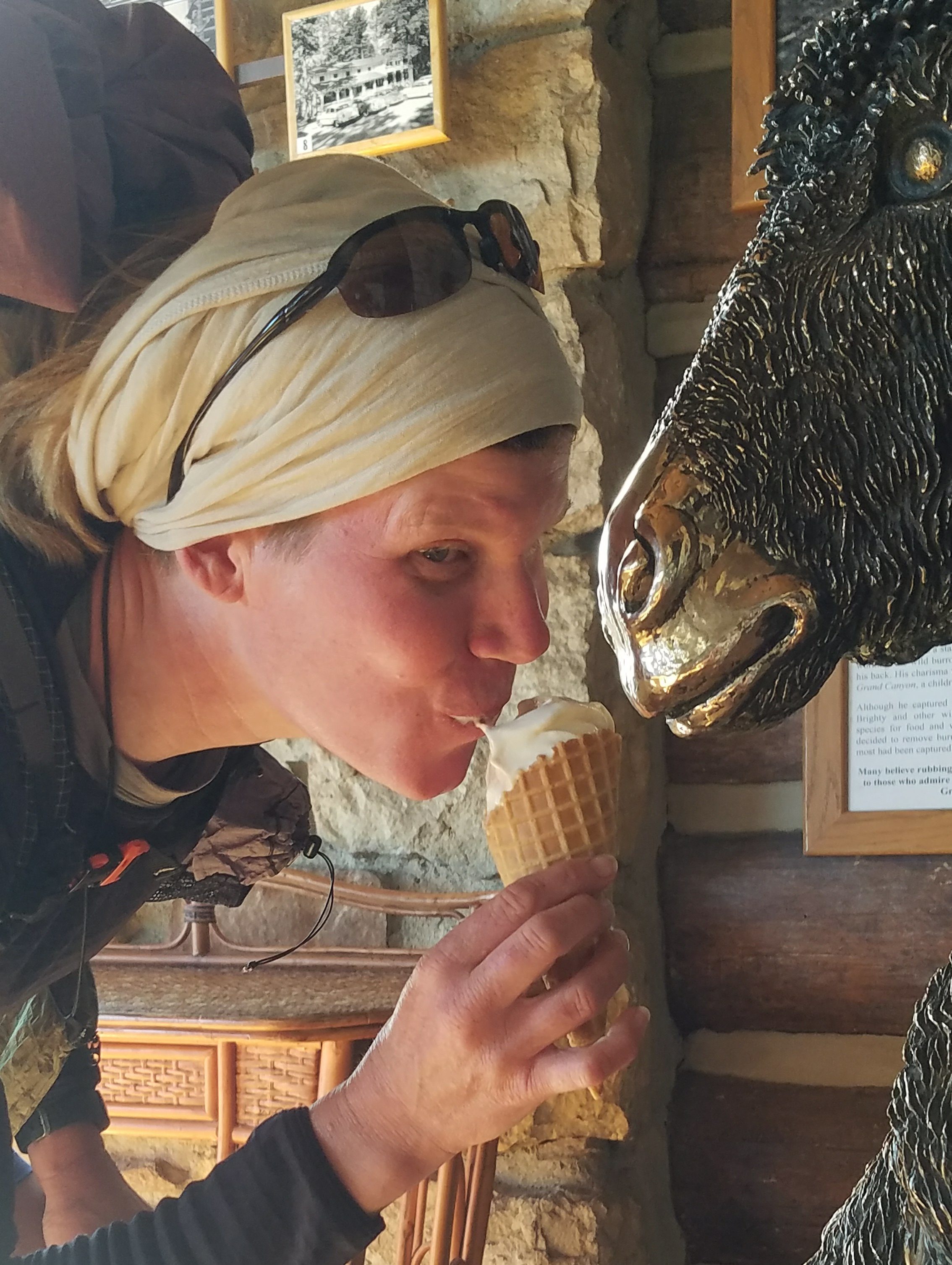 There I found Chris and Steve, both from Montana, with their other friends from Alaska. It was such a great group and shortly I was handed a beer and invited to join in on the fajita dinner. My stomach was so full from lunch still, I went to take a hot shower for $1.50 instead, doing some pampering of my feet and clothes. Food Baby settled down a little by this time and I was able to cram in some more delicious good stuff. As soon as it started to get dark, everyone headed for their respective shelters (all RV campers except for me). The temperature dropped quickly and I dove into my sleeping bag. I hoped I'd be warm enough.