October 10th, 2019
North Rim Grand Canyon mm 76.2 to South Rim mm 100.2
Distance in miles: 24 (including a bunch of tourist and town walking)
0610-1130
Oh what a day. This will probably be the highlight of the AZT because we are walking the Grand Canyon from rim to rim, YO! What a buzz word it is to say this phrase: rim to rim. I never gave much thought to what this entailed nor to its role on the AZT. But having spent a day around the North Rim, I've quickly learned what a draw this particular hike is. It apparently carries a lot of prestige.
For starters, the whole hike is about 21 to 23 miles, depending on which trail is taken to/from the South Rim. That's a pretty long day for most people. From the North Rim, it's 14 miles down to the Colorado River and 6000′ of elevation change. From the South Rim, the South Kaibab trail is 7 miles to the river and the Bright Angel trail is 9 miles, with 5000′ of elevation change. The river sits at 2500′.
There are tons of variations for doing this hike. Typically an overnight is involved but trail runners have taken up the challenge to do it all in one day (which is what are doing as well). Our friends from the campground are doing the whole thing in a day and then hiking in reverse the following day…a yoyo. Then there are the ultra runners that are doing a rim to rim to rim (40 plus miles) all in one day. Whatever crazy distance and elevation change, you name it, someone is doing it.
We start at 6:10 am from the trailhead, after walking in the dark about a mile from the campground. The morning light is good and just keeps getting better as we go down. There are tons of people on the trail already and the tread is easy and wide. Not surprisingly, our pace is faster than most and we overtake everyone.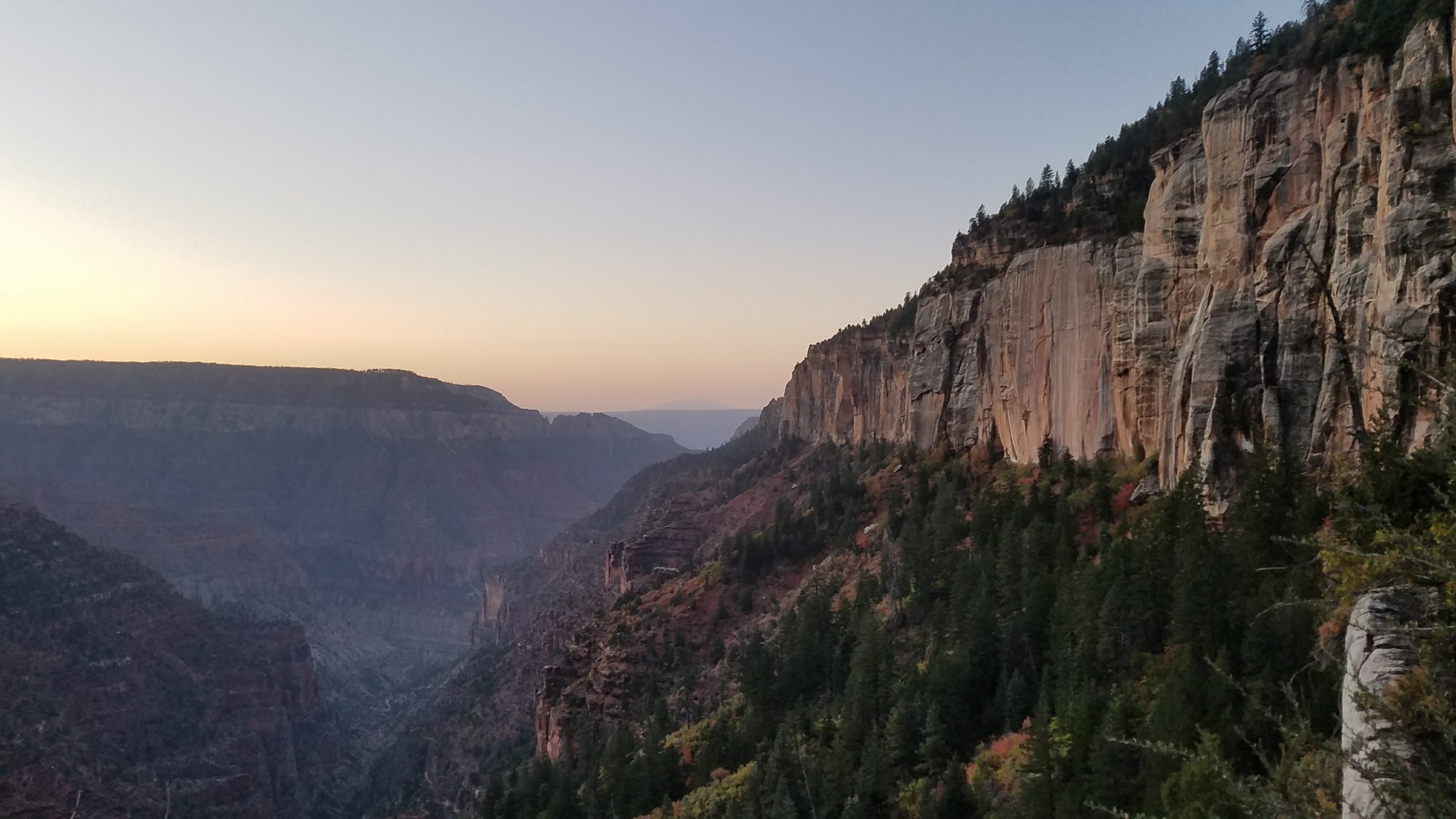 The walls change color constantly, both from the sunlight and from the changes in layers of rock. The geology of the canyon is well described but don't ask me for all layer names. I just appreciate the representation of the millions of years it took to create.
We do a side trip to Ribbon Falls, dropping our packs at the trailhead. It's well worth the effort. The falls create a luxurious carpet of green moss. There's a trail that leads into the cavity behind the falls so that we can look out towards the canyon from behind the water. It's pretty magical.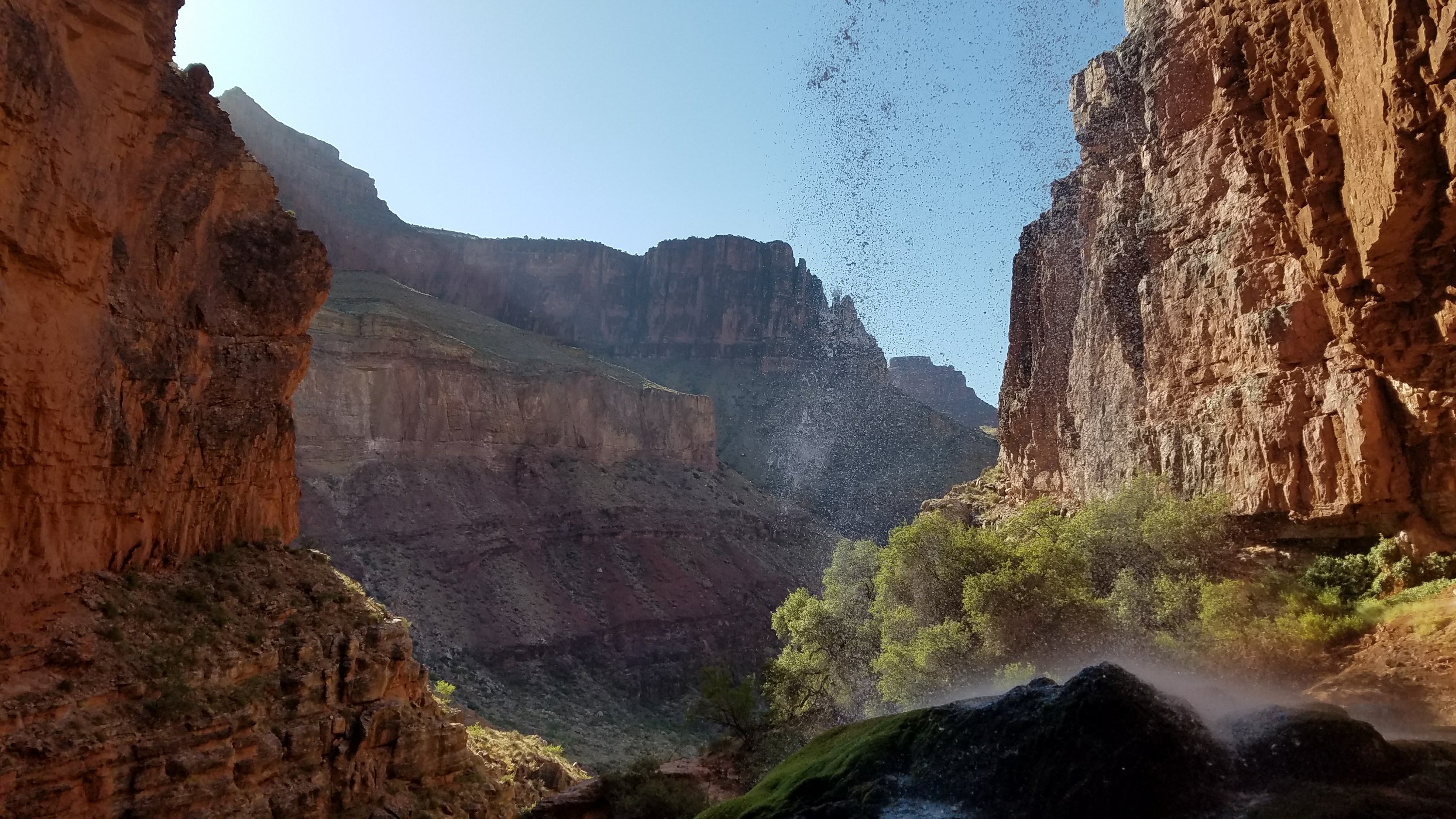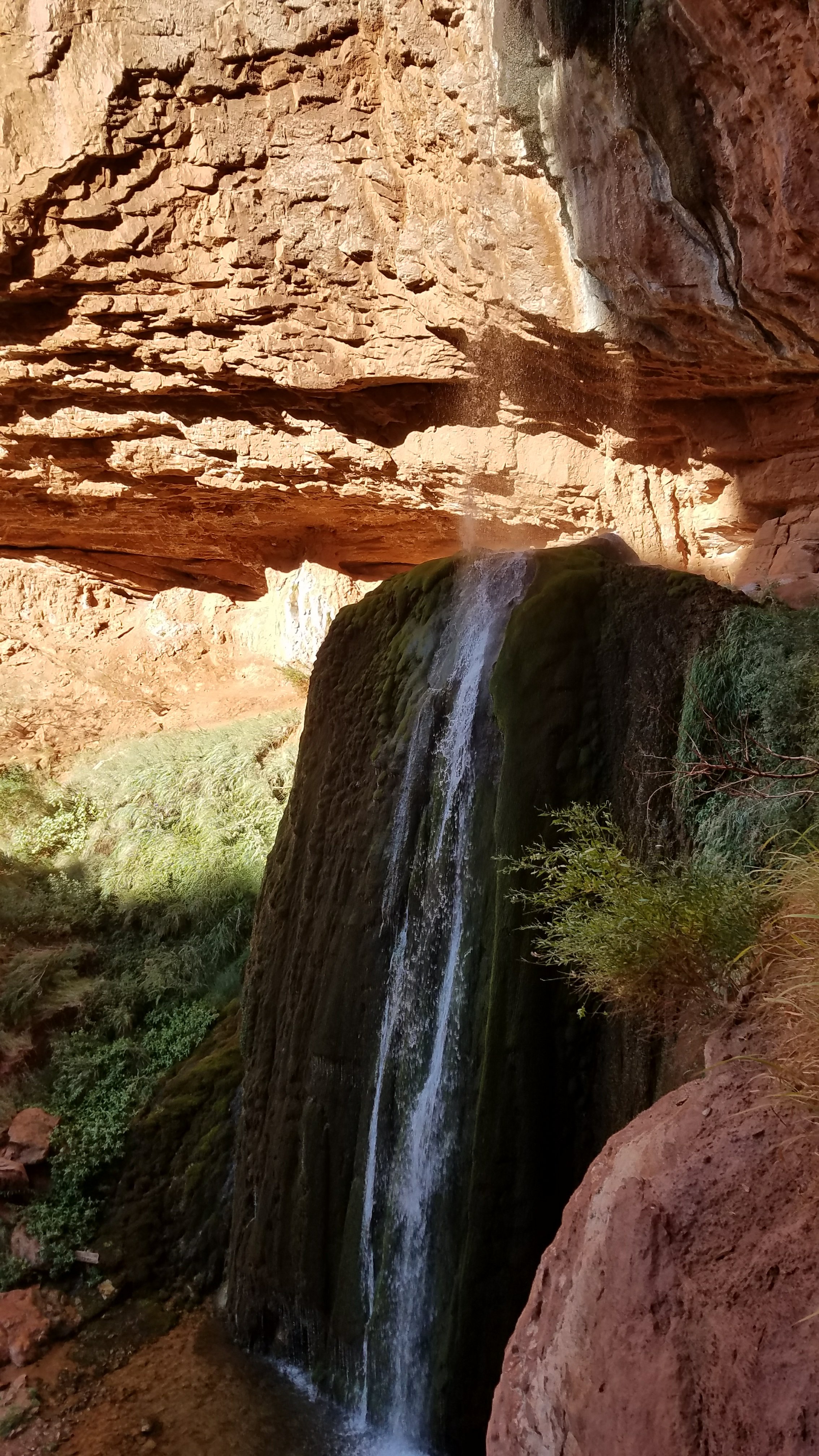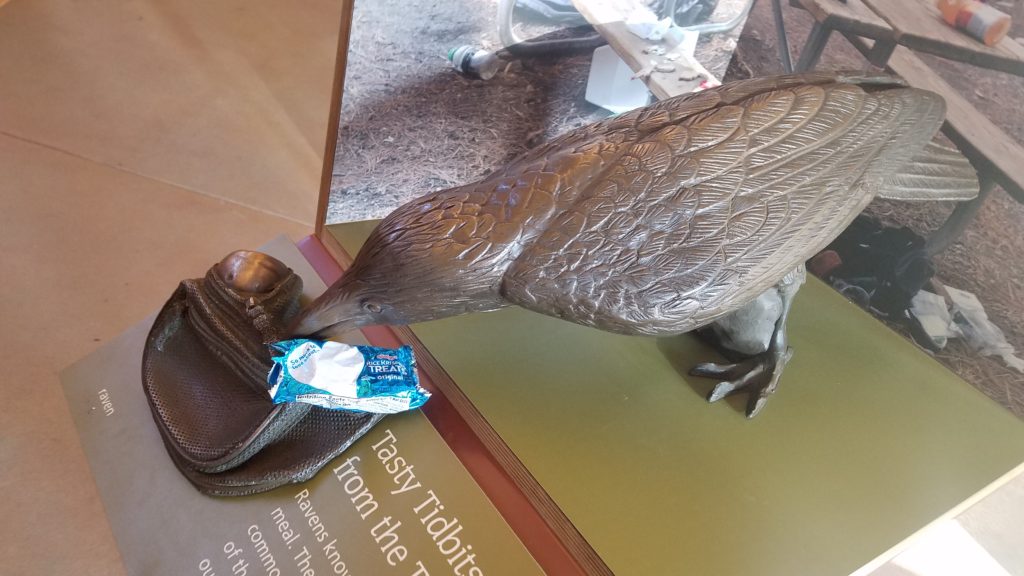 When we get back to where we stashed our packs for this side venture, I find that a raven has unzipped my hip-belt pocket. But it hasn't gotten any further, as my snacks are still intact. Ha Ha sucker! These birds are so smart and practiced that they can un-zip zippers! There's even a bronze display of one routing through a bag at the visitor's center, plus multiple warning signs about their inquisitive and destructive nature. And yet they still managed to get to our packs and cause a mess at the picnic table the night before. It's the only animal to get into my stuff all season, as well as a long-term nemesis from previous adventures. But I still love birds!
We arrive at the bottom of the canyon at noon, just in time for a nice lunch on the beach, watching the river go by. I crossed near the headwaters of the Colorado River in Rocky Mountain National Park, just around a month and a half ago. The water and I have come a long way.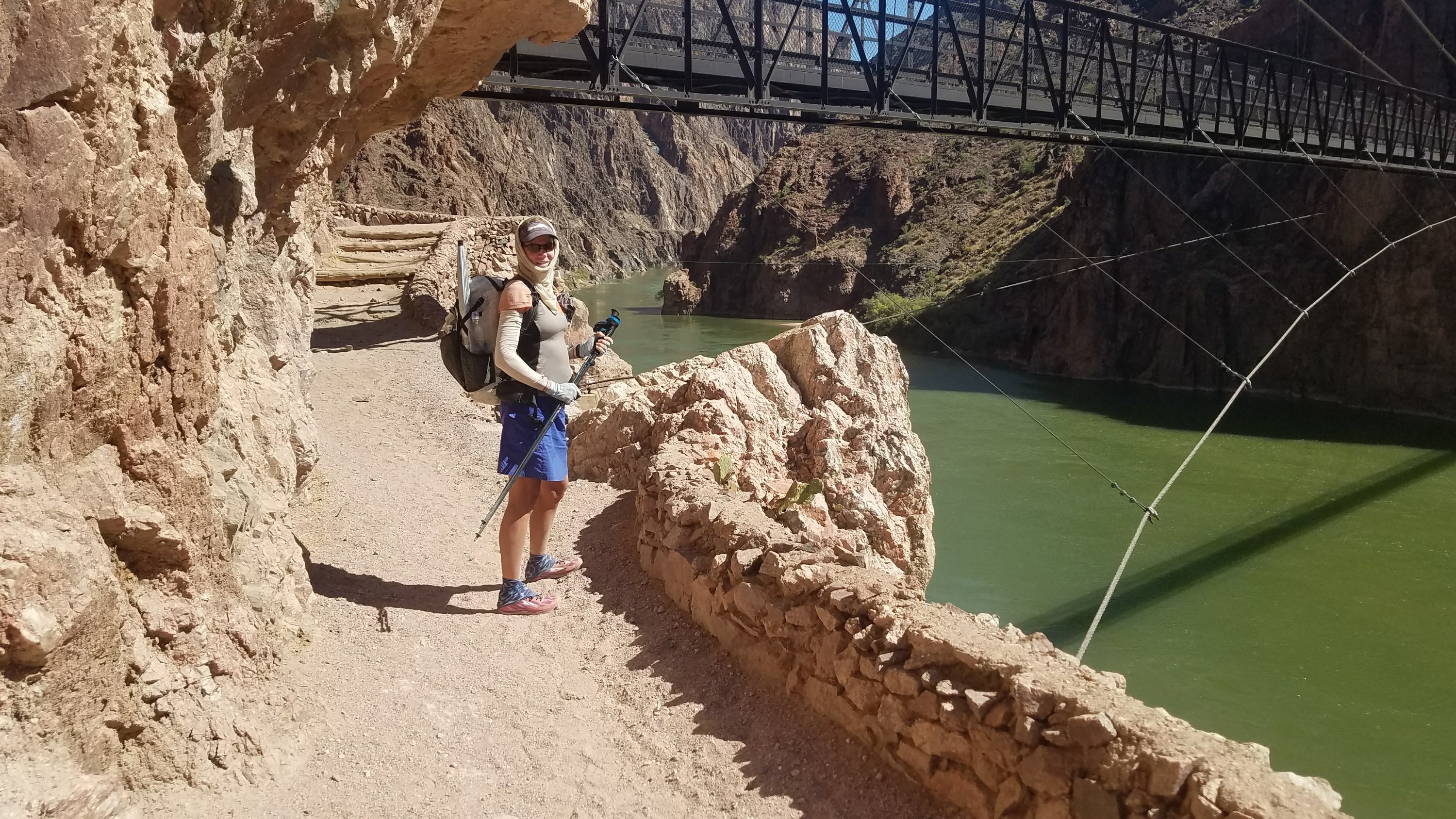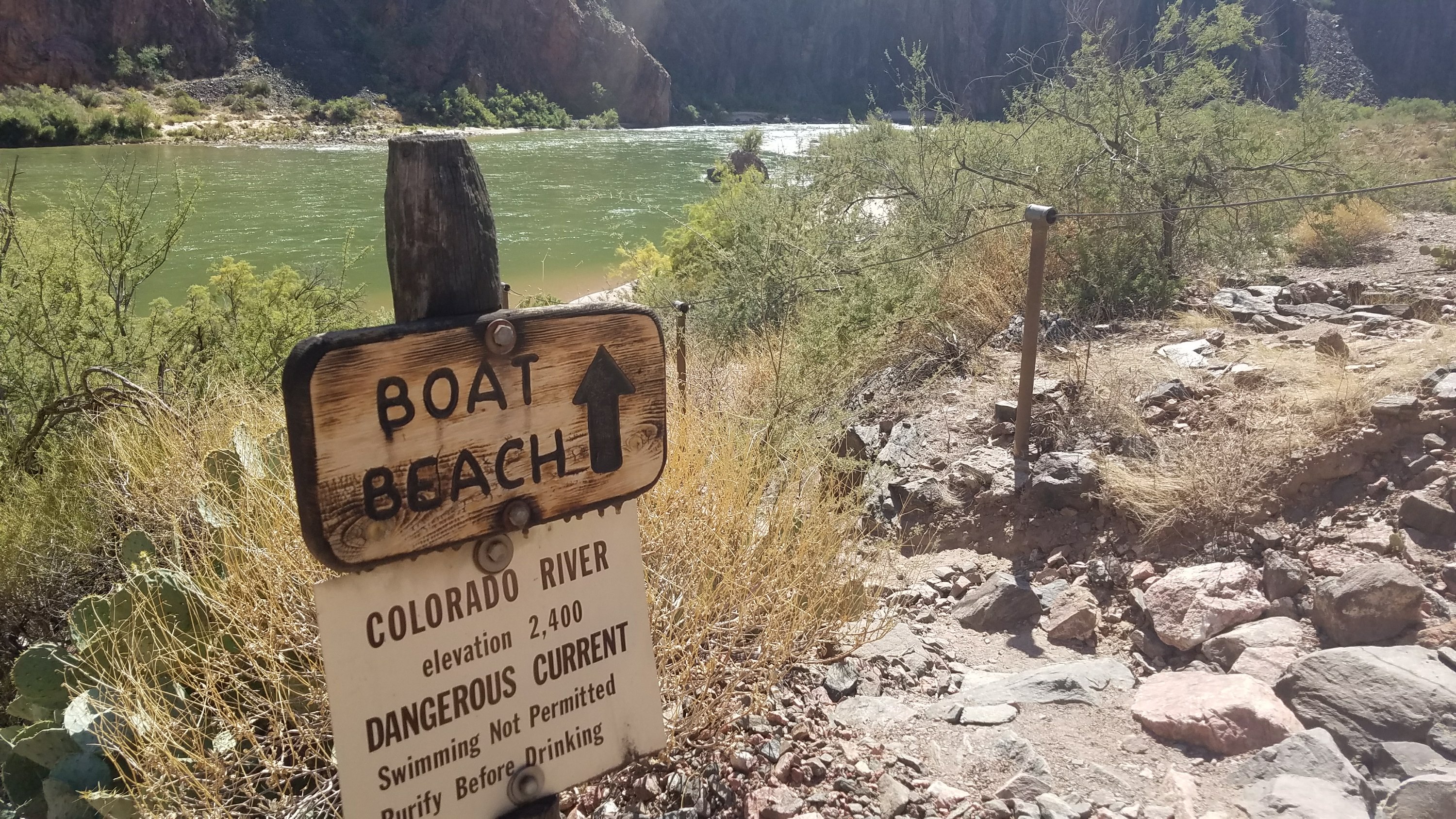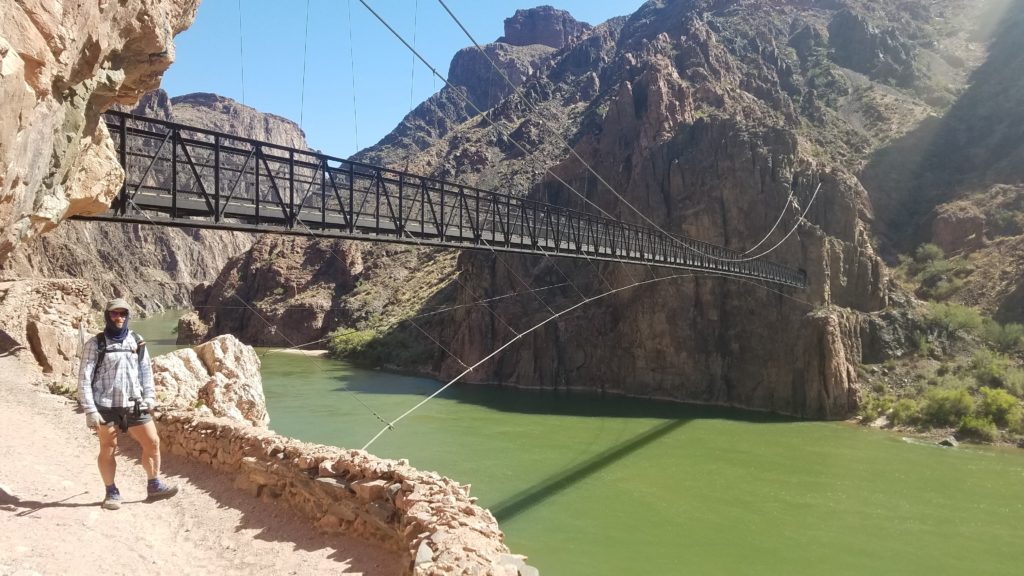 The bottom is swarming with people but fortunately the trail heading up isn't as crowded. We cross a steel bridge over the river and go through a tunnel on the other side. Then the climb really begins. Thousands of wooden planks and rocks are secured into the canyon walls, creating an endless stair-stepping machine. I'm going to need a distraction or motivating objective for this climb.
I put on music but that's not enough. I decide to play a little game of mine called "drop your hiking buddy". Poor Relentless played this game all summer, unwillingly, but Stellar hasn't played since last year. I want to see what kind of shape he's in. I drop the hammer, going up as fast as I can without my heart exploding. 2700 miles of training on the CDT has landed me in decent shape. But Stellar keeps pace, knowing the game I'm playing…he races bikes after all. I get just a little ahead but I can't drop him. It's fun anyway and we end up climbing the canyon at a 3 mph pace. It takes us 2 hours and 20 minutes to go 7 miles. That must be close to a record, but who's counting.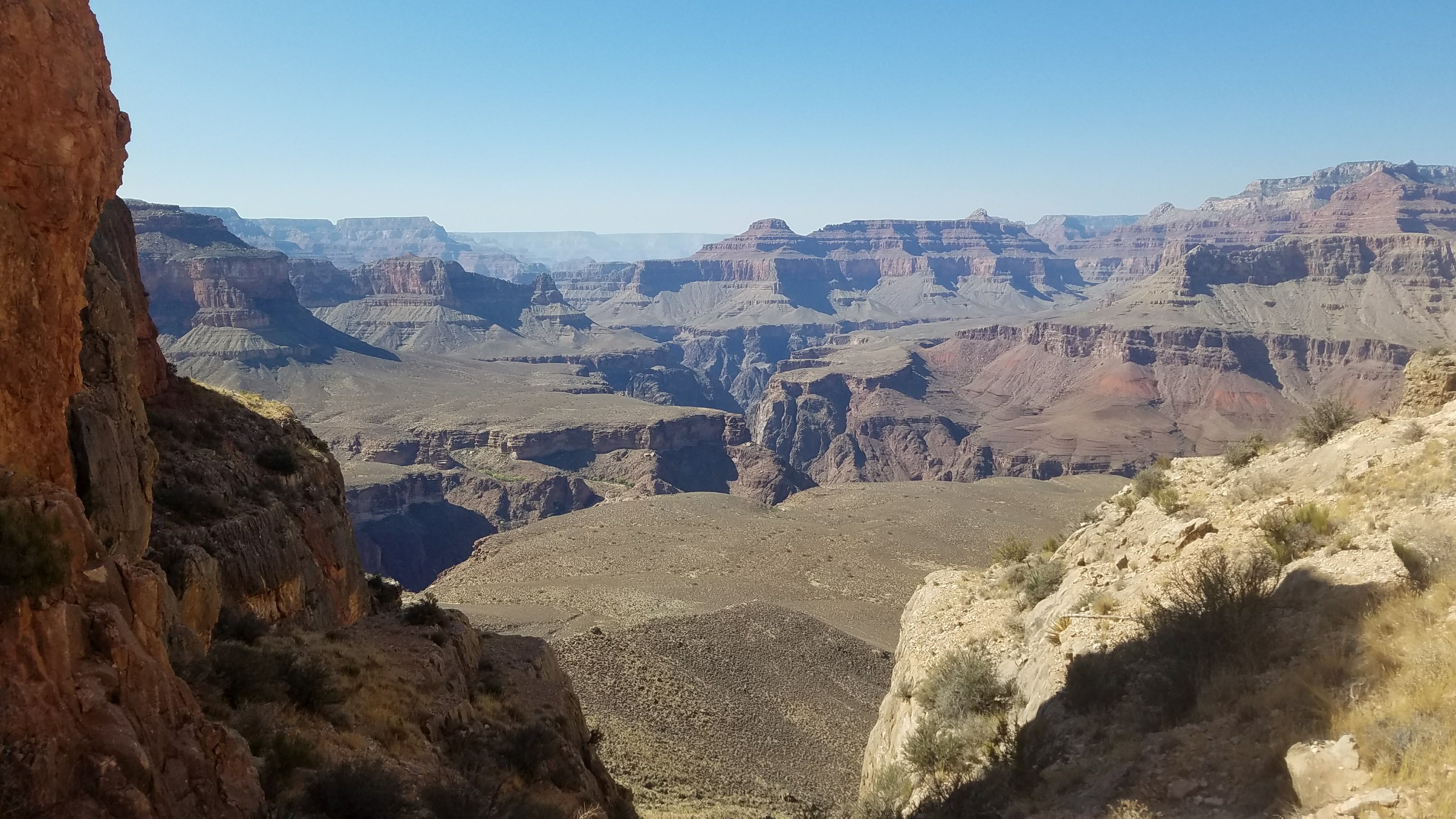 My little game gets us to the top by 3 pm but I miss seeing some condors as a result of being so focused on my feet. At least we have some time to see the visitor's center and do some more sightseeing along the rim. It's crowded and chaotic compared to the North Rim. I get sick of it quickly.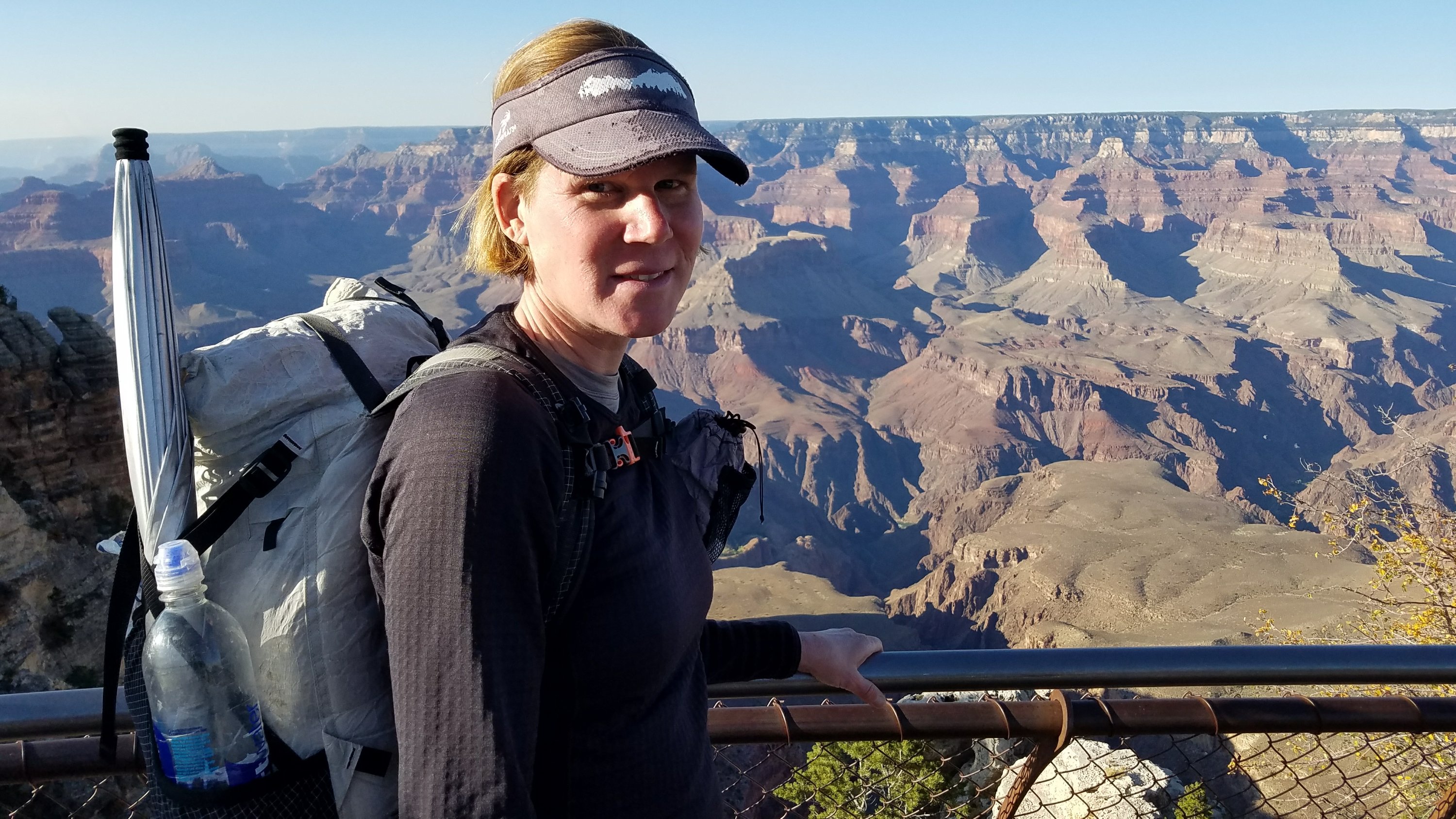 We head over to the campground and secure some great walk-in sights right near the showers. There are also 2 beers in the free food box. What a score. We meet another SOBO, Terminator. He has a 6 lb backpack, half the weight of ours, so he is quite a contrast from everyone else we have seen. Good for him.
We take showers and head over to a tavern for a beer and hamburger. It's pricey but the burger is really good. Grand Canyon village prices are as steep as the canyon. I barely get anything at the grocery store and the bill is over $40, $9 of which is just for a bag of granola! It's a 300% markup from what I normally pay for that granola. But this is all offset by the money we have saved by being dirtbag hikers. We paid no park entrance fee (since we walked in), our lodging for two nights has cost us $3 each and we've spent less than $50 on meals. That's a pretty cheap Grand Canyon tour. Compare that to a guy who said he paid $200 just for a hotel room in Tusayan, which isn't even in the park, and that was the cheapest he could find.
But it's going to be another cold night in the tent…forecast is for a low of 25 F. The temps didn't get anywhere near as cold as predicted last night so I hope that holds true again. I feel secure and confident once I'm in my tent and quilt. I have some incredibly trustworthy gear.