November 2nd, 2019
Italian Trap Trailhead mm 639.8 to mm 672.8
Distance in miles: 33
0600-1820
Oh boy, what a climb that greeted me in the morning! I got an early start and enjoyed a beautiful sunrise. The climb was mellow at first but rapidly escalated, going up 3000′ in 4 miles…ugh! is all I can say. I wasn't feeling my energy on this climb, tired from the hard days before. Luckily I was fit enough to go into auto-pilot mode. Up, Up, Up.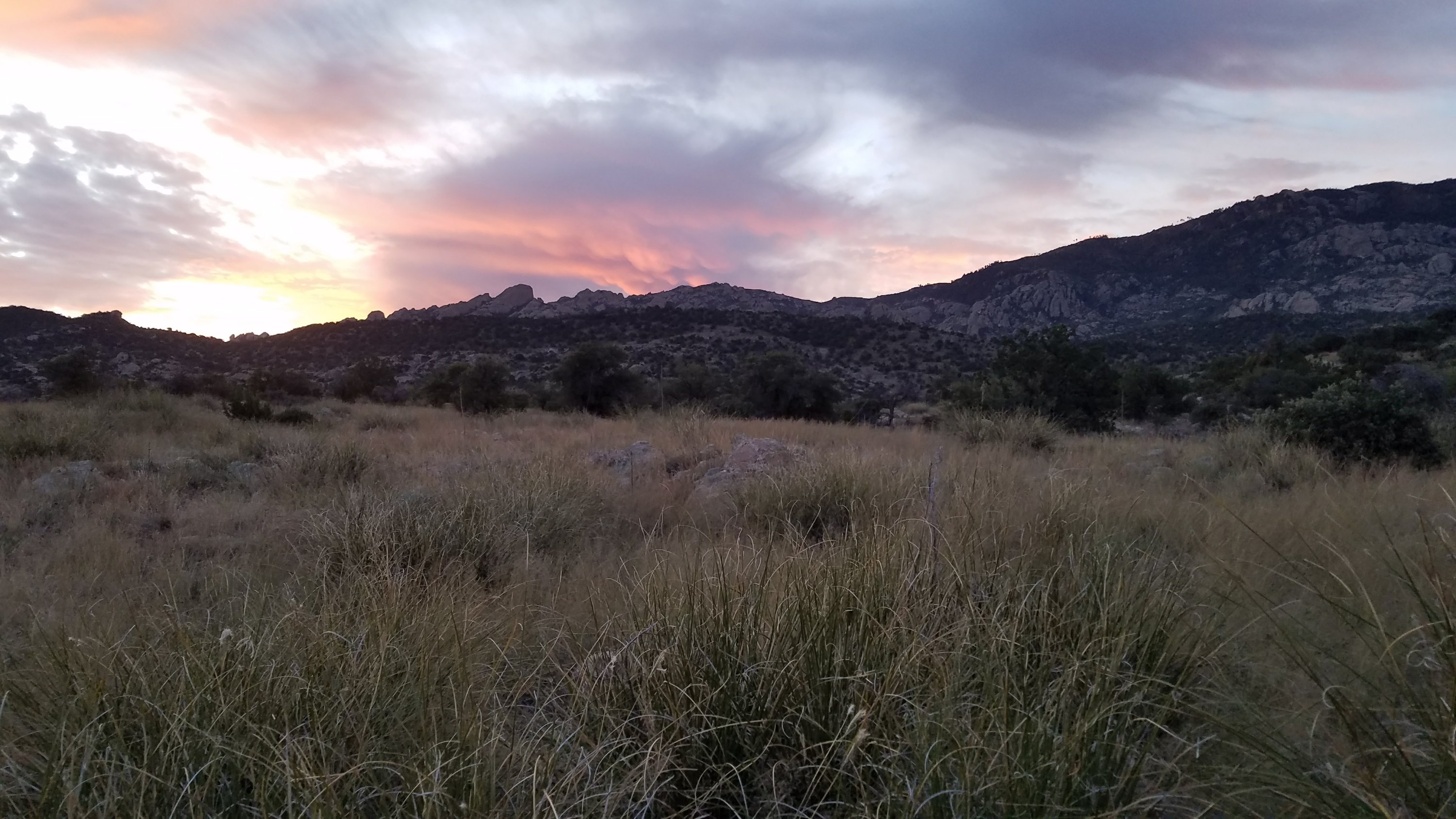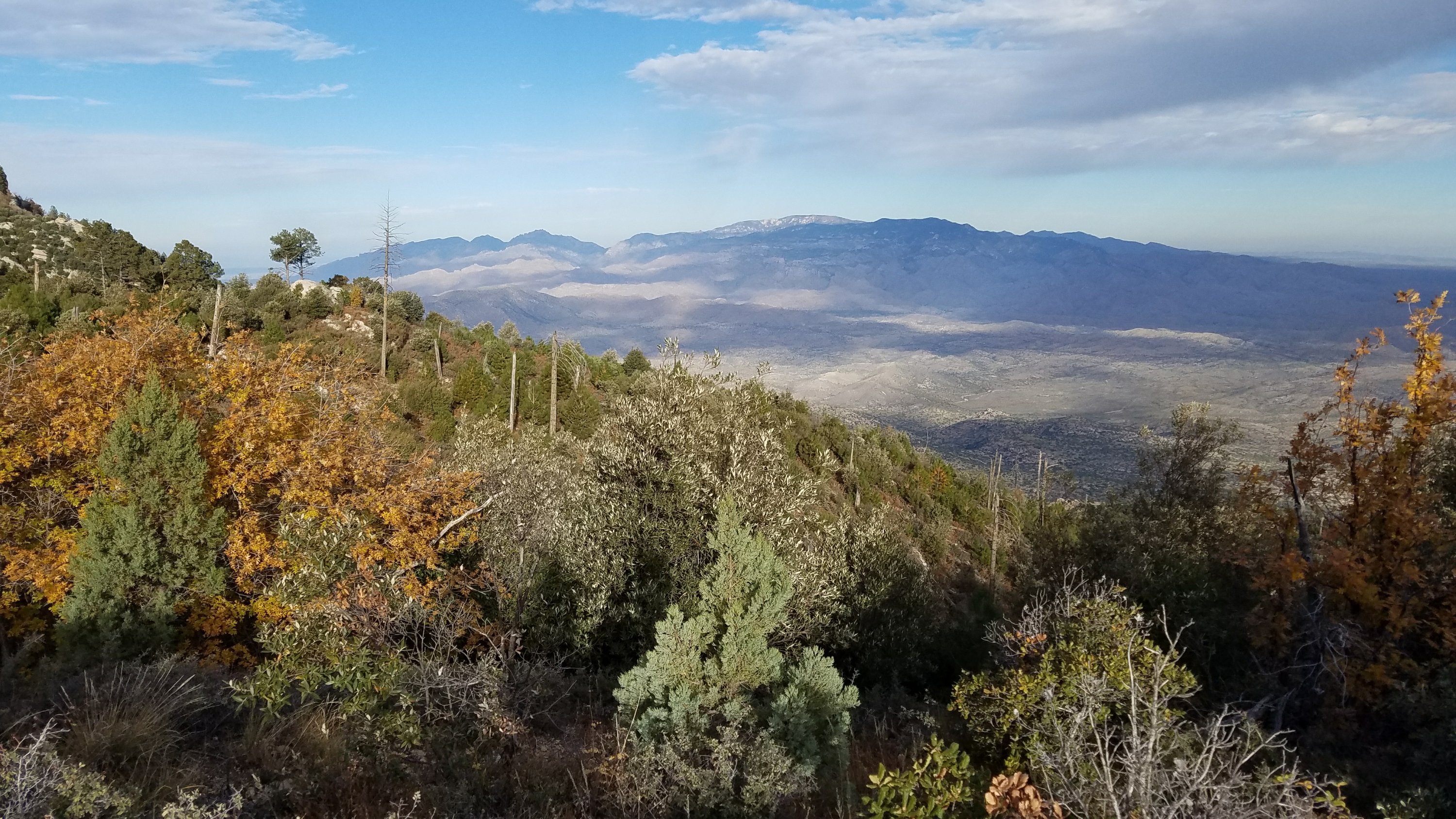 I kept checking my GPS, unhappy with my pace but going way faster than most would, probably. At least the morning temps were cool and I was at the top by 9 am. A short side-trail led to the peak and heck-yeah, I made the side trip. I wasn't letting this mountain slide by without getting to the very top. 8,666 feet in elevation.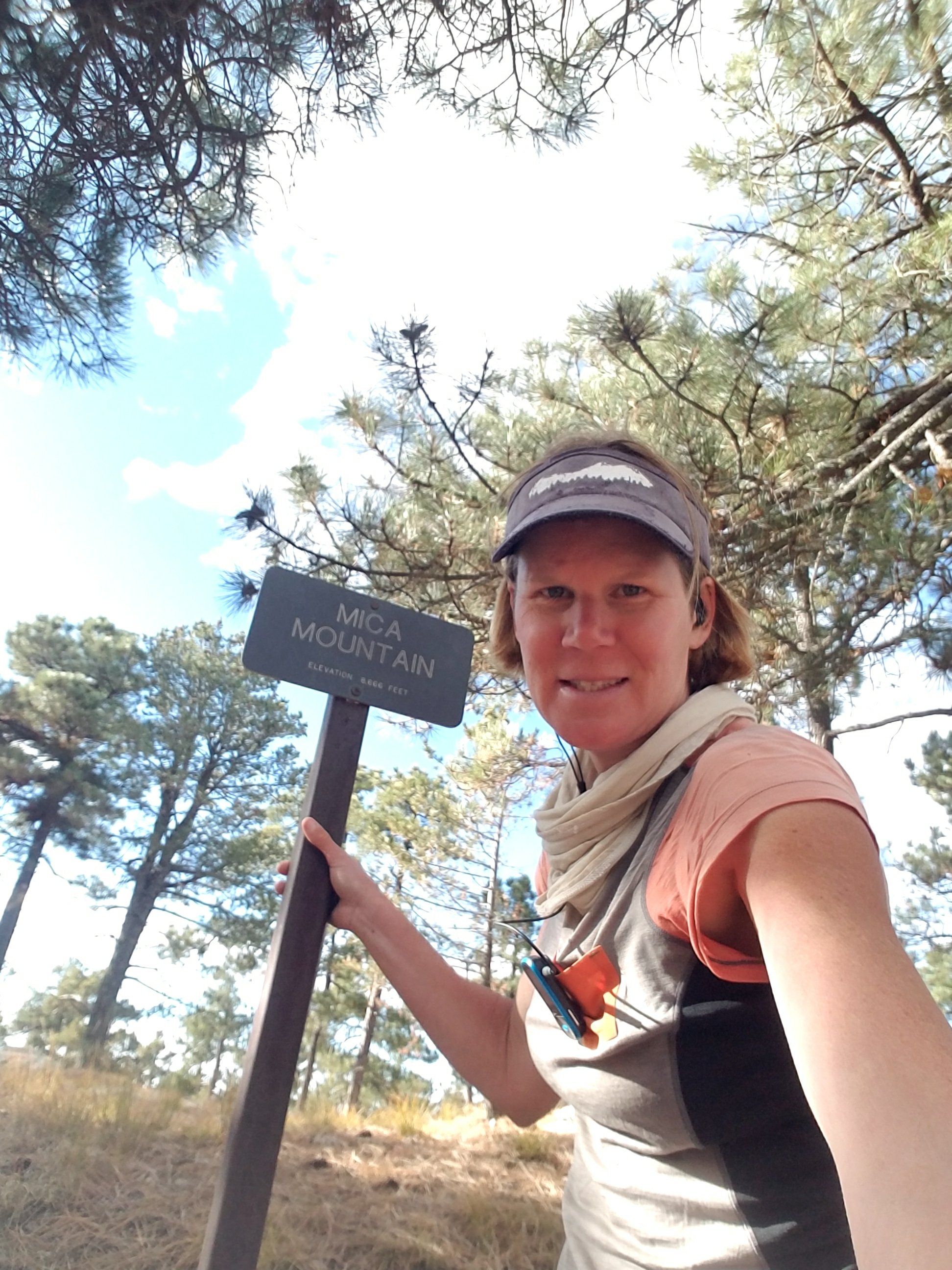 The trail went straight down afterwards, which seemed like a whole lot of trouble just to return to the hot desert. At least there were a few miles of ponderosa and fern forests to enjoy at the top. The fall colors were so beautiful, I wanted to linger all day long. But a permit was needed for camping in Saguaro National Park, so most AZT hikers blaze through this section. I took a short break at Manning Camp, collecting some water and enjoying the cool breeze. Then I got too cool and had to press on. This trail!… I was constantly oscillating between too cold and too hot.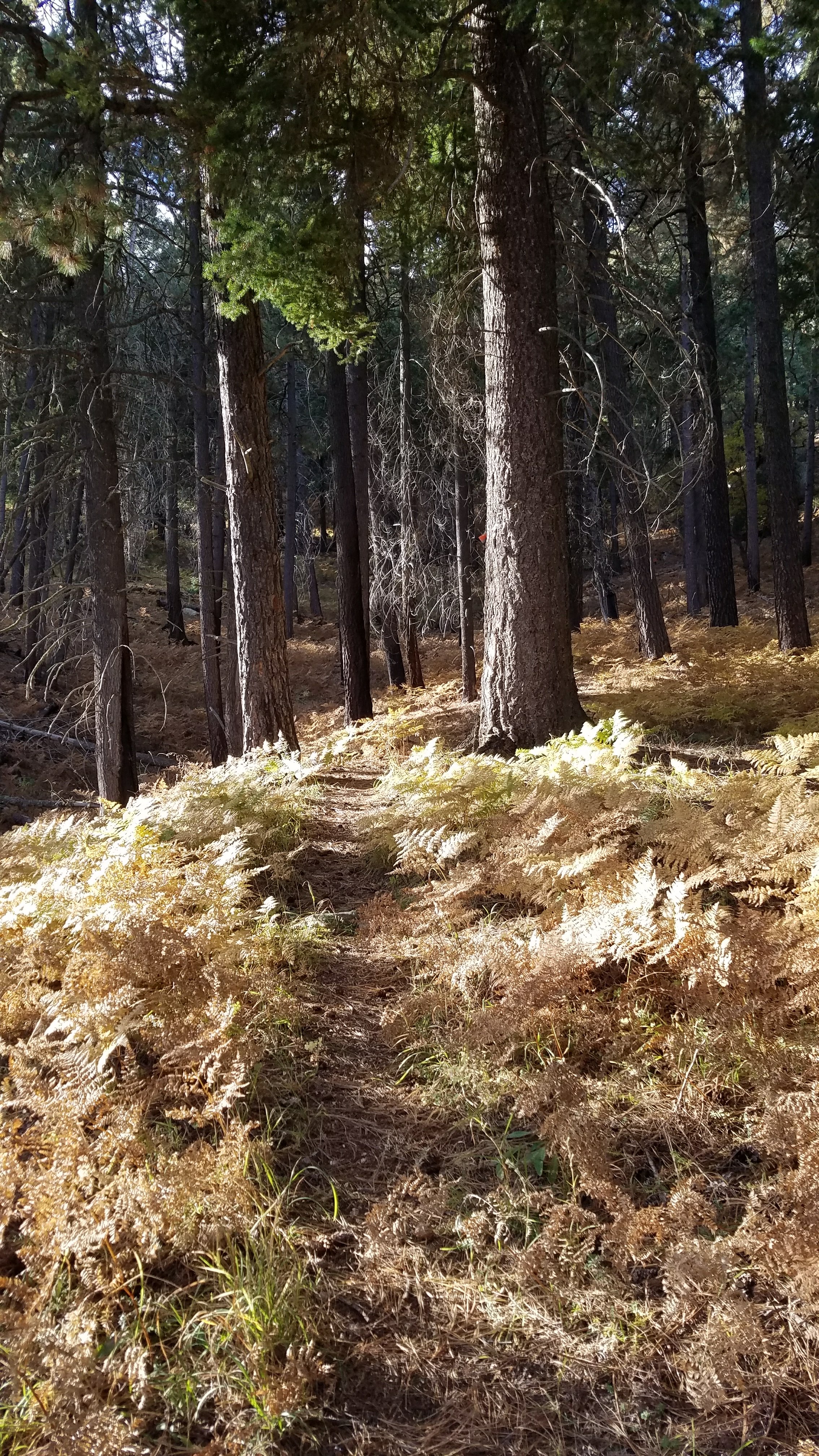 On the 10 mile stretch back down to the desert floor, I found a sizable pool of water in a creek. It was getting hotter by the minute and every foot of descent. Plus, my body was coated in sticky sweat from the previous days. So I dipped myself in the pool to cool off and rinse the salt. The cold water made me gasp but was so refreshing. For another 40 minutes, I hiked blissfully in my wet clothes. But they dry so quickly in this arid land, the enjoyment didn't last long enough. I found a much smaller and more stagnant pool, having to lay flat on my back to dunk myself this time but again, it was worth it. I got another few miles of cool relief.
Back on the desert plain, the cactus and ocotillos presented a bleak but beautiful landscape. It was very hot and a long 10 miles to the next water source. My clothes were bone dry and so was my mouth. I sipped my remaining water carefully, making sure it would last over the next 3 hours. At least the trail eased up considerably. It was very smooth and flow-y…perfect for an easy mountain bike ride…I wished I had one in this moment.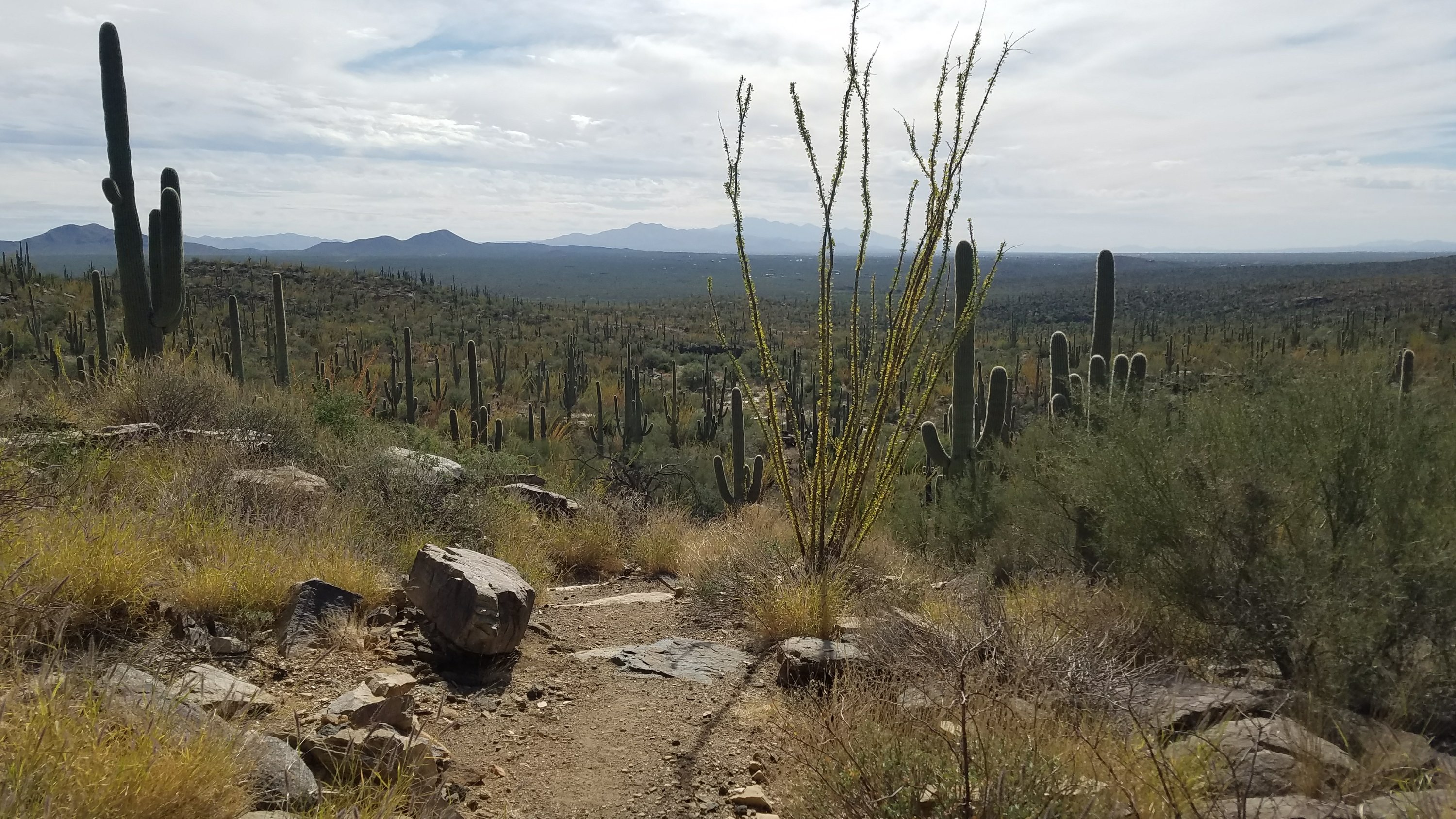 I put up my umbrella and faced the music. I just had to make it to 3 pm and it would start to cool down. When it finally did, it was a rather enjoyable section, much easier than the first 20 miles of the day. I reached the picnic grounds with a spigot at 4:30 pm. Oh what a relief it was to have some running water, even if it tasted metallic. I rinsed down a bit, washing all the salt from my face and legs. I also downed a couple of liters. I kept going for an hour more, pitching my tent in a small wash. This day was the thirstiest I had been in a long time, but ended well.