November 1st, 2019
Mm 609 to Italian Trap Trailhead mm 639.8
Distance in miles: 30.8
0610-1735
It's cold overnight but other nights have been much colder. I'm so happy nested in my space under the ponderosa. I just love these trees and it may be our last campsite like this so I savor it. The morning presents more cool balancing rocks and rock formations in general. It's like a rock wonderland, a boulderer's mecca.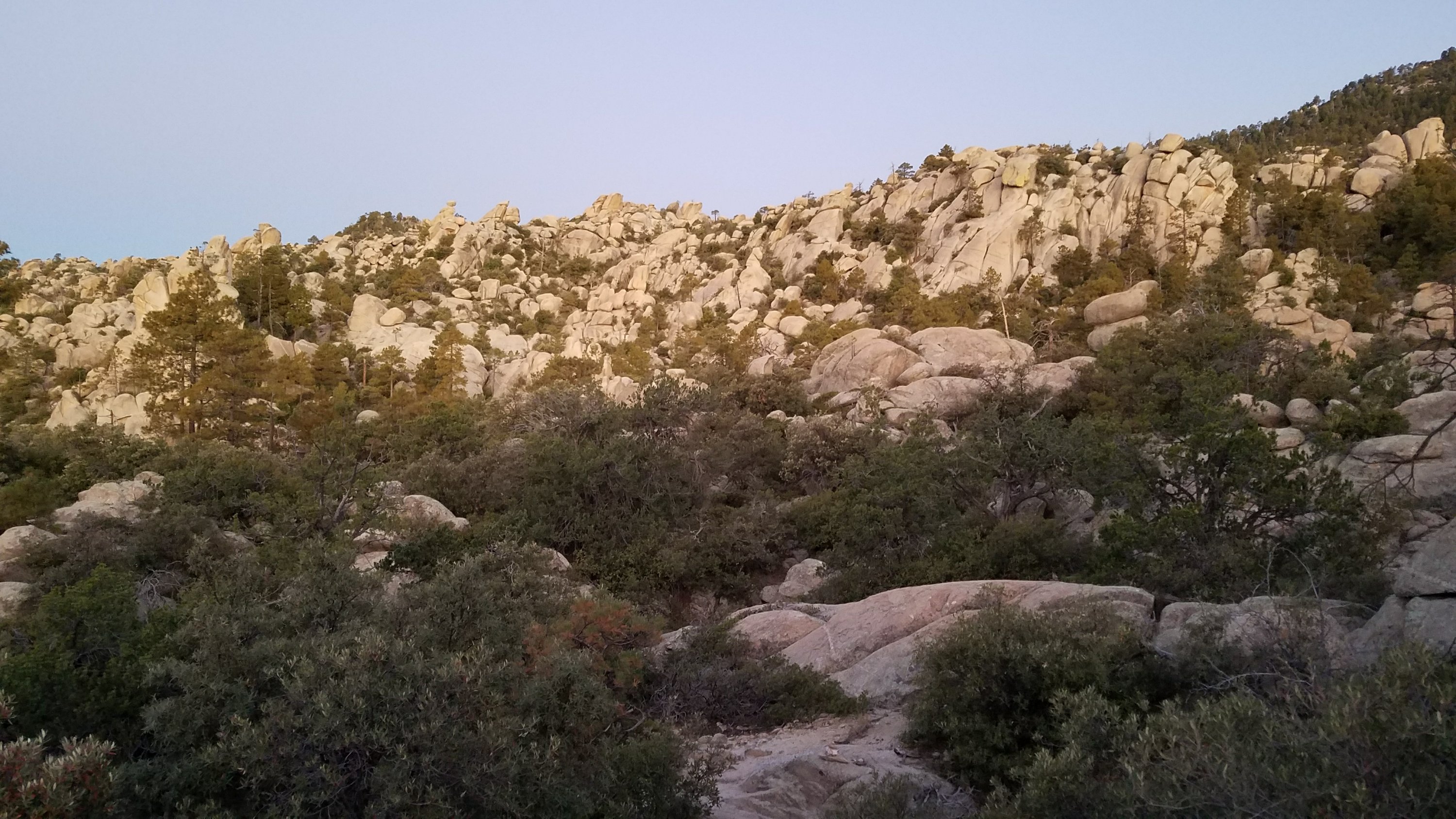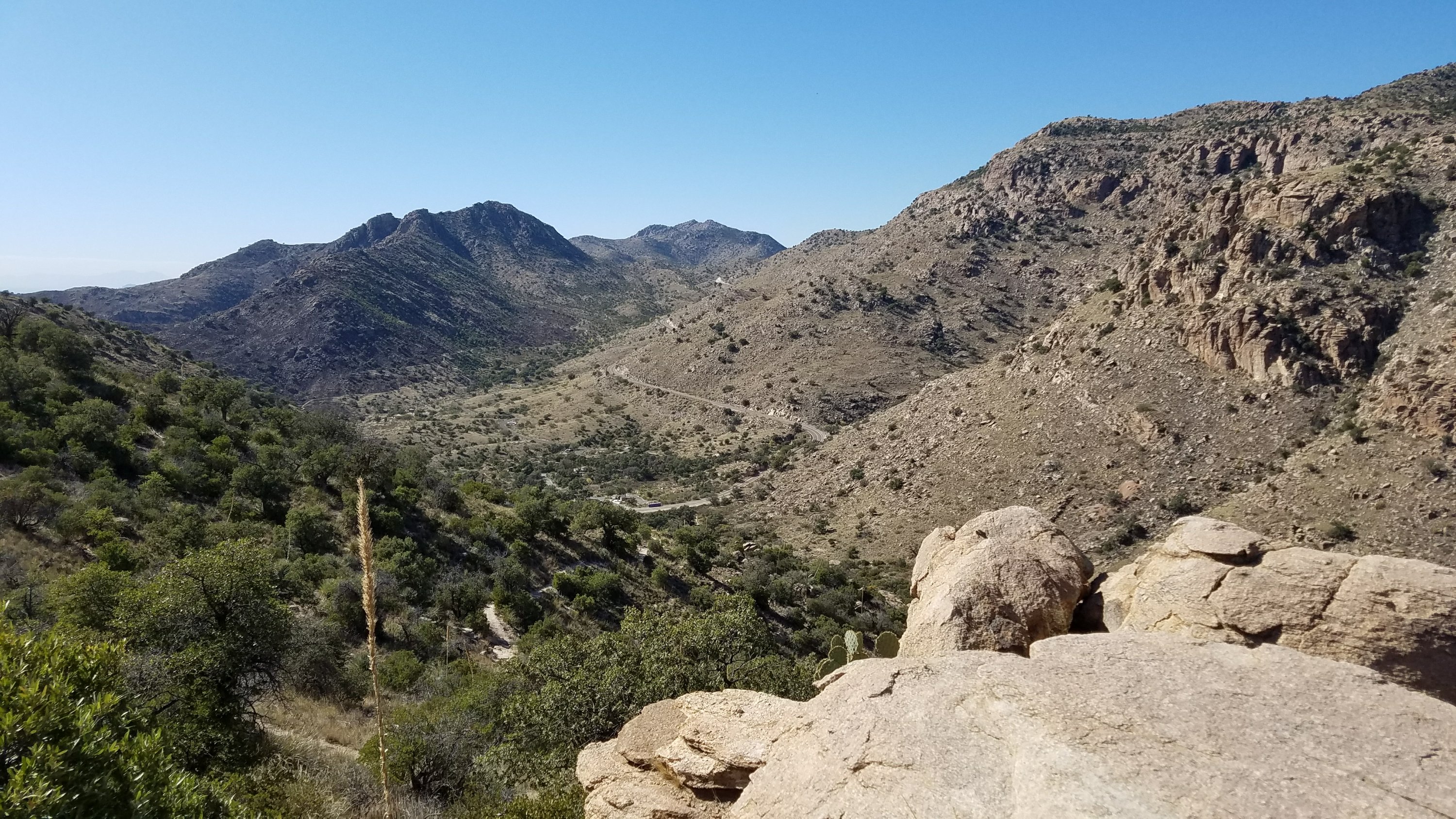 The trail then drops back down into the desert scrub and I mourn my departure from the pines. We follow a series of creekbeds and canyons for awhile. The terrain is very steep and rugged, the trail overgrown. Just as soon as we've descended thousands of feet, we're climbing another 1600′ to go over a ridge.
The trail leads to a campground where a short fire detour is in place. We have to walk the road a few miles, no big deal. I catch up to a SOBO, Dan, who we have been just behind for a week. We chat and I find out that he did the TA a year after me. I put up my umbrella for the road walk…it's getting very hot. Plus, the highway is very busy and I figure drivers see me better. It almost works too well since everyone stares so hard.
There's another campground where the trail resumes. I search for some water because there hasn't been any since a creek 10 miles back. Some mountain bikers are just leaving and give me a spare jug…and that's why I don't mind sharing trails with mountain bikers. Stellar gets some water from the campground host and we are all set. We won't pass anymore reliable water the rest of the day so we really needed to tank up.
There's another climb over a saddle as soon as we leave the campground. Then mellow, rolling hills the rest of the day. The heat makes me pretty thirsty and tired. I can feel the previous big climbs in my legs. It's been a hard day…chalk it up to the rocky, overgrown trail, the sun, the lack of water.
I keep moving and find myself in some beautiful grassy hills, wondering what just happened to the desert scrub? One thing about this trail, the habitat is constantly changing. I enjoy the hills and late afternoon as it cools down. The challenge is to make it to 3 pm, when the heat starts abate. Then it's really pleasant for about 3 hours. I can put the umbrella away.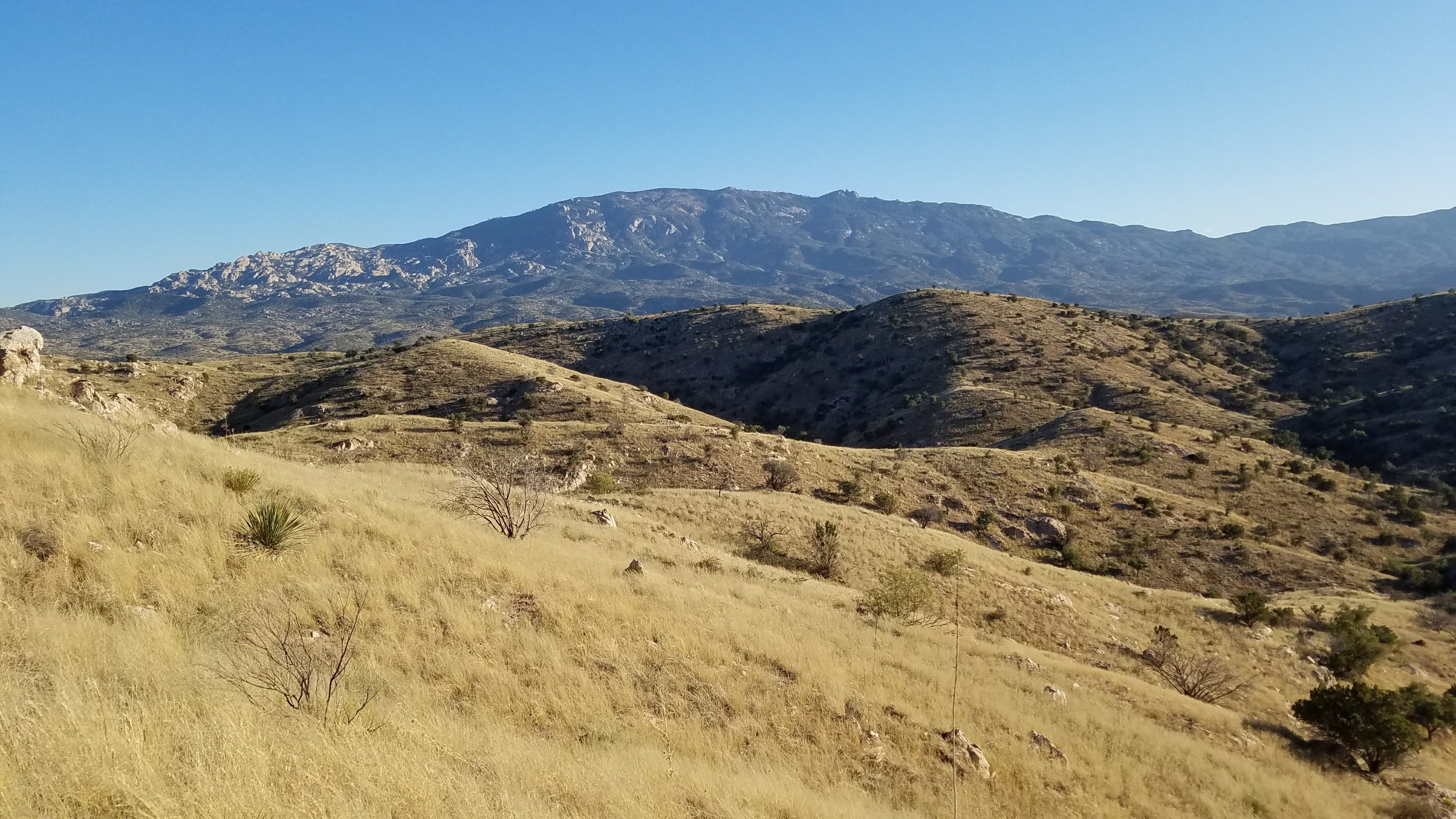 My aim for the night is a dry wash just before another ginormous climb. Tomorrow we'll go up 4700′ in 7.5 miles to the top of Mt. Mica. But today, I've done enough. The wash is perfect, with firm flat sand and trees. Owls hoot all night and it's very peaceful. Dan arrives an hour after us and cowboy camps nearby. It's nice to have company, even if we're already in bed.