06:00-13:00, Sunday, 6-14-20
CO 14ers: 8 & 9 of 53
Distance RT: 11 miles
Elevation gain/loss: 5,600′
Starting Elevation: 9,750′
Summits: 14,229′ & 14,155′
Rank: 17 & 25 of 53
Location: Sawatch Range, Collegiate Peaks, north of Salida
Route: Shavano East Slopes then 1 mile ridge hike to Tabeguache, Class 2
Companion: Wind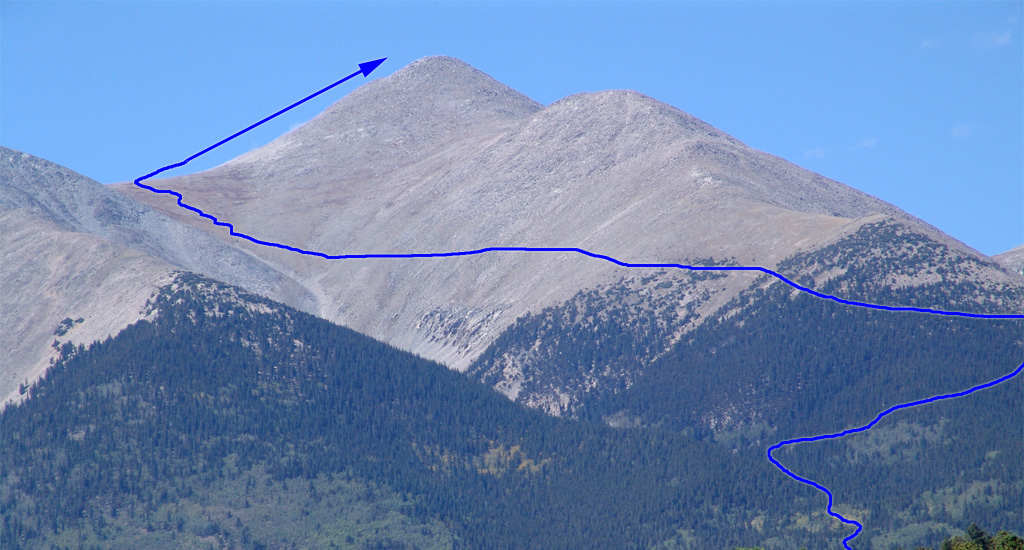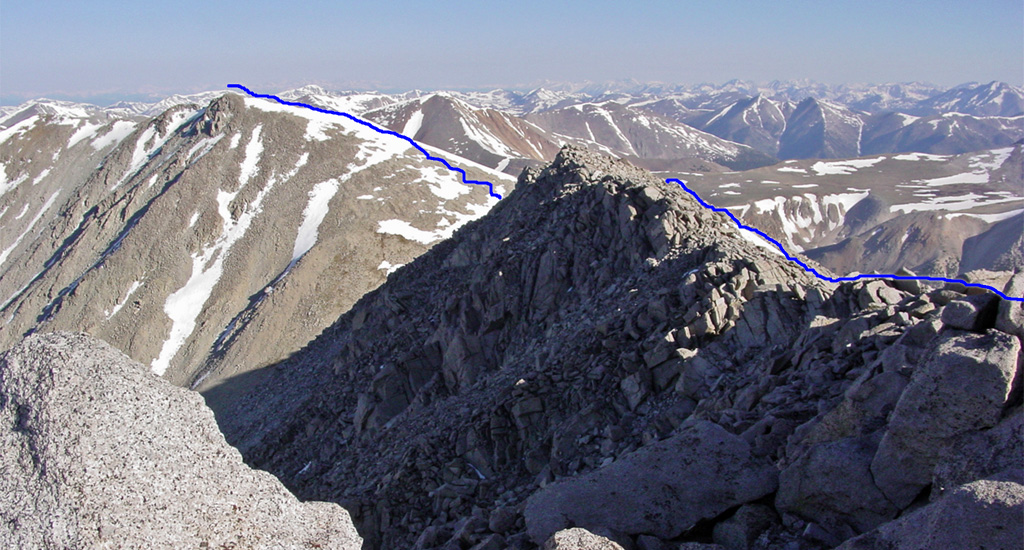 Photos from 14ers.com
Suddenly peak-bagging had become a thing I was doing this summer (for various complicated and sad reasons I explained in an earlier blog). Achieving these feats was the positive measure I needed in my life at this time. A short-term goal and focus. A big reward. 14ers.com had become my new shopping list. It's a webpage outlining all the routes and details of climbing every 14er in Colorado. I surveyed it for some nearby options in the Collegiate Peaks. There were lots to choose from, as the Sawatch Range (which the Collegiates are a part of) contain 15 14ers. As of now, I've climbed 8 of these, so the region still holds quite a few left for me to explore in the future.
For this trip, I settled on Shavano and Tabeguache, due to their close proximity to Salida and the opportunity for a pretty easy "2fer" (2 for the price of one). One could also call them a BOGO (buy one get one free). 14er's are rarely easy to knock out but when you can combine the majority of the climb up one with a short climb up another, it's quite a bonus! This would bring my total 14er count to 10 (including Mt Whitney), entering the double digits. My first 14er 2fer were the twin peaks of Grays and Torreys.
I decided to car-camp at the trailhead the night before. It was a nice 1 hour drive up the Arkansas River canyon to Salida and then another 30-45 minutes on a long dirt road to the trailhead. I passed many dispersed camp spots on the way, settling on the edge of a meadow with great views of Shavano, Ouray and Chipeta (all are named after famous Utes, the latter 2 are 13ers that sit along the CDT/Colorado Trail). Tabeguache (named for a Ute tribe) is hidden behind Shavano. Shavano is a mountain I used to stare at in awe every time I went skiing at Monarch resort. I even rented my gear from the Mt. Shavano outfitter, a little A-frame hut along HWY 50. I always loved the name and look of the mountain but never thought of climbing it.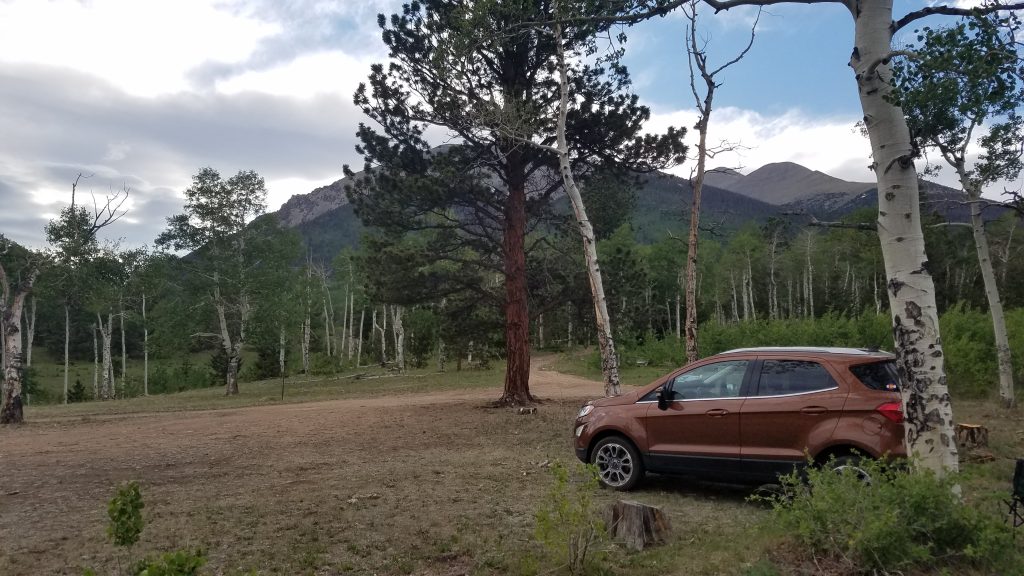 This was my first venture sleeping in my new car. My small Toyota Tacoma truck had always been straightforward…pop the tail gait, instant bed. My Ford Ecosport required a lot more fiddling. After a lot of re-arranging of the seats, I have to sleep at a diagonal and it's a little cramped but hey, it works! I ate dinner, read my book, and enjoyed the mountain serenity. A few car campers were parked around me but all were very quiet. Overnight it rained a bit and the wind picked up but inside the car, I wasn't phased at all. After all the time I've spent in a tent, I didn't mind being a little separated from the elements.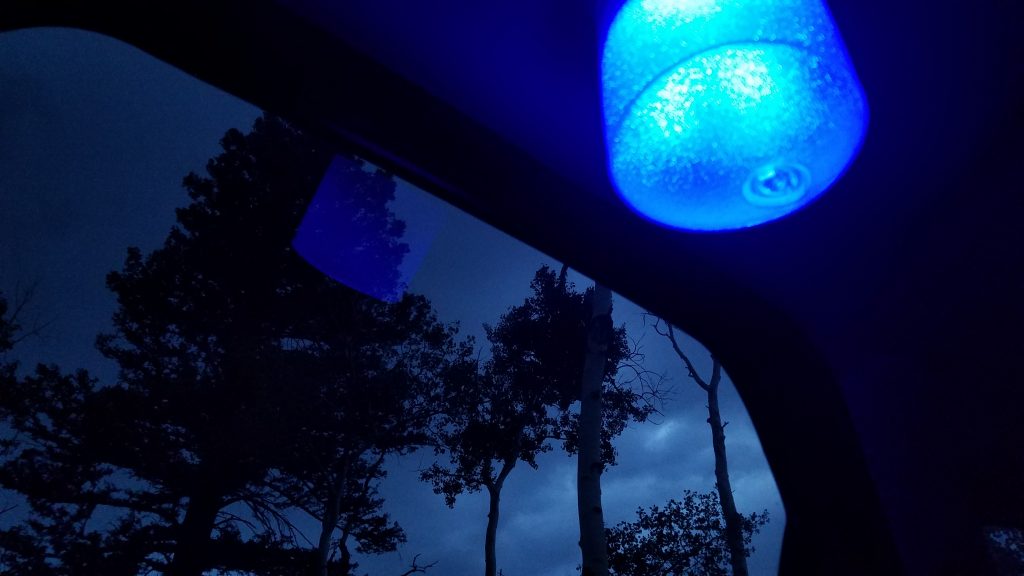 Mood lighting with my solar lamp, safe and snug inside my steel, plastic and glass tent.

I was up early (5 am), ready for a nice, easy climb…or so I thought. The trail began by utilizing a short piece of the Colorado Trail…territory I had covered 3 years prior. It felt good to be back on the CT. Quickly, I turned onto the approach trail, winding my way up steeply through the Ponderosa and Douglas Firs. I wondered if maybe I should have tented under these beautiful trees. I passed a few fellow hikers, including some who told me about the atrocious winds they'd experienced at their campsite overnight. They'd stayed just a few miles up the trail, which apparently made all the difference. Secretly I reflected on my decision to sleep in my car…I've put in my time braving the elements in months (years) of living outdoors, so I can appreciate the sacrifice while simultaneously relishing in my own comfort. I should have heeded their report of wind as a sign of what was to come, but I charged on, blissfully ignorant. The weather report called for clear and pleasant conditions, if a bit breezy. Highs in the 90's were expected for the Arkansas Valley, so I figured it would be a pretty comfortable day at elevation.
The trail entered the exposed meadows above timberline and still conditions were very pleasant. Shavano is best known for a snowfield on its eastern flank, the Angel of Shavano. It's resemblance to a winged deity suggested to early settlers that the mountain was blessed. Due to the route's mostly southern exposure, its higher slopes often melt before other peaks, making it a good choice for an early season attempt. Almost no snow remained on this day.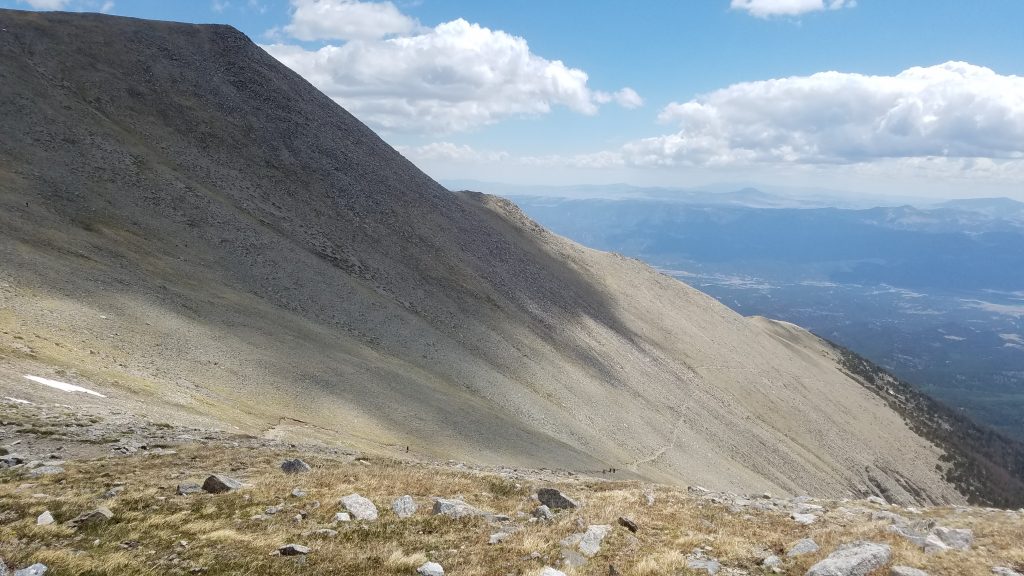 During the long approach to the saddle, I began to feel the wind. Another fast hiker caught up to me as I stopped to put on my jacket. We made small talk and continued on, still in good spirits. I shortly realized my one mistake in preparedness for this trip: I had all the appropriate layers except for gloves. I just never thought I'd need them this time of year.
As I gained the saddle, the most frigid winds began to blast me with a troubling furry. I'm well accustomed to such treacherous high-elevation winds. They've made for some of my most memorable…and miserable…days on the PCT and CDT. I've been blown off my feet numerous times and struggled just to take steps for miles on end. It's hard to put into words just how difficult the winds can make a journey. Winds never show up in pictures. They're an invisible force, a detractor, deal-breaker…even a killer.
Given my familiarity with their evil tricks, the winds this day still surprised me. Not only did I get blown over a few times, the chill burned me to my core. I quickly had to take refuge behind a cairn to don all the layers I had, including my tights. This proved to be very difficult because within minutes, my hands had become useless block of ice. I desperately needed gloves, improvising with my arm sleeves just to break the chill. My hands began to hurt, then throb, as I struggled to choke back sobs from the intensity of the pain. Rarely have I been moved to tears from such raw pain. The other fast hiker stopped to ask if I was ok and I was immediately embarrassed by my lack of preparedness and poor dealing with the situation. I had gone from being totally in control to out of it so fast…a good lesson in why one should never take these big mountains lightly.
My embarrassment quickly turned into stubbornness , which propelled me further up the ridge. I had actually considered turning around but seeing others press on, so too did I.  I could see the frustration and suffering on their faces, so I knew I wasn't the only one finding the winds difficult. Misery loves company and in company, we persevered. Near the top, I had to put away my trekking poles, as it was just too cold to hold them anymore. I cupped my frozen hands together and stumbled along. Without the poles to help balance, the winds had their way with me even more so. Still, I worked my way up the ridge. I barely remember the climb and certainly didn't notice being out of breath. The cold in my hands stripped away any other feelings and then so too was that gone. Just as quickly as the winds had begun, all went silent and I was standing at the top, facing the sun. About 10 others were quietly sitting, also looking a bit stunned by the ordeal of getting there.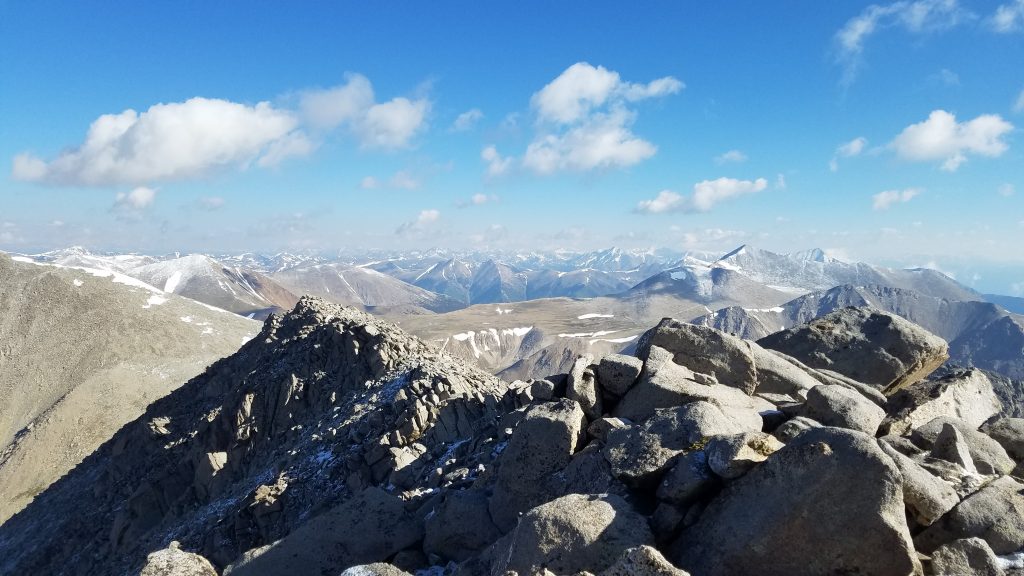 I joined them in their reverence, patiently waiting to thaw. I don't know how mountain tops manage to be so serene when the ridges leading up to them are so ravaged by wind. I've noticed this phenomenon several times before, figuring it must have something to do with a complicated principle of fluid dynamics…Bernoulli perhaps? Regardless, I sure appreciated the effect on this morning. I checked my watch to see that it was only 8 am. It could do nothing but warm up from here on out. Eventually I got around to taking some obligatory summit photos, showing off my ridiculous pairings of bright layers. Honestly, I wasn't trying to be so mismatched color-wise! At least rescuers could easily find me, if need be.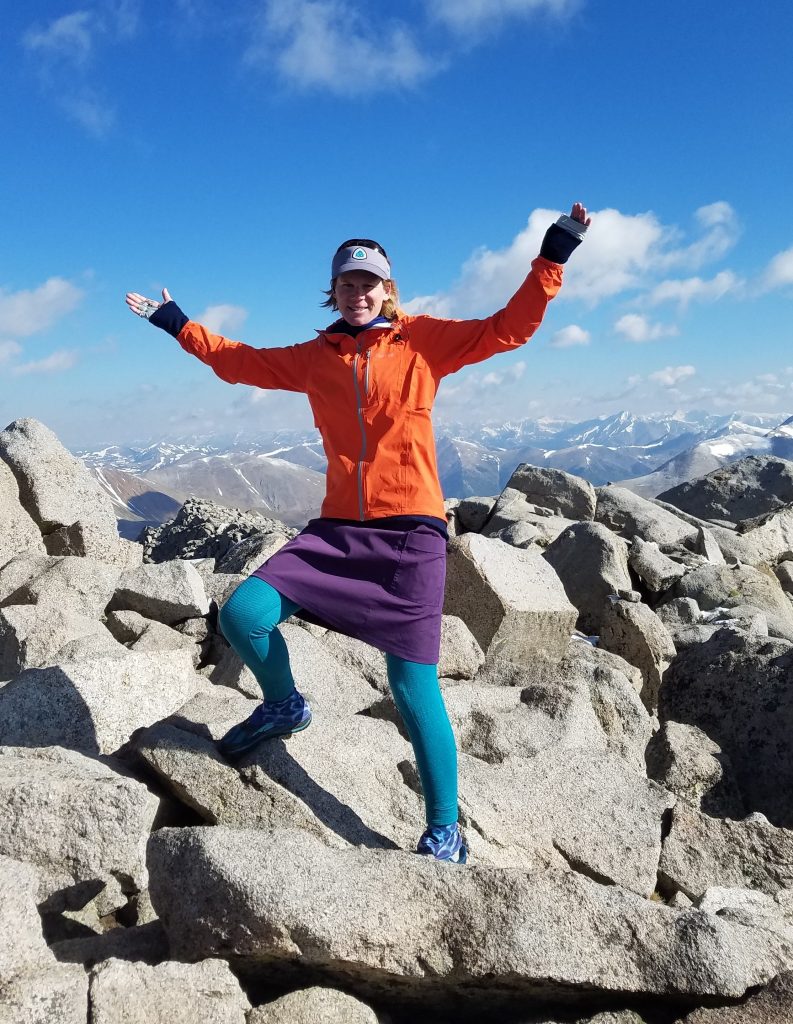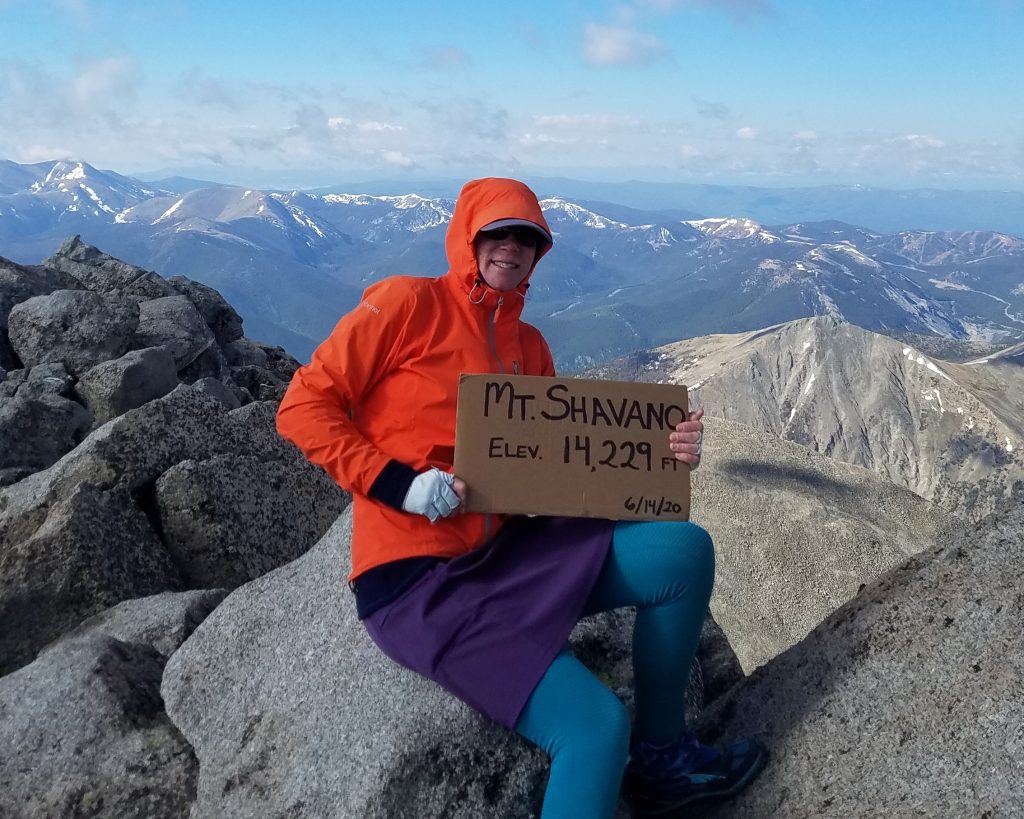 It's common for other organized hikers to prepare a sign for the summit…which non-organized hikers like me take advantage of. My eternal thanks to organized hikers everywhere for sharing these nice signs. They provide clear and concise evidence of a summit achievement…and excellent Instagram fodder.
For awhile, we all sat around mulling the idea of continuing on to the summit of Tabeguache. No one wanted to face more of those brutal winds. But it would be a pity to leave it for another day, especially since the most logical route would require a repeat return to this summit. God forbid I would have to hike a 14er twice (yet I already did with Pikes Peak). I reckoned it was warming up and perhaps the 1 mile ridge would be less exposed. One by one, hikers set out to make their bid and like so many sheep, we all followed. I smiled when a girl who had defiantly declared "No more, no way!" fell right in line behind me. That's the spirit!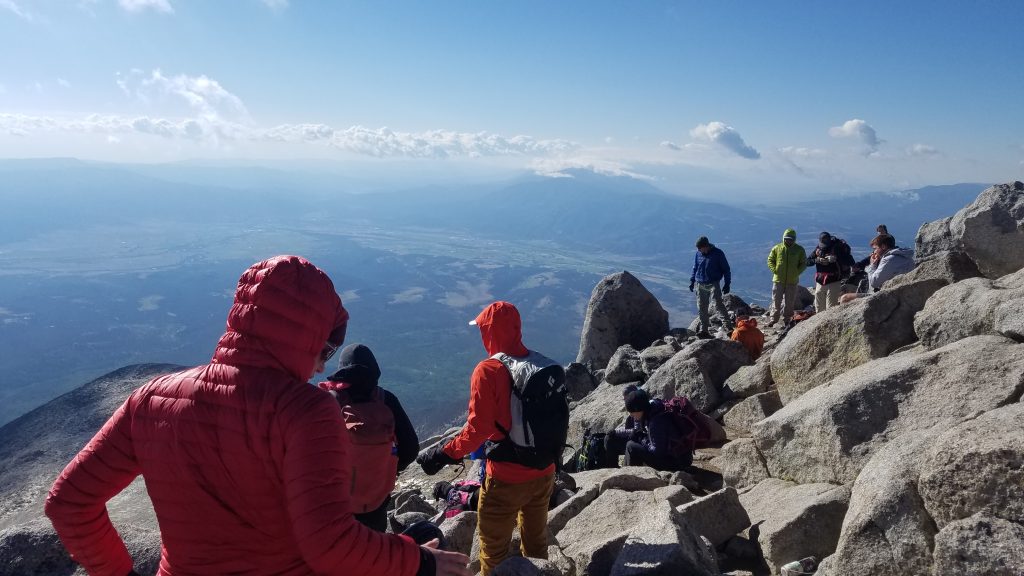 Looking across the Arkansas River Valley and the town of Salida. This picture really gives that top of the world feeling…we're about even with the clouds after all. Some smart hikers brought their puffy's.
Fortunately, the rest of the hike was great! A fresh dusting of snow and ice from the night before required careful steps, but otherwise it was quite easy. A descent of 600′ to the saddle and then another 500′ of up made the climb to the summit pretty effortless…at least compared to the massive gains and losses with single peaks. Here's the view of the peak from the saddle…just lots of rock.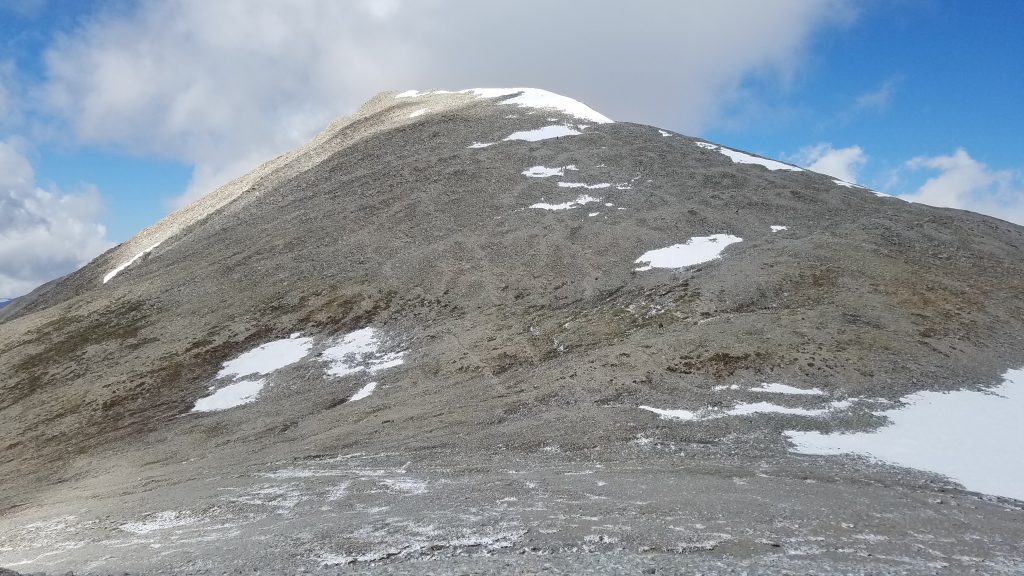 At the top of Tabeguache, I was able to shed the buff for a much better summit photo. Also note the nice sign courtesy of an organized hiker.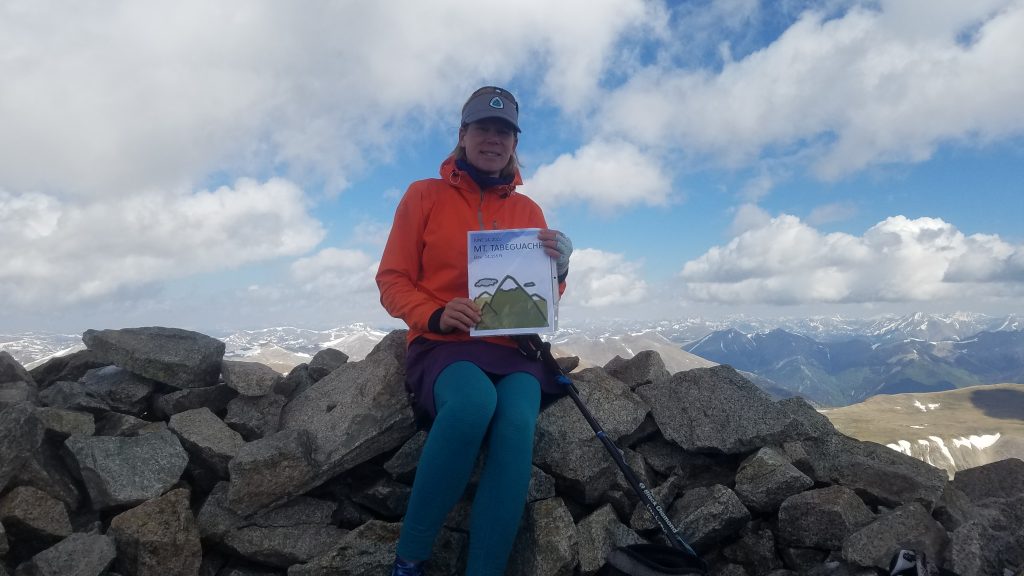 And here's a selfie with Mt. Antero in the background, right next to my head. Little did I know at the time that this would be my next 14er, hiking along some of the mining roads that are just visible in the background.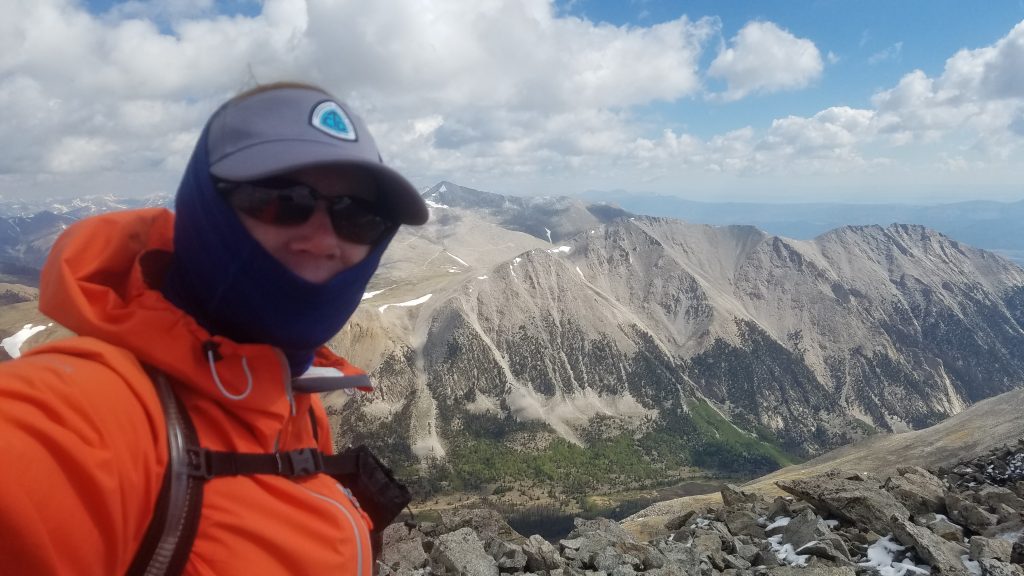 And here's a look back at Shavano and the return hike. Down then up and then down again. But it was worth it to get a 2for!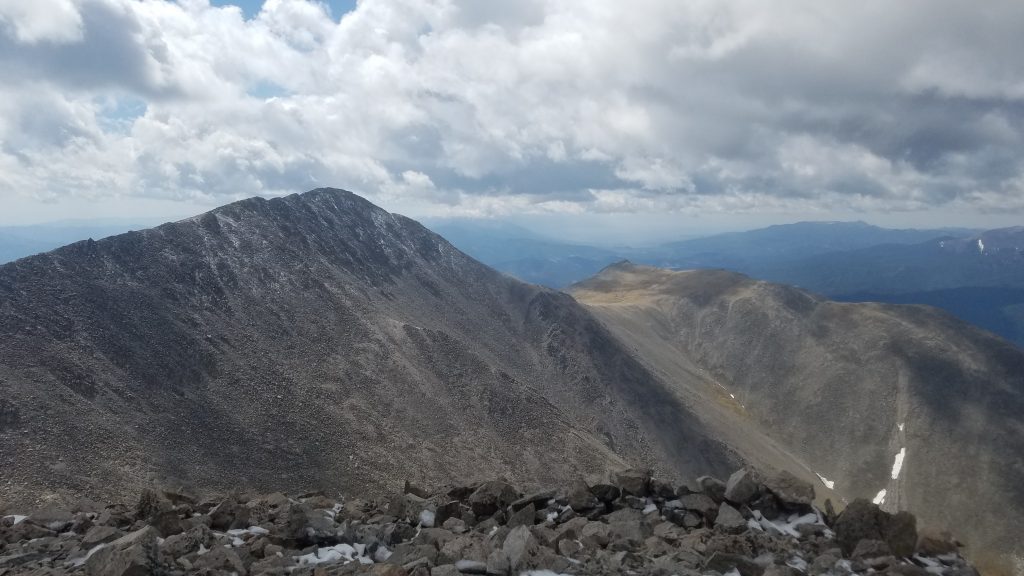 And so, what a hike! I descended for what felt like an eternity. I'm always surprised by this. It doesn't seem to be as long going up as going down and I don't understand why it always feels this way. You'd think it would be the opposite. At the saddle I passed a few hikers that were just starting to brave the winds. They seemed to be struggling while for me, the discomfort barely registered any more. If only they had felt what it was like early in the morning. Halfway down, I hit what felt like a wall of warmth. I stripped off all my layers to just my skirt and t-shirt and it felt so good. By the time I hit the CT, it was back to the nicest of summer days. Later I had lunch with an old shipmate, India, in Salida and I was already lamenting the hot and dry conditions. Go figure. Another hike for the record books my friends, hope you enjoyed!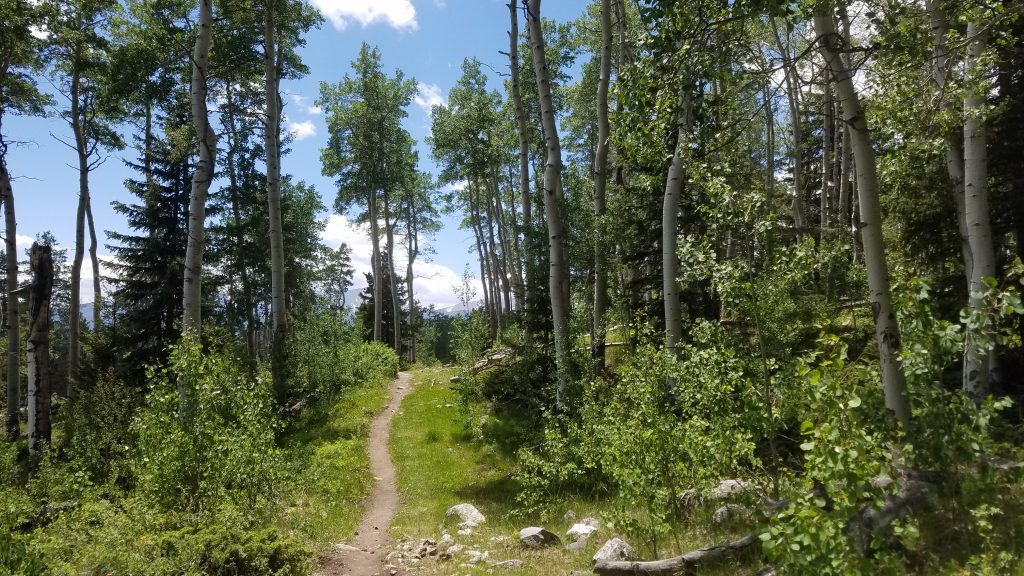 The beautiful Colorado Trail.