07:00-17:30, Sunday, 5-31-20
My CO 14er count: 7 of 53
Distance RT: 17.5 miles
Elevation gain/loss: 5,350′
Starting Elevation: 8,800′
Summit: 14,064′
Rank: 37 of 53
Location: Sangre de Cristos, Southern Colorado
Route: South Colony Lakes 2WD Lower Parking Lot to Humboldt West Ridge, Class 2
Companion: Jolly Rancher (Kevin Parsons)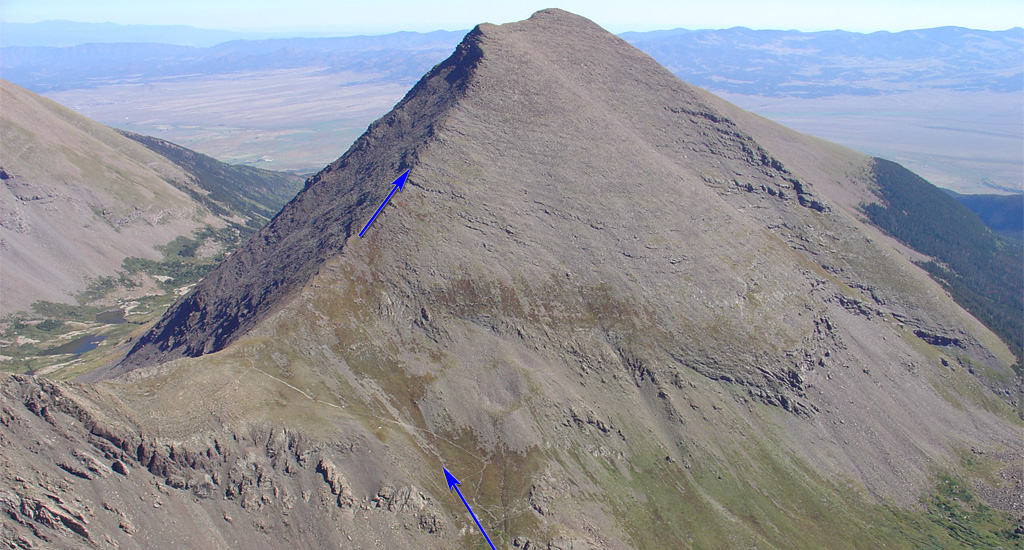 Photo from 14ers.com
After I'd recovered from my climb up Pikes Peak, I felt really inspired to do more. What next? I'd been in touch with my friend Jolly Rancher (JR), who lives less than 1 hr from my base camp in Canon City. I met JR while hiking the Colorado Trail in 2017. His amazing Earthship home is nestled in the Wet Mountains, facing the awe-inspiring Sangre de Cristo range of mountains.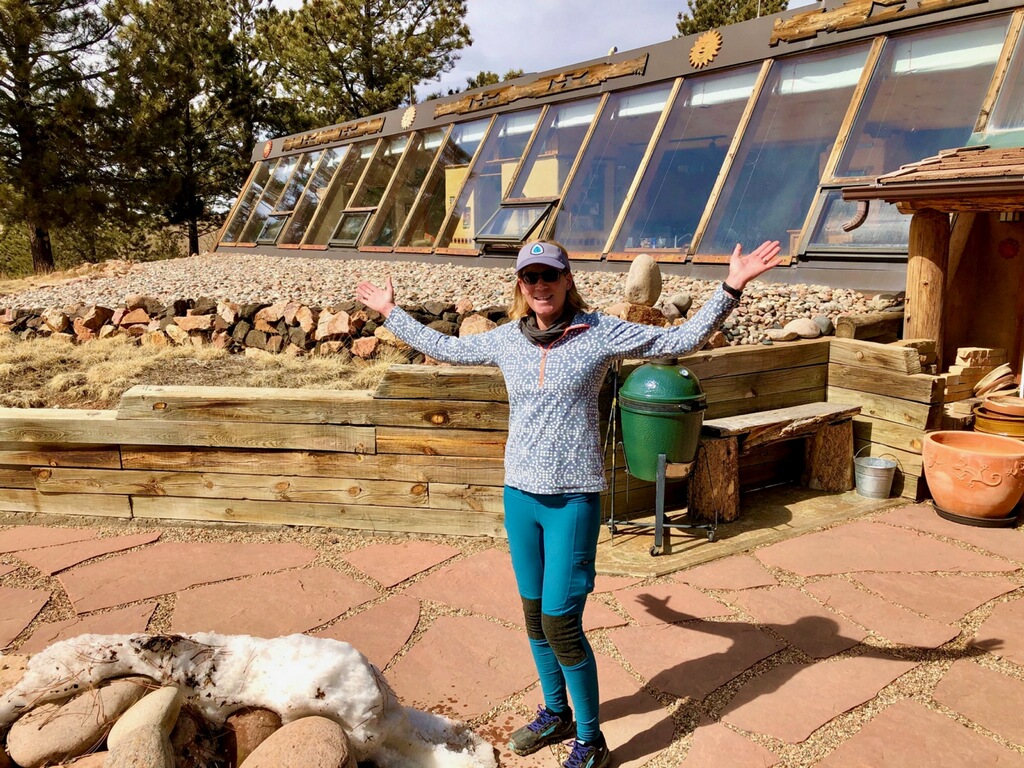 This is the south-facing side of an Earthship. The other side is sunk into the side of a hill. It is designed to be self-heating and energy-efficient. JR built all of this himself!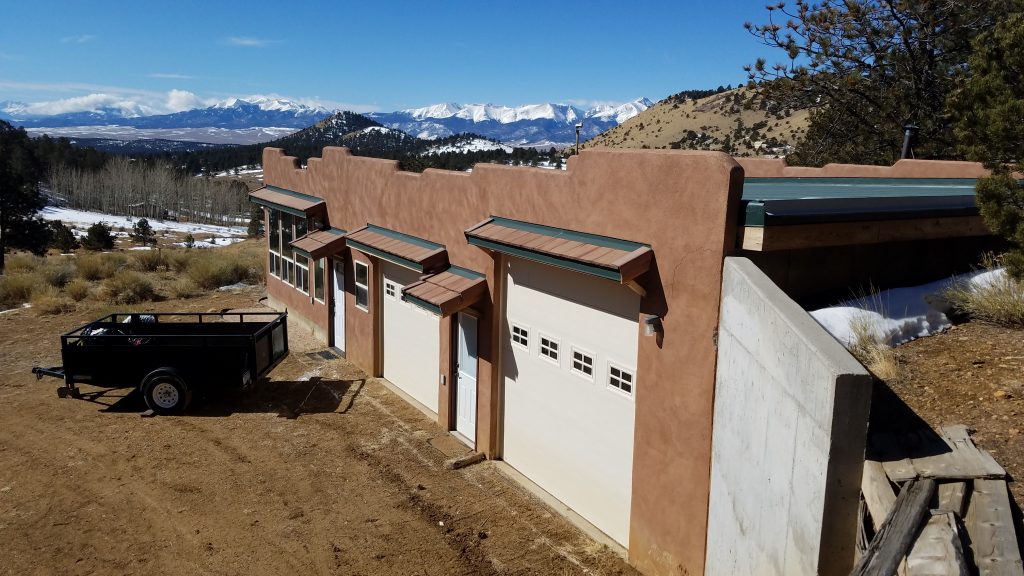 View of the Sangres in March…still covered in snow
I visited Jolly Rancher (JR) at his home at the beginning of March, just before he departed for his thru-hike of the Arizona Trail. By the end of May, he was back and in great shape after completing all 800 miles of the AZT…Congrats JR! I knew he'd be a great companion to knock out another 14er, so I asked for his suggestions. We immediately settled on Humboldt, being that he can nearly see the mountain from his front door. JR had hiked it several times before but didn't mind a repeat visit…you'll see why in a bit. Humboldt sits in close proximity to a group of other 14er's that include Crestone Peak, Crestone Needle, Challenger Point, and Kit Carson Peak. It's the easiest to climb of the group and shares the same approach trail as with the Crestones…which make a most stunning backdrop for the entirety of the hike up Humboldt.
I drove up to crash at JR's place the night before and we got a fresh start the next morning. I just love the views of the Sangres as you drive across the Wet Mountain Valley (west towards Westcliffe). In fact, I can't think of a more stunning vista in all of Colorado. I consider these my 'home-town' mountains and have done many special day and overnight trips in this area.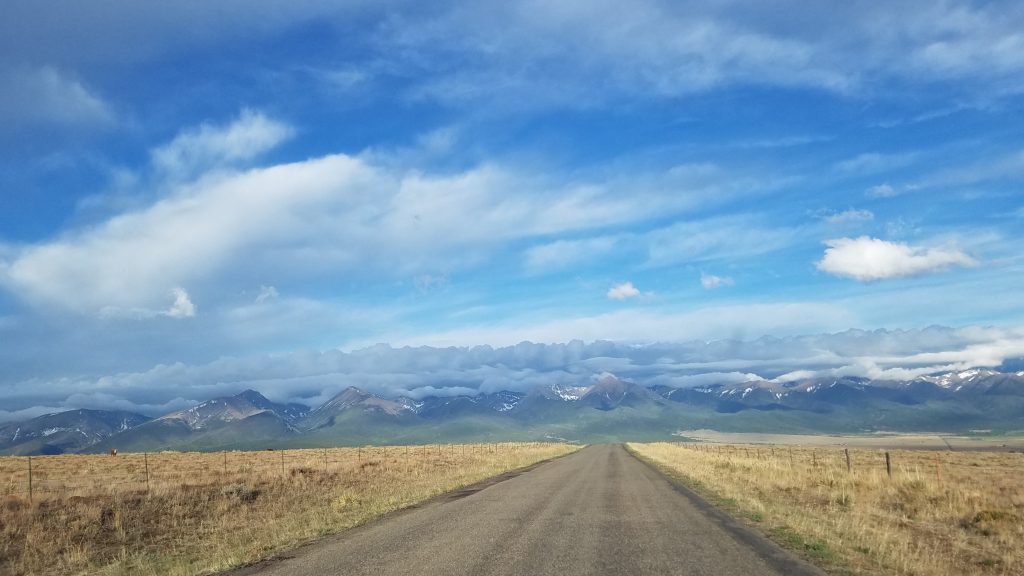 It rained all night so clouds dominated the high peaks in the early morning. They were anticipated to burn off but a chance of thunderstorms was again forecasted for the late afternoon…pretty typical of Colorado and especially this range. I've experienced my fair share of late afternoon storms in these mountains.
We got to the lower parking lot around 7 am, hopeful we could drive 2.7 miles of the 4WD track to the upper parking lot. Alas, JR's Explorer did not like the rocky terrain. We conceded to hiking the 4WD section, making it to the official trailhead by 8 am for pictures. It's a popular trailhead, given all the 14er's, but there were surprisingly few vehicles on a Sunday. It was still kind of early in the season, with a fair amount of snow covering the more treacherous route up to the Crestones. We didn't anticipate much if any snow on our route.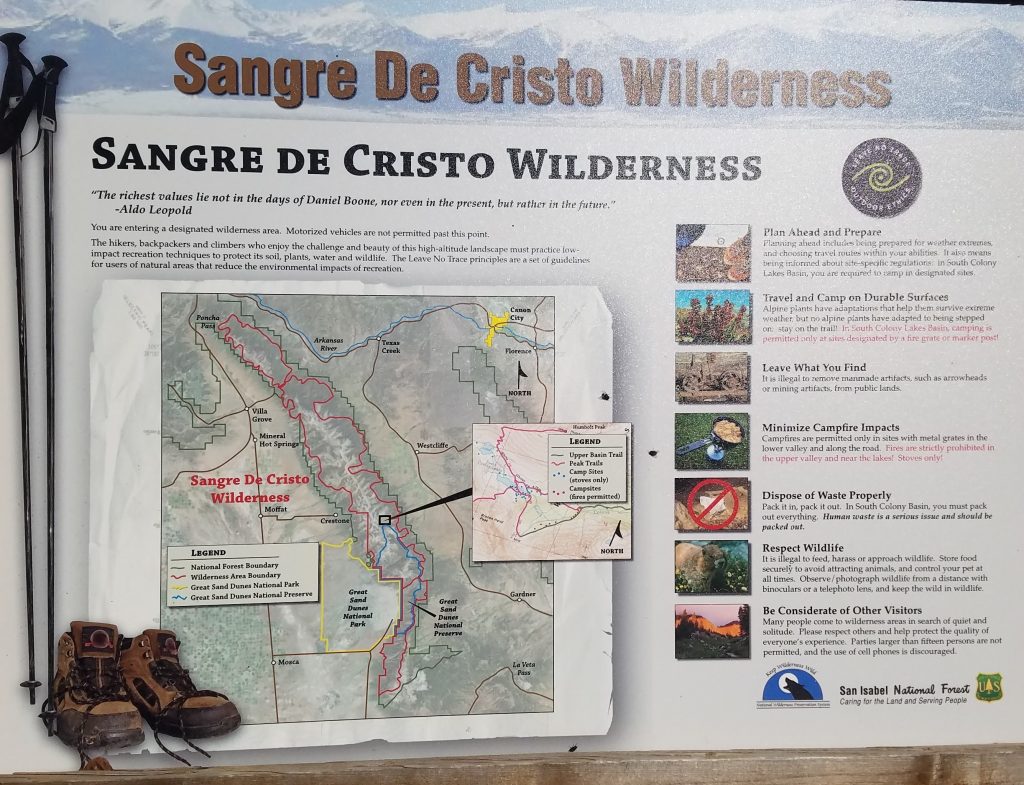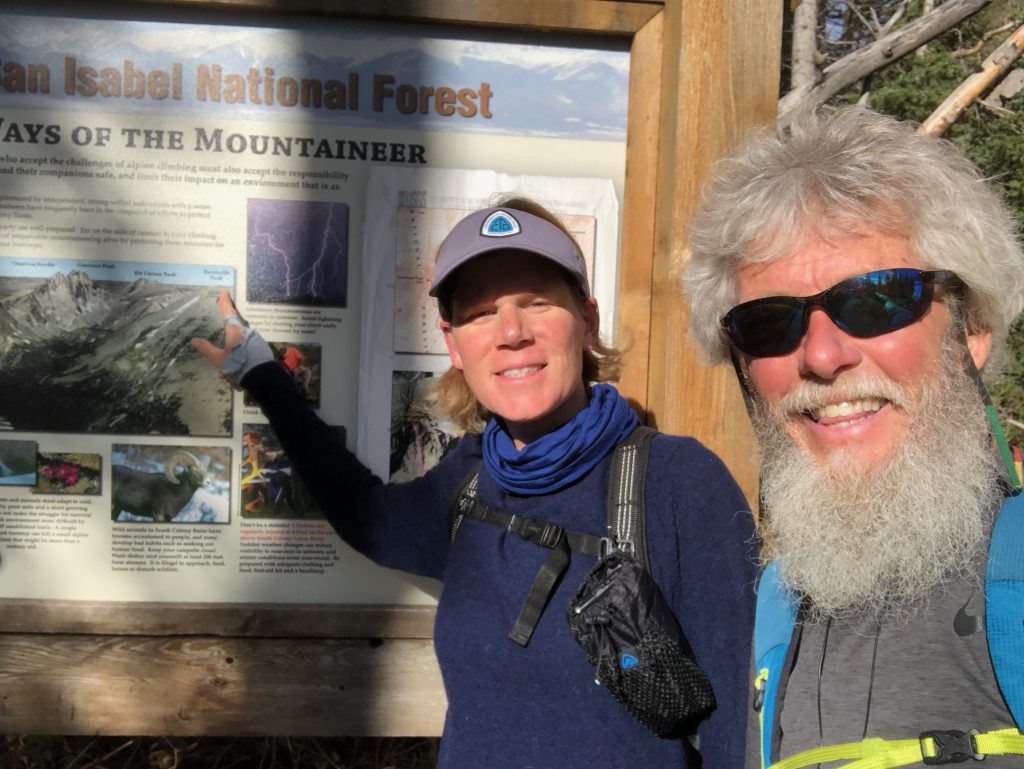 We enjoyed beautiful weather and a pretty easy hike up to the Colony Lakes. The route follows an old mining road much of the way. We met a lady with her dog on their way out after a night camping at the lake. She described a very uncomfortable experience, with lots of lightning and rain. I think the dog was even more anxious to depart as he continued walking down the trail while we talked. It seemed a pity that they were heading back now, what with the conditions being so nice this morning.
At the lakes, the views of the Crestones opened up. What a spectacular basin this is! It reminded me of some of the striking rock castles found in the Sierras and Winds. Thanks to JR for many of these pictures…did I mention that he's a professional photographer?

Photo Credit: Kevin Parsons
We began a much steeper climb to the saddle between Humboldt and another unnamed peak. The pace was pretty easy and I was feeling much better than I felt hiking up Pikes Peak. As we turned east to follow the ridge to the summit, I really got into a groove. I was ahead of JR (he takes his time getting awesome pictures), so I just let my feet carry me up the mountain. It was pretty steep and seemed to take awhile but it still felt so much easier this time. At the summit, conditions were so serene that I laid down on some rocks and fell asleep! It's not that I was tired, I just felt so much at peace. Later I would discover that I was asleep long enough to get a sunburn on my thighs…it doesn't take long at such altitudes!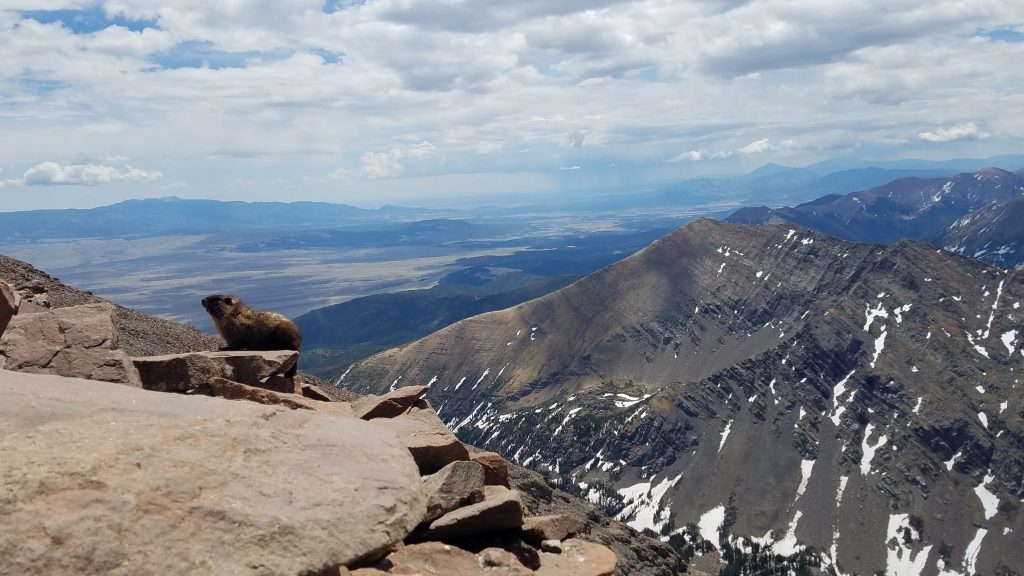 Mr. Marmot, warm and happy, and so was I. Who wouldn't be with such views!
When JR caught up, I was feeling so happy and energized. It's always great to share a peak with friends. We lounged around the top for awhile, identifying other peaks (one of my favorite pastimes). Then we headed back the way we had come, stopping to take lots of pictures.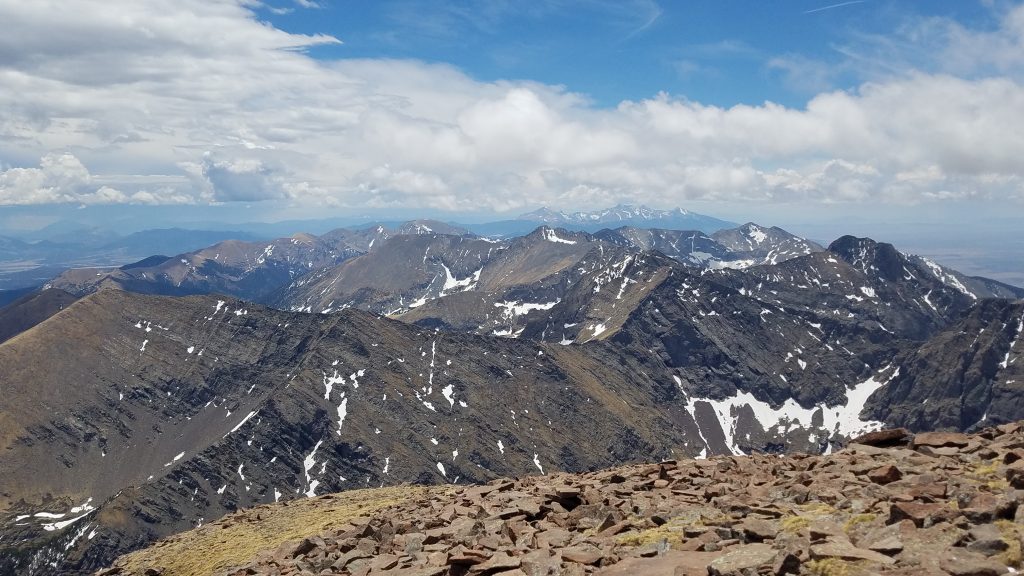 Far off view of the Southern Sangres, including the massif of Blanca Peak, which includes 14er's Mt Lindsey, Ellingwood Point, and Little Bear…all of which, except for the last, I would later hike.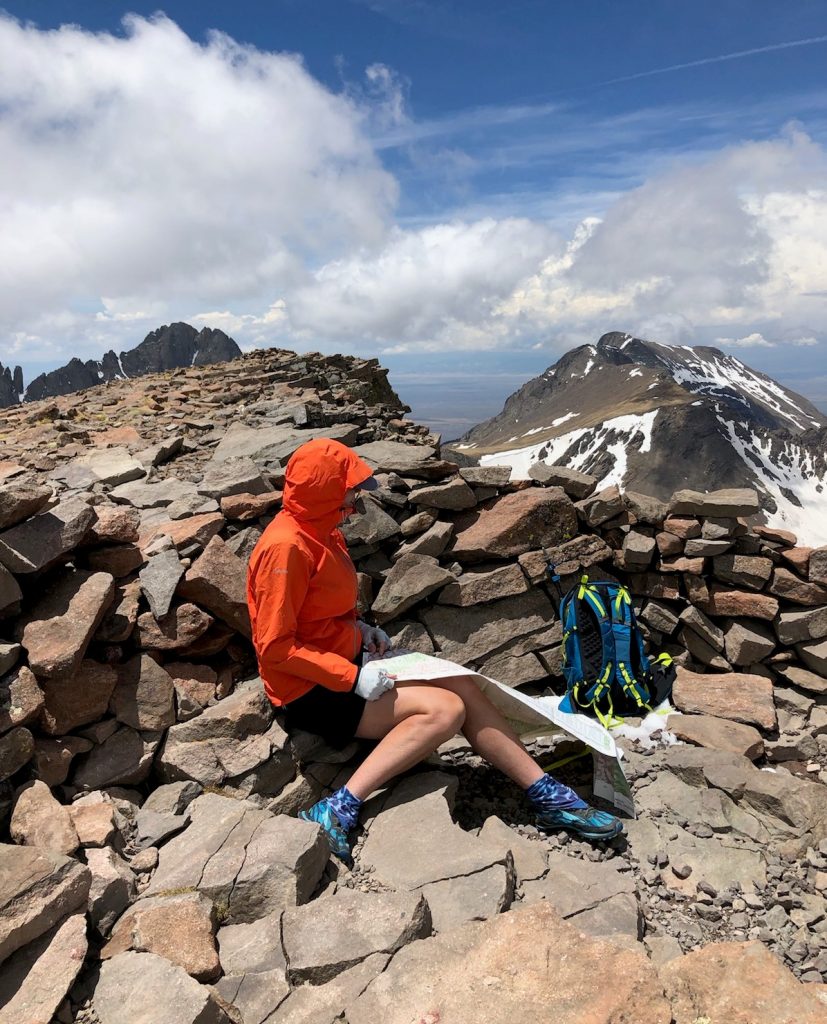 Studying the map to identify Kit Carson Peak to the right and Crestone Peak to the left.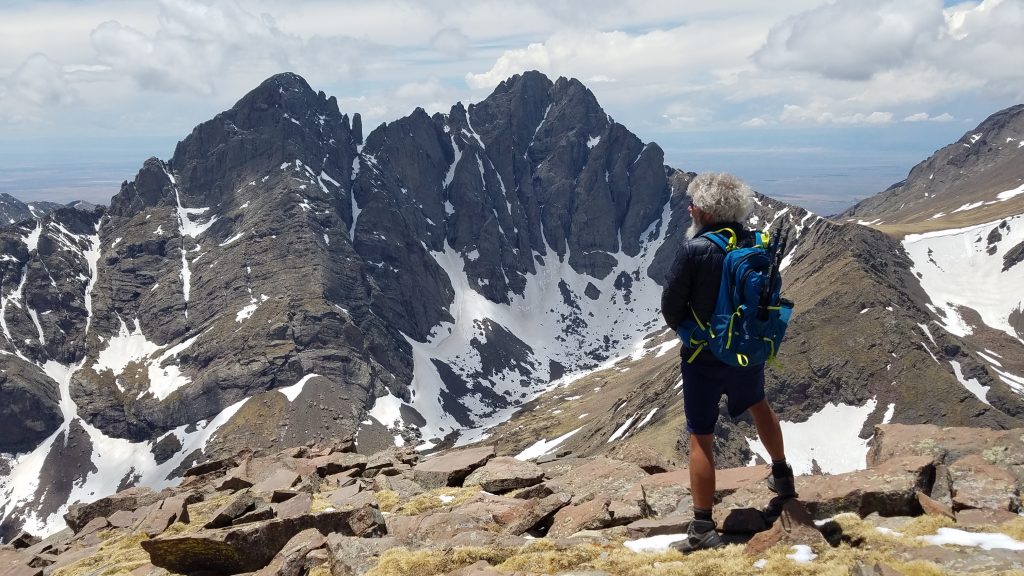 Colorado Mountain Man JR, at home. He's also been to the top of Crestone Needle (far left)…a difficult class 3 14er that I have yet to summon the nerve to tackle.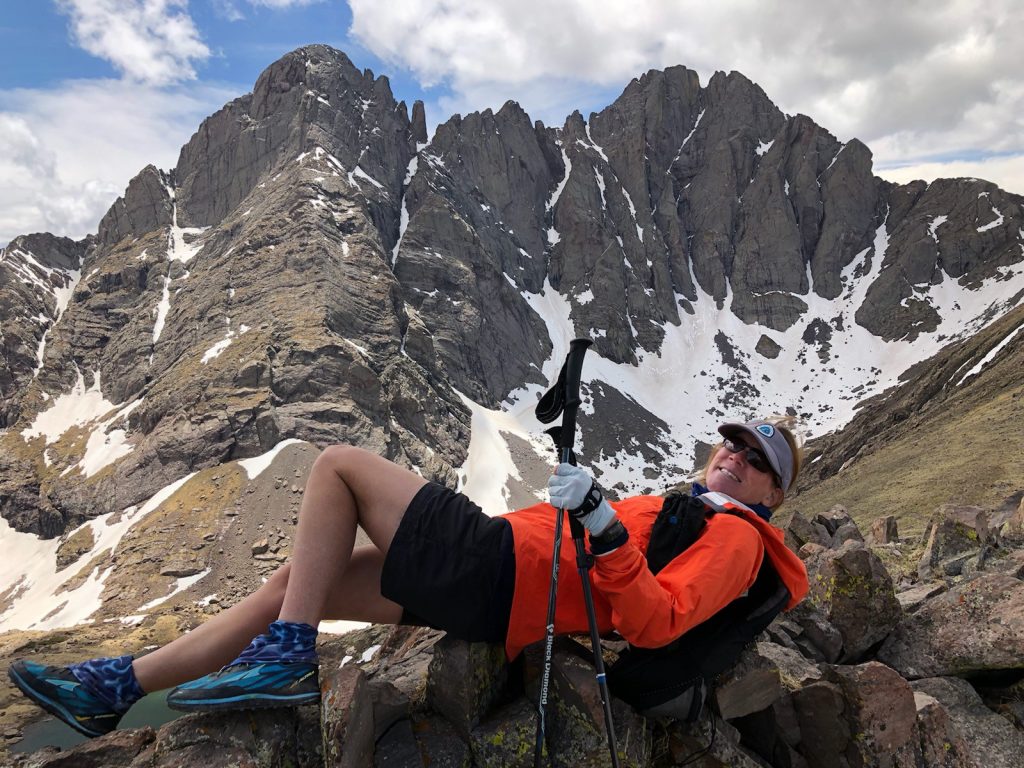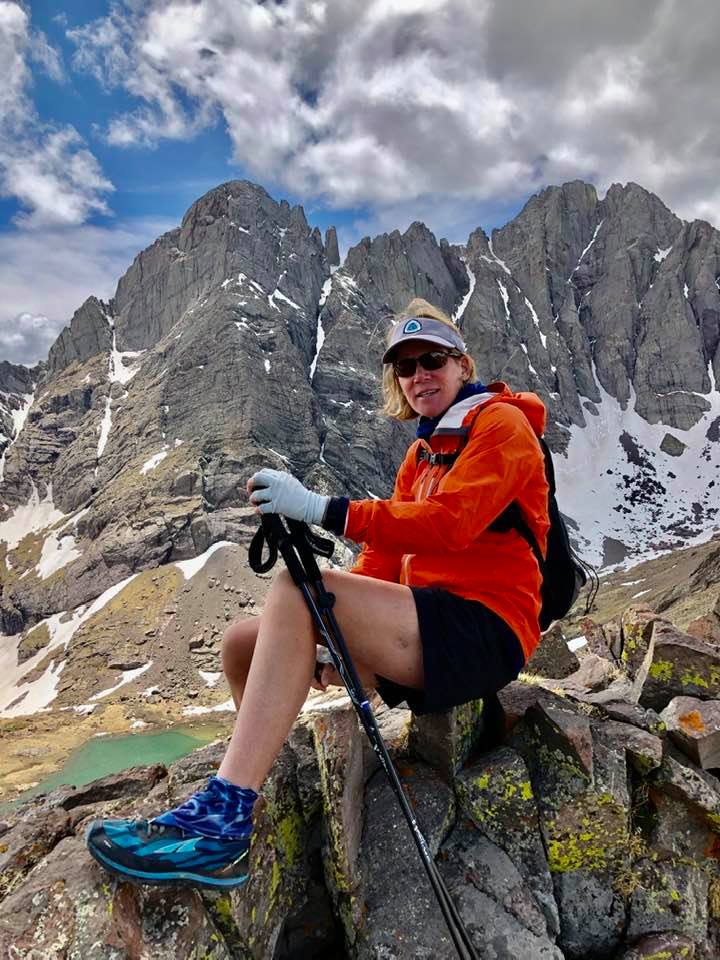 Photo Credits: Kevin Parsons
JR took a bunch of great action shots of me with the Crestones in the background.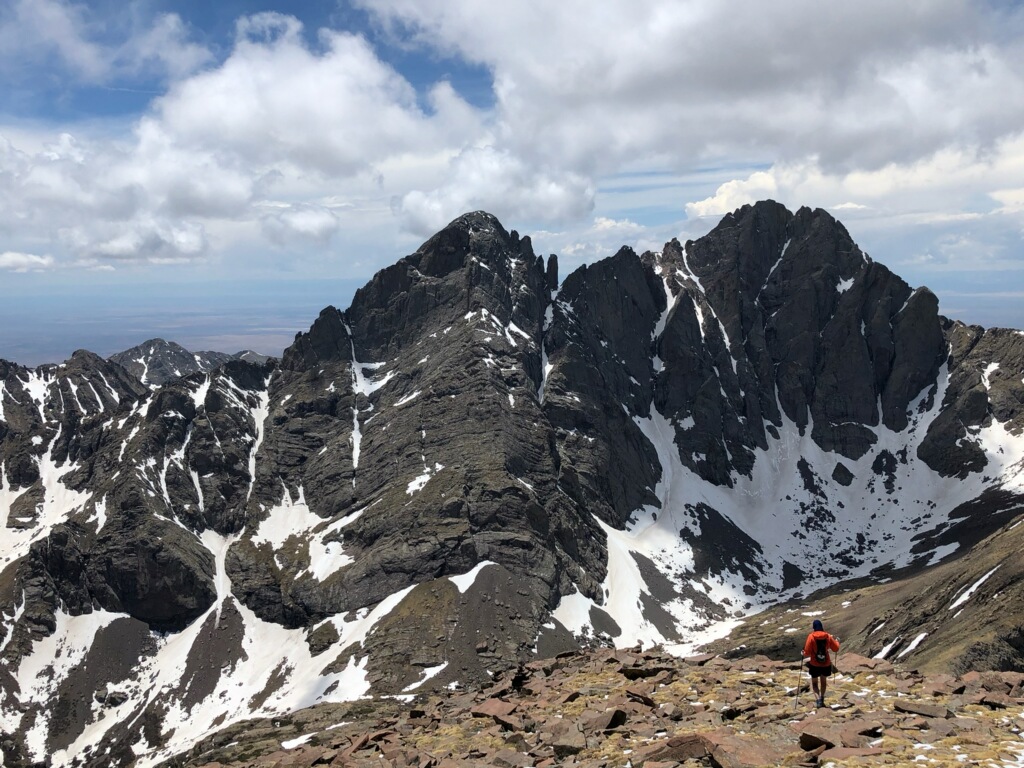 Back at lake basin, we took a different route and got to play in some mellow snow fields. We noted the clouds rolling in but felt safe so close to tree-line.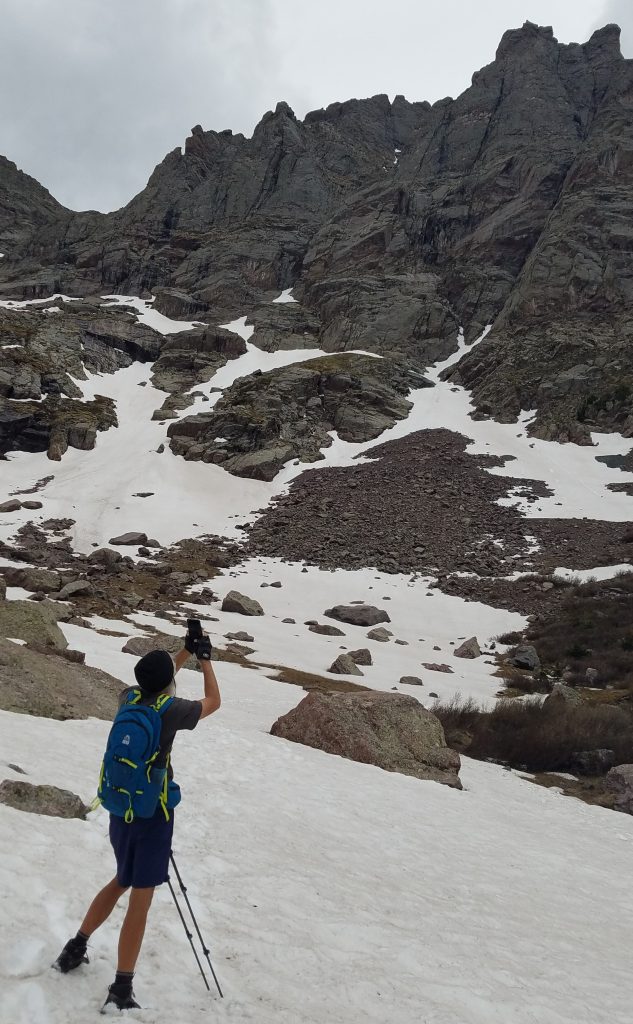 JR doing one of the things he does best.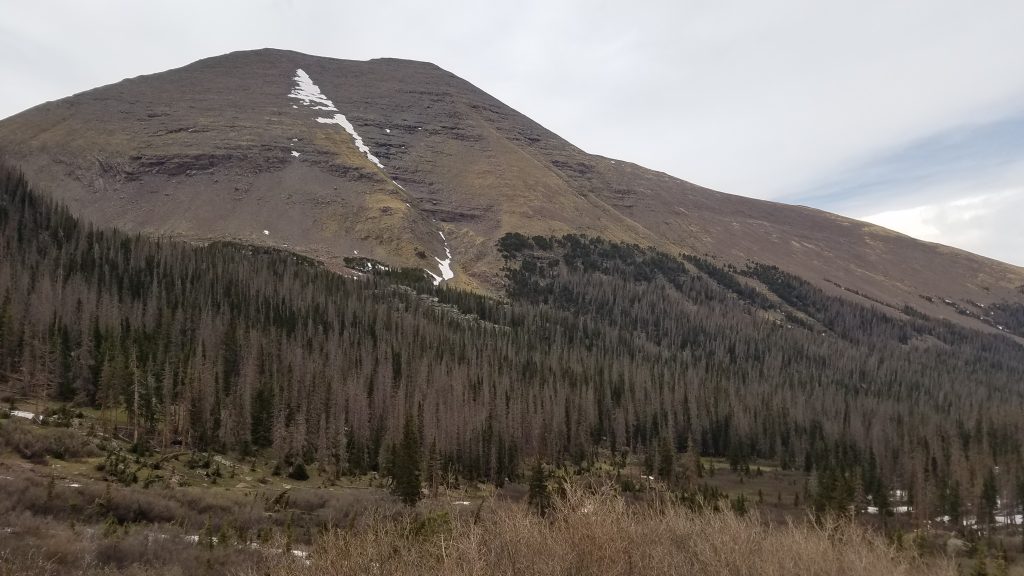 Here's a parting shot of the mountain we just climbed. It's a pretty broad and straightforward peak.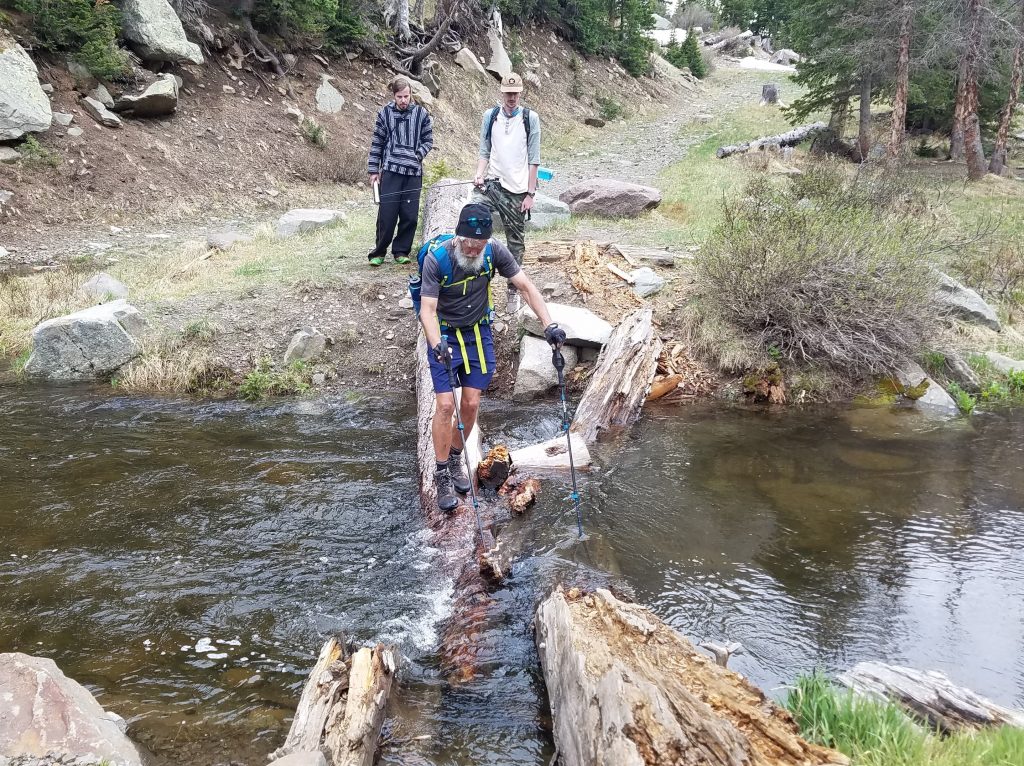 A few miles from the end, we met 2 guys who were waiting by the stream for their friends to return. We had seen them earlier in the morning on the way up and they had been waiting for awhile. I mentioned that there were 2 different trails and that perhaps their friends had already come back down using the other trail. Without maps or local knowledge, they didn't even know they weren't on the main trail anymore. I guess it was fortuitous that we came along to clue them in, otherwise they might have been waiting past dark. They seemed somewhat unprepared but had been able to catch a nice fish, none-the-less.
We got back to the carpark just as it was threatening to storm…perfect timing! We drove to Westcliffe in a torrential rain and lightning storm to eat a well-earned dinner. Leaving the restaurant, we discovered that JR's Explorer had a flat. Trying to negotiate the sharp rocks on the 4WD road seemed the have gotten the best of his tire but luckily it held air long enough to get back into town. The same thing happened to his friends' car on a later trip in the summer but that's another story. All in all, this was a perfect day!