06:30-13:00, Friday, 8-07-20
CO 14ers: 17 of 53
Distance RT: 13 miles
Elevation gain/loss: 3,500′
Starting Elevation: 10,700′
Summit: 14,042′
Rank: 42 of 53
Location: Southern Sangre De Cristos Range, southwest of Gardner
Route: CR 580 to Upper Huerfano/Lily Lake Trailhead to the Northwest Gully, easy Class 3
Companions: Stellar & Sandy
We'd all gone back to Canon City for a few days of R&R. Sandy and Stellar had decided to extend their vacation in CO, reluctant to head back to Ohio. There was still plenty to explore and we were getting along great with our spur-of-the-moment planning. We shifted our focus to the Sangre De Cristo range, coming up with a rough plan to visit JR in Rosita and hike some 14ers to the south. Sandy and Stellar headed out a day before me to hike the Comanche Venerable loop while I hung back to get some work done. We all met at JR's awesome place for a cool night talking trail.
Sandy, Stellar, JR and Me. We all have hiker legs!
The next day we headed south, taking in one of Colorado's most obscure tourist attractions along the way. I've been driving past Bishop Castle since I was a little kid, seeing it slowly grow from a pile of rubble to the 160′ tall megalith it is today. Complete with a dragon's head, grand hall with stained-glass windows, and a myriad of disjointed towers, spires, globes, and whatnots, the castle comes off as a cross between Game of Thrones and Mad Max. The creator spins his flair with anti-government messages, while numerous signs warn of the lack of liability / personal assumption of risk. That's good, since this fanciful playland puts parental oversight to the test. I just had to show it off to Stellar and Sandy.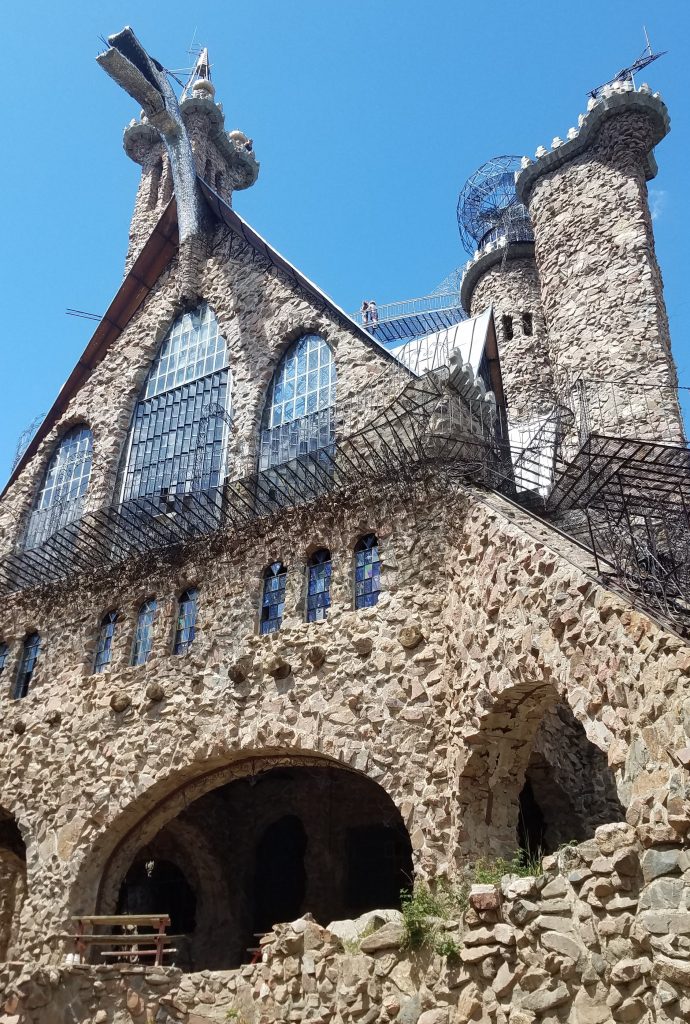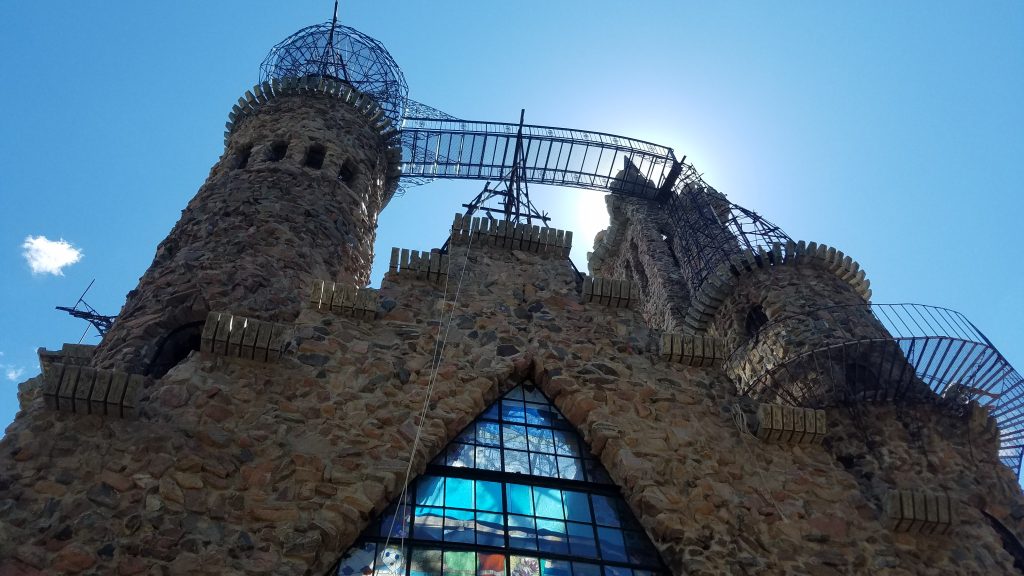 Visitors are free to clamber all over and so we did. We of course had to go all the way to the top, feeling the ironworks sway in the breeze. Some of the stairwells and balustrades lack safety rails, while others are missing deck plates. Questionable welds abound. Of all the mountains I climbed this summer, this non-mountain might have been the most dangerous…LOL.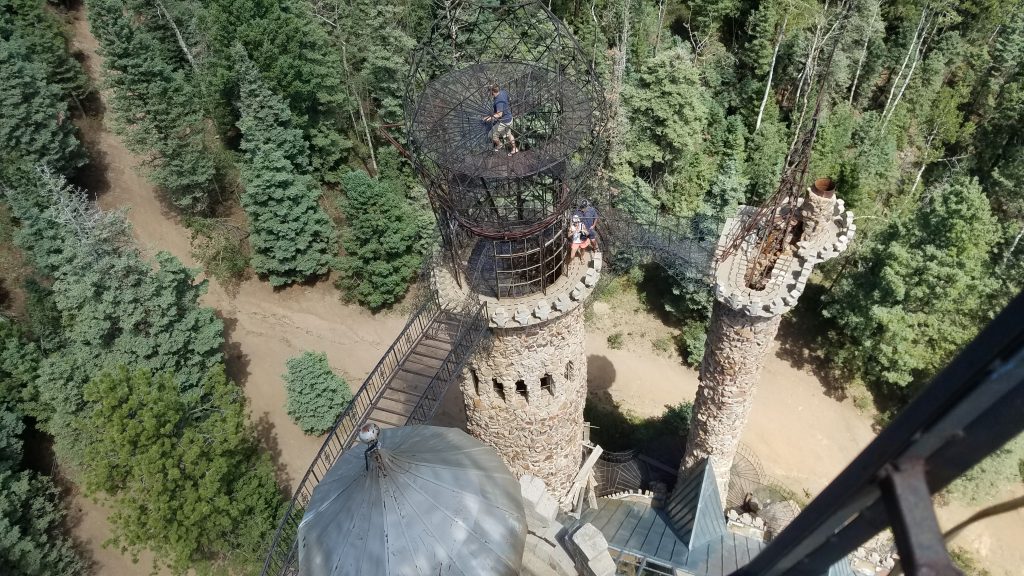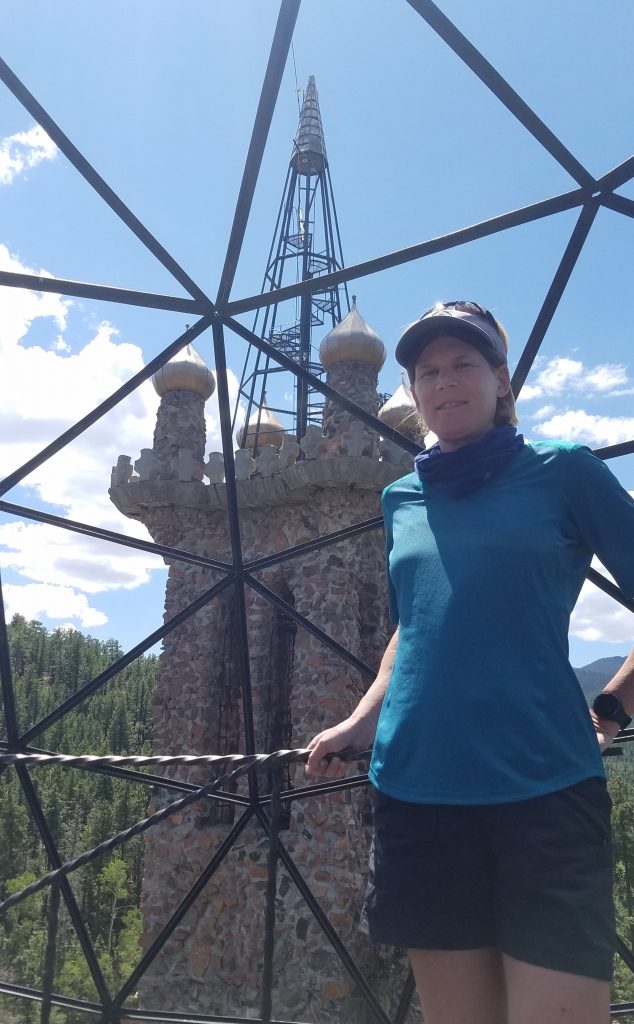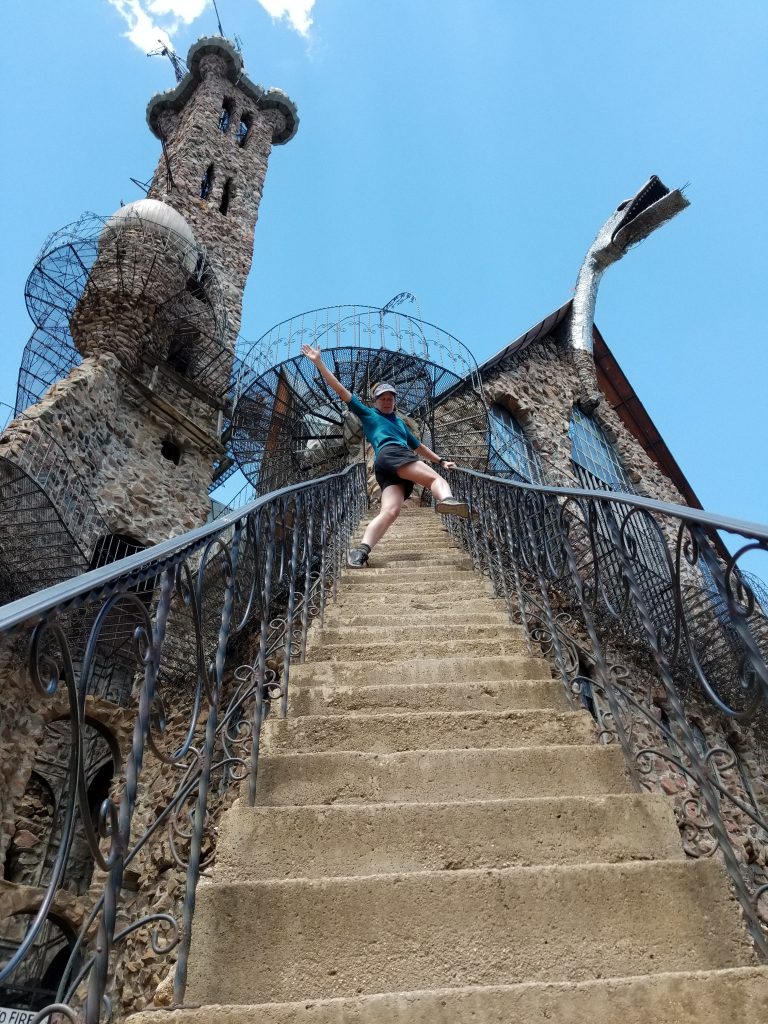 Having explored the depths of the moat and dungeon to the heights of the spire, we moved on towards our next 14er. I'd never even heard of Mt Lindsey before I started researching 14ers. It's named after a member of the Colorado Mountain Club, who was an avid climber of his namesake. Originally it was named Mt Baldy…which is a decidedly unimaginative name. I grow tired of so many mountains being named after dudes (some of them real jerks i.e Mt Cook), but Mr. Lindsey actually sounds like he was a decent guy.
We planned to camp at the base of the route, tackling the climb the next morning. So after a brief stop in Walsenburg for resupply, we headed up a dirt road until our little Prius just couldn't go any further due to low clearance. And so we cheerfully we got out to walk about 5 miles to the beginning of the trailhead. It's a good thing we started the day before, since the road walk would have come as an unpleasant surprise to add to the hike the day-of.   As it was, we simply had a short, pleasant afternoon stroll with our packs. From the trailhead, we hiked an additional mile to a creek-side campsite in the valley. It was a lovely site and we enjoyed a restful evening with the sound of the creek lulling us asleep.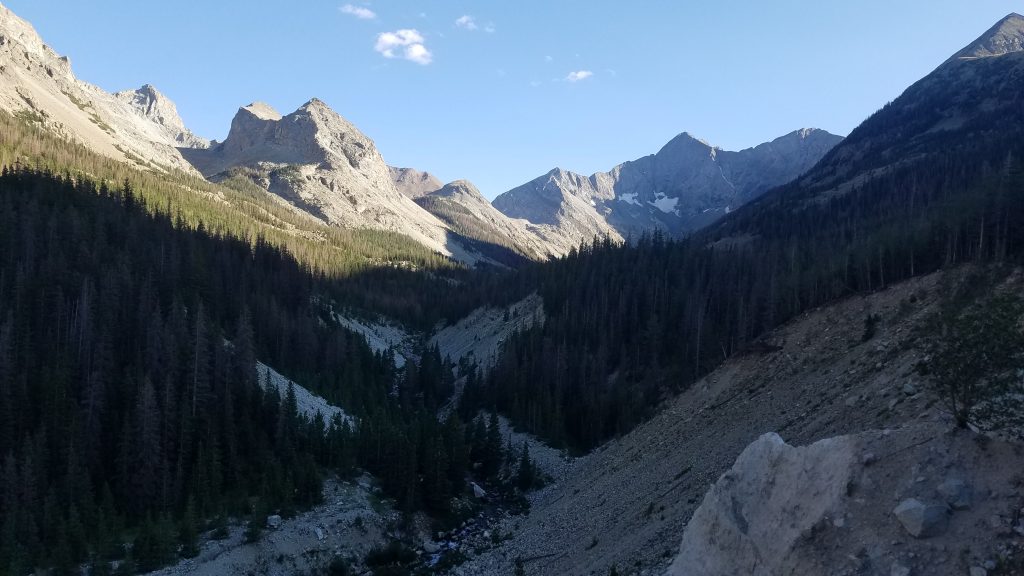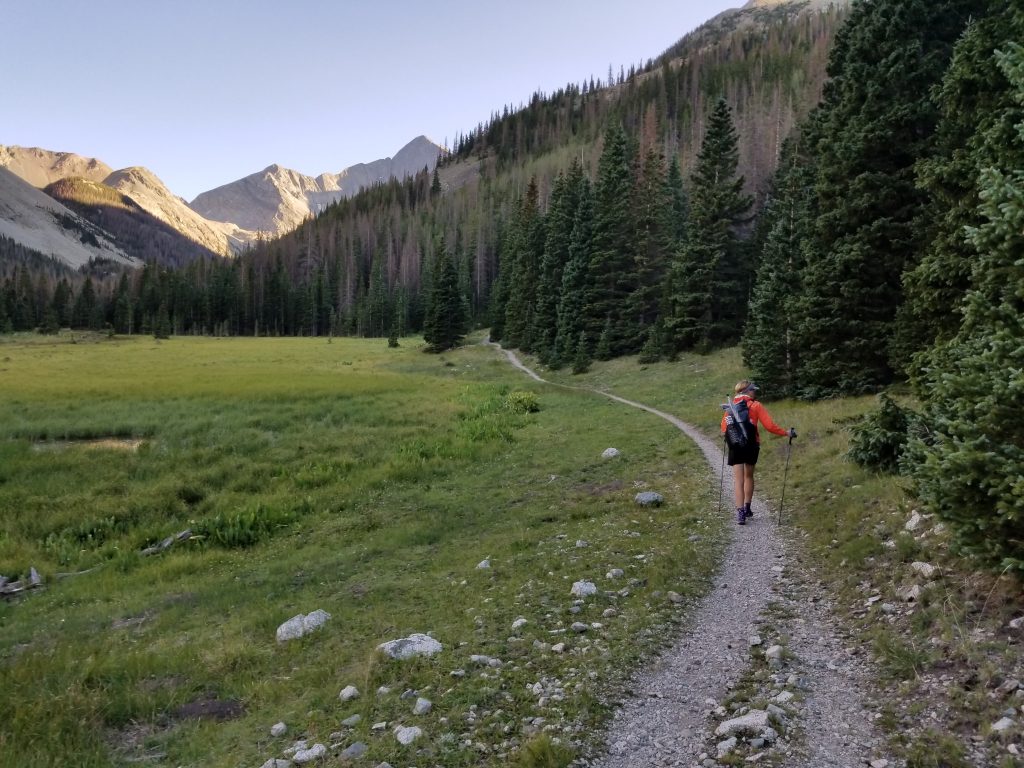 The next morning, we packed our tents, stashing them and some other unneeded items in the forest. Sandy was going to hike to Lily Lake while Stellar and I tackled the peak. Since we'd be hiking out the same way, we could leave our excess things at basecamp…just not visible in case someone wanted to plunder our nice gear. For not being a very popular hike, the trail was pretty well defined and traveled. We passed about 8 people before reaching timberline. As the views opened, we crossed a broad basin, marveling at what a beautiful morning it was.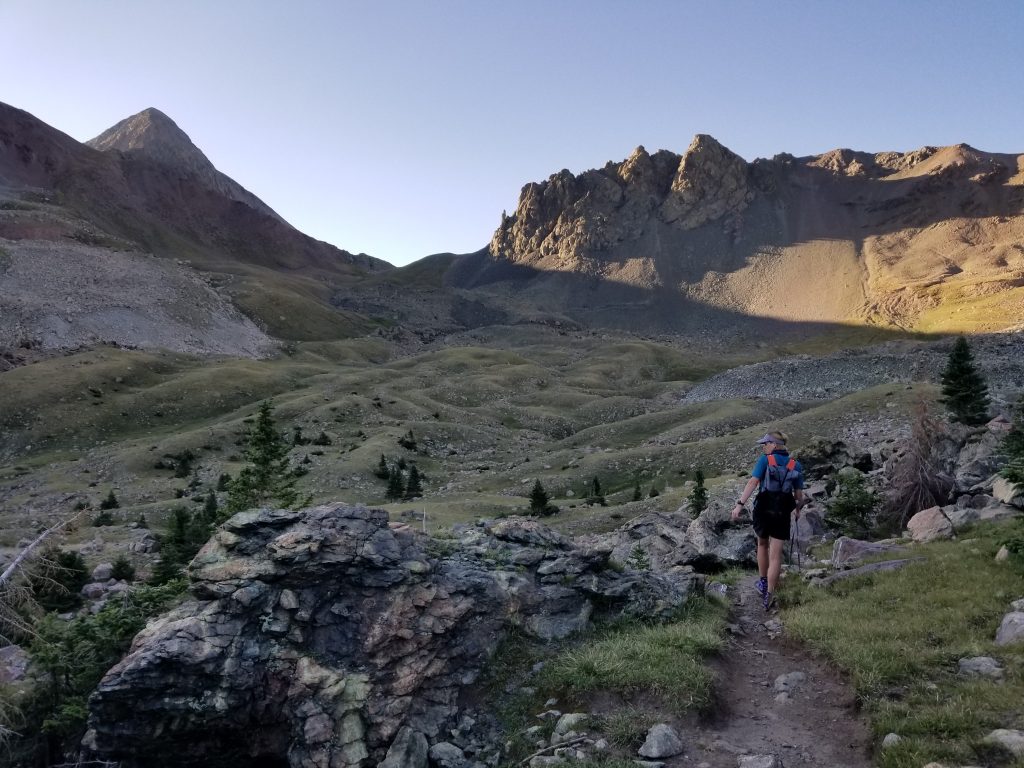 A steep scree field brought us to the saddle between our target and another peak named the Iron Nipple.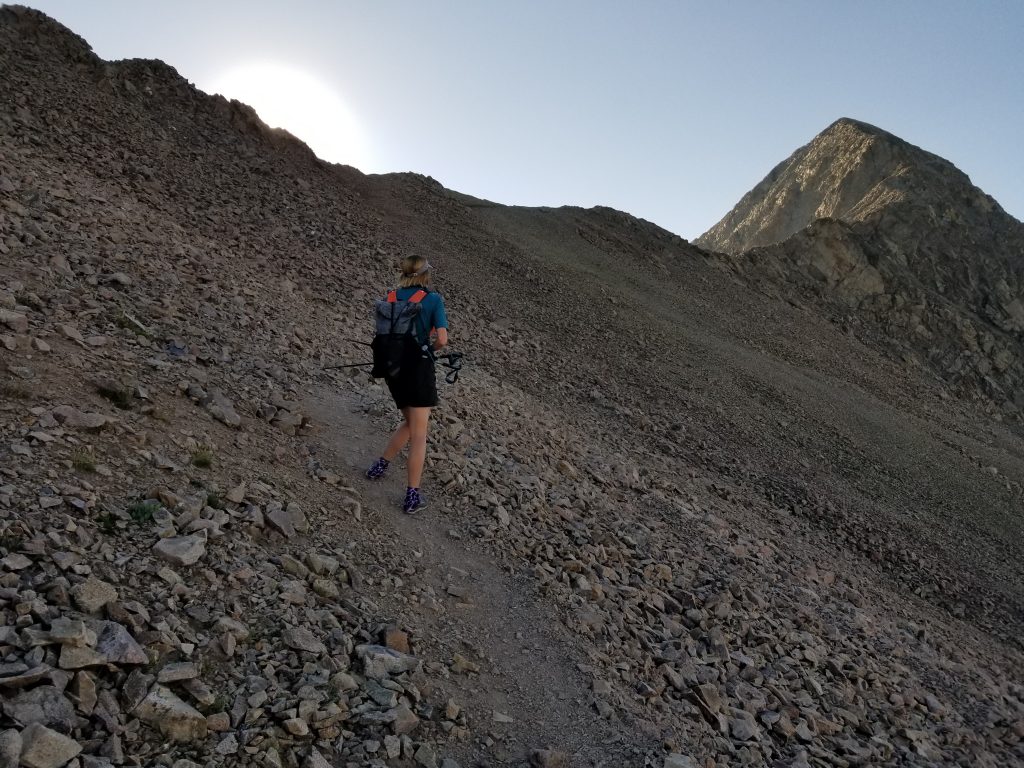 Here we studied the gully that would lead us to the summit. A returning hiker suggested we stay to the side of the gully, which involved scrambling up big rocks but avoided the very slippery small stuff in the middle. Since we were still sans helmets, this sounded like a good idea.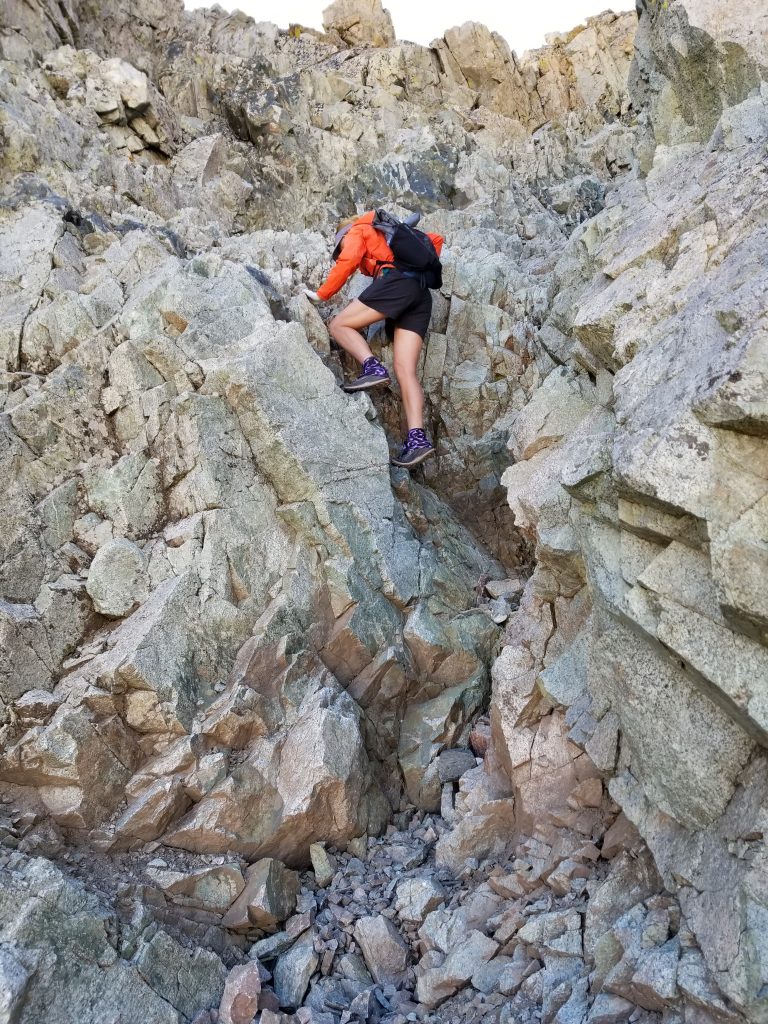 It was time to put away the trekking poles.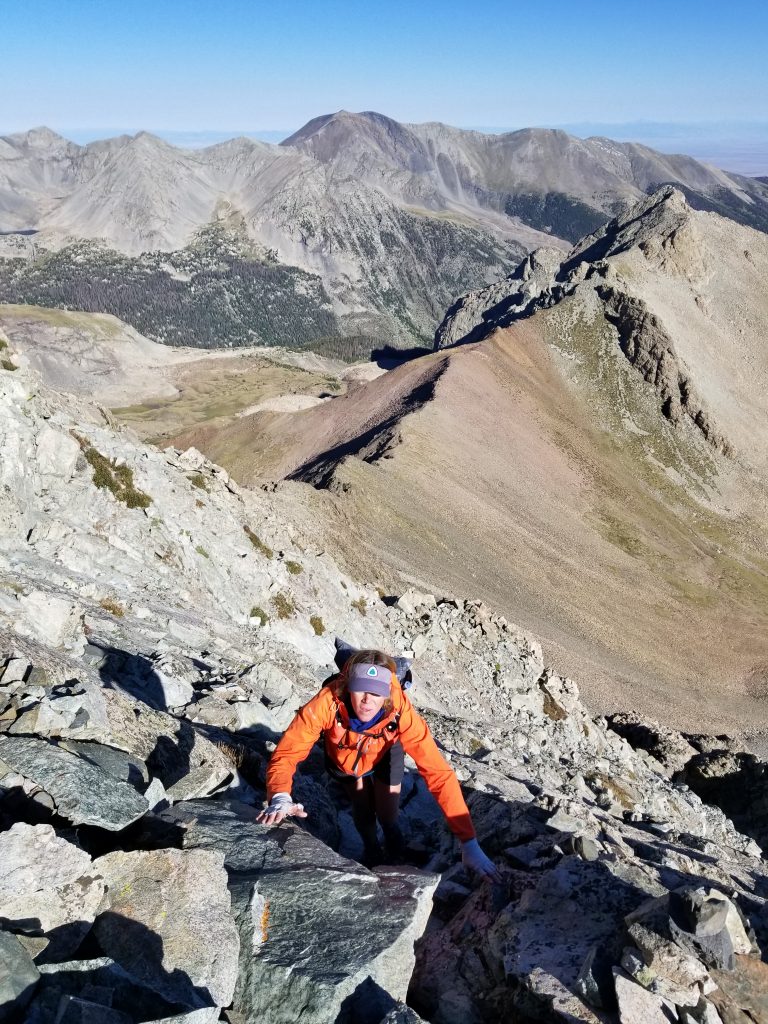 We abandoned the gully a little prematurely, hiking straight up towards the ridge. This brought us into some really exposed areas, a bit of which made me uncomfortable. I was surprised how scary it looked when Stellar later shared the above picture with me. Just more experience for the record books I guess. Every time I'm expanding the boundaries of what I'm comfortable with. It's really time to get a helmet, though.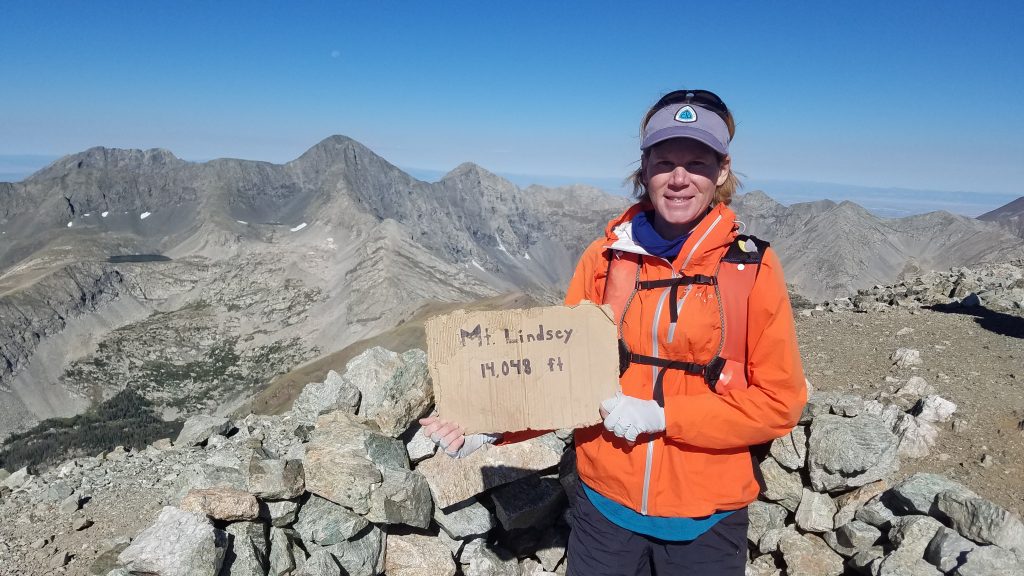 The summit was well worth the effort, with excellent views of Blanca Peak and Ellingwood Point (to the left of me in the above picture, our targets for the next day). We also admired the Crestone group to the north and the Spanish Peaks to the southeast. What a brilliant day to be so high up.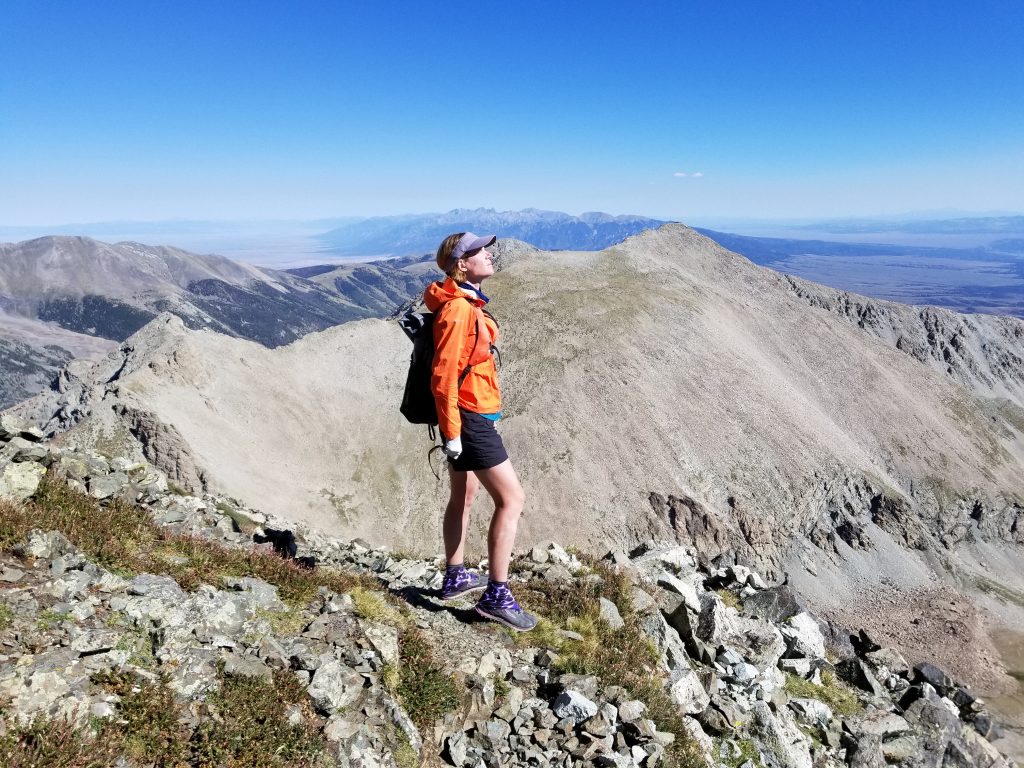 Going back down the gully was easier and uneventful. I went as fast as I could since there was another hiker above us and I was nervous about falling rocks. At one point, I saw some rocks come down from where hikers were on the main ridge, thankfully not too close to our position. Of all the hikes so far, this one had the most risk of loose rocks. I was glad to get out of the gully. Here's a look back at the steepness and exposure of the gully. It's definitely a bit of Class 3 stuff. The ridge would be better if it weren't for that big cliff halfway up. Plenty of people were climbing it without ropes, though.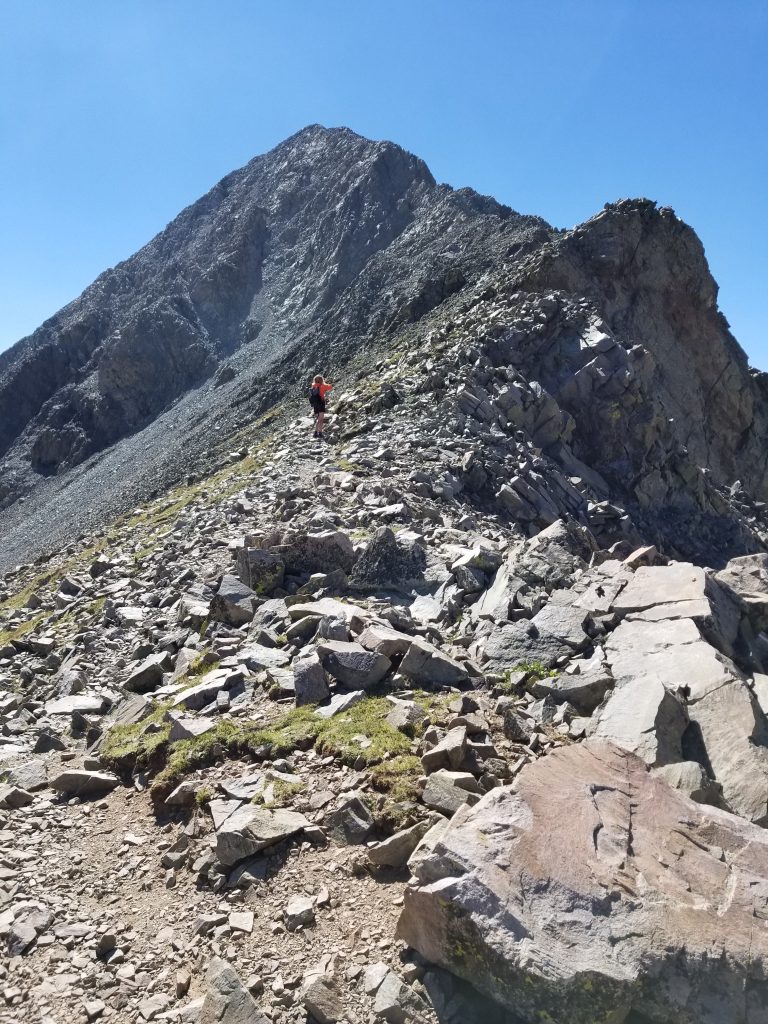 After the difficult stretch, we enjoyed an easy stroll to the bottom. We stopped for a bit to commune with some cute baby marmots.
Towards the bottom, we started keeping pace with a guy that just so happened to have a 4WD parked at the trailhead. Strategic…perhaps. Scott also had an incredible story to tell about getting COVID early in March and still not being fully recovered from all the side effects 5 months later. This was the first big hike he'd been able to do, describing how tired and out of shape he felt. But good for him for being on the upward path to recovery!
Sandy was waiting at the campsite, just as planned, so we quickly gathered our stuff and caught up with Scott again just as the trail ended. He graciously offered us all a ride back to the Prius, saving us the 5 mile road walk. We all wore our masks inside his truck of course, with the windows rolled down. We were most grateful for this savings when we found ourselves on yet another long road walk later the same afternoon…coming up in the next installment.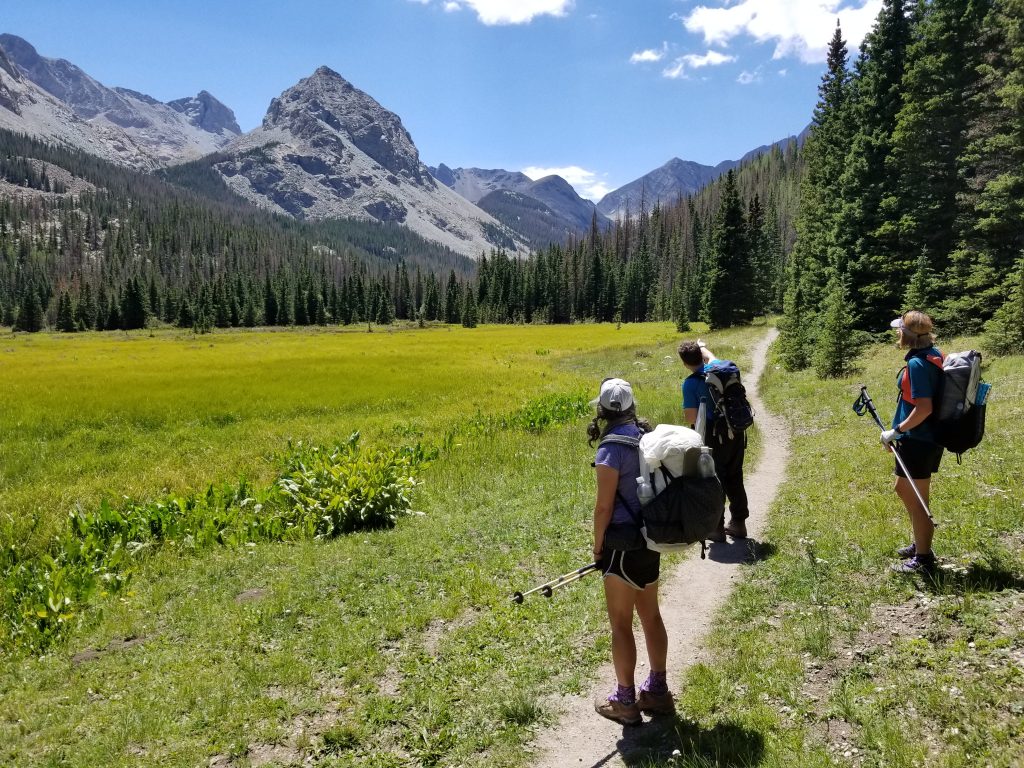 We look back on this beautiful valley, with Mt Lindsey already out of sight.