September 30th, 2019
The Narrows Trail, HWY 117 to Grants, NM
Distance in miles: 21
1030-1720
I wake up with no clear agenda for the day. My strategy for finishing this thing is a bit amorphous. I can walk from Grants to reconnect my footsteps or I can try to hitch a ride out to the point where I left off and walk back. There are also 2 ways…a direct roadwalk on highway 117 or the Zuni-Bonita alternate through a canyon and about 7 miles of walking over lava.
I had wanted to take the alternate but now I'm feeling lazy and just want to do the road walk. I could just do nothing and call it good. But I feel compelled to go back to the spot where I left the trail. To recap, back in early May, Relentless and I woke up to a day of freezing drizzle and mud. We packed everything wet and continued along the highway (the official trail). We figured it would be a bad idea to walk the lava alternate when it's wet and an equally bad idea to walk the highway in the poor visibility. So we hitched a ride into Grants, with the intention of hitching back when the weather improved. That was when I found out about my dad being sick and I went home directly from Grants.
So I'm back now and want to see that area of the trail in a different, more positive light. I consider trying to walk out of town with Dahn but I don't think I can keep up with him anyway. Then I get a message from a trail angel in response to a post I left of the FB page. Mac lives in Grants and offers to help with rides, etc. I tell him that Dahn could use a ride to the PO.
It all snowballs from there. Mac picks us up and takes us to a cafe for coffee and breakfast bagels. He then drops Dahn off at the PO and offers to take me out to my drop-off point, as long as it isn't too far. He's a surgeon and he's on call. On the way, he also invites me to stay at his house. Mac is one of the most enthusiastic trail angels I've ever me and that's saying a lot! Motivated by this new development, I commit to the roadwalk and decide to slack-pack. I leave most of my prized possessions in Mac's truck and set out on my final leg with just some water and snacks in my pack. Plus my umbrella, which comes in very handy on this hot day.
Mac drops me off at the start of The Narrows trail, which is a short 5 mile alternate that goes up along the ridge of an escarpment, paralleling the highway. The trail dead ends at an overlook of La Ventana, a natural arch feature. I know I'll have to do some rock scrambling and bushwhacking to find my way back down to the road at that point. I'm feeling adventurous so I take the trail.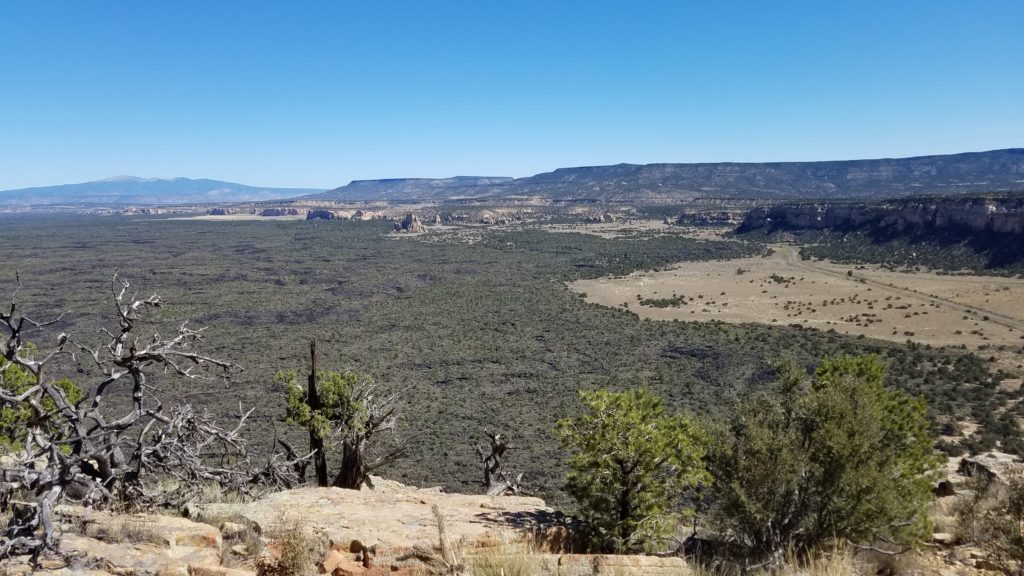 I'm not disappointed since there are wonderful views of El Malpais, the badlands, from the top off the escarpment. The lava fields stretch for miles and I can sort of make out where I came from Pietown towards the south. To the north are great views of Mt Taylor, my last mountain. So it's like I'm looking at this vast landscape and seeing how my 2 hikes have finally come together. A meeting of different times and all that's happened in between. Suddenly I feel it… it's the closure and completeness that I was seeking. I've walked the CDT. I'm free to finally let it go.
Except that I still need to get back to town. I continue along, happy and content. A weight is finally off my shoulders, figuratively and literally. I come to the end of the Narrows trail and take in more sweeping views. The geology is fantastic. The whole area is a National Monument.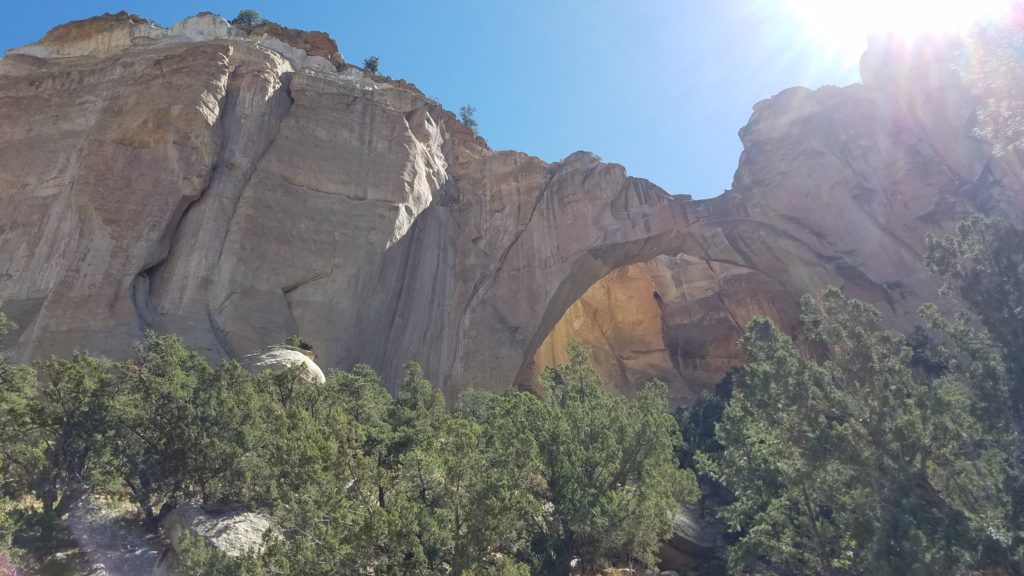 I devise a route down the escarpment in a place where there aren't sheer cliffs. It's still steep and I have to drop down 4 feet or so off some rocks in places. It's fun with my small pack. Mostly I just worry about rattlesnakes. Mac told me it costs $35,000 for the anti-venom at his hospital. I can't afford that.
I make it down to the trail leading to La Ventana viewpoint. I take some pictures and admire the beauty. Finally I'm back on the road, walking towards town. My little detour eats up a lot of time and I realize I still have over 20 miles when it's already well after noon. Oh well, I can always just hitch if I run out of daylight.
I put the umbrella up and just walk. I listen to music and podcasts and entertain myself by taking funny selfies. On the side of the road, I find a pair of women's underwear still on the sale hanger. I pick them up…a new treasured memento of this happy day. Maybe I will find a whole outfit to replace my tattered clothes?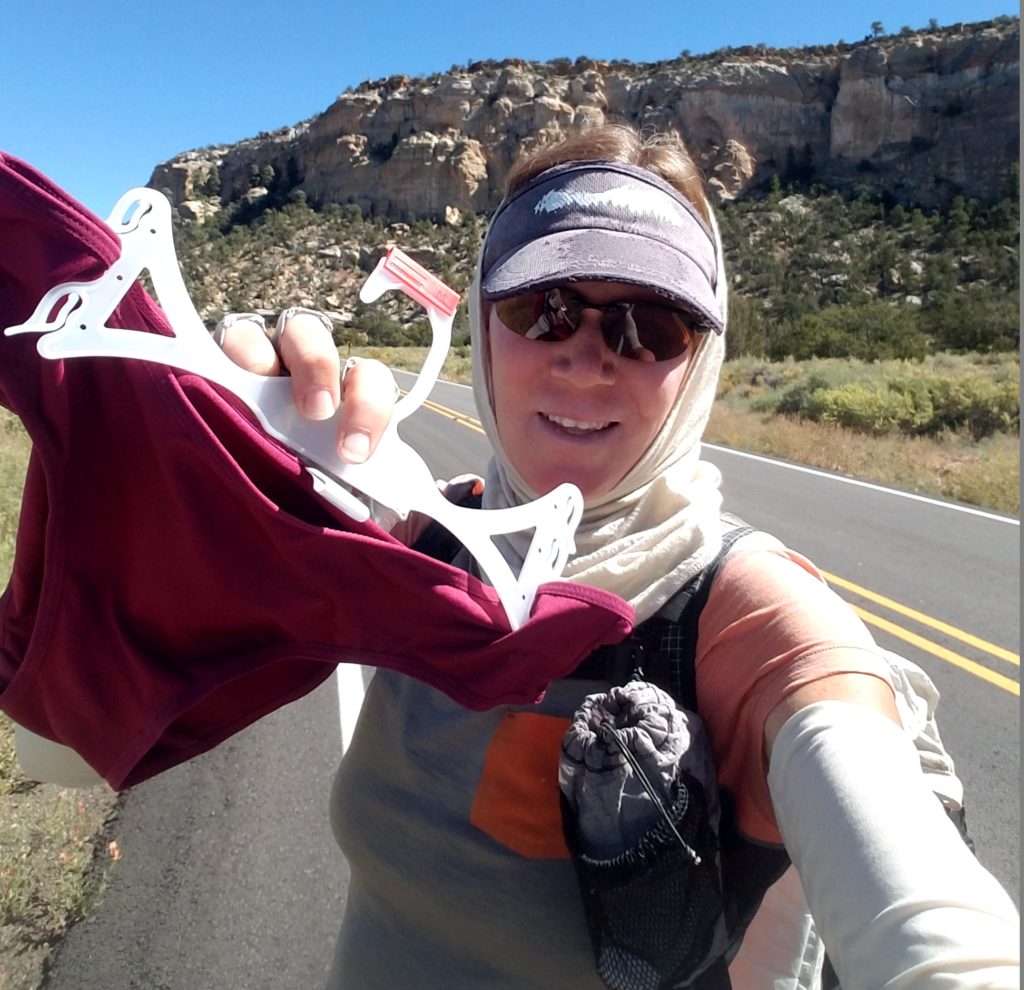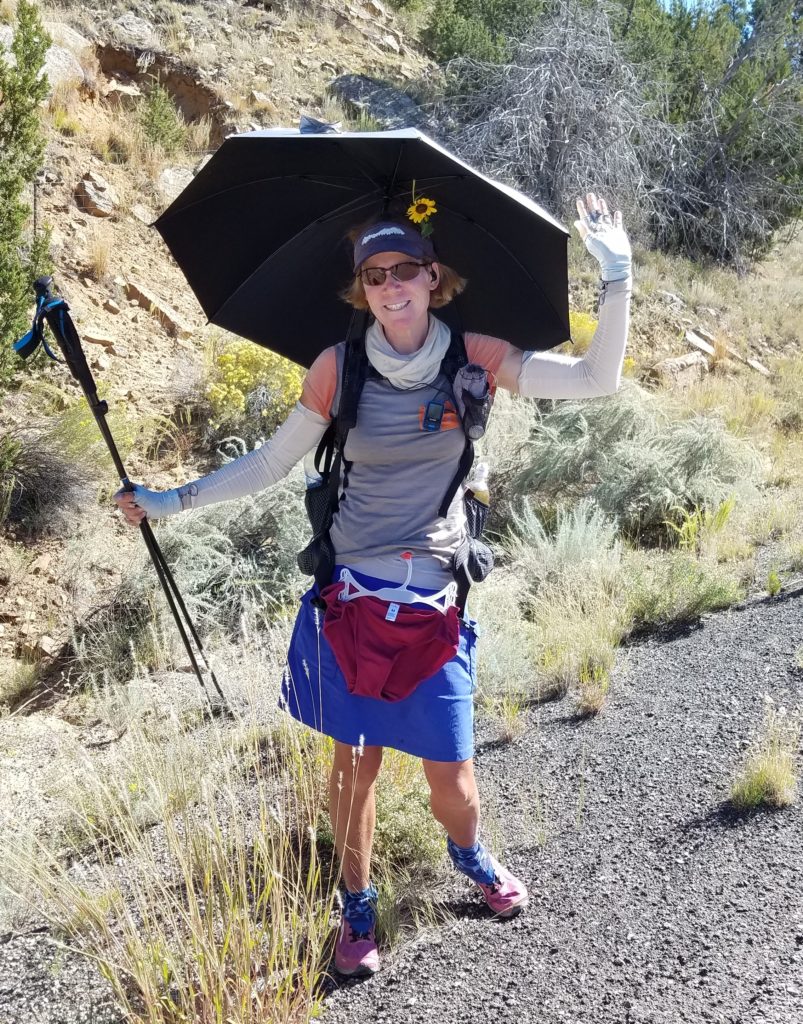 I see a figure approaching, like a mirage from the desert. It's not Dahn but a new hiker. It's Diesel, the Dutch hiker I was hoping to meet! We chat for awhile and I try to give her good water source info from my memory of the trail to the south, since she's given so much good info on Guthooks. My info is outdated by about 4 months, unfortunately.
I press on, coming to a water cache maintained by the Mumms, local residents of Grants. They also do the cache near Mt Taylor. I grab a few bottles and keep walking. Dahn appears and I have another nice break. Good news, I'm going to get to see him again. He met another trail angel and she is going to pick him up at the end of the day so he can spend the night at Mac's. I'm going to have people to celebrate my finish with, instead of being alone in a hotel room!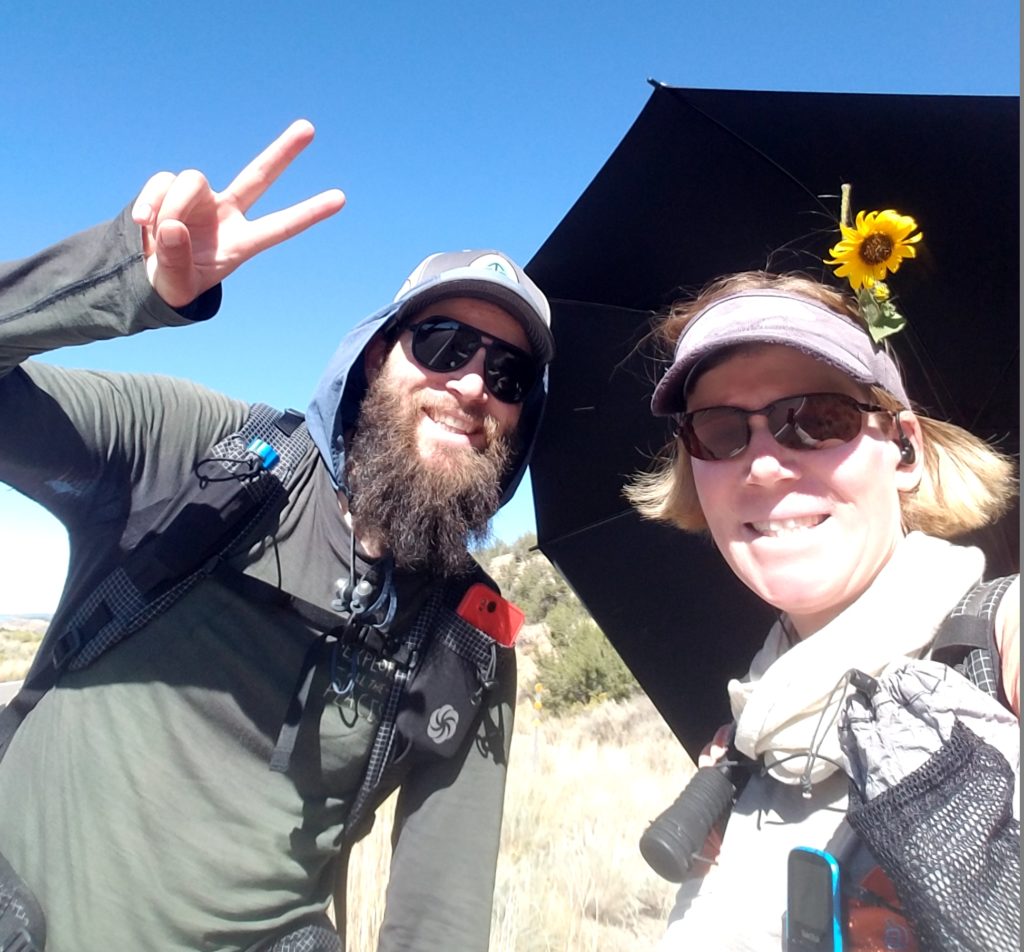 A few hours later, Michelle the Trail Angel drives by on her way to pick up Dahn. She stops to see if I'm ok. After this last distraction, the miles fly by as I'm whisked along by the wind. I'm so glad I'm going northbound for this stretch because the wind is at my back. With my umbrella up, it feels like I'm sailing. After awhile I can see I-40. I start to contemplate where I should end this road walk. I decide to shoot for the interstate. When I'm less than a mile from it, Michelle comes by and I accept the offer of a ride back to town. I reason that it's best if Dahn and I stick together, since we're both going to Mac's place.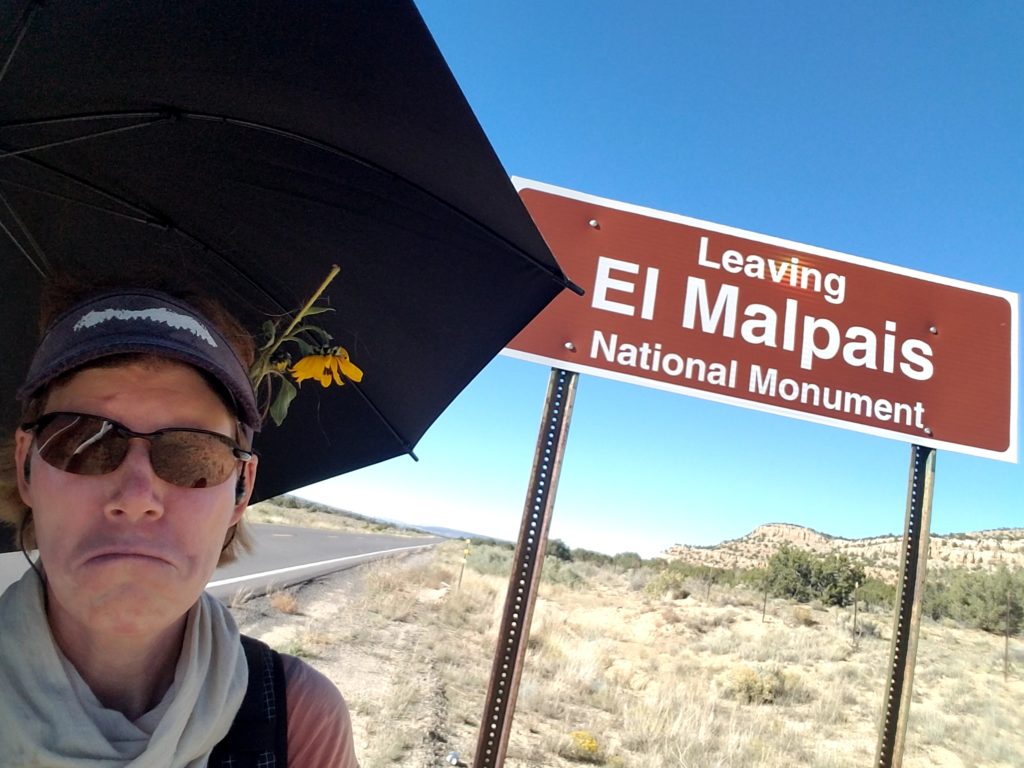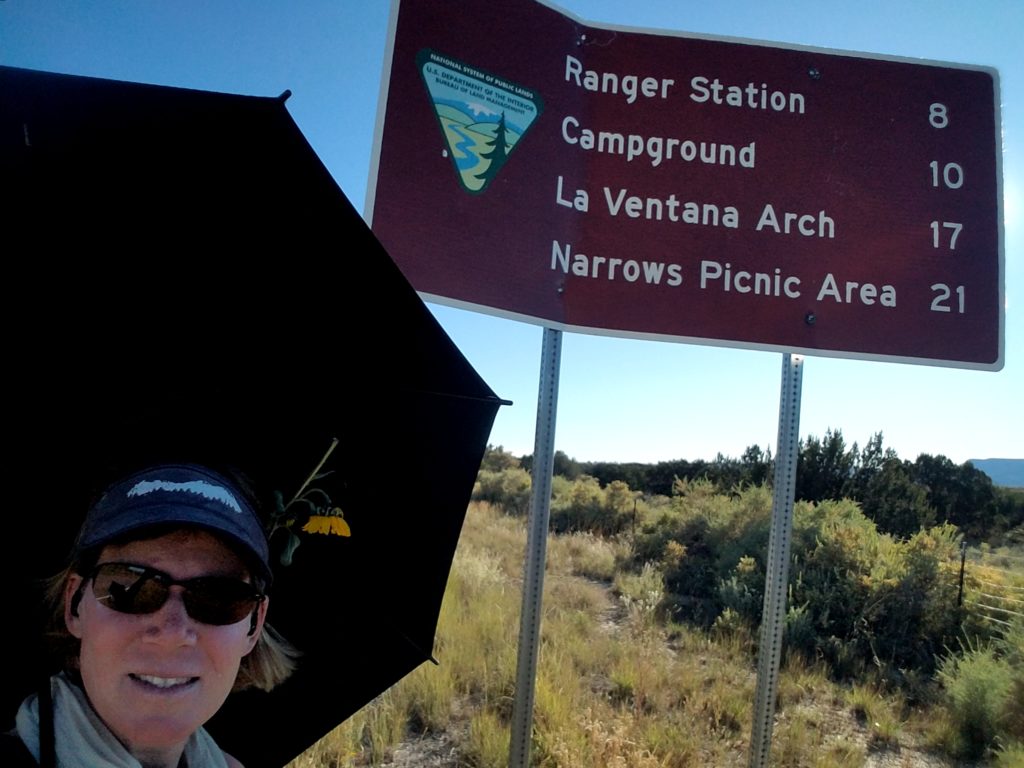 And just like that, I'm done walking. It's close enough to town to call it good. Sure, I didn't connect every single footstep but pretty damn close. I was done with the CDT hours ago when I stood on that lookout surveying my progress over the months. I was done at the top of Mt Taylor the day before. I was kind of even done when I parted from my hiking buddy at Ghost Ranch, since the trail hasn't been the same without him. It's been a trail full of uncertain beginnings and endings. But it was never about the start and end points, it was always about the story in-between. Life's a journey, not a destination.
So I end the day over pizza and beer with a new-found friend, Mac, and an older friend that has had such a parallel journey to mine over the past few years. It seems fitting and I feel blessed to have it this way. I already miss the trail and of course I will miss my friends that I made along the way. But it's time to move on. Onto another trail. I'll be walking all the way back to the Mexican border but in Arizona…stay tuned.