September 29th, 2019
Cattle trough mm 2445.4 to Grants, NM, via Mt Taylor alt.
Distance in miles: 34
0610-1900
I'm going to climb Mt Taylor as an alternate today. I don't need to climb it since it's not the official route of the CDT but this is my second to last day, so heck yeah I'm going up. I'm treating it like Mt Katahdin on the Appalachian Trail. It's sort of the finish line. And why not. It's a tall and prominent mountain at 11,301′. There's even a registry to sign. Let's go!
Except I'm reluctant to leave my perfect campsite, it's so nice. I walk the road in the dark, not paying very close attention. Just like that, I'm off trail and have to backtrack a little. This happens multiple times every day, so at least I check my GPS frequently. The trail becomes singletrack again and I follow it a few miles until reaching the alternate junction.
Now I'm following a forest service road for almost 10 miles to the top of Mt Taylor. I have to gain about 3,000′ but it's easy going on the road. I stop a few times to admire the views. I can almost see Albuquerque and back towards the San Pedros. I stop to try to go up the fire tower at La Mosca lookout but it's locked. The wind is whipping through all the towers on the peak, making creepy noises.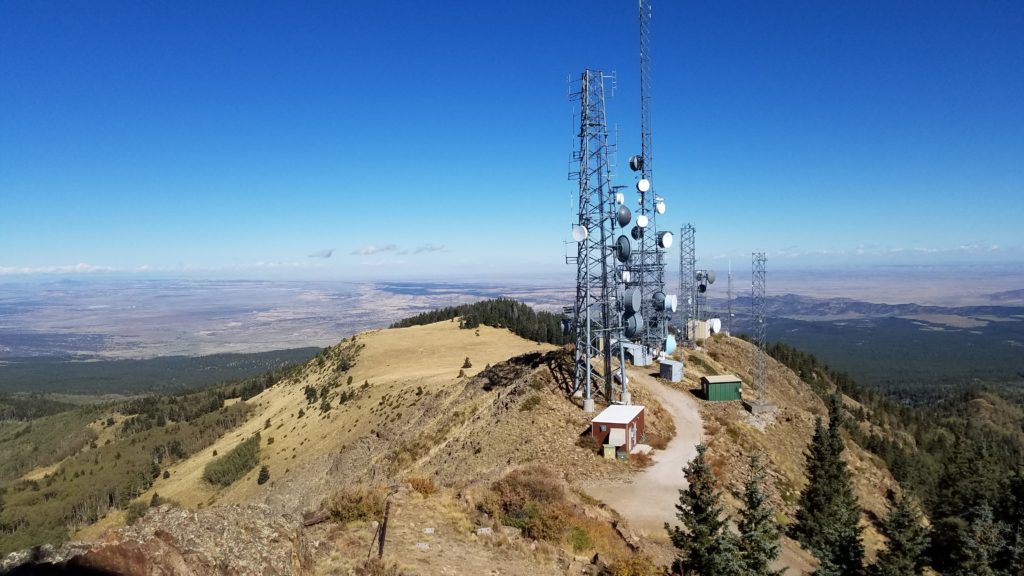 I reach the top of Mt Taylor, the last bit on singletrack called the Gooseberry trail. There are 2 couples out for a dayhike at the top and I ask them to take some finisher photos of me. They are very nice and intrigued by my story. They give me nuts, bars and trail mix. Congrats on finishing the CDT… here's some more trail food. I'm happy to take it, since I can use it on my last roadwalk tomorrow or on the Arizona Trail.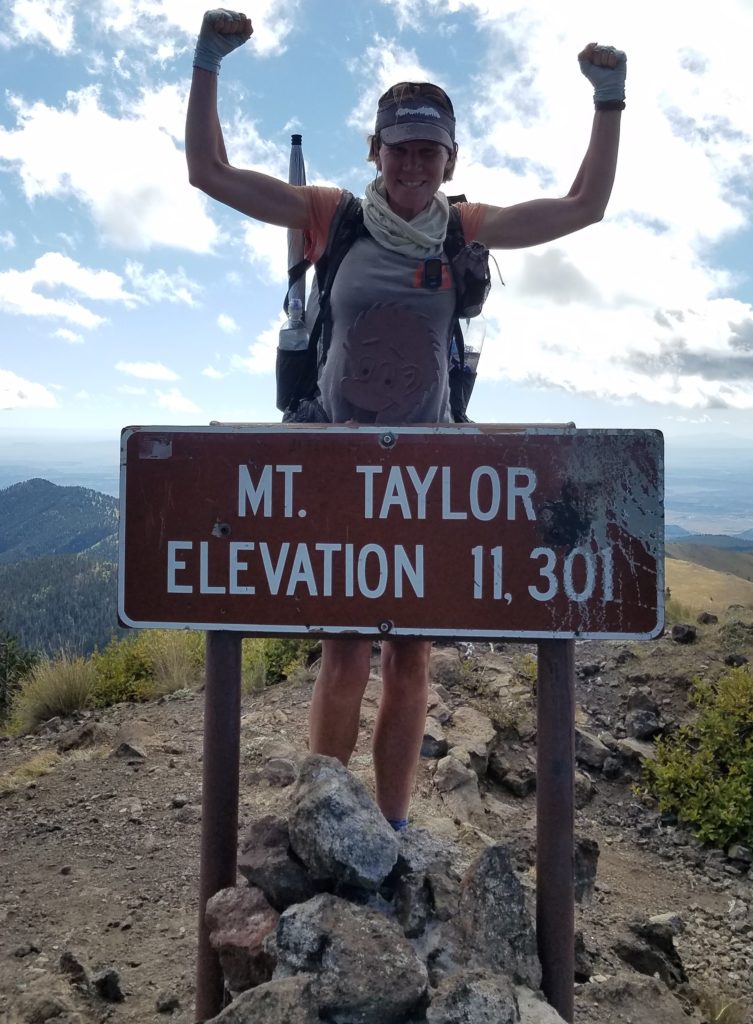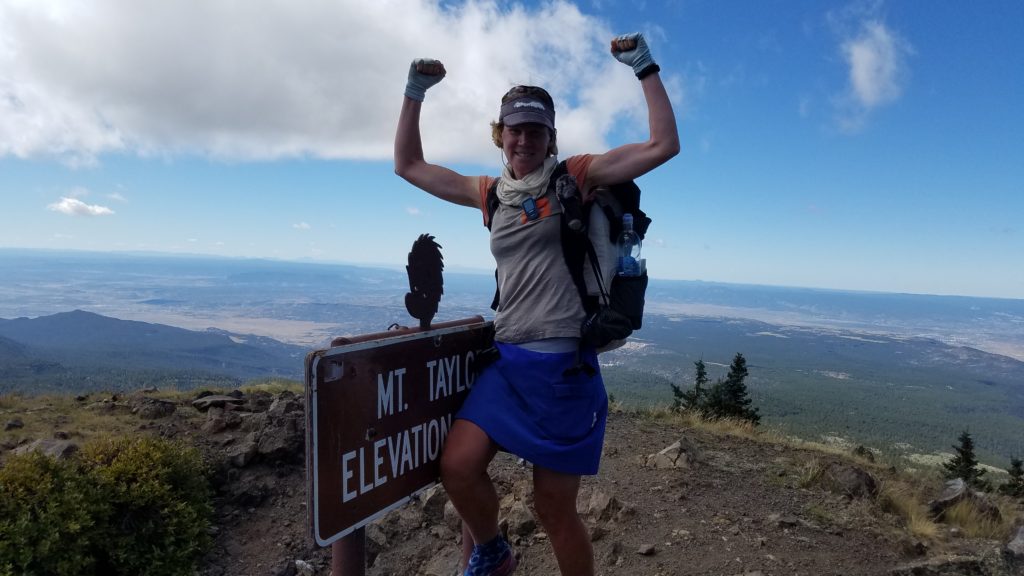 I take awhile at the top to read through the registry, seeing all the familiar NOBO names from May. I had just caught up to a large bubble of hikers when last I arrived in Grants. They made it to the top while I was going home to be with my dad. And now I sit here, alone, reminiscing over my long journey to reconnect my footsteps. It's kind of emotional, as it should be.
The cold wind finally gets to me and I head down. I pass a few more dayhikers, a water cache at the trailhead, and then its very quiet for the rest of the afternoon. I've got another 20 some miles to walk to get to town, so my finisher photos are a little premature.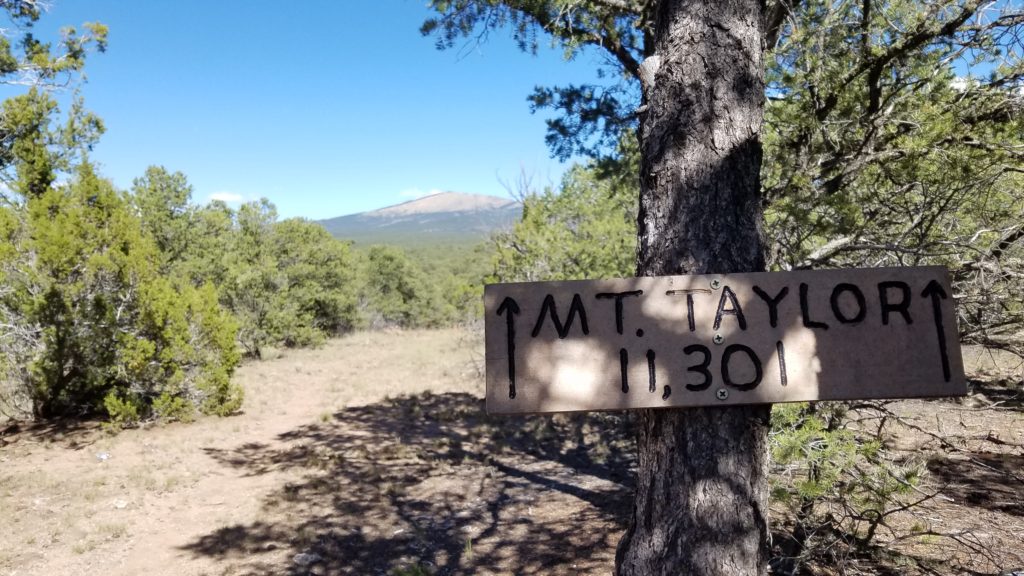 I get a text from Dahn, my parallel universe hiker friend. He has hiked the TA, PCT, and now CDT all at the same time as me but I only see him a few times on trail, if at all. He's right behind me on this day and wants to split a hotel room in town. This is perfect, since I really didn't want to be all alone in Grants …bad memories. I pick up my pace, excited to get to town.
The trail winds through miles of scrub atop the large mesa and finally reaches the ledge where it drops down into the desert again. I loose 1,000′ of elevation quickly and am spit out onto a highway. I hear gunshots and shortly pass by an impromptu firing range right off the side of the road. There are about 5 vehicles parked and several people firing at makeshift targets. It makes me nervous and I shuffle by quickly since I don't have hearing protection…but then, neither does anyone else it looks like. Gunfire is a leading cause of hearing loss…not surprisingly. Even still, not many take precautions to protect their ears…I learned all this while tracking noise exposure for my internship at the NIH.
On the outskirts of town, I also pass a prison. Grants doesn't put it's best foot forward but as I will find out later, it has some redeeming qualities. I stop at the Smiths grocery store and get some food for dinner. It's another mile to the motel, so I buy a pint of ice cream to eat on the way. It doesn't even last half a mile.
Dahn joins me about 30 minutes later at the Sands motel and we spend the rest of the night reminiscing about all our trails. It's a fitting way to finish this trail but in actuality, I still have a little more walking to do. I'll save it for tomorrow.