July 3rd, 2019
Benchmark mm 234.2 to Dearborn River mm 263.4
Distance in miles: 29.5
0630-1800
It was a tough day of some more hard rain but finished in bright sunshine. The weather is crazy here. Overnight I slept so hard, only waking once or twice to fret about all the rain. I sweated inside my quilt and wake up feeling cold and clammy, thinking I am somehow getting wet. But no, my tent is mostly dry. It's so dark, it's hard to tell. I pass out again until morning. As usual, everything is damp from condensation.
It's hard to get moving but at least the rain has stopped in the morning. We start out together and for a brief moment, the sun starts to peak through the clouds. It's only a tease though. We spot a 2 elk, the first I have seen up here.
I feel like hiking solo for the day so I drop back. The guys are always so conscientious of me that they will wait up, so I have to tell them explicitly go on without me. There are so many guys out here that I feel the need to restore some feminine balance. So I listen to a podcast called She Explores. It's all interviews of badass women doing badass outdoorsy things. It's a refreshing change from all the conversations about bathroom habits and how great other women look. I worked with mostly men in my career on ships and it feels a lot like that out here sometimes.
I walk for a long time through a burn area. So much of the trail has been through burns. There are also many streams to cross, everything running well after the rain. I stop to try to dry out my tent a bit, knowing full well that the lack of sun and damp conditions won't allow it. The attempt only seems to usher in the rain I know is coming. By noon I hear thunder and then it starts to rain again.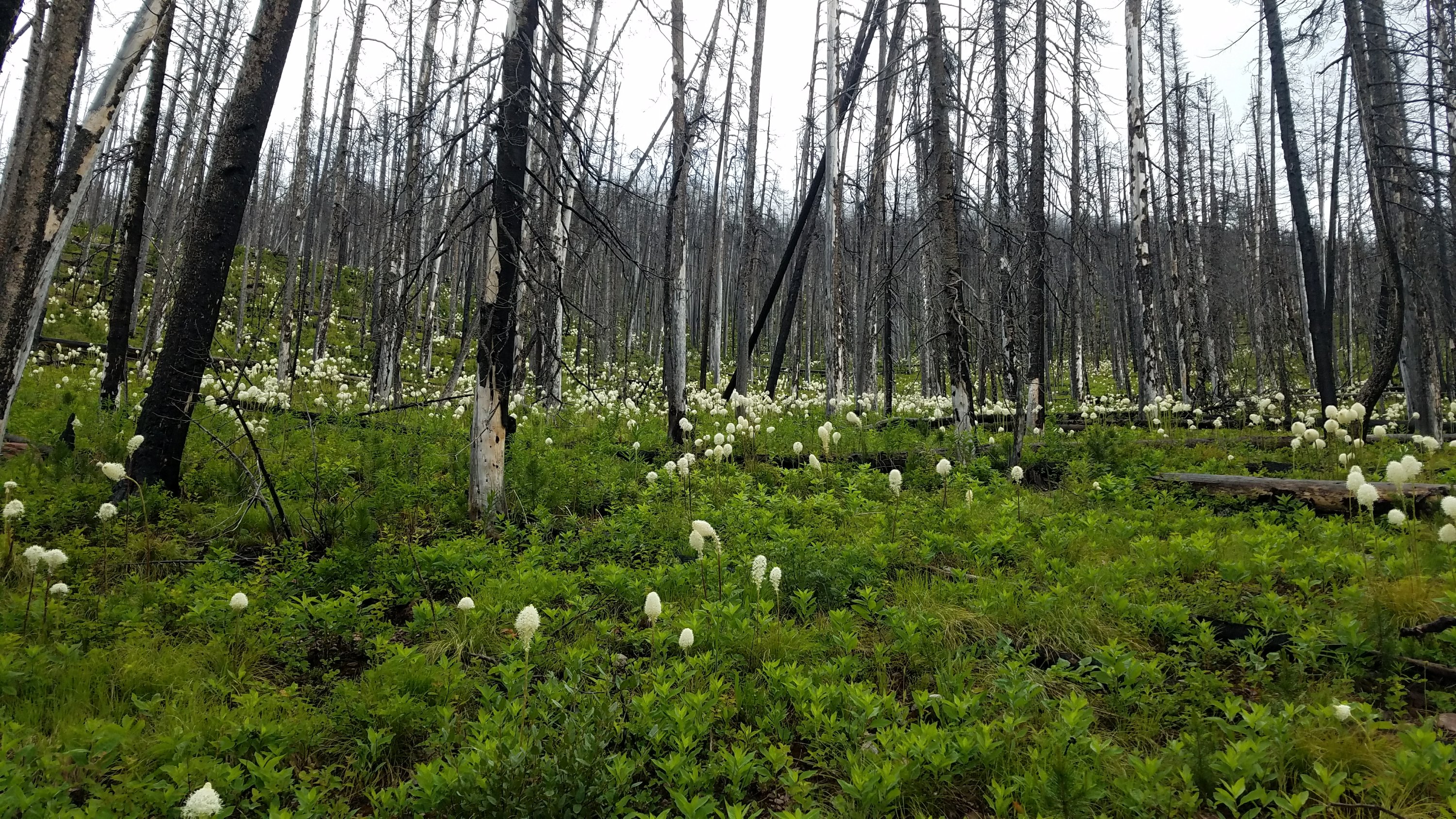 Bear grass grows so prolifically in the burn areas…all the white-tipped puff balls.
I hike along comfortable in my rain ensemble but there is always some little thing to tinker with. Today my rain skirt is sticking to my wet thighs as I try to climb. It's annoying but better than a wet bottom. Then my rain mitts become soaked…so much for waterproof mitts from Zpacks. They are old so I guess I can't fault them too much. Everything else is great and I plod along.
It stops raining for awhile and I have to do a wardrobe change to take everything off. Then back to heavy rain again and everything back on. With an umbrella, it's usually enough and easy to don. But it gets so bloody cold when it rains here, I have to put on layers too.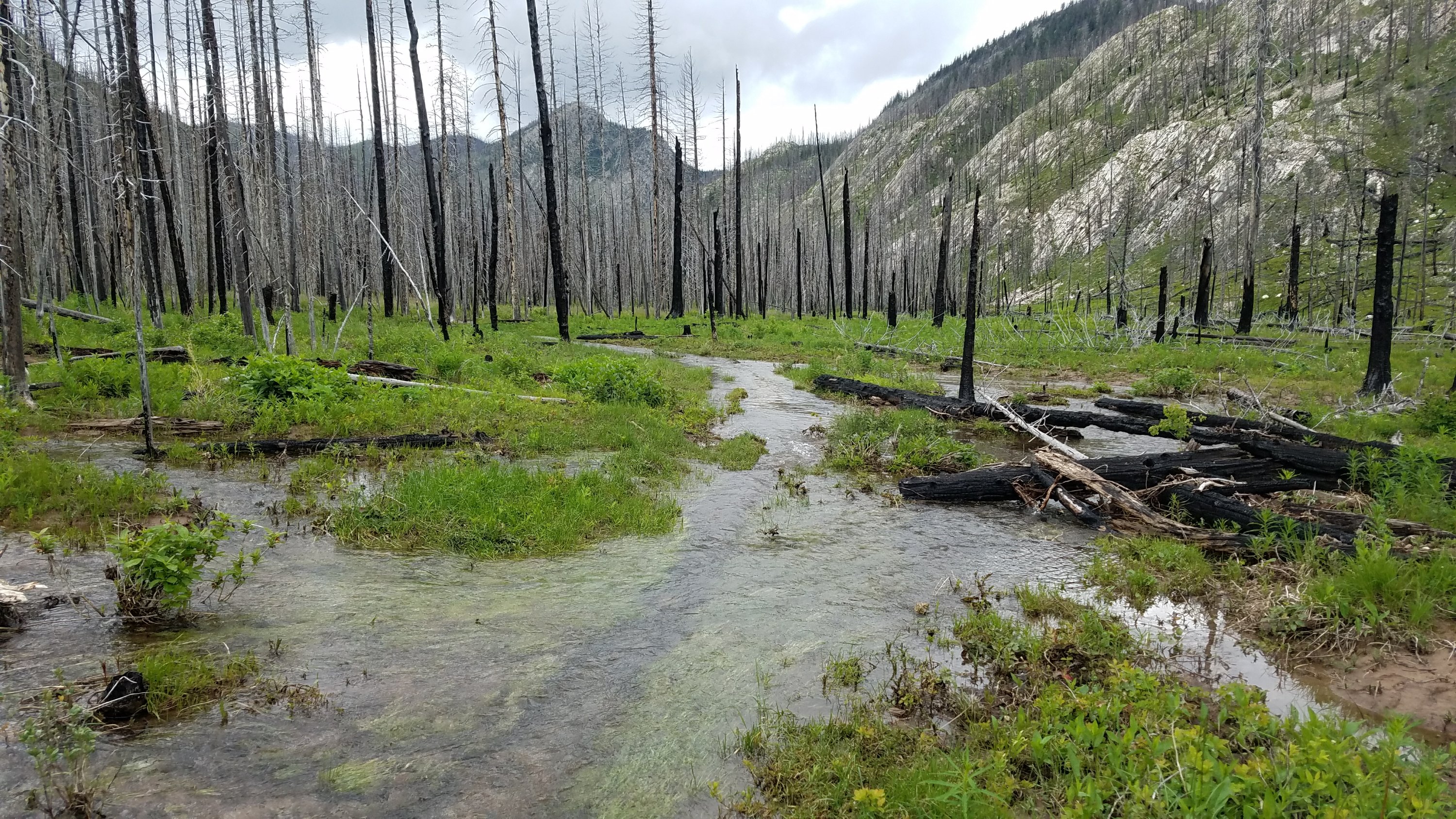 It rains so hard that the trail becomes a river. I am walking through streams and puddles constantly for at least an hour. The valley is absolutely flooded, which is kind of cool to see. Then a strange light appears to the west. The clouds are lifting and I start to see something…I have to squint but it looks blue. One minute the valley is overcast and sodden with rain, then there are blue skies and sun.
Just as the sun hits me, I turn a corner and find Nikoli, a German hiker, and Mayor, a guy that helped with filming Dixie's online videos of the CDT. I throw out some things to dry and have a chat. It's still wretchedly humid but the sun feels so good. This is the first decent break I have taken all day and I have yet to collect water. Maybe I can pull a 30 on half a liter of water today…I've adapted by absorbing water through my feet.
Everyone catches up and we push on the last 5 miles to camp. Finally a camp presents, complete with a guy already trying to make a fire. There's still sunlight on the site and I am able to fully dry my tent. After a lot of effort and smoke, a fire is going and several more have shown up. We have Drew, Nikoli, and Pacer for company tonight, making 6 smelly hikers around a campfire in the deep woods of Montana.