September 19th, 2019
Adams Fork Conejos River mm 2180.4 to Dipping Lakes mm 2206.4
Distance in miles: 26
0630-1740
Instead of just seeing where we end up for the day, we decide on a slightly shorter day for a predetermined destination. For once, the app notes that there's a campsite at a lake and even has a picture of it. It's low (for the San Juans, still above 11,000′), just before our last big climb over 12,000′, and leaves only 15.7 miles to get to Chama the next day.
We get a little later start simply because I read some comments about having to bushwhack in the near vicinity and I want to have enough light to see. We miss the junction crossing the stream and apparently avoid the trouble spot. But we still have to bushwhack up to the trail on the other side of the stream, which isn't too bad. It's so easy to miss junctions on the CDT in the San Juans, even when you're on the lookout for them.
We shortly pass a tent, go over our first ridge and pass another 2 tents. One guy is packing up and it's Curtis, a SOBO that we met near Monarch ski resort. We've done about 5.5 miles already and I'm once again happy with my schedule of starting so early. With the days being so short, I want to take advantage of all the daylight. Plus, the forecast called for thunderstorms in the afternoon so we've gotten 2 hours of rain-free hiking done already. I'd rather get to camp early and dry.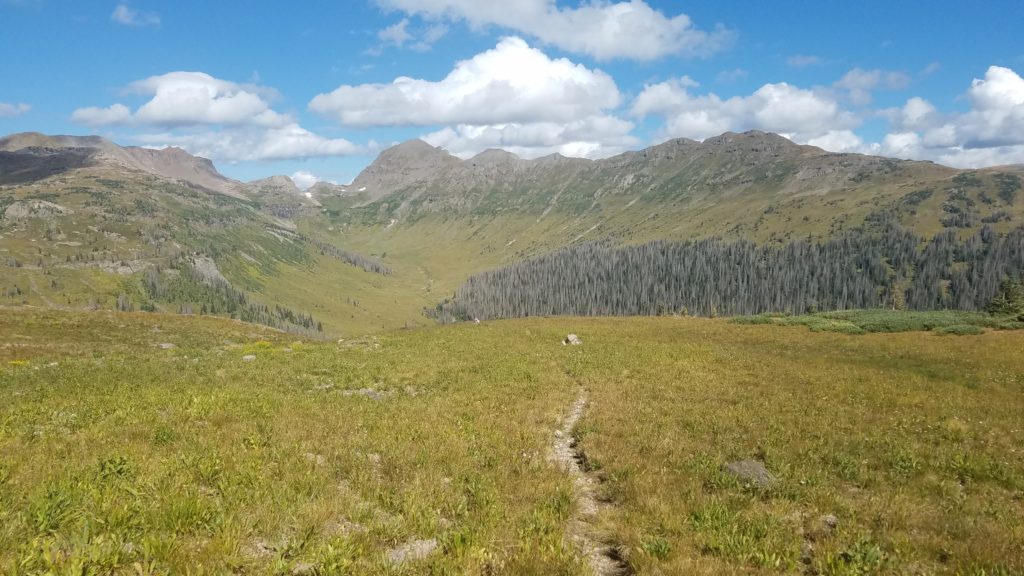 We go up and over 4 ridges above 12,000′ during the day. There's a long, flattish stretch in between the 3rd and 4th, where I stop to have lunch at Blue Lake. I talk to an elk hunter that tells me he and his buddies got a bull and a cow and then had to pack out all the meat in their backpacks. I can only imagine how much that is and how heavy.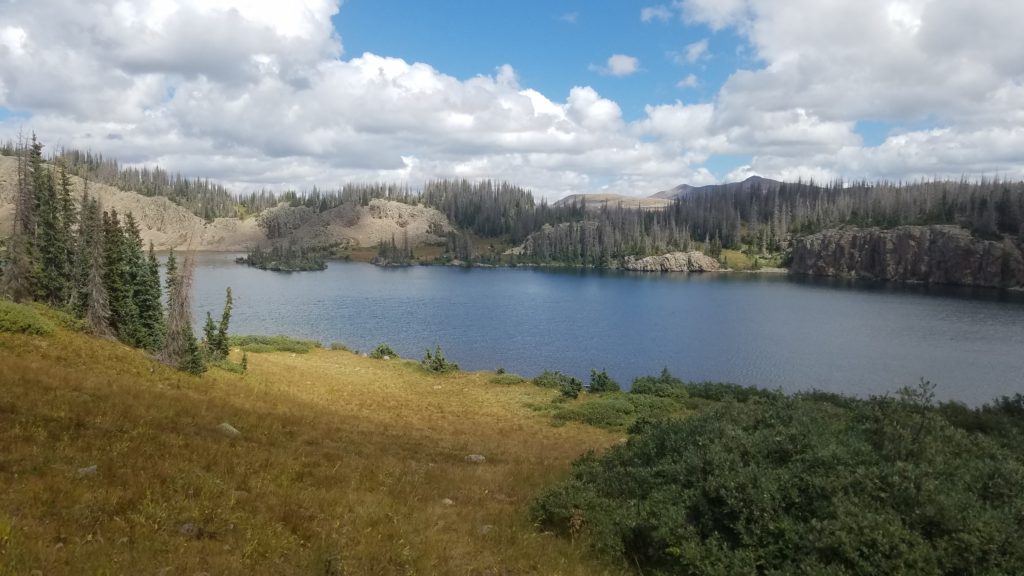 On the last ridge of the day, I keep turning around to look where we've come from. I can just see some of the far jagged peaks to the SW, terrain we crossed or were near almost a week ago. I can also see the peaks we passed on this most recent stretch. The Sangre de Cristo range marches north/south to the east and I can just make out some of the Great Sand Dunes. Tomorrow we'll say goodby to the San Juans and to Colorado.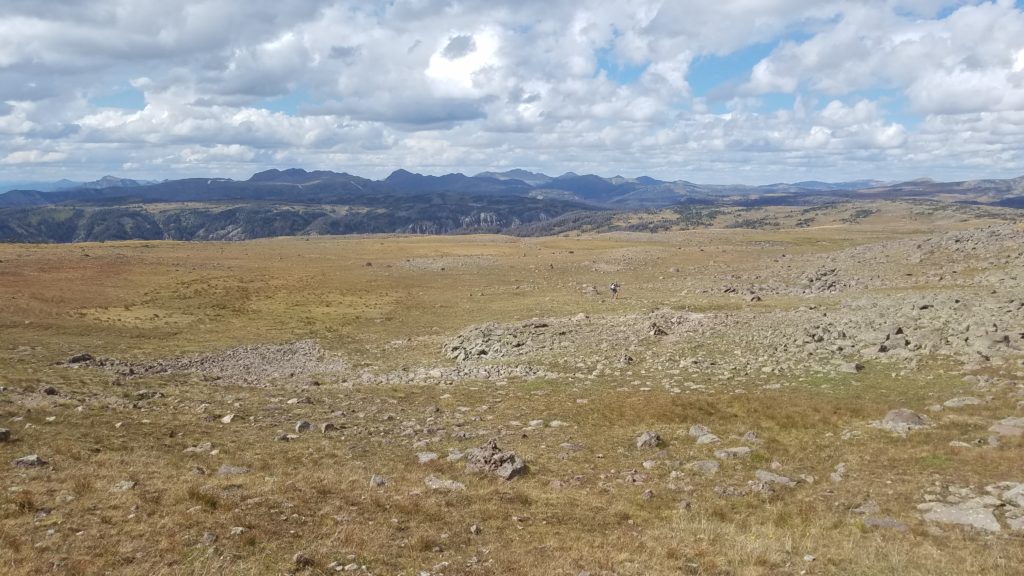 We stop to take it all in and watch some mule deer go bouncing by. The thunderstorms haven't transpired yet, so it's very pleasant up top. Then we head down to our campsite to find it free and clear, just like it were waiting for us to arrive. Since it's still pretty early, Relentless works on building a fire. Presently Curtis arrives and we have a nice fireside chat before the first of several thunderstorms appear, just in time for bed.