September 18th, 2019
Wolf Creek Pass mm 2152.8 to Adams Fork Conejos River mm 2180.4
Distance in miles: 27.6
0840-1920
We return the bikes and meet Vickie at 8 am, just as planned. She even brings coffee and peaches for us. We have a pleasant conversation on the way up and we're sorry to say goodby so soon to our newfound friend. She's so sweet and kind. I'll have another person to go back and visit in South Fork now.
It's cold and windy on the divide but at least the sun is shining. The trail climbs immediately to the ridge and ski area, where we enjoy a stroll past all the lifts. The tread is good for many miles and we cover ground easily. Since we got a pretty early start, we hope to do enough miles to get past the first really high area that's above 12,700′.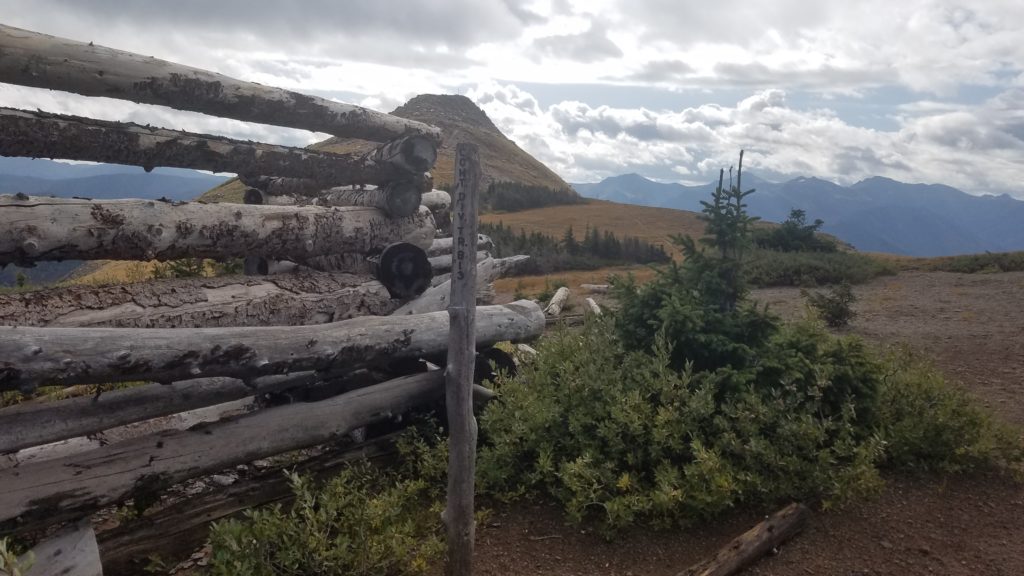 We meet a couple that's section hiking north and then some hunters at Elwood pass. They both tell us that they've seen many SOBOs in the past few days but we don't know who they are. Sunshine and Sugar Rush are still in Pagosa Springs after waiting out the weather a few days ago.
We head up into the tundra on the high pass, crossing into the Southern San Juan Wilderness. The sun has warmed the air enough that it's pleasant but the wind is still blowing. The trail winds through a high plateau at the base of several peaks, first Long Trek, then Montezuma, and lastly, Summit Peak (real original name).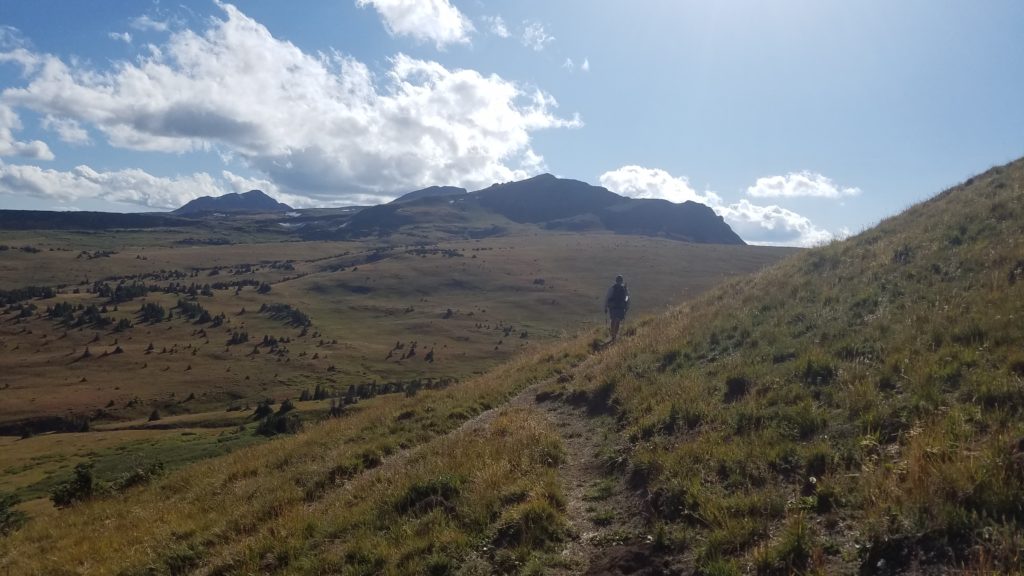 The trail has gone up and down all day, as usual, but it feels gentler somehow. The tread is again rough: lumpy grass, mole holes, rocks. But I'm used to it by now and it reminds me of walking through the tussock in New Zealand. I like this cross-country, cairn-finding, stumbling through the grass kind of stuff. Unfortunately it hurts Relentless's blisters, slowing him down, and he falls behind.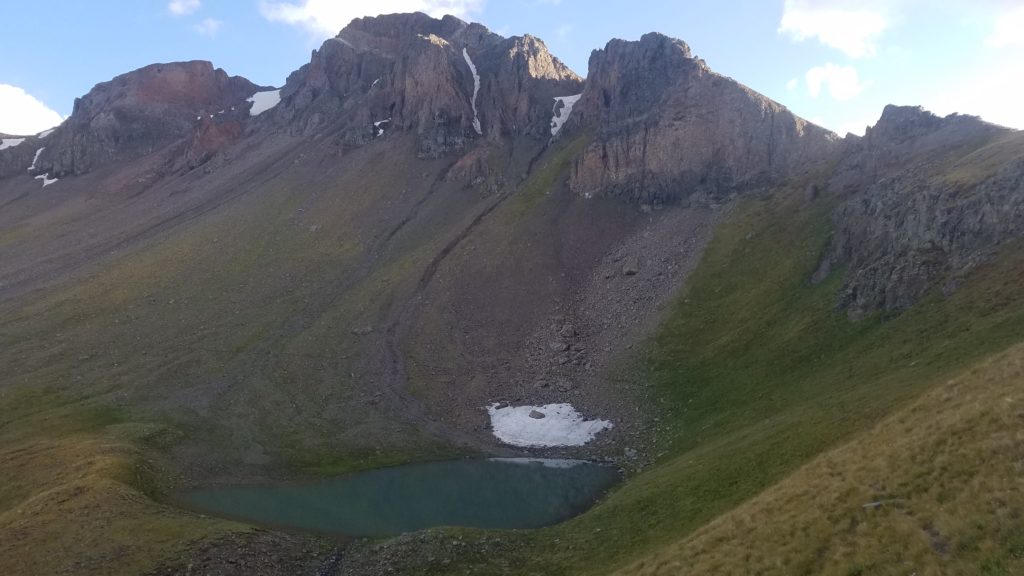 We cross through this high tundra for hours and it gets late in the day. The sun begins to loose its battle against the cold wind, which is of course right in my face. I desperately want the trail to go down and finally, well after 6 pm, it starts to. I struggle to follow the faint path and push through the overgrowth. I don't want to be doing this in the cold dark. I stop to collect water, hanging my gravity filter on my shoulder so that I can filter while I walk. I'm running out of daylight and need to be efficient.
I seem to have a knack for finding hidden campsites just in the nick of time. On this night, as I walk down the trail in the fading light, I have a sense there's one off to the right in some trees. Sure enough, I find a protected flat spot just big enough for my tent. Now how to ensure that my hiking buddy sees me? It's dark enough that my headlamp should give me away.
After awhile, I see another light come bouncing down the trail. I yell a couple times and he sees my location. With my camo tent and hidden spot, I really have to make an effort to get noticed. We settle down to disappear into the dark woods, another day in the books and that much closer to finishing another state.