August 23rd, 2019
Grand Lake mm 1649.7 to Indian Peaks Trailhead mm 1673
Distance in miles: 23.3
1030-1900
The Shadowcliff hostel doesn't have a free breakfast but there's free coffee. Also, they hosted an event last night and when I returned from town, the employees were munching on all the leftover finger-food. We asked if we could have some and were able to secure our breakfast for today. Score!
We leave the hostel to travel through main street, part of the official route, and I'm tempted by a bakery. I get an apple strudel covered in whipped cream but it's just ok. Then I go to the small grocery and scrounge what I can for resupply. They don't have most of things I'm used to which presents a bit of a problem. The next stretch is 130 miles so I need at least 5 days of food. I buy what will probably work but know that I'm way short. I'm betting on some trail magic and maybe the generosity of some Colorado Trail hikers that have too much going into Breckenridge. I need my pack to be as light as possible since we're set to climb multiple 13 and 14 ers in this section. Yiokes!
We walk out of town and follow the east side of several lakes the rest of the day. Grand Lake, Lake Granby, then finally Monarch Lake. The trail hugs the shore for awhile and there are nice sandy beaches here and there. There's also a spot that looks like it has toxic algae so I later pass on an opportunity to swim during one of our breaks.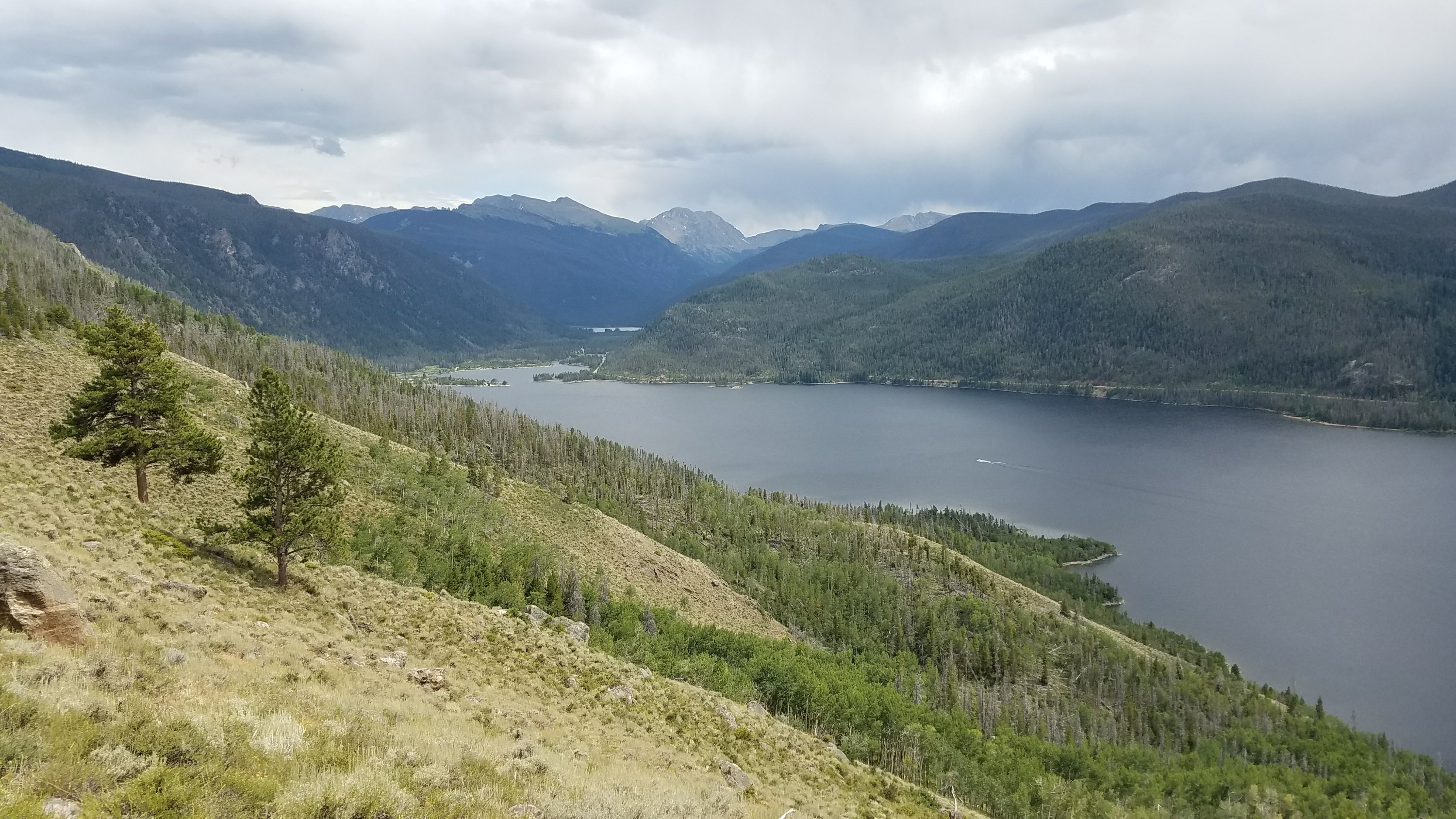 We climb quite a ways so that we are above the lake on a ridge. There's a lot of deadfall and the trail is not so nice anymore. I was thinking it would be an easy stroll but it never is. We pass a couple campgrounds and a lodge, then a parking lot full of cars at Monarch Lake. We wind around this last lake on a very nice trail then are going up up up. Good switchbacks bring us over a ridge and down to another parking lot. This spot has all the amenities, like a creek, toilets, and benches outside a locked cabin. It's late and getting dark so this is a great endpoint. All in all, a pretty easy day, but the upcoming days won't be.