August 14th, 2019
Rawlins mm 1385.7 to Savery Creek, 2 miles north of mm 1443
Distance in miles: 35
0800-1840
I toss around all night in the stuffy hotel room but feel pretty rested in the morning. I want to hit the trail, er, road I mean, early before it gets too hot. There are several options for departing town, all of which involve a little or a lot of paved road walking. An alternate is to walk the road for 36 miles, shaving 20.6 off the main route (which is all more sagebrush bushwhacking and jeep trails).
I have no appetite in the morning but I still stuff a whole jar of potato salad in my face, a leftover that I couldn't stomach for dinner. It makes me want to puke but I hold it down. I need the calories. This binge eating is no fun.
Relentless walks with me for the first mile to the downtown area, then I'm on my own. He's going to meet me with my resupply on the road out of Encampment, about 60 miles ahead. That's where he'll resume the trail.
For the first 15 miles, I'm committed to the paved road. There's a route off in the sagebrush that nobody walks since it's rough and hard to navigate…sound familiar by now? The road is great, with a vehicle passing only every 10-15 minutes. I'm also kept entertained by the CDT bicyclists. About 7 pass me, including a nice couple from Moab, Steve and Rita, that I met the day before. Several slow down to chat for a bit and one guy comments that I'm not just walking, but speed walking. I really like the cyclists and am happy to be sharing this stretch of road with them. Maybe I will bike the CDT someday.
I reach Teton Reservoir by noon, where there are picnic tables and toilets. But everything is a 3/4 mile walk on the other side of the lake so I just sit by the road at the turnoff, huddling in the slice of shade created by the BLM sign. My position works out well for me because a nice man sees my umbrella and stops to offer me water. Perfect timing for lunch. I cram a bunch of water while I talk to him. He's an environmental impact assessor working on a new wind turbine project. What a great idea since this place is windy as hell.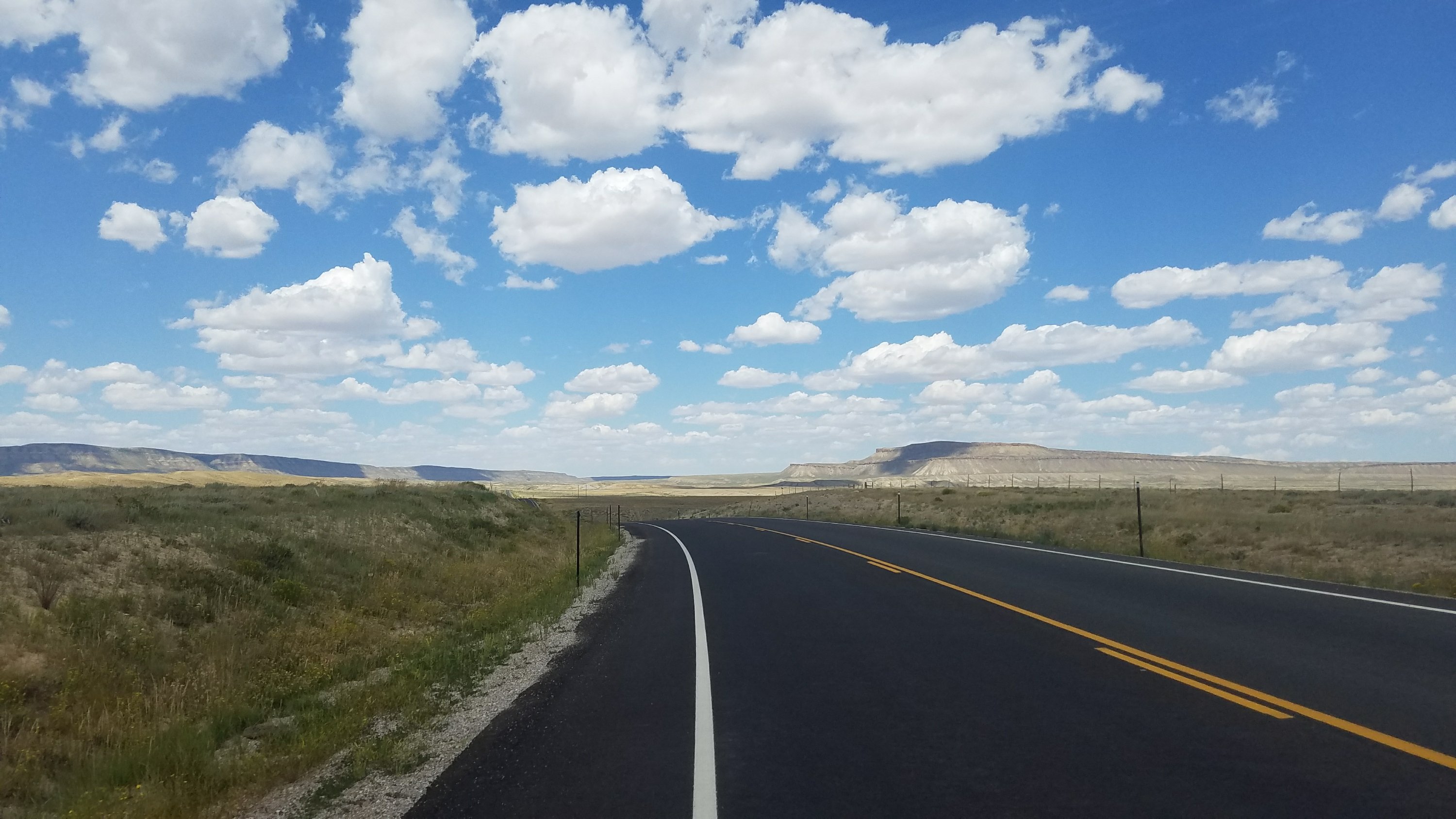 At this point, I've decided to walk the full 36 miles of highway. It's brand new, navigation is not needed, there's almost no traffic, and it's not bothering my feet…yet. Plus, there are opportunities for trail magic. As such, another man slows down and offers me cherries, grapes, and more water. It's all he has though and I feel bad about taking his only water so I just stuff some fruit in my pocket. Earlier I had a peach, and all this fruit is so refreshing.
It starts to get a little hot in the late afternoon but the wind keeps it pleasant. Since the tread is not treacherous, I'm able to look all around and zone out on things. I hear a buzzing to my side and see a rattlesnake just off the road. Oh yeah, I forgot all about the threat of them. But this one's no threat to me, as I'm up on the hot road where it doesn't want to be. Hi Mr. Snake.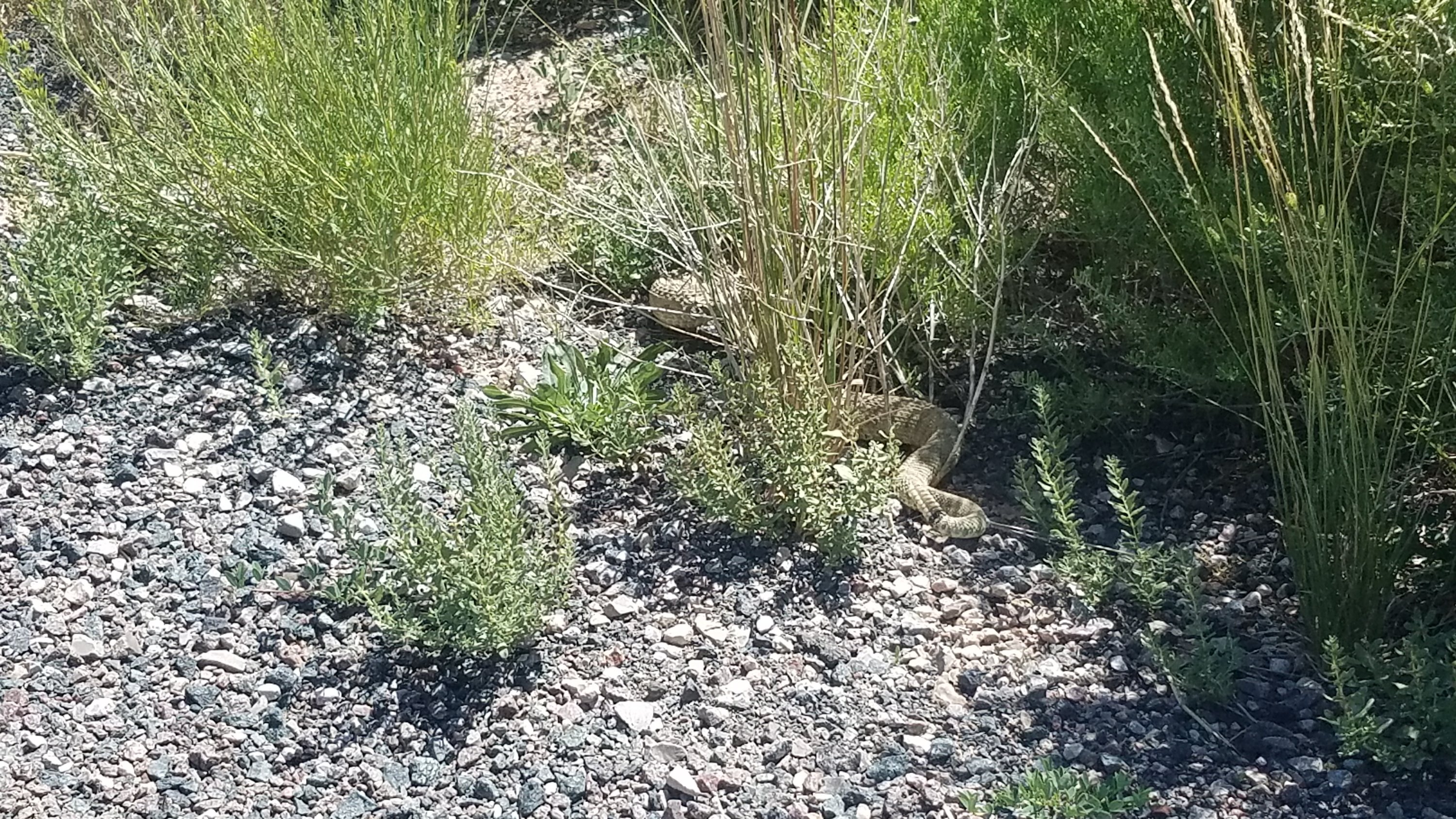 More construction guys stop to give me water. It looks like it's completely desolate out here but a lot is going on. Oil and gas, wind, ranching, etc. All the vehicles passing are work trucks…which also have coolers with cold water. Unlike the previous highway into town, when I so desperately needed water, this one has an ample supply of friendly guys with water. I have so much that I have to stop to pee every hour or less.
Eventually this endless road stretching across the desert begins to climb. I can see it rising into the hills with TREES from miles away and it's excruciating that it takes so long to reach. I just want there to be a tree with SHADE that I can rest under for a bit. It's not that hot, it's just that trees are such a novelty after days in the basin. It means that I'm getting back to the mountains. I also note the transition by way of the roadkill. The poor dead animals shift from antelope to elk, a sure sign of the mountains to come.
The road leads up to a high plateau where there are even some small patches of snow, snow! This area had so much snow that it's still lingering in August. I must be nearing Colorado! The last guy to stop for me on the road is the first guy I meet, just checking in on his way home. He can't believe how far I've made it. I pass on more water, knowing there's a creek up ahead but thank him again for his support. Walking the road has actually been a great experience in terms of views, transitions, and benefiting from the generosity of drivers.
But boy do my feet hurt by the end. It's not just from the pounding but also a rather bad case of heat rash. I get to the creek and have to soak my feet for awhile, my skin is so raw and painful. I had a lot of heat rash in New Mexico and know it will go away by the next day. Still, my ankle is actually swollen from it.
I find a nice hidden spot off the road to pitch my tent, in harmony with all the cows. I'm so non-threatening to them that they graze right next to my tent. They've been my ever-present companions out here but aren't much for conversation. I still have 2 miles of road walking in the morning but it should be easy. I go to sleep happy for another peaceful night in my tent.