August 12th, 2019
Electric water well mm 1340.8 to Rawlins mm 1385.7
Distance in miles: 45
0630-2020
I don't get nearly enough sleep but that's okay. It gets really cold overnight and I have a hard time breaking away from my quilt in the morning. Cows provide the alarm clock. The prairie stretches out to eternity and the sun rises just as I hit the trail. Unlike the previous 2 days, there are no clouds in the sky. I think it's going to be a scorcher. Well, seems like a good day to do a 45…which would be another record over the one I just set the day before. Back to back 40s is another challenge I wanted to try but 45 would put me into Rawlins…I have the lure of town to motivate me.
I start the day with 1.75 liters of water that I collect from the electric well. There appears to be only 2 more water sources the rest of the day. I'm following a straight-line road that goes over a series of hills. I look over my shoulder to catch a glimpse of the Wind Range far in the distance. The trail continues down the other side of the hills and I have a feeling it's my last view of the range, and it is. I can't wait to see the rise of mountains in front of me, signifying my entrance into Colorado!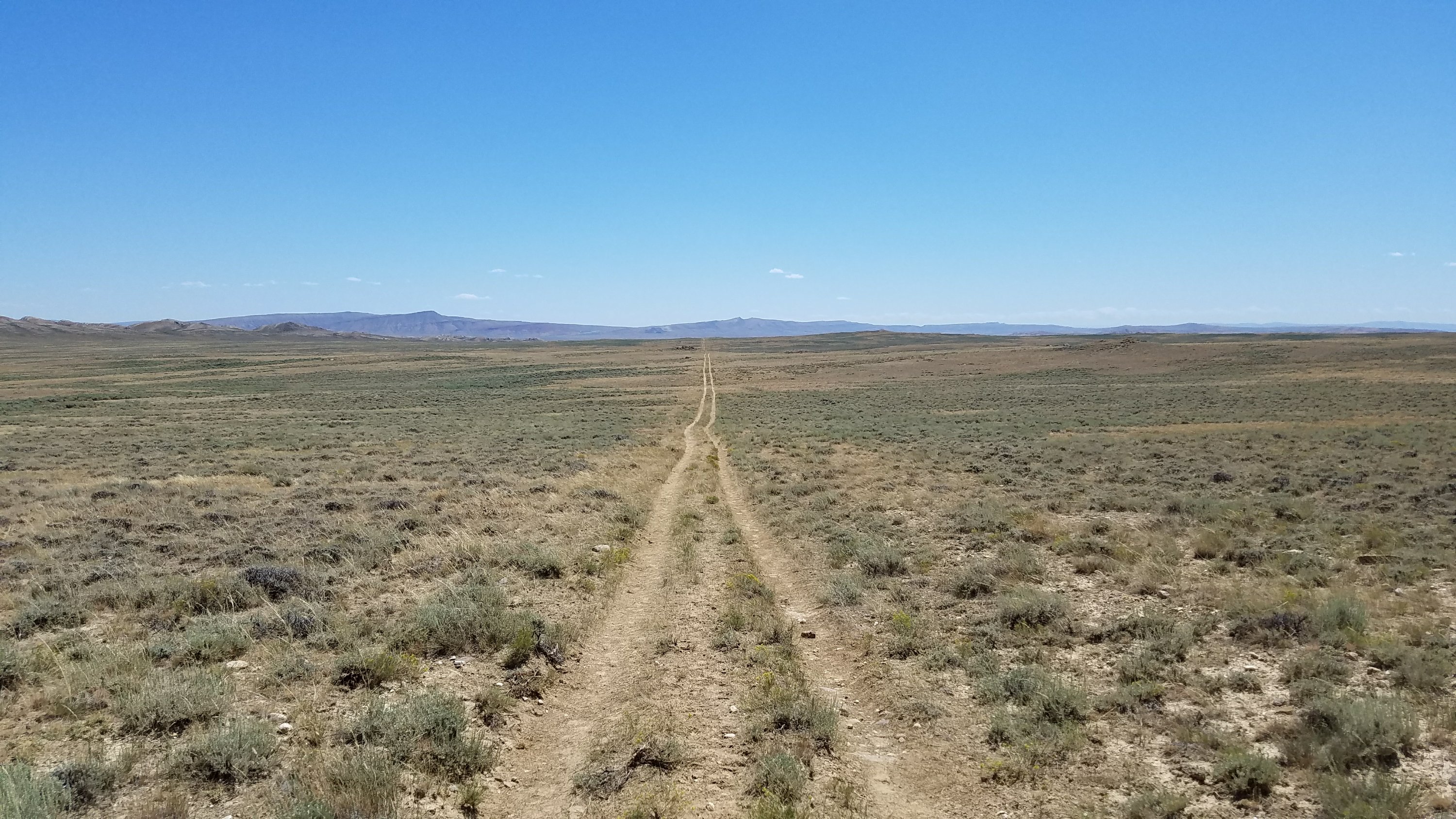 The road seems to have no end point but presently I see a figure in the distance. It turns out to be Macro, a guy I met just south of Lordsburg. Yet another NOBO from my past. He gives me some info on the water sources and is off. I feel bad for NOBOs walking through the basin because the prevailing winds are always in their face. SOBOs head generally east to SE and so the wind is at my back. It's already picked up in the morning and I'm enjoying the lift it gives me.
I make it to Bull Springs for an early lunch but am turned off by the water there, all mucked up by the cows. I decide to just press on. There are more dirt roads taking me lower and my surroundings become more and more desert like. Likewise, it becomes hotter and hotter. A few cows range about, looking unhappy about their situation. They were not lucky enough to be put to pasture in the higher parts of the basin, where there are good springs and grass. This area has the look of a wasteland, similar to the stretch just north of Lordsburg.
I'm happy when I get to the paved road section. The first part is an empty by-way of about 5 miles. It connects to HWY 287, the main highway going into Rawlins. The CDT route goes across the road and into the sagebrush but there's no apparent trail. It's a connector segment, marked but never actually improved as a trail. It serves the purpose of making it look like there are fewer CDT miles on paved highway but everyone just walks the road. It's a pain to bushwhack through sagebrush. My poor shins are so dry and cracked, they just can't take it.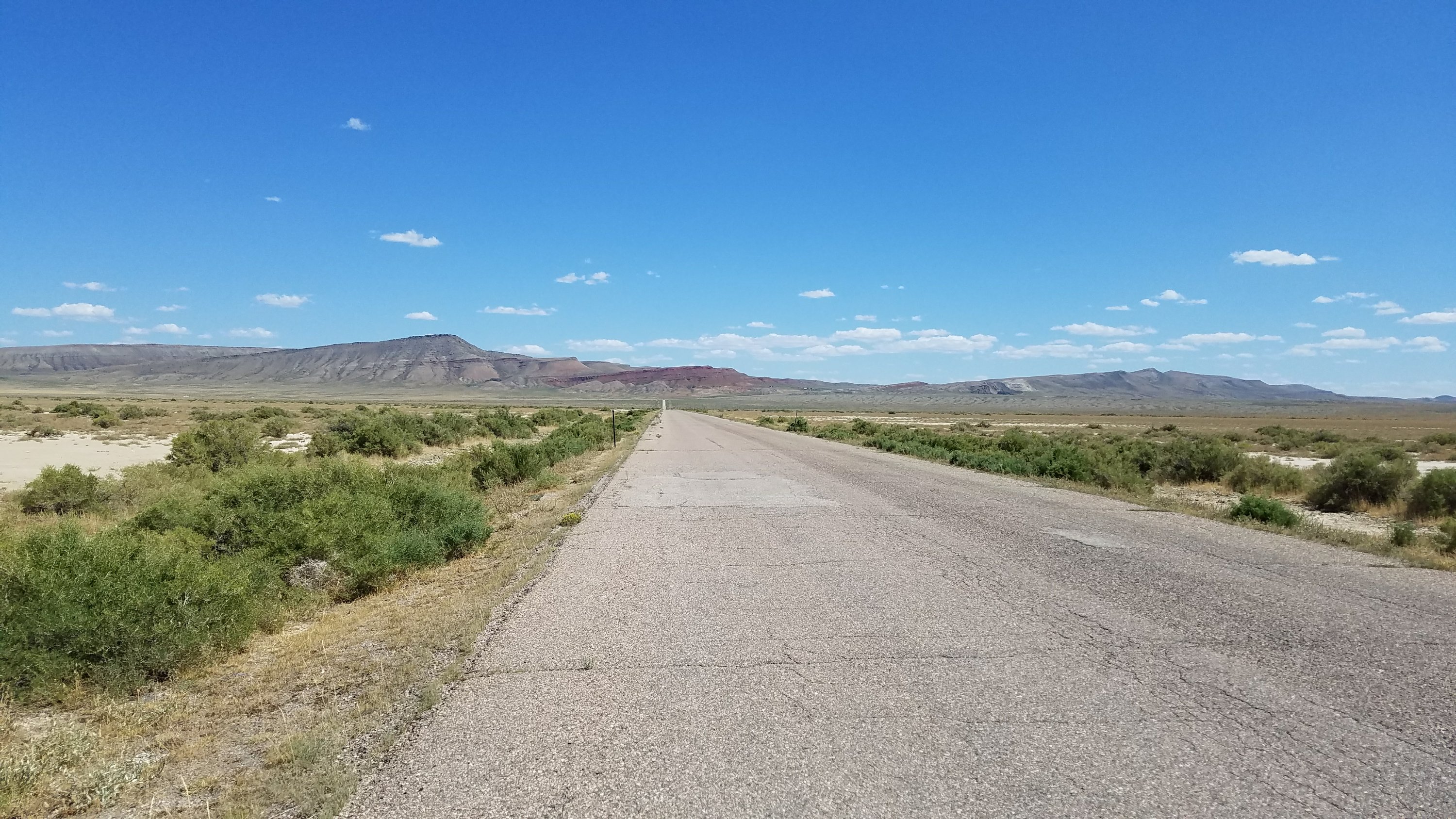 I like walking the first road since it's easy and virtually deserted. A few trucks pass and I'm hoping that one will stop to offer a coke or water. None do. I make it to hwy 287 and the real fun begins. It's 15 miles to town on this hwy and there's a lot of traffic, including semi-trucks and large RVs. At least there's a wide shoulder. The CDT rejoins this HWY for a few miles then dives back into the sagebrush at some point. It routes to a pond and spring but I don't feel like making the effort to bushwhack there. If I really get desperate about water, I'll flag someone down…maybe?
I pass a big tattooed guy wearing jeans and a t-shirt, walking with traffic. He looks like the type that has a hard time getting a ride. It's interesting to me that there are people other than thru-hikers walking these roads. He must wonder the same about me. I take a break in the shade of a culvert after 6 miles. I've done about 35 miles and am feeling it. There's a crosswind to battle, plus gusts from the trucks which nearly blow me over. I have half a liter of water left. My one consolation is that it's getting later in the day and starting to cool down.
The miles tick by, the drivers all stare at me mouth open, and my feet scream. I have to stop again to take my shoes and socks off and massage my feet. They hate me. As pathetic as I must look sitting on the side of the road, still no one stops to see if I'm ok. Everyone is in too much of a hurry. I could probably easily hitch the rest of the way into town but I've come this far, I can go some more.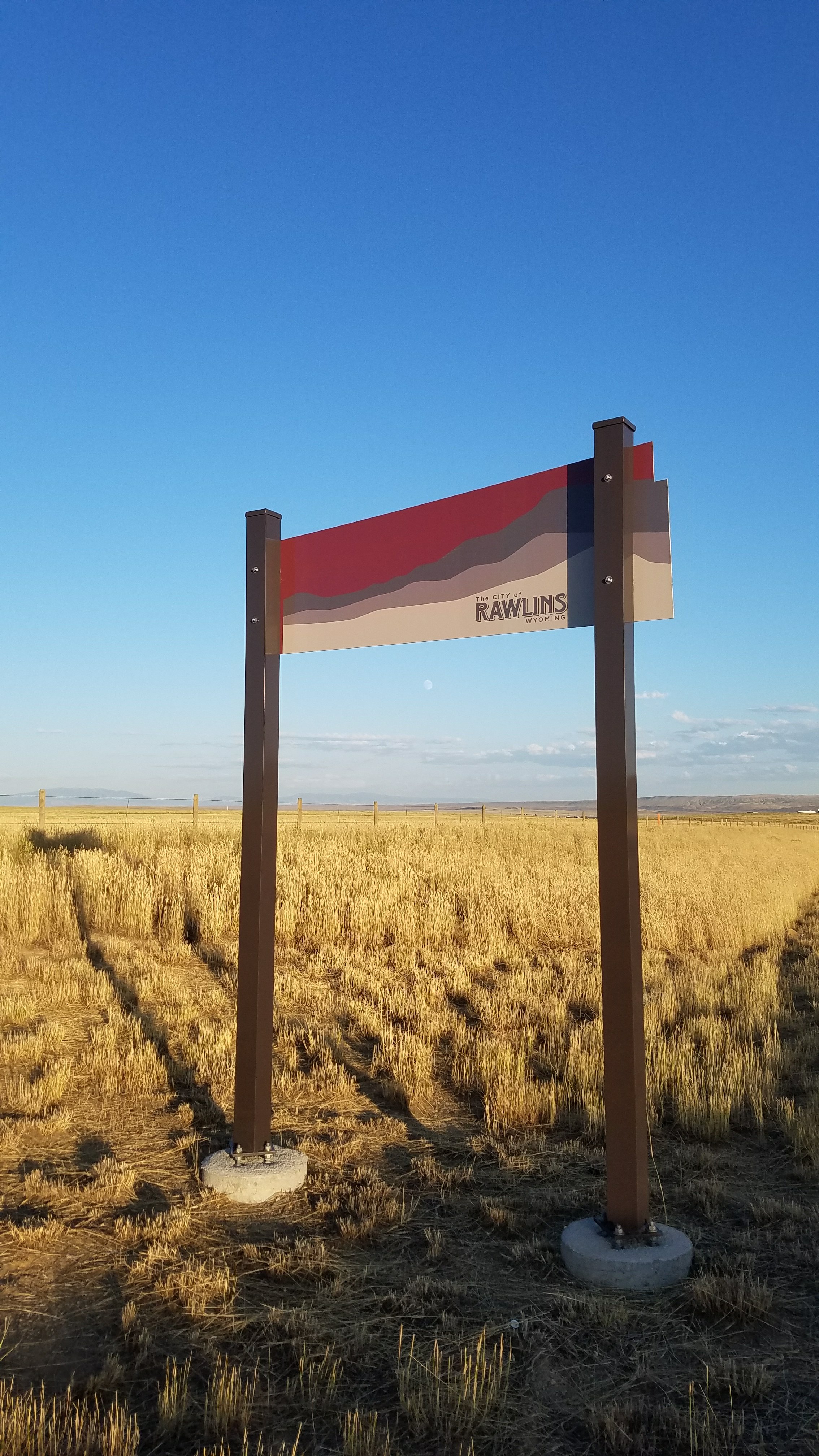 Music carries me into town just as the sun is setting. I had planned to camp for free at the fairgrounds but I have no energy left to deal with camp chores. Plus, I'm so dehydrated from only having 1.75 liters of water all day, I can barely talk. I go straight to a hotel, ditch my pack, and grab a subway across the street. On the way back to my room I run into Dustbuster and Elevator, a couple that started in New Mexico the same day as me. They have only just made it through Colorado, having to ski most of the way. It's great to see them but I'm too exhausted to talk much. I retreat to my room and just crash. I did it but it was tough.
Day 50: Zero in Rawlins
August 13th, 2019
I'm combining these 2 days simply because I don't have much I want to write about this day. I try to take it as easy as possible after the long day yesterday. I find Boo Boo at the motel and return his tent stakes that I found out in the basin. I hang with a bunch of CDT hikers and bikers, meet up with Relentless again, and eat 2 plates at the thai buffet for lunch (a disappointing effort IMO). Dinner is whatever I grab at the grocery store. I still have no cell phone reception…all of WY is a dead-spot for my carrier, it seems.
Rawlins is a bit rough around the edges, a town along Interstate 80 some place between here and there. There's a nice downtown area and a big fancy sports complex, rodeo grounds, etc. I'm anxious to leave early the next morning to finish the last stretch through the Basin and get to Colorado. Sorry Wyoming, I just need to move on.