July 25th, 2019
Mm 870 to mm 902
Distance in miles: 32
0600-1830
Today is our last full day in Montana. We cross back and forth between the two states all day long and I just call it Montanaho. I haven't a clue which state I've been in for the past few weeks, in fact. But tomorrow we will be in Montana for a few miles and then cross into Idaho for the remainder until Wyoming. I will be so glad to be done with both of them, as it has been a long and tiring hike. But also incredibly scenic, remote, and diverse.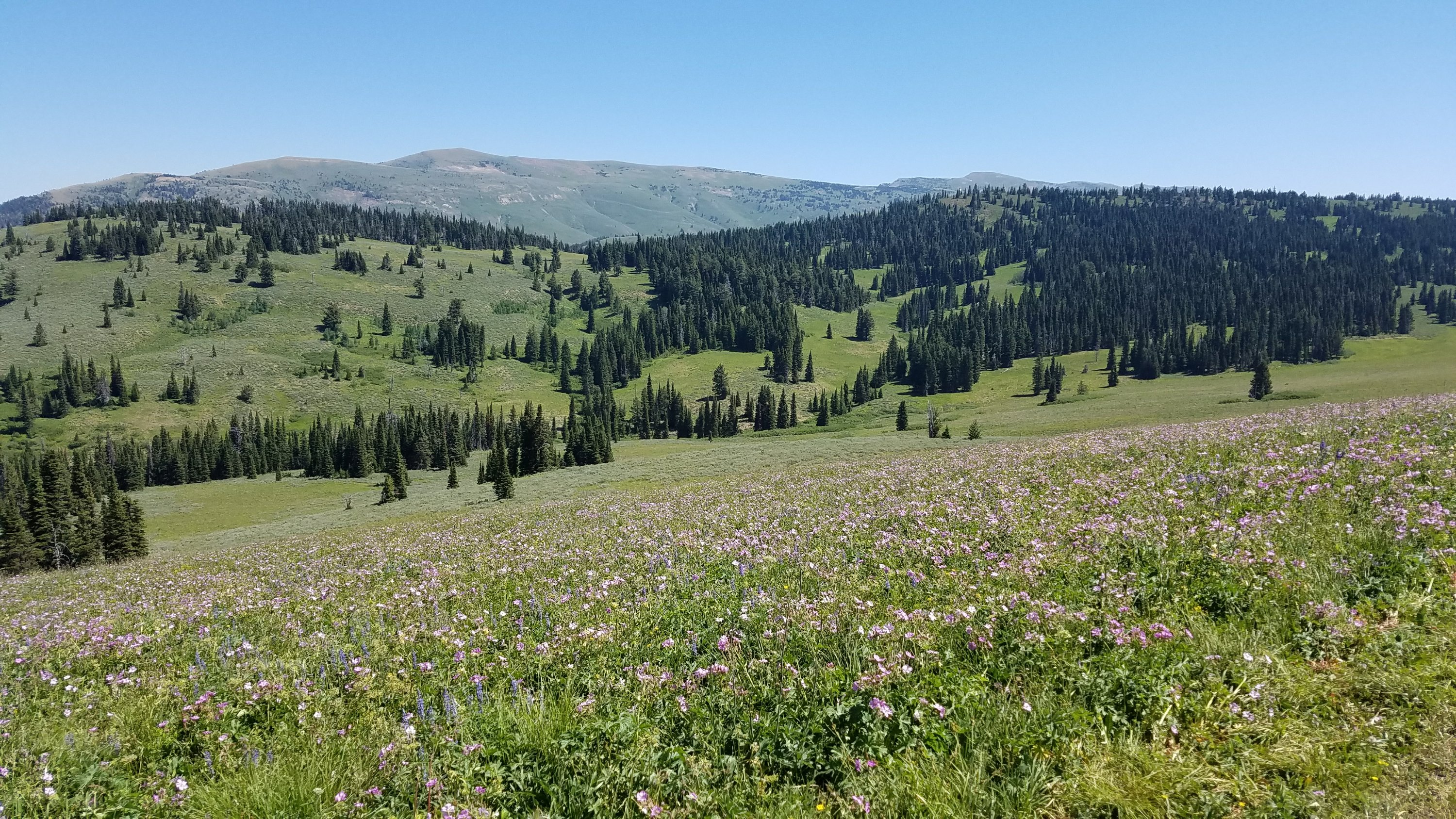 Today is more crappy, bumpy, overgrown, buggy, and almost non-existent trail. But it's still fun! There are even a few stretches that have real trail. The morning starts off with the mosquitoes chasing us away from our nice camp. They are up early, as it isn't very cold. We stop to get water at a stream and run into Dogma, a NOBO that Relentless met in Cuba, NM. I wish we could talk longer with her, as she seems like a really cool lady. She still has to hike CO, so we will probably see her again.
We walk through a burn area with lots of deadfall and for some reason sticks keep jumping up and biting me in the leg. That or I catch them with a shoe and they send my foot off in the wrong direction. The ground is very lumpy, which annoys my ankles. The mosquitoes and/or flies are ever present and the guthook's line is frequently off today. I feel frustrated with the conditions, like maybe I have some mid-trail fatigue.
We reach a lake where there is a short piece of trail connecting to a parking lot. It's immaculate and smooth, almost 4 feet wide. I almost forgot what it's like to hike on trail so nice. I stop at the trailhead for a mid-morning break and am in a better mood afterwards.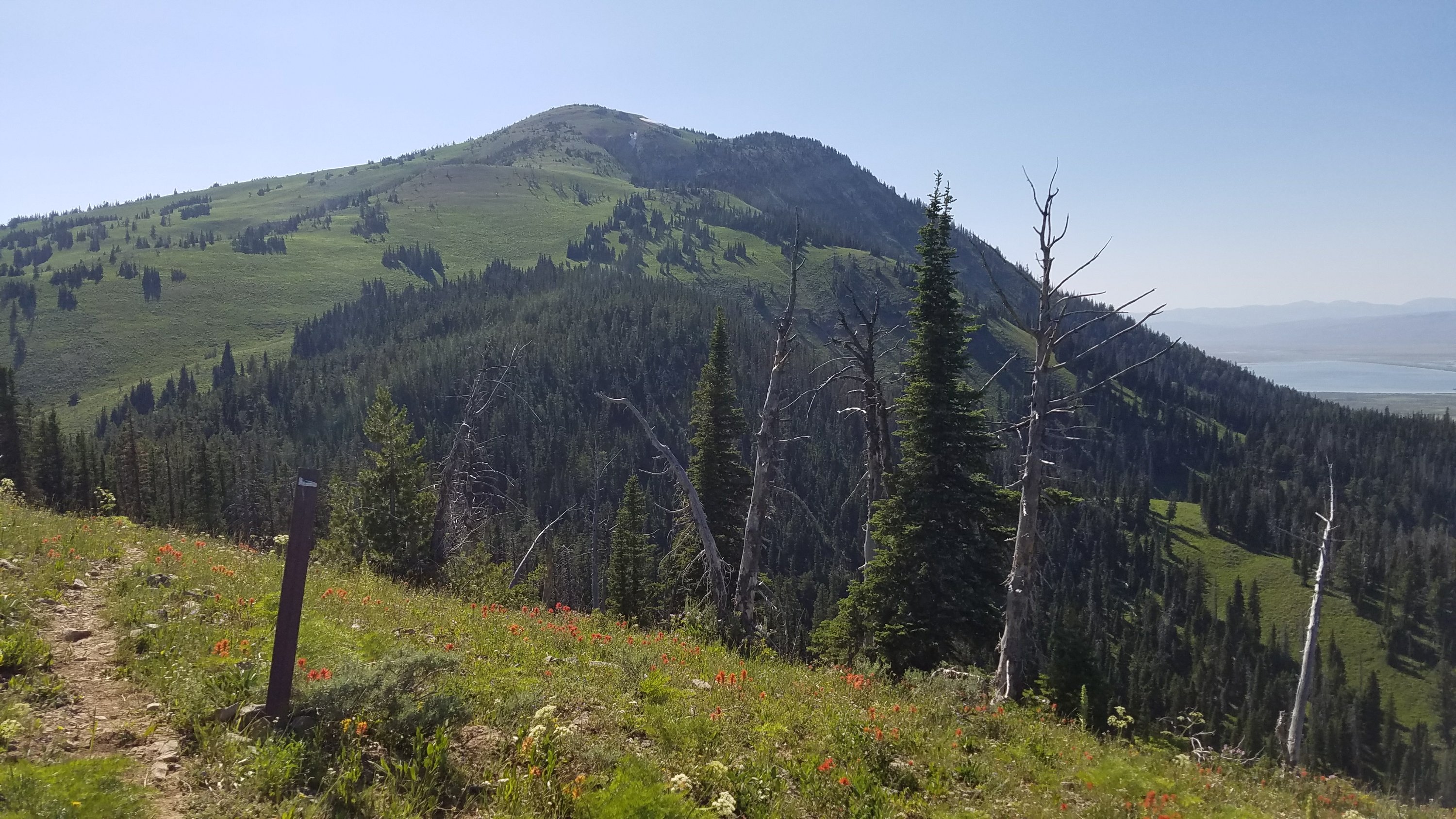 A big climb follows, all the way up to 9500′ and near the top of Taylor Mountain. On the way up, I run into Peanut! He started NOBO from the Mexican border on the same day I did and has hiked continuously all the way here. There are only 2 other continuous NOBOs that have passed thus far, and both of them apparently skied through Colorado. I don't have the time to inquire of all his adventures but it's great to see him entering his final state. I still have so much to go. But at least the longest (and maybe hardest?) state is nearly in the bag.
Along the climb, I take a few breathers and am shocked to spy the Grand Tetons! I'm looking at Wyoming finally. I have never seen the range in person but they are unmistakable after all the pictures I've seen. After this sighting, I'm in such a good mood that I fly up the many switchbacks of the mountain. The route follows an old mining road and I can see cuts all over the mountain from mining activities. I spot a mule deer eying me from a ridge and then another two NOBO hikers pass on their way down. They assure me that it levels off soon.
I take a break at the top to admire the views and wait for Relentless to catch up, but not for very long since I'm down to my last half liter of water. I'm in a 15 mile dry stretch and we must push on to 31.4 miles for the day to get to a creek. No sweat. We make the creek and then find a nice campsite less than half a mile further. The site has a rock overlook that is miraculously almost bug free, so we have dinner looking out over the Tetons and rivers in the valley below. What a great day!