June 27th, 2019
Red Eagle Lake mm 63.4 to Two Medicine Campground mm 89.2
Distance in miles: 25.8
We survived a wet night, with a little more rain. I didn't sleep as well as the first night but I did feel refreshed after the previous big day. We only had less than 26 miles to do today but had to go up and over 2 passes. Plus, the partly cloudy morning had already turned gloomy and misty by the time we were hiking. At 9 am, it started to drizzle and then we heard thunder too. Not good.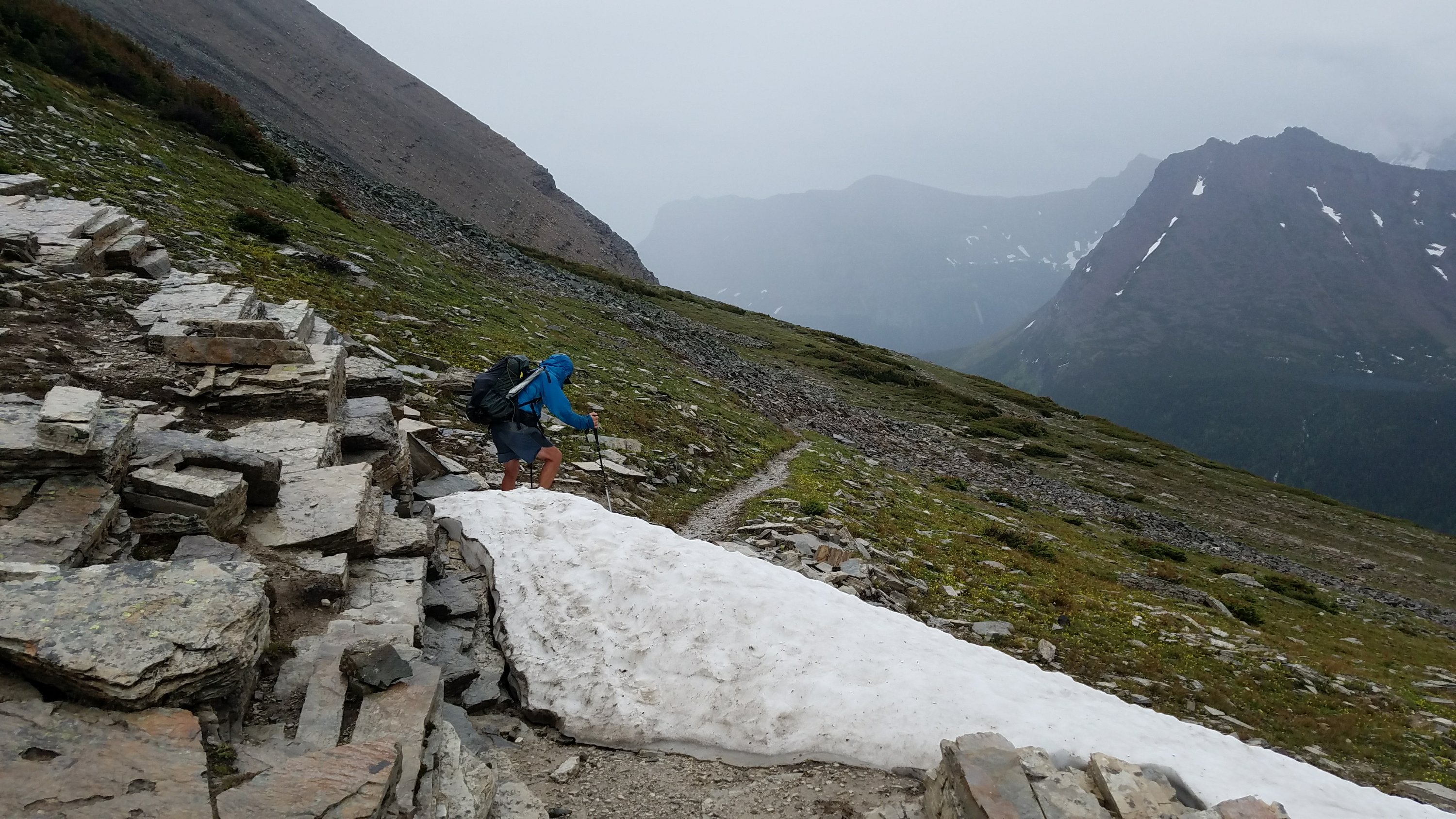 We began passing hail that hadn't melted from the night before. And some big moose tracks. Then we came upon said moose, standing next to the trail, and it was the grandest I had ever seen. I was in the lead, first to spot him and boy did he stop me dead in my tracks. Relentless fearlessly continued on the trail towards him, trying to get some good pictures. Then Salty grabbed my bear spray and headed forward too. The moose was chill and just headed off towards the woods after awhile. It was great seeing him, so majestic and totally at peace with the dreary weather. It did seem fitting to see him in such circumstances.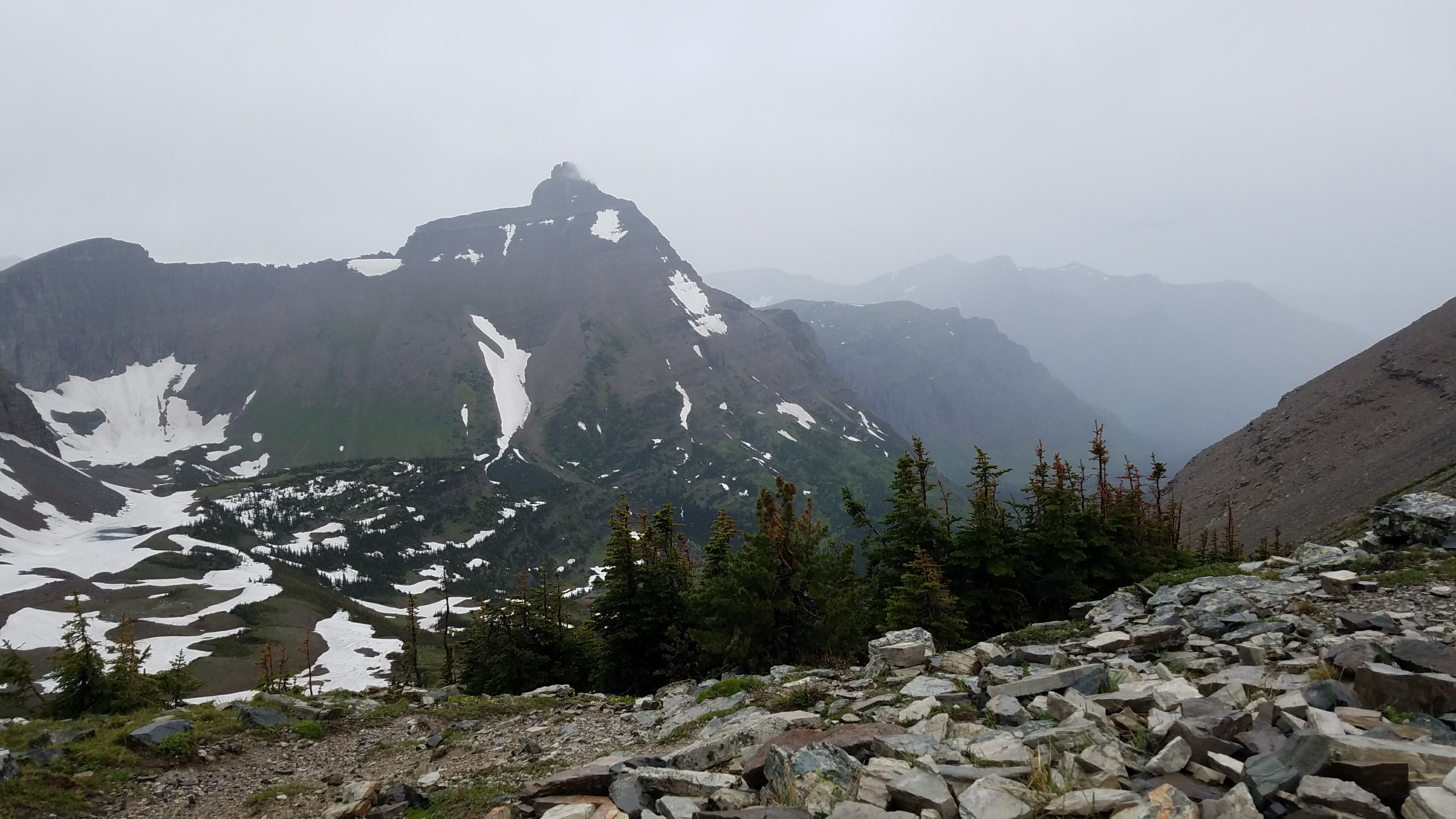 We climbed above the wet, overhanging, and dense vegetation into some snow and pines. Lightning flashed close by and I was dreading going over the pass. It kept raining but at least the electrical shocks subsided. We were a sight: 2 with umbrellas and trash-bag like rain gear and Salty with his camo poncho tarp bundled around him and his pack, looking like some man-bear-tree monster. No wonder the moose moved away.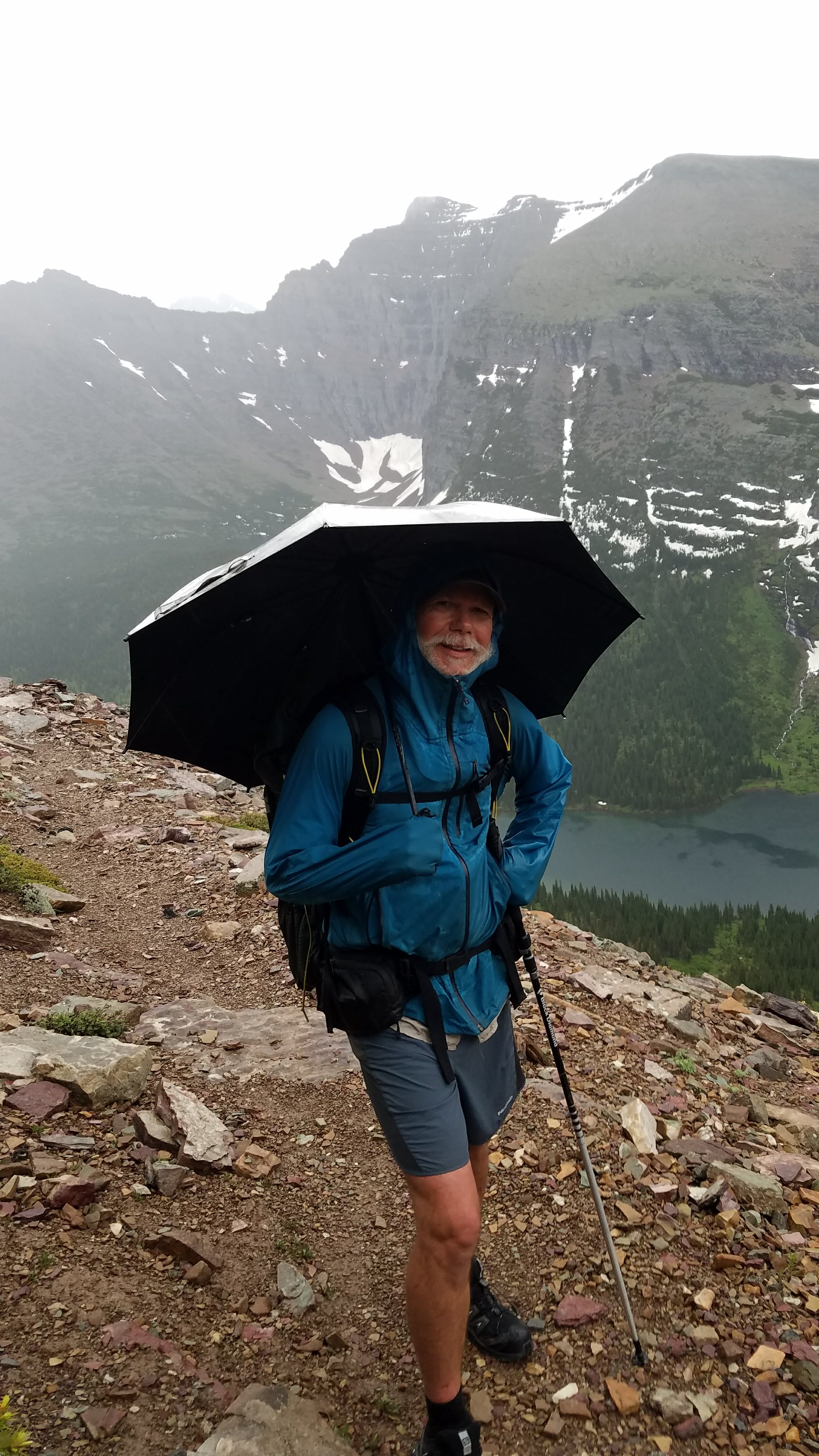 My new umbrella worked great, keeping my torso nice and dry, while my old umbrella, which I gave to Relentless in New Mexico, served him just the same. But since we were climbing so steeply, he had to put it away in favor of his trekking poles. Mine gets strapped to my pack and works even on the uphills, although I can't see more that a couple steps ahead when I'm bent over climbing. So I made sure to let one of the guys go ahead of me, lest we come upon another moose or even a bear.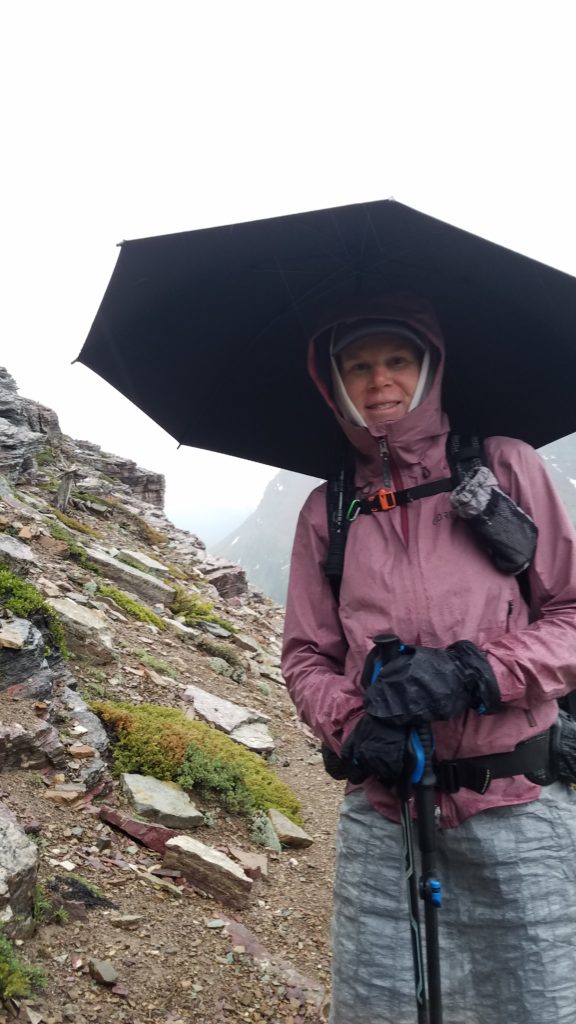 We made it to the top and wasted no time heading down. The views were still stupendous but it was cold and there's always a chance of a stray thunderbolt. Triple Divide Pass is where all the water either goes north, west or east. We wanted just to go down where it was warmer, less windy, and maybe not raining. I practically ran down from the pass just to stay warm. We got to a sodden campsite and took a very short break. It had thankfully stopped raining but was still cold.
Just after Morning Star lake campsite, we found a grouse standing defiantly in the trail. She was making really funny noises, almost spitting, and clearly on the defensive. Obviously she had chicks or a nest nearby. I started talking to her but Relentless was impatient, brushing by me and trying to do the same around her. She was having none of it and immediately went for his ankle, like a little dog. She latched onto his sock and wouldn't let go. Salty and I busted out laughing while Relentless calmly reached down and grabbed her with one hand.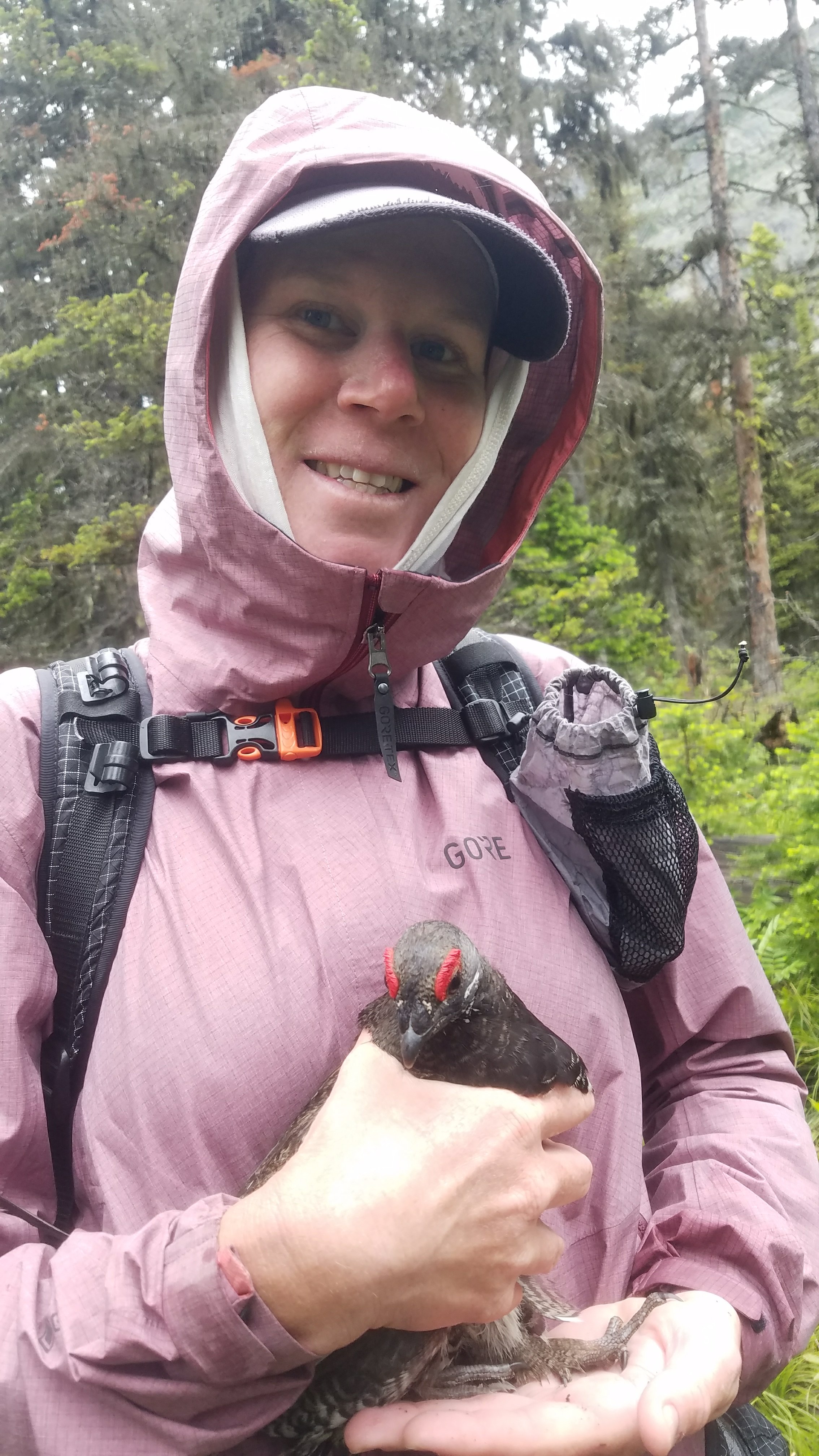 Well, she clearly wasn't expecting this turn of events. I squealed in delight and he passed her off to me. I've never held a grouse before but it was just like holding a chicken…something that makes me immensely happy, as some readers may already know. Ok, disclaimer, it is highly improper to harass or catch any wildlife in the park but in our defense, we were acting in self-defense. This little Spruce grouse had been terrorizing many a hiker (according to all the hiker lore we later heard in town) and we were only trying to reinforce some more positive behavior. I think she may think twice about attacking a hiker again, the way she scooted off when I released her…completely unharmed, of course!
Buoyed by our animal encounters, we began the slog up the second pass. We passed a few hearty trail crew, mucking about in the cold and mud. What beasts do volunteer work in these conditions! I hope they feed them well. We then began a laborious passage through pines and snow. It wasn't very steep, so the snow travel was not nerve-wracking. But it was slow-going, even if we weren't postholing.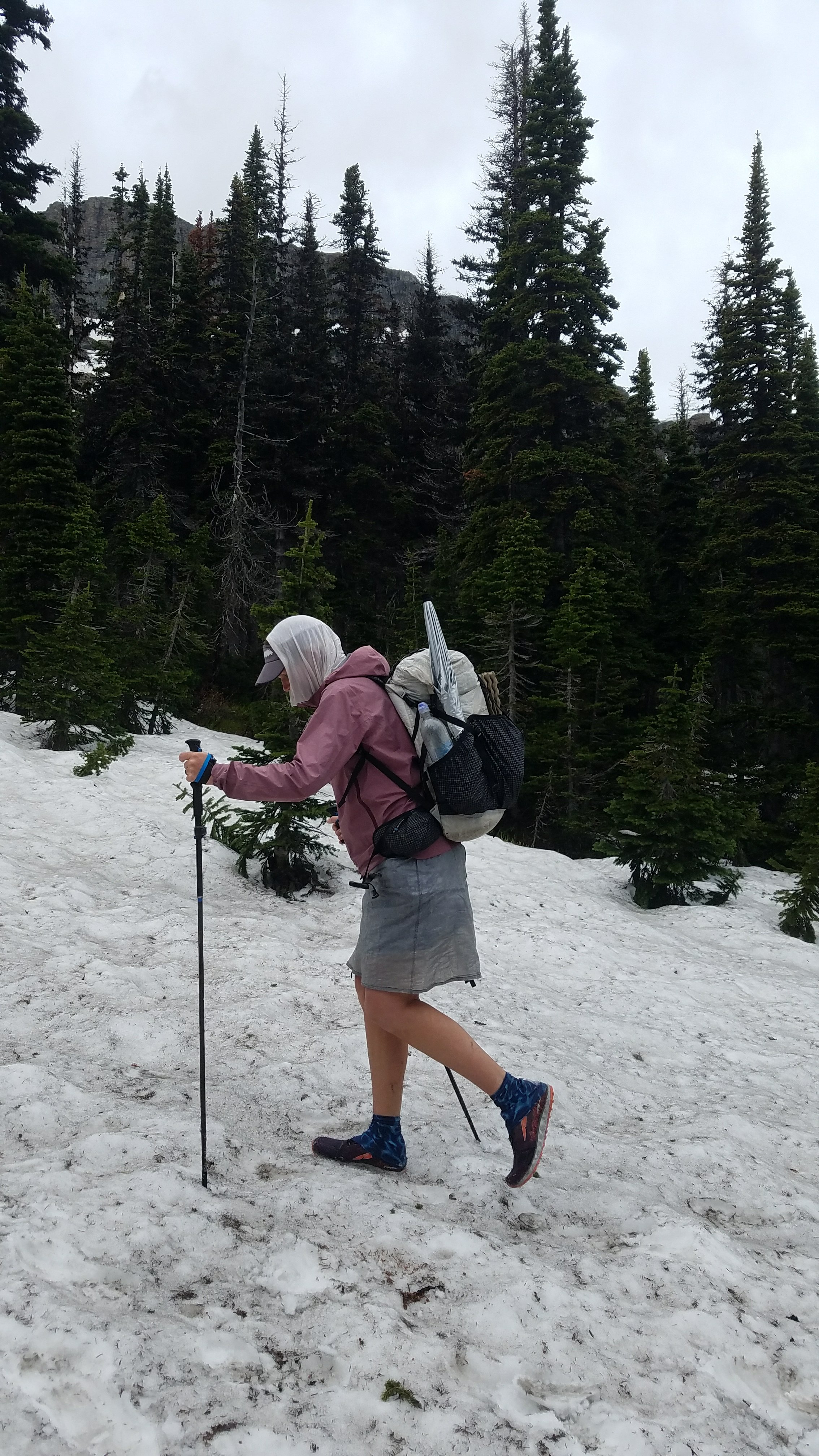 Another good thing about being lightweight is that we can skitter over the snow when heavier backpackers break through it. We passed a couple doing just that and I wonder if they felt the same awe that we felt when we watched the bighorns ski down the slope at Piegan Pass. These strange creatures decked out in shorts, skirts and Hawaiian shirts, wearing nothing but wet trail runners on their feet. What is that?
We did a final ascent straight up a snowfield, having to bushwhack through a dense thicket of pines just before breaking out onto the clear trail. A series of bare rock switchbacks got us up to Pitamakan pass, where we enjoyed a bit of ridgewalking. The weather had improved a lot but it was still cold. I wished that I could have stayed awhile to admire the views.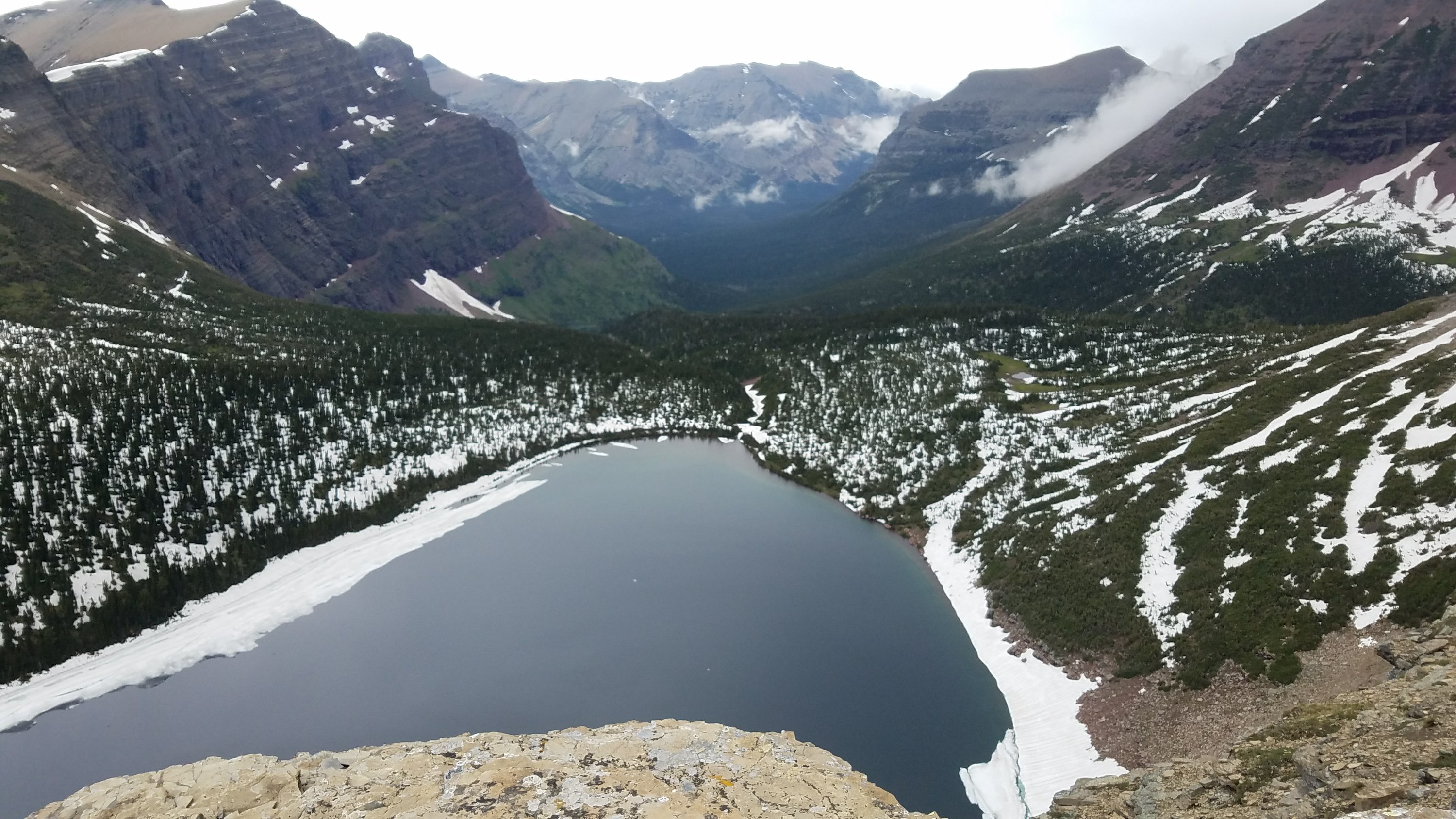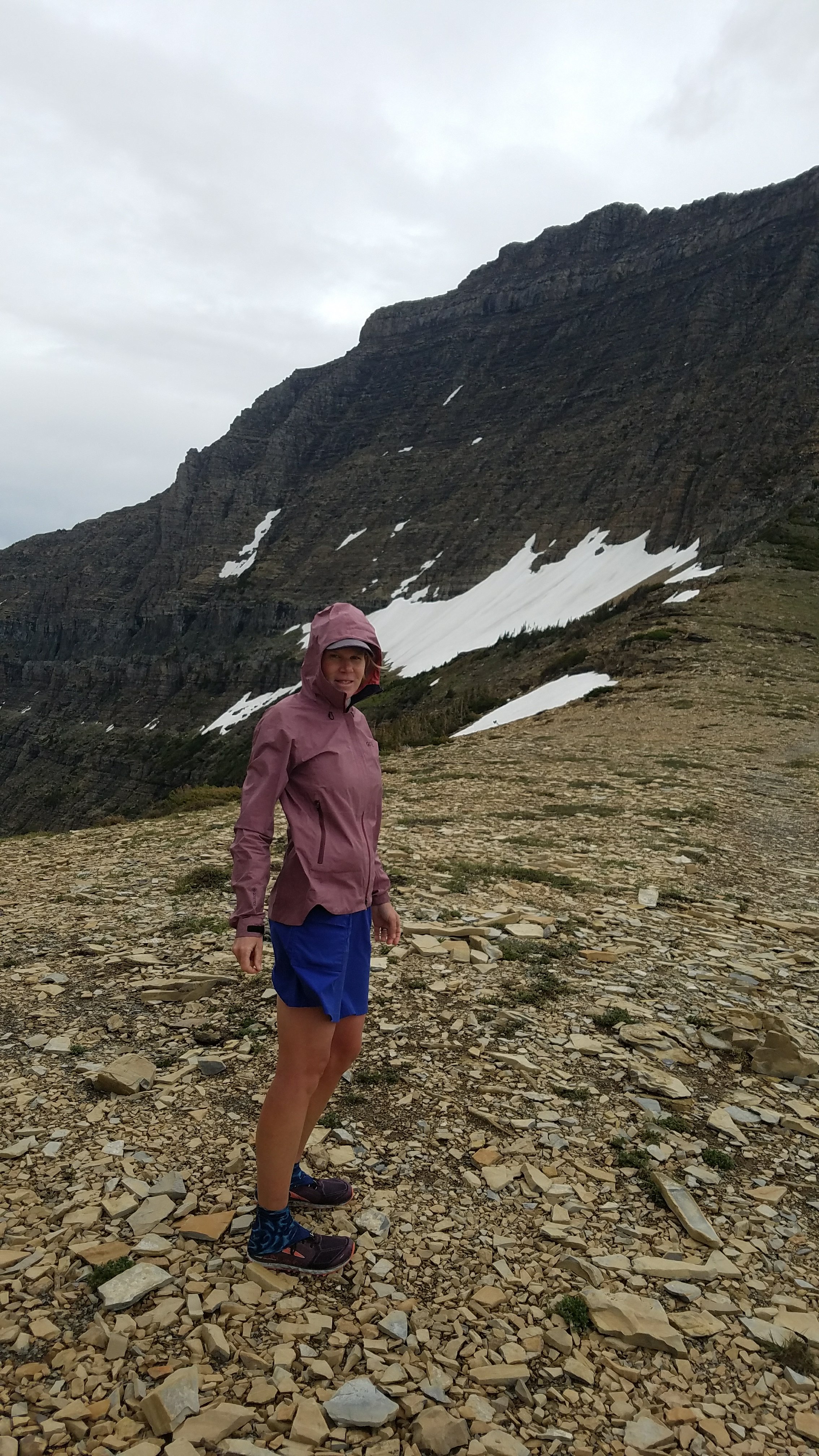 The trail flowed down from the pass on a long, straight shelf that looked like it had been carved from the rocks. It was a pretty steep drop-off to one side but the trail was wide enough. I was feeling very good so the right playlist had me jogging, skipping, and jumping rocks down the mountain. I felt like I was downhill skiing. Everyone fell behind and I enjoyed some alone time.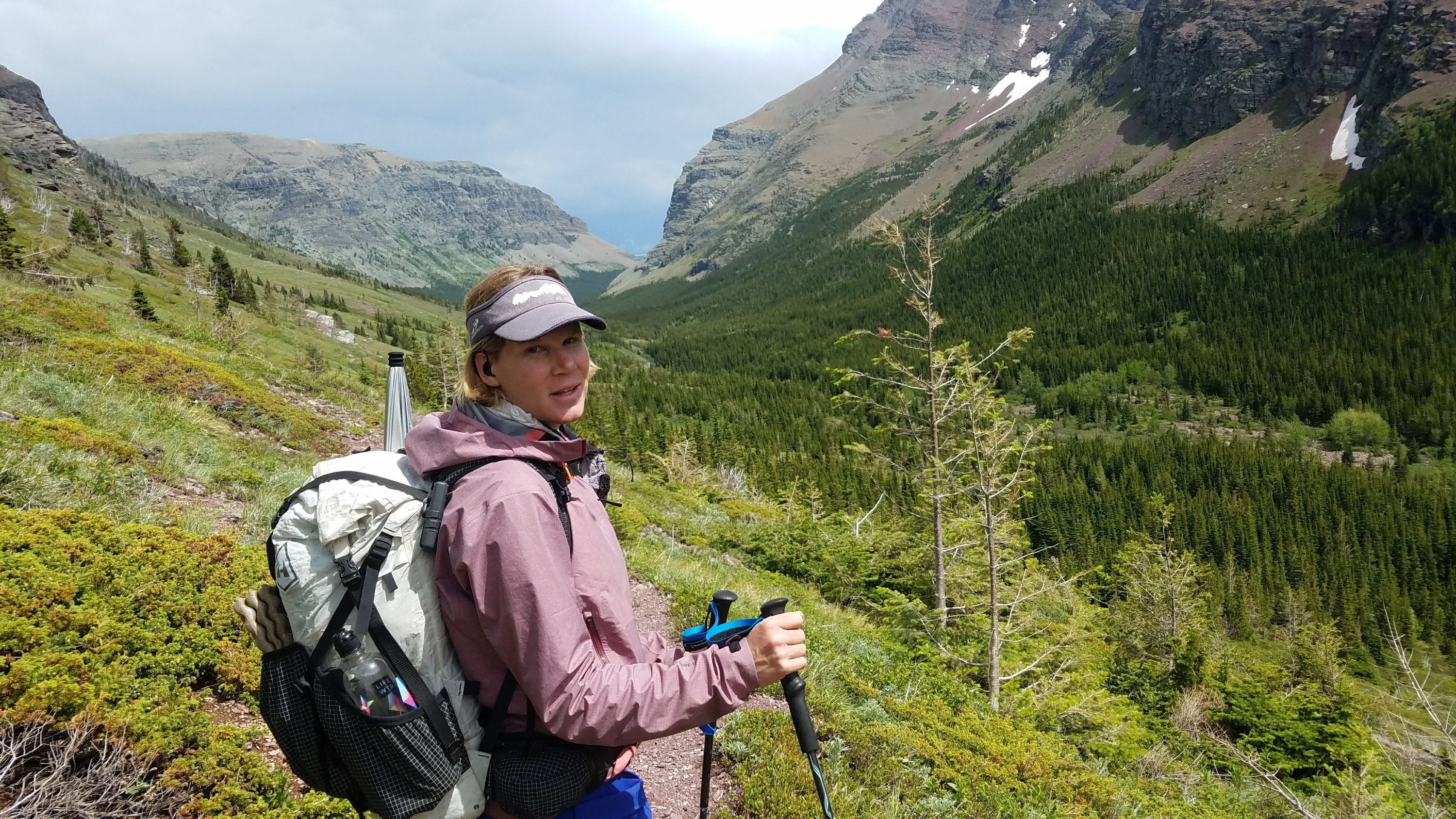 I think my joy came from a sense that the sun was about to make an appearance for the first time that day. When it finally did, I exploded my pack on the side of the trail, drying my tent while everyone caught up. We had been leapfrogging a German thru-hiker all day. Earlier, he had exclaimed that we did not stop for anything, not pictures, water, food, etc, as he was so bewildered by our pace. Well, he passed while I was stopped. Yes we do stop for sun.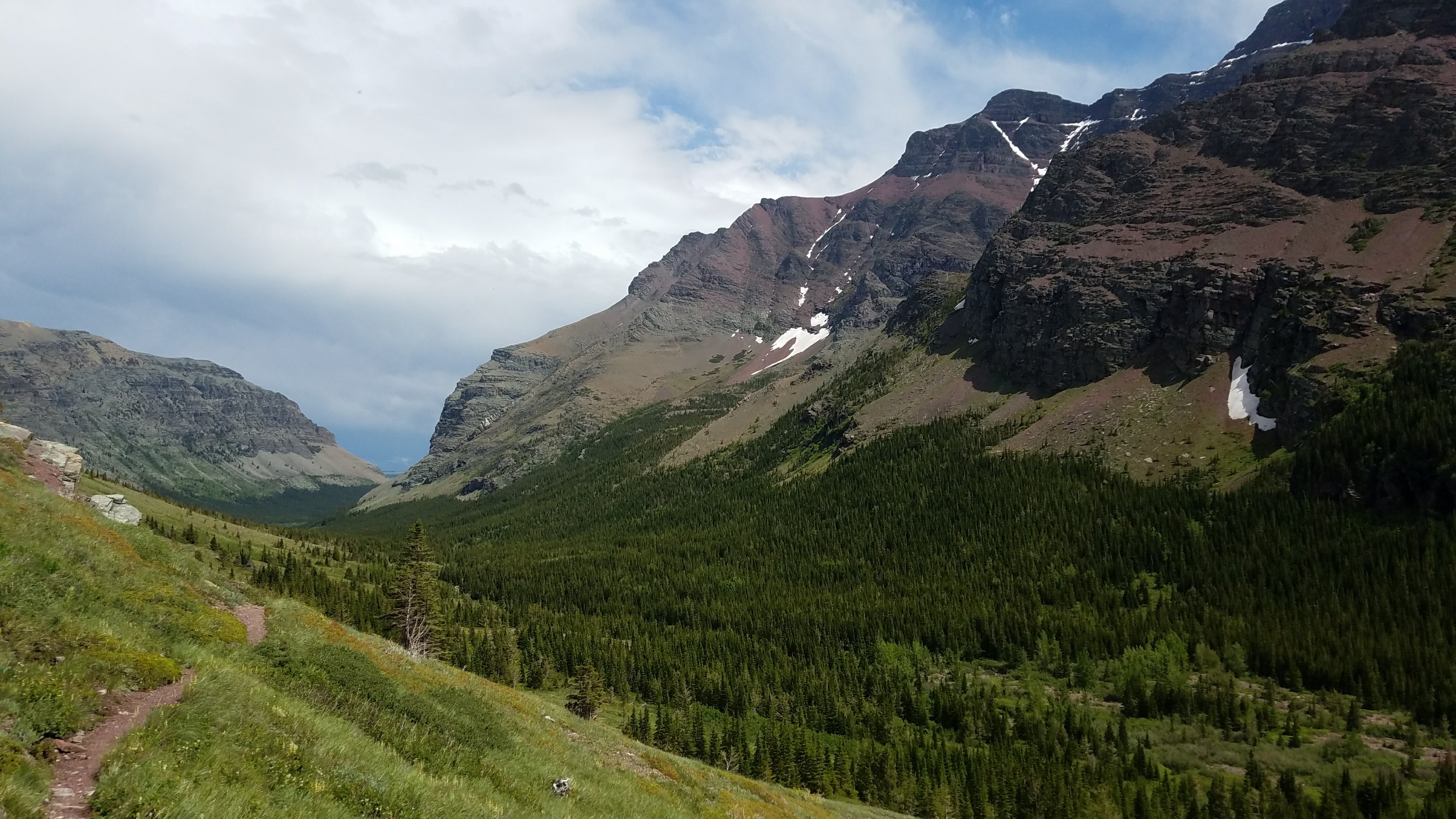 By this time we only had about 3 miles left. We had to get past another angry grouse but this time she was all bark and no bite. It was an intimidating display, I must agree. We cruised into Two Medicine campground, where we rejoined the RVs and tourists. A very nice ranger led us up to our designated campsite, which was already full of other thru-hikers. We managed to make it there by 5 pm, which is very early for a 26 mile day through rain, snowpack, and over 2 passes, and yet we were still the last to arrive. Everyone else is doing 10-15 mile days and score the best tentsites for it. But we found decent spots and enjoyed a relaxing evening sitting around an actual picnic table. A trail angel, Dillon from Alaska, even came over and gave us beer. First trail magic! What a great ending to a tough day.