July 12th, 2019
Storm Lake mm 3.2 of Anaconda route to Johnson Lake mm 575.4
Distance in miles: 28
0620-1800
Everything is so damp when I wake up, as I knew it would be right next to the lake. Doesn't matter, the sky is clear and we're going on our 3rd day with no rain! We'll be able to dry things later. First we must climb up to a pass, one of 5! for the day.
When we enter the high alpine meadow, we are treated to a view of our itinerary for the day. Up over a pass then down through a lush valley of old growth forest with streams every half mile. Repeat. There are high rocky peaks with some snow still left all around. The sky is solid blue.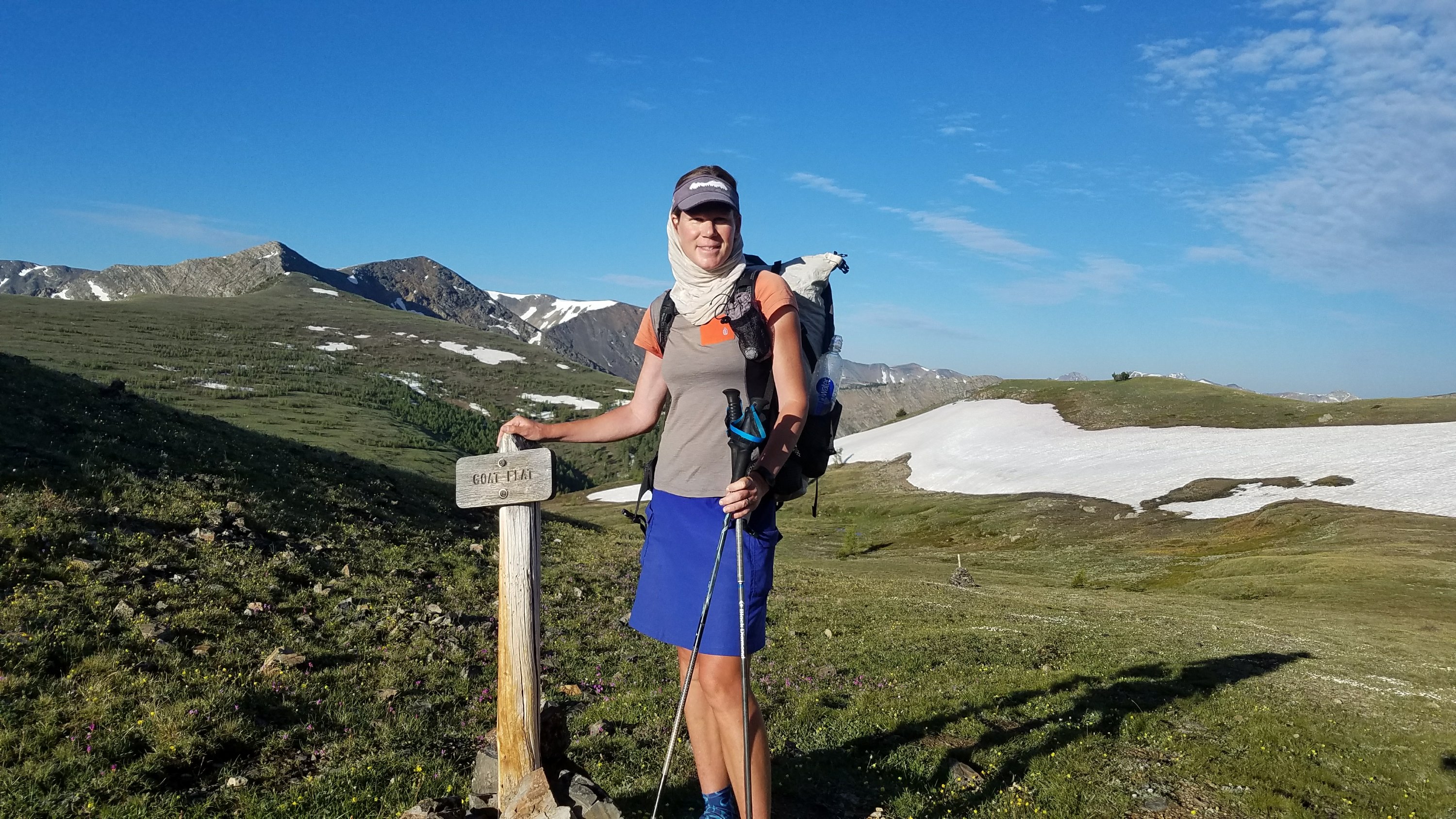 We rejoin the official CDT route at a place called goat flats, but there are no goats. In fact, this wilderness feels so intact except for the sighting of any large mammals. The only place where they have been noticeably abundant is in the national park…where they are protected. Everywhere else they are hunted and become very shy…or over-hunted, hard to say which.
The trail goes through another saddle and we do a traverse of a steep mountainside. It reminds me so much of the northern cascades. Then we come to a remnant snow chute that is hairy-as. It is very short but the footsteps go up against the rock wall where the snow has melted to create a small crevasse. The slope is super steep, almost a cliff, and the runout short, so even an ice axe wouldn't help. I can't fall here, period. It's like Cutthroat pass from last year and it scares the hell out of me.
I take it slow and don't look down. Even still, I start shaking. We've trotted across tons of snow just like this with ease…when the consequences weren't so great. We get through unscathed and I hope for no more snow patches like this and there are none, thankfully.
The rest of the day is straightforward but by no means easy. We are either climbing or descending and the mossies are always there to keep us moving. We stop to dry our tents and are amused/disgusted by the fact that we have at least 4 or 5 different kinds of insects either crawling on us or trying to bite. Ants, wasps, flies and of course mossies. We've reached level 10 bug season, just like last year on the PCT. No safe place to stop and rest. I hope the season passes quickly but I know I'm in for it for at least a couple weeks. At least I have a tent to escape into at night!
Did I mention it's hot too? So hot I am already wishing for some rain to come back, or at least some clouds. I want to immerse myself in all the creeks, at least wetting my arm sleeves and buff to get a little relief. The last 2 climbs are tough, everything going just above 9000′, but we make it to our planned lake, where I promptly jump in.
We are surprised to find so many people already at the lake. We didn't see anyone all day except for 2 couples in the last 6 miles. Here there are multiple groups and then I realize it's Friday. We set-up near some guys with horses and dogs…the horses appear to be under control but the free-roaming dogs routinely pillage our camp site and one trips over the guywire of my tent, waking me up in the night. So the only large animals we encounter in this wilderness are out-of-control dogs. Hmm. Maybe there's a correlation? I sleep well anyways.