July 10th, 2019
Mm 406.3 to Anaconda, mm 28 of Anaconda route.
Distance in miles: 30
0615-1600
We are doing the Anaconda cutoff, which is basically a route that shaves a huge dogleg of the CDT around Butte. Nearly every CDT hiker that I know is doing the same. I had wanted to do the longer, official CDT route but I also wanted to see our traveling Trail Angel friend Solo. I last saw her in Silver City. She lives in her van and has been posted up around Anaconda doing trail magic for a few weeks. I also just want to get to Colorado before it's too late in the season, so dropping about 100 miles of road and logged forest walking is acceptable.
The first 5 miles of the day are on trail but from the cutoff junction onward, it is all road walk. More than half is a dirt road, so that's ok. We pass Peabody, the guy from the day before, while he is packing up. Then on the dirt road, Nikoli catches up to us. He's been traveling solo all this time but he hangs with us so we can teach him a bunch of trail jargon. He is only 22 and an engineering graduate with a job already lined up. He's just taking some time to see America and practice his English. Like so many Germans I've met, he is friendly, well-spoken, and zealous about travel and the outdoors.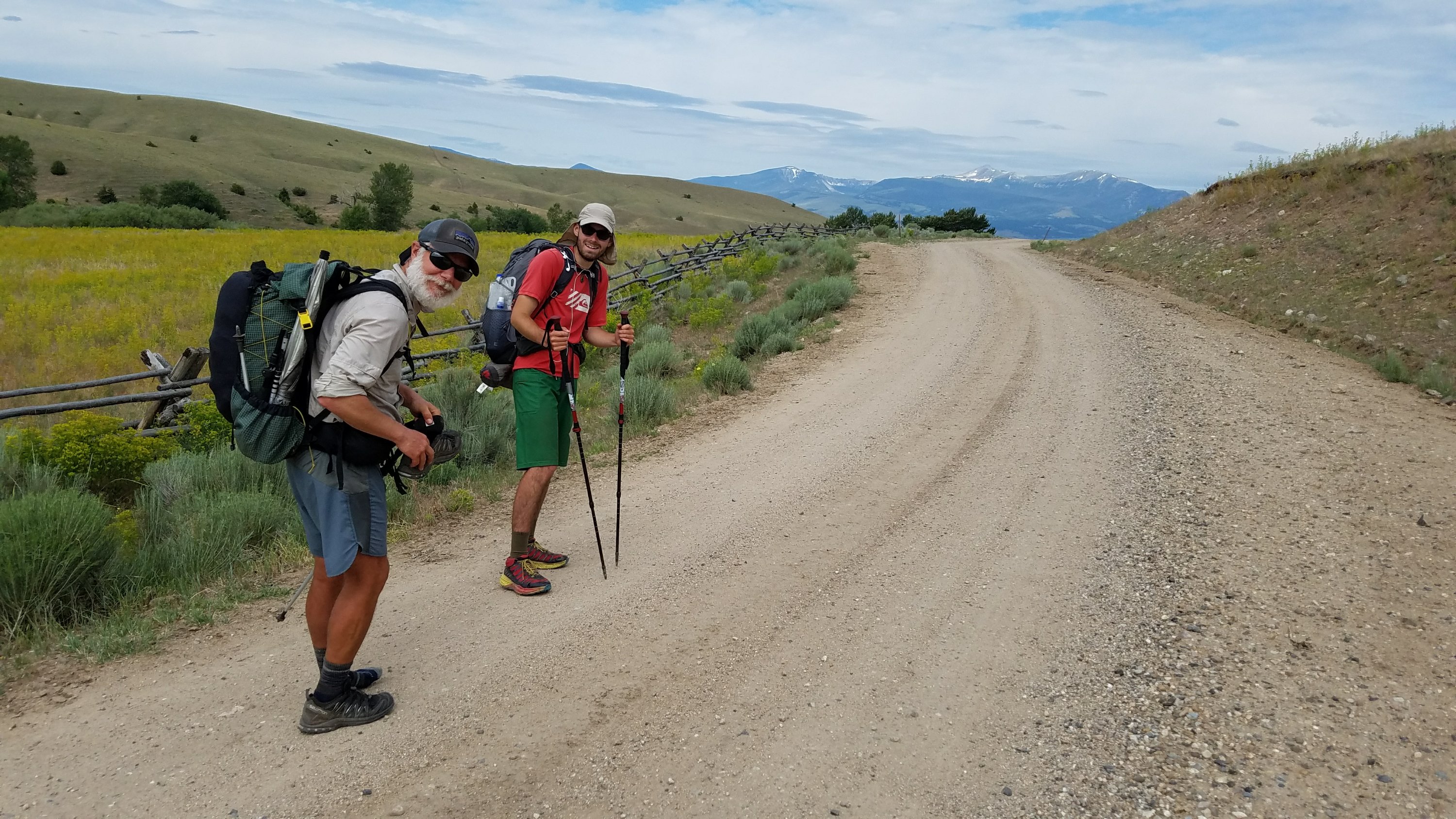 Nikoli is a mountaineer above all else, so he has been a bit bored by all the forest walking. His plan is to skip down to Lima, see Yellowstone, then do the high route and peak-bagging through the Wind River Range. He hopes this will require some of his ice axe skills.
The road goes downhill most of the way and there are only a few trucks passing by. We go down through a canyon and are dumped out into a much more arid landscape of grassy hills. We soon can see I-90 and turn off on a dirt road that parallels it. A guy drives by in a truck and offers to give us a ride into Anaconda. Nikoli accepts and we keep walking. Shortly after, we find Solo parked on the side of the road, so it's a good thing we didn't take the ride.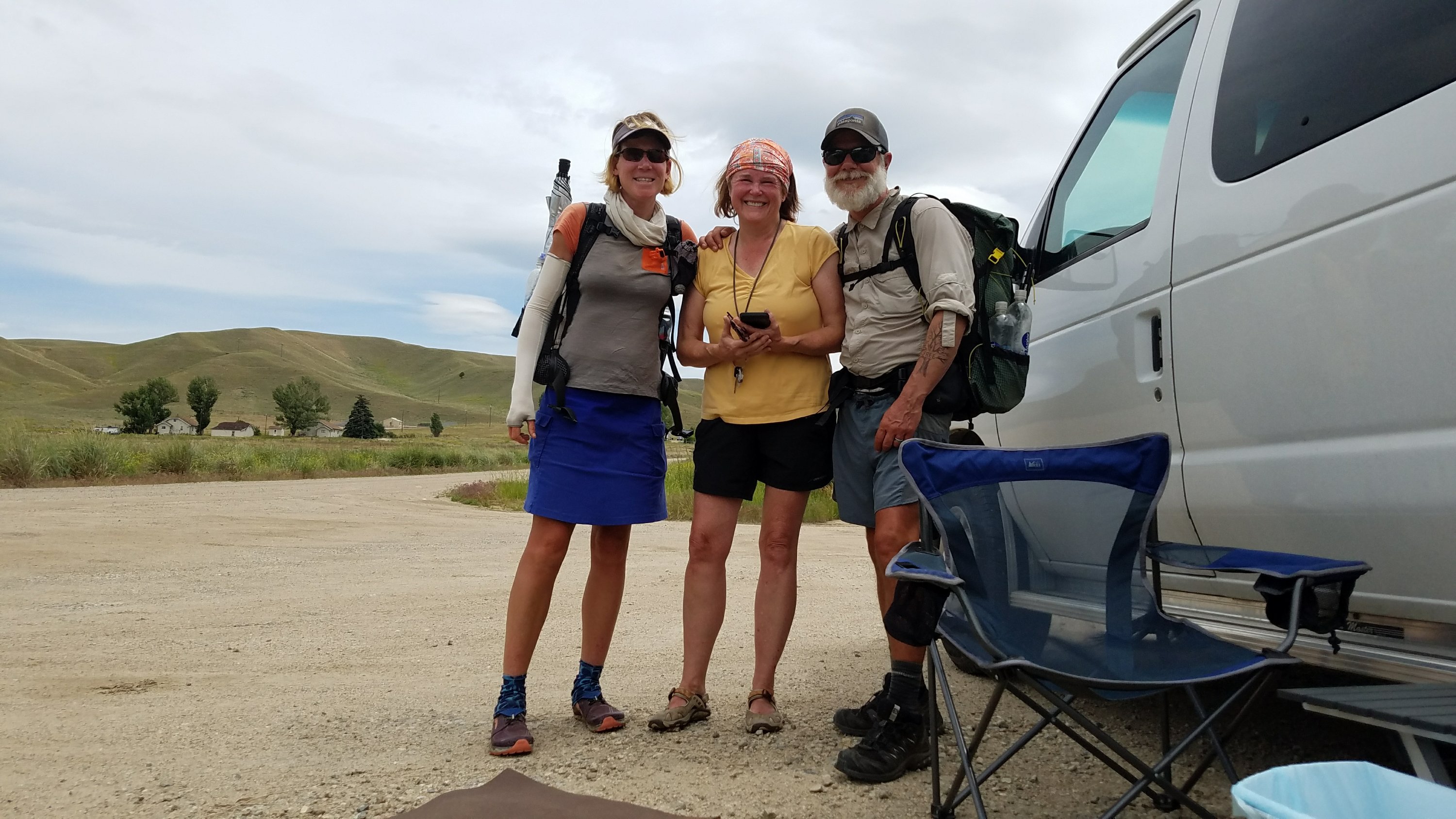 It's a nice reunion and she tells us about her travels while I chug 2 squirts…my favorite soda next to coke. It's a lot warmer down here in the valley but thankfully not blazing hot because of some high clouds. We don't stay long since we still have about 12 miles of road walking. All that sugar water should help the miles go by.
It's a good day for bird watching. The day before we saw a golden eagle and today we see bald eagles, osprey, a white pelican, cormorants, and sandhill cranes. Solo also told us about the nearby superfund site, courtesy of the mess left behind by the Anaconda mine. Supposedly there are ponds so toxic that birds fly in but they don't fly out. There may be arsenic in the water all around. After all her stories, I'm not too excited about visiting Anaconda.
Then there is the highway walk from hell. It's about a 10 mile stretch on a very busy highway with no shoulder. We walk against traffic so that we can see the cars coming on our side of the road but we can't account for those that decide to pass other cars going in our direction. Things are going ok until one of these idiots comes up behind me, passing 3 feet away at 80 mph. I've been hit from behind on my bicycle, so I already have a traumatic reaction to cars coming so close from behind. I regret this road walk very much but it's nearly over by the time I've had enough. In hindsight, I should have accepted one of the numerous offers for rides into town.
I'm so relieved when the narrow highway dumps onto HWY 1 going into town. There is now a HUGE shoulder and double lanes so I glide into the outskirts of town. This alternate route goes right through town in order to connect to the next series of trails through the Pintler Mountain range. So the walk in, out, and through town is part of the trail, hence the reason I am trying to walk it…connecting footsteps from Canada to Mexico and all that jazz.
I first stop at the outdoor gear store, APOC World. The owner, Bud, greets me and is extremely helpful. He mostly caters to hunting and target practice needs but carries fuel and a good selection of dehydrated meals…both on my shopping list. He gives me a discount, even though I didn't ask for one. He also calls his wife Mikayla to make us coffees, on the house. She has a small drive-up coffee trailer that she hasn't even opened for business yet. I feel honored to be one of her first customers…even if the coffee is free.
She also offers to drive us to the pizza place in town and this time we can't refuse. Mikayla is from the Czech Republic, so we chat about that on the way. I have several good kayaking friends from there and even went to the Czech Republic to visit my friend Premysl a few years ago. We all agree that Prague is beautiful. A big thank you to Bud and Mikayla for being so kind and helpful…I definitely recommend a stop at their store.
We have been craving pizza and hear that Gallicano's Pizzeria is the best. They seem to only have one size…gigantic, or pizza by the slice. We order one whole pizza to split and each consume 3 huge slices, saving the last 2 slices for breakfast. The pizza is oozing olive oil and I speculate about how many calories each slice has. A LOT I conclude, which is great. This is the best pizza on trail, hands down. The owner comes by several times to chat and seems like a great guy. So far everyone has been super friendly and welcoming in this smallish town.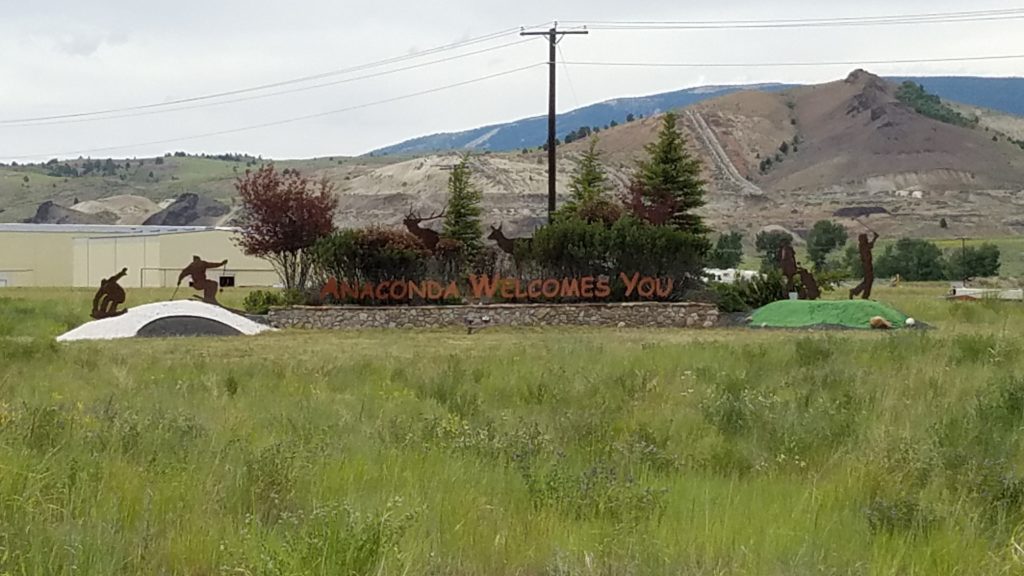 We start walking towards the Dollar Store, where I plan to do a cheap resupply. A guy yells from across the street "do you want free ice cream?" We are like moths to a fire. We cross the street and meet local resident John, who wants to buy us ice cream. Well, sure I can make some more room in this stomach of mine. I have huckleberry.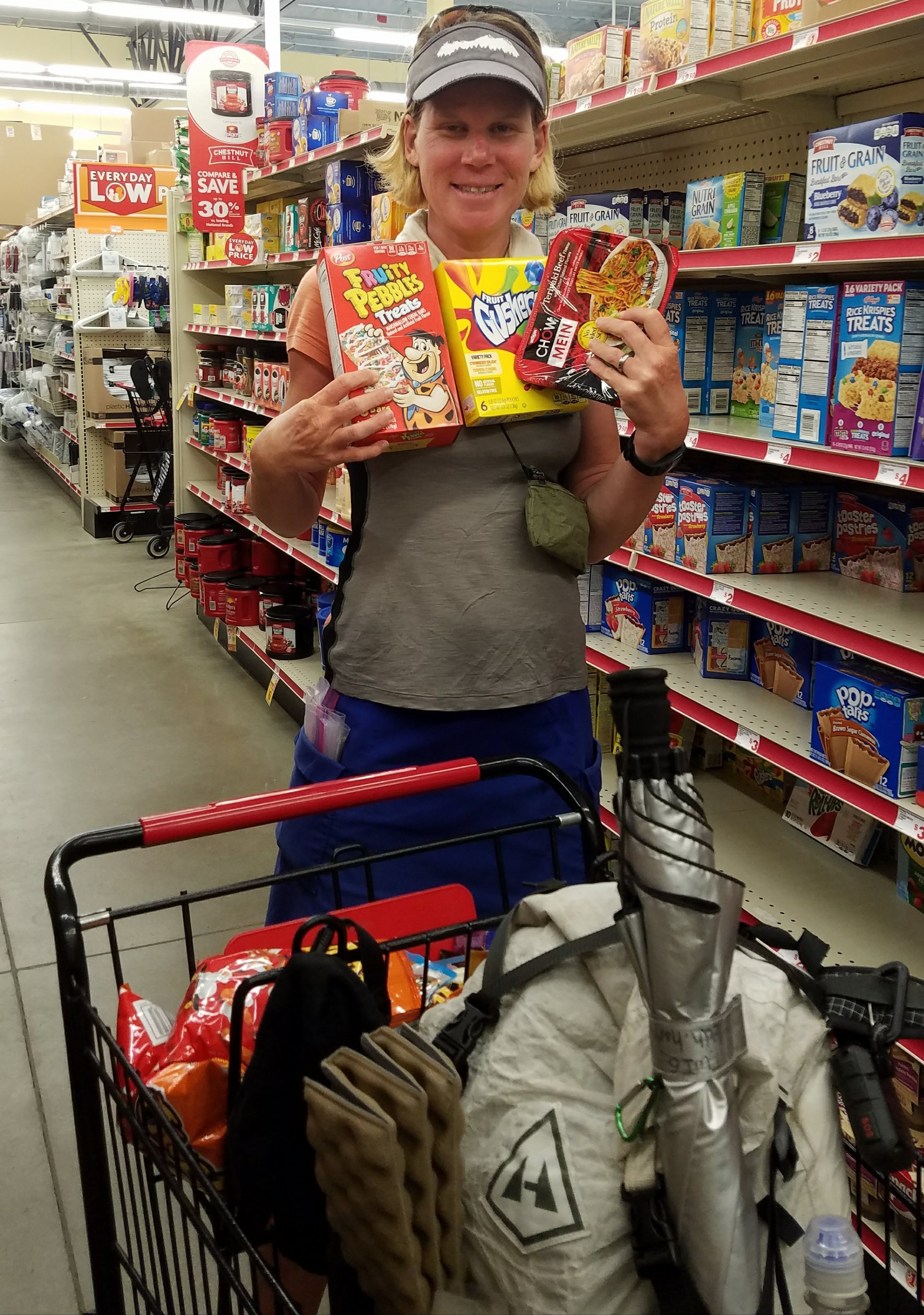 The Dollar Stores meets most of my resupply needs, including a pair of flip-flops. I tried to shave weight by not bringing my camp shoes and I dearly miss them. Coming out of the store, there is John, waiting to offer us a ride anywhere in town. Jeez, people are so kind here! He takes us to the park. There is a free hiker hut with wifi, electricity, a hiker box, and free showers at the public pool next door.
We opt to camp on the grass in the park, which is also free. Except that we make a mistake in our site selection. We should have camped over near the duck pond where there are tons of geese and ducks that I could have harassed. But I want to be closer to the hut for the wifi and plugs, so we camp just outside. The downside of free or hobo camping is that you often get some rowdy neighbors. Around 10 pm, a bunch of teenagers show up in the parking lot nearby, revving their truck engines, blasting music, doing donuts, setting off firecrackers, and screaming obscenities. It's the 4th of July in Lincoln all over again but this time I'm not as tired. I wonder if I should just call the cops and then think, who am I to make such a complaint? I'm a bum washing my laundry at the town pool, not from around here, camping for free in the park. I chalk it up to kids being kids and by 11 pm or so, they all take off and I can sleep. The glamorous lifestyle of a thru-hiker.